13 Fabulous Summer Gardening Ideas: Tips for a Lush and Colorful Garden
Have you started planting a summer garden? Spring is the time to get ready for summer flowers. I've discovered 13 fabulous summer gardening ideas to help you create a lush and colorful garden.
Although I wouldn't describe myself as an expert gardener, I've been choosing and planting flowers for many years. Since this is prime planting season, I found 13 fabulous summer gardening ideas and resources.
There's something special about being outdoors and getting your fingers in the dirt. (I try to remember to wear gloves!)
I love the way a freshly planted flower bed looks. Watching my plants grow and bloom this time of year is always rewarding. Using our own fresh herbs is every cook's joy.
Some of us are enjoying the early days of spring, some are in the middle of spring, and some of us are already experiencing warmer weather. We plant in spring to enjoy the colors and beauty of summer flowers.
Nothing is more enjoyable that the beauty of a flower garden. It's hard work in the beginning but pays off.
If you're like me and love spending time in the garden, then you'll want to make the most of the summer season.

With the right tips and advice, you can create a fabulous summer garden that will thrive in the summer heat and provide you with plenty of fresh produce and beautiful blooms. 
Whether you're a seasoned gardener or just starting out, there are plenty of things you can do to ensure a successful summer garden. From choosing the right plants to implementing proper watering techniques, there's a lot to consider when it comes to summer gardening.
I've gathered advice about choosing the right planters for your planting zone, types of plants to combine in containers, best annual plants, best perennial plants, and best heat tolerant plants.
Gardening Resources to Help You Have a Beautiful Garden
Spring and early summer are the best times to get the new garden ready and plant your flowers, vegetables and annual herbs.
When it comes to summer gardening, choosing the right plants is crucial for a successful and beautiful garden.

Here are some things to consider when selecting plants for your garden. Over the years, I've discovered some tried and true gardening practices.
Sun and Shade Requirements
The first thing to consider is the amount of sun and shade your garden receives. Some plants require full sun, while others thrive in partial or full shade. It's important to choose plants that match the conditions of your garden to ensure they grow and bloom as expected.  
Also, check which Planting Zone you are in. You can find out at this USDA Plant hardiness Zone website. We are in the upper part of Zone 8, which means we need sun-loving and heat-resistent flowers.

We look for plants that will do well in the sunny spots of our yard and in hot weather. This is crucial to have a successful gardening experience. 
TIP: When I shop at the garden center for plants, I take a list of how many full sun, partial sun/partial shade, and shade plants I need. It makes plant shopping easy.
Soil and Water Needs
The next thing to consider is the soil and water needs of the plants. Some plants prefer well-drained soil, while others thrive in moist soil. It's important to choose plants that match the soil type in your garden to ensure they grow and bloom as expected. 
Adding compost and good potting soil for containers or potting mix in the garden is essential before planting. 
Additionally, some plants require more water than others, so it's important to choose plants that match your watering schedule. Remember that potted plants dry out more quickly than plants in the ground.
If you live in an area where water is at a premium in the summer, choose plants that don't need as much water. 
I also think you need to consider your time. Do you have time to water all your plants? Would it be better to install a sprinkler system (that's a must in Texas) or a drip irrigation system?
The larger your garden space, the more plants you will need and the more water they will require. Would it be better to plant more perennials and fewer summer annuals?
Preparing Your Garden
Summer is the perfect time to enjoy the outdoors and get your hands dirty in the garden. To ensure that your plants thrive during the hot summer months, it's important to prepare your garden properly. 
Planting Your Garden
When it comes to planting your summer garden, there are a few things to keep in mind to ensure your plants thrive throughout the season. Here are some tips to help you get started.
Spacing and Depth
When planting your garden, it's important to consider the spacing and depth of each plant. Different plants have different requirements, so read the instructions on the seed packets or plant tags. As a general rule, most plants should be spaced about 12-18 inches apart, with deeper-rooted plants requiring deeper planting depths.
Plants in containers are usually spaced much closer for maximum effect.
Mulching and Watering
Mulching can help retain moisture in the soil and prevent weeds from taking over your garden. 
Apply a layer of mulch around your plants, being careful not to cover the stems or leaves. We just added 10 bags of fresh mulch to the newly planted flower beds in our front yard. The mulch also gives the flower beds a neat look in addition to holding moisture in.
Watering is also crucial for a healthy garden, especially during the hot summer months. Be sure to water your plants deeply and regularly, but avoid over-watering, as this can lead to root rot.
Now, let me "turn you over" to these fabulous resources that I discovered. I found every one of them to be informative and full of great gardening advice.

There is some overlap in the information, but I know you will find tidbits of great gardening suggestions helpful. Plus the images of flowers are a sight to behold.
Welcome to 10 or More Fabulous Finds at Bluesky Browsing #87.
Think of Fabulous Finds as a home decor/DIY/Craft/recipe Readers' Digest.
If you are new to Bluesky at Home, what fabulous finds do I share at Bluesky Browsing?
ideas to help you in your home decor efforts
fun holiday decoration ideas
ideas for better organization and efficiency
a yummy recipe or cocktail
fun DIY projects
the latest trends in home decor
a quirky new find or two
This post contains affiliate links to products used in the creation of this project. If you should order any item from this site, I may receive compensation, but you do not pay a penny more. Your purchase is greatly appreciated as it helps support the continued publication of this site.
Summer Garden Planting: 13 Valuable Resources
Focusing on finding new projects, resources, tips, new ideas, and inspiration for you is my main task. I'm constantly discovering fabulous finds to inspire us. My goal is to help you find ideas for your home decor, your crafting, your home organization, and anything about home.
What to Plant in May for Summer Color
Now is the time to plant to enjoy the during summer. Not just flowers, but vegetables, such as these beautiful ripe bell peppers. Tiffany of Imperfectly Happy shares what you should plant right now for a beautiful and bountiful garden.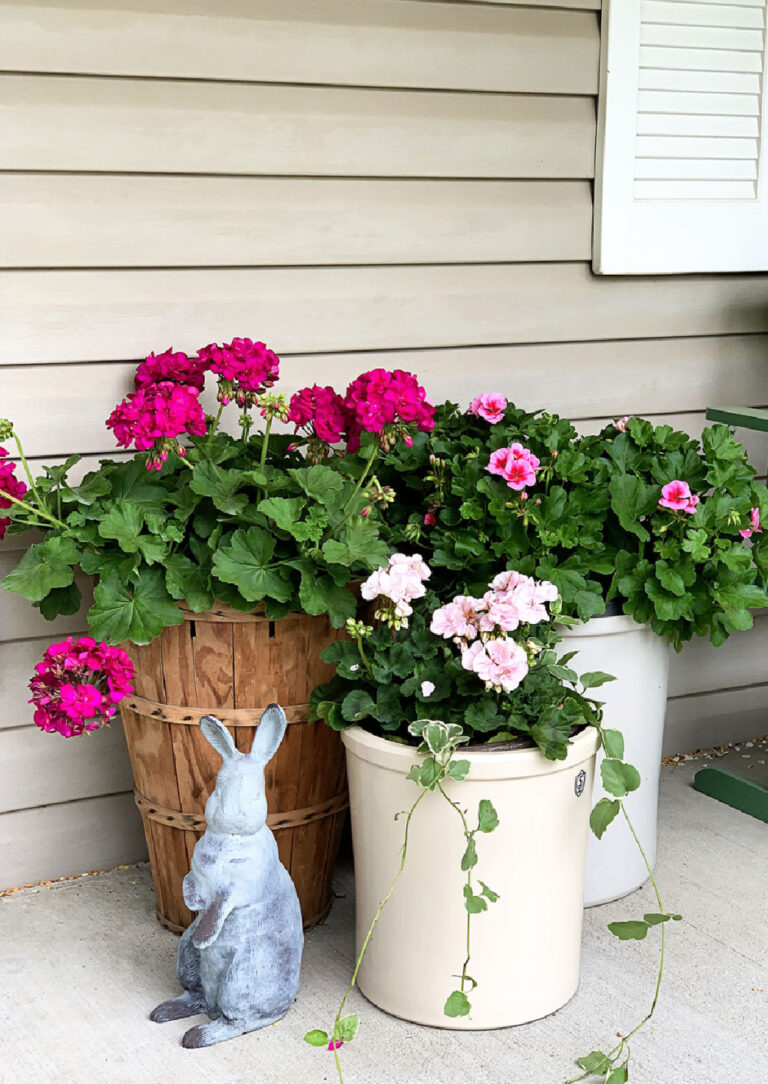 Plant Combinations for Container Gardens
In the summer, planting in pots is one way to enjoy the beautiful flower options. See what Pam of House of Hawthornes recommends. I love the different pots she has chosen. The bunny is a nice touch.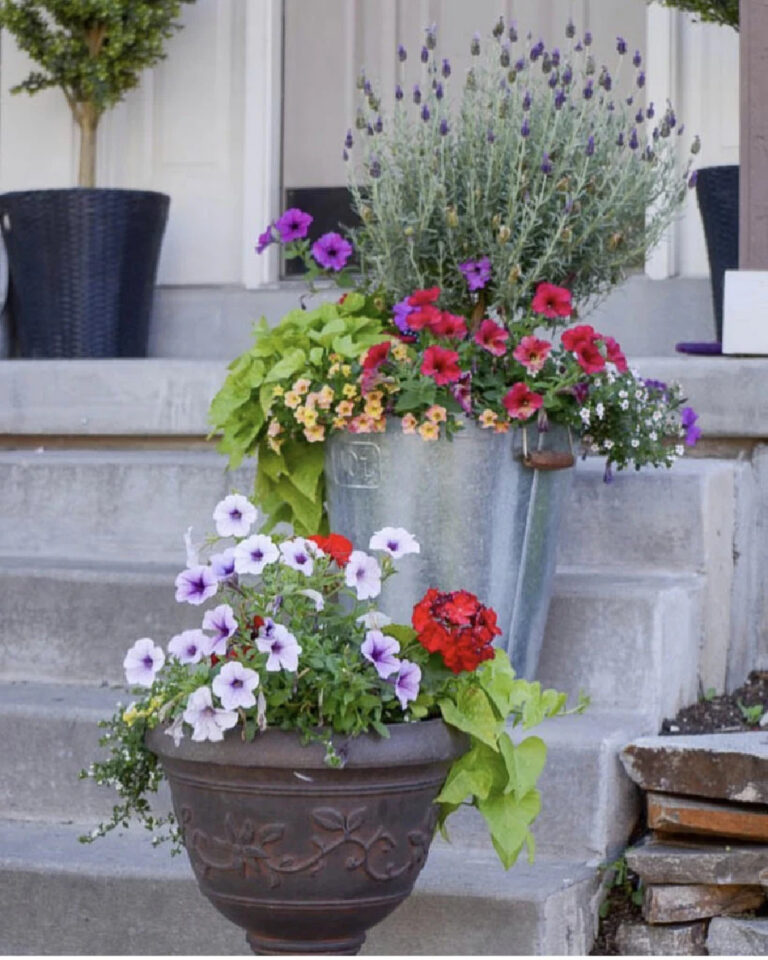 Get this Beginners Guide to Planting in Flower Pots
Brooke of Start at Home Decor shares tips for planting the best flowers in pots. She does a great job of explaining the best plants to combine.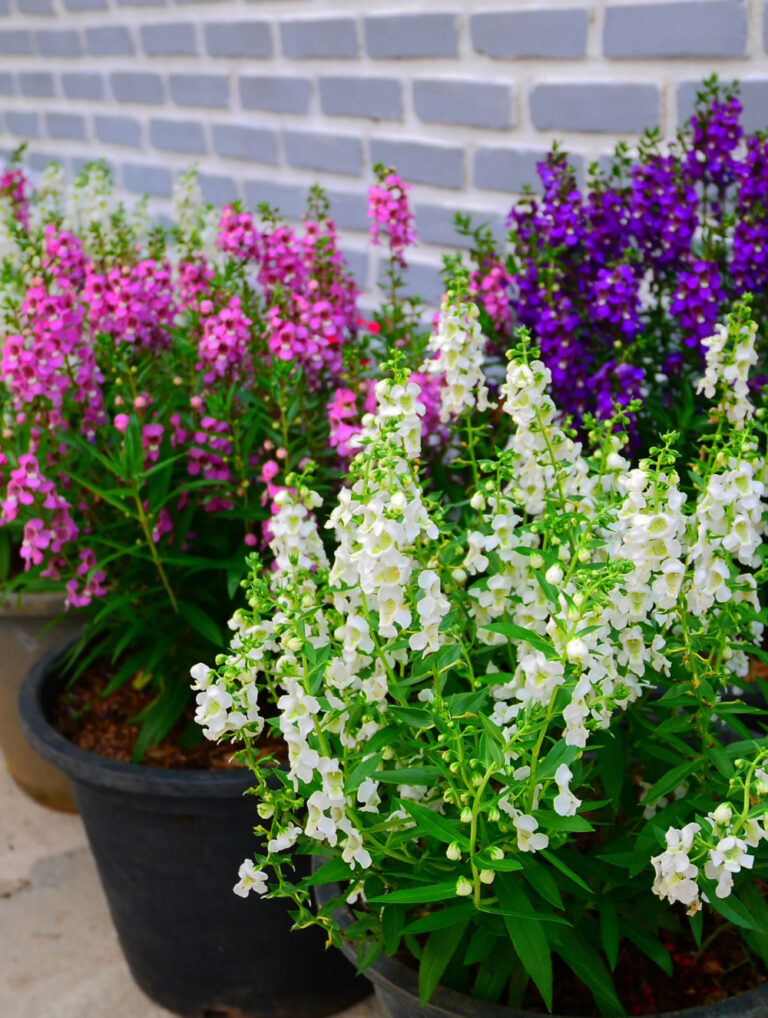 Flowers in Containers for Full Sun
Rachel of Brick and Batten shares how to pick the best flowers for full sun. Angelonia are one of my favorites, too. We recently planted the blue shade in our front yard. I learned that they are called summer snapdragons.
49 Heat-Tolerant Flowers
If you live in places like I do, finding plants that will withstand the high summer heat is a must. Grow Joy shares 40 heat-tolerant flowers to use when you live in the southern planting zones, like this tropical Mandevilla. We have grown them in containers across our back yard; their bright pink color is one of my favorites.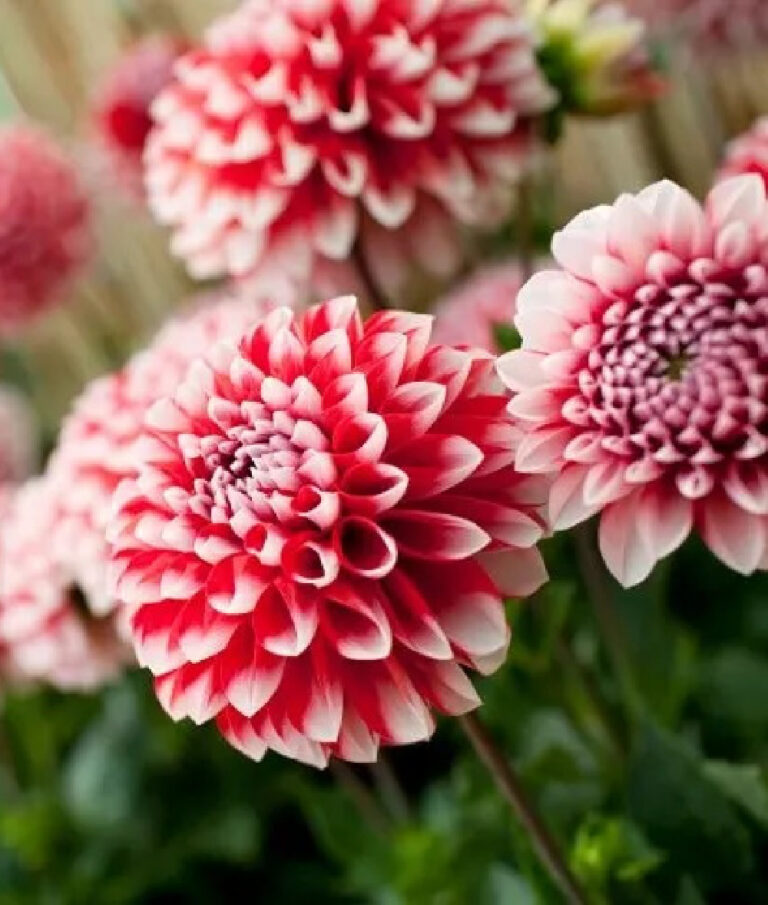 21 Plants that Bloom All Summer
After the hard work of preparing beds and planting, we want flowers that will last all summer. Check all these suggestions from Naturally Living Ideas, like this gorgeous Dahlia.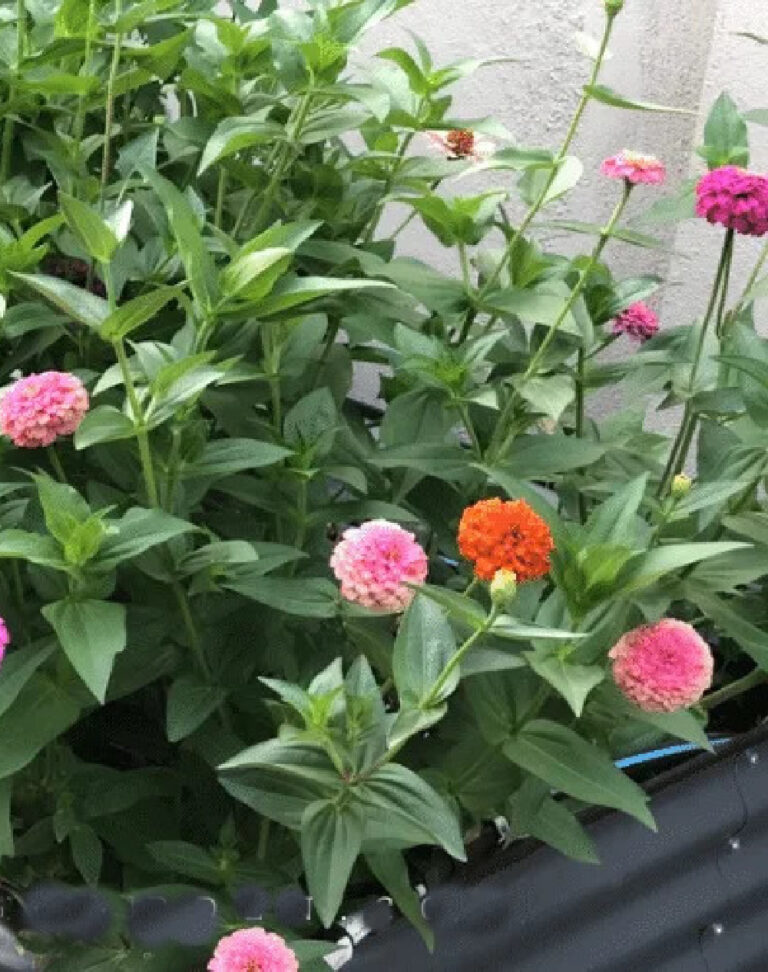 Flowers That Love Heat and How to Grow Them
What flowers love heat? Angela of Growing in the Garden shows you 10 flowers that will thrive in summer's heat. See how to grow these heat-loving blooms.
Annuals for Full Sun
Need flowers that love a full day of sunshine? Check out the list from Nell of Joy Us Garden. I bet most of us need this list. Aren't these sunflowers the epitome of a summer flower?
Perennials that Bloom All Summer
Flowers that bloom year after year are great. How about ones that grow all summer? Like these gorgeous Dianthus. In our northern part of Zone 8, these perennials flourish especially in fall, winter, and spring. They get a little droopy in summer, but come back every year. Modern Frontiers Woman shares 20 perennials that all summer. That's a gift that keeps on giving.
Flowers that Thrive in Summer Heat
Amber of Amber Oliver knows a thing or two about summer heat. She lives in Houston, about 4 hours south of Dallas where the heat and the humidity are brutal. If you live in a similar climate, then read about flowers that will thrive in this environment.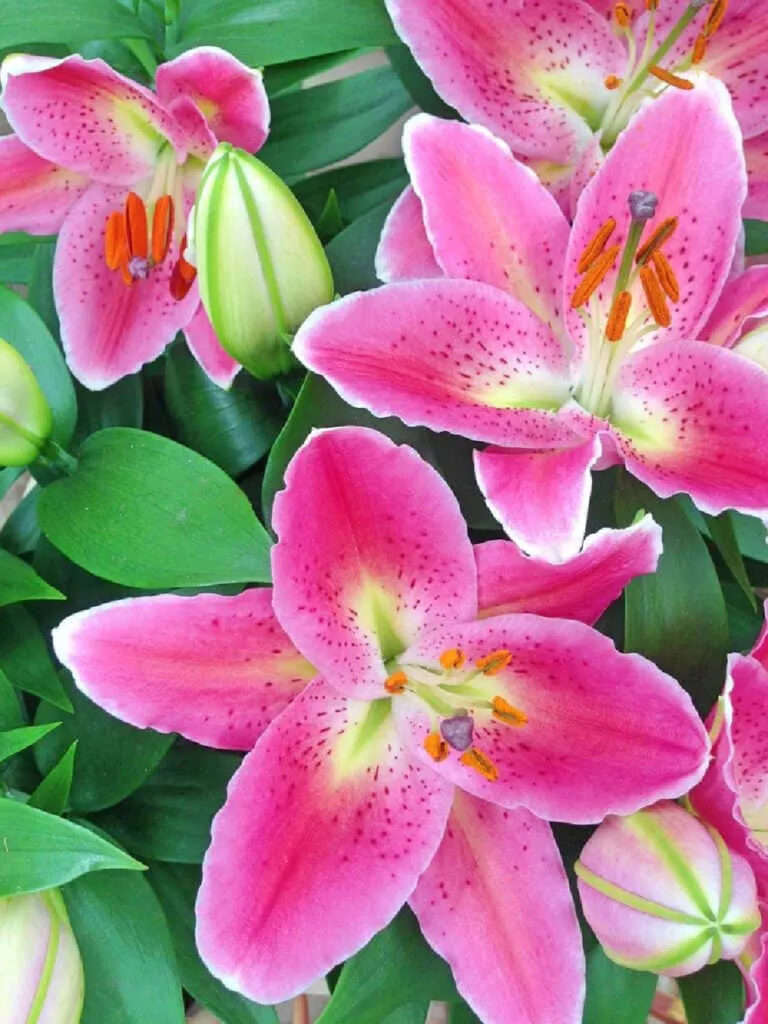 Bulbs to Plant in Spring for Summer
Did you know spring-planted bulbs can thrive in the summer and come back each year? We plant caladium bubs (which don't come back), but we have elephant ears that return yearly. I would love to plant these beautiful pink lilies. Check out this list from Blooming Backyard.
Flowers that Bloom in the Sun
If you have a lot of full sun at your home, you'll need to check out this list of summer container bloomers from Melissa of Create and Find. Portulaca is one. Its leaves are long and pointed. We use a variety called purslane which has a round leaf. They love full sun and act as a spiller in our hay racks.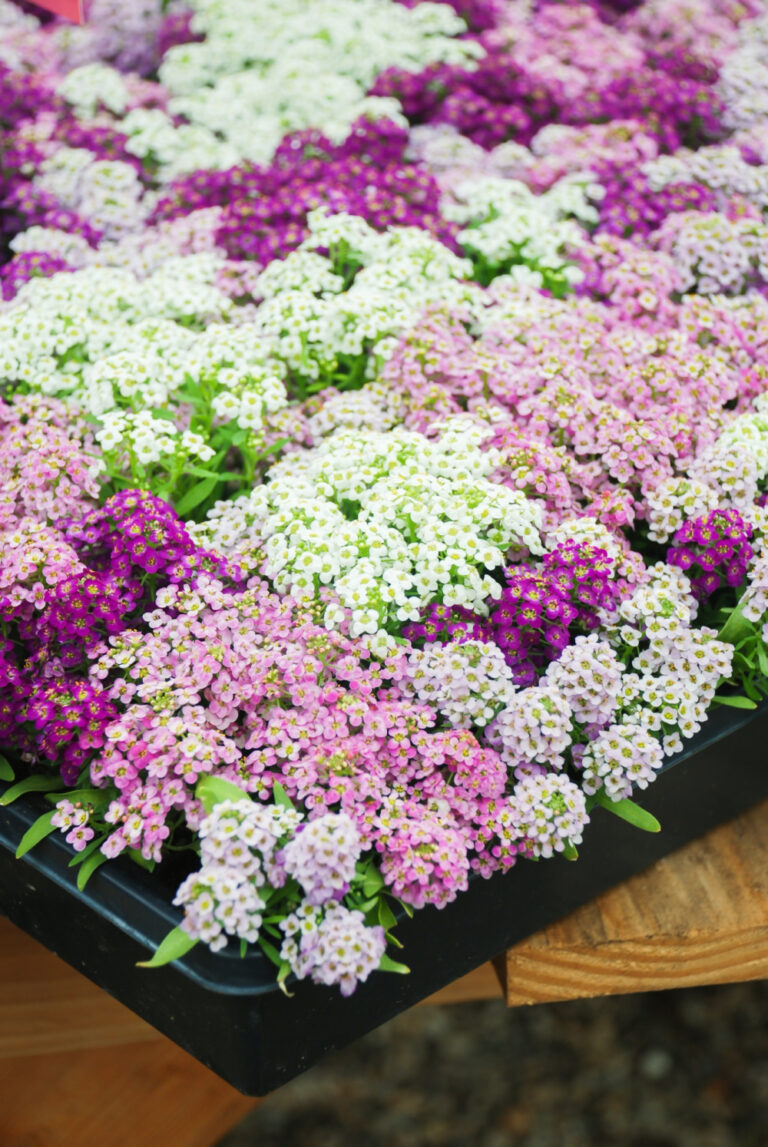 Annual Summer Bloomers
Annual summer flowers are so popular: petunias, periwinkle, pentas, and begonias are some of our favorites. Natalie of Natalie Linda has more suggestions for you with 16 summer annuals that will bloom all summer. These gorgeous alyssums in white, pink, and purple are my favorite ground cover.
Did you find some new gardening information? Inspired to find a new type of plant or a new variety? I hope so.
Here is another great post all about 10 Ideas to Create a Beautiful Garden.
I'd love to know what subjects you are most curious about. Let me know in the comments and I'll search browse for them. Be sure to PIN to keep these spring recipes handy.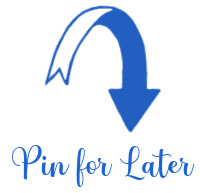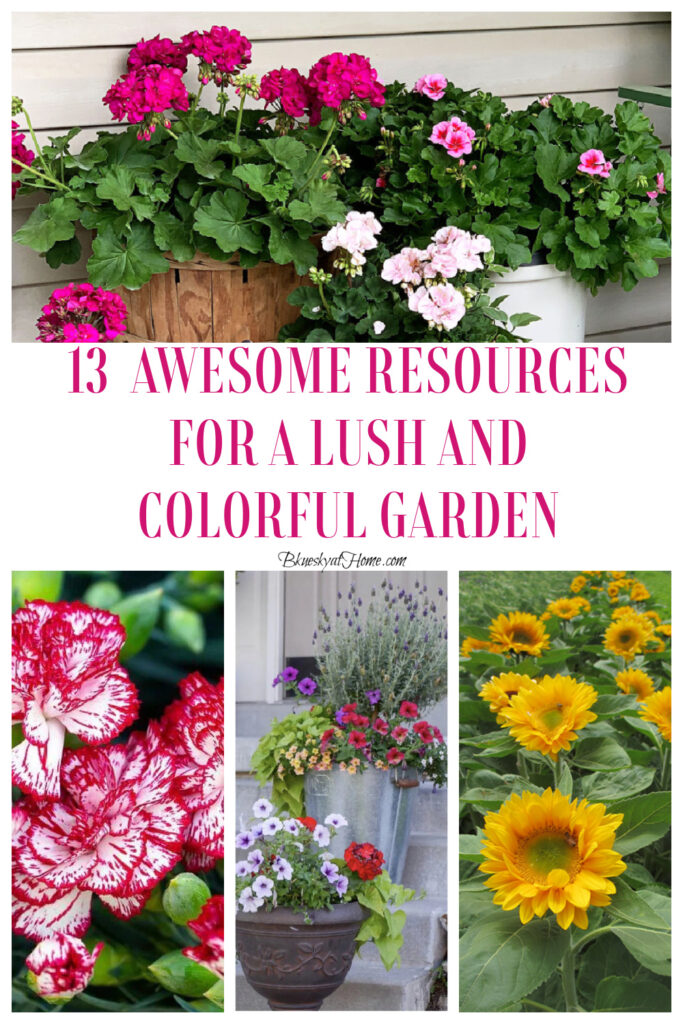 I'll be browsing away between writing posts, listening to podcasts, reading, doing various blogging tasks, playing tennis, and walking Nola.
Are you a new or intermediate blogger? Every week I share valuable blogging resources and tips. If you would like to receive The Blogger Bulletin, please join the Blogger Bulletin. It's just once a week and is a quick read.