7 Awesome Ideas for a Patio Makeover
We are finally going to update our patio. I need some inspiration. I found 7 awesome ideas for a patio makeover.
Do you love being outdoors? Like so many others, we want to make every foot of outdoor space useable and attractive. I knew what we wanted, but needed specific ideas for our patio makeover.
When we moved in our home 8 years ago, we knew that eventually we would update our backyard. We intended to start in 2020, but you know what happend.
Finally, this is the year. I knew it would be helpful to find specific ideas for the patio makeover to share with contractors that we interviewed.
7 Awesome Ideas for a Patio Makeover
In May, we started seriously getting in patio makeover mode. Here are the steps we took:
Researched local contractors who specialized in outdoor spaces
Sweet Shark and I walked our backyard and sat on our patio. We talked in detail about what we wanted to achieve with the makeover.
I started searching on Pinterest for ideas. Sweet Shark is very visual. He needs pictures.
Decided on a budget range that we were comfortable with.
We made appointments with a few contractors in different areas of expertise starting after Memorial Day. In the meantime, I fine~tuned my inspiration search on Pinterest. If you want to see all the patio ideas I found, see my Outdoor Spaces Board.
Since I put this list together, we have chosen our contractors, fine-tuned the covered patio design, and paid deposits. Several more design decisions have to be made in the coming weeks. Contractors and materials are so backed up that the makeover will not start until mid~August.
I will share the entire project from start to finish in later posts.
PATIO MAKEOVER INSPIRATION
This patio makeover, like any interior or exterior space, is made up of different parts. I'll go into more detail when we get closer to actual construction. For now, we identified 5 major areas that needed to be addressed:
replace our retractable awning with a pergola or other structure to cover the seating area on the patio
replace the existing hardscape in the seating area, creating a patio under the covered structure
add synthetic grass to cover other areas of the hardscape
add a ceiling fan with light on the new structure
add additional lighting ~ a light kit on the ceiling fan and string lighting
In my Pinterest search, I looked for ideas that covered one or more of these issues.
PATIO IDEA 1 ~ PERGOLA AND LIGHTS
We started out thinking we would build a pergola like in our previous home. I loved the look of the rafters in this pergola from Rachel of Sprucing Up. The stone and gravel around the patio is a nice touch. You can see the string lights.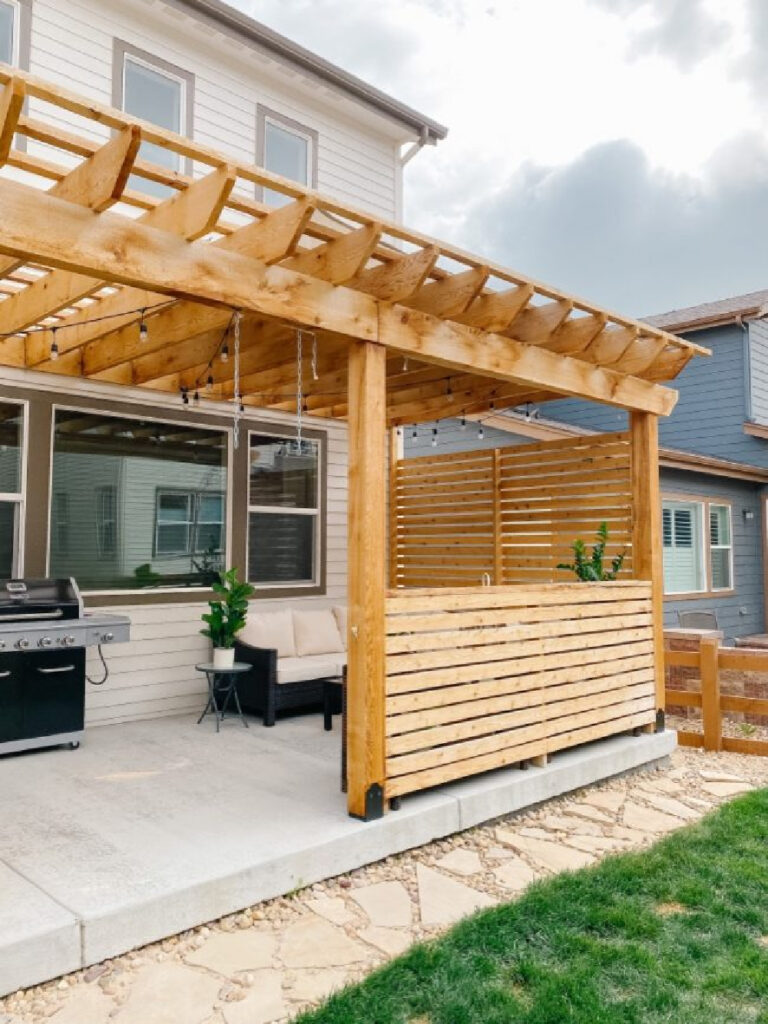 PATIO IDEA 2 ~ PERGOLA, LIGHTS, WOOD DECK
Here is another example of a pergola, but this one is covered, providing all~weather seating. String lights again are used for light and style. Olivia of Livvyland designed this patio makeover for function and comfort. For the base, she installed wood decking.

I love that you can have nice patio furniture and a rug that won't get wet when it rains.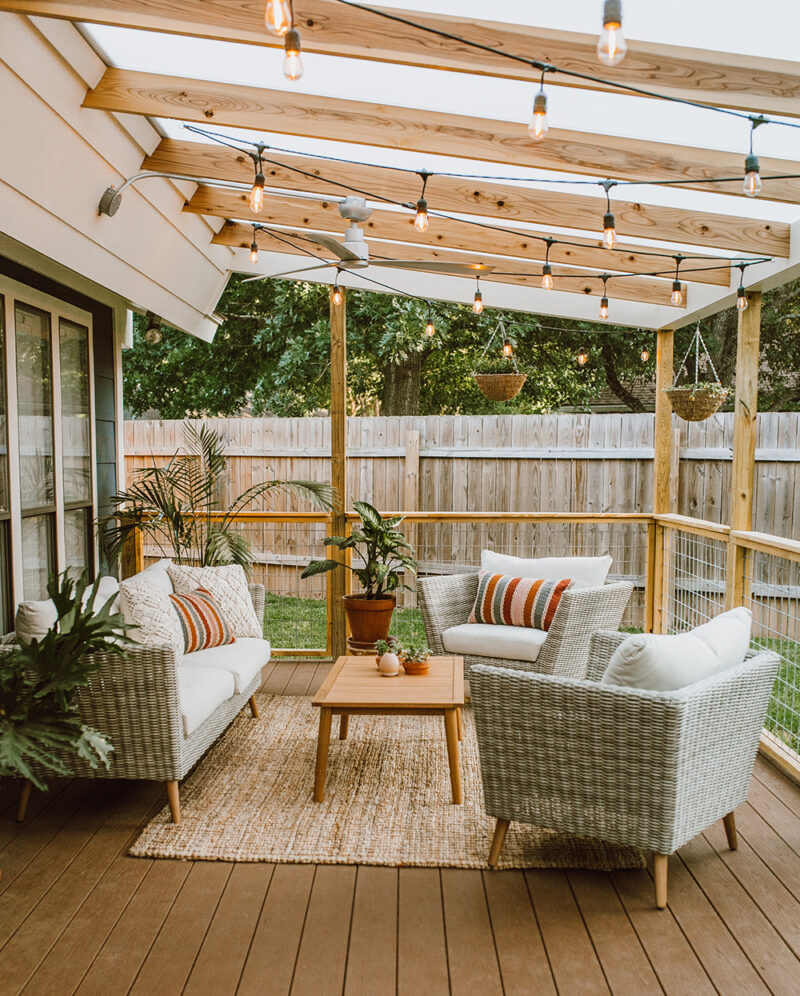 PATIO IDEA 3 ~ COVERED PATIO WITH LOTS OF LIGHTING
After meeting with two contractors about our new covered patio, we realized we didn't want a pergola. We needed a truly covered patio for practicality and style. Although this covered patio from YB Architects is much larger and more substantial than we need, it still became my inspiration.
We loved the gable roof and exposed rafters. What about that chandelier, recessed lights, and lanterns? I bet it's beautiful at night.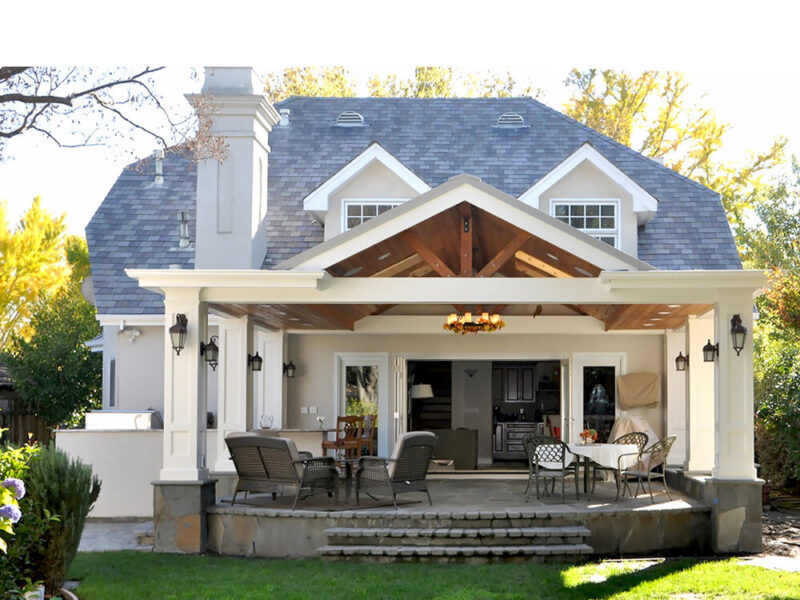 PATIO IDEA 4 ~ COVERED PATIO WITH METAL SEAM ROOF
This covered patio style also appealed to us. I love the metal seam roof. Do we want a natural wood look or white painted wood?
Liz of Love Grows Wild styled this patio like a living room with beautiful furniture, rugs, and plants. We definitely will need a ceiling fan in our Texas heat.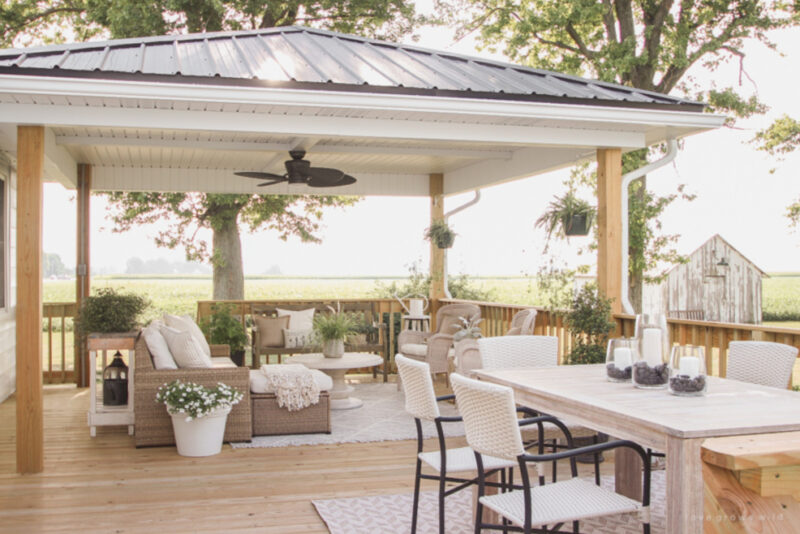 PATIO IDEA 5 ~ NEW PATIO WITH STONE HARDSCAPE
Currently, we have two different types of hardscape in our backyard. Part of the original hardscape is a stamped concrete which is definitely showing its age. The other part is plain concrete, which is just plain ugly. Major repairs had to be made to the back 12~foot wall of our yard (long story) by the previous owners.
We know that we want stone of some sort, but we haven't yet decided on a style, color or shape. I do like this simple, but interesting pattern and grey color from Rachel of Rachel Parcell Design.
Too bad we don't have mountains in our view!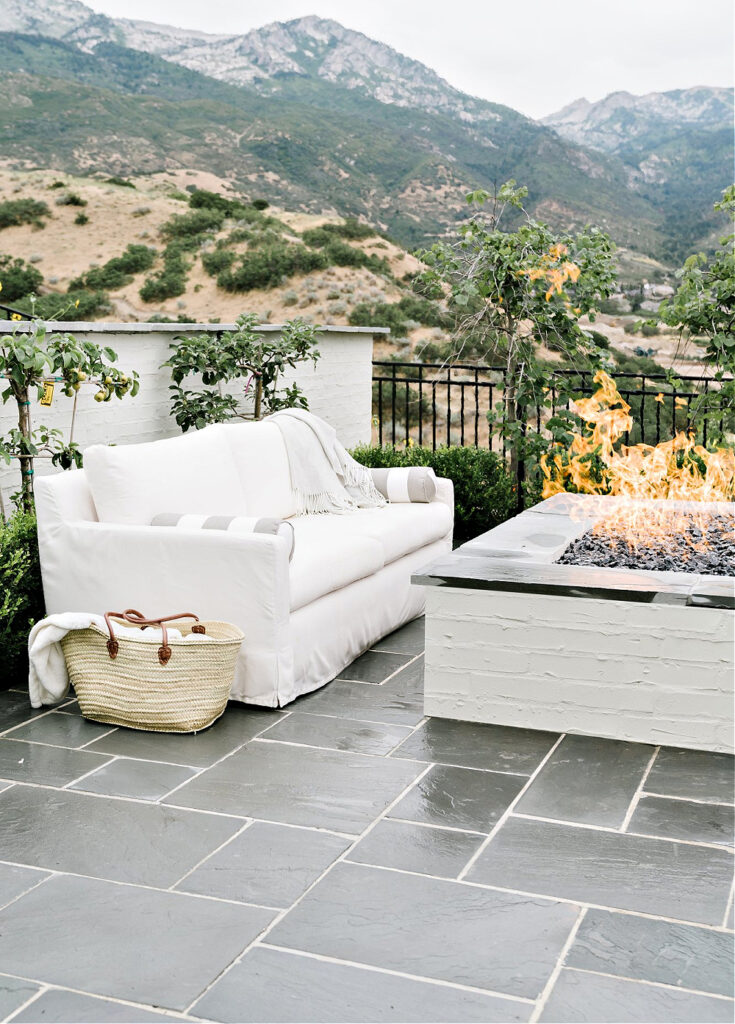 PATIO IDEA 6 ~ LIGHTING
Right now, our backyard has minimal light. One coach light isn't working. We have to walk around the side of the house to turn on the flood lights (which are too bright!). We know we want string lights, for sure. Diane of In My Style shared several different lighting ideas.
This simple use of string lights from Ashley of The Handmade Home works for me. I found so many string light tutorials to add to my Outside Spaces Board.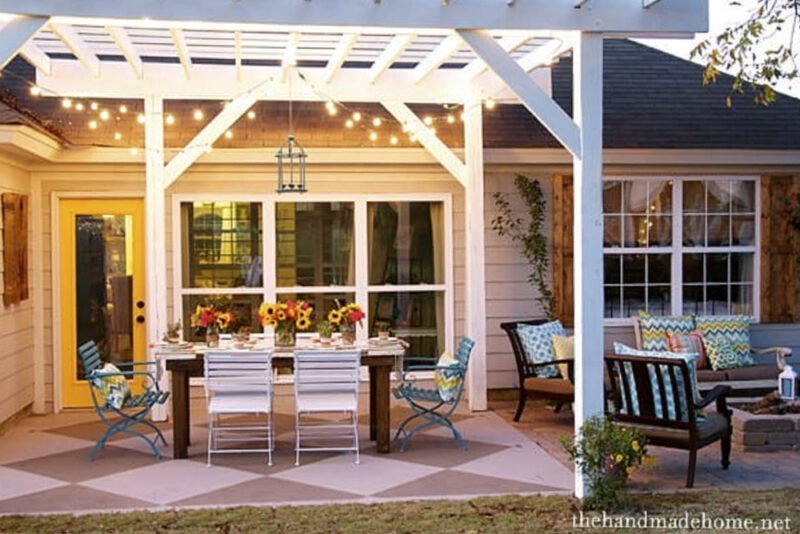 PATIO IDEA 7 ~ SYNTHETIC GRASS
One of my must~have wants for our patio makeover is synthetic grass. We plan to cover part of the hardscape with grass for a softer and cooler vibe. This will make the backyard look like more of a real backyard. There are dozens of examples from Synthetic Grass Warehouse to get ideas from.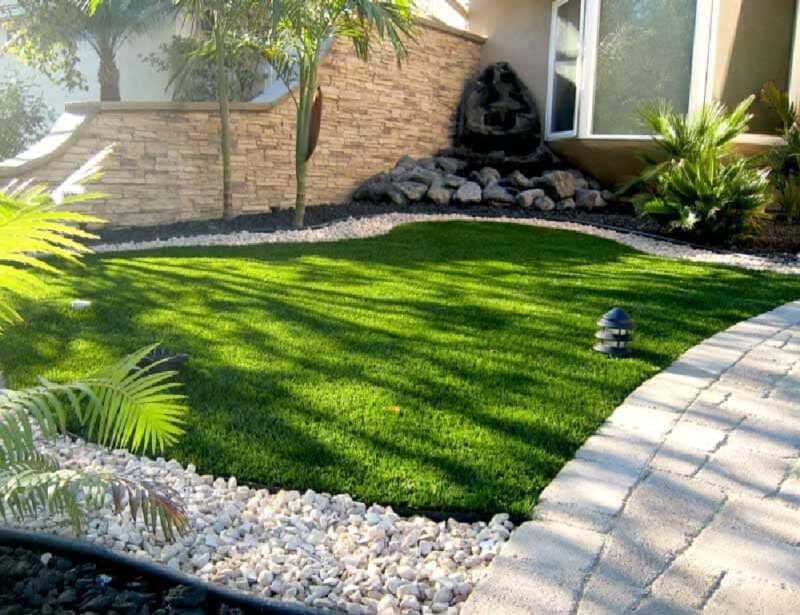 It will be several weeks before construction begins on our patio makeover. During that time, we will narrow down our design choices. The contractors will order all the materials and schedule all the work.
If you need ideas for a patio makeover in the future, then save this post for reference. I'll be referring back to it and to my Outdoor Spaces Pinterest Board.
It's 4th of July weekend. I wish everyone a happy and safe holiday weekend. Happy 4th of July.