17 Best Spring Front Door Decorating Ideas
Let's welcome the spring season by getting our front door areas in a welcoming frame of mind. Our friends and neighbors will appreciate a pretty front door space. Here are 17 best spring front door decorating ideas. 
Our spring weather can't seem to make up its mind. One day it wants to be cool and cloudy. The next day it wants to be warm and sunny. And sometimes, it wants to be both those things on the same day. 
Yesterday I took advantage of the warm and sunny morning (before the storms predicted for this afternoon) to start decorating our front door area. We don't have a front porch (that would be a dream come true), but I have to focus on other ways to decorate our small front door area. 
So far I have a pretty woven basket with faux flowers (I made it as part of this week's Pinterest Challenge.) that I moved outside and hung on the front door. Then yesterday I planted a pot I painted last summer with sun-patien and white lobelia. A large piece of our leftover artificial grass acts as a welcome mat until I can look for a new mat.
There are certain things that every front door space can use to make it more welcoming, attractive, and pretty. I have a long list below. We can't incorporate them all into our front door area nor should we. But we should include a few for a pretty setting.
Are you in need of some fresh ideas for your spring front door? Maybe some that will continue into summer. Then you'll love these lovely spring front door decorating ideas.
Spring Front Door Ideas – 17 Ways to Decorate Your Outdoor Spaces
A new season gets our creative juices flowing. The urge to plant, be outside, get our hands dirty, and make a fresh spring look is part of our DNA.
Whether you are looking for small porch ideas or you have a large front porch area, you'll find the best ways to add flare and flowers to your space here. Our front entry is how we say hello to the world, so let's give the world a big HELLO.
I'm sharing 17 of the best ideas to create a beautiful porch or a simple spring door look. Let's put out the warm welcome mat and invite the neighbors over.
How to Add Decorative Touches to Your Front Door Decor
Before you start decorating your front door area and invite company, be sure that it is clean and fresh. 
Does it need a fresh coat of paint? 
Do window screens need to be repaired or replaced? 
Do porch lights need to be replaced?
Do light fixtures need to be cleaned?
Does the area need a good hosing down or get a blast from the blower to remove dust, leaves or cobwebs?
I identified 19 great items to add to your front door space. With the warmer months upon us, it's the perfect time to bring out the spring decor items.
There are plenty of ways to add a fresh update to your home. I would pick a few of these decor items that best fit your space, your budget, or your style.
bench for sitting
potted plants – fresh spring flowers 
greenery, such as ferns or succulents
side table for drinks or a book
hanging baskets
welcome mat or larger rug if you have the space
a porch swing for front porch napping
throw pillows for color and texture
accessories
beautiful spring wreath on the front door
pretty spring basket on the front door
something vintage
wood or metal sign
painted front door
chair for relaxing and visiting
ladder
lanterns – either decorative or with candles
crates
rocking chair
curtains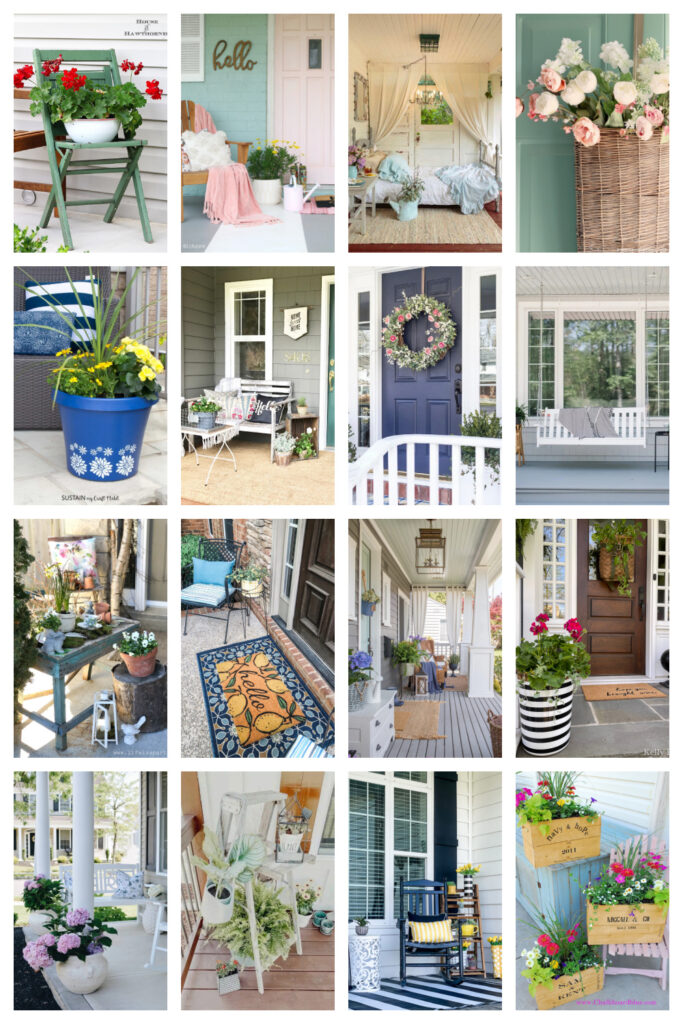 Welcome to 10 or More Fabulous Finds at Bluesky Browsing #85.
Think of Fabulous Finds as a home decor/DIY/Craft/recipe Readers' Digest.
If you are new to Bluesky at Home, what fabulous finds do I share at Bluesky Browsing?
ideas to help you in your home decor efforts
fun holiday decoration ideas
ideas for better organization and efficiency
a yummy recipe or cocktail
fun DIY projects
the latest trends in home decor
a quirky new find or two
This post contains affiliate links to products used in the creation of this project. If you should order any item from this site, I may receive compensation, but you do not pay a penny more. Your purchase is greatly appreciated as it helps support the continued publication of this site.
Spring Front Door Decor: 17 Ideas to Inspire You
Focusing on finding new projects, resources, tips, new ideas, and inspiration for you is my main task. I'm constantly discovering fabulous finds to inspire us. My goal is to help you find ideas for your home decor, your crafting, your home organization, and anything about home.
In each roundup post, I've BOLDED the items that are in my list of front door ideas.
Did you get some inspiration from all the ideas for your front door or front porch from these posts? I hope so because there are great ideas here.
Here are more fort door ideas to inspire you:
I would love to hear which ones were your favorites.
I'd love to know what subjects you are most curious about. Let me know in the comments and I'll search browse for them. Be sure to PIN to keep these spring recipes handy.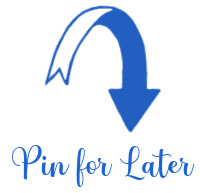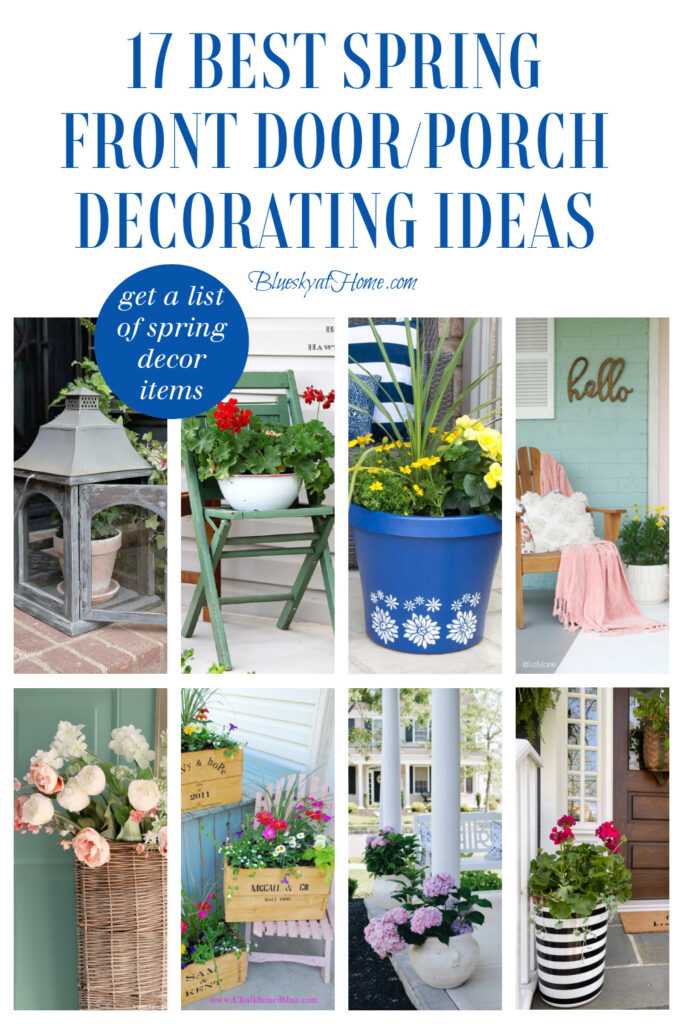 I'll be browsing away between writing posts, listening to podcasts, reading, doing various blogging tasks, playing tennis, and walking Nola.
Are you a new or intermediate blogger? Every week I share valuable blogging resources and tips. If you would like to receive The Blogger Bulletin, please join the Blogger Bulletin. It's just once a week and is a quick read.