Make an Easy Wreath for the 4th of July
It's been a crazy 10 days here. My daughter and 2 granddaughters have been here so the days have been filled with swimming, play dates, visiting friends and late dinners. A 6-year-old and a 3-year-old have a ton of energy and I tried to keep up. They left yesterday morning to drive back to Atlanta and I finally had time to focus on getting the house ready for the 4th of July. It's almost upon us. Time to get out your red, white, and blue. We have several 4th of July decorations that I plan to reuse ( I shared last year's decor last week), but I always like to add something new to the mix. I decided to gather up some finds I bought a couple of weeks ago in the dollar section at Target and a couple of last minute pick~ups at the craft store to create a DIY wreath for the front door. If you don't already have a wreath, this one is so easy that you could make it in about 1 hour. That's how long it took me, so let me show you how to make an easy wreath for the 4th of July.
When I visited Target a few weeks ago, I headed straight to the dollar area ~it's smack in the front of the store ~ and found a bunch of really cute 4th of July stuff. I bought 12 large wooden stars in red and blue. I don't know why I bought 12, but I'm glad I did. I'll show them to you in a minute. But those stars were the inspiration for this easy wreath for the 4th of July.
Make an Easy Wreath for the 4th of July
And then I bought stickers.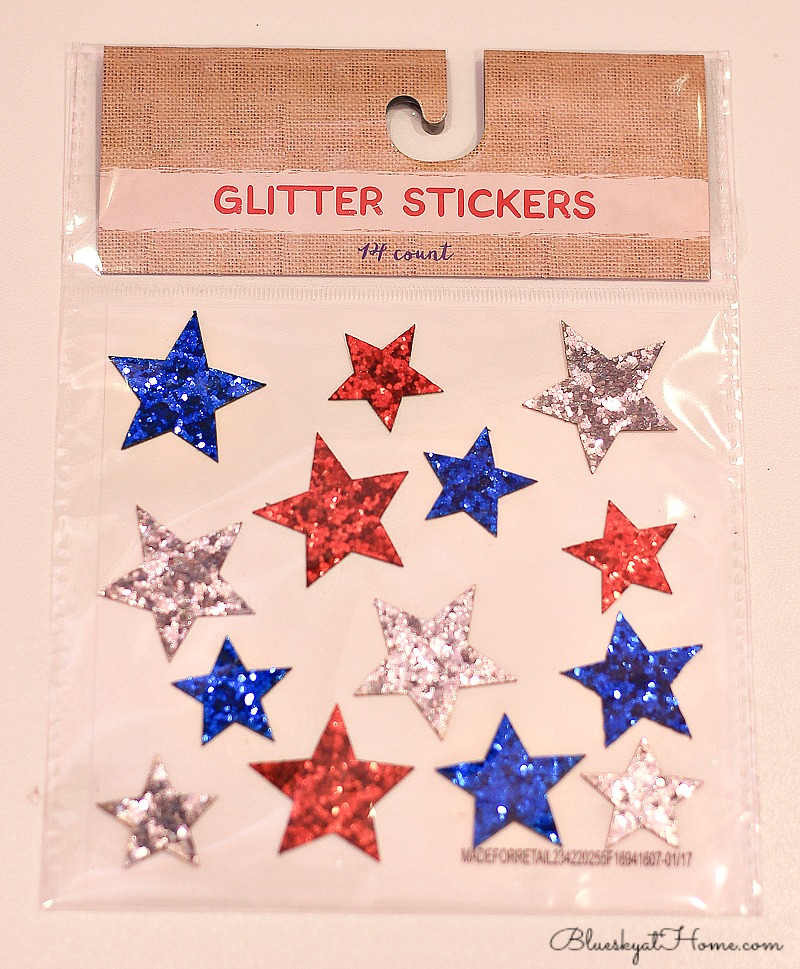 And more stickers.
At this point, I didn't know what I was going to do with the stuff I bought. And then I thought "wreath"! We needed something pretty for the front door so I stopped in Jo~Ann real quick to pick up a styrofoam wreath. But how to cover it?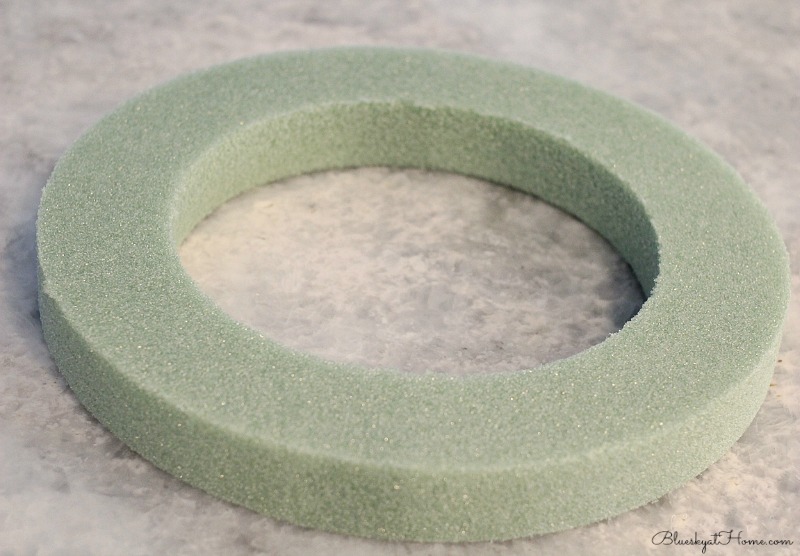 Then I saw this red and blue tulle and thought I could wrap the styrofoam with it.
I tied the ends of the tulle together and made a loop to start the wrapping process.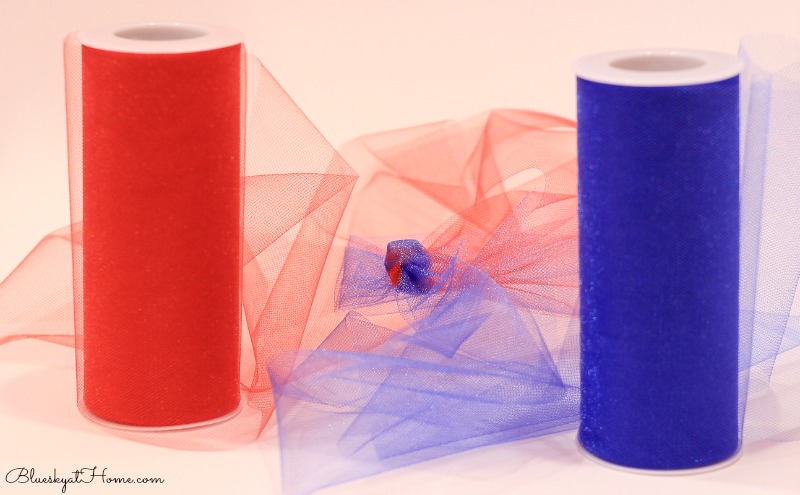 I cut off a long length of the the red and blue tulle and started wrapping it around the styrofoam, keeping the red and blue in separate stripes. You remember from elementary school art that blue and red makes purple? Didn't want that, so I made sure the the two colors didn't overlap. In a couple of places to keep the flow of the wrapping, I left a space on the styrofoam wreath showing. No worry, the wooden stars will cover the bare space.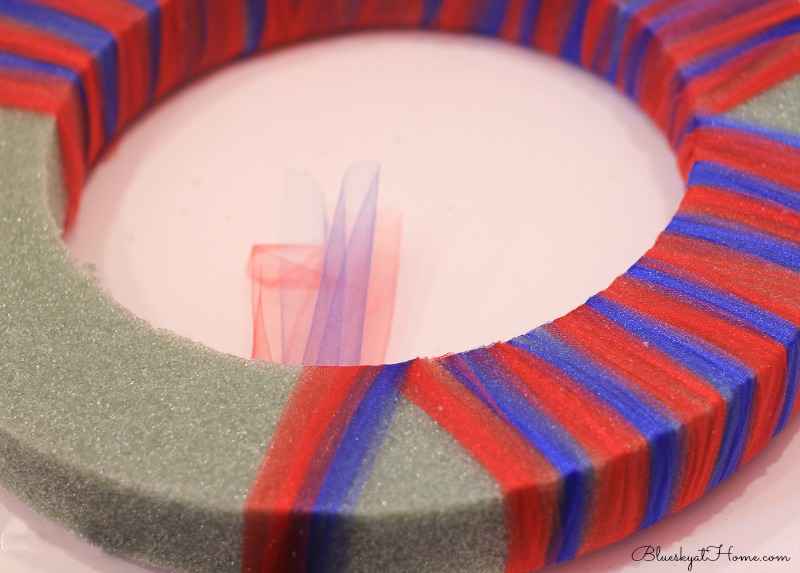 My plan once the wrapping was complete was to glue 6 stars to the wreath, but they were a bit plain. I wanted to spell something in 6 letters. U~S~A was the perfect solution. Next question: did I stencil, did I paint? I decided to use my trusty Cricut to cut out letters. Luckily, I already had a sheet of silver card stock.
CRICUT TIP #1: Since this paper was thicker than regular cardstock, I set my material dial between Cardstock and Fabric. I've learned to do that with thicker paper to get a clean cut.
CRICUT TIP #2: I've also learned to duplicate a letter by clicking on your image, then clicking on COPY and PASTE. The duplicate image will be over the first one. Just click on the second one and drag it over to where you need it to be on the mat. In this way, I was able to cut 6 letters (3 duplicate letters) at once. Saves a lot of time when you don't have to reinsert paper on the mat.
The next step was to glue the letters on alternate colors of the wooden letters. I had already removed the twine hangers from the stars.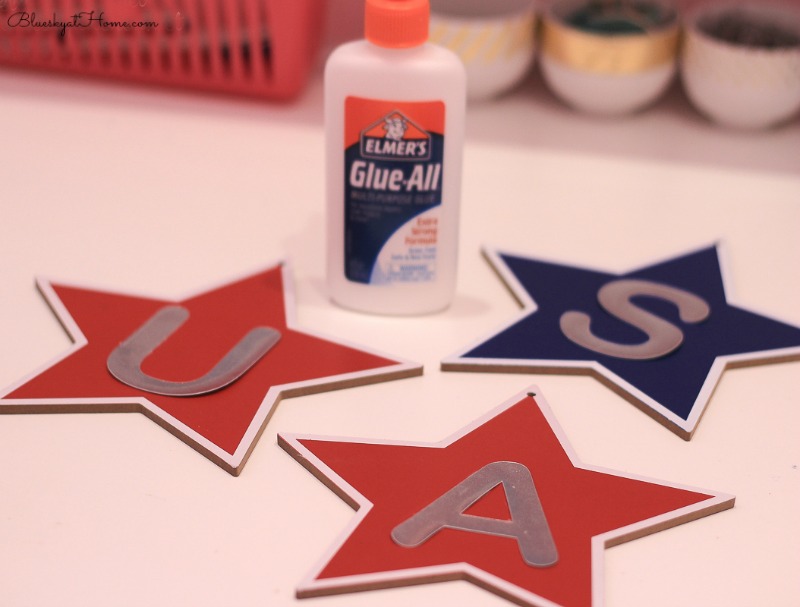 Once I had glued all my letters, I used my hot glue gun (what would we do without glue guns?) to attach the wooden stars to the wreath.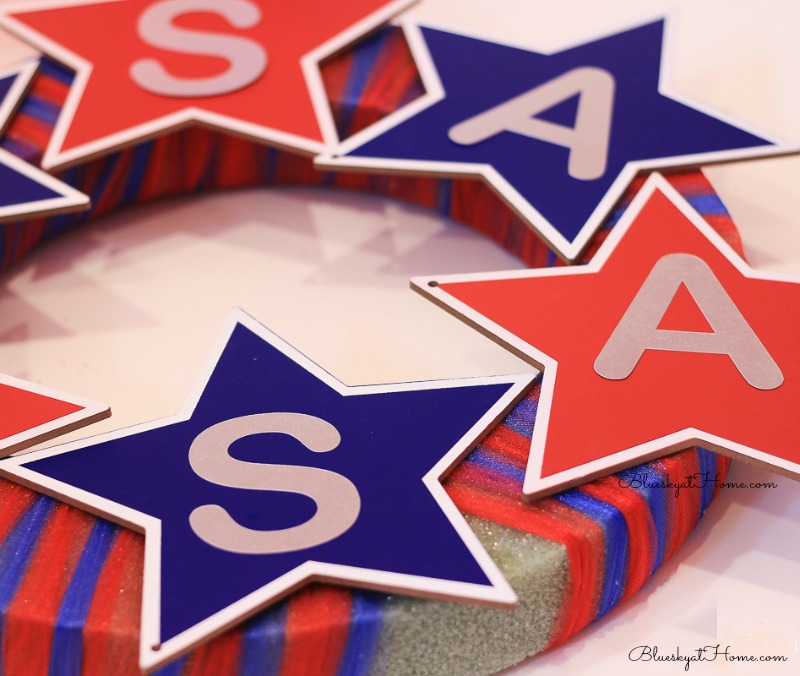 Next, I added 6 pieces of the tulle, layering them and knotting them at the top of the wreath. I added the star stickers in red, blue and silver to the tulle. Then I tied the excess tulle to the small nail that Sweet Shark nailed in the top of the door a few years ago.  Yeah, done, love it!
Since I had 6 wooden stars left, I decided to make one more quick July 4th DIY decoration. I used 12 of the 4th of July stickers on the remaining 6 wooden stars and clipped them to a piece of ribbon on our mantle. I love this new banner on the mantle. It really shows up and makes a statement. It's 4th of July!!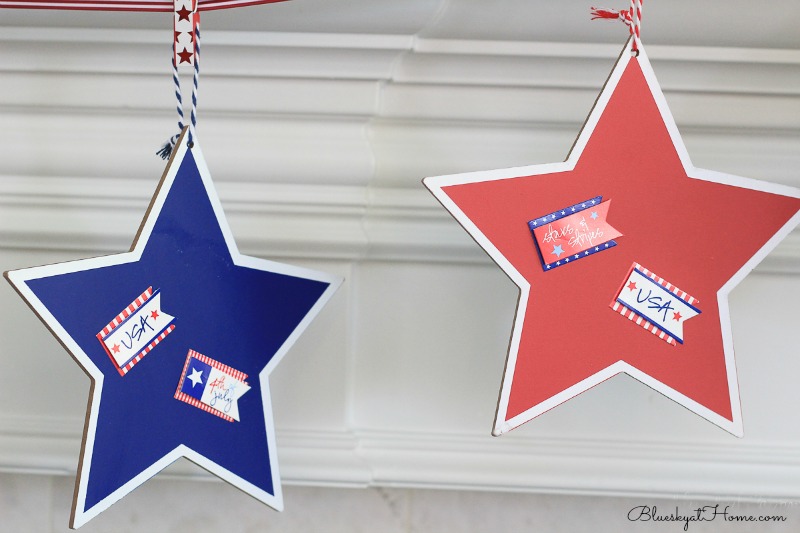 In the Taget dollar section I also found these letters in red, white and blue and set them on the mantle. It's a simple, but clean look. I like how it turned out.
Outside the flags are up and blowing in the breeze. It's great to see the red, white, and blue waving. I can hear a little John Philip Sousa in the background.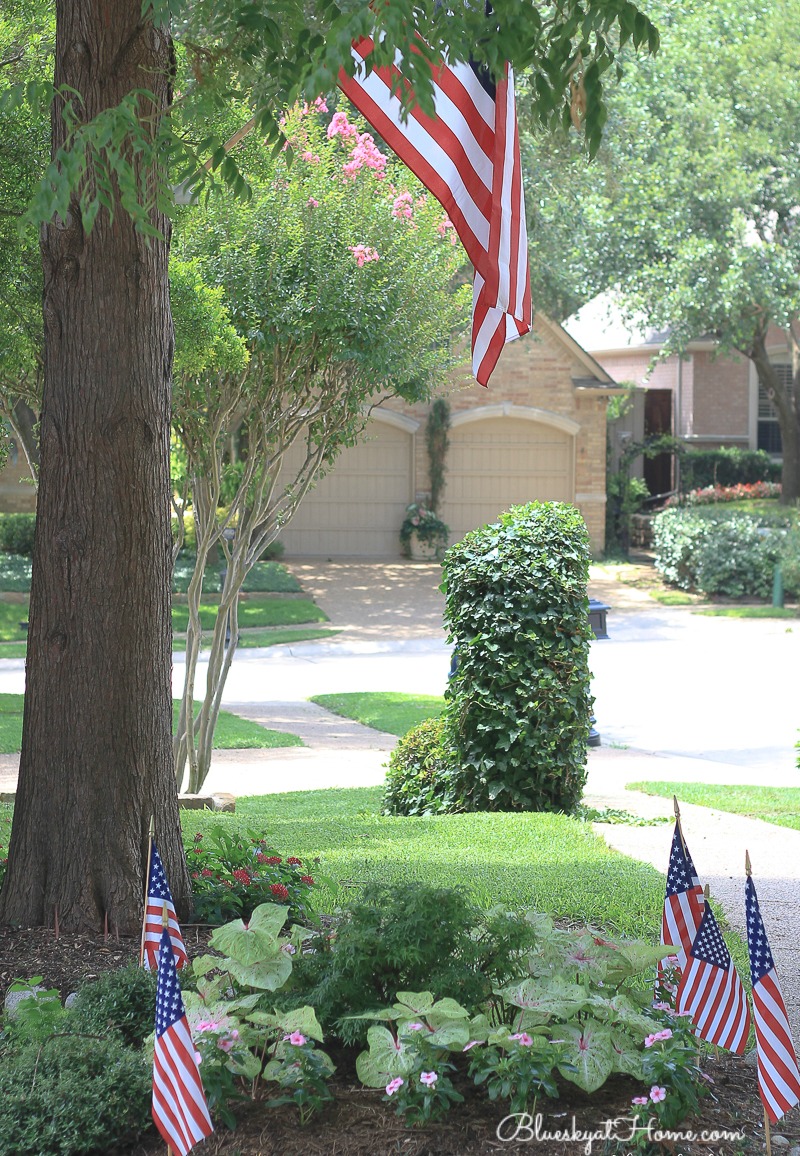 I think we are just about set to celebrate with my new easy wreath for the 4th of July, the new banner for the living room mantle, and all our other decorations. I spent about $25 for the new supplies to make the wreath and the new banner, but I think I got a lot of bang for my buck. Whatever your plans for the 4th of July, I hope you have a safe, festive, and not~too~hot time. We'll be right here, enjoying the flags flying, the sparkles, and the shiny red, white and blue.