3 Easy DIY Christmas Gift Ideas
Do you need some easy DIY Christmas gift ideas for friends and family? I have a few for you.
These 3 easy DIY Christmas gift ideas can be made for hostess gifts, teacher gifts or "just because" gifts. If you want to give a personalized gift and not spend a ton of money, these gift ideas are exactly what you need.
Making DIY Christmas gifts is especially a good idea when you need multiple gifts for groups.
There is no better time to make Christmas gifts than in July!! For today's Christmas in July post, we'll make three different easy Christmas gifts. These will help you get ahead of the Christmas gift rush.
These DIY Christmas gift ideas are simple to make, inexpensive, and useful. Your friends will appreciate the time you took to make them.
Easy DIY Christmas Gift Ideas
This post contains affiliate links to products used in the creation of this project. If you should order any item from this site, I may receive compensation, but you do not pay a penny more. Your purchase is greatly appreciated as it helps support the continued publication of this site.
Fortunately, I had all the supplies that I needed for these easy DIY Christmas gift projects.
These Christmas gift ideas are meant for when you need several gifts that are easy to make and inexpensive.
Every year, for years, a group of my sorority sisters and I get together for a Christmas dinner. There are about 12 of us. Many of us make small gifts for everyone. In the past, I made gold leaf votive candle holders.
I checked the supplies in my office and knew exactly what I would make as my DIY Christmas gifts.
SUPPLIES FOR MY DIY CHRISTMAS GIFTS
white cardstock
Christmas stencils from A Makers' Studio ~ from last year's collection.
Gel Art Ink in red (Bless His Heart), green (Grass is Always Greener), and blue (Hey Y'All).
white paint ~ Stonewall in One Step Paint from Amy Howard at Home
skinny ribbon in red, white, and green
small paintbrush
wood slices
scissors and paper cutter
Paper was the base for 2 of my Christmas gifts.
A few weeks ago, I found a package of square 6 X 6~inch cardstock in white and kraft paper color at Hobby Lobby. I couldn't resist and bought one of each.
DIY CHRISTMAS BOOKMARKS
I thought bookmarks would be a sweet little gift for friends. I started by lightly measuring and drawing 2~inch widths on a piece of the cardstock. Each piece of cardstock would yield 3 bookmarks.
For my design, I used a "Merry Christmas" stencil. I made 3 in red and 3 in green Gel Art Ink. I love this paint which can be used on fabric, wood, glass, or just about any surface.
Remember, this paper is 6 X 6 inches. So my bookmarks would be 6 inches long by 2 inches wide. I could get 3 bookmarks to each piece of cardstocks.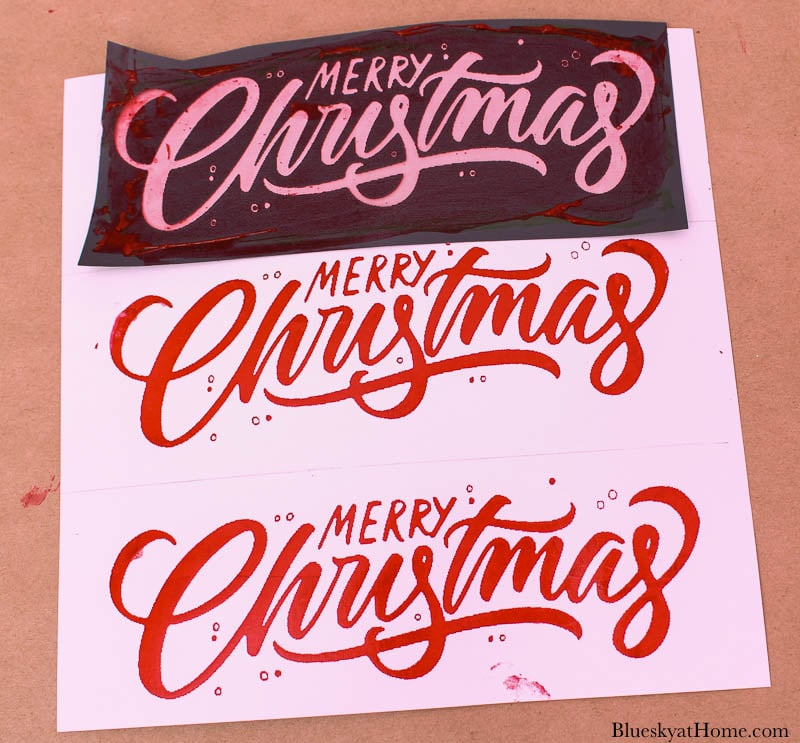 I repeated the process with the green Gel Art Ink. Then I used my paper cutter to cut the bookmarks.
I let the Gel Art Ink dry for about 10 minutes, then I turned the bookmarks over. I used a hole punch to punch at one end of the bookmark and used a To and From stencil in green and red.
I had skinny ribbon in red, white, and green. I used the red and green ribbon as a tie on the bookmarks.
I cut off about 10 inches of ribbon. Then I folded it in half and pushed it through the hole. I think these bookmarks are great when you need a lot of gifts, like for teachers.
Check out 9 Great TIPS to Signs with Stencils.
DIY CHRISTMAS CARDS
I have a friend who is a talented artist. A few years ago, she gave me a package of 10 hand~drawn Christmas cards. It was such a special gift and that was my inspiration for these cards.
I cannot draw, but I can stencil. I decided that I would make a few "test" Christmas cards.
Using the same 6 x 6~inch cardstock, I folded a sheet in half. I picked out 3 different stencils to try out. I used both red and green Gel Art Ink.
For this card, I decided to add a touch of Gold Leaf to the sprigs of greenery. Here's another project using Gold Leaf.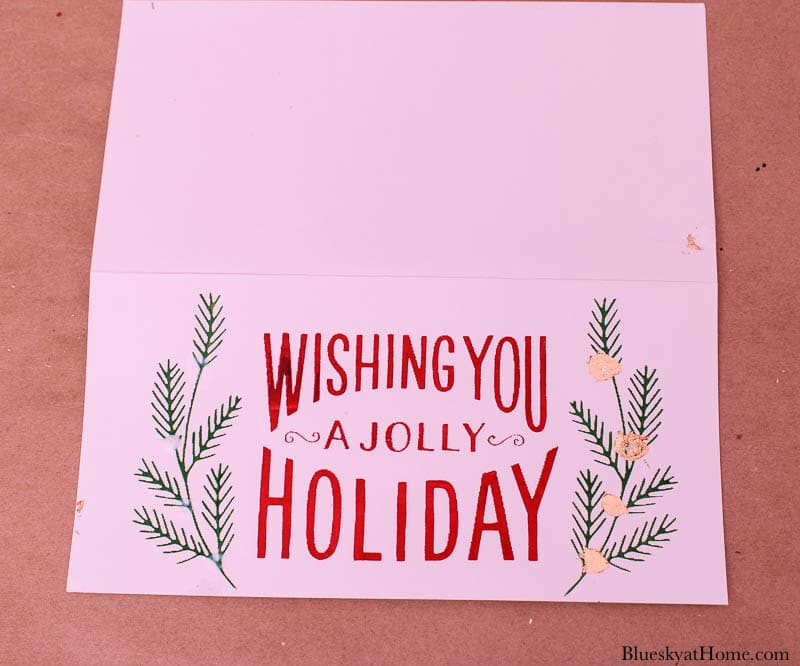 I love this card. These stencils have so much depth and detail. More Gold Leaf adds sparkle.
The last card was more simple ~ a holly design.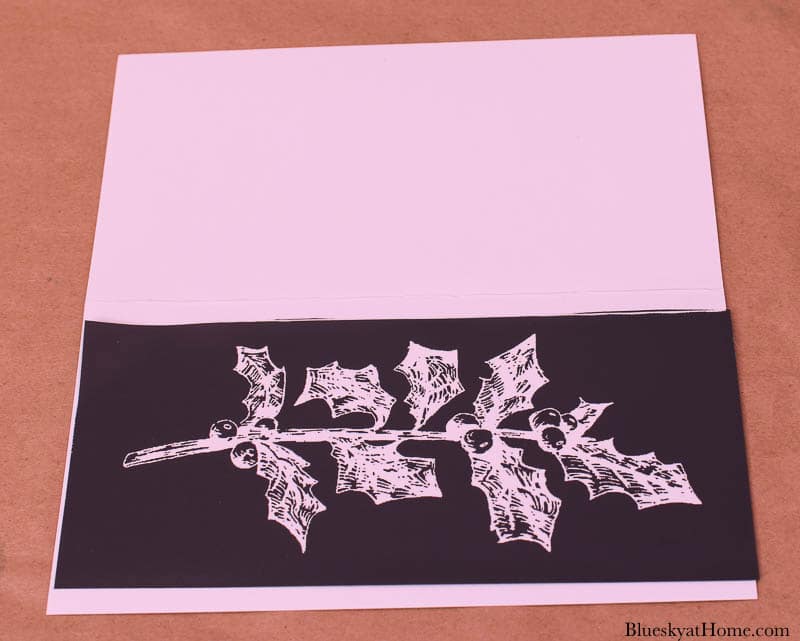 After applying the green Gel Art Ink, I gave the berries a bright red color by applying the red Gel Art Ink with an artist's brush. This made the process so easy.
Which card is your favorite? I think even a small set of 5 ~ either all the same or different ones ~ would be a great gift.
DIY CHRISTMAS GIFT ORNAMENTS
Another item I found in my supply stash were wood slices. They were leftover from my wood slice wreath project. They are about 3 inches in diamenter.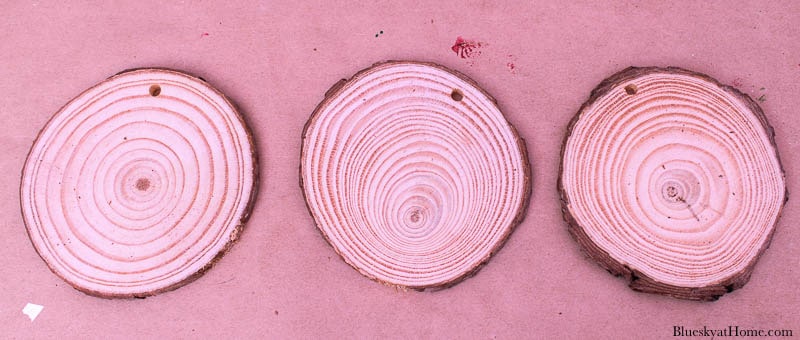 The first step was to paint one side of the wood slice in Stonewall from Amy Howard at Home. It's a soft white.
Then it was just a matter of picking out a few stencil designs. How about a deer?
I thought snowflakes would be pretty in blue ~ Hey Y'All.
For hangers, I added white skinny ribbon.
TIP: Use a skewer to push the ribbon through the hole. Start in the front so your loop shows in the front.
How is that for 3 easy DIY Christmas gift ideas? You could make several of these in an assembly line fashion.
I think making these easy DIY Christmas gifts would be a great project for kids. They could make them for teachers, friends, or relatives.
These Christmas gifts would also be great as party favors.
Which DIY Christmas gift is your favorite? Which one would you make?
I hope that you will PIN these ideas for your Christmas inspiration.