7 Magnolia Market Hacks For Fall Inspiration
We all know that Joanna Gaines has changed the way many Americans decorate. Although farmhouse style was around before farmhouse style became all the rage, she definitely solidified its hold on our decorating choices. From Fixer Upper to the Silos to Magnolia Magazine, Joanna's product line Magnolia Market can be found in Target, Bed, Bath & Beyond and other shops. And, of course, online. I receive the Magnolia Market newsletter and recently viewed the fall decor offerings. What did I discover? Some great items, but I'm here to tell you that you can make some yourself or find similar accessories in other places. Here's my 7 Magnolia Market hacks you should look into.
Please don't think I'm putting Joanna's brand down. (How many hacks have you seen for Pottery Barn, Restoration Hardware, and Ikea?) I'm thrilled that Joanna has brought thousands of visitors to Texas (Thanks for contributing to our tax base.) and put little Waco, Texas, on the map (Although if you know any locals, they are not always thrilled about the influx of traffic.) I've been to Magnolia Market 3 times, including once to the original store. Do you know how many items I've bought? 1 ~ 1 T~shirt. That's it.
It's not that I don't love the merchandise, I really do. But so much of it I know I can find elsewhere for fewer pennies. And you know I love a good DIY project. Like most DIYers, when we see something we like, our first thought is, "I can make that ~ for a lot less and have fun doing it." So of the 4 or 5 dozen items in the fall decor line, I found 7 Magnolia Market hacks that anyone can make or buy. It will be our little secret. Promise not to tell Joanna.
7 Magnolia Market Hacks For Fall Inspiration
This post contains links to products that I love, use and recommend or for your convenience. If you should order any product from this site, I may be compensated, but you do not pay one penny more.
Magnolia Market Wooden Tray
Let's start a tray. I love trays. So many ways to use them: hold books, knickknacks, keys, beads, candles, the list goes on and on. Different materials and different finishes: wood, metal, painted, stained, all sizes, all shapes. Joanna's for this fall is stained. Is stain coming back?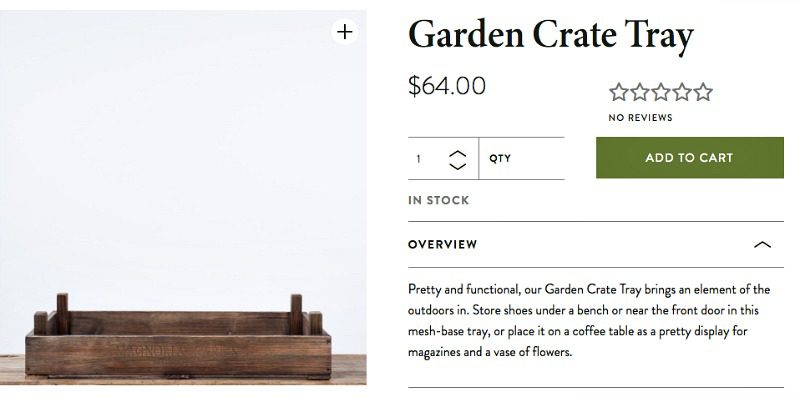 $64.oo is a little pricey in my book. I made this tray a few years ago. The wood tray was basically a freebie from a Haven workshop. I had the gray chalk paint on hand.
But if you need a wood tray and you want to stain it, it's much less expensive. This one from Joann is $7.69 and the Gel Stain from A Maker's Studio (remember it's water~based, no VOC and no odor!) will cost only pennies to stain this tray.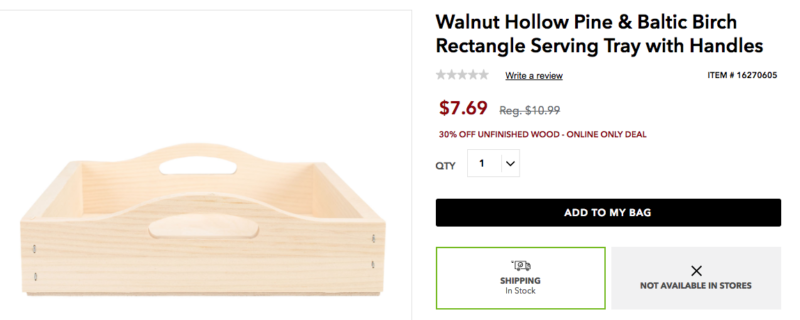 Magnolia Stained Crate
If Joanna is staining, is staining making a comeback?
The ubiquitous wooden crate from Joann is  $9.00 and you still have a ton of Gel Stain from your tray project.
Magnolia Market Birch Logs
A high school friend brought a dozen or so of these from Minnesota years ago and somewhere along the way I lot them go. (Darn!) A couple of years ago, I saw some at my local Central market and bought 3, cut them into pieces, sprayed them with adhesive spray and sprinkled glitter on them as a Christmas decoration. Still one of my favorite random acts of DIY. The price for the Magnolia Market ones is actually very good for 8. But they are out of stock.
This set of 3 birch logs from Crate and Barrel are nice and big around and still a very good price. Use the twine/carrier or add your own twine ~ you do have twine in your DIY toolbox?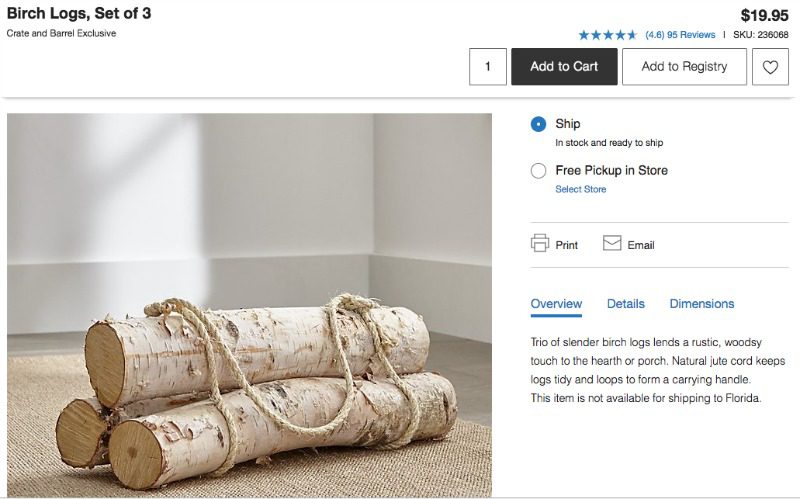 Magnolia Market Tobacco Basket
Everyone seems to want a tobacco basket, me included. I know vintage ones can be pricey, but brand new at $78.00 couldn't entice me.
I didn't walk into Joann last week looking for a tobacco basket, but there it was at $19.99. In a heartbeat, it was mine. (I did have coupons on my phone.) At check out, it rang up as $13.00. I should have bought 2.
I think this one is a really great option ~ a fraction of the cost. And if you want a different color, you can always stain it.
Magnolia Market Ceramic Pot
I love a ceramic pot for holding my spatula and tongs and wooden spoons. I actually have a Le Creuset one that I bought several years ago. This one is really pretty, but again I kind of cringed a little at the price. I bet I (and you, too) could make one.
I had already bought this one at Lowe's just a few days ago because I have another project in mind ~ I actually bought 3. I love the shape and size of this one. They are $3.78 each with my Lowe's credit card discount (I never thought that my Lowe's credit card would be my favorite credit card.)
I couldn't find this style online, but the traditional clay pot is readily available in many sizes. All you have to do is paint it, add a stencil or stamp in whatever you want to say and you are in business.
This is a hint of an upcoming project.
Magnolia Market Periodical Print
I'm a fan of framing anything you find that can be framed, from dish towels to fabric.  I guarantee I have never paid close to this price and I think my art pieces are amazing. This framed print is an easy hack.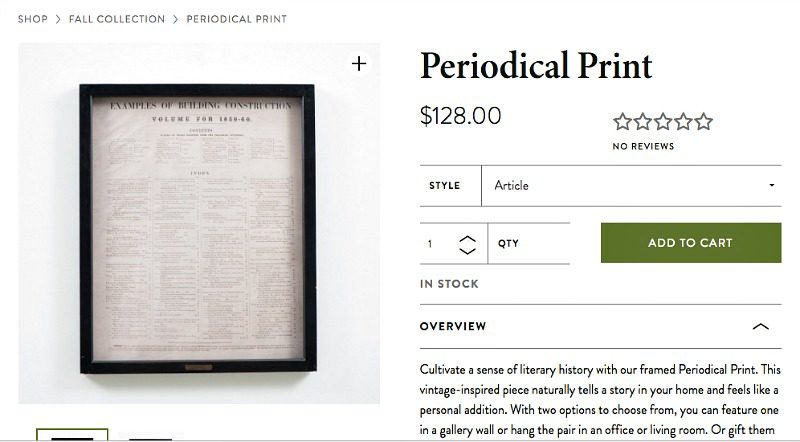 First find a print, gift wrap, wrapping paper, or a dish towel with a vintage look. Measure to determine the size of frame you need. You may have to trim it. Black frames are available in so many sizes and often 40 ~ 60% off. The frames I found to frame fabric for my dining room were 60% off (originally $49.99!) You may instead want to make a piece that looks vintage, using a stencil and ChalkArt from A Maker's Studio.
Magnolia Chalkboard
Chalkboards are so popular right now, in all shapes, sizes and finishes. So many people use them for both decorative and practical reasons (messages, menus, reminders, special events) including me.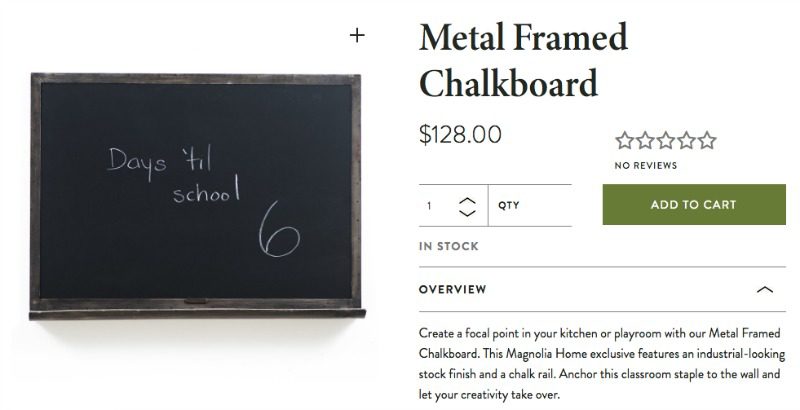 A few years ago I found a chalkboard at Joann that I loved and I kept my eye on it. A few weeks later, it was on sale at 60% off and I snatched it up. I really like this one from Magnolia Market, but I can't justify a chalkboard for that price. Maybe the word "metal" bumped up the price. Betcha, we can make this!
NOTE: I made the mistake of writing on my chalkboard with s chalk marker and no matter what I did, the chalk writing would not come off. I bought a roll of chalkboard vinyl at Joann and attached over the original chalkboard. Since then I haven't had a problem with the chalk marker coming off. I wipe it off with a damp paper towel. Easy Peasy.
If you can't find an actual chalkboard you like, find a frame you like in the size you want. Remove the glass and save for another project. If the backing included isn't firm enough, you can cut a piece of foam board to fit the frame. Then cover the backing with the chalkboard vinyl. You can paint the frame black (I would use Rescue Restore paint in Little Black Dress. (That's the name of the paint, not what you should wear while painting.) If you want the metal look of Magnolia Market, I recommend using embellishing wax from A Maker Studio in your choice of silver or gold. Put the frame back together and you're done.

I know if you have travelled to Magnolia Market from Minnesota (I actually met some gals from there and took their picture for them.) or New York or Wisconsin, you are dying to buy something in Texas at Magnolia Market, I think you should. It's a great souvenir and memory.
On the other hand. . . .
I hope that I've sparked your DIY imagination. I like to spend my money on accessories I definitely can't make or that are really special pieces. Otherwise, if I can make it, I'll hack it. What about you? Would you rather just pay the (expensive, overpriced, out of my budget) price (not judging) or find comparable items at a much better price or have the satisfaction of making it? And have the bragging rights of having made it yourself?
Either way, enjoy and celebrate the home you create.
Shout out from A Maker's Studio:
Free Wax with purchase of Rescue Restore Paint
This special starts August 15th and ends August 21st. When you purchase one 16 ~ounce Rescue Restore Paint of your color choice. at check out, you will see the option to choose the wax of  choice. This is a great time to get the best products to make one of the hacks I showed you.
And today is the Last Day to order your Farmhouse Chic Kit for the live virtual workshop next week. And don't forget to sign up for the virtual workshop. This is going to be fun, instructional and you'll have a beautiful finished piece.
P.S. If you are coming to Dallas, give me a shout out and I'll take you to some great home decor places here in town.