Pastel and Bunny Easter Kitchen Decor
We spend so much time in our kitchens that I think it's the perfect spot to decorate for Easter. We all need a splash and spot of pretty Easter kitchen decor.
I've added as much pastel and bunny Easter kitchen decor as I possibly could. It is where we spend so much time.
Last year, we made the best of a very bad situation as we all hunkered down and stayed home as much as possible. I remember texting and talking to our kids and friends and chatting in my Facebook Groups and with Instagram friends and that definitely helped to cope with the sense of "apart" and "distance". 
Social distancing became part of our daily vocabulary. "Long~distance" communicating anyway we could in some ways brought us closer. In fact, it often brought out the best in us.
Creating pastel and bunny Easter kitchen decor helped to take my mind off the crisis. I used almost every bunny that had not been used in our living room Easter decor.
I pulled out every pastel dish and cup and bowl that was stored away. The pretty spring color really brightened our kitchen and breakfast room
PASTEL AND BUNNY EASTER KITCHEN DECOR
This post contains affiliate links to products used in the creation of this project. If you should order any item from this site, I may receive compensation, but you do not pay a penny more. Your purchase is greatly appreciated as it helps support the continued publication of this site.
Just like in the Easter decorations in our living room, throughout the kitchen and breakfast room, I tried to create little scenes and pockets of either pastels or bunnies or both.
EASTER DECOR IN THE KITCHEN
Let's start on the kitchen island.
On one side I used a cake stand to hold my Michel Design Works soap and lotion. Some pink shred and two easter bunny figurines provide the pastel and bunny pairing. Even the floral labels on the soap and lotion add to the Easter decor.
On the other side of the island (the sink is in the middle), I used a shallow bowl with pale blue accents ~ a flea market find with a rooster design in the middle.
Reindeer moss from Dollar Tree acts as a bed for a bright pastel yellow candle and two more ceramic bunnies. Cherry blossoms that I pulled off the stem last year add more pastel and spring color.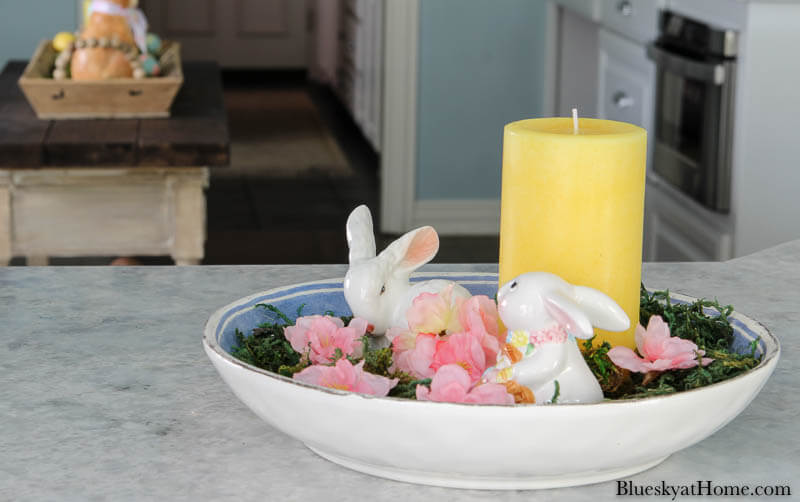 On the console table in the middle of the kitchen, I used my rectangle wood tray from Kirkland's for another pastel and bunny vignette.
This time I first filled the tray with Super Moss. (A great item to keep on hand for finishing off both fresh and faux flower arrangements.) Three pastel candles, which we will light, provide pastel shades. Another bunny with a pink polka~dot bow is a sweet addition. And, finally a mix of painted wood eggs for whimsey and interest.
The console table, which I still need to paint, sits on the custom rug that we had made in New Orleans several years ago at Louisiana Loom Works. We also had fall and Christmas rugs made. We realized that we forgot to bring out the rug last spring, so it feels really new.
An aqua bowl that I bought last summer at an estate sale sits with a set of pastel mixing bowls.
I found the set of three vintage mixing bowls at a flea market the summer before we bought our house. The blue, green, and yellow colors were some of my inspirations for the color palette in the kitchen.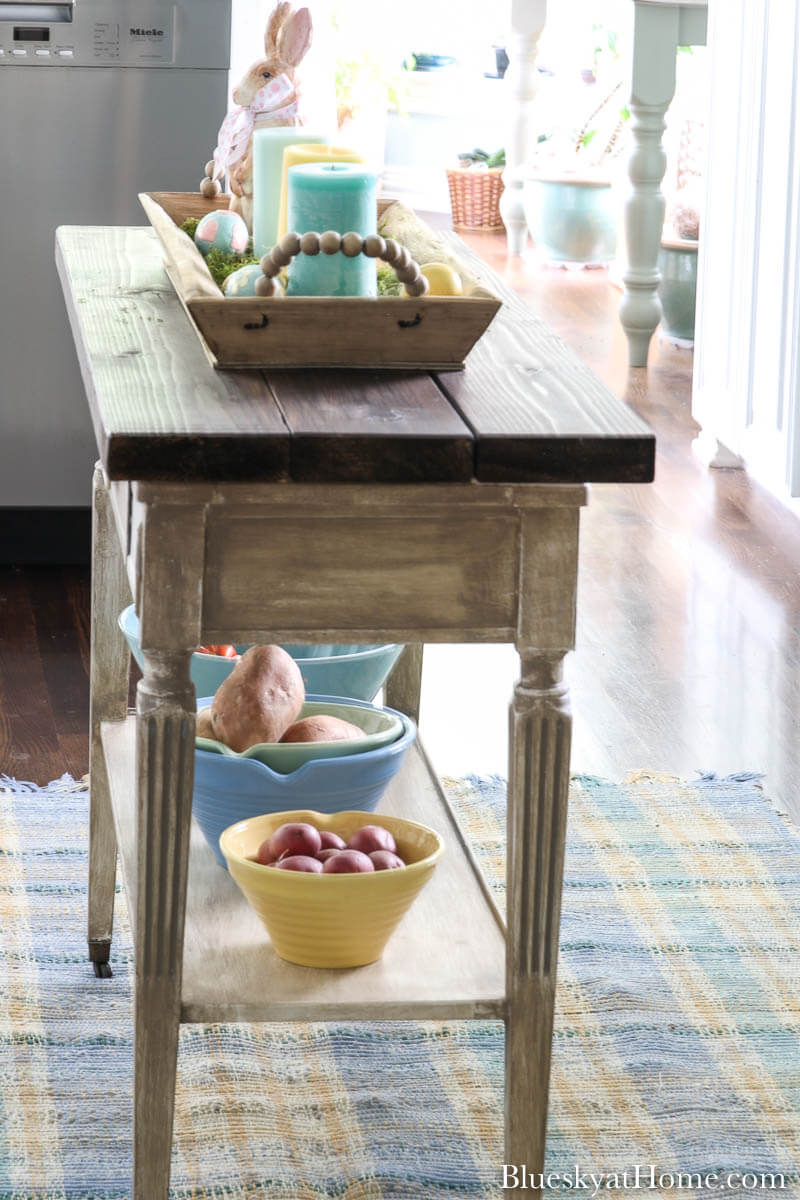 On one side of the kitchen to the right of the stovetop, I combined containers in different shapes, sizes, and finishes for more pastel prettiness.
I love to use my pastel ice cream bowls from Pottery Barn to stack on cake stands. The polka~dot bowls are from a little shop in McKinney, Texas. The set of three jars with pastel lids is from Anthropology. The four crackled vases in shades of blue and green are from Wisteria. I love all these pastel colors.
There may not be bunnies here, but the spring colors are in abundance.
I also added some pretty plaid pastel napkins (freshly ironed first) to our oven for color and pattern.
To the left of the stovetop, two frosted green vases provide more pastel color. I love how the light shines through them.
On this side of the kitchen, cabinets with glass doors flank the stovetop hood. Here's what that side of the kitchen looked like before I added the pastels and my new farmhouse decorative tiles.
Before changing out the kitchen to Easter decor, I decluttered the kitchen counters by moving some items, like the utensils in the crocks and the pepper mill, to drawers and the pantry.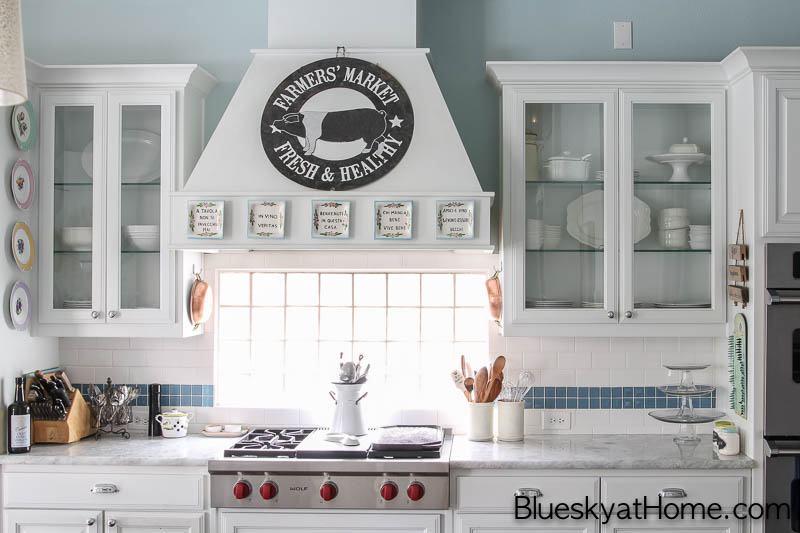 In the cabinet to the right of the stovetop hood, I added my decorative aqua and yellow plates from HomeGoods. I made the sea glass bottles from wine and liqueur bottles a few years ago.
I bought the large aqua vase at a charity auction a few years ago. It originally held a beautiful flower arrangement. We use the white dishes on a daily basis. It's easy to add colored dishes to white ones for seasonal color.
The aqua ice cream glasses are another flea market find.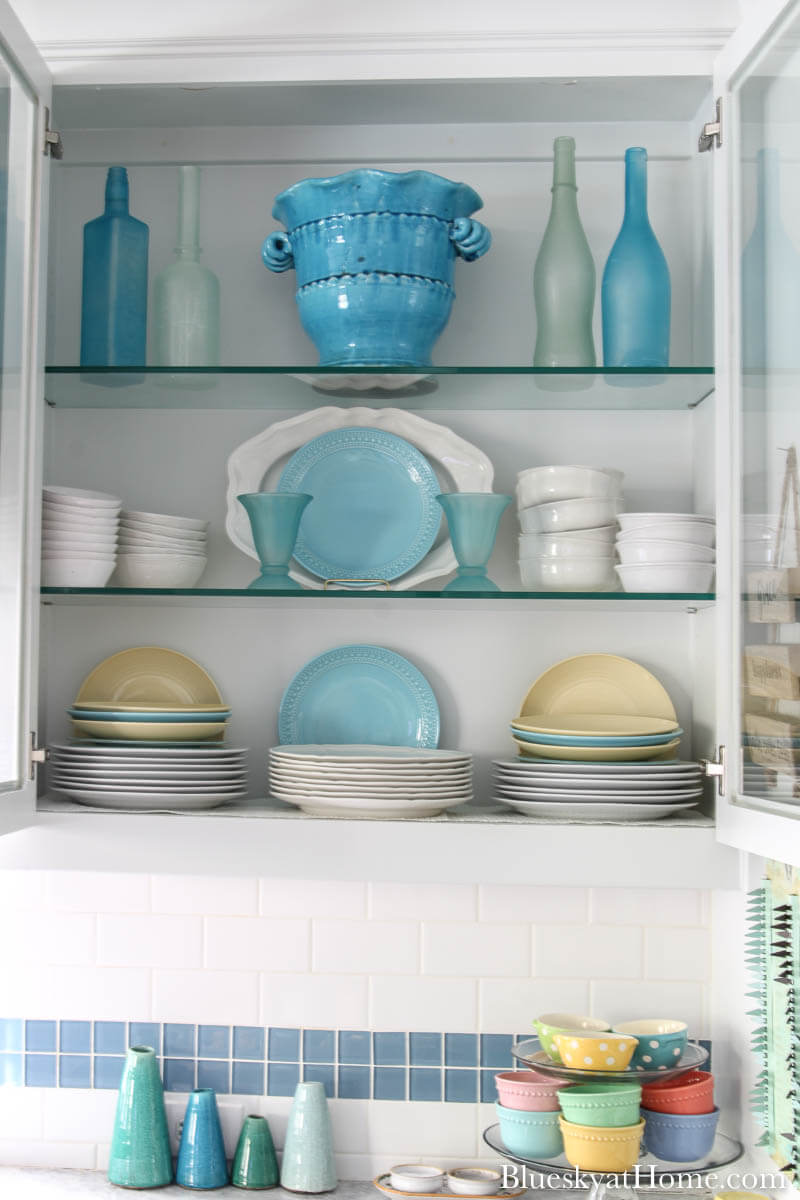 To the left of the stovetop hood, I added more aqua and yellow plates to the white everyday dishes. More frosted ice cream glasses balance the ones in the other cabinet.
On the opposite side of the kitchen, a square cake stand fills the corner flanked by blue vintage dishes and a pink vase. I love having mason jars filled with staples. Here is a good look at our blue accent tiles and our white subway tile backsplash.
I found this set of pink dishes at the Queen of Hearts Antique Mall in Alpharetta, Georgia a few years ago. Unfortunately, a couple of pieces were broken when I shipped them home. In the spring, I use them as extra dishes and for spring decor.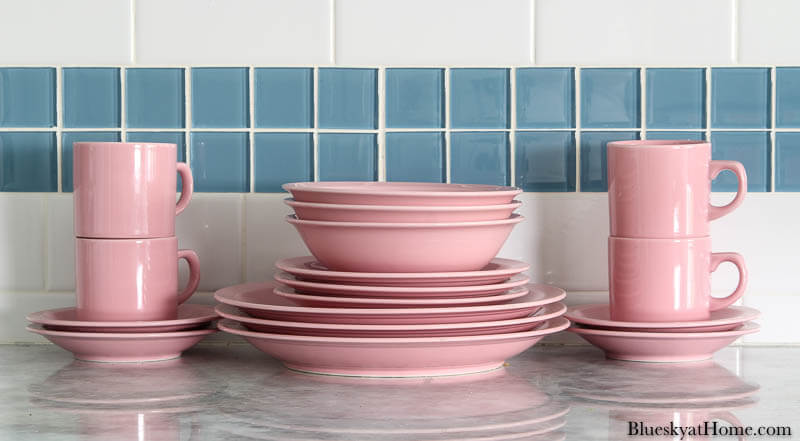 On open shelving above, a metal bunny shares space with flea market bowls.
Below are three of my favorite pastel containers: the aqua colander is from HomeGoods, the yellow bowl is a flea market buy that came from Williams~Sonoma, and the aqua teapot was a gift from cooking class attendees.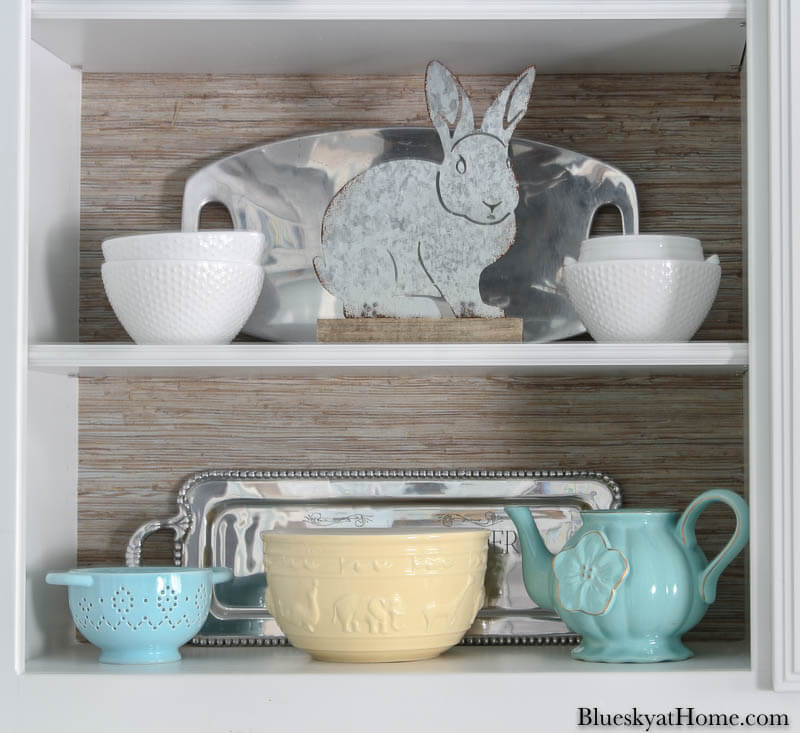 BUNNY DECOR IN THE BREAKFAST ROOM
Our breakfast room is separated from the kitchen by the big island. We have 2 large windows, a large console table and a round table which I painted. To be honest, we don't eat there. I use the console table for seasonal decor, serving and it's a great place for sun~loving plants.
For Easter decor this year, I added several bunnies, mostly from Pier 1. My tall wood lantern is always on hand. I love to fill apothecary jars with Easter candy. And the candy adds color and interest.
Can you see the book stack in the back? I stenciled the bindings last year.
I covered my vintage Sure Shot box with pink and white striped flannel (leftover from making napkins).
The apothecary jar on the far left is a brand new purchase from an estate sale up the street. I filled it with multi~colored pastel shred, a bunny figurine, and faux cherry blossoms. The next one has two small bunny figurines and a couple of tiny plastic eggs.
The aqua and yellow vintage jars filled with some lavender and eggs are from Atlanta. I love turning things on their sides.
The bunny with a pink polka~dot bow matches the one on the kitchen console table.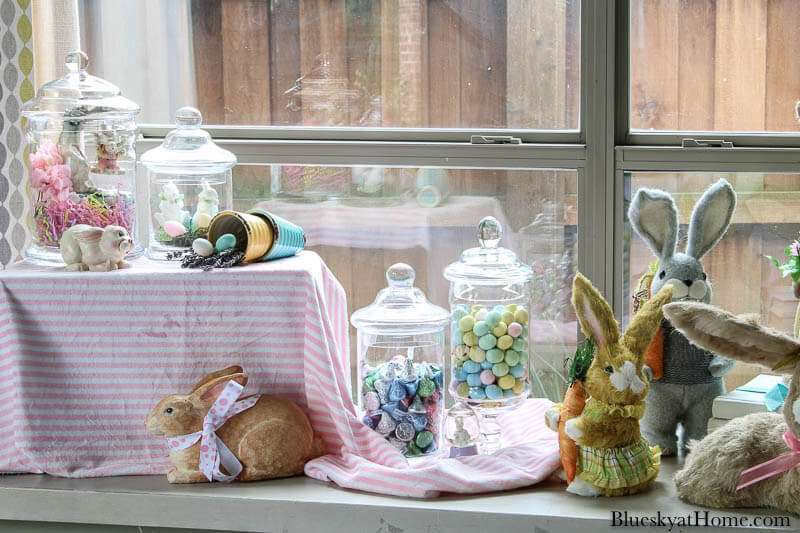 After I took these photos, Sweet Shark told me the candy was melting from the sun so I moved those two jars to the kitchen counter.
In my wood lantern, I was able to fit in a tall bunny. He is sitting on green shred and surrounded by twine~wrapped pastel eggs from Pier 1. For a touch of whimsy, I added a clip~on bird on the top.
The carrots, also from Pier 1, fit in the bunny's basket on this back.
Two more vintage jars are tucked in a little drawer along with a miniature twig chair for a miniature bunny.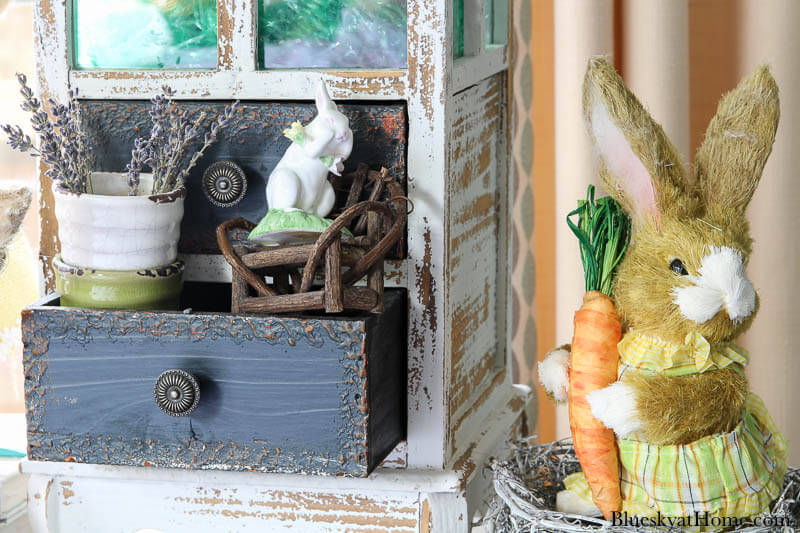 On the breakfast room table, I added a white tablecloth until I create an Easter tablescape. On top of that, I added the embroidered square tablecloth from Europe that I bought at a flea market in north Georgia. The detail work is excellent.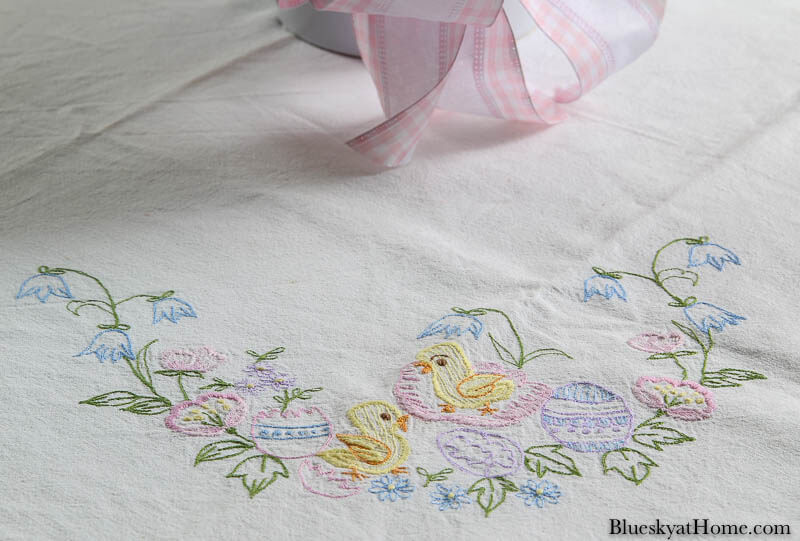 EASTER DECORATIONS ON THE BREAKFAST ROOM TABLE
In the center of the table is a white ceramic pot from Lowe's that I filled with white faux tulips. The bow and ribbon were on a wreath that I disassembled to reuse.
Since I took this photo and moved the candy~filled apothecary jars, I moved the tulips to the console table so that I could start working on the Easter table. I'm constantly moving things around.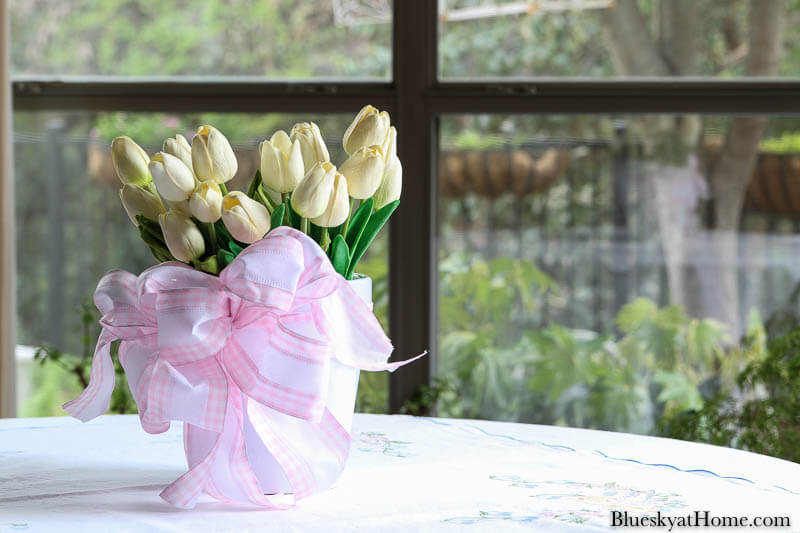 How is that for pastel and bunny Easter kitchen decor?
I think you can use anything on hand that feels like springtime to create a sense of Easter.
Since I wasn't able to go shopping in the past week, I had to reuse and mix up things I already had on hand. That habit is a good one to practice.
I'm so happy about how these two rooms turned out. It so proves that you can shop your house and create beautiful scenes and vignettes.
I hope that this tour of our Easter kitchen and breakfast room gave you a respite from the worries of the world. We all need to have beauty and color in our lives.
I'd love for you to PIN this Easter decor. My bunnies will love you for it. Check out my Easter Decorating Ideas Pinterest Board.