Easy Barbecue DIY Project for Your Next Party
Need an easy barbecue DIY project for your next party? I have one for you.
Now that we are deep into summer, let's talk barbecue ~ an easy barbecue DIY project. We don't mess with our barbecue or our DIY projects here in Texas.
Summer is not the only time to have a barbecue, although it does seem appropriate. Barbecue by itself is a reason to have a party. I created an easy barbecue DIY project that you can use in several ways for your next party.
Easy Barbecue DIY Project for Your Next Party
As I was browsing through Pinterest, looking for inspiration for barbecue DIY projects, I came across a picture of mason jars with twine wrapped around the lip of the jars.  The site was Old Time Pottery written by The Country Chic Cottage. I ended up finding so many ideas that I created a new Pinterest Board called Summer Party Ideas. This idea was so simple and so easy that I decided to play off of it for my Ten on the 10th barbecue DIY project.
Another thing that I loved about this project? I already had almost everything single element of it. I love it when I can use supplies already on hand to create something new and different.
Supplies for my Barbecue DIY Project
Obviously, from the inspiration photo, mason jars are the main element, which of course, I have. If you don't have mason jars, you could easily use another type of glass jar, such as a pickle jar or a mayonnaise jar.
glass jar, mason or whatever you have on hand
twine or string
Wanting to add my own spin on this project, I searched through the shelves in my office, looking for another element to use with the mason jars and twine.
I found a bag of round wooden discs of different sizes, some of which I had used in a previous project. Round wooden discs that looked like a small tree branch that had been cut down could have a rustic barbecue look. I picked out the 3 largest discs, each about 3 inches in diameter.
NOTE: You could also use round wood tags or even cut circles of cardstock.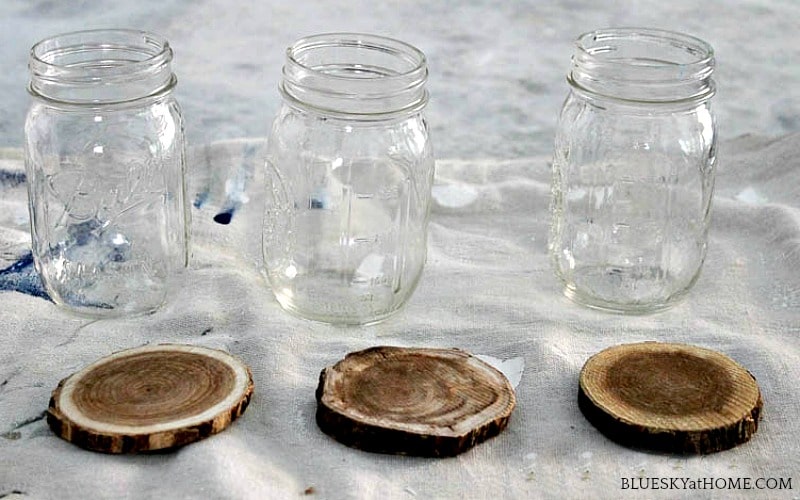 While looking through my supplies, I opened my box of stickers. I had a bag of different alphabet stickers that I bought at a garage sale a few years ago. What if I "wrote" the word "bar~be~cue" on the 3 wood discs? That would be cute and simple.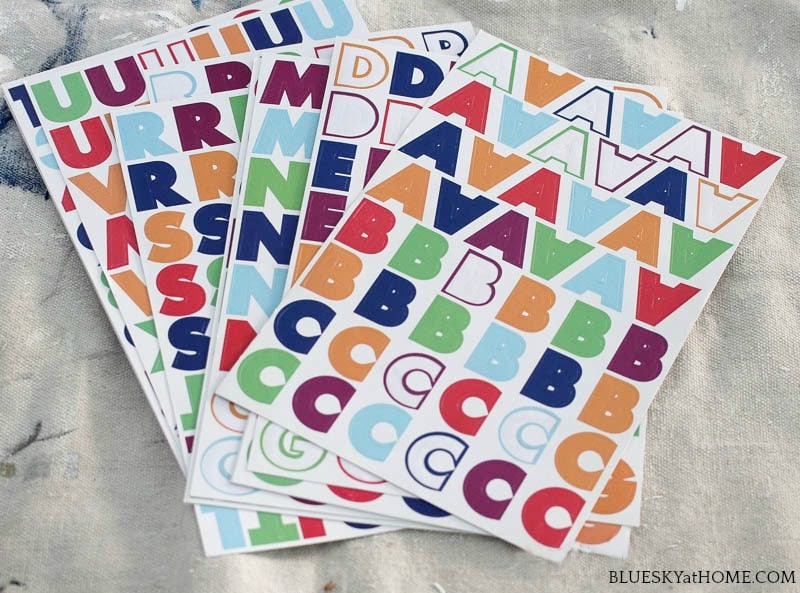 Now I had all my "ingredients".
Making My Barbecue DIY Project
First, I just needed to find a way to attach the wood discs to the mason jars. Twine was the obvious choice, but I would need to drill holes in the discs. I've had my own drill for years. I think it was my first power tool.
I inserted my thickest drill bit and started drilling.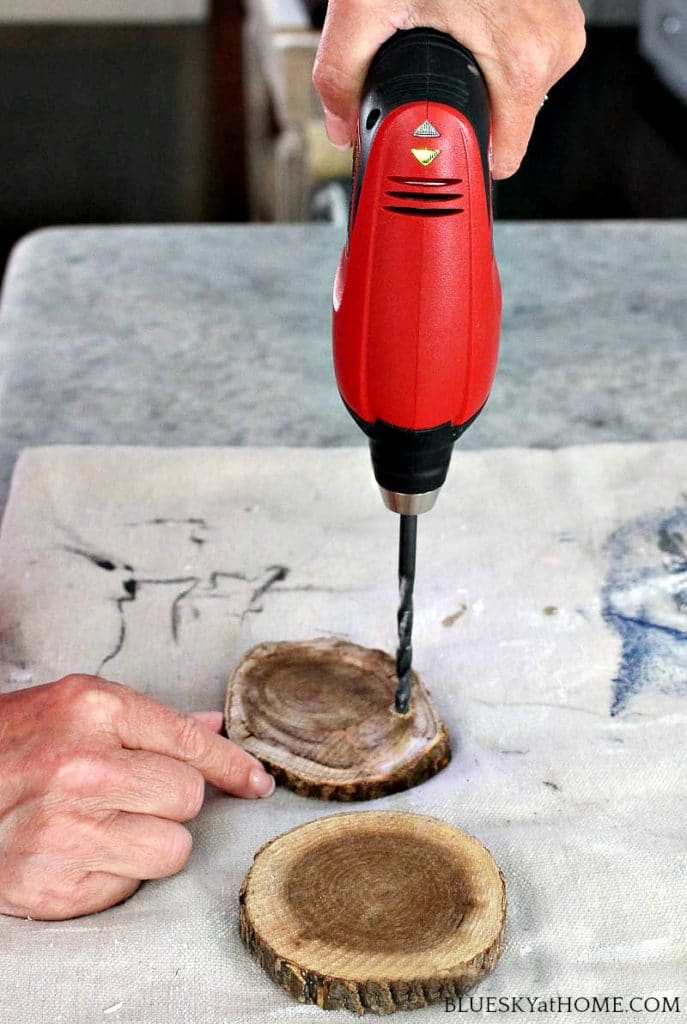 I know when to give up, as I couldn't apply enough pressure to drill the holes. I had to call in the big guns, AKA Sweet Shark. He drilled the holes in under a minute.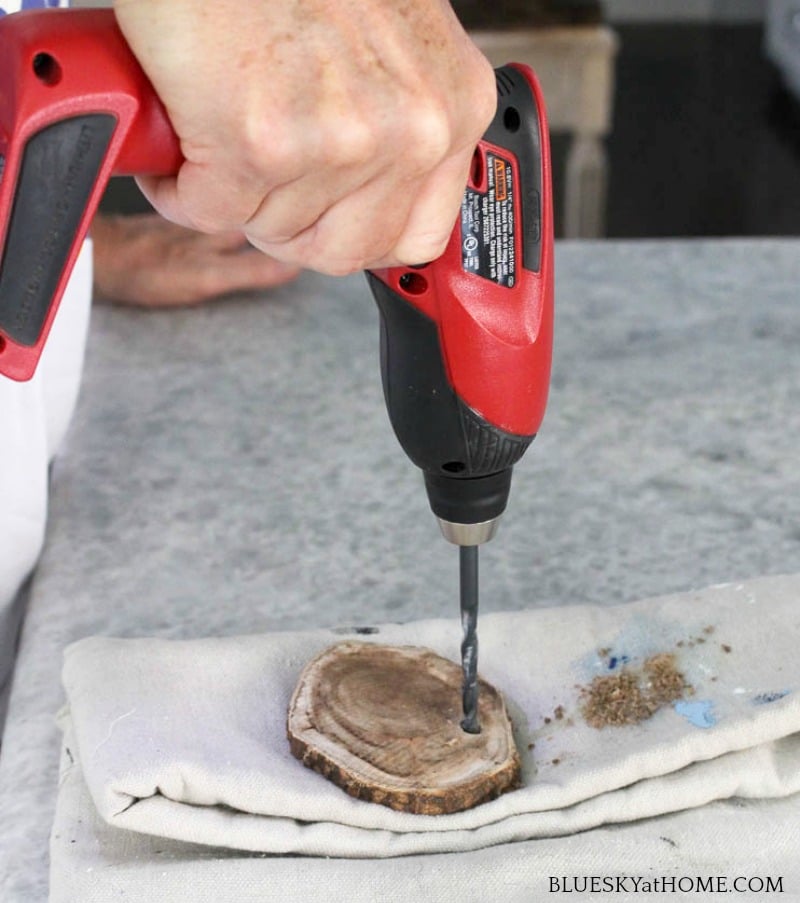 Now to adding the stickers. 
NOTE: If you don't have stickers, you could stencil the letters or write them free hand with colored markers.
Now I needed to attach the twine and the wood discs to the mason jars. Since the twine will be wrapped around the lip of the jar 2 or 3 times, I cut pieces of twine about 3 feet long. Then I folded them in half to find the center.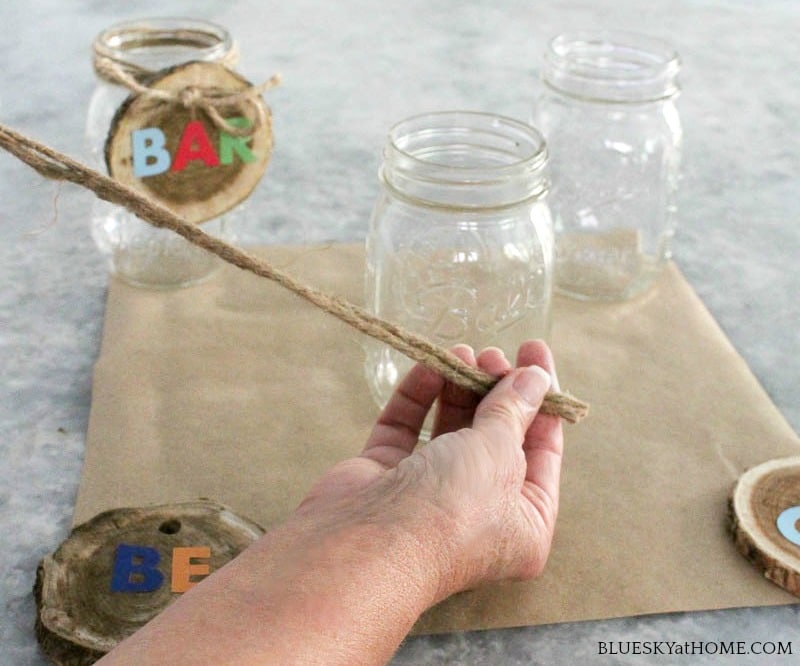 I started wrapping the twine around the lip. I found that looping the twine once and pulling it tightly held the twine securely in place.
First, I tried putting 1 end of the twine through the hole and then pushing the second end through, but that didn't work. So I twisted the 2 ends of the twine together and then they both went through the hole easily.
Once your twine is through the hole in the wood disc, just pull tight and tie a bow. Cut off any excess twine. 
That's all there is to this easy barbecue DIY project. How can you use these cute jars with twine, wood, and stickers at your next party?
Ideas for Using your Barbecue DIY Project 
If you are hosting an outdoor barbecue party, you need containers to hold party necessities.
Silverware Caddy
Napkins
Straws
Flowers
This use is the closest to the original inspiration photo. I did have Sweet Shark pick up some baby's breath for me at the grocery store, but you could use any flower of your choice. The baby's breath was $3.00, the only thing that I spent money on.
What else would you use the mason jar/twine/barbecue wood discs for? Right now I have the jars on our entry console just to look cute. 
I'd love for you to PIN this project. so you don't forget it.