Easy Spray Paint Ideas for Fall Decorations
Do you like to create some DIY fall decorations for your home? One easy way is with spray paint. Let's look at some easy fall spray paint ideas for your seasonal decorations.
Paint comes in many formulations: acrylic, chalk paint, milk paint, lacquer, and more. One of the easiest products to use is spray paint.
Spray paint is one of the best products for DIYers. It comes in dozens of colors and finishes. I even recently saw spray paint that had glitter in it.
Spray paint is fast to apply. It dries fairly quickly and, if applied correctly, gives a smooth finish.
I have just finished decorating our living room for fall (which I will show you soon). For this area, I used some easy fall spray paint ideas for this area.
Fall Decorations ~ Easy Spray Paint Ideas
This post contains affiliate links to products used in this project. If you should order any product from this site, I may receive compensation, but you will not pay a penny more.
There is only one negative to using spray paint. You can't spray paint indoors.
Here are some Spray Paint Tips:
paint in a well~ventilated area. That means outdoors.
spray paint works best on non~windy days when the weather is not too cold or too hot.
use a spray shelter to minimize over painting on surrounding surfaces. Using a spray shelter tent is the most efficient way to keep paint from getting other surfaces. If you are not familiar with a spray shelter tent, you should read this post.
This is a picture of my large spray shelter tent, but I used the small one for this project.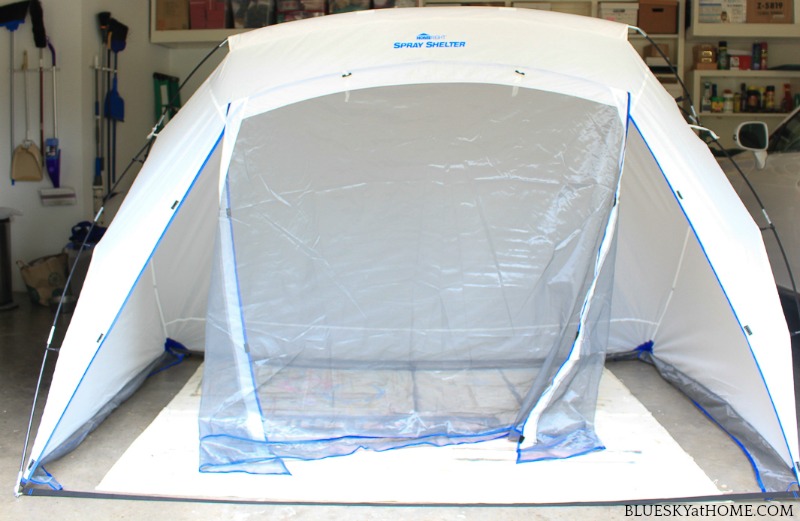 also, use a drop cloth to keep your surface from getting sticky with paint.
use a spray paint grip to reduce your hand from getting tried and your finger from getting paint on it. I love this one from Rust-Oleum.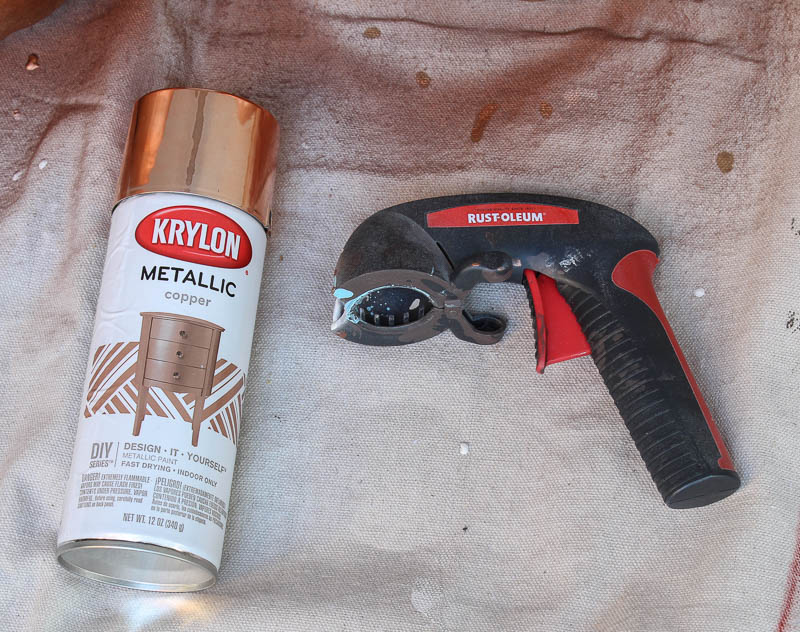 be sure to shake the spray paint can for at least one minute, especially when you first open a can. You can also shake the can during painting.
keep the spray paint can at least 12 inches away from the surface of your item.
keep the spray paint can as level (horizontal) as possible. Spray slowly in a back and forth motion.
Change the Color of Faux Pumpkins
As we know, faux pumpkins come in different materials: plastic, styrofoam, wood, metal, and paper maché. In some cases, those materials are less than desirable for home decor.
Paint, specifically spray paint, is a great way to change not just the color, but the texture. Spray paint can totally update the wow factor of a faux pumpkin.
Spray Paint Fall Project #1
I used spray paint for plastic pumpkins, changing them from shades of orange to white. Using Rust-Oleum Spray Paint in Blossom, I first painted these faux pumpkins for my white pumpkin fall wreath.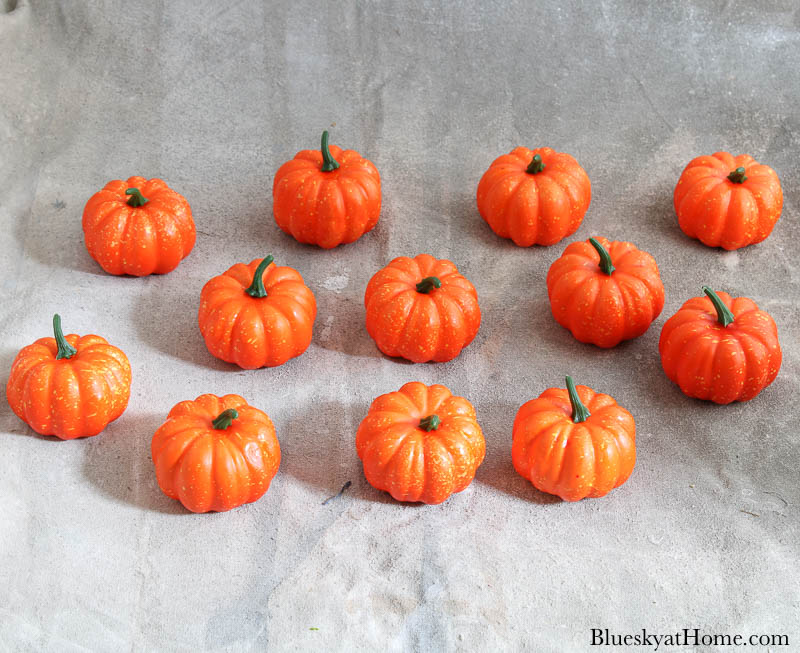 Much better, don't you think?
After my fall wreath project, I had six pumpkins leftover. Of course, I had to use them in our fall living room decor. To dress up the stems, I painted them with Metallic Copper Paint.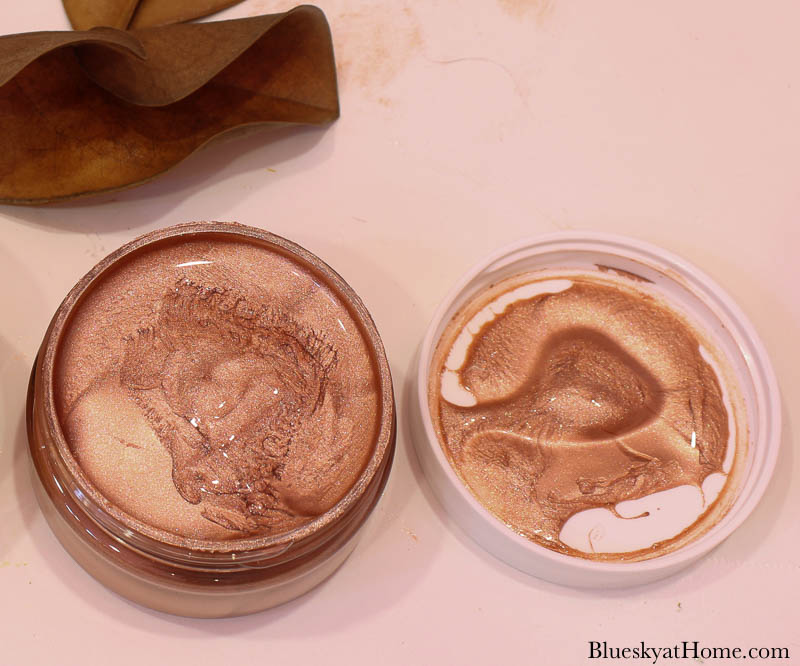 These pumpkins came with faux leaves, so I decided to paint them using Rescue Restore paint in Summer Nights.
I intended to use my glue gun to attach the leaves to the pumpkins. I discovered that I could just "slip" the leaves under the stems. This way I can change out the color of the leaves in the future.
Spray Paint Fall Project #2
Pumpkins also come in paper maché, which is very easy to spray paint. I found these two at Target. They were $5 each and perfect for an idea that I had for mantel.
This time I painted the paper maché pumpkins copper. (When you see my mantel, you'll understand why I used copper.) I used Krylon Spray Paint in Metallic Copper.
I will say that the paper maché "took" the spray paint so easily. Instead of the usual two coats, one only coat was needed.
Fall Spray Paint Project #3
This was one of those random acts of DIY. I have a neighbor who has a beautiful, very large magnolia tree. As I take my morning walks, I gathered a bunch of leaves that had fallen to the ground. (I didn't think she would mind.)
Leaves, whether faux or real, can be great elements to spray paint.
I laid the leaves down on the drop cloth in the spray shelter tent.
I decided to continue using the copper spray paint for the magnolia leaves. I had just enough of the Krylon Metallic Copper to complete about a dozen magnolia leaves.
I will be using all of these spray paint ideas for the fall decorations in our living room. Please visit Bluesky at Home to see our fall living room.
If you love super easy and quick spray paint fall decorations, I hope you'll PIN these ideas.