How to Make Easy Custom Halloween Cards
Do you have kids or grandkids that you want to treat for Halloween? Or a girlfriend who loves Halloween? One awesome way to make their day is to make easy custom Halloween cards for them.
If you want to send something special to the people in your life, it's easy if you know how to make easy custom Halloween cards. They are quick, easy, and you probably have the supplies you need on hand.
I have two granddaughters and one grandson who all live in Atlanta. I love to make them special custom cards for holidays and birthdays.
Did you ever make cards in school for your parents? There was a sense of pride when they opened the cards and realized you made them. Believe it or not, even little kids are impressed when Cici makes them special cards.
So let me show you how I made 3 custom Halloween cards in one hour for my grandkids.
Confession: Last week I bought some cards at Dollar Tree for the grandkids. Then, I realized I had everything I needed to make custom Halloween cards. The store~bought cards can wait.
This post contains links to products used in this project. If you should order any product from this site, I may receive compensation, but you don't pay a penny more.
How to Make Easy Custom Halloween Cards
CUSTOM CARD EXAMPLES
These are not the first custom cards I've made. I've used my Cricut a few times to make custom cards for the grands.
For these custom Halloween cards, I decided to use my Halloween stencils ~ because I had them, used them already and they are so cute.
SUPPLIES FOR YOUR CUSTOM HALLOWEEN CARDS
You probably have most of these supplies on hand. You can use a variety of items as embellishments.
cardstock or construction paper in shades of orange and black
paper cutter ~ I love my new We R Memories cutter and scorer.
construction paper in various Halloween patterns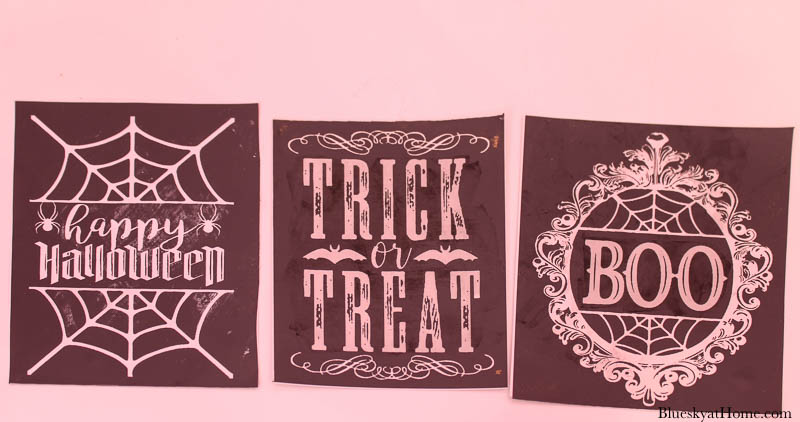 MAKING YOUR CUSTOM HALLOWEEN CARDS
I had one 12 X 12 piece of cardstock and 1 piece of 8 X 11 cardstock. I cut the 12 X 12 piece in half.
2. Remove the backing of the stencil and place your stencil on the RIGHT side of your paper.
3. Remove any excess paper with your paper cutter.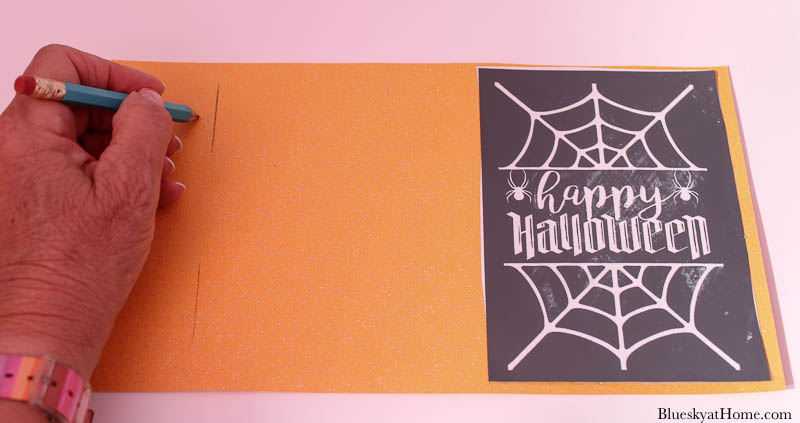 4. Apply the GelArt Ink to the stencils.
5. Remove the stencils to reveal the stencil.
EMBELLISH YOUR HALLOWEEN CARDS AND ENVELOPES
It's the embellishments that make the custom Halloween cards extra special. Here's what you can use:
washi tape
stickers
other stencils
patterned Halloween paper
punches to make shapes fit for the design
I used 2 patterns of Halloween washi tape to edge the cards and envelopes.
To up the cute factor, I added some spider stencils on the inside and outside of envelopes and cards. I used GelArt Ink in Lord Have Mercy, a bright orange.
This little spider stencil on the envelope and the inside of the card ties them together.
Just use your imagination to enhance your cards and envelopes.
For one card, I cut out the stencil and used permanent adhesive to attach it to a black piece of black cardstock.
Since I'm not there to actually give a treat to the grands, I do like to send them a little gift to put in their piggy banks. I used some of my patterned Halloween paper to make "gift pouches" on the cards to place a $5 dollar bill for them.
Finally, I cut 3 pieces of cardstock to match the stencil of the cards.
At the end of this project, I had 3 super cute custom Halloween cards for my grandkids. I know my they will love them. Your kids and grandkids will love them too.
I hope that you will create your own custom Halloween cards. It's fun and gives you a real sense of creativity.
Do you have some cardstock, washi tape, stickers, Halloween paper? Then you can make custom Halloween cards that your special kiddos will love.
You can order the stencils I've suggested using the links above or use ones you already have. If you can draw, then draw cute Halloween drawings. Cut out pictures from other cards or even coloring books.
I hope that you will PIN this project for your inspiration. Won't it be fun when you get a thank you call from your favorite little ones.