7 DIY Paint and Stencil Halloween Decorations
Are you ready to decorate for Halloween? I have some super cute DIY paint and stencil Halloween decorations.
Halloween decorations are so much fun for ghosts and witches of all ages. Making DIY paint and stencil Halloween decorations will give your home a high dose of trick-or-treat fun.
Kids will be trick-or-treating in full force this year. This cherished holiday tradition is continuing as usual. Halloween is still one of the most fun holidays on our calendar.
I love creating a few DIY Halloween decorations myself. These DIY paint and stencil Halloween decorations will add to the scare factor in any room in your home.
Guess what? You can watch me demonstrate some of these Halloween decorations on the A Makers' Studio Facebook Page.
We have been collecting ghosts, goblins, witches, and scarecrows for years. Every year I like to create a few new DIY Halloween decorations. I'm excited to share this year's creations with you. These are so easy that trick-or-treaters could make them.
I made 7 new DIY decorations. Six of the pieces I used for these Halloween decorations came from Dollar Tree; so that is $6. The other one came from Target for $3. Right there, I spent less than $10.
The paint and stencils that I used for the 6 Dollar Tree pieces came from A Makers' Studio. We'll start with those.
This post contains affiliate links to products used in these projects. If you should order any product from this site, I may receive compensation, but you do not buy a penny more.
Paint and Stencil Supplies
I used 3 kinds of paint for these projects: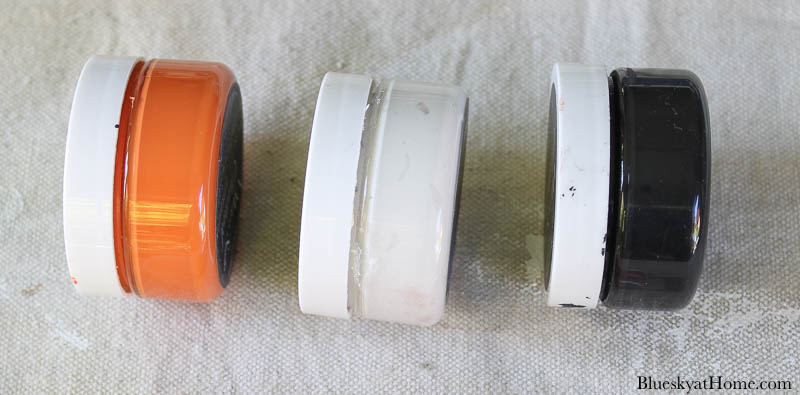 For stencils, I used 2 Halloween stencils from A Makers' Studio. "EEK" and "BOO".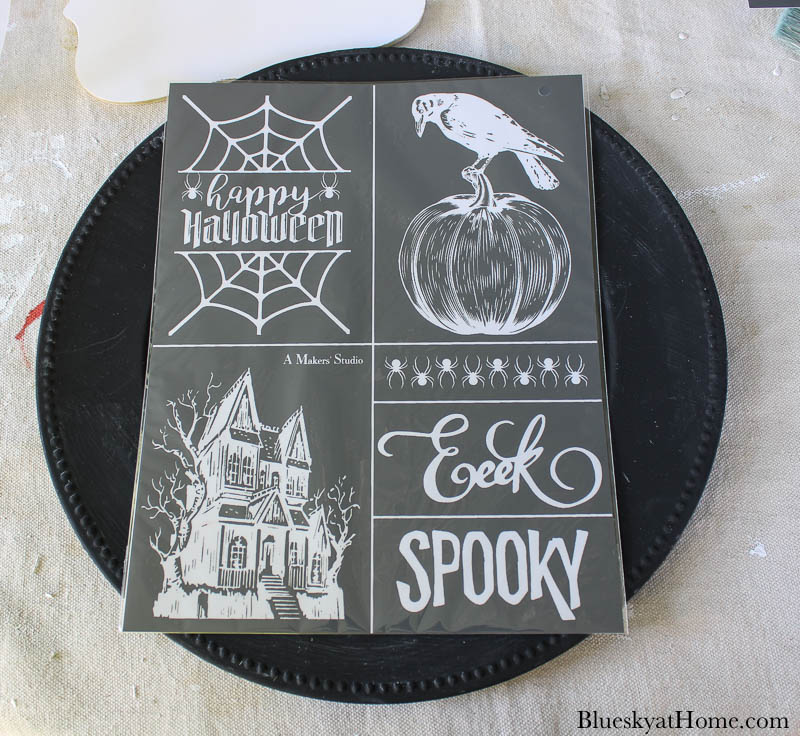 You will also need:
paper towels for cleaning up
spray bottle with water
paintbrushes
plastic scraper (A Makers' Studio)
stirrer for paint
Frog Tape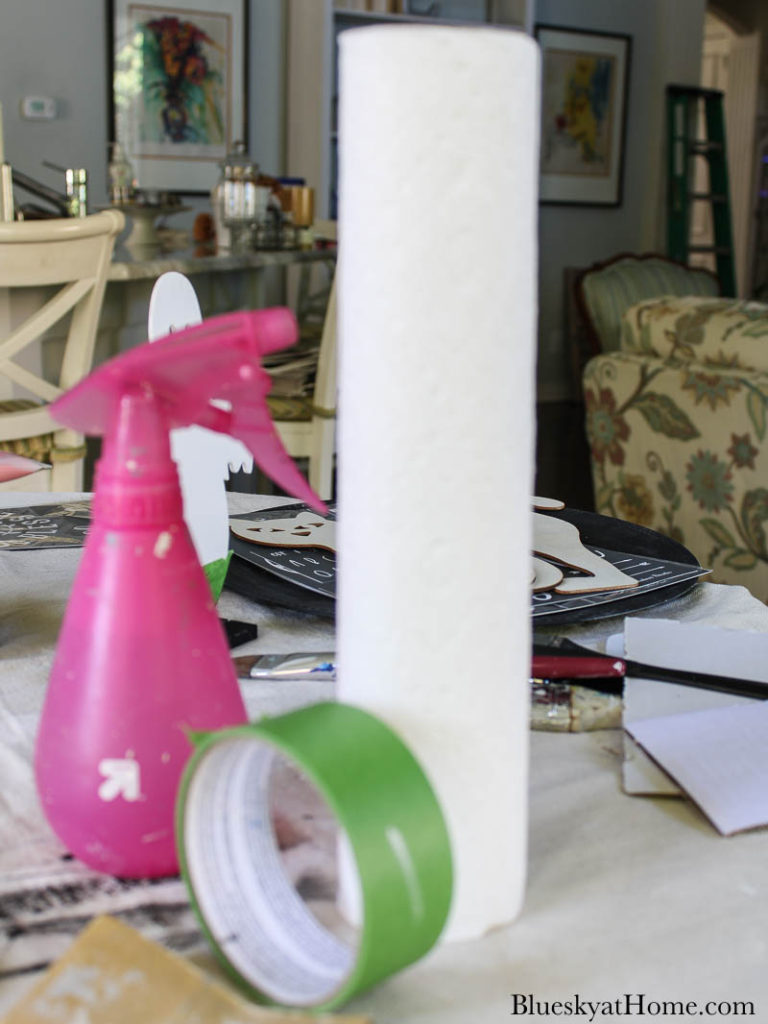 DIY Halloween Ghost
This cute little ghost was raw wood on a stand. I lightly sanded "him" and used painter's tape to tape off the ghost from the stand. I first painted the ghost with 2 coats of the Bauhaus Buff. Then I moved the tape and painted the base black.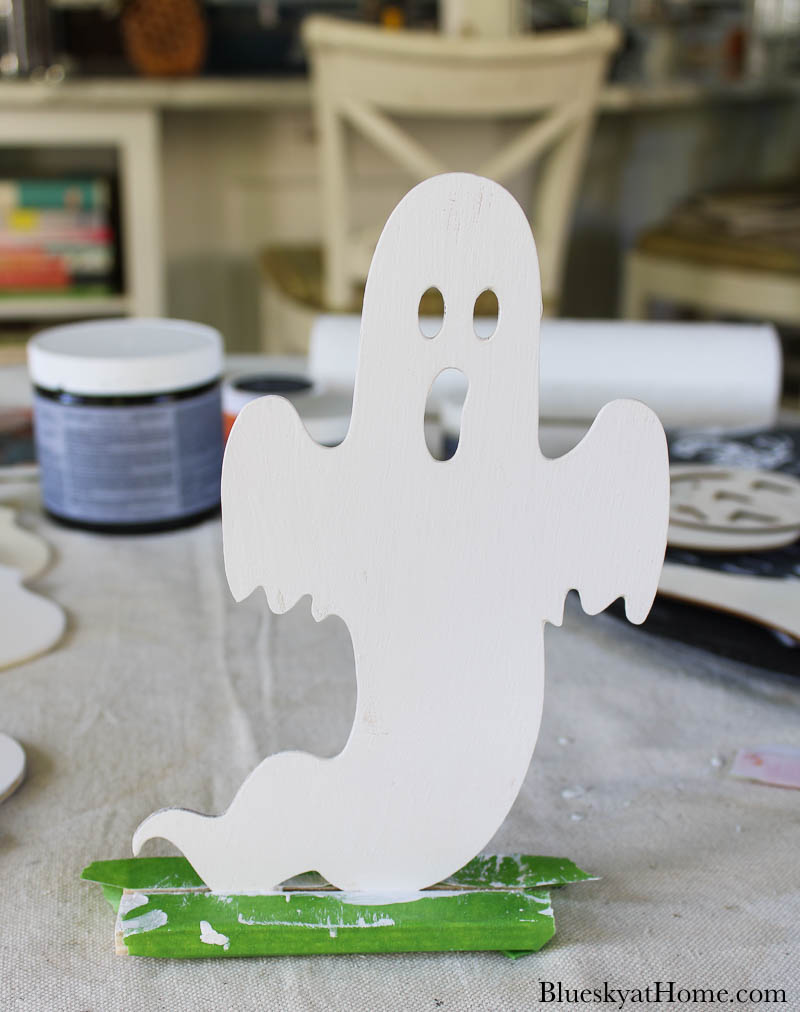 What do ghosts say? BOO! I used just the letters from the BOO stencil and ChalkArt in Preaching to the Choir. Then I taped a piece of black paper on the back of the ghost for his eyes and mouth.
Super easy!!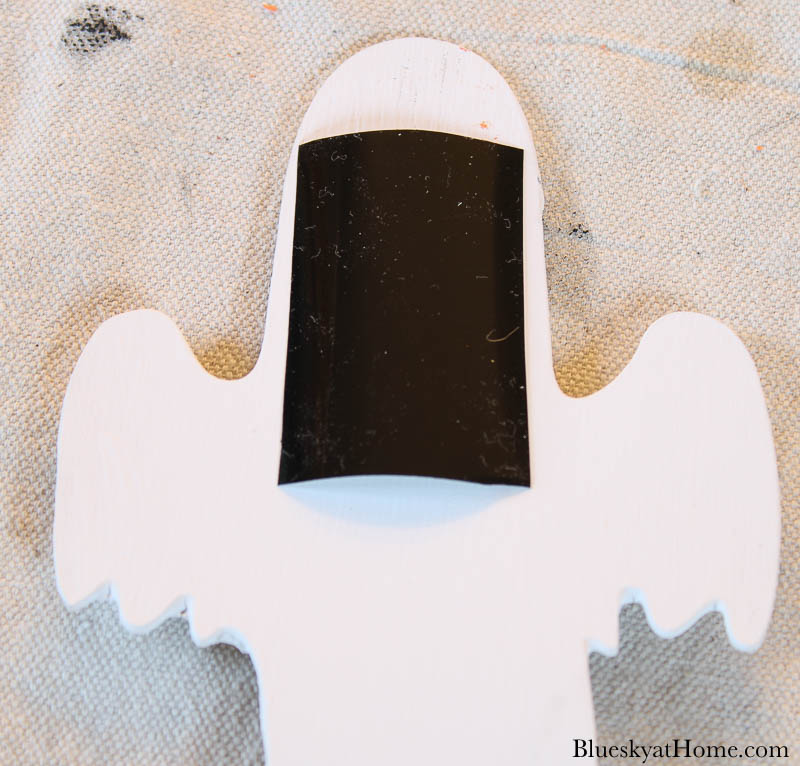 Spooky Black Cat
I also found a cat and pumpkin wood cutout.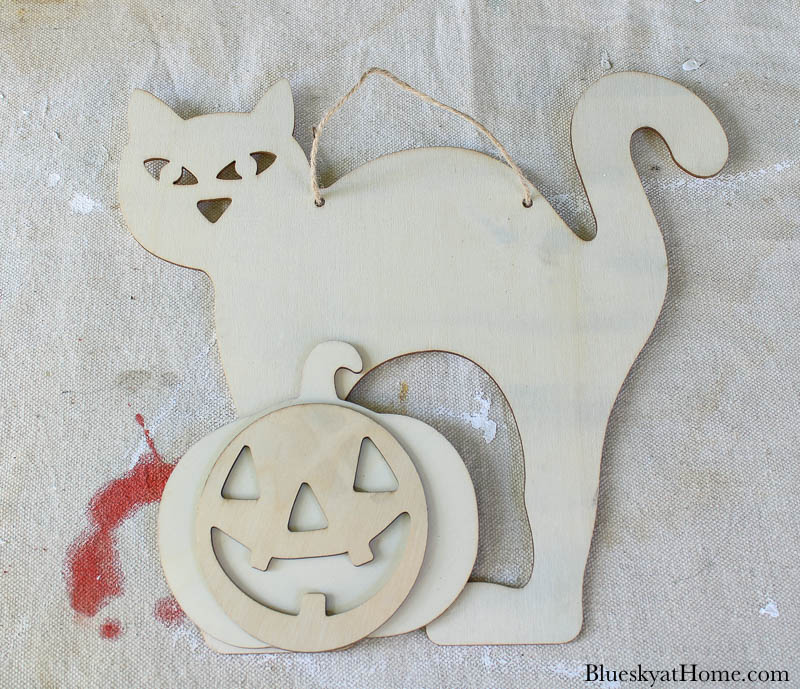 I removed the twine hanger and painted the cat black with Rescue Restore Little Black Dress.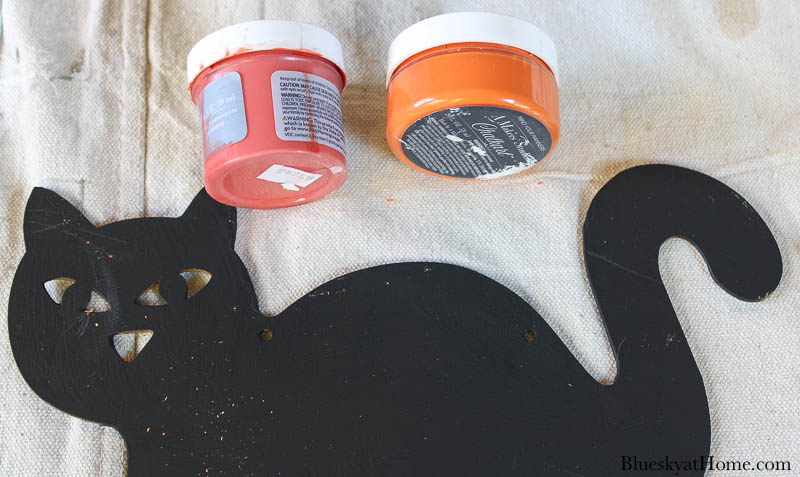 I painted the pumpkin with Pick a Pepper and Mind Your Own Business. Using a small brush, I painted the pumpkin's eyes, nose, and mouth black with Little Black Dress.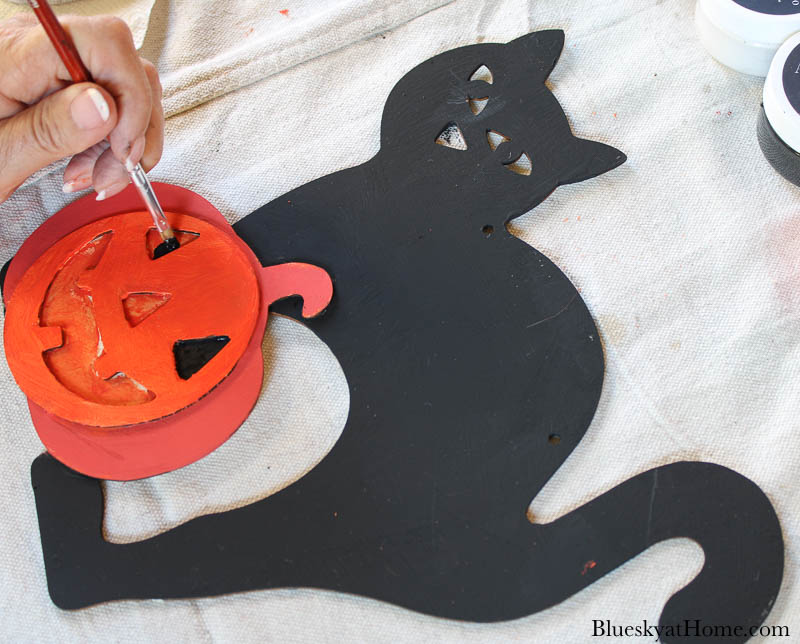 Black cats are Spooky so I used that stencil and ChalkArt in Mind Your Manners.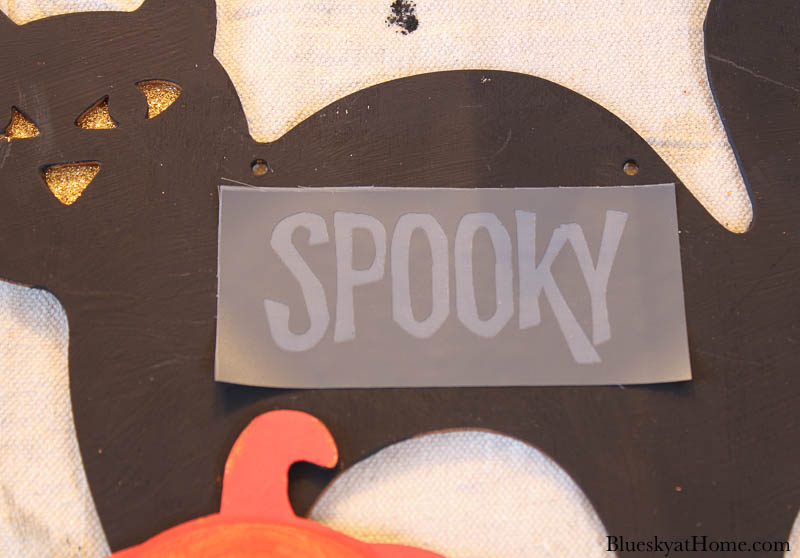 The cat's eyes, nose, and mouth became gold with a piece of scrapbook paper from my paper stash.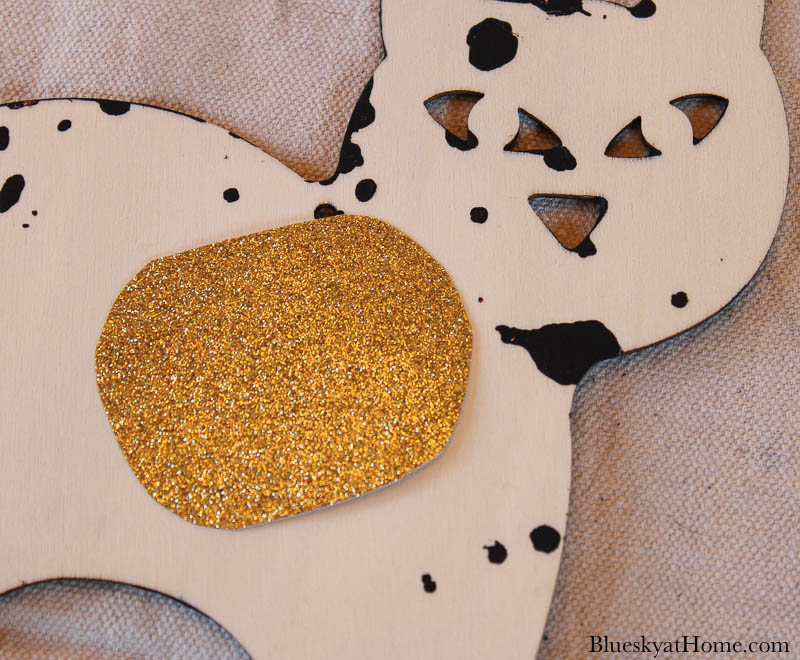 Paint and Stencil Halloween Signs
You may remember that I made a Fall Yard Art Sign. I moved it inside for our Black and White Fall Entry. Fortunately, on another shopping trip, I found similar signs again at Dollar Tree for my Halloween decorations.
I first removed the twine hangers. Then I lightly sanded the wood signs. After I applied 2 coats of Bauhaus Buff, the signs were ready for stenciling.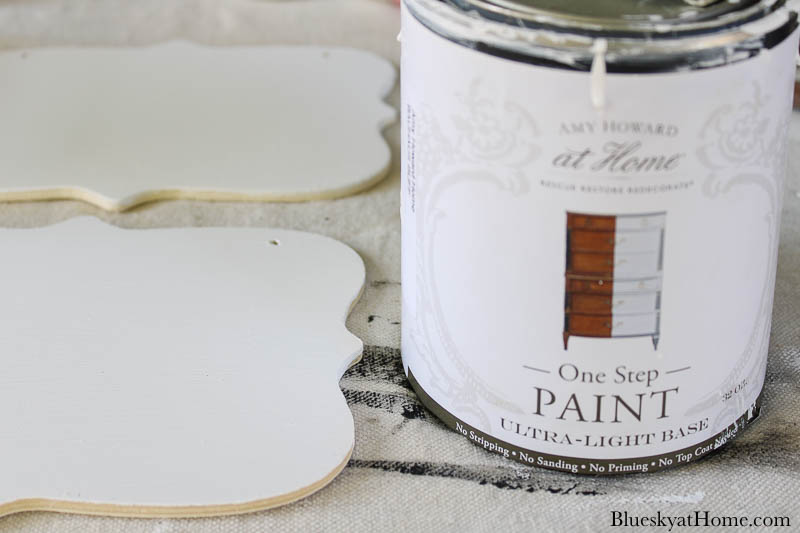 I used ChalkArt in Preaching to the Choir and Mind Your Manners on the stencils. Here's one example.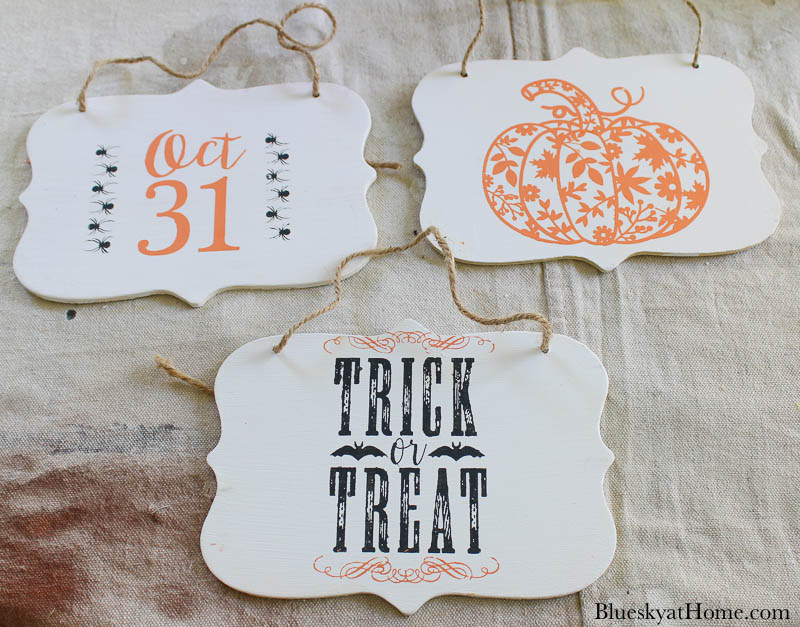 I love how these turned out.
A Paint and Stenciled Charger Used as a Sign
You might remember this charger project I first made for a fall tablescape.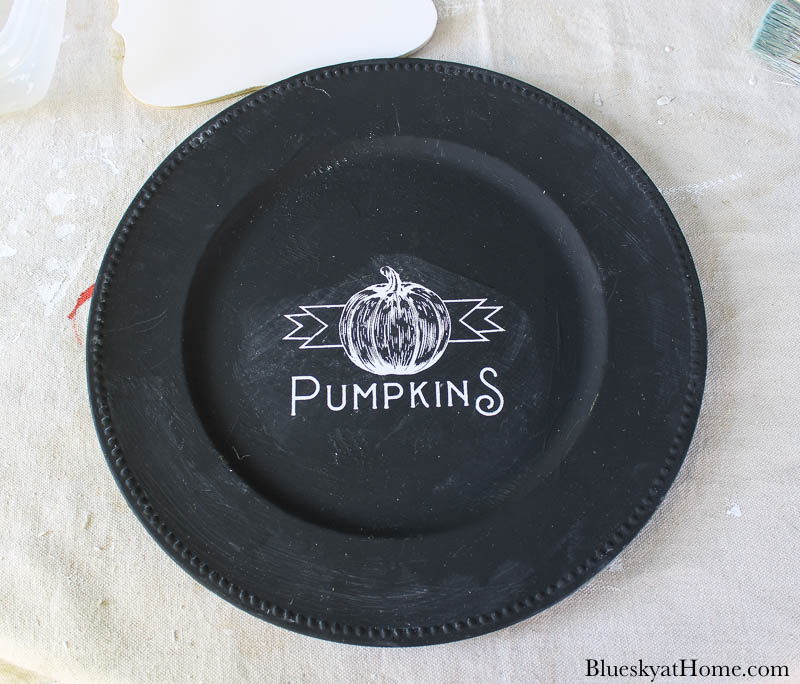 I used one of these chargers for our fall entry. I decided to reuse the other one for our Halloween entry.
ChalkArt can be easily removed with water (that's where the spray bottle comes in) and paper towels. Next, I applied a new Halloween stencil, Happy Halloween, using Peace & Joy. (I demonstrate this on the Facebook video.)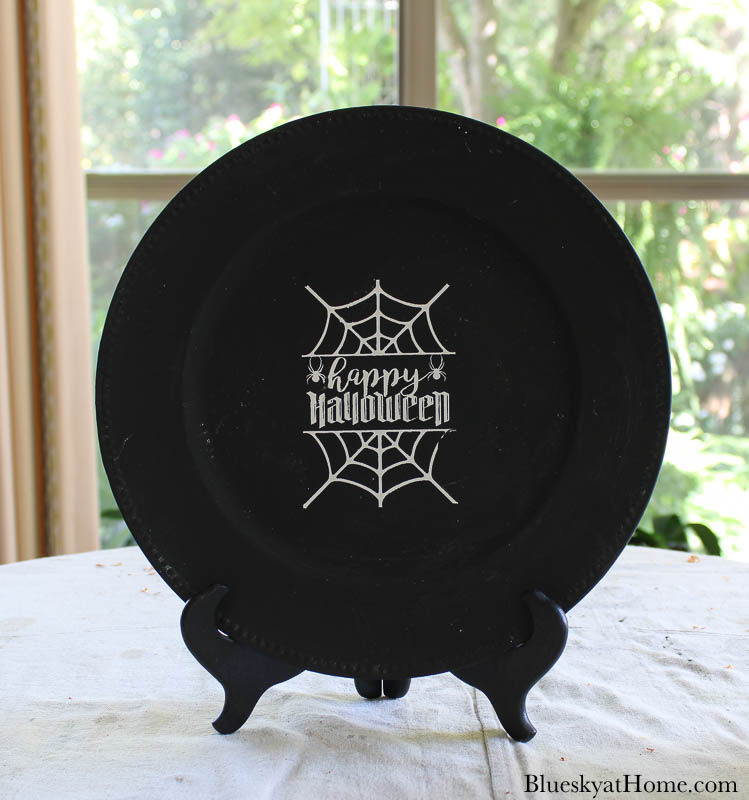 Gilded Halloween
I've mentioned I love gilding and I've shared some gilding projects with you.
This last project started with a random orange pumpkin from the Target Dollar Spot.
Supplies for a Gilded Pumpkin
Here is what you need for this project:
plastic or paper maché pumpkin
paint for pumpkin
pencil
paper circles for outline
artist's brush
Frog Tape
My small spray tent was still set up in the garage so I pulled it outside onto the driveway. I still had Krylon Spray paint in White Gloss that would work to cover the orange.
First, I used Frog Tape to protect the pumpkin stem for painting.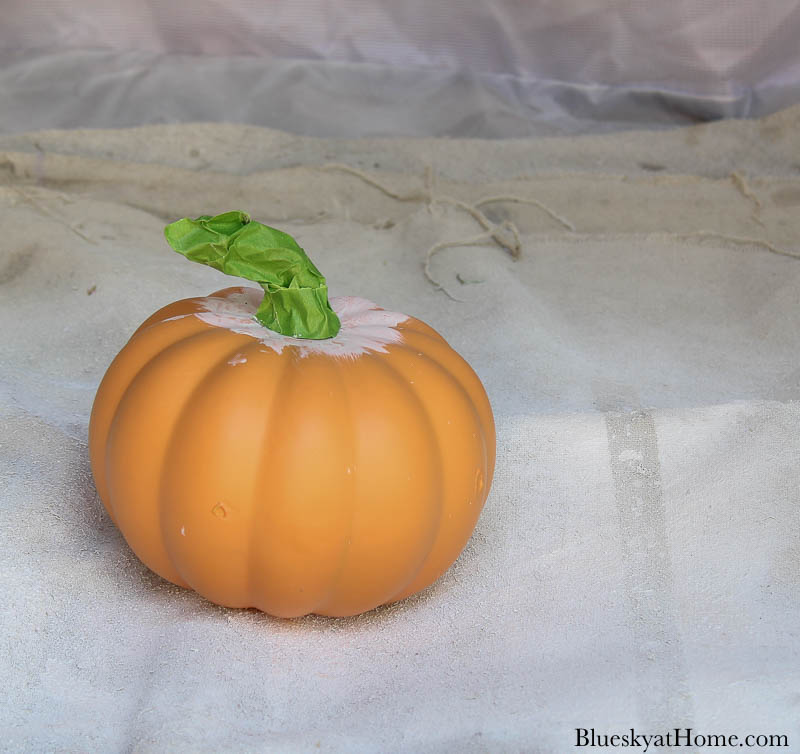 Then, it was easy to paint the pumpkins.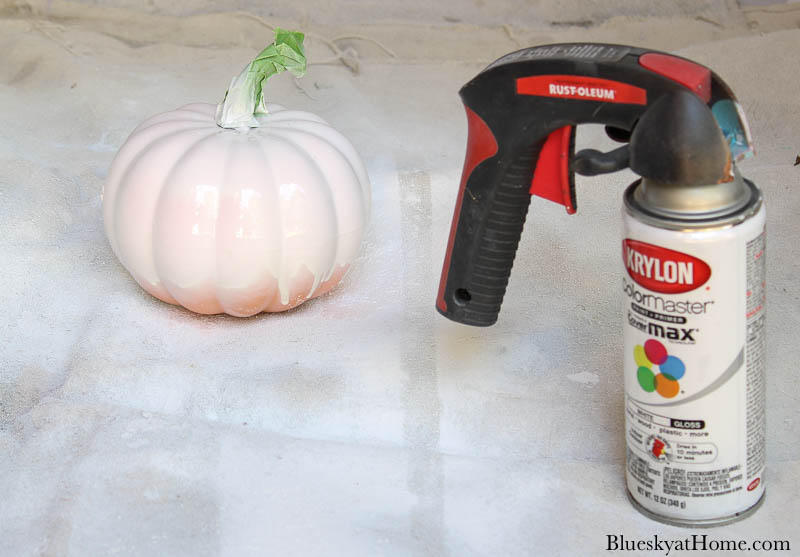 Next I made paper circles in 2 sizes with a punch and used them to draw circles on the pumpkin. I'm not sure how well you can see the circles.
I applied the Gilding Size inside the circle with a small brush and let it come to tack for about 5 minutes.
Now, I applied the Copper Leaf to the circles. Then I repeated the process on the stem of the pumpkin.

I was doing a few of these projects all at once and forgot to take pictures of the pumpkin project.
EEK! Here's the finished project: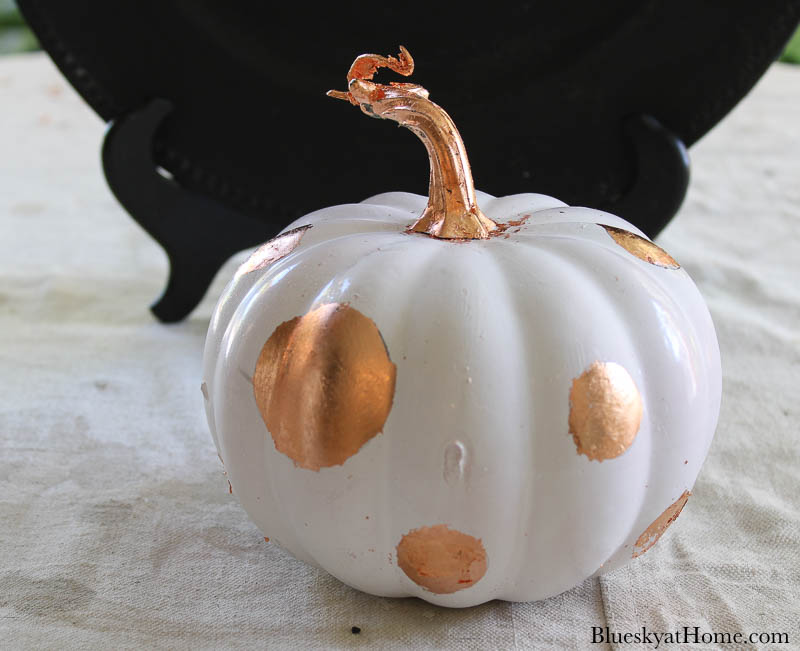 Be sure to check out these projects for gilding how~to.
Finished Paint and Stencil Halloween Decorations
Here are all my fun paint and stencil Halloween decorations.
Be sure to check out the video tutorial of these Halloween projects on the A Maker's Studio Facebook Page. You will learn so much about making similar Halloween projects for your own holiday decorations.
I'll be sharing lots more Halloween projects in the coming weeks. Until then, I would love for your to PIN and save these projects.