How to Make a Menu Card for Your Next Party
Will you be entertaining for Thanksgiving or Christmas? If so, you might like to let your guests know what's on the menu. I love to share my menu with my guests. I don't like to keep a good thing to myself, so I thought I'd show you how to make a menu card for your next party.
I recently created a menu card for my Thanksgiving Tablescape. It's a fun way to add some graphic design to the party and let everyone know what you'll be serving.
I used PicMonkey to design and print this menu card. I think most bloggers use PicMonkey for some type of photo editing. I use Lightroom for photo editing, but I use PicMonkey for graphics and text overlays. This was the first time that I used it to design something for printing out. It was so easy that I'm sure I'll use it again. If you are not a blogger, then you could use Pages or Microsoft Office, which is what I've done in the past.
Figuring out how to make a menu card wasn't hard. I just had to think through the process that I used before to create text overlays. The design of the image, choosing the layout, fonts, colors, and size wasn't different than designing text and overlays for images for Pinterest or my blog. After a bit of trial and error, the process became clear.
How to Make a Menu Card for Your Next Party
Step 1 ~ Select Your Graphic
You can find images everywhere, from stock photography to Google. Years ago I loved to search the Internet for clip art. Just make sure that the image is free or that you have permission to use it. You could also use a photo that you have taken although I think a simple graphic works best.
I chose to use a graphic from Ann at On Sutton Place. She shared an adorable printable of 4 graphics to make a paper chain. (Please check out Ann's post if you want the complete printable.) I didn't intend to make a paper chain, although I think that's a really cute idea if you have kids. And tell her I sent you.
I thought her graphics would make great tags for table decor or place cards. Since I already had a menu card in my Thanksgiving tablescape vision, I decided that one of her tag graphics would be perfect. I have a tag (or folder if you are on a PC) for Printables and I saved it in there.
Step 2 ~ Edit Your Graphic
Next open PicMonkey, click on OPEN NEW and find the paper chain graphic in your files.
In EDIT mode, click on CROP.  Try to eliminate as much of the surrounding white as possible, and click on APPLY.
Next RESIZE the image to 400 pixels wide. I tried to make it bigger, but it lost its clarity. I used the SATURATION tool just to make the image more vibrant and then used the SHARPEN tool. Then I saved that image with a new name, also to my Printable tag.
NOTE: How much you have to CROP and EDIT will just depend on the original size, color and clarity of your original graphic.
Step 3 ~ Prepare Your Background
In PicMonkey, open the DESIGN option.
In the left side EDIT section, check the box TRANSPARENCY.
The DESIGN space will turn from WHITE to a CHECKERBOARD pattern. Click APPLY.
CROP the DESIGN space into the shape you want. I made mine a vertical rectangle.
RESIZE the DESIGN space to the size you want. Originally I sized my card to 640 pixels wide.

Step 4 ~ Add Your Graphic and Text
Click on the OVERLAY icon ~ the butterfly ~ on the left. Chose ADD YOUR OWN.
Click OPEN and locate your graphic in your file folder. Click on the graphic and it will appear on your prepared checkered background.
Drag your graphic to the top of the background.
In the BASIC EDITS on the far left click on the TEXT option ~ the double Tt ~ . Click ADD TEXT at the top of the list. A TEXT BOX will appear on your background.
Type in your title. Highlight your text. Use the drop down box on the LEFT SIDE of the screen to select a font . On the RIGHT SIDE of the screen, you can center, adjust the color, placement and size of your title.
To add a TEXT BOX for your menu, repeat the last 2 steps. Again, center, adjust the color and size your text.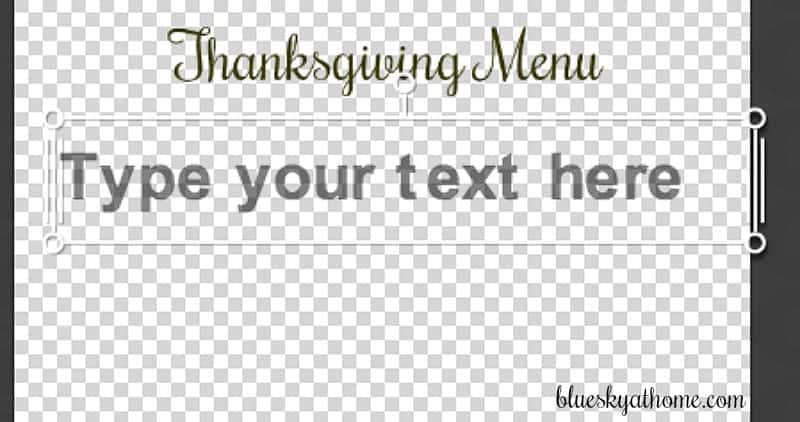 NOTE: I find it's easier to have separate text boxes for the title and the body of your menu card (or any graphic). You have more control and flexibility.
NOTE: Once you have your TEXT the way you want it to look, you may want to RECROP or RESIZE the background for size and shape.
NOTE: Make sure that your spelling, spacing, text size, text color is exactly as you want it. You don't want to have to go back and re~edit after you've printed a test copy.
SAVE your image either in SAVE or EXPORT (I save all my images to EXPORT on my computer.) Name your new graphic and save it to your chosen tag (folder).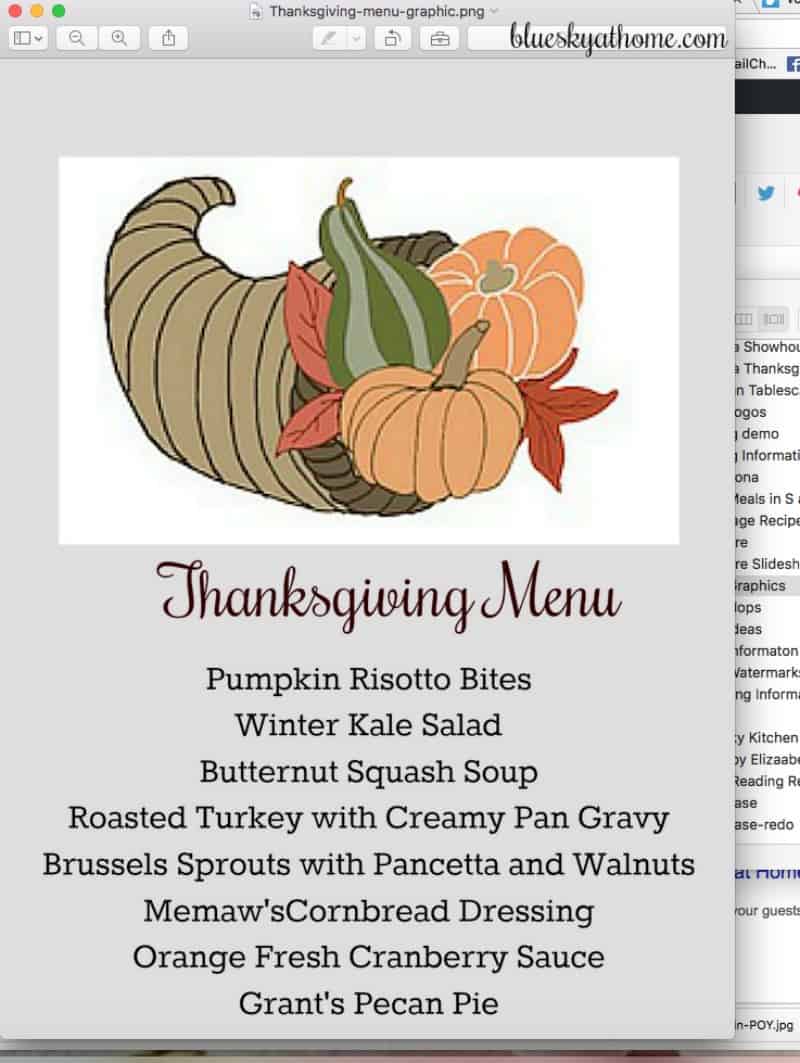 Step 5 ~ Print Your Menu Card
Locate the graphic file you just saved. I use FINDER on my MAC. Click open. You want to print a TEST COPY first.
Under FILE, click PRINT.
I wanted to print 2 copies to 1 piece of standard 8 1/2 X 11 paper. I chose the PORTRAIT mode and in COPIES PER PAGE, clicked on 2.
Hit PRINT.
If your menu card looks like you want it to, Congratulations. (If not you have to re~edit in PicMonkey.)
Go back to PRINT. Change the NUMBER OF COPIES to the number you need divided by 2. If you are using colored paper, place the paper in your printer. Hit PRINT again. (Because my colored paper was actually scrapbook size (12 X 12), I had to cut it down to standard size using my paper cutter.)
Step 6 ~ Cut the Paper
I used my paper cutter again to cut each piece into 2 pieces. I needed 6 copies, so I got 2 menu cards to each piece  of paper. At this point, you could cut down the paper size even more if you wanted it smaller. The color of my paper, which was a shiny, but pale gold, gave the image and the text a bit of a muted look.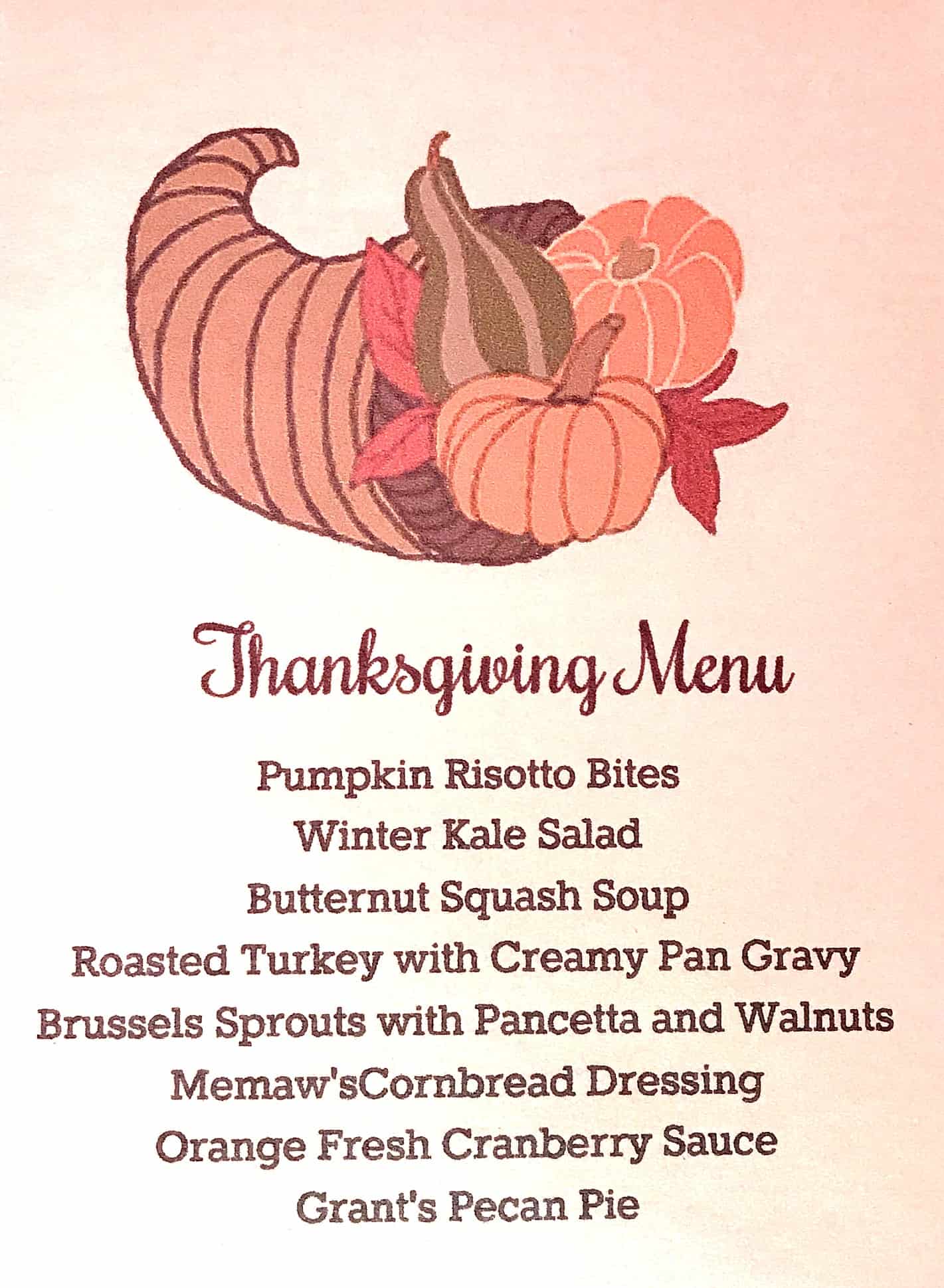 You're done! Although there are many steps here, the entire process took me less than 15 minutes. I bet next time, I can cut it down to 10 minutes. I wanted to be as precise and thorough as possible for you.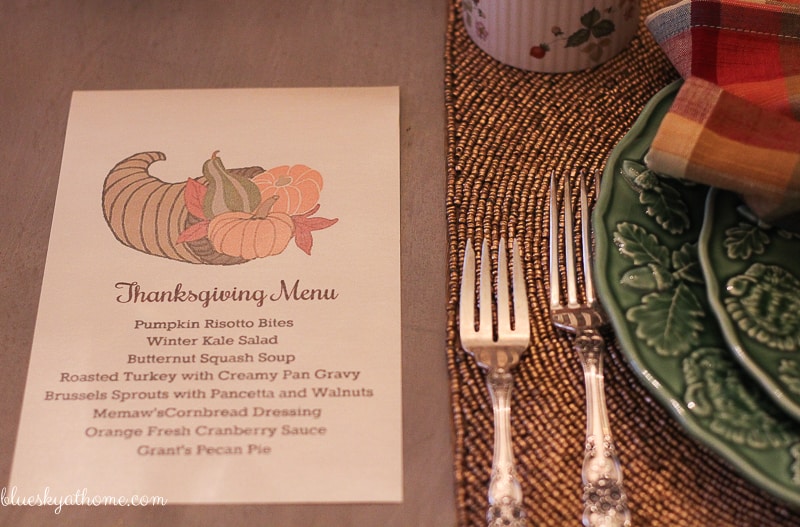 Other Options
You could include a name in each menu by adding a text box to the graphic.
Or you could make place cards.
I hope you enjoyed my little tutorial on how to make a menu card for your next party or a place card or any other card. Have fun doing it. Using these same steps, you can use graphics to make all sorts of holiday or party decorations. Let's make your next party more fun.
Be sure to PIN this tutorial so you have it handy when you want to make your own menu cards.