I'm a firm believer in cupcakes. Since Halloween is a great excuse for a party, a decorative Halloween cupcake topper is definitely a must~have.
As a firm believer that you shouldn't keep a good thing to yourself, I'm going to share with you how to make a decorative Halloween cupcake topper. 
I love cupcakes for parties, any kind of party. And I also believe that cupcakes are even better for a party if they have a cute, party~themed cupcake topper.
How to Make a Decorative Halloween Cupcake Topper
The first time I made these cupcakes, they were for a fall party. The cupcakes were really pretty as is, but I hate to let a pretty cupcake stay just pretty when it could be really, really stupendous.
The second time I made them, as pretty as these cupcakes are, I wanted to dress them up for Halloween. 
I made these Halloween cupcake toppers for a delicious Chocolate~Pumpkin Cupcakes with Nutella Buttercream Frosting.  I'll share these cupcakes soon. These cupcakes were one of the delicious fall treats I made for a previous fall event I hosted and shared as How to Decorate for a Fall Party.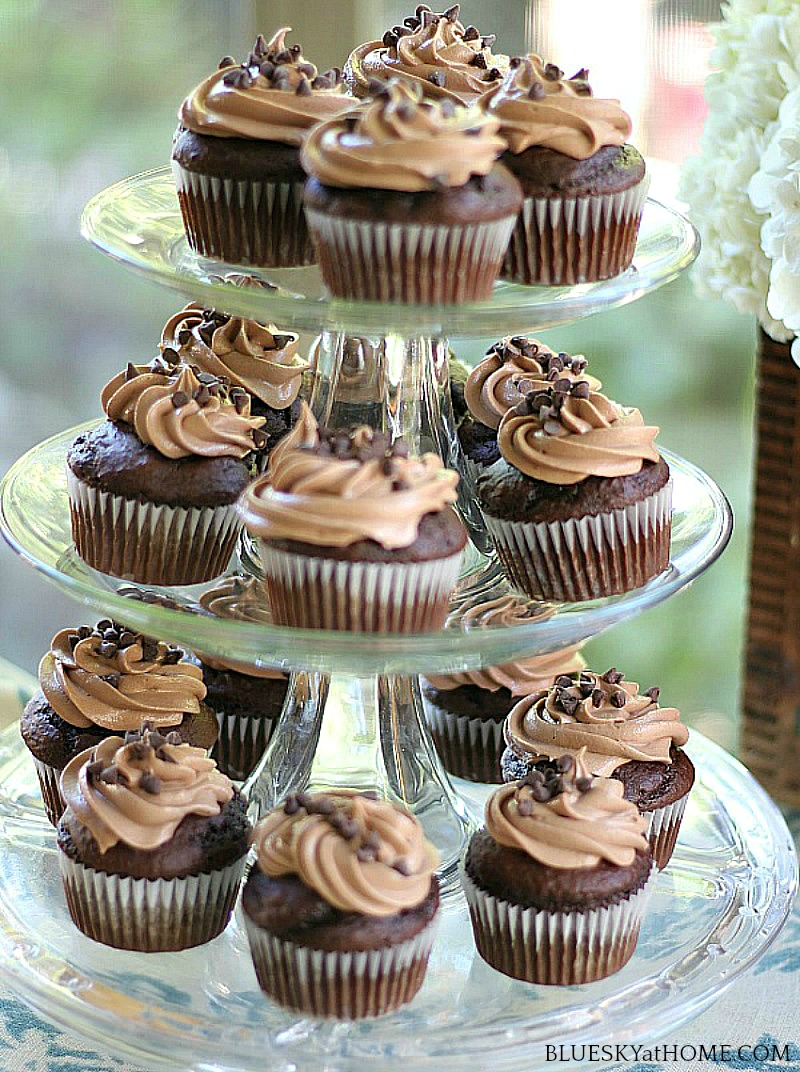 How to Make a Decorative Halloween Cupcake Topper
This post contains links for your convenience used in this project. If you should order any product through this site, I may be compensated but you do not pay one penny more.
I looked for a cute cupcake topper at Michael's, but I couldn't find any I liked. A stroll down the aisle of the Halloween decor got my creative juices going and I found a few items that I thought had the potential for cute cupcake toppers. So here's the topper I made for these cupcakes.
My Cupcake Topper Supplies
decorative Halloween paper
decorative Halloween tape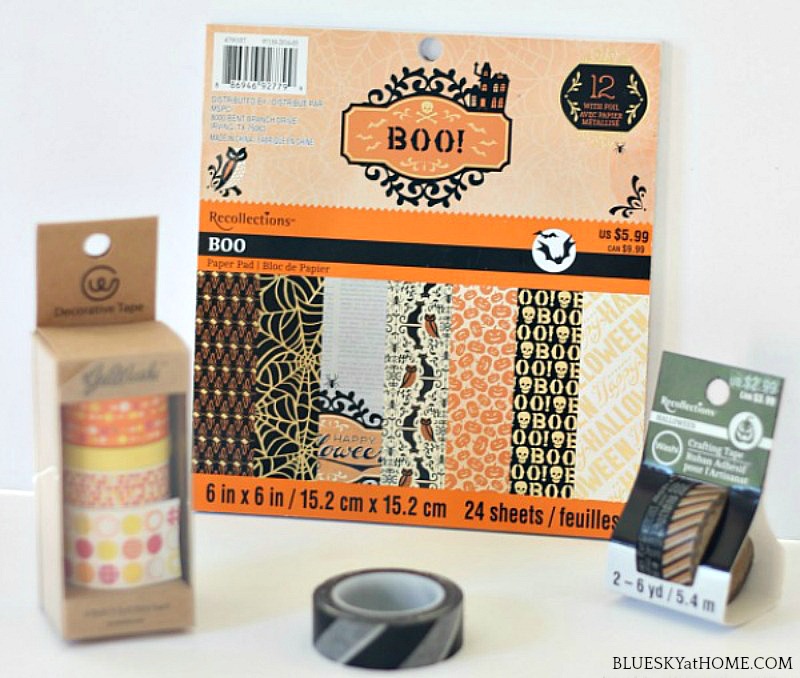 wooden toothpicks
Elmer's glue
construction paper
Martha Stewart decorative punch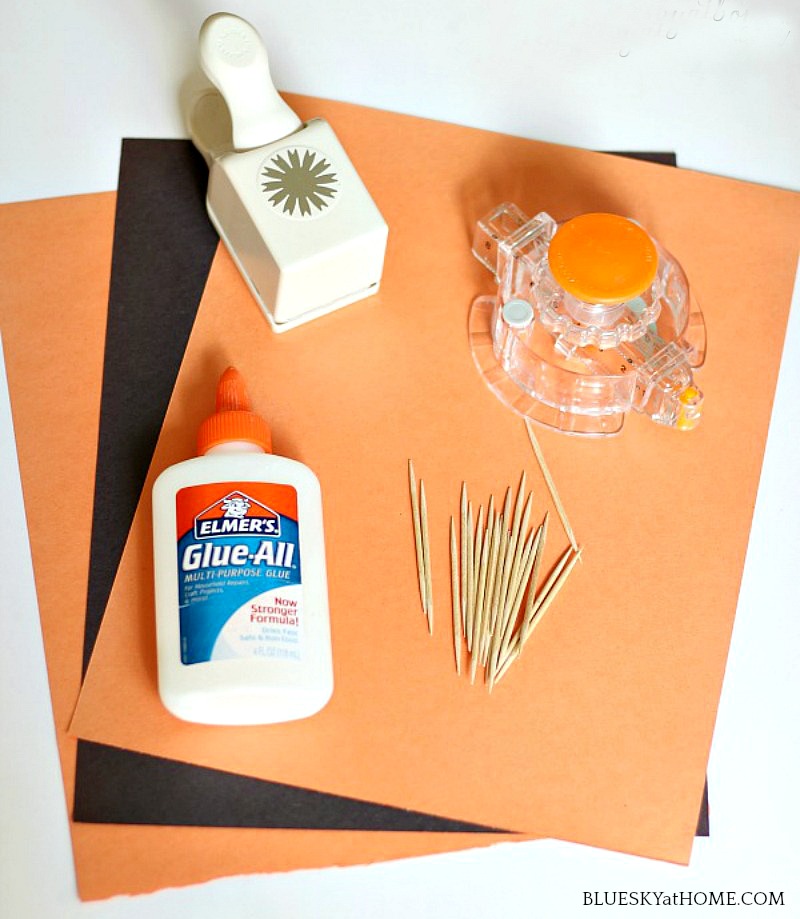 I selected these 5 patterns from the book of decorative Halloween paper.
Making Paper Cupcake Toppers
First, I wrapped the toothpicks with decorative tape. I cut the tape a little shorter than the toothpick and rolled the tape around the toothpick.
Using the circle cutter, I cut 2~inch rounds. You need 2 for each cupcake topper.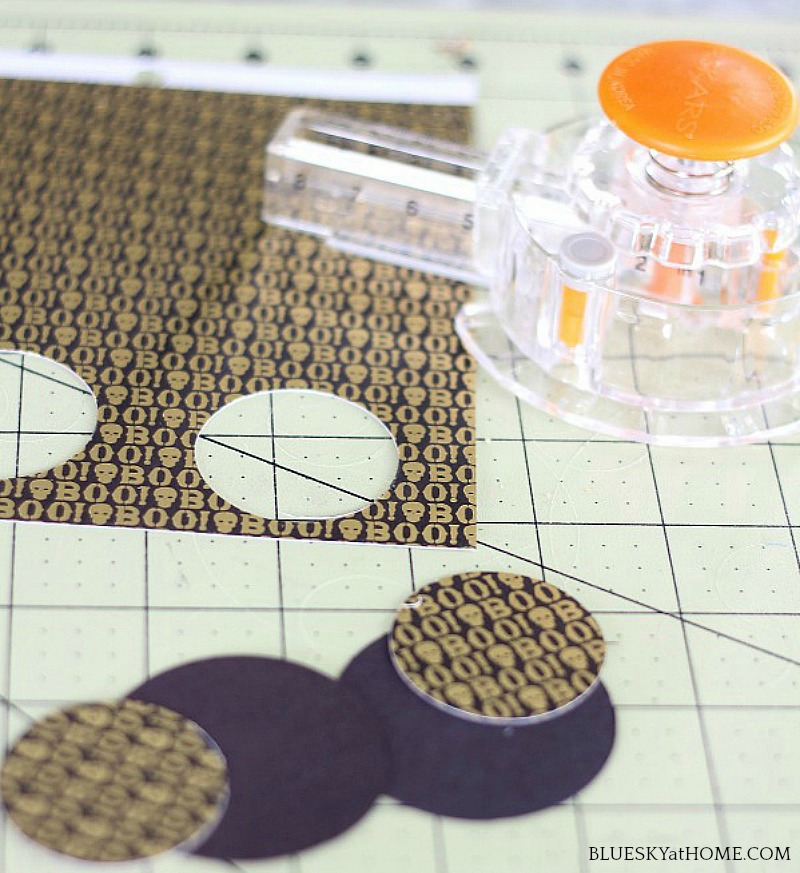 Then I cut 1~inch circles and glued those onto the 2~inch circles, mixing up the patterns and colors. Next, I used the decorative sunburst cutter and glued those onto the circles.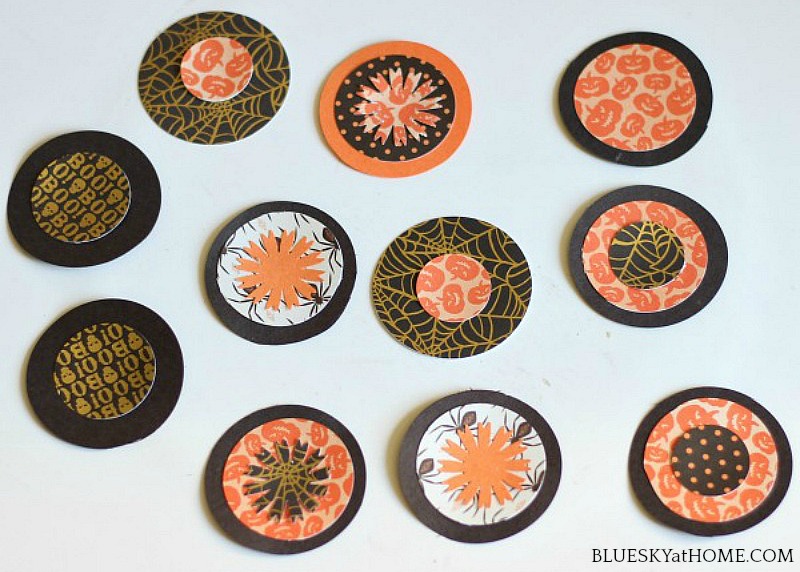 Pick a back and front circle, put glue on one of the circles and glue 2 sides together with a toothpick in between.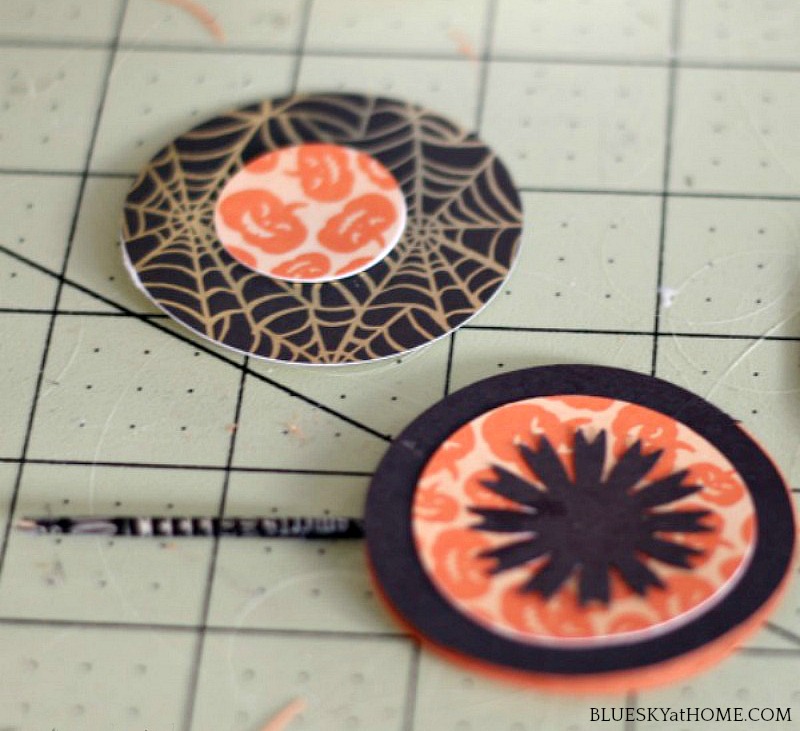 I had a piece of styrofoam and I placed each cupcake topper in to hold while the cupcakes were baking.

This was an easy project and I'm really happy with the way the cupcake toppers turned out. Now I want to buy more decorative cutters to use in projects.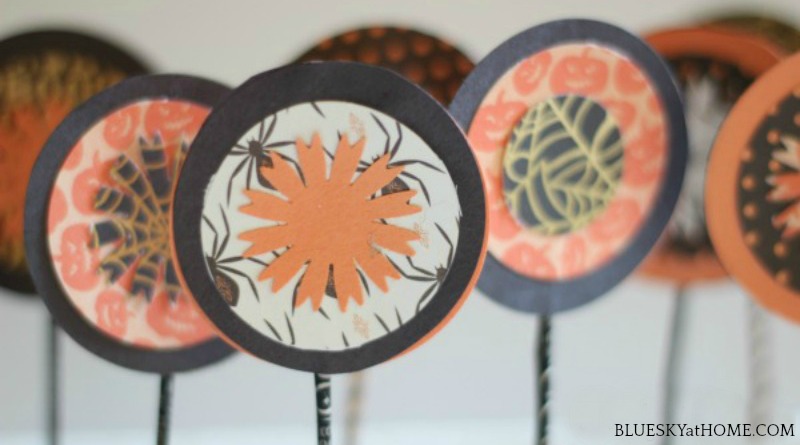 I hope this post inspires you to be a little creative and crafty. All it takes is a little paper and glue. And the tools you need are minimal. Here are the baked cupcakes with the toppers. Pretty cute, huh?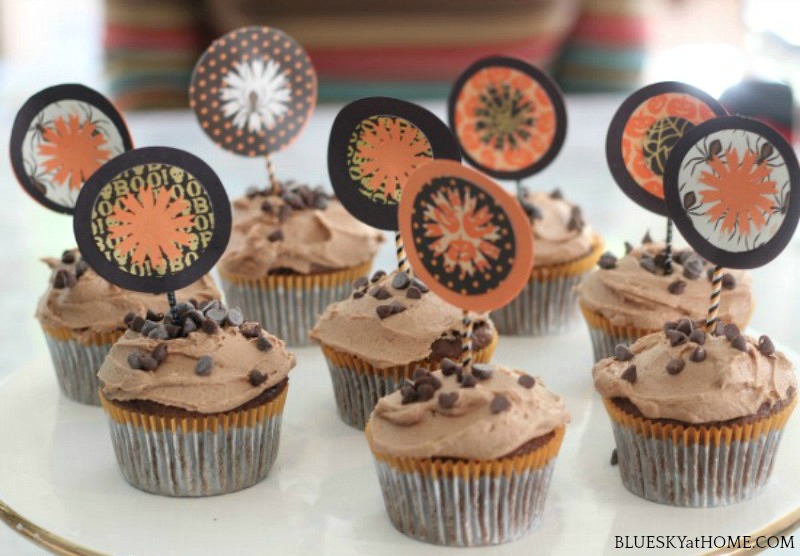 Drawing Cupcake Toppers
You might remember the Halloween place cards that I made for a Halloween tablescape. Those place cards, with a little adjustment, can also be used as Halloween cupcake toppers.
Using a 2 1/4~inch punch, I cut out 8 circles with a scallop edge. You will need 2 circles for each topper.
Use the process that I explained in the place card post to draw the circles with Halloween illustrations.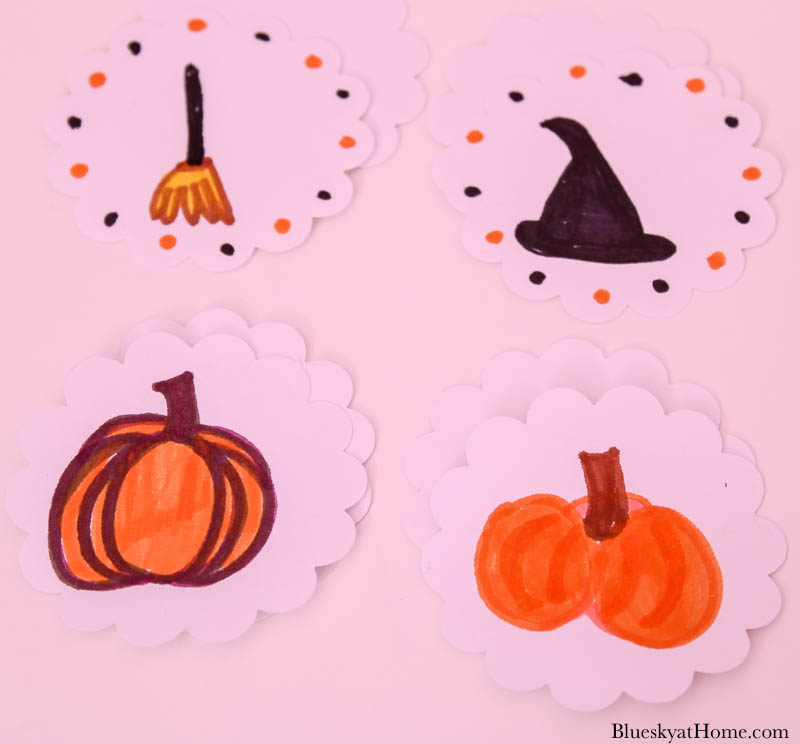 Next, follow the process that I showed above to make the Halloween cupcake toppers. Attach toothpicks or wood skewers using glue between two paper circles.
These Halloween cupcake toppers are so easy to make. Get your kids involved. They will enjoy making them.
Of course, I had to have chocolate cupcakes to "model" these cupcake toppers.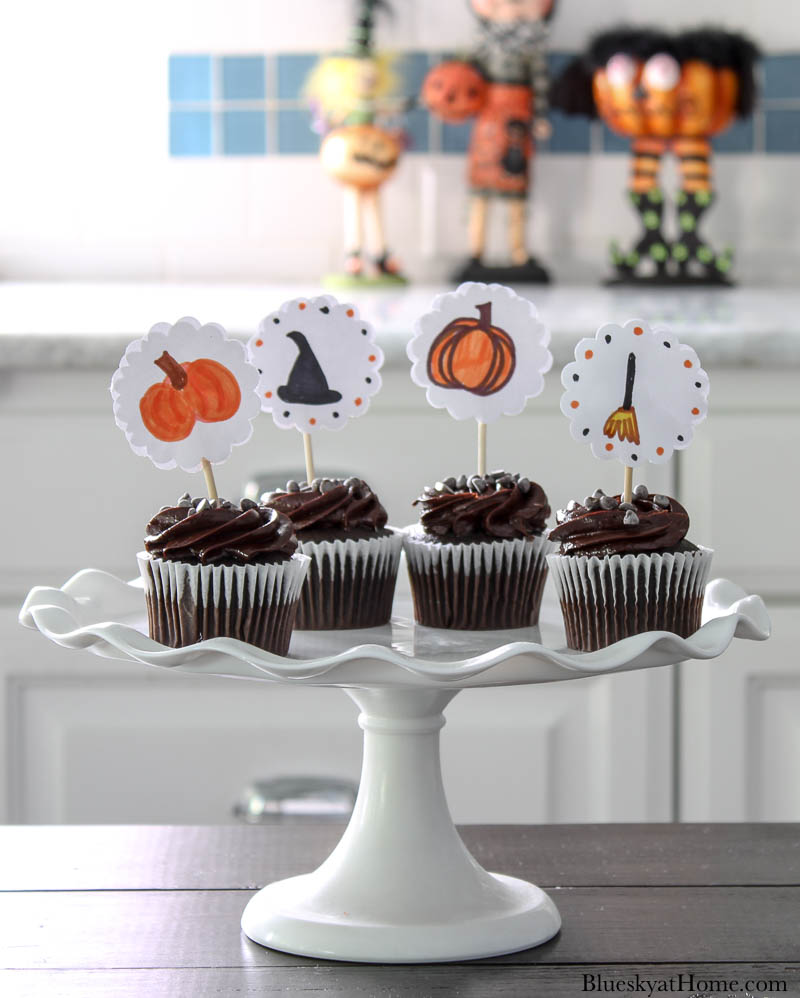 I hope you will make Halloween or cupcake toppers for your next holiday parties. Please PIN for that future time.