Witchy Black and Copper Halloween Tablescape
I have never been one to dress up on Halloween. I have made costumes for my kids, but never one for myself. But decorating the house? I'm all in. Decorating a table for a Halloween party? I'll be the first one to sign up. That's why I'm excited to show you our witchy black and copper Halloween tablescape.
If you have visited Bluesky at Home lately, you've seen lots of ideas for fall and Halloween decorative projects. I'm blown away like a witch on a broomstick (proud of myself for just thinking that one up!) over all the Halloween decor. This black and copper Halloween tablescape is no exception.
My table is all about witches ~ the cute kind. As a little girl, I was in love with Glenda, the Good Witch of the North in the Wizard of Oz. My witches can't tell you to tap your heels 3 times to go home, but they can provide a good time on this Halloween tablescape.
I've shared that my theme for this fall is navy and copper. It started with a
fall patio tablescape.
I've used those colors on our
coffee table
and
mantel,
and in an
early fall tablescape
. My most recent fall tablescape before this one was in
black and white
.
For my witchy black and copper Halloween tablescape, I kept the copper, tossed the navy (temporarily), and added black and orange. Orange isn't my favorite color, but for this tablescape, it tied in quite well with the copper.
We have been collecting witches and using them in our Halloween decorations for several years. Our favorites are cute, quirky witches with a definite attitude. We've bought them in Dallas, New Orleans, Arizona, and California.
Witchy Black and Copper Halloween Tablescape
I want to take you through the process of creating my witchy black and copper Halloween tablescape. That way, if you want to create a similar one, you can easily recreate it.
At the end of the tablescape, you'll see the Halloween place cards that I made for this tablescape. I shared the steps to make them in an earlier post.
With my color theme in place and knowing that some of our witch collection would be on display, I gathered the items that I needed.
The Starting Point for the Halloween Tablescape
I always start with what I have.
The copper chargers and the copper pitcher would definitely be used as well as the copper leaf glasses that I made. A few weeks ago, I bought 2 1/4 yards of black fleece and 1 1/4 yards of a polyester fabric at Joann. And, of course, some Halloween M & M's.
Notice my navy blue painted pumpkins? I moved them into the living room.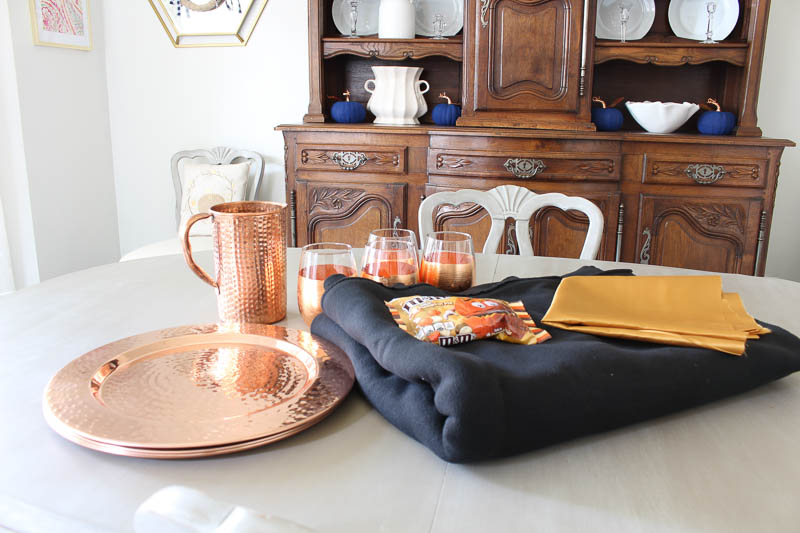 First, the black fleece became my tablecloth. No hemming, no ironing ~ the perfect tablecloth.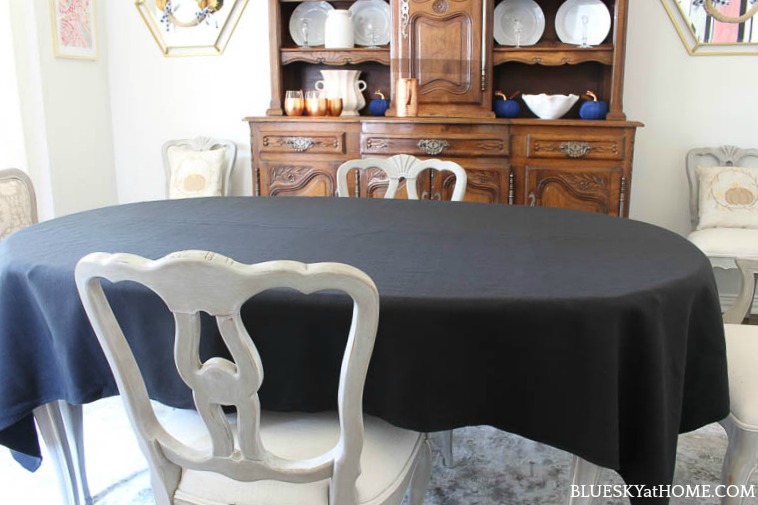 For my centerpiece, I wanted to use this woven basket pumpkin that I found at the antique mall (same day I found a copper pitcher) for $11.
Here is a piece of black spider~theme fabric from a couple of years ago ~ I'll find a place for it.
The witches and various other decorations are waiting to be used on the table.
The Halloween Centerpiece
This was a bit of a challenge. I didn't think orange flowers (zinnas, mums) would look good with my orange pumpkin basket and black flowers are hard to find.
A trip to Trader Joe's (where I also bought 7 more pumpkins for the front door) and I found the prettiest orange tulips. Yes, I know that tulips are not normally used at Halloween, but I love tulips and I loved this color.
First, I placed a plastic container inside the pumpkin basket and filled it with water. After trimming the tulips and removing the leaves, I put them in the container and then inside the basket.
It definitely needed filler, so next, I placed 2 kinds of orange and black decorations around the plastic container. It was super easy and created the full, colorful look I wanted.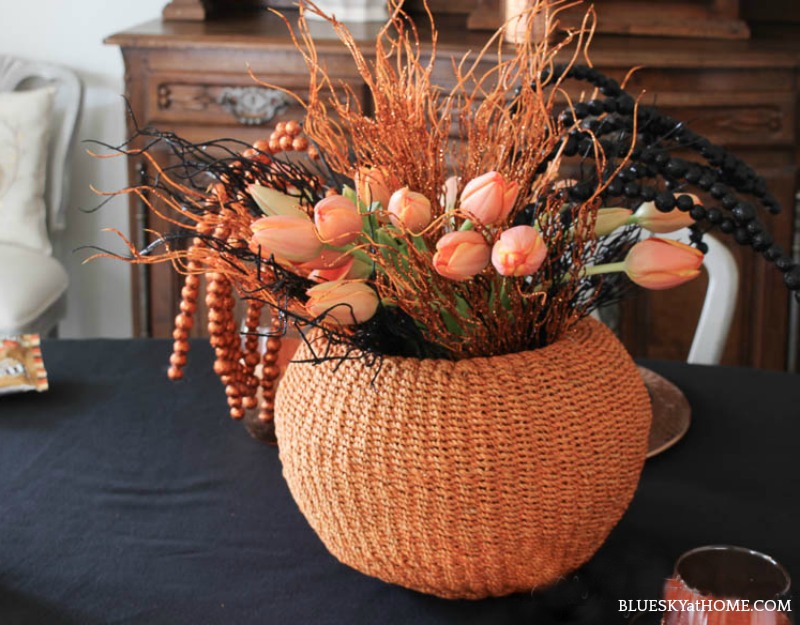 The Halloween Tablescape Place Settings
My copper chargers would be the base of my place setting.
I don't have black dishes so a trip to my favorite party store was in order. Party Bazaar is well~known in my area of Dallas for great party items and great service. I chose black paper plates rather than plastic ($$$). For my tablescape, I would leave the chargers in place during the meal.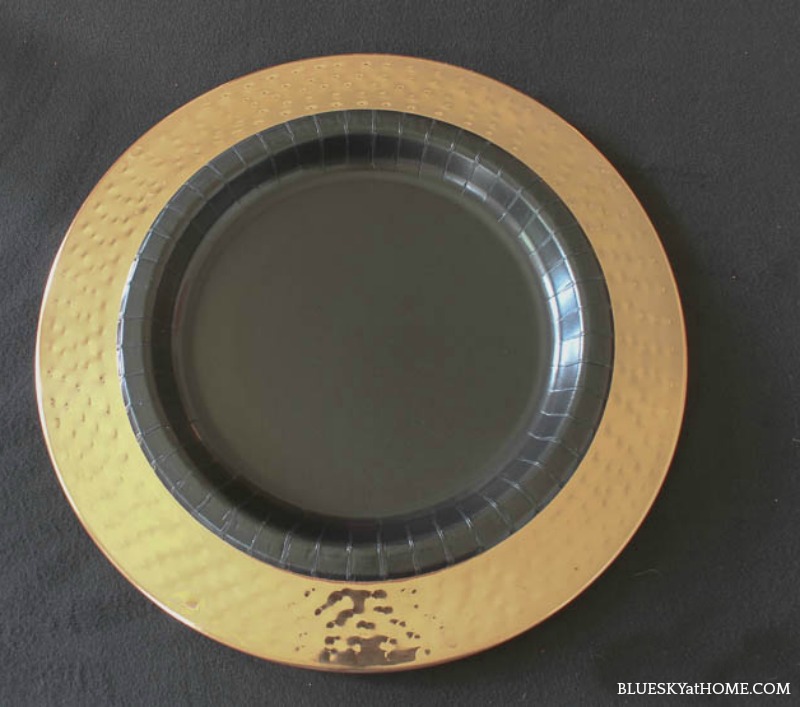 The metallic (gold, brassy, copper) colored fabric became my napkins. I cut 4 16~inch squares with pinking shears. The fabric is so inexpensive that you could just throw them away after a party if they get dirty.
What do you think of my napkin rings? I originally was going to use black raffia (Target $ Spot), but on my visit to Party Bazaar, I found these cute little things that I thought would be perfect as napkin rings. At .75, they are a great buy.
Do you know what they are? I didn't, but I'll tell you at the end of the post.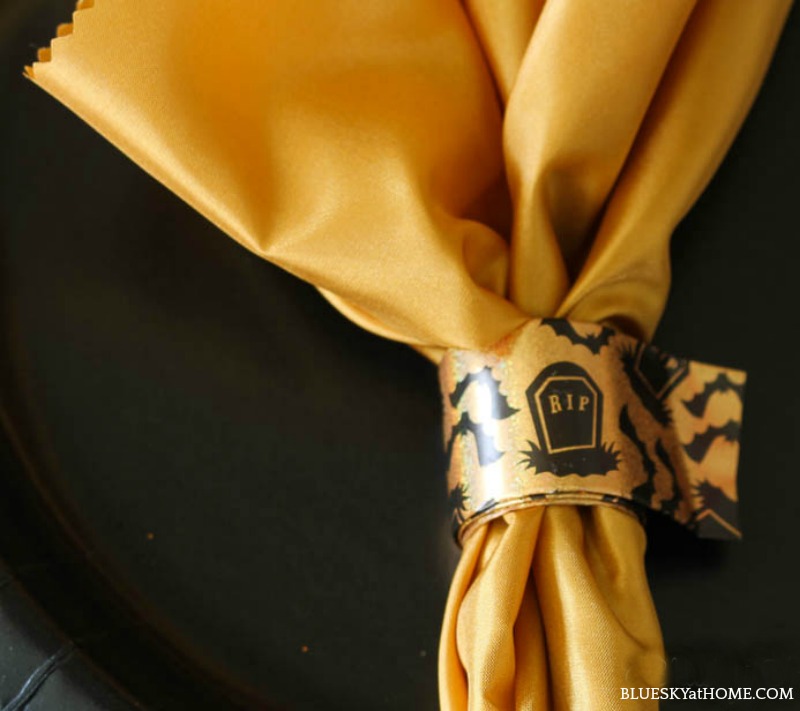 I also don't have black silverware, so plastic it would be. I just tucked a fork and knife in the napkin ring and faster than you say BOO!, my place setting was done.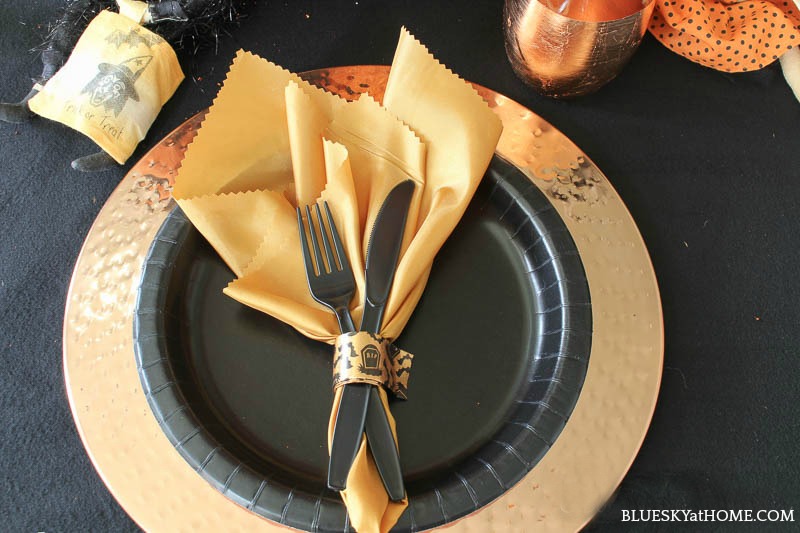 Adding the Witches
I chose 6 of our witches and placed them around the pumpkin basket.  They can see everyone and we can keep an eye on them. No magic spells during dinner!
Notice my copper wine glasses? You too can have copper wine glasses. I made them myself and you can too.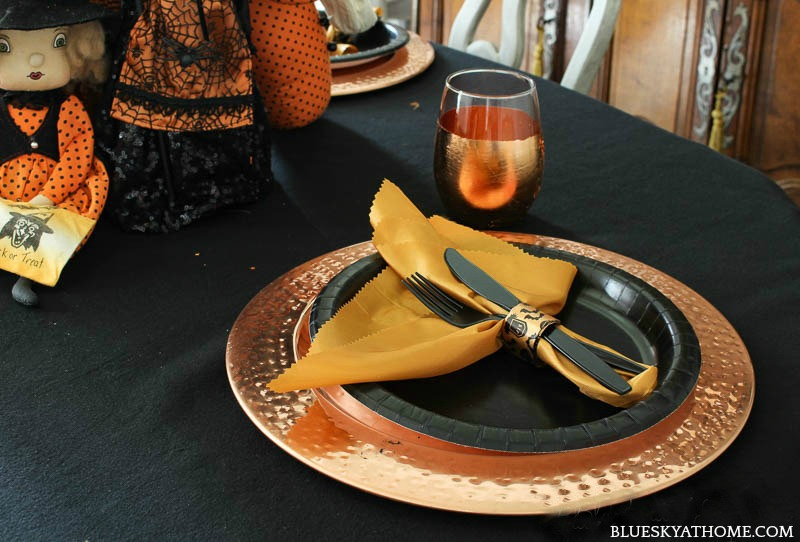 Adding Embellishments to the Witchy Tablescape
Every tablescape needs some little extra garnish to fill it out and spoof it up. First I sprinkled some copper jack~o~lanterns and black bats on the table. Every year I just gather them back up and put them back in a plastic bag.
New this year are the copper necklaces with bats at .60 each ~ another Party Bazaar purchase. They would also be fun to pass out to guests to wear.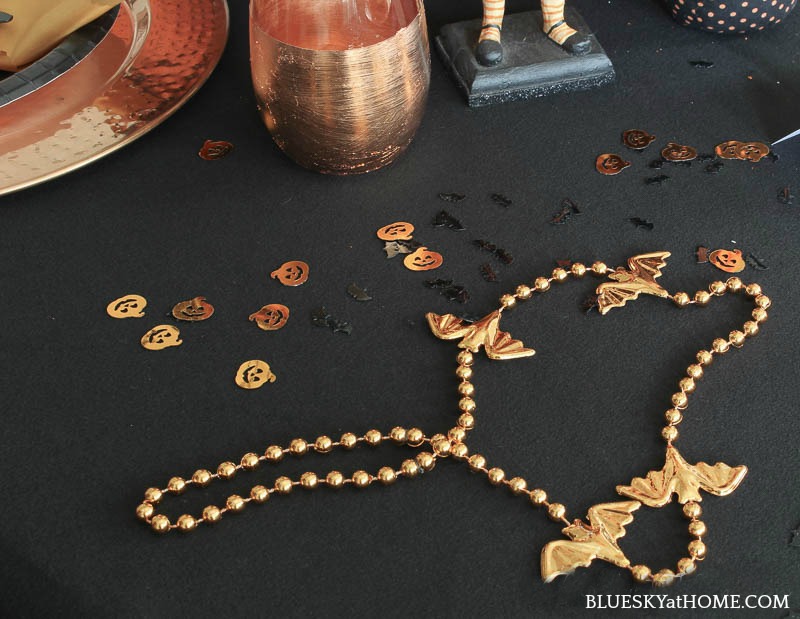 Let's Look Up
I love hanging decorations from our crystal chandelier. I think it adds an element of surprise to any party. The orange and black spider won't scare anyone, but it does add a sense of fun, as does the orange boa.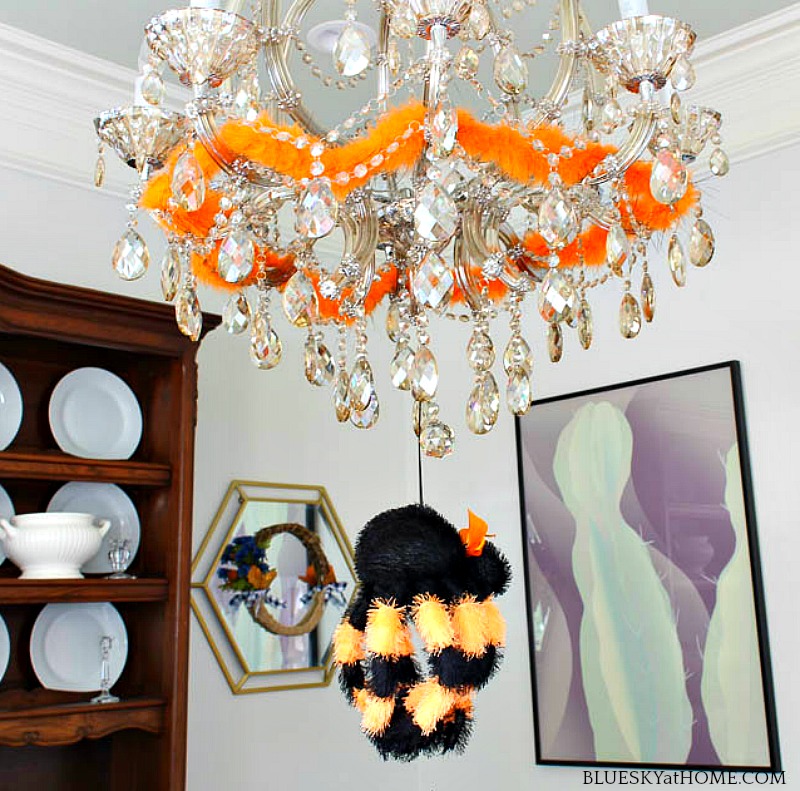 Halloween Place Cards
I love place cards. Even a casual tablescape seems more elegant when dressed up with them. Making place cards that fit the theme ~, in this case, a Halloween tablescape ~ of your party is even more fun.
I made these 4 different ones with Halloween names ~ Ghost, Goblin, Ghoul, and Witch for my imaginary guests. I have a few more that I didn't share here. Here is how easy they are to make ~ and, believe me, I can't draw to save my life.
If I can make these so can you.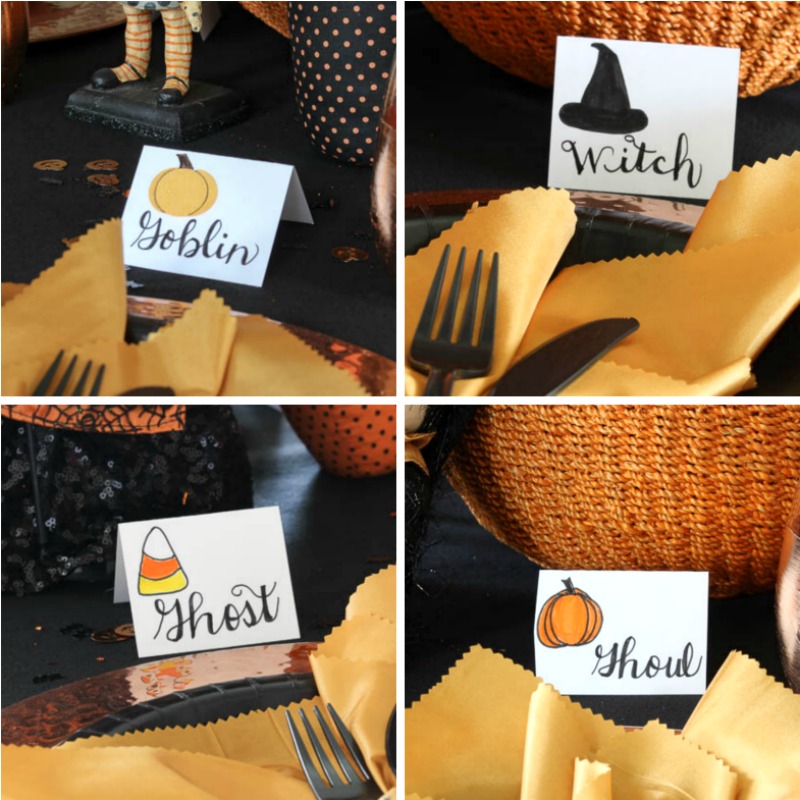 Our Halloween Bar Cart
I love my flea market find bar cart which sits in our dining room. To complement the Halloween tablescape, the spider web fabric became a tablecloth.
Remember the copper pitcher I found at the antique mall? It became the perfect chiller for a bottle of Prosecco. For champagne flutes, I chose our 2 Vieux Clicquot glasses (a gift from Sweet Shark's mom many years ago), which are perfect for Halloween toasting.
We bought the other 2 flutes at the Murano glass shop in Venice in 2014. All 4 glasses are treasured favorites.
The orange beads and the orange and gold candy dish have been around for ages. I hope we don't eat them before Halloween. I found the black and gold napkins also at Party Bazaar. Very festive, don't you think?
The final touch for my Halloween tablescape was the black and white polka dot straws from Party Bazaar. I'm not sure what drink besides wine that I would serve in the copper wine glasses, but the straws ($1.75 for a package of 10) were just too cute to pass up.
Our witchy black and copper Halloween tablescape is complete and the witches are waiting for ghosts, goblins, and ghouls.
Hope you got lots of good ideas from our witchy black and copper Halloween tablescape.
By the way, the napkin rings are actually slap~bracelets. I would never have guessed. Did you?
Although you may not be having a Halloween party this year, you should PIN this for next year!!