5 Easy DIY Halloween Place Cards
Planning a Halloween party with friends? Maybe it will be a sit~down dinner. Let me show you how to make 5 easy DIY Halloween place cards.
Place cards add a sense of "specialness" even to the most casual of events, even a Halloween party. These 5 easy DIY Halloween place card ideas will be sure to impress your guests.
We're not talking picnic at the park or a football tailgate but in your home. When you have set a beautiful table, a pretty card with a guest's name is a wonderful personal touch.
Place cards also give you an opportunity to add another element to on your tablescape theme or colors to your table. This is especially fun for a Halloween party.
When your guests find their place card and sit at their place, DIY place cards allow you to show that you have taken the time to make the event special.
Place cards can be fancy or simple, but the most important element is that you add your own touch. Here are 5 easy DIY Halloween place cards to give you ideas for your own.
This post contains links to products that I used in this project. If you should order any project from this site, I may receive a commission, but you will not pay a single penny more.
WHY PLACE CARDS?
Place cards also give you another opportunity to add your tablescape theme or colors to your table.
In addition to adding elegance to a dinner table, place cards also reduce the 'jockeying" for seating at the table.
They give you control over who sits next to whom.
You can "break~up" couples, sit boy~girl~boy~girl, make sure your 2 friends who have never met, but have common interests, sit next to each other.
Seat yourself at the head of the table or closest to the kitchen.
INSPIRATION FOR THE HALLOWEEN PLACE CARDS
I made these DIY easy Halloween place cards for last year's Halloween tablescape. As I've mentioned before, I am by no stretch of the imagination an artist. I can't draw. But I can follow directions when other more talented people provide the instructions.
In preparing for the Halloween tablescape, I researched Pinterest for ideas. I have also been practicing my hand-letter skills using Amy Latta's wonderful Hand Lettering for Relaxation.
Remember my first~hand lettering project making tags for a Thanksgiving place setting? I even practiced on the airplane on our trip to Cape Cod and Boston (long flight!) last year, just writing the alphabet several times. (I just received Amy's brand new book Hand Lettering for Faith and I can't wait to dive in.)
Amy's blog Amy Latta Creations also provided me with the breakdown of how to draw a few simple Halloween~inspired objects. One I figured out all by myself (pat on the back).
So grab your favorite beverage and sit down with me while we make these 5 easy DIY Halloween place cards.
SUPPLIES FOR THE HALLOWEEN PACE CARDS
You need just a few supplies to make all of these place cards and you may already have them all on hand.
unlined 3 X 5~inch index cards or cardstock
writing pens ~ see below*
colored craft paper, such as construction paper or scrapbook paper
I had all these supplies on hand.
Let's talk about writing pens. When I started really working on my hand lettering, I bought the 10-pack Tombow Duel Brush Pens in the Primary Palette. You could also use Fine Point Sharpies (not extra fine), but they will bleed through your paper.
The Tombow Duel Brush Pens have 2 different tips. The picture on the left is the fine tip for lettering and outlining. The brush tip is for filling in and brush lettering. For these place cards, you need pens in Black, Brown, Orange and Yellow.

I already had scrapbook paper in 3 shades of orange. The lightest one had a bit of a sparkle to it so that is the one I used for 1 of the place card styles.
Regular 3 X 5~inch unlined index cards are the perfect size for the place cards. You could also cut card stock to size.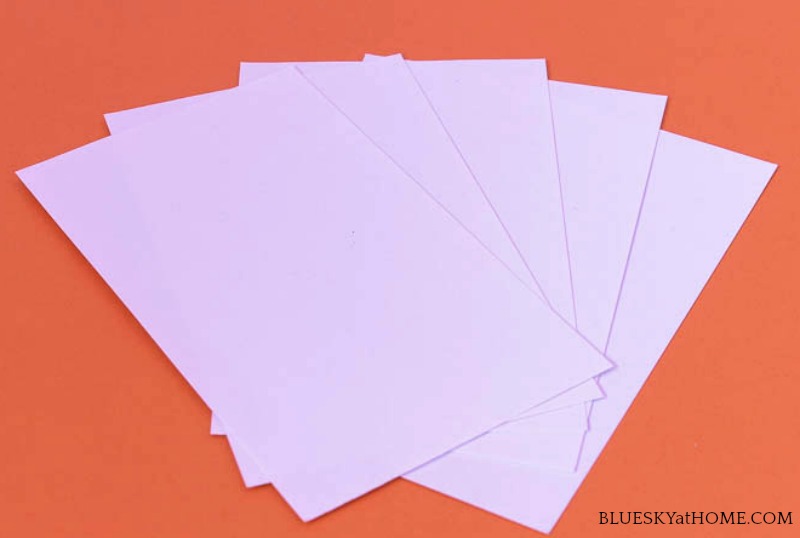 Before you begin, fold your index cards in half to make a 2 1/2 X 3~inch space for your design.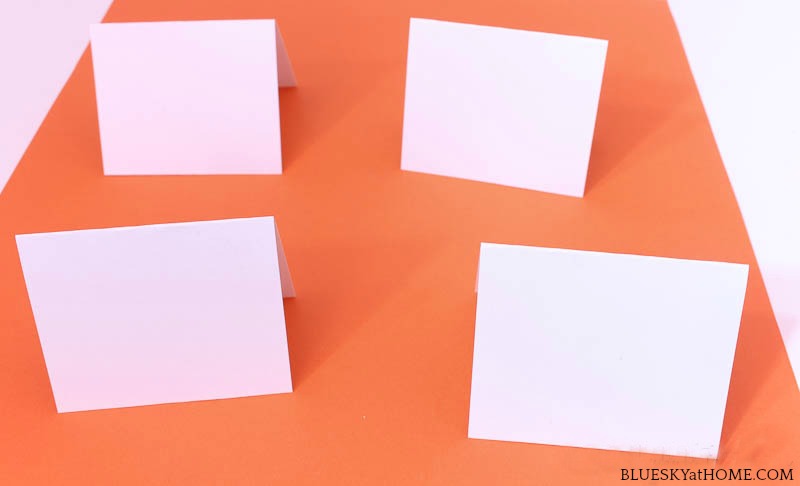 Before I show you how to make these 5 easy DIY Halloween place cards, let me say that I only needed 4 place cards.
Normally I would pick one style and use it for all of the place cards at my table. But I wanted to practice my drawing and hand lettering skills, so I played around and came up with 5 different ones and used 4 of them for my tablescape.
Today I have practiced enough that I use the Tombow Fudenosuke Pens and use the brush hand lettering method.
HALLOWEEN PLACE CARD STYLE NUMBER 1
Let's start with a simple one that doesn't require any drawing.
For this place card, you will just use your round or oval punch. I have a round punch so that's what I used. My round punch is 1/2~inch, but you can use any size you like. I started with copper metallic paper, but switched to the orange sparkle paper. Totally up to you.
Left to right:
1. Punch 3 circles.
2. Place 2 circles overlapping in the top left corner of your index card and glue down. I used this scrapbook adhesive, but a dot of glue would work too.
3. Place your 3rd circle in the center of the first 2 circles and adhere. Do you see a pumpkin starting to appear?

4. Using your fine tip pen in black or brown, draw around the sides of the top circle.
5. Using a brown pen, draw a stem on the top of your pumpkin.
Voila! You just made a pumpkin.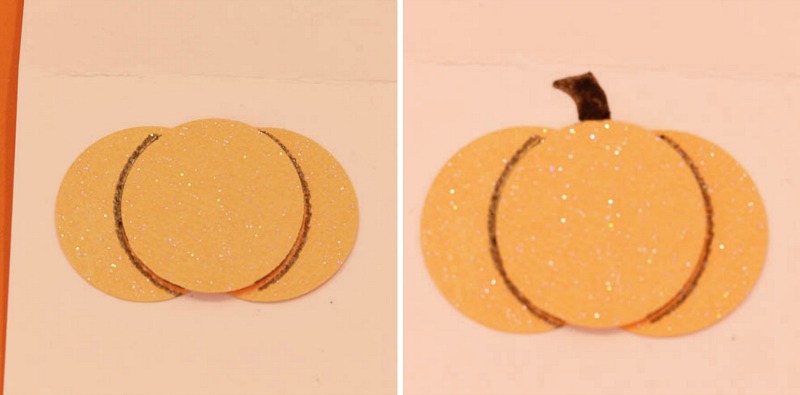 For my imaginary guests, I used the words Ghoul, Goblin, Ghost, Witch and Cat.
I don't want to give you a lesson in hand lettering because at the time I made these place cards,  I was just learning myself, but here is what I have learned so far.
Write as vertical as you can, with just a slight slant.
Spread your letters out.
Relax and hold your paper firmly so it doesn't move around.
For letters with loops (h, l, g, y, for example) widen the loops more than you normally would
After you have written your word, go back with your fine point pen and add an extra line on the DOWNWARD strokes
Using either your fine point Sharpie or the Tombow Dual Brush, fill in the space you made.
TIP: These are your place cards, so use whatever style of writing you like. It doesn't have to be perfect. It doesn't have to look like mine or ones you see in hand lettering books. Everyone's handwriting is different and that's what makes it special.

I actually made several place cards for practice. Here is how this style ended up on the tablescape.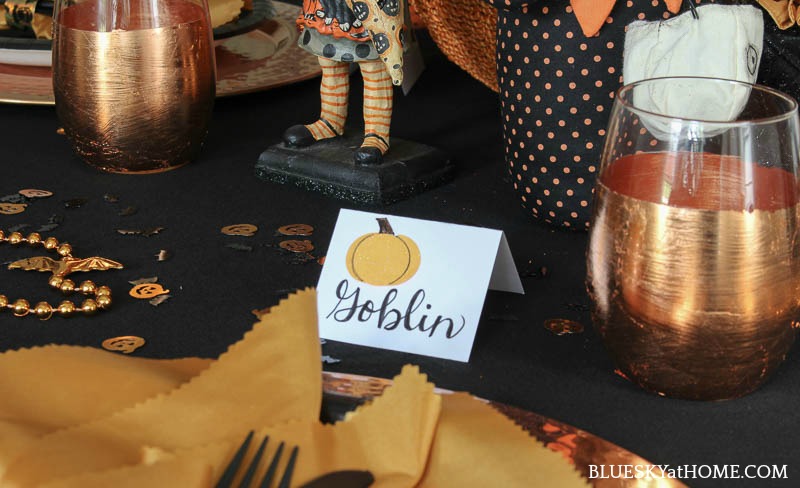 HALLOWEEN PLACE CARD STYLE NUMBER 2
Now we are going to draw the simplest pumpkin. You can do this, I promise. I found this technique when I was searching for DIY Halloween projects on Pinterest. It is from Linda at Mason Jar Crafts Love.  It is so easy, a kid can do it. That is not a Halloween trick.
From left to right:
1. Make 2 circles next to each other in orange.
2. Fill the circles in. Draw a line at the top to connect them. This is a step that I added. I think it gives the pumpkin more depth.
3. Draw your stem in brown. Then go back and fill in with orange around the stem.
Left to right:
1. With a darker orange pen, draw 4 lines ~ like a parenthesis ~ down the pumpkin sides.
2. Add your word as I did above or in your own handwriting style.
Although this Halloween place card was one of my favorites, I didn't use it in my tablescape. I used pumpkin styles 1 and 3.
HALLOWEEN PLACE CARD STYLE NUMBER 3
This pumpkin method is from Amy Latta of Amy Latta Creations ~ my hand lettering guru. I discovered that it was easier for me to reverse the order that Amy uses (is that because I'm a lefty?), but I suggest you try it both ways and see which is easier for you.
Left to right:
1. Draw an oval on the front of the card.
2. Draw 2 sets of parenthesis on each side of the oval, touching at the tops and bottoms of the oval.
3. Draw your stem.
4. Draw 2 lines connecting the outer parenthesis to the stem.
You just made another pumpkin. Let the pumpkin sit for several minutes and then fill in with orange and brown for the stem. This makes sure that the brown outline won't mix with the colors.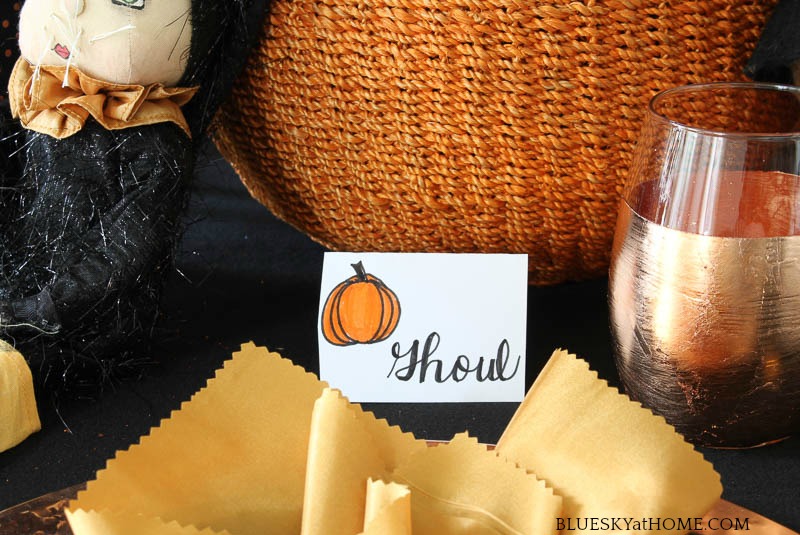 You are done with this pumpkin style. Can you believe you drew a pumpkin?
HALLOWEEN PLACE CARD STYLE NUMBER 4
This idea also came from Amy Latta. Who knew how easy it was to draw candy corn? For this style, you will need your black, orange and yellow pens.
Left to right: 1. Draw a tall triangle with rounded angles.
2. Draw 2 lines, slightly curved, to divide the triangle into thirds, but with the top being bigger than the others.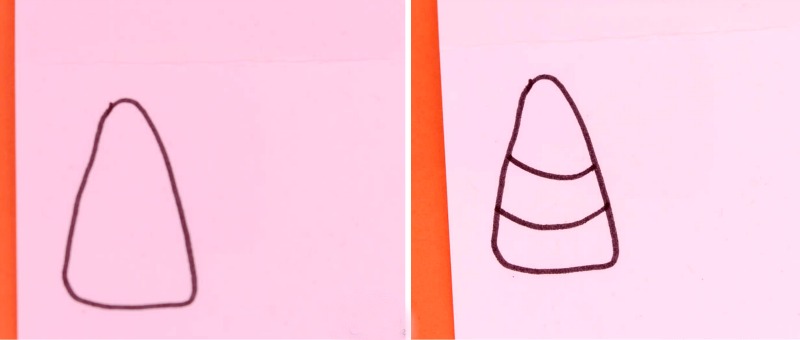 3. Fill in the middle section with orange and the bottom section with yellow and you have your candy corn place card.
TIP: Allow your outline to sit for several minutes before adding your orange and yellow. This makes sure that the black outline won't mix with the colors.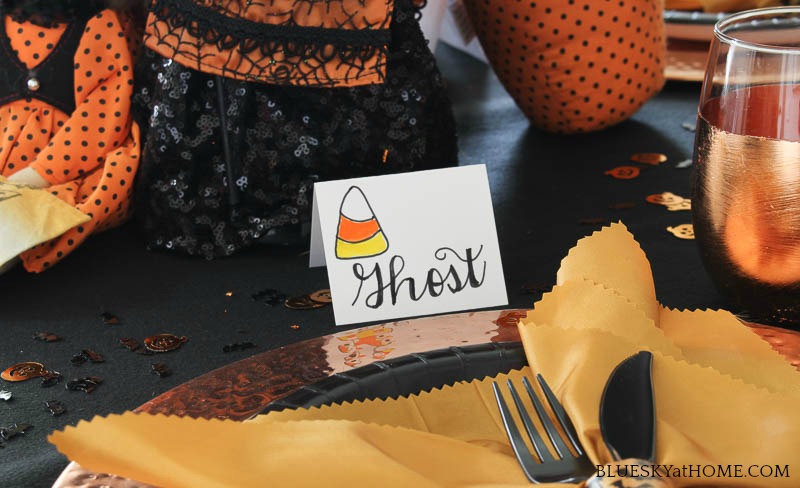 HALLOWEEN PLACE CARD STYLE NUMBER 5
I never thought I could draw a witch's hat. Just like the pumpkins and the candy corn, it's easy when you think about an object as different parts.
Left to right:
1. Draw a tall triangle with a rounded point at the top.
2. Draw a point at the top of the triangle, pointing to 1 side.
3. Draw a rounded line from 1 side of the triangle to the other. Think of it as an oval, but you can't see the back side.
4. Fill in the outline with black pen.

Now you have a witch's hat. Wasn't that easy?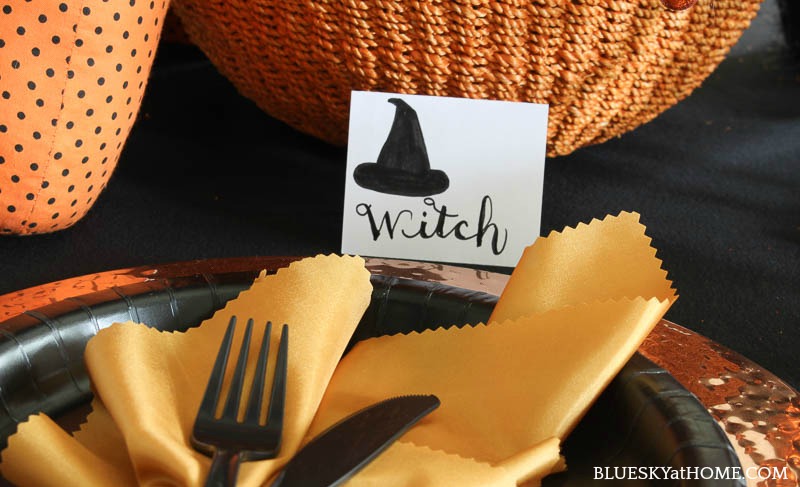 As you can see, I made multiple place cards for practice. I even made a ghost, just for fun. In real~time, you could easily make these DIY Halloween place cards in less than 15 minutes.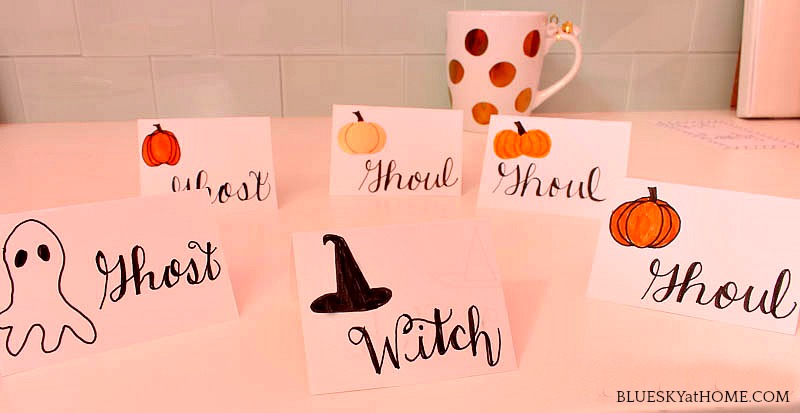 I know that if I can make these DIY Halloween place cards, you can too.
You could also use the pumpkin place cards for Thanksgiving.
OTHER WAYS TO USE PLACE CARDS
Cut the back from the card. Punch 1 hole at the top or side and use just the front of the card as a gift tag.
Cut the back from the front of the card. Punch 2 holes and put twine through to use as a napkin ring
Cut the back from the front of the card. Round the corners of the card, glue a pop stick or skewer to the back of the card and use it as a cupcake topper.
Use as menu cards for a buffet.
CHECK OUT ALL THESE HALLOWEEN TABLESCAPES
Which place card design is your favorite? If you try one, email me a picture. I'd love to see what you've created. Until next time, happy drawing. Oh, please give me a treat and be sure to PIN and share.