9 Best Spring DIY Ideas – A Round-Up to Inspire You
Do you need Spring DIY ideas to decorate your home? As the weather warms, our thoughts turn to bringing spring into our environment, both inside and out.
Using spring DIY ideas to bring a new season into our homes is productive and rewarding. Creating DIY projects gives our homes a lift, a boost, a fresh feel. It's good for our emotional well~being, too.
To bring you a broad range of spring DIY ideas, I'm joining several other talented bloggers for a round~up of 9 spring DIY projects. We all hope that you enjoy each one.
SPRING DIY IDEAS TO SAVE AND CREATE
I'm excited to share these spring projects with you. Please visit all these awesome projects and save them to your Pinterest Boards.
CREATING A BEE SKEP
When you think of spring, do you think of bees pollinating the flowers? My friend and "neighbor" Cindy of County Road 407 created a darling bee skep project. If you love bees and butterflies, this project is for you. It makes a cute addition to a table setting or any spring decor.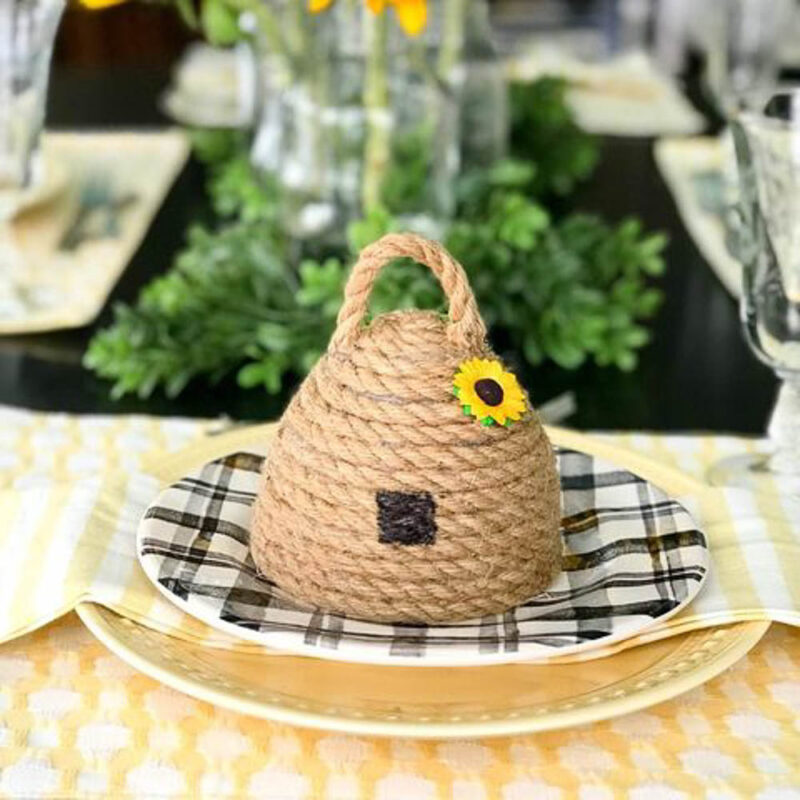 SPRING VINTAGE WALL ART
Aren't those little pockets with the flowers so cute? Robyn of Robyn's French Nest turned some architectural pieces into this unique wall art with a bright spring feel.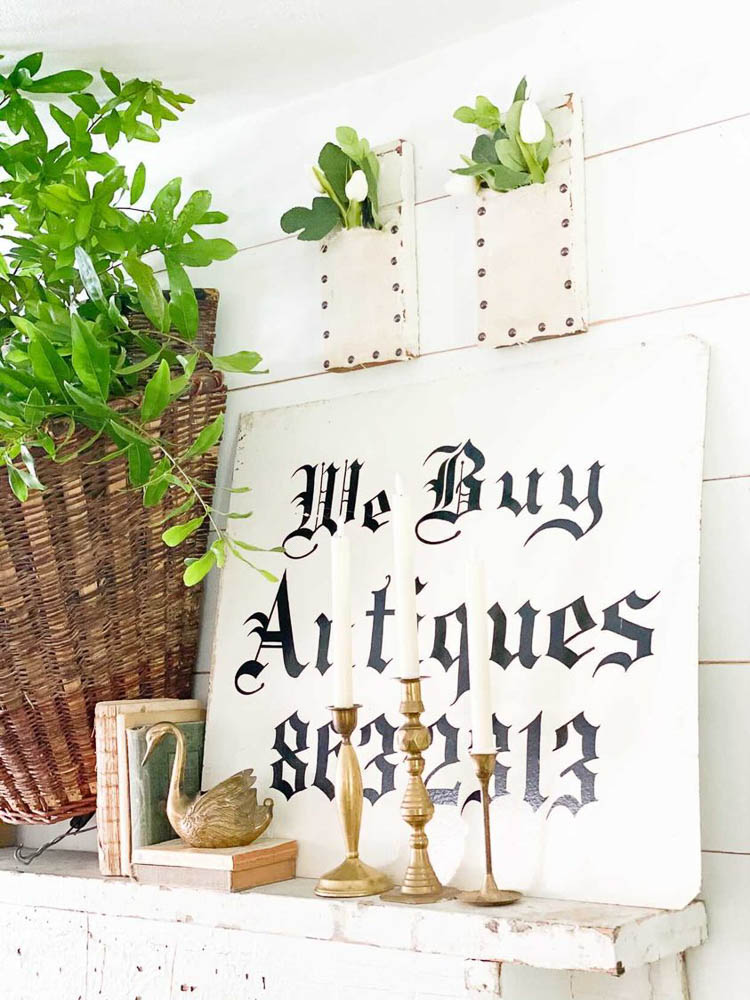 DIY REMNANT BECOMES A PLANTER
Can you tell what this planter is made of? Give up? Well, you'll have to visit Sarah of Blessed Crazy Texas Nest to see what this planter started out as. Then see how Sarah planted spring flowers for a gorgeous table centerpiece.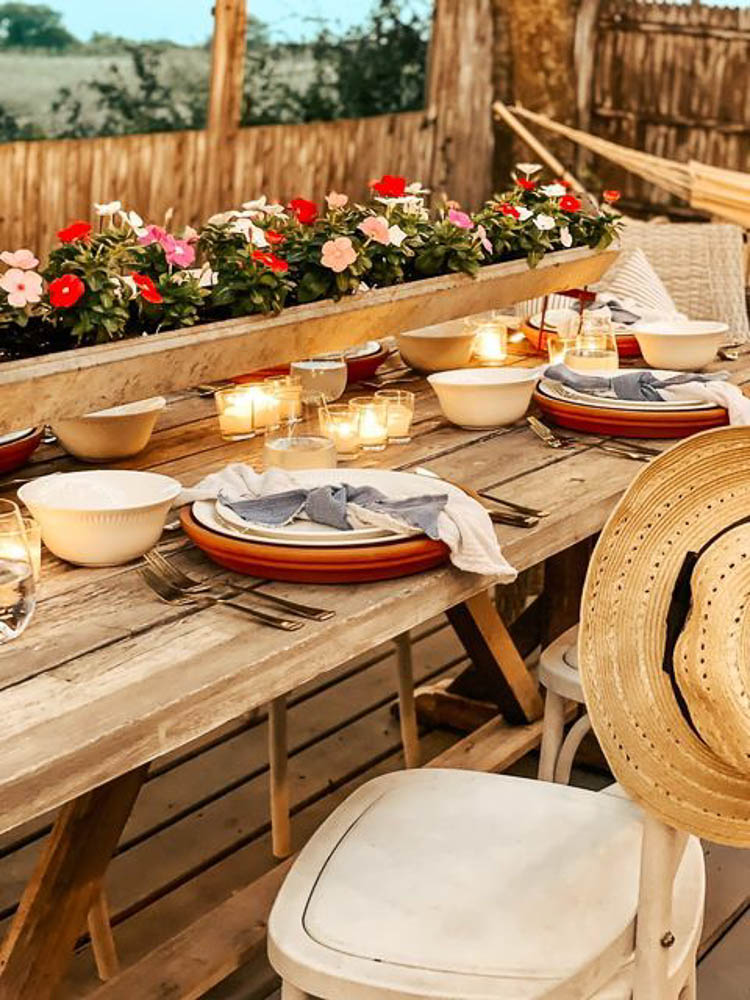 LOOK~ALIKE CEMENT PLANTERS FOR SPRING PLANTING
Real cement planters are heavy, but you can find plastic look~alikes for your outdoor spaces. If your faux cement planters aren't exactly the color you want, then Jessica of Itty Bitty Farmhouse has the fix for you. See what she did to give these planters just the right look for spring plantings.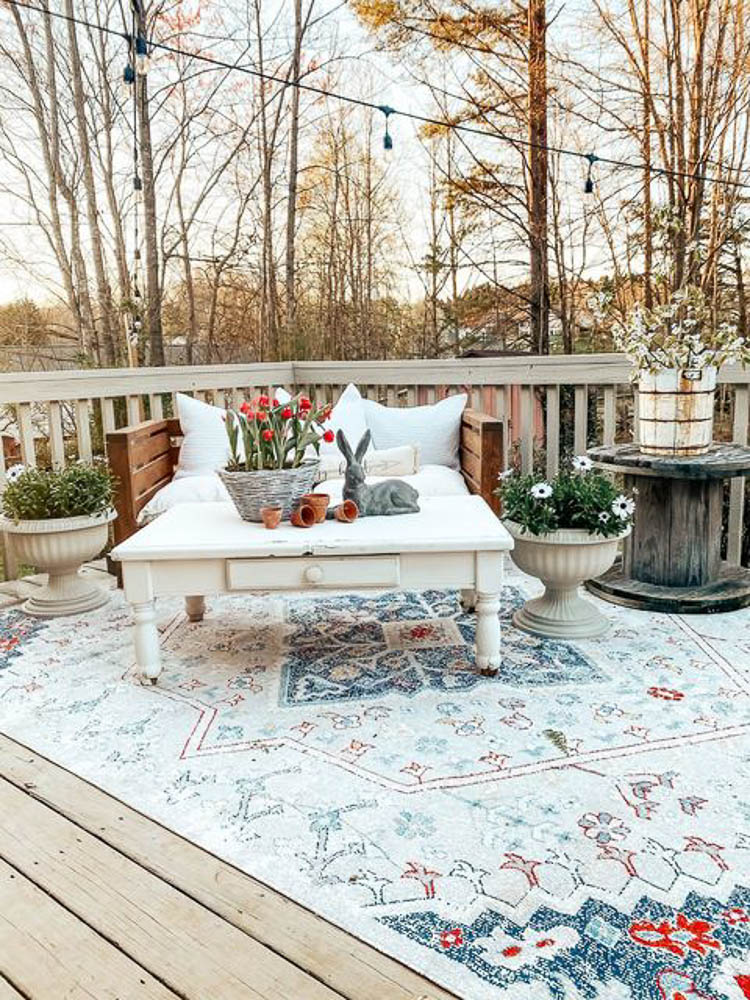 TALL WOOD PLANTERS WITH SPRING PLANTS
Aren't these spring plantings beautiful? I'd love to have them by my front door. Stacy of Stacy Ling shows how to select the right spring plants for these tall containers.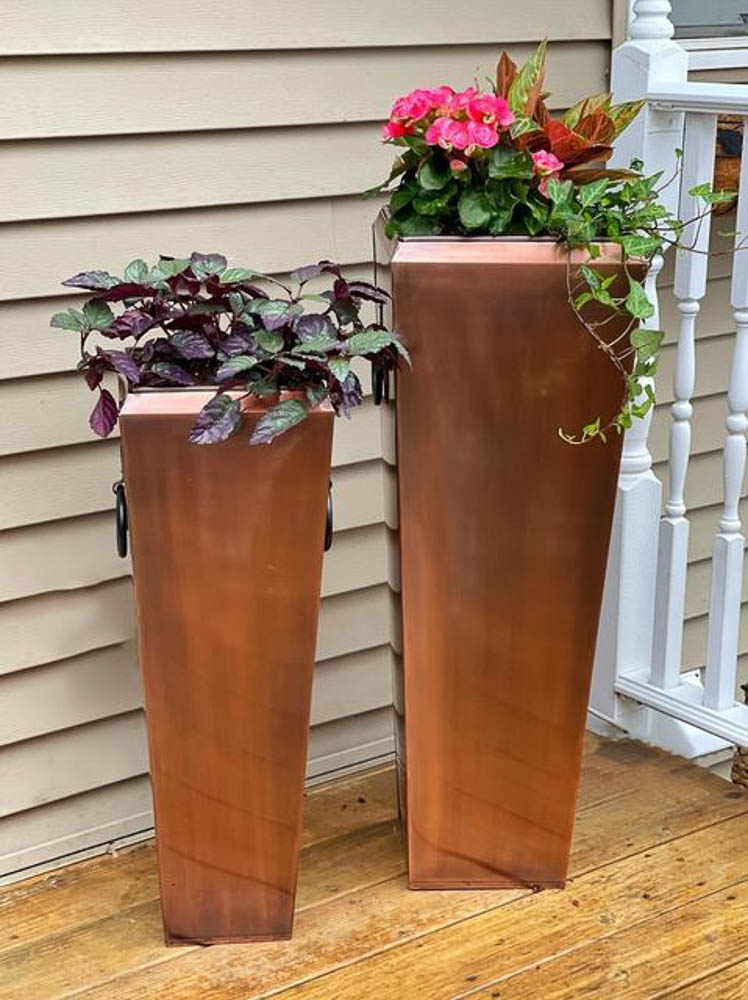 DIY SPRING DECORATIVE URN
Rachel of The Ponds Farmhouse, the blogger who put this blog hop together, definitely has a talent for farmhouse design.

Against her shiplap wall, on a vintage chest of drawers, she designed this lovely soft spring grapevine topiary in an urn. You won't believe what the grapevine is made from.
3 SPRING DIY PROJECTS WITH STENCILS
This is my contribution to the spring DIY round~up To dress up our kitchen for spring, I used a trio of vintage items.
I already had on hand for a burst of spring decor. Stencils were my medium of choice for these projects. Cutting boards, a pitcher and some planters got a big dose of spring fever.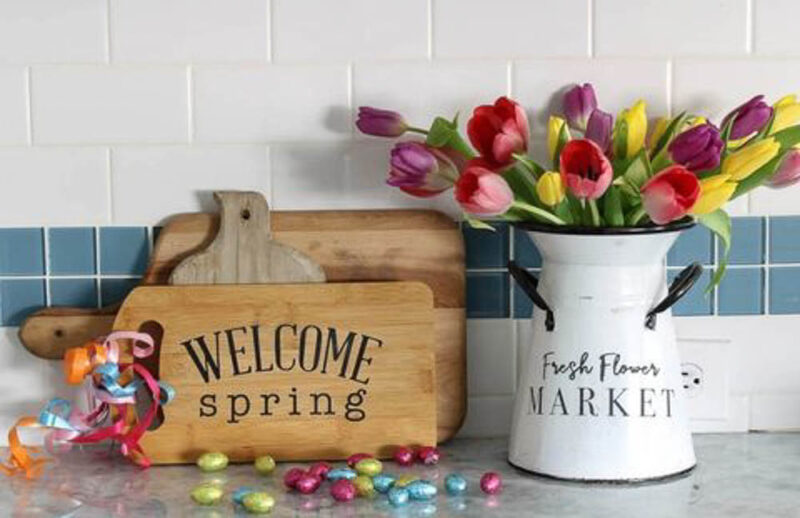 SPRING BASKET WITH FLOWERS
A tisket, a tasket, a pretty spring basket. (Or something, like that.) This door~hanging basket with flowers is the creation of Jenn of Midwest Life and Style. I loved it so much that I found and ordered a similar basket for my spring decor.
DIY WHITE PLANTERS
I love white planters ~ we have five of them. They are so classic and any plant looks great with them. Brendt of She Gave it a Go shows us exactly how to make them. I'm so impressed with her skills.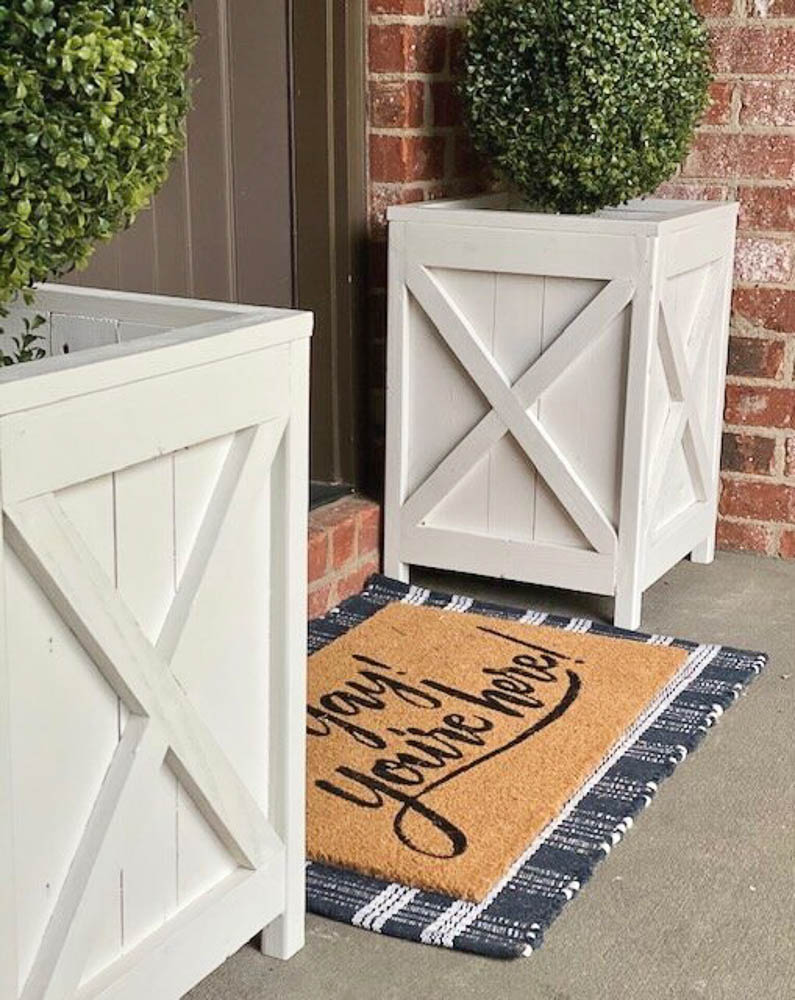 I hope that these 9 spring DIY projects will inspire you. Be sure to PIN this post so you'll have all the pretty projects at your fingertips. Don't forget to visit everyone on the round~up to see their projects.