The second item on my wish list ~ a bar cart
Do you remember a few weeks ago when I shared discovering my 3 wish-for finds at one flea market visit?  If you missed it, you can find it here. The first transformation I shared was my French garden chairs which I am still in love with.  Now I can finally reveal my second wish-for find, the bar cart.
Now this bar cart isn't meant to hold liqueur or wine; that's what Sweet Shark's bar is for.  I wanted a bar cart to hold some of my pretty crystal ~ pitchers, decanters, ice buckets, my biscuit jar.  A place to put a beautiful crystal pitcher of water when at holidays or we have a dinner party. A pretty focal point in the corner of the dining room.
I couldn't believe my luck when I spied this one
~ not traditional rectangle, but a round one, something a little different. Not shiny silver or gold, but a lovely combination of the two, with a weathered patina that says, "old world", something that Nick and Nora might have used in a Thin Man movie.  It had wheels, just in case it needed to be moved. And the price? Not the $500+ that I had seen in catalogs.  This one-of-a-kind had a price tag of $79 marked down to $49.  Yippee! I grabbed it.
And when I went to pay for my treasures, the vender had written $40 on the ticket. Double yippee!! It wasn't until I got it home that I noticed a couple of places where the metal had come apart, one of the handles and on the side.  I figured soldering would do the trick, even though I don't have a soldering gun or would know how to use it.  I decided to set that issue aside.
You may notice it didn't have glass or mirror shelves, which was fine with me.  Did I want both in glass, both in mirrors?  What kind of mirror? Old-looking or new? After living with it for a few days, I decided on new mirror on the bottom shelf and clear glass on the top. So I measured across both shelves on the inside of the metal.  I called my go-to glass and mirror company, Alamo Glass, gave them the measurements and told them what it was for.  They suggested 1/4-inch thick glass and mirror and they would polish the edges.  Two days later I picked up the glass and mirror.  As soon as I tried to put the mirror in the bottom shelf, I knew I had a problem:  the vertical supports didn't allow room to get the mirror through.  O.K. let's try the glass mirror on top: no go there either; the sides curved in a bit and no way was the glass going to fit in.  Major bummer.  So I called Alamo Glass, and they told me to  bring the glass, mirror, and the bar cart in.
In the meantime, I just happened to see on Pinterest a pin about the most amazing plastic liquid welder kit by Bondic from The Grommet.  I watched the video, and decided this was worth a try, so I ordered it.  By the time my glass and mirror were ready (Alamo didn't charge one more cent for fixing what was my measurement mistake), my plastic liquid welder kit had arrived.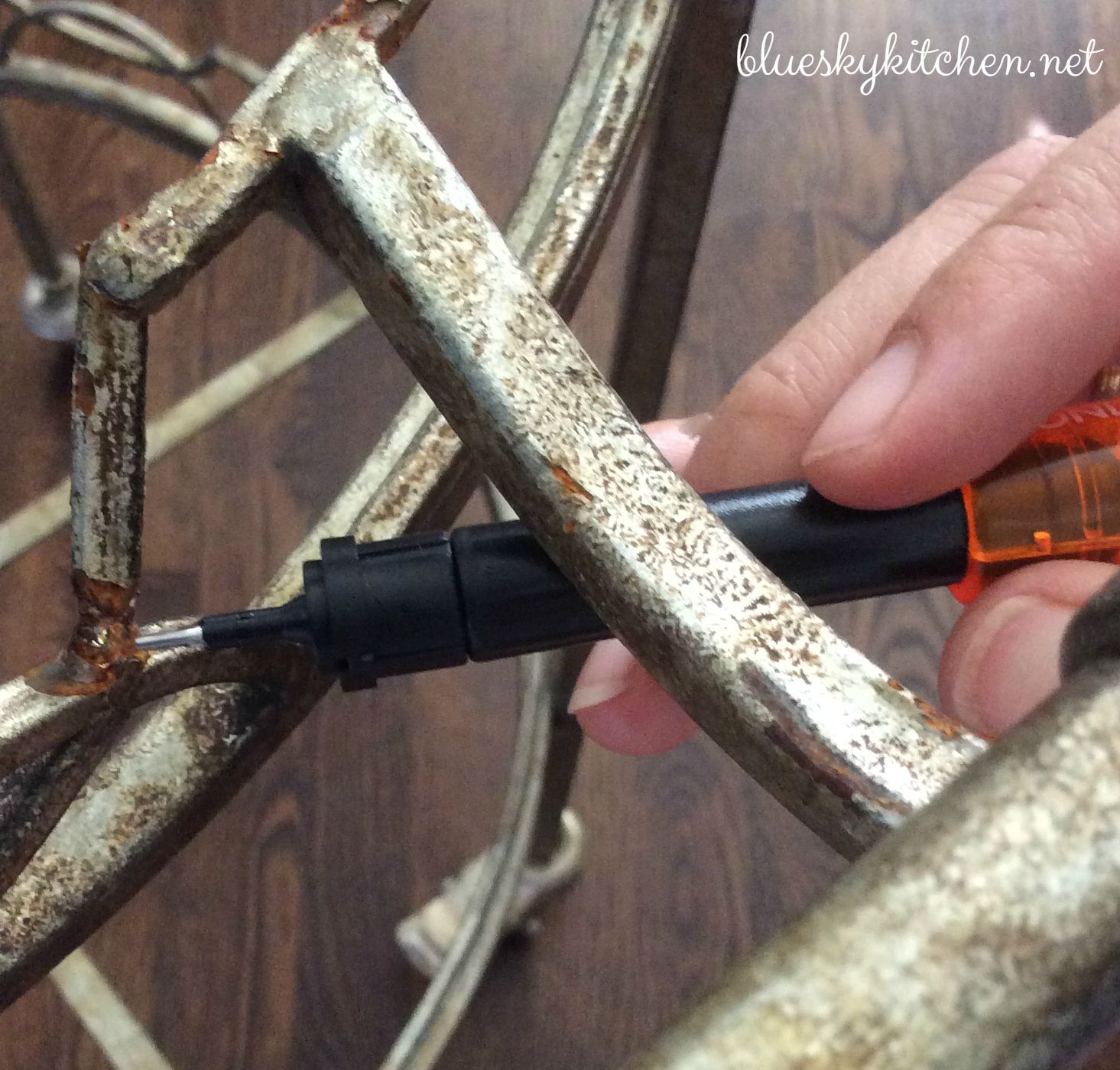 First you turn on the LED light on one end.  Then you apply the liquid to the area needing repair, filling in as much plastic liquid as required.  Next you focus the heat light on the liquid, which seals and hardens the plastic.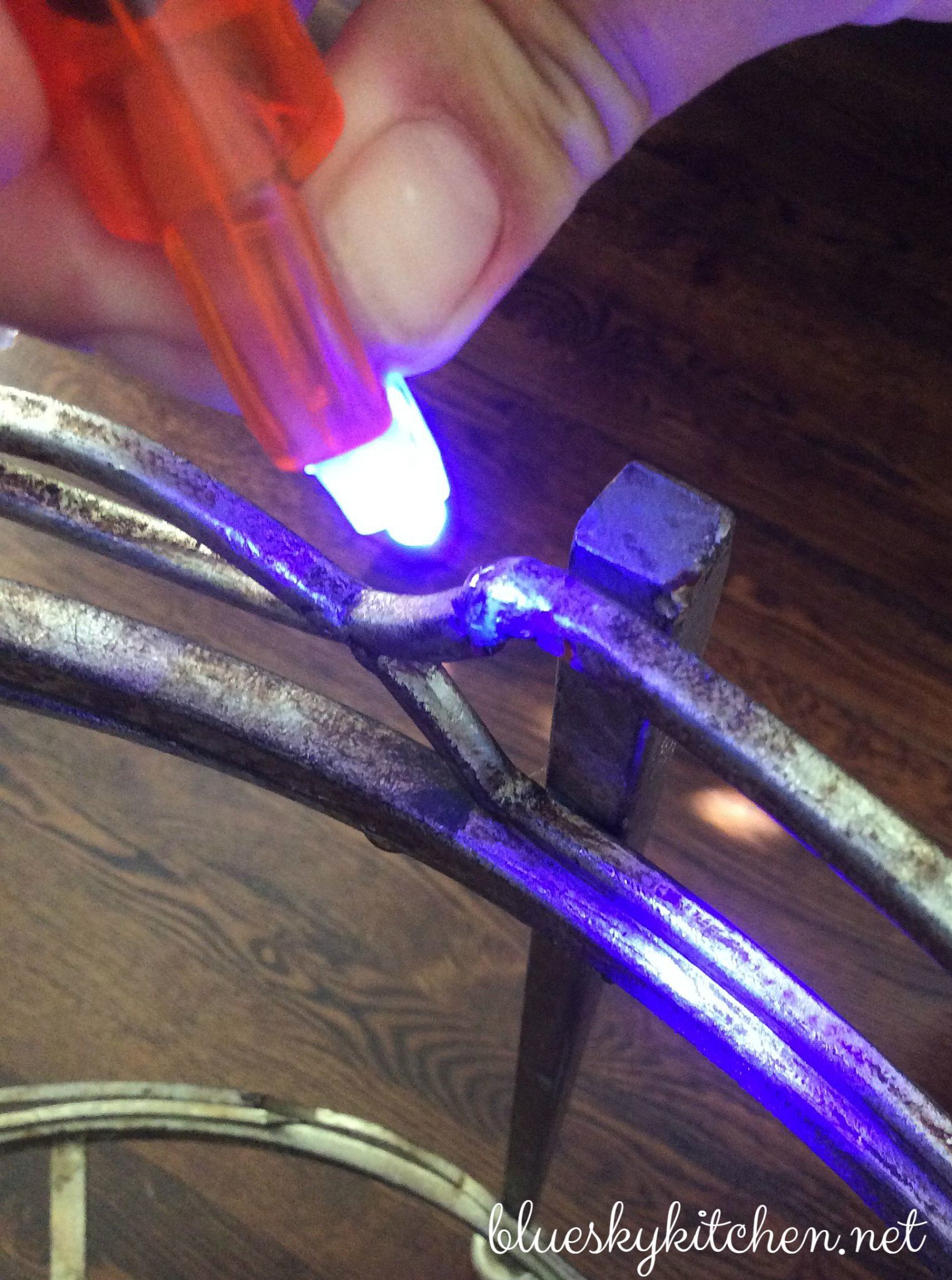 Boys and girls, this was amazing.  No hot metal and it took just a few minutes to repair both spots. No build-up of metal.  I wish they were paying me for this endorsement! There's a lot of really good YouTube videos.
Next was the moment I had been waiting for: did the glass and mirror fit?  Like Cinderella's slipper.
Now the fun part ~ deciding what to put on it.
On the bottom shelf, two crystal ice buckets and two crystal bowls.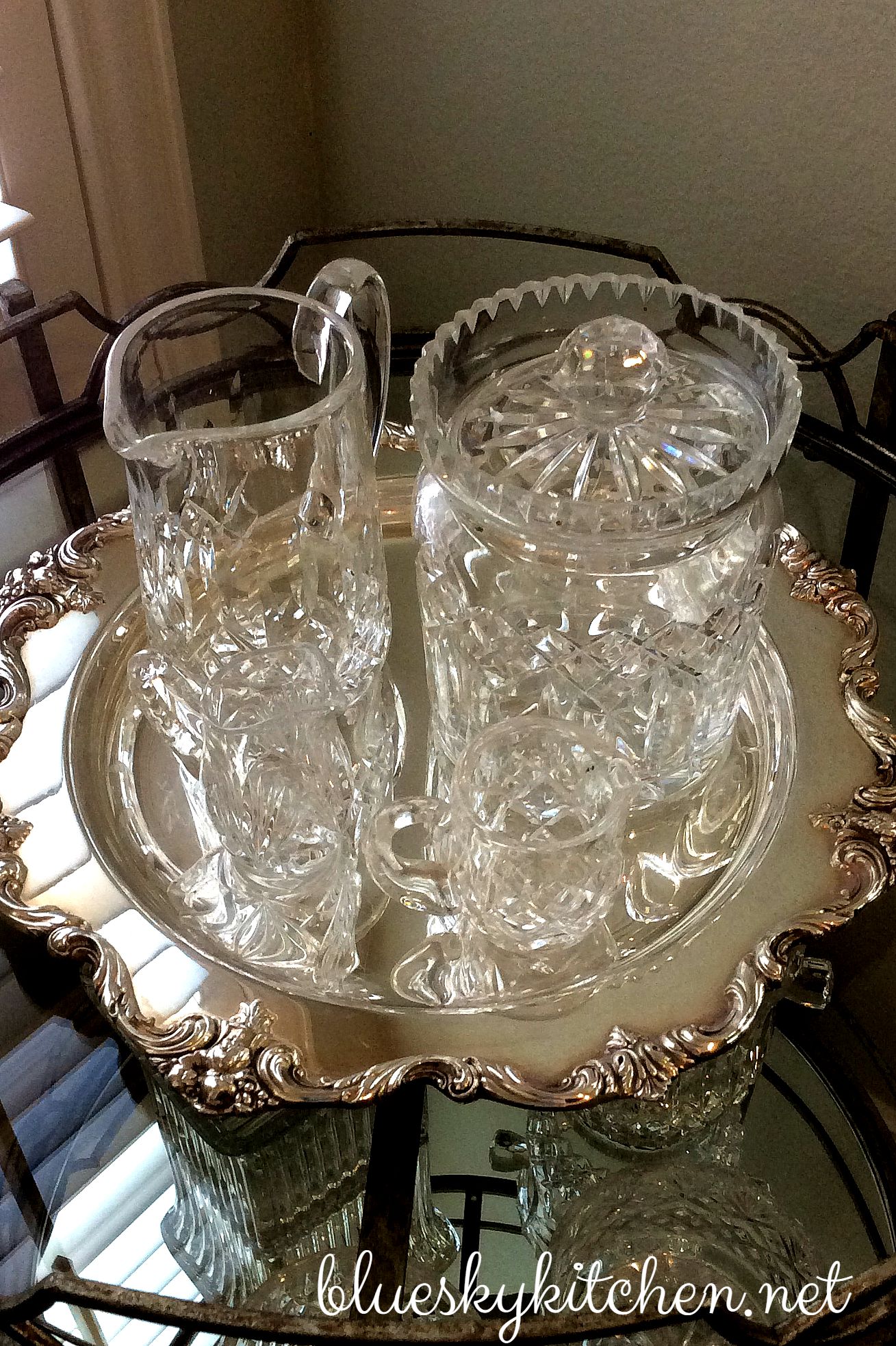 On the top shelf, I placed a silver tray that was my mom's and on that my crystal biscuit jar, a crystal water pitcher, and two small crystal creamers.
I love how this bar cart beautifully fills this corner of the dining room.  I think, no I know that I will change out the pieces that I put on it.  But isn't that's what fun about decorating your home?  Moving things around, making the old new again.  Re-discovering a cherished piece that has been hiding in the cabinet.
Here's what it cost:
Bar cart $40
Glass and Mirror $95.89
If I count the Bondic plastic liquid welder (which I'll use over and over) $21.95
I think that's a steal for a unique piece that no one else has and even better, has a story behind it.
Here's the moral of this story:  if there is something you want, keep looking until you find it; don't give up.
And secondly, always take the piece with you when glass and mirror ~ or anything else needs fitting ~ and let the experts do the measuring.
Have a happy weekend.