New DIY Valentine Project Ideas
Do you enjoy creating pretty Valentine's Day decorations? I'm so excited to show you some awesome ideas for Valentine's Day. Have I got some awesome DIY Valentine projects ideas for you!
Gotta be upfront. All these DIY Valentine project ideas are from A Maker's Studio. The DIY inspiration is our LOVE stencil. With this one stencil, you can make so many DIY Valentine projects.
Add another stencil or 2 and the possibilities are endless.
These decorations are so cute that I couldn't resist sharing these new DIY Valentine stencils with you for your home or a party or as gifts. Because they are just so darn cute ~ I find myself saying that alot lately. Need some Valentine's decorations for your home? Party ideas? Gifts for friends?
It's so much fun to create Valentine's gifts and give them to friends, family, teachers, sweethearts. Planning a Valentine lunch or tea for some of your girlfriends (I am.)? Need to perk up dreary winter day with some sweet home decor? Helping to host a kid's Valentine's party at school?
I've got you covered, friend. You don't even have to think up a Valentine project. These new DIY Valentine's project ideas are ready and waiting for you to create.
New DIY Valentine Project Ideas
This post contains links to products that I love, use and highly recommend. If you should order any product through this site, I may be compensated.
Valentine Stencils
The first thing you need to create these DIY Valentine project ideas is the I Love You stencil. There are actually 12 different designs that you can use individually or in any combination you like.
Depending on the project you have in mind, you can use the I Love You stencil and pick which type of paint you want to use: Rescue Restore chalk paint, ChalkArt or Gel Ink.
Other stencils that lend themselves to Valentine's Day projects:
The XOXO stencil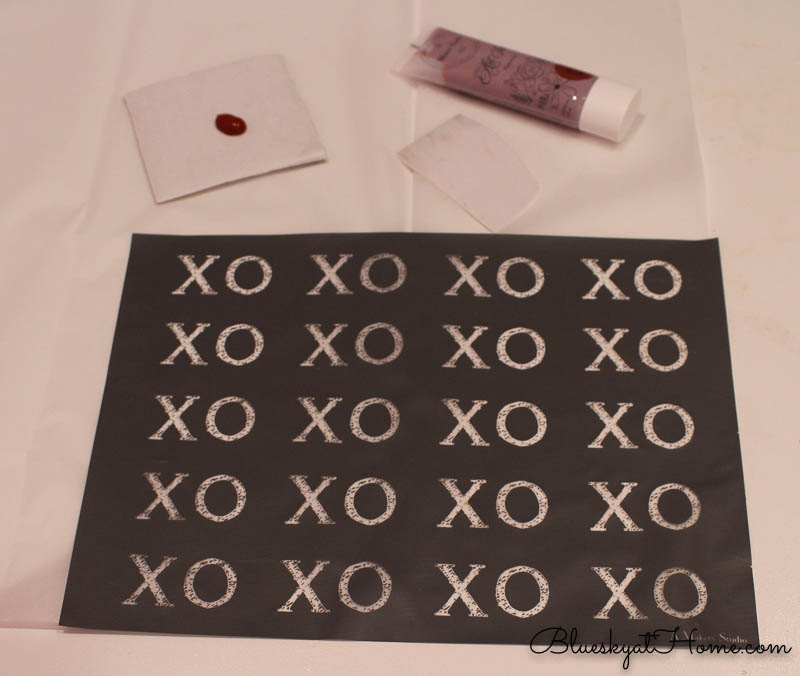 I used the XOXO stencil to make this Valentine wreath, using Gel Ink on tissue paper. You could definitely stencil with Gel Ink on fabric and make a rag wreath.
The Gingham stencil is another great one for Valentine's projects.
Several of the other stencils have Valentine designs in them, so I would check them all for designs you like.
For writing words, I like the Alphabet 1 and the Alphabet 4 fonts. And don't forget that you can mix fonts.
Products to Use with Stencils
Rescue Restore paint is permanent on just about any surface. It works on virtually any surface, including wood, glass, resin, melamine, Formica, concrete, iron, stone, and even outdoor furniture and décor. For craft projects, the 2 ounce jar will be sufficient.
Gel Ink is especially good on fabric, upholstery, glass, ceramics and paper and is permanent and washable.
ChalkArt is good on just about any surface, but can be wiped off with a damp cloth if you want to reuse your surface.
NOTE: none of these products have to sealed.
Ideas for Using Valentine Stencils
One of the easiest projects is to use either Rescue Restore paint or ChalkArt on a piece of rustic wood.
Boards that are available at your craft stores are great for Valentine projects.
This project used the XOXO from the I Love You stencil with the Alphabet 4 font.
See how easy it is to mix different stencils for Valentine's projects? This is the Gingham stencil used as a background. Then a piece of adhesive vinyl was cut in a decorative shape over the background and stenciled.
Any of the products can be used on vinyl, paper, wood, glass or plastic. These plain plastic placemats came from Dollar Tree.
DIY Valentine Project Ideas Using Fabric
Use Gel Ink on fabric, such as a dishtowel. This Valentine project used the French Script stencil overlaid with one of the I Love You stencil designs.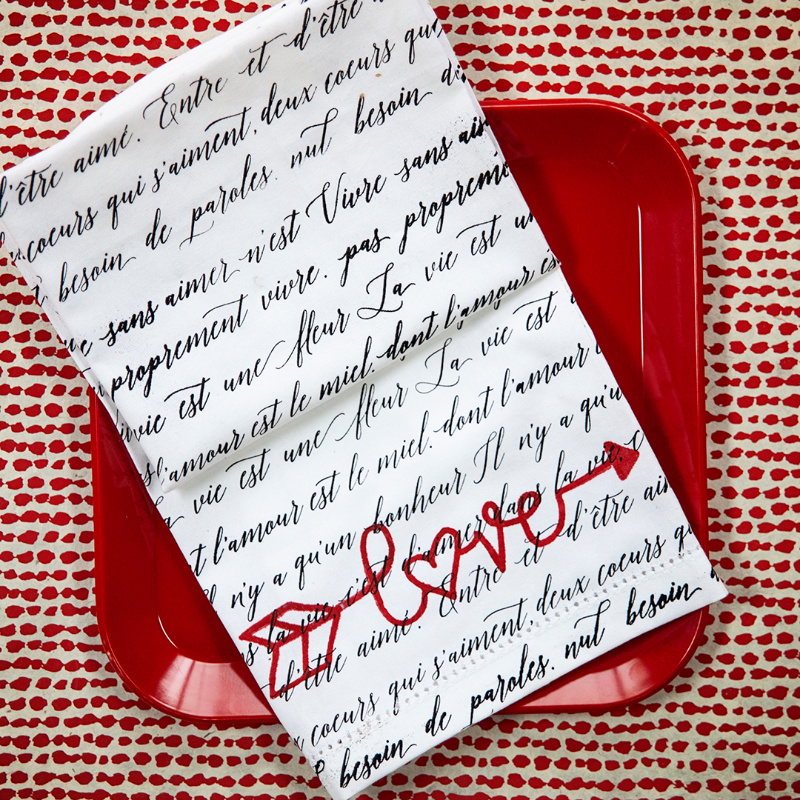 Another darling DIY Valentine project is this little onesie. What little Valentine wouldn't be precious in this?
DIY Valentine Project Ideas Using Glass and Ceramics
Wouldn't these champagne glasses be just the thing to toast your sweetheart? You could use ChalkArt or Gel Ink. Let your imagination run wild.
You might remember this "gal pal" mug I made a couple of weeks ago.
Here's another DIY Valentine project idea, using the XOXO from the I Love You stencil.
DIY Valentine Project Ideas Using Paper
Planning a party? Stencils are perfect for creating place cards, gift tags, invitations, or note cards using the I Love You stencil.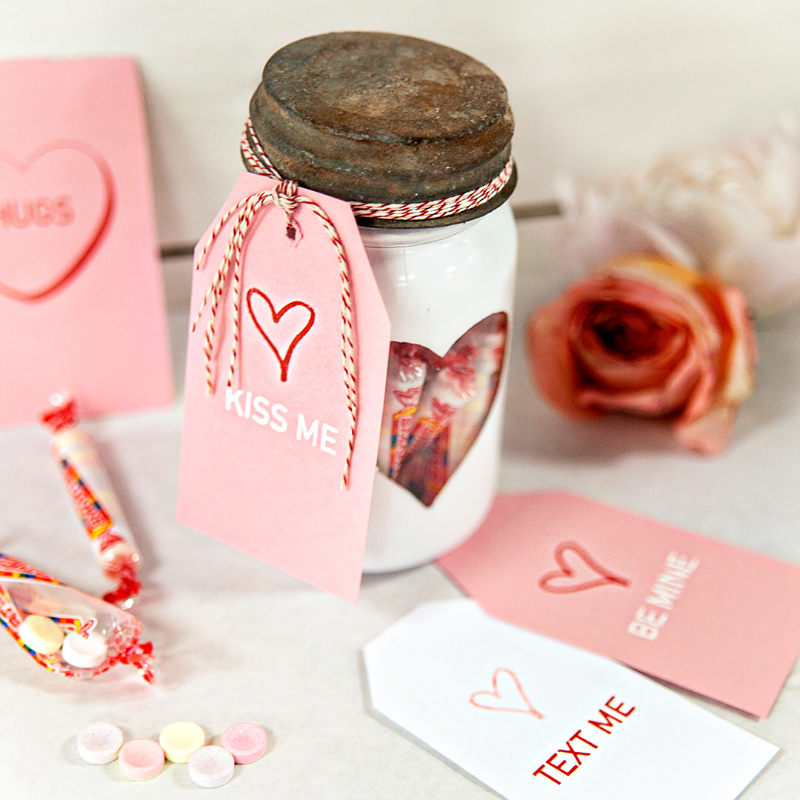 I love this idea: make a stencil on paper and then forming the paper into a cone for party snacks.
Here are some other items can you make with Valentine's stencils.
gift wrap
napkins
gift bags
personalized ribbon
cupcake toppers
labels
stickers
invitations
Valentine pillow
cosmetic bag
What items can you think of? I'll be busy the next few weeks with projects. I'd love for you to make some. If you have been hesitant to try these stencils and paint products, now is a perfect time. Let me know if you have any questions or suggestions. I'd love the hear them.
Be sure to Pin these Valentine ideas for later.