How to Decorate a Pumpkin with Yarn
How do you decorate a pumpkin? Let me count the ways. I'm going to show you how easy it is to decorate a pumpkin with yarn.
As we start thinking about fall decor, decorating pumpkins is so popular. There are many ways to decorate pumpkins. The possibilities are endless.
You can use different materials, different colors, styles, and textures. Different methods and different supplies.
I loved this recent pumpkin project. It uses different materials and a variety of methods. My newly decorated pumpkin is so easy with minimal supplies. It turned out so pretty ~ perfect for using in a fall vignette.
Today is Day 3 of Autumn in August. We started with a pumpkin wreath. Then I shared how to make fall signs. Now we are back to using pumpkins in a totally different way.
Inspiration for Decorating a Pumpkin with Yarn
If you Google "how to decorate a pumpkin" a million different suggestions will come up. The same thing for Pinterest. I actually found the idea for this pumpkin method on the Tuesday Turn About Link Party that I used to co~host.
I loved the look of the pumpkin made by Corine of Junk to Gems. This pumpkin has is a natural color and a soft, organic texture.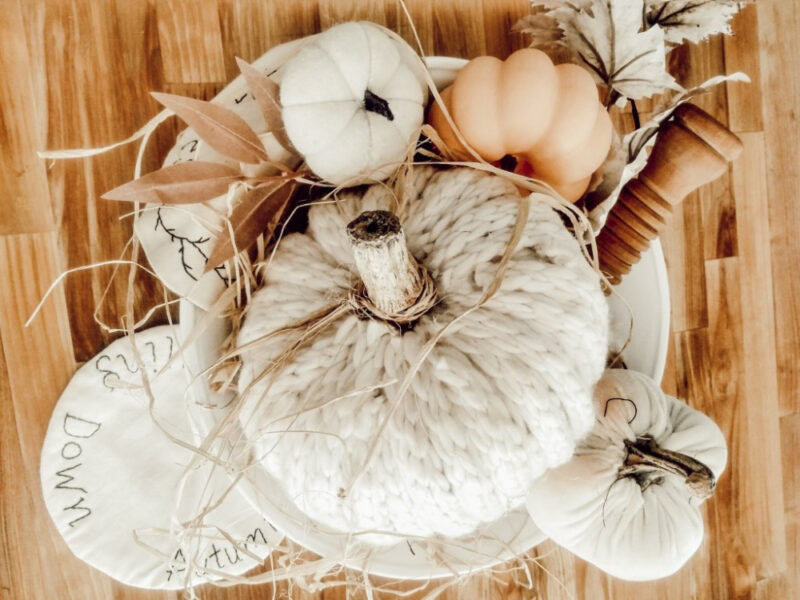 After reading through Corine's how~to post, I knew that this pumpkin decorated with yarn would be my first DIY pumpkin project of the season.
Supplies for the Pumpkin with Yarn
This post contains affiliate links to products used in this fall project. If you should order anything from this site, I may receive compensation, but you don't pay a penny more.
You need just a few supplies to make this pumpkin with yarn. Fortunately, I already had everything I needed.
I used two paper maché pumpkins in last year's fall mantel. One of them could definitely be used in this pumpkin with yarn project.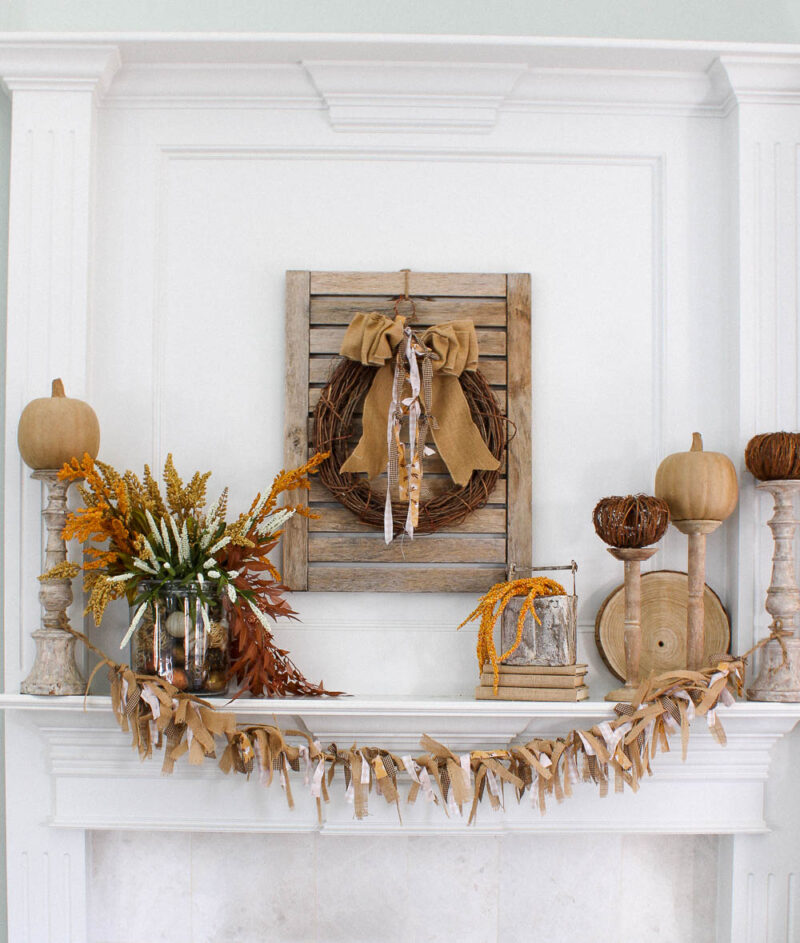 I had also seen another style of paper maché pumpkins on sale for $5.00 at Joann. There were four of them and I bought three.

It wasn't until I started working on my pumpkins with yarn that I realized they were the same as the ones Corine used. Now I had a total of five pumpkins in two styles to choose from.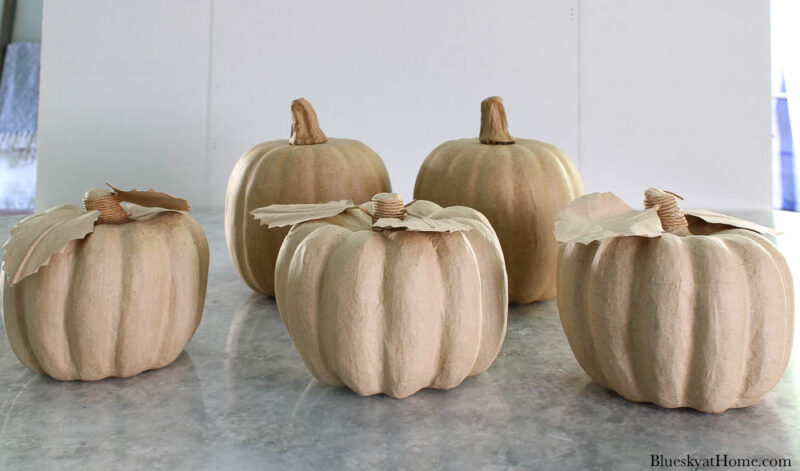 NOTE: This past weekend I had to stop at Joann for more glue sticks. The last pumpkin was still there and I bought it. Now I had four of the leaf style.
Corine used a cream~colored braided yarn for her pumpkin. I didn't have braided yarn, but I did have a thick, twisted yarn in a cream/blush color. It was chunky and a pretty off~white with a touch of blush.
Steps to Decorating a Pumpkin with Yarn
With all my supplies gathered, I was ready to start decorating my pumpkin with yarn. I decided to use one of the pumpkins with the leaves attached. Like Corine, I removed the leaves. I'll keep them for another project.
Step 1 ~ Pumpkin Preparation
I set my glue gun on a piece of wax paper and plugged it in.

While it was heating up, I used a ruler to cut several lengths of yarn to wrap from the top to the bottom of the pumpkin, about 8 inches. I also removed the price tag. You can see the original $9.99 price.
Step 2 ~ Gluing the Yarn to the Pumpkin
I began by gluing a length of yarn to the top of the pumpkin. I started with the indentions.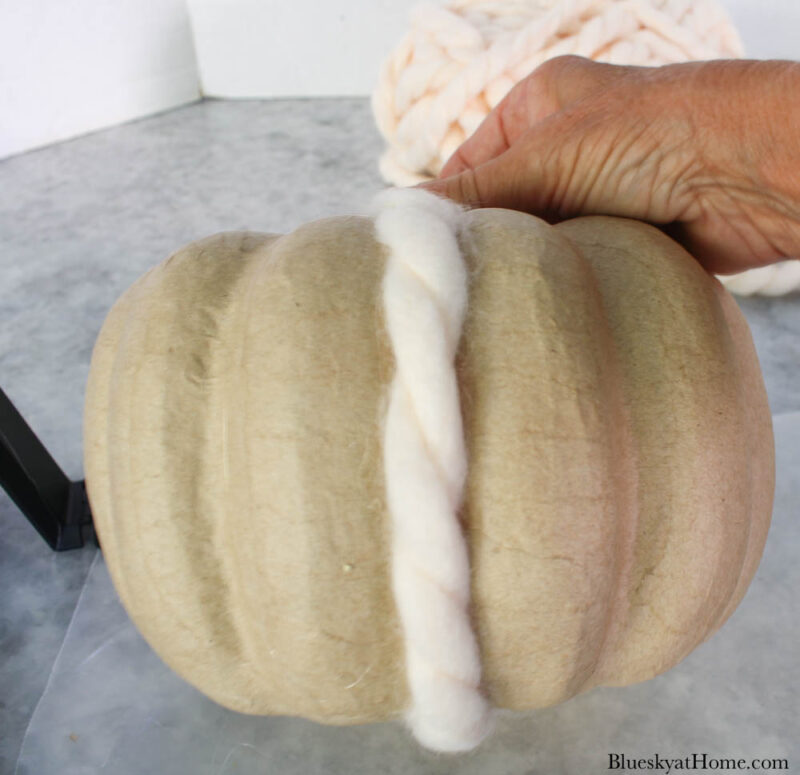 It took eleven lengths of yarn to go around the pumpkin.
Then I started filling in between the indented pumpkin lengths. It took about four lengths to fill in. The last two lengths will be a little shorter. Just cut the extra yarn off to fit in the shorter space.

TIP: I found that cutting the yarn on the diagonal gave a better look.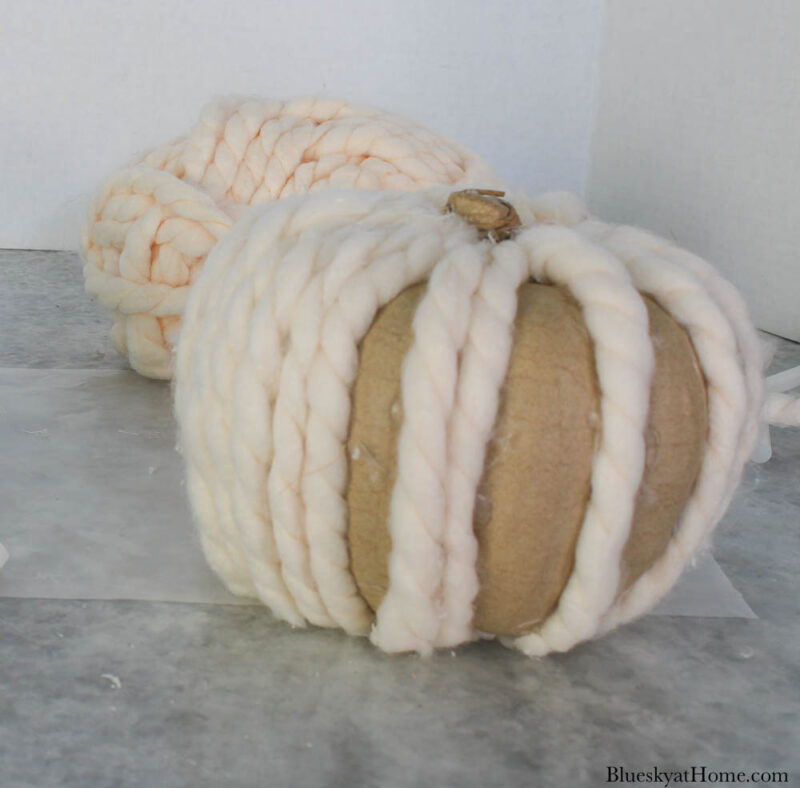 TIP: To hold down the end of the yarn, I found that using a glue stick works well. Last fall when I was making the pumpkin and flower wreath, I burned two fingers really badly. It took weeks to heal, so I'm a little glue gun shy.
TIP: If you have any "glue globs", just cut them off with scissors ~ not your sewing scissors.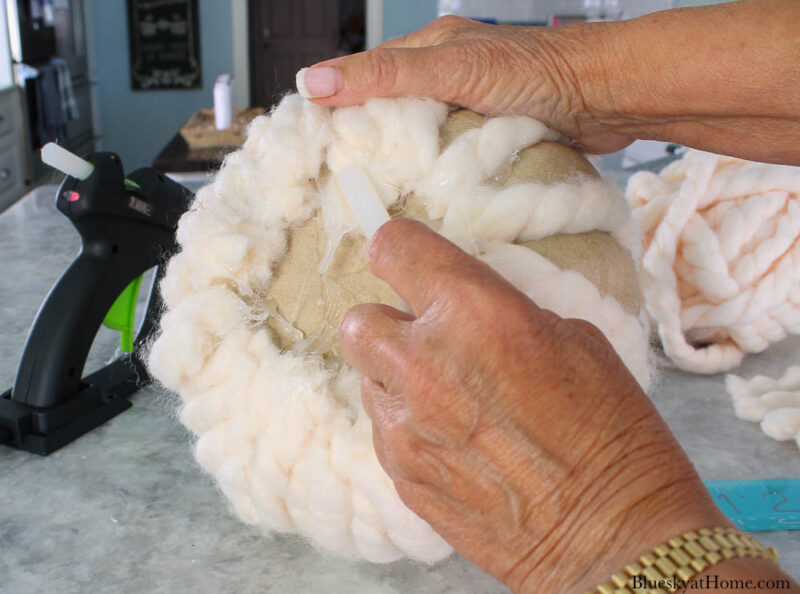 TIP: If you have any yarn fuzz, just shave it off with your scissors.
The first pumpkin now decorated with yarn. I love it!!
Step 3 ~ Finishing the Pumpkins with Raffia
The pumpkin stem had a small twine wrapped around it. I left it there. To give the pumpkin a more finished look and cover the edges of the yarn, I used raffia. I had plenty in my craft supplies.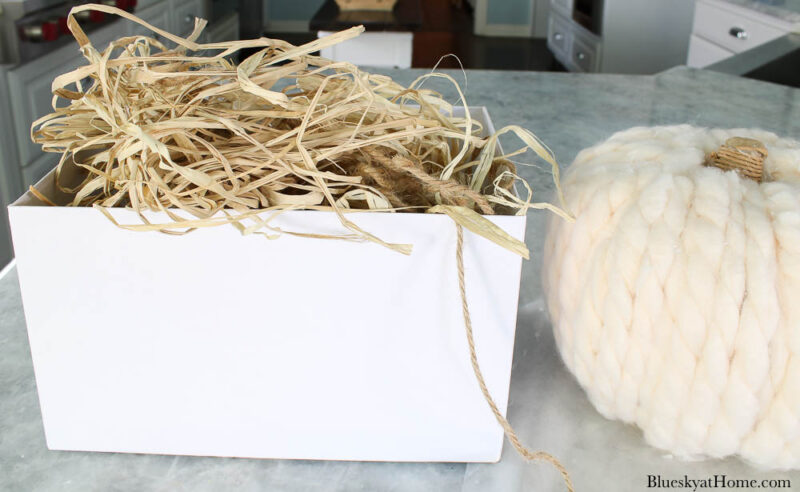 I gathered several strands of raffia and wrapped them around the stem.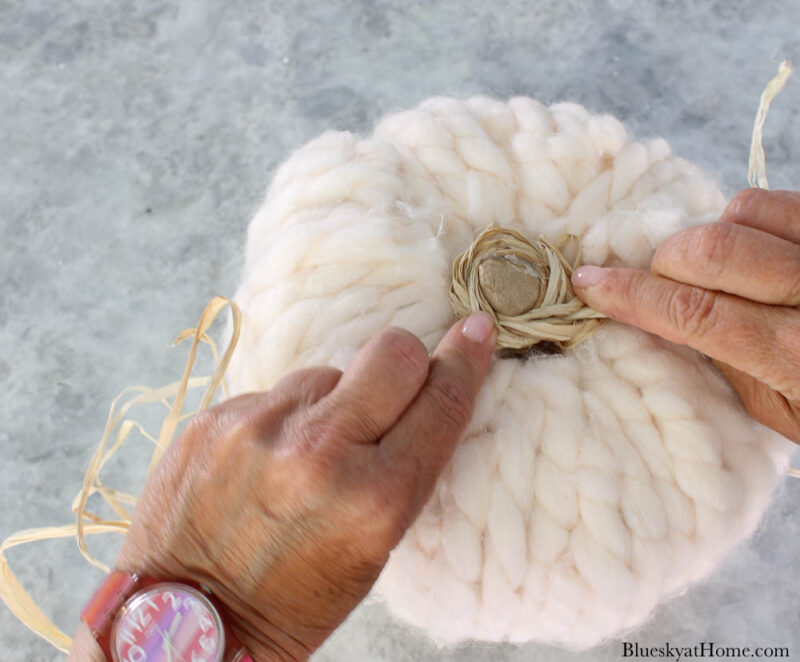 Then you can tie the raffia in a knot and cut off the excess.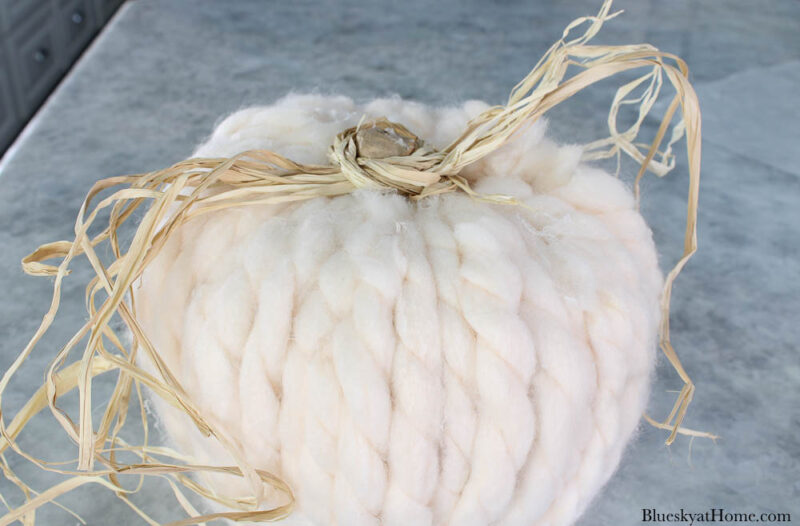 Step 4 ~ Styling the Yarn Pumpkin In a Fall Vignette
I knew the vignette I wanted to create using my pumpkin decorated with yarn. It would be part of the focal point for our entry. You might remember the fall leaf art project I made a few weeks ago.
I never finished the entry arrangement. It definitely needed another fall focal point.
To complete my fall vignette with my yarn pumpkin, I started shopping the house for items to use in a vignette.
For my entry arrangement, I used:
a large wicker basket my older daughter gave me years ago
my pumpkin with yarn
a white painted pumpkin
a small orange pumpkin
three fall foliage stems in two colors
two blue check dishtowels
NOTE: I used a plastic shoe box in the bottom of the basket as filler. Then I stuffed in packing paper.
TIP: Save packing paper for decorative stuffing.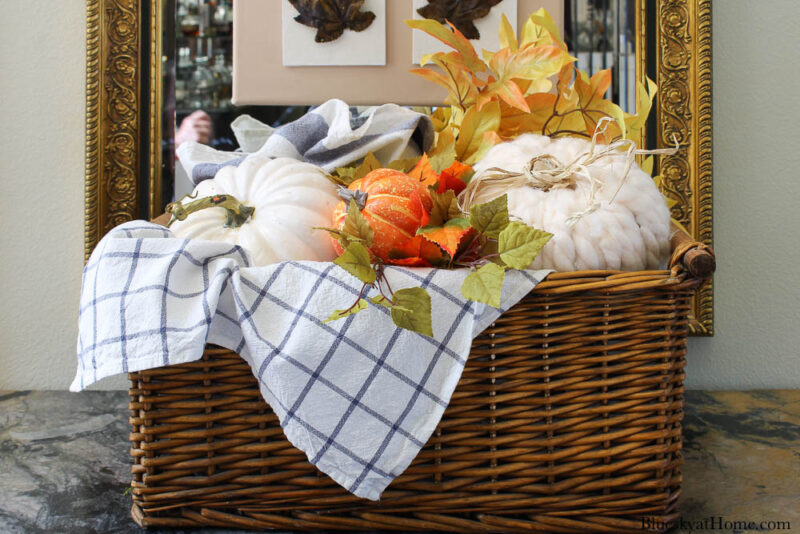 I love that the colors of the leaf art are repeated in the pumpkin basket. The blue check dishtowels provide an unexpected color and casual farmhouse style.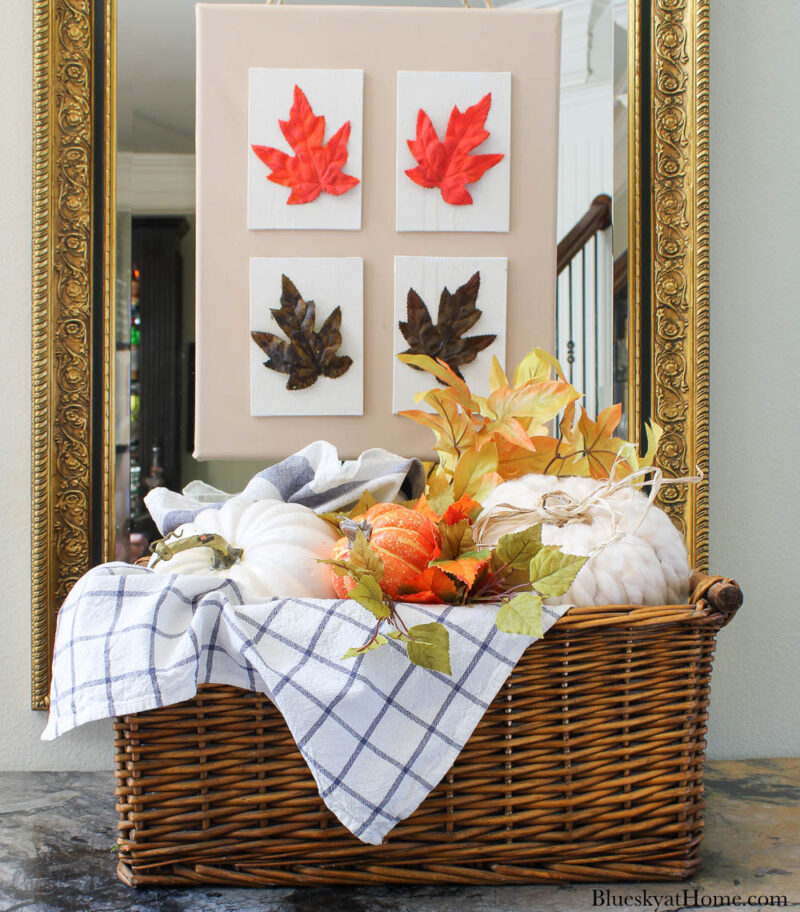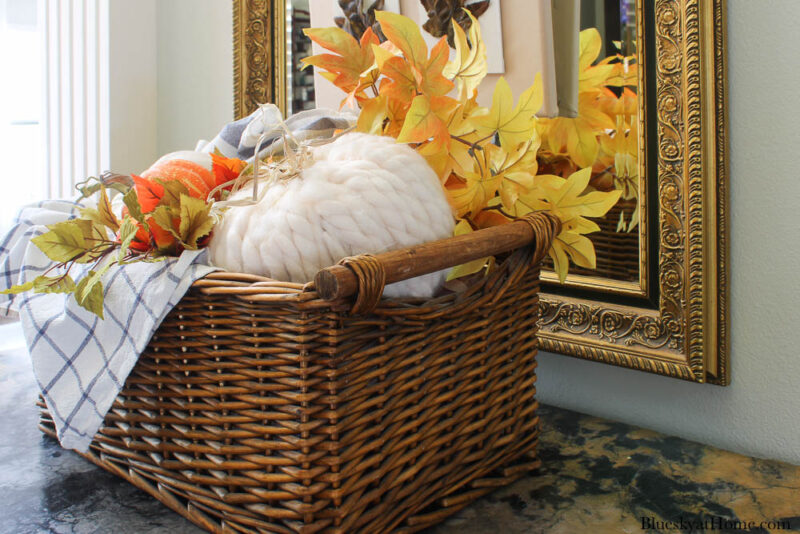 Now my decorated pumpkin with yarn was finished and my fall entry complete. I am ready to start on another pumpkin project.

want to repeat this pumpkin yarn project? I do hope that you will PIN this project for yourself.