How to Decorate Pumpkins with Rope and Twine
Do you like to decorate pumpkins? I hope so. I have some great tutorials showing you how to decorate pumpkins with rope and twine.
I have painted pumpkins. I have gilded pumpkins For the first time, I am decorating pumpkins with rope and twine. They are very easy to make.
If you like to embellish pumpkins for your home decor, these pumpkin decorating ideas should give you a little inspiration. They are really cute and can be adapted to any color and any size pumpkin.
I love DIY projects with a simple supply list and easy construction. Rope and twine are easy supplies to find at your local craft store or online. The how~to is make~while~you~watch-The-Morning-Show easy.
Let's begin to decorate pumpkins with rope and twine.
Today, which is now officially fall, is our monthly Creative Craft Blog Hop. Sara of Birdz of a Feather is our hostess. There are 9 projects that you should take a look at ~ lots of fun ideas here.
If you are joining me from Shelley of Calypso in the Country, didn't you love her pumpkin pillow?
Let's get started with my pumpkin projects.
SUPPLIES TO DECORATE YOUR PUMPKIN WITH ROPE
This post contains affiliate links to products used in this project. If you should order any product from this site, I may be compensated, but you will not pay a penny more.
You only need a few supplies to decorate a pumpkin with rope:
a faux pumpkin, either paper maché, styrofoam, plastic ~ I have had this paper maché pumpkin for a year
rope of chosen color and thickness ~ I found this rope in the macrame aisle at Joann. At 50 feet long, it was $5.99, but on sale for 40% off, so I paid $$3.59.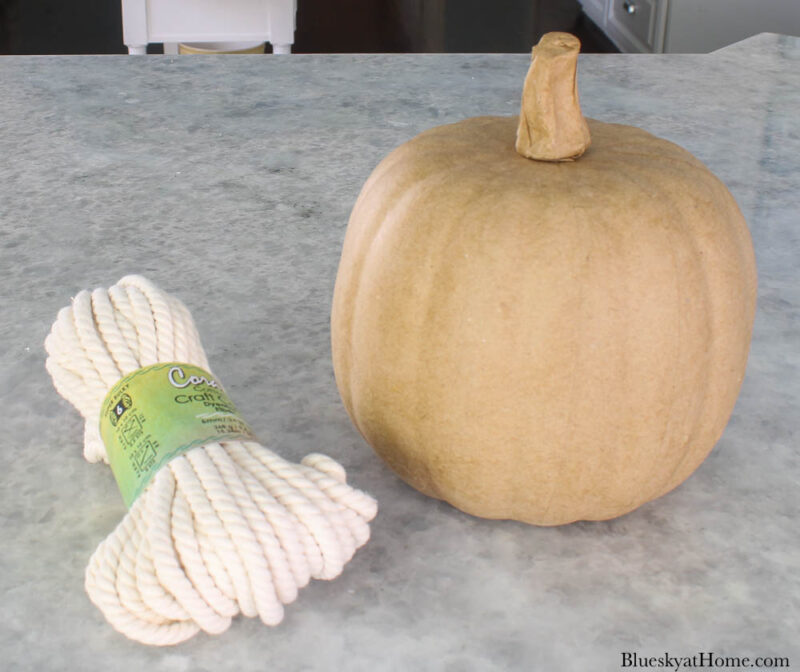 STEPS TO DECORATE YOUR PUMPKIN WITH ROPE
Remove the stem from your pumpkin. Set aside.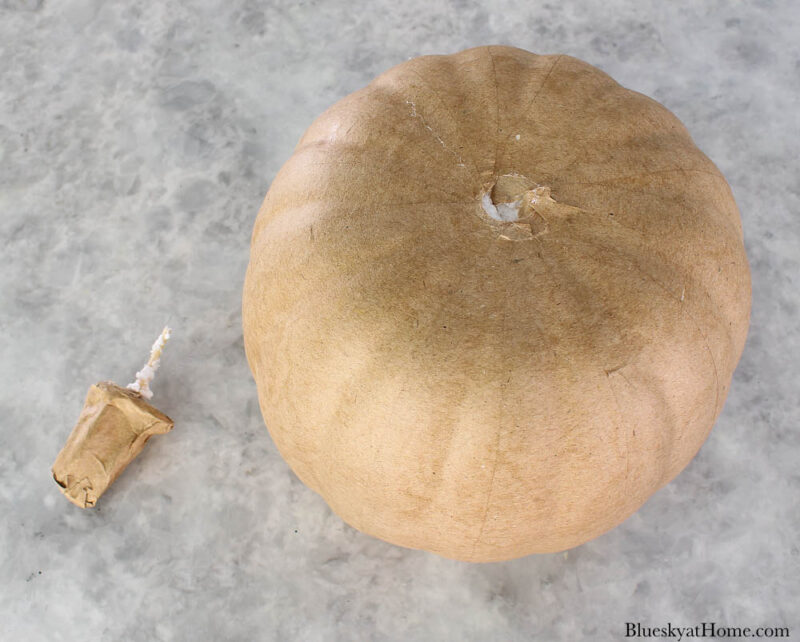 Unwind your rope for several feet so you have plenty to work with.
Starting at either the top or the bottom of the pumpkin (it doesn't matter which) in the indententions, run a bead of glue at least halfway down.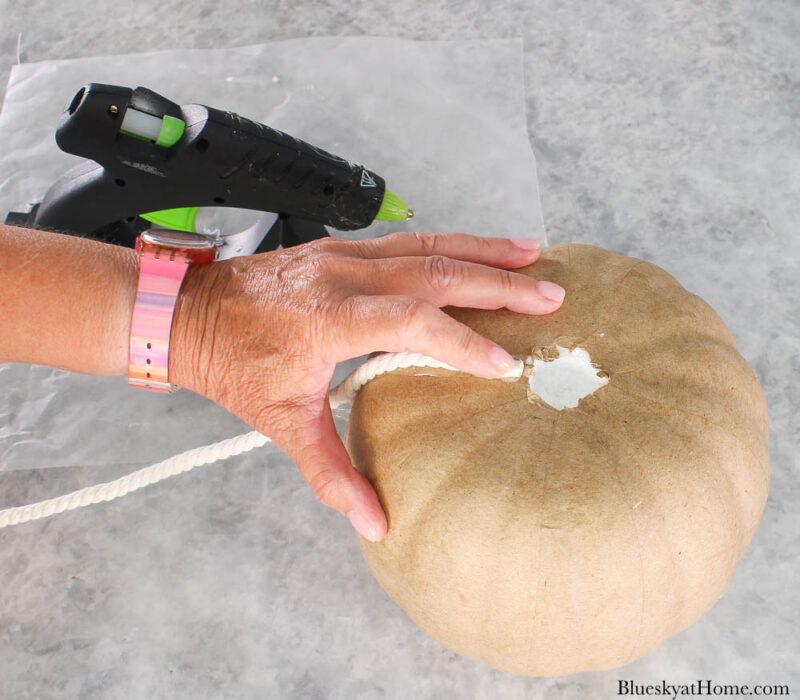 Add the rope and gently press down on it to adhere to the pumpkin. Then continue with glue and rope all the way to the bottom or top of the pumpkin; when I started, I thought I would wrap and glue the rope around the pumpkin. I found it was much better to glue from top to bottom and then cut the rope.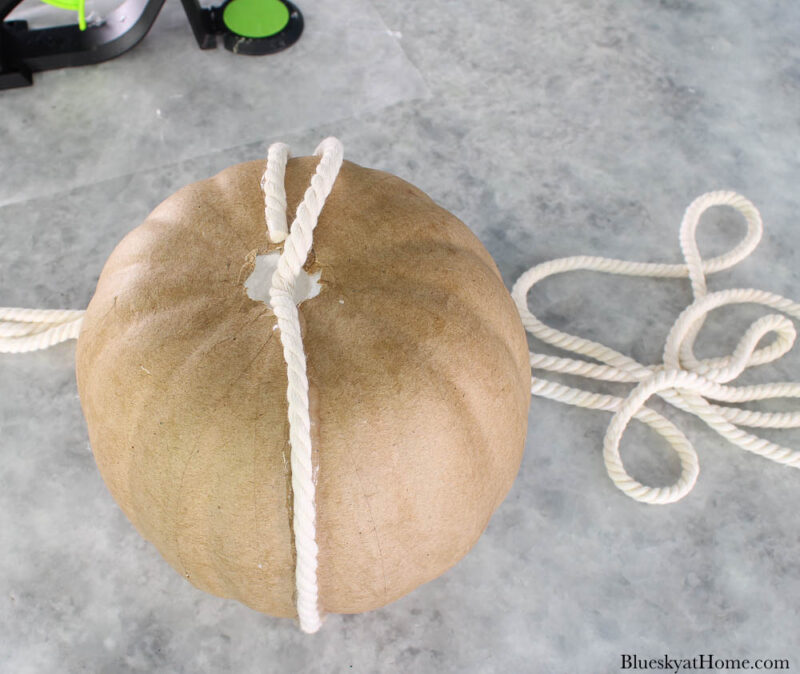 Cut the rope and press down with glue.
Repeat all around the pumpkin until it is covered with rope.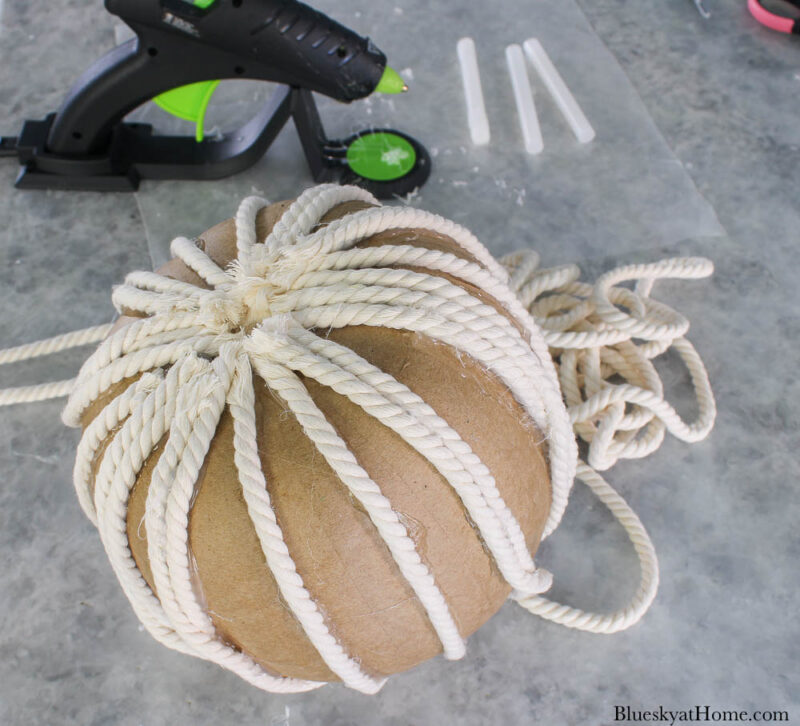 For variety, I looped some lengths of rope over a straight length.
You will notice the places where you have to cut shorter lengths of rope. I actually liked how the frayed rope added a bit of rustic look to the pumpkin.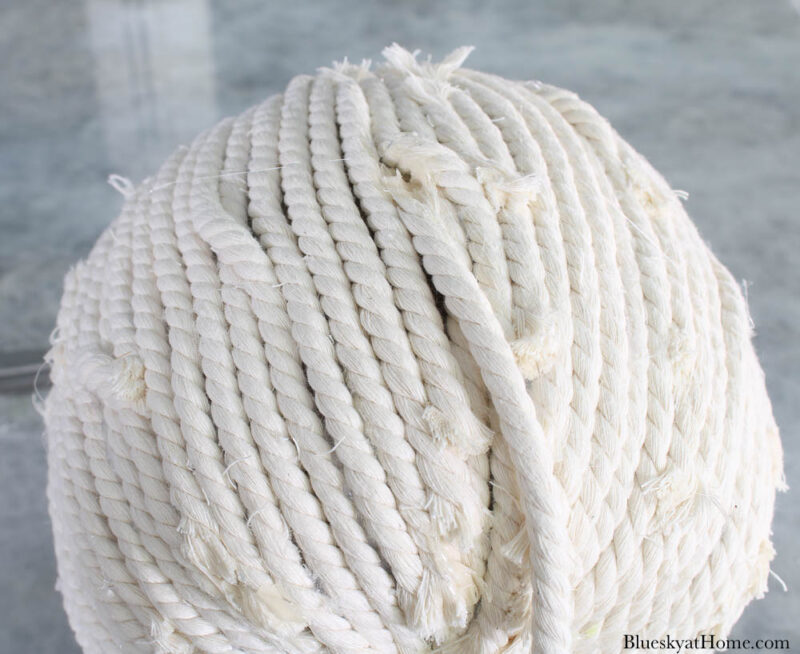 After gluing all the rope around your pumpkin, next glue the stem back on the top of the pumpkin.
You may notice that some of the paper maché pumpkin showed through, but I liked that look.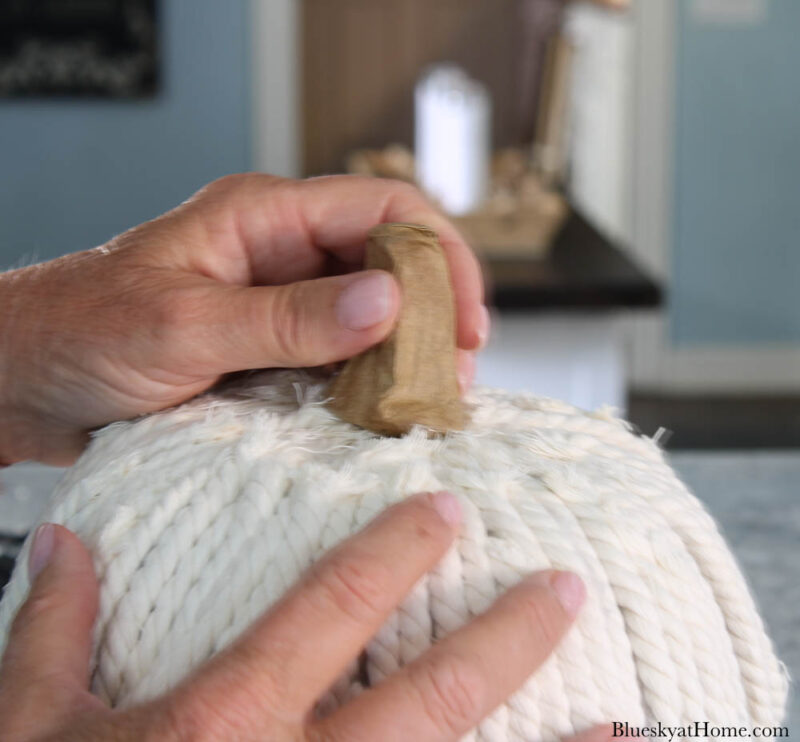 EMBELLISHING YOUR ROPE PUMPKIN
After I finished adding all the rope, I wanted to add some "garnishes" to the pumpkin.
In my craft stash, I found a 6 ~ 8-inch piece of wired twine. I wrapped a short section around a pencil four times.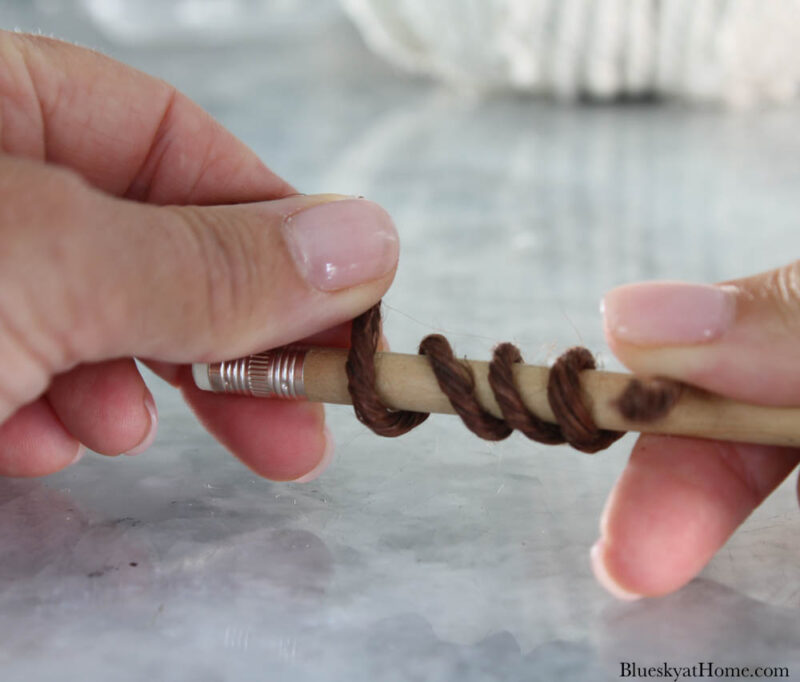 I used wire snips to cut the wired twine. Then I repeated with a second piece. I used my hot glue gun to attach the wired twine pieces to the top of the pumpkin at the base of the stem.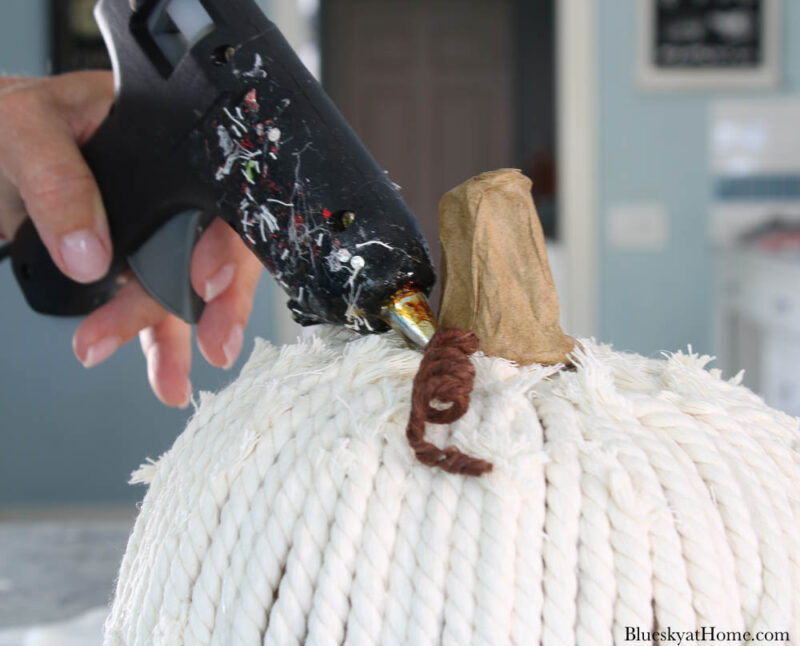 To finish off the area around the stem, I glued and wrapped a piece of small twine (another leftover piece) around the stem.
As the final touch to my pumpkin decorated with rope, I tied a bow with thin jute twine.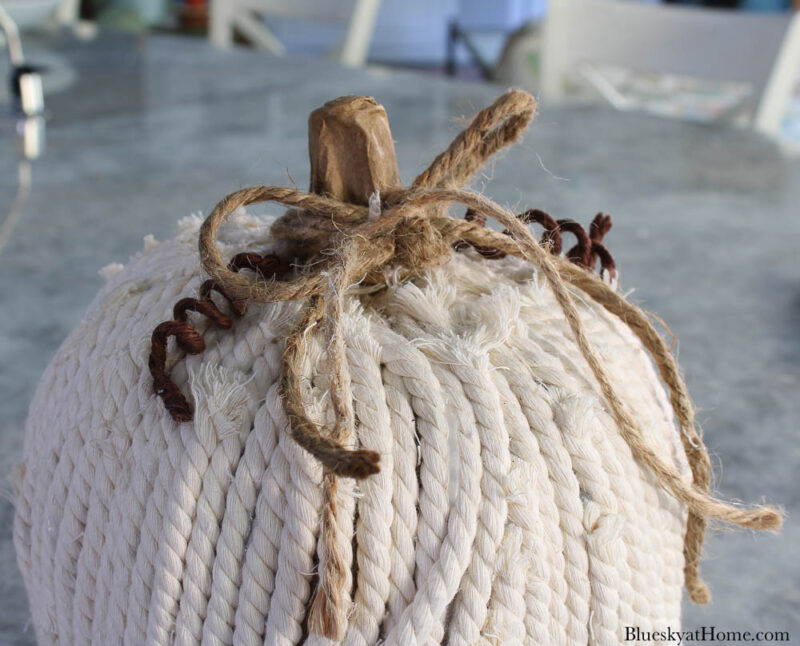 TIPS FOR DECORATING YOUR PUMPKIN WITH ROPE
Here are some tips that I discovered as I decorated my pumpkin:
You may see rope packages described as "cord". Use it the same way described above.
Cut your rope on the diagonal.
As you fill in the pumpkin with rope, your pieces will get shorter, some only about 4 inches long.
The ends of the rope may fray a bit. You can leave them as is for a more rustic look. Or you can "shave" them with sharp scissors for a smoother look. I did both.
On the bottom of the pumpkin, you don't have to go all the way to the middle of the bottom, just enough to cover the pumpkin.
Now, that I've shown you how to decorate a pumpkin with rope, let me show you a way to use twine to make a pumpkin.
SUPPLIES TO MAKE A PUMPKIN WITH TWINE
This process for this pumpkin project is very different. I have seen several variations of this process on YouTube. After watching the videos, I decided to make my own.
For this pumpkin project, you will need:
jute twine in thckness of choice; I had a thick and medium versions in my craft stash.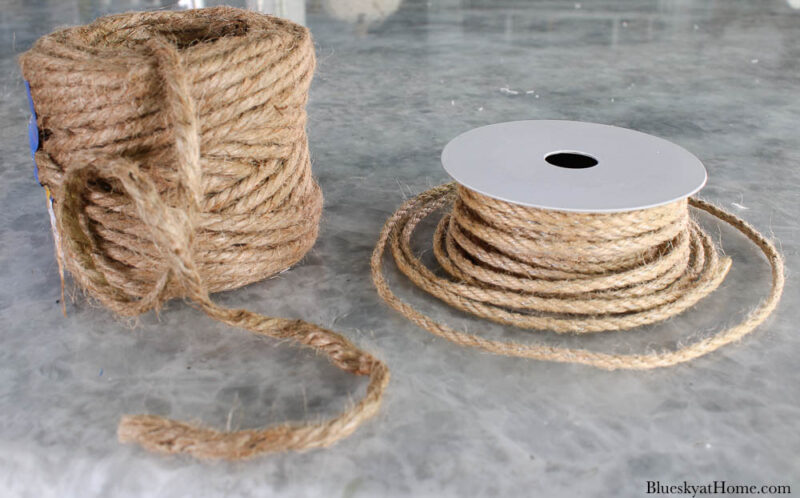 thin jute twine, pipe cleaners or string to tie pumpkin rolls. I used this thin jute twine since I already had it. You can cut several 6~inch pieces ahead, it you like.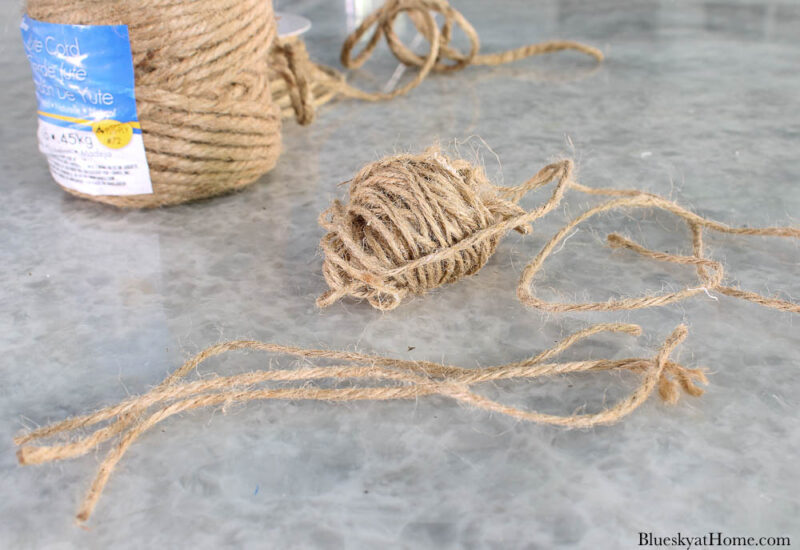 a rolling pin, cardboard or plastic tube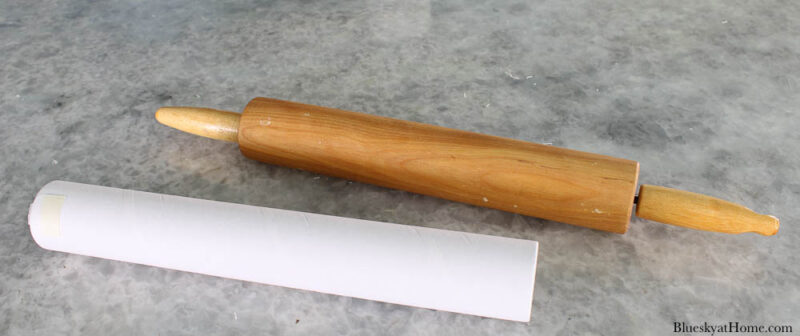 sharp scissors
glue glue and glue sticks for stems
items to use as stems: corks, wood sticks, real or faux pumpkin stems, wood dowels, wired grapvine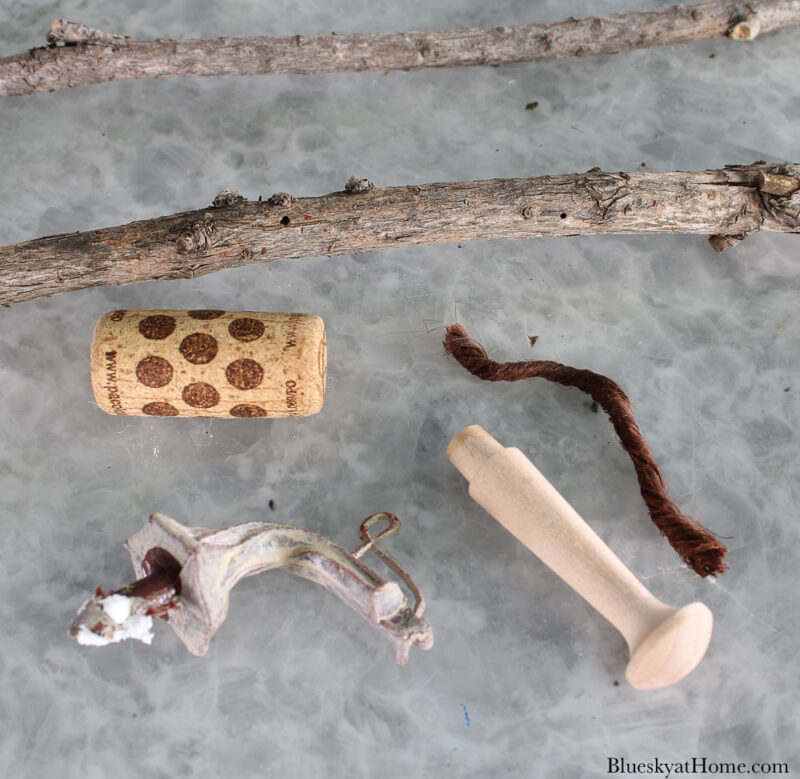 STEPS TO MAKE A PUMPKIN WITH TWINE
Choose the thickness of your twine; thick will work better than thin. I decided to use my rolling pin and use the thick twine.
Wrap the twine around the rolling pin, starting about 1/3 of the way on the pin. I chose to wrap it 15 times. You want it fairly taunt. Make sure that the loops are flat ~ don't overlap.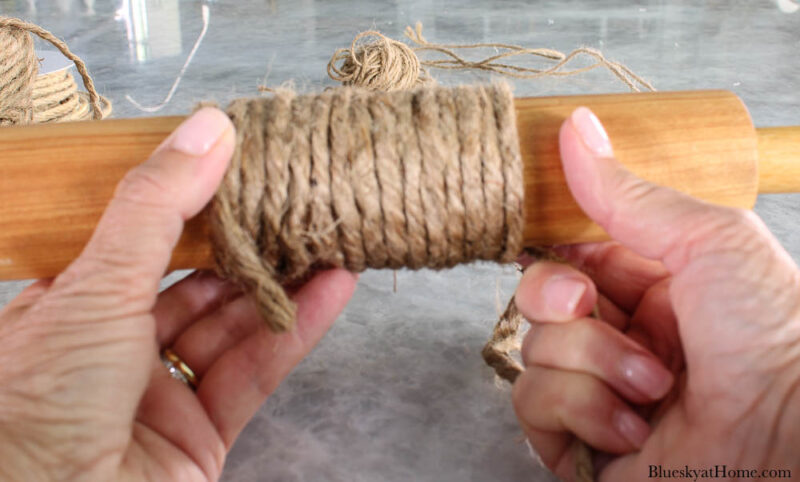 Push the wrapped twine to the end of the rolling pin, keeping the loops tight. It helps to put your fingers around the end that is coming off the rolling pin first.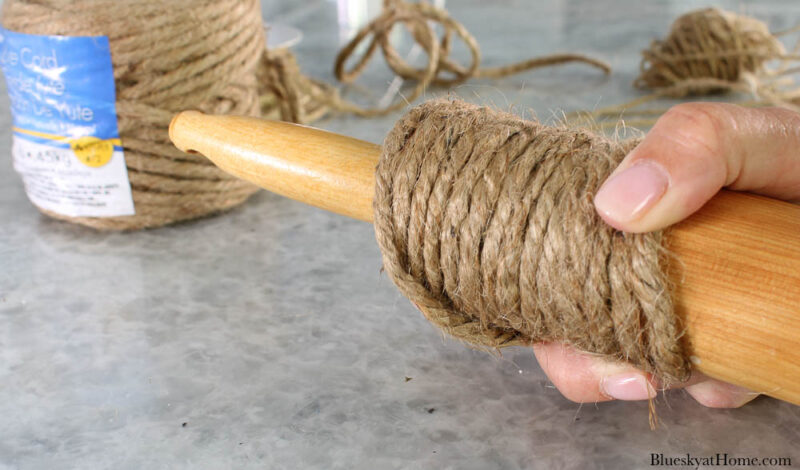 Hold the looped twine tightly so it doesn't unwind. I put my thump inside the loops.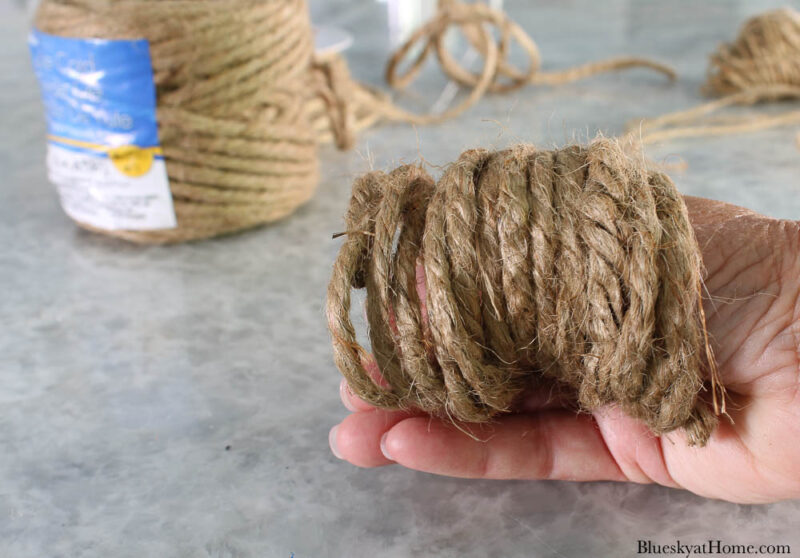 Use a 6~inch piece of thin twine or string. Push it through the twine bundle and tie the two ends together and pull tightly. Make a double knot and cut off the excess.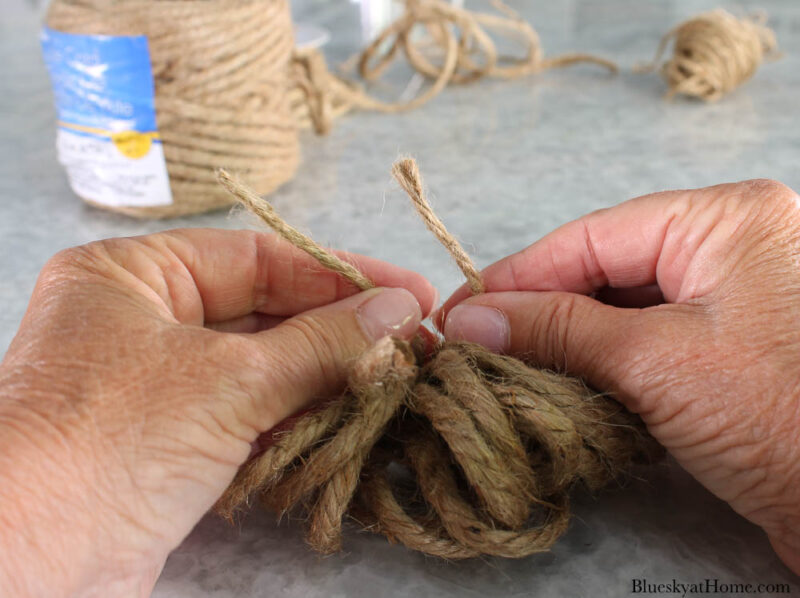 Repeat this step 2 more times, for a total of 3 twine bundles.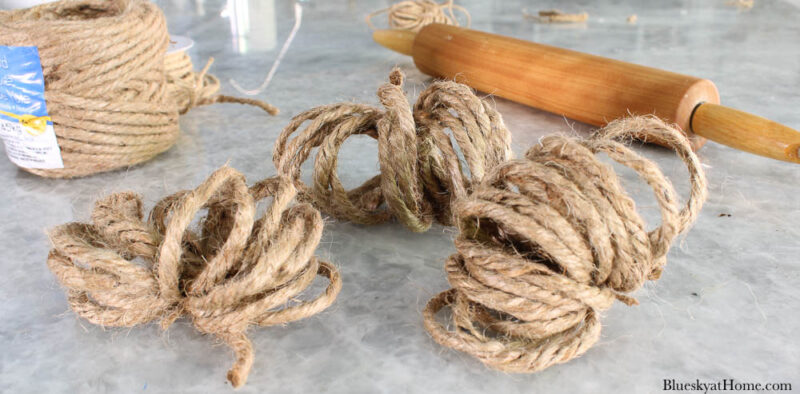 Hold all 3 bundles together as one.
Push a 8~inch piece of thin twine through all 3 bundles.
Tie the thin twine in a knot.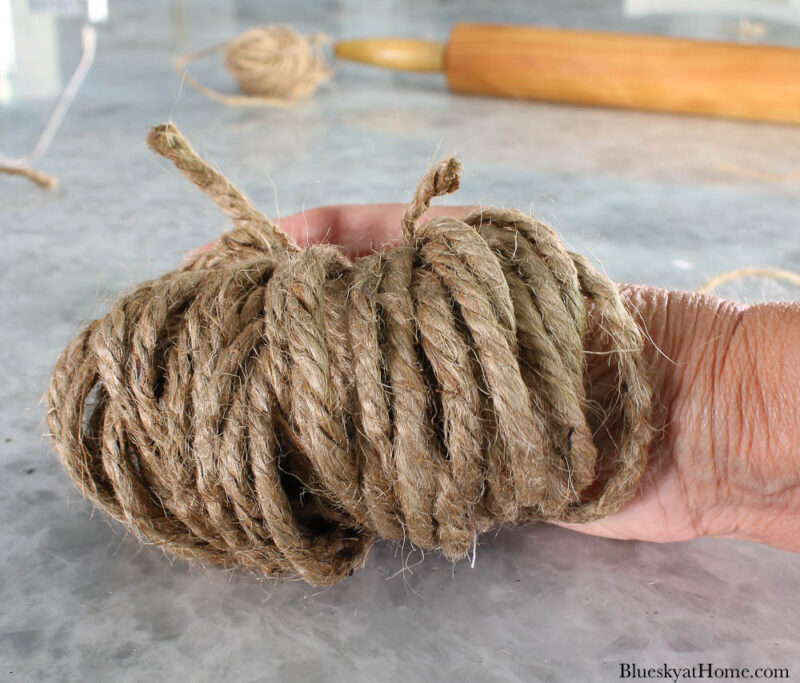 Decide what you want to use for the stem. I decided for my first twine pumpkin to use a twig that I found in our front yard.
Heat up your glue gun. Add a dollop of glue to one end of the stem and push it down into the center of the pumpkin. Hold for a few seconds until set.
Pull the thin twine tightly, knot again, and cut off the excess.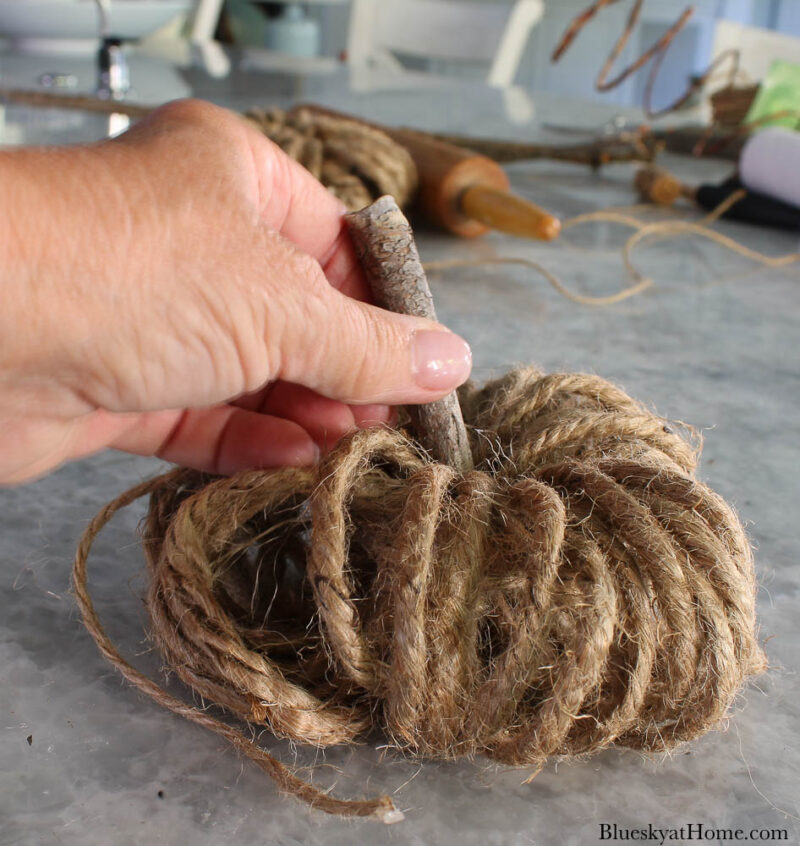 For my second pumpkin with twine, I decided to try making a stem with a 4-inch piece of wired grapevine and the white rope. First, I glued the rope tightly around the wired grapevine. Cut off the rope and add more glue at the top.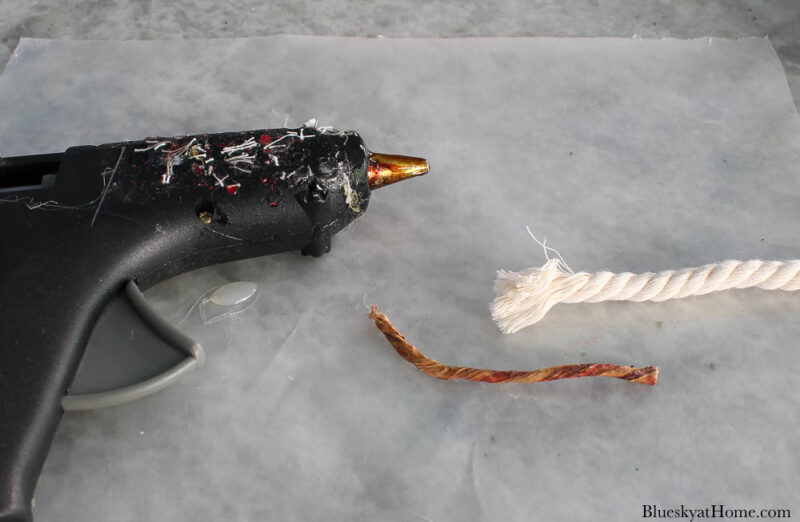 Then I glued the stem into the center of the twine pumpkin and tightend the thin twine, double knot it, and cut the excess. I really like the contrast in color and texture.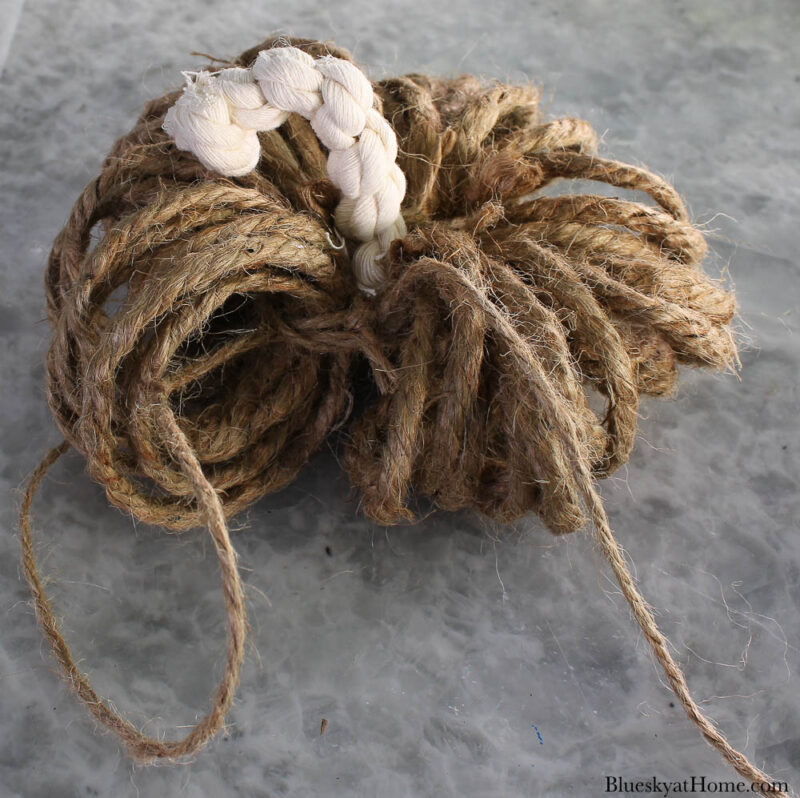 MAKING A PUMPKIN WITH ROPE
For a third version of the twine pumpkin, I decided to use more of the white rope that I used for my first pumpkin. I used the exact same process. The only change I made was to use the white cardboard tube. I also only made 10 loops around it for a smaller pumpkin.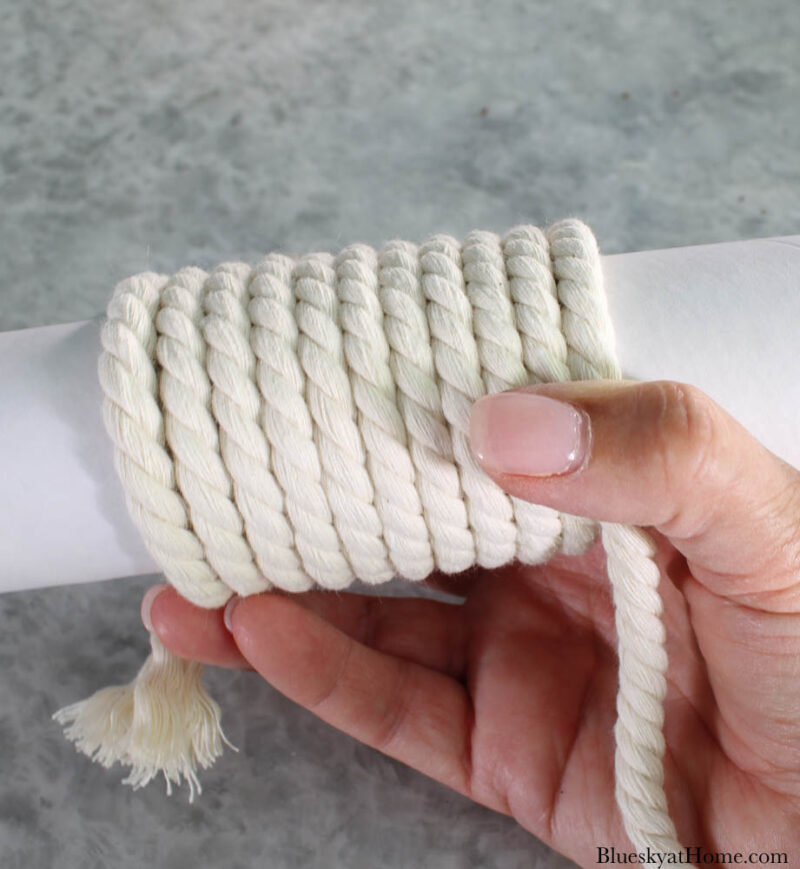 Notice the frayed end of the white rope?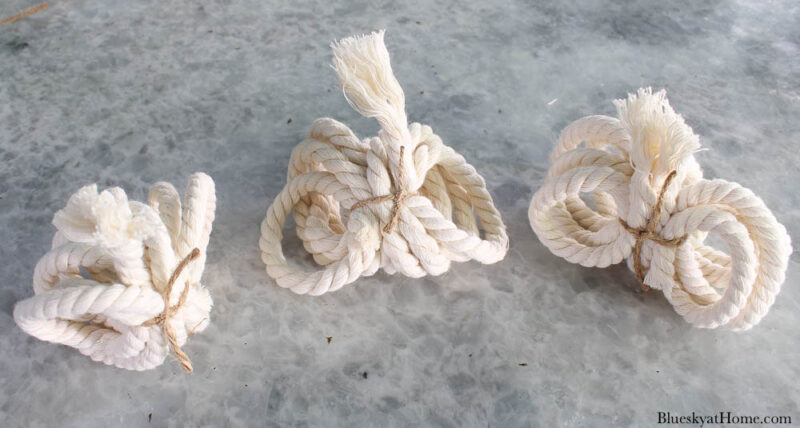 I used the frayed end as my stem. Pretty cute, uh?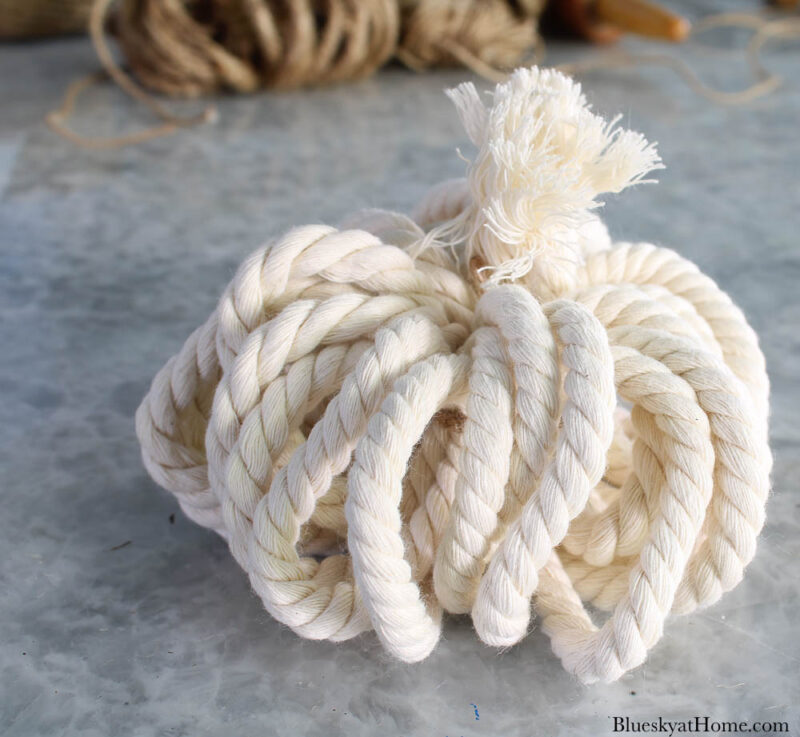 USING MY PUMPKINS WTH ROPE AND TWINE IN A VIGNETTE
I had a total of 4 pumpkins: one large pumpkin decorated with white yarn; three pumpkins made with twine, two with jute twine and one with white rope.
I decided to use all 4 pumpkins on our coffee table. My round woven tray would be the right size and shape to feature the pumpkins.
First I used raffia to fill the bottom of the tray. Then all I had to do was place the decorated pumpkins in the tray.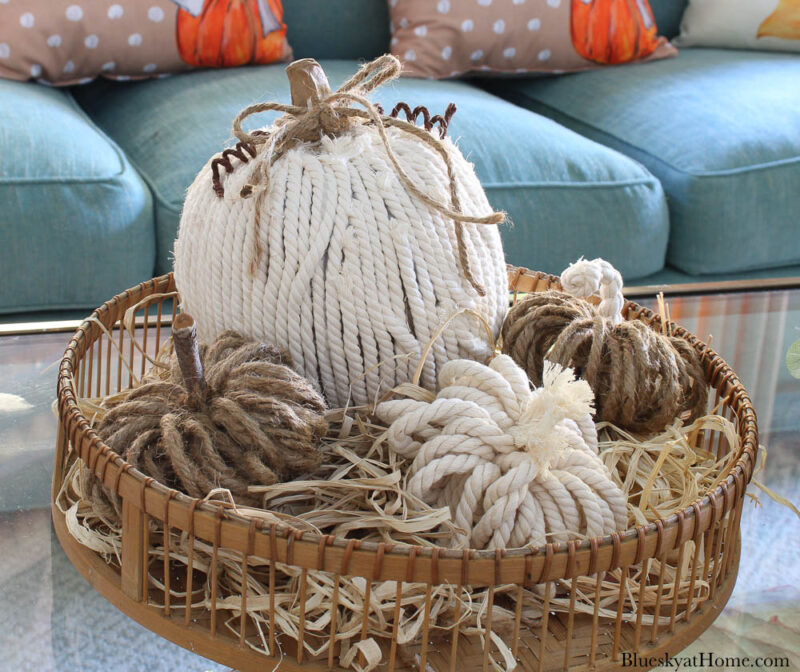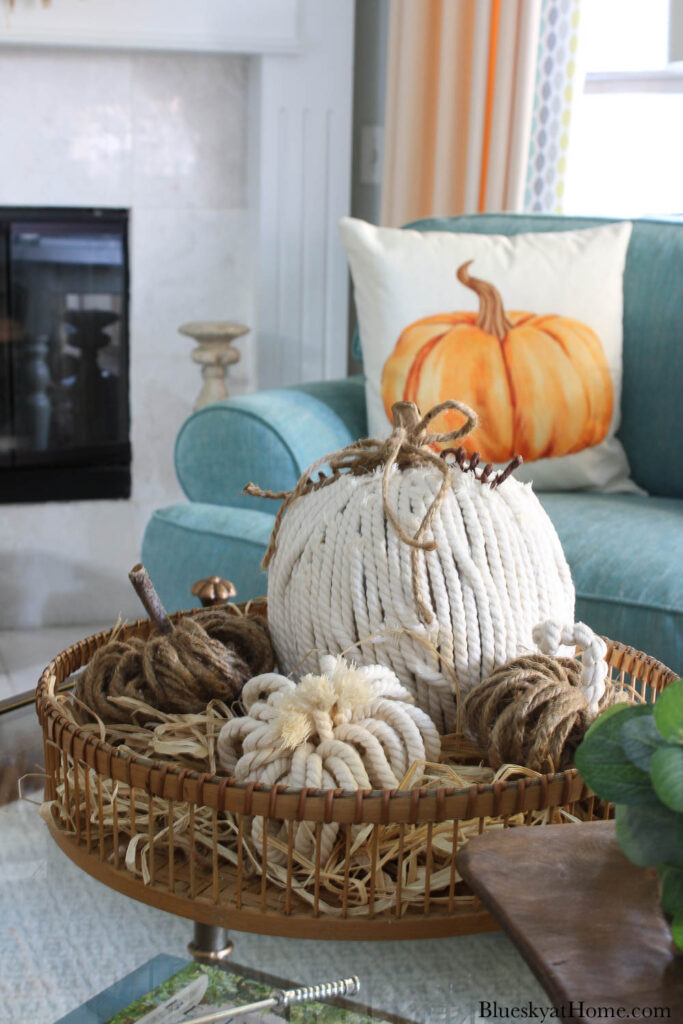 I love the finished look with our new fall mantel.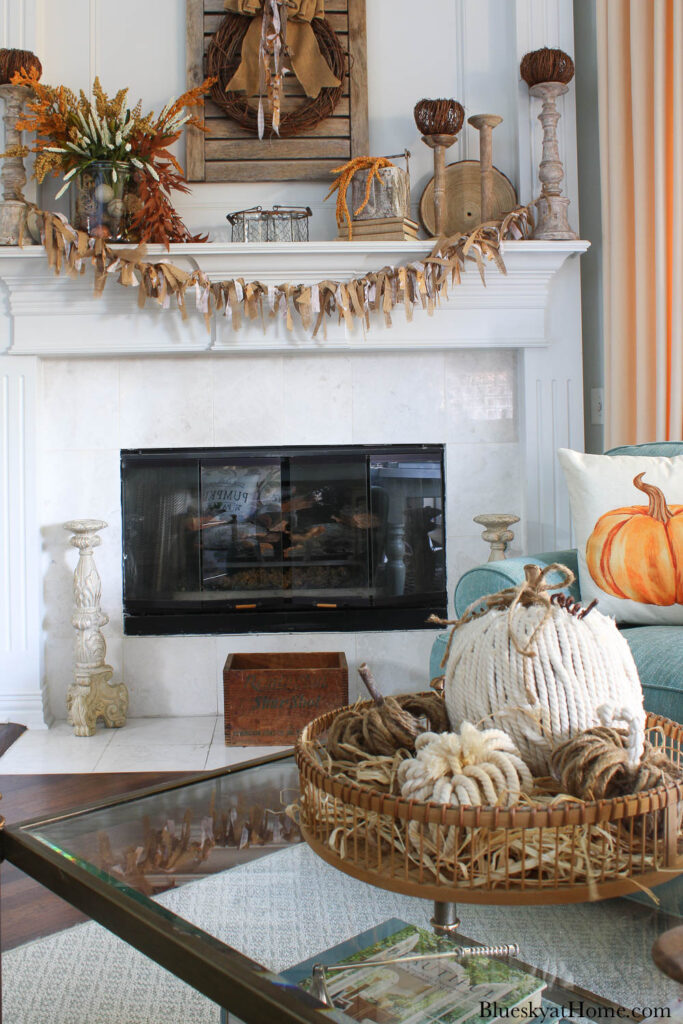 Can you decorate these pumpkins with rope and twine? Of course you can! Both versions are easy. I will say that the pumpkin with rope does take longer ~ it's a good project to do while watching your favorite movie.
After you PIN these new fall pumpkin decorating projects ( You will, OK?), please take a look at the pretty fall ideas my friends are sharing. See the list below. Mary of Home is Where the Boat Is is up next with a new fall pillow.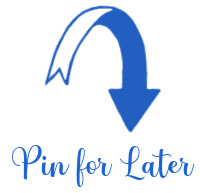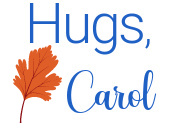 How to Paint a Buffalo Plaid Pumpkin
How to Decorate Pumpkins with Rope and Twine
DIY Fall Halloween Magnets The Cute Side of Boo
Drip Painted Ginger Jar Tutorial
Creations A Spooky Centerpiece for Halloween