How to Make a Gold Polka~Dot Planter For Under $10
Do you love polka~dots? They are everywhere, on just about anything. You can even put them on a planter. Let me show you how to make a gold polka~dot planter for under $10.
A gold polka-dot planter for under $10 is a good deal.  It's such an easy project. Anyone can make it. You can make it
I actually completed this project a couple of months ago, on a warm day in October when I could actually get outside and work. I wanted to make a gold polka~dot planter for my office. So I had to share the polka~dot project. And I have a bonus DIY for you.
How to Make a Gold Polka~Dot Planter For Under $10
This post contains affiliate links to products that I love, use and highly recommend. If you order any product from this site, I may be compensated, but you will not pay one penny more.
I left the Tabletop Spray Shelter (it's become a permanent fixture in the garage) out on my work table and had to wait a few days for warm weather to return to paint outside.
ORIGINAL PLANTER
Here is my original planter, an off~white ceramic cube. You could use any material, such as wood or terra cotta.
I knew that I wanted it white with gold polka~dots. I realized that to get that look I would have to spray paint the planter gold first, attach round stickers and then spray paint it again white. That approach didn't make sense to me. If I wanted white polka~dots, I would have attached round stickers and then painted the planter gold.
TIP: You can have any combination of dots and background. Just remember that your first coat of paint will be the color of your polka~dots and the second coat will be your background. 
So, how could I keep my white background and have my gold polka~dots. Here was my solution:
For my clipboard project, I cut out circles from 3M Scotch Blue painters tape using my Fiskar's circle cutter ~ which left me with these strips of painters tape filled with circle cut outs.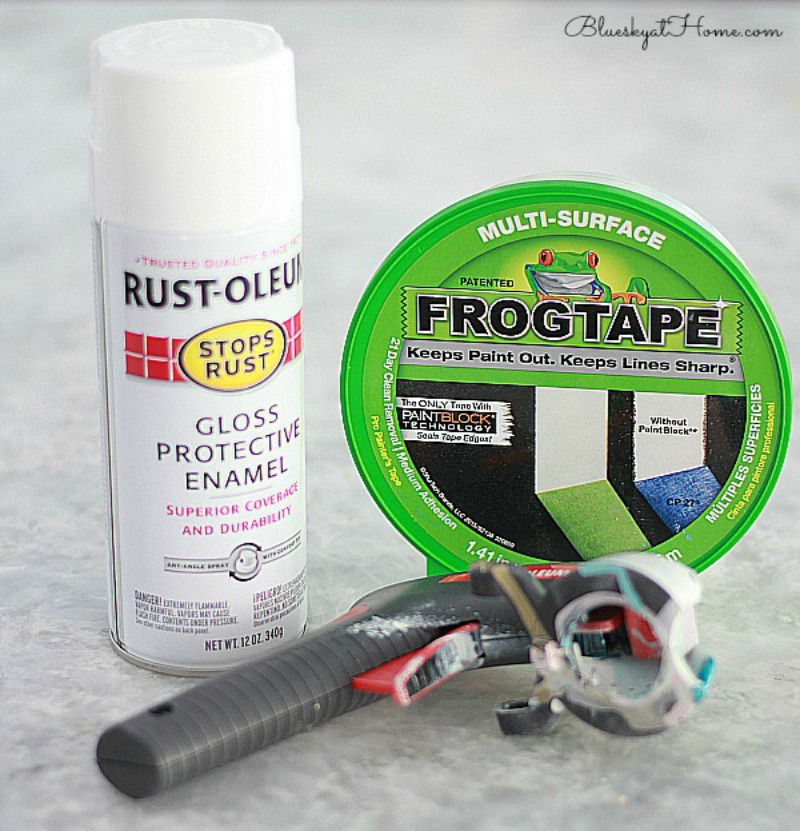 I just cut the tape into pieces, like making a stencil, and attached them to the planter in a random pattern.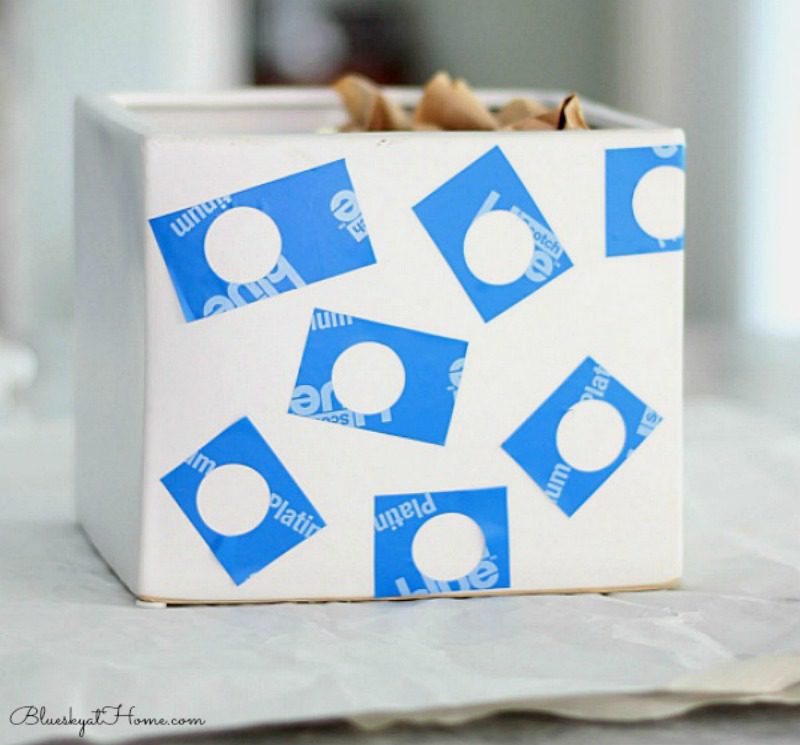 Now I needed to fill in the circles with gold. Since I couldn't use spray paint, I bought a Krylon gold leafing pen at Joann.
From here, it was easy to "fill~in~the~blanks". Like paint by numbers.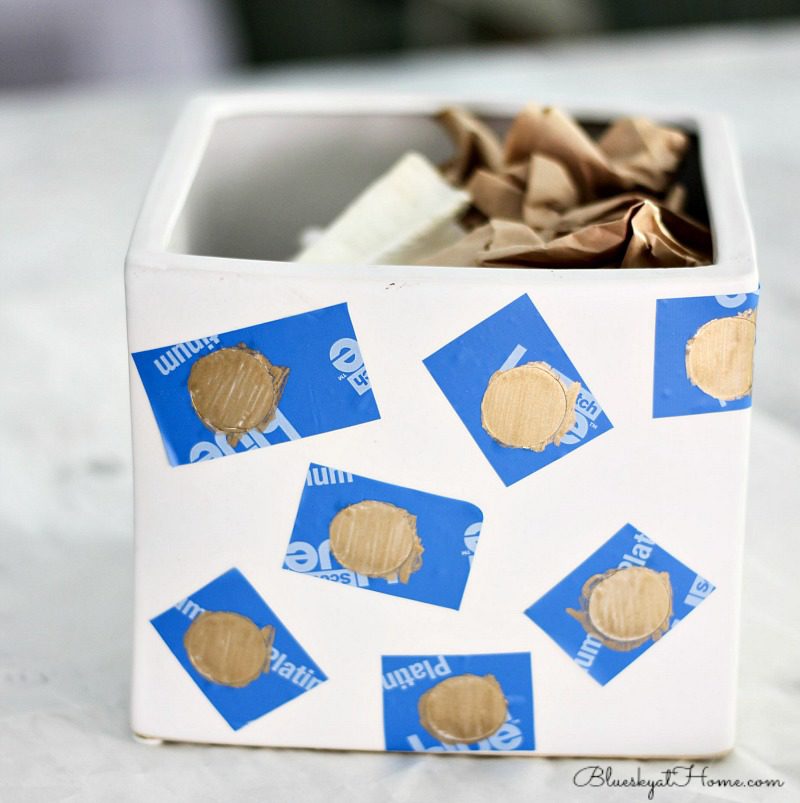 And I got exactly the look I wanted for my office.
I wrapped the planter in packing paper, placed it in a box, labeled the box "office planter" and set it out in the garage  with the other boxes full of office supplies, books, and files.
Last week when I was able to unpack all my goodies, all I needed was a plant. Even though my color scheme is pink, white, aqua, and sea-foam green and grey, I wanted some greenery to give the office a homey and organic feel.
I needed an easy to care for plant. We had a pot of pothos ivy in the living room that I snitched for my office. I couldn't be happier with the planter and the plant.
Bonus Project:  I had 3 plain~Jane scissors that I thought could use a shot of gold. First I wrapped the blades in the 3M Command Painter's Tape and stuck them in a piece of florist foam to hold them up.
Then I sprayed away with the same Rust~Oleum Gold Metallic spray paint that I used for my clipboard project. I repeated with 2 other pair of scissors.
Now the scissors hang on my Container Store Utility Board in easy reach, but out of the way. (I'll show you more of the Utility Board later.)
So, how much did my planter project cost?
Cost of planter: here's where you can interpret the cost of this project for yourself. I bought the planter (with an orchid in it) last spring at a charity event. Yes, it cost more than $10, but the total amount went to our local county hospital's rehabilitation department. So I'm considering it a wash. I hope that's O.K. with you.
3M Command Painter's Tape: a freebie from Haven Conference.
Krylon Gold paint pen: $6.49 (If I pro~rated the ink just for this project, it would be pennies.)
Scissors: had for years
Krylon Gold Metallic Spray Paint: already had from a previous project.
So the way I look at it, the only supply I had to buy for this under $10 project was the gold paint pen. I got exactly the planter I wanted for my office, and I have a pretty potted plant in my office to give a pop of green to the decor. Win~win all around
I hope that you will PIN this post so you can follow how to make a polka~dot planter, too.