9 Awesome Thanksgiving DIY Projects
Are you ready to think about Thanksgiving? It's not too soon to give you some awesome Thanksgiving DIY projects to consider.
Once Halloween has come and gone, we switch over to turkeys and pilgrims and thankful signs. Time for some Thanksgiving DIY projects.
I have a Pinterest Board called Thanksgiving Ideas, a place to collect and revisit great ideas for Thanksgiving decorating and entertaining. I recently added another Pinterest Board, Thanksgiving DIY Projects. I'm adding ideas to it every day.
In searching for great Thanksgiving inspiration, I scrolled, clicked on, and read dozens and dozens of posts and these were my favorites.
All of these awesome Thanksgiving DIY projects are easy, doable in a short time, and very affordable. They are pretty and cute and funny and stylish. My kind of Thanksgiving DIY projects. I hope they are yours too.
What makes a great DIY project for any occasion?
Not too many "ingredients"
Clear instructions
Easily replicated
Not expensive
Is user friendly
I'm also particular about the posts I share. I look for clean, bright photography that clearly shows the progress of the project and the finished product. Instructions must be clearly written so you don't have to figure out how to get from step 3 to step 4 are very important. I will give a little slack if the images clearly show the steps.
So let's open our portfolio of Thanksgiving DIY projects and you be the judge of my choices.
COPPER PUMPKINS
If you've seen any of my fall decor or fall tablescape posts, you may remember that navy and copper is one of my favorite color schemes, especially for fall. When I saw these copper pumpkins from my friend Kathy at Up to Date Interiors, I was smitten and knew I would have to share.
Kathy and I met a few years ago when she hosted a link party while she lived in Japan. At Haven 2019, on the last session of the last day, I heard someone call my name and she introduced herself as Kathy.  She had just moved to Ft. Worth, so we are practically neighbors.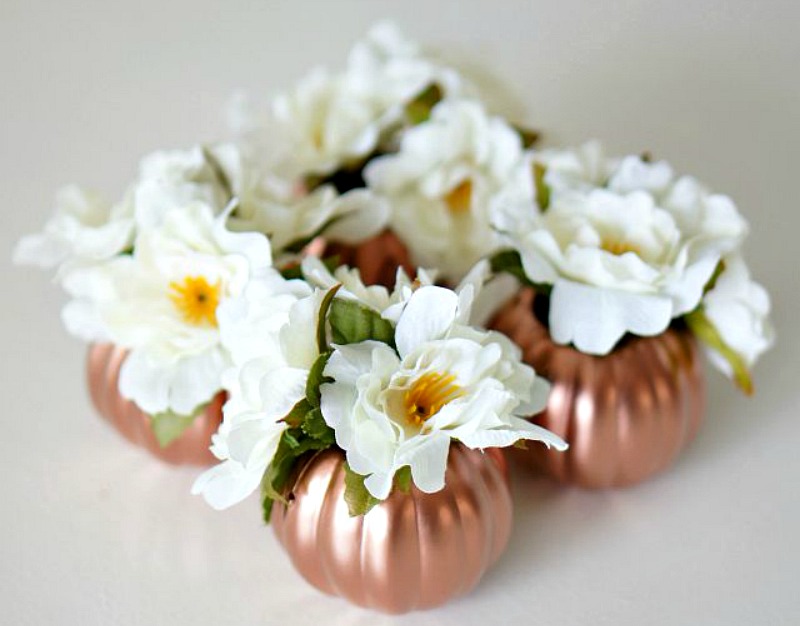 This super easy DIY Copper Pumpkin Project from Diane of South House Designs is super cute and very clever. This is one of the most unique pumpkin projects. Make a few and pair them with your favorite turkey.
NO~SEW THANKSGIVING ACORN PROJECT
We think of pumpkins and turkeys and pilgrims at Thanksgiving, but acorns are definitely a fall ingredient we can use this season. I thought these little DIY acorns from Michelle of Thistlekey Lane were so sweet that I just had to include them. I ordered a bag of felt balls to make some.
I love the look and the creativity of this DIY project. You could put them on your Thanksgiving table, in a bowl, on a mantel or anywhere you want a little surprise.
THANKFUL NAPKIN RINGS
You know I love tablescapes and place cards and napkin rings ~ anything that gives a table extra detail and embellishment. If you like a casual, rustic look for your Thanksgiving table, you will love these napkin rings using kraft paper. Shannon of Handmade Lovely shows you different ways to make them, using different available tools, such as a Cricut or your printer.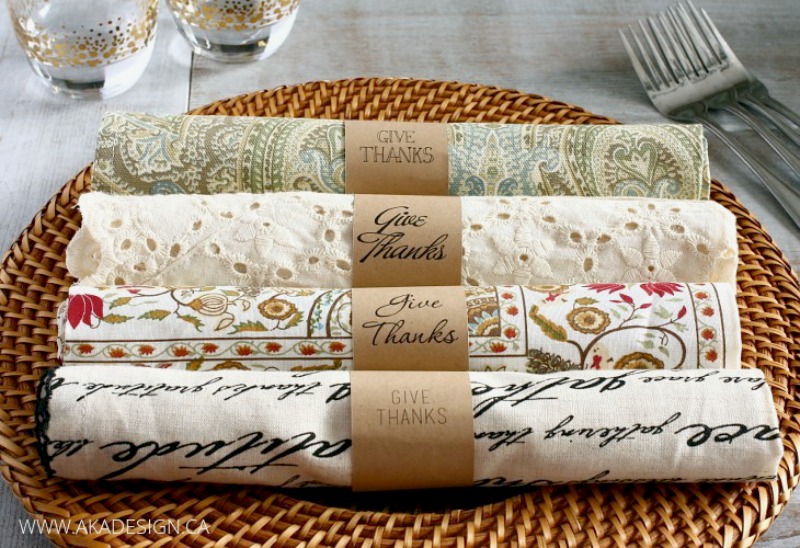 This DIY Thanksgiving project gave me another idea for practicing my hand lettering skills. I was excited to make this DIY project my version for my Thanksgiving tablescape.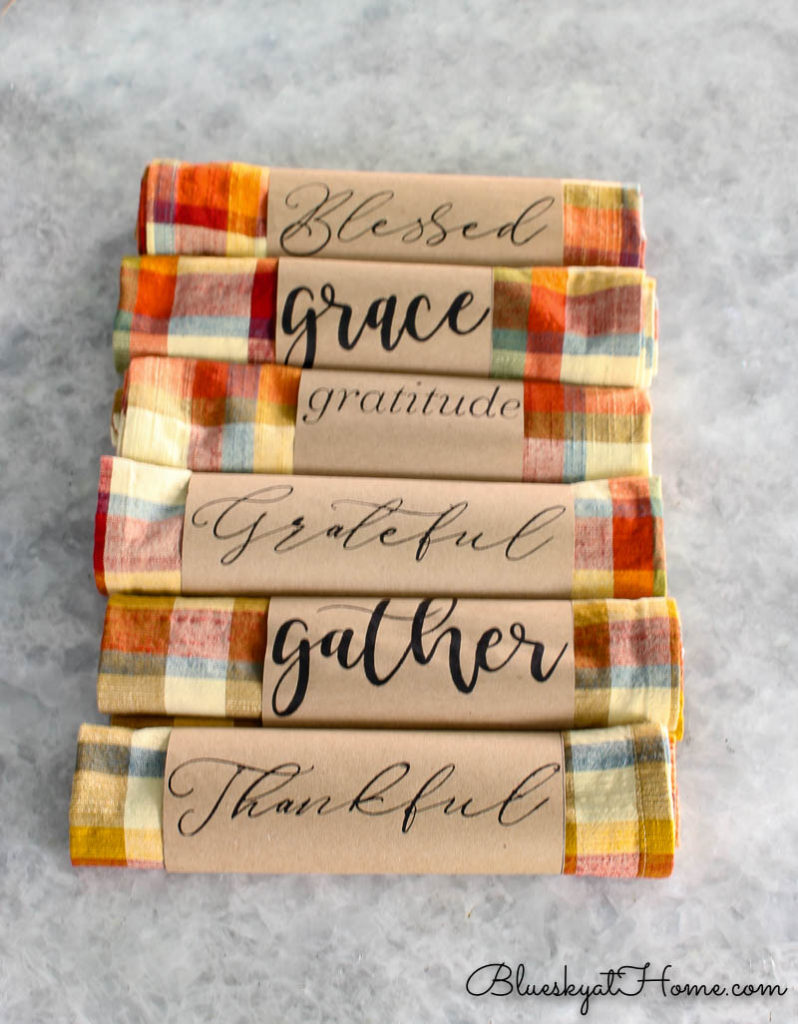 Here is another really easy Thanksgiving napkin ring. I love that it uses supplies we keep around the house. Home Cooking Memories show you exactly how to make them.
THANKSGIVING BANNER
What's Thanksgiving without pie? How about one that is calorie~free?
This project from Martha Stewart (no introduction needed) is too cute for words. I love making banners for any holiday and this Thanksgiving pie banner has just the right amount of whimsy.

Very simple directions with minimal supplies. The template for the pie pieces is provided ~ I've already downloaded and printed mine. I think this could also be used as a place card. Use your imagination!
This Thanksgiving Banner says it all. I love the letters and layering from Monica of East Coast Blog
THANKSGIVING PUMPKIN CENTERPIECES
Centerpieces are, well, the center of our tables. Thanksgiving may be the perfect time to bring out your prettiest one. If you need a new Thanksgiving centerpiece that is Dollar Tree~inexpensive and easy to make, this one from the Pumpkin and the Princess should be on your list to try.
THANKSGIVING WHEAT BUNDLE CENTERPIECE
When I see DIY projects using supplies that I already have and they are pretty to boot, I am immediately attracted to them. That was the case with this wheat bundle centerpiece from Trish at Uncommon Designs.
If you like neutral, organic arrangements, this is one to consider. I love the natural colors and the big burlap ribbon. It brings harvest and gratefulness to mind.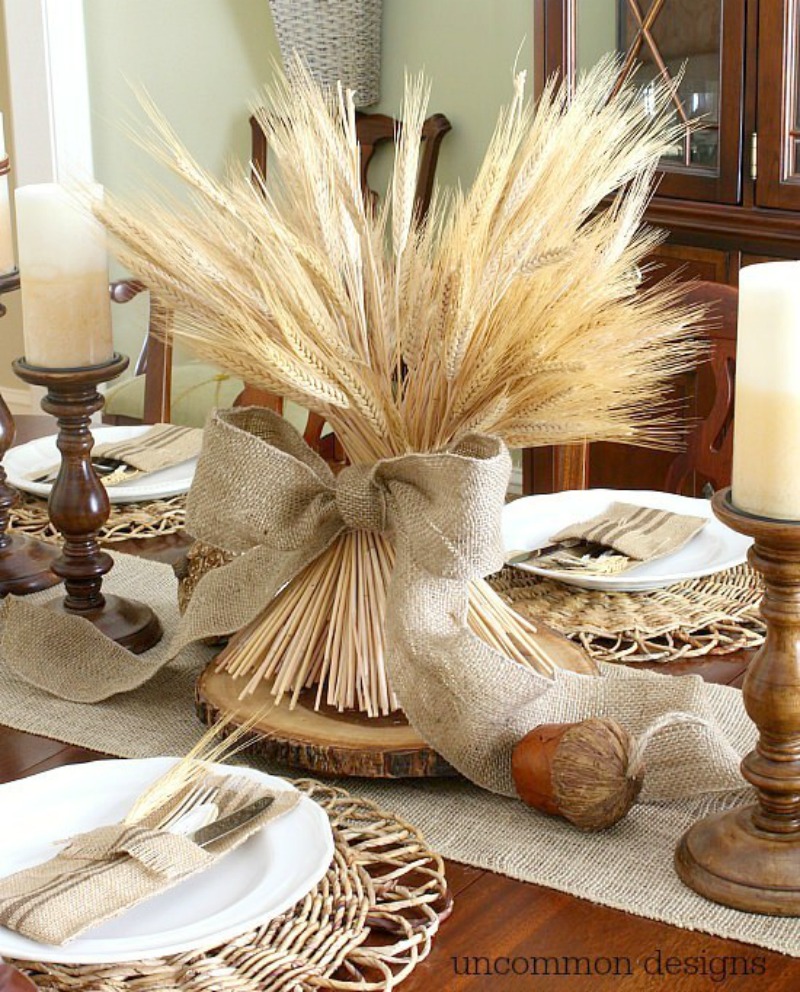 I made my own wheat bundle centerpiece and used it in my simple Thanksgiving tablescape.
EASY THANKSGIVING TABLE RUNNER
I love a project that is so easy and so affordable, but it looks like a million bucks. This step~by~step tablescape from The Kitchn begins with a simple paper table runner, but doesn't end there. For a minimal look, but maximum style, check out this Thanksgiving tablescape.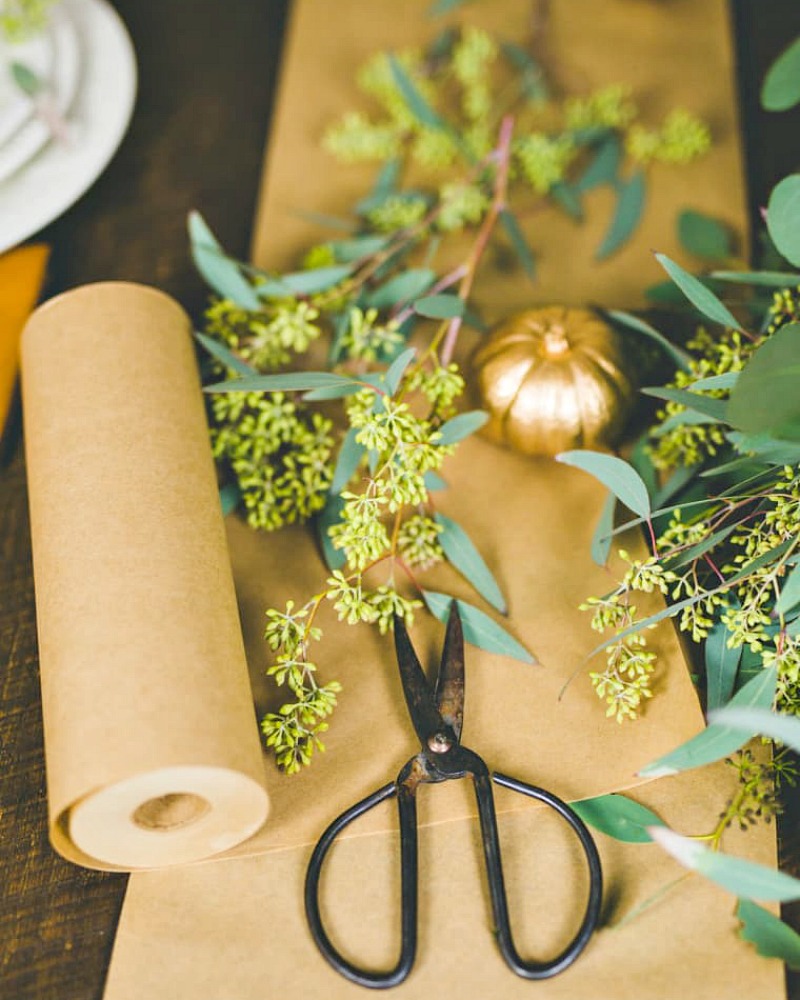 PUMPKIN YARN GARLAND
Is garland a banner's first cousin? This yarn pumpkin garland from Haeley at Design Improvised may be the cutest and the easiest ever (as in make while watching your favorite TV show). I bet kids could make it. Just a few ingredients and you will have a darling Thanksgiving garland in no time.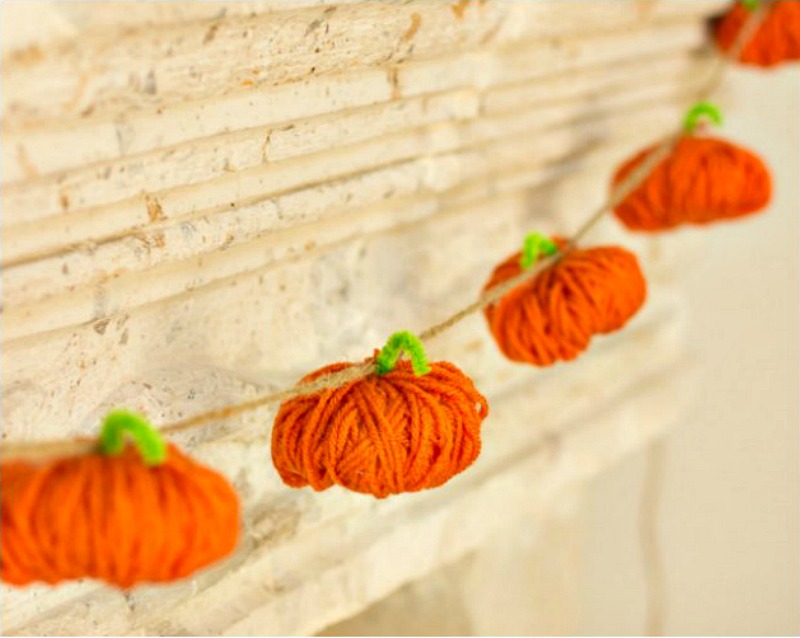 TURKEY LOLLIPOP TREAT
If you have kids or grandkids around your Thanksgiving table, it's nice to have something just for them. Not only will this turkey lollipop DIY project from Michelle at Crafty Morning keep the kids occupied, but they will add a cute touch of "turkiness" ~ not a real one ~ to your Thanksgiving decorations.
I'm really excited to try some of these awesome Thanksgiving DIY projects. I already have some ideas in mind for combining a few in my Thanksgiving table.
I hope you have been inspired. Do you have a favorite? Which one would you definitely make for your own Thanksgiving decorations?
So far I've shared some Thanksgiving place setting ideas, but more Thanksgiving goodness is on its way.
Be sure to PIN this post for later so you don't forget them.