Thanksgiving Place Setting Ideas for Your Table
If you like to plan ahead for your holiday entertaining, you'll love this post. We are all about Thanksgiving place setting ideas for your holiday table.
I'm guessing that you have traditions and dishes for setting your Thanksgiving place setting ideas, but it's always fun to change it up a bit.
Many of us have inherited or collected tabletop "ingredients" that we use year after year. Whether because of sentimental reasons (grandma's hand~embroidered tablecloth) or because we found the perfect Thanksgiving dishes at an estate sale, we love using things that evoke memories of previous Thanksgiving meals.
Let's be honest, we can use grandma's hand~embroidered tablecloth and Aunt Sally's silverware and the estate sale dishes, and still find ways to spiff up our Thanksgiving tablescape. So with the focus just on the individual place setting, let me demonstrate some Thanksgiving place setting ideas for your holiday table.
Thanksgiving Place Setting Ideas for Your Table
This post contains links to products used in this project. If you should order any product from this site, I may receive compensation, but you do not pay a penny more.
My Thanksgiving and my place settings were inspired by this photo from Lindsey Brunk. She described it as simple and elegant and that is a perfect description. Although this place setting was posted in 2014 (I didn't even know what a blog was in 2014!), it is still current and timeless.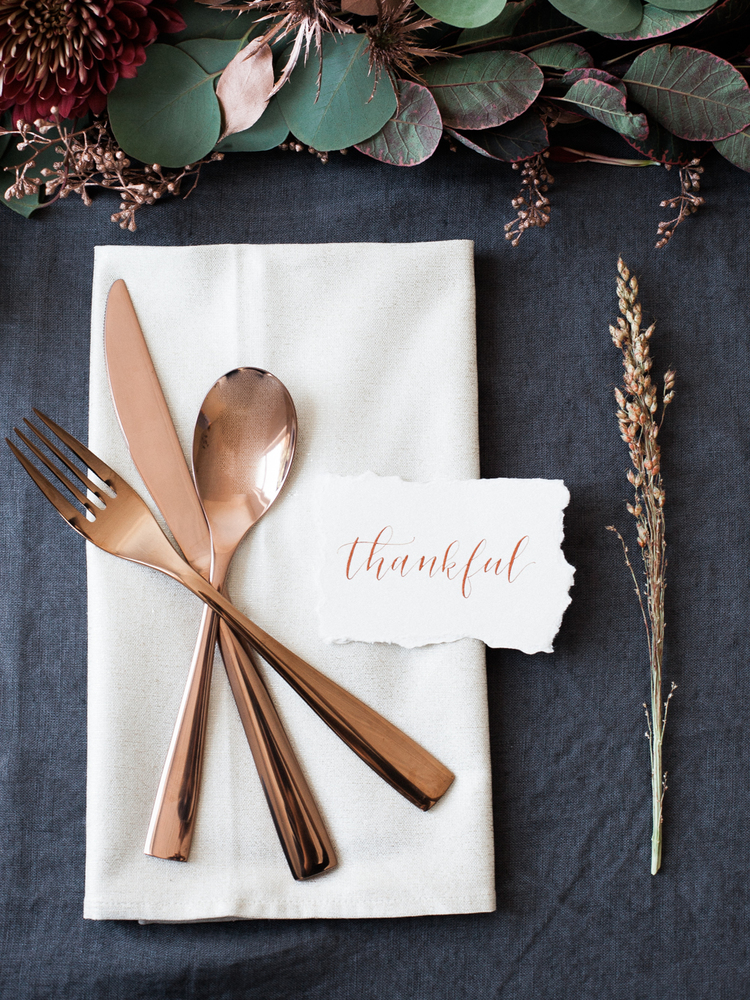 I was not familiar with Lindsey, but she is a wedding and event planner. I always read new (to me) bloggers' ABOUT page and discovered that Lindsey lives in Dallas! So we are practically neighbors!
Elements in my Place Setting Inspiration
Lindsey's place setting is very simple, I would even call it minimalist. There are just a few ingredients.
silverware
napkin
greenery in muted shades of green
long stem
paper with one word in script
You'll also notice that Linsey's color scheme has a dark background and is very neutral in tone.
Fortunately, I had everything I needed to be inspired.
Inspired Place Settings
It looks like Lindsey used a dark tablecloth, but I decided to use a neutral placemat in a woven texture. We use these placemats a few times a week because they are so easy to clean up for everyday dining.
So let's start with a close version. A cream linen napkin, a gather leaf (from our DIY Challenge earlier in October) and a few pieces of faux wheat. I bet there are a thousand pieces in the sheave that I took apart a few years ago. The gather leaf is actually a place card. If you like to use place cards as much as I do, here are more place card ideas.
I used our sterling silver ~ accidentally picked up 2 patterns.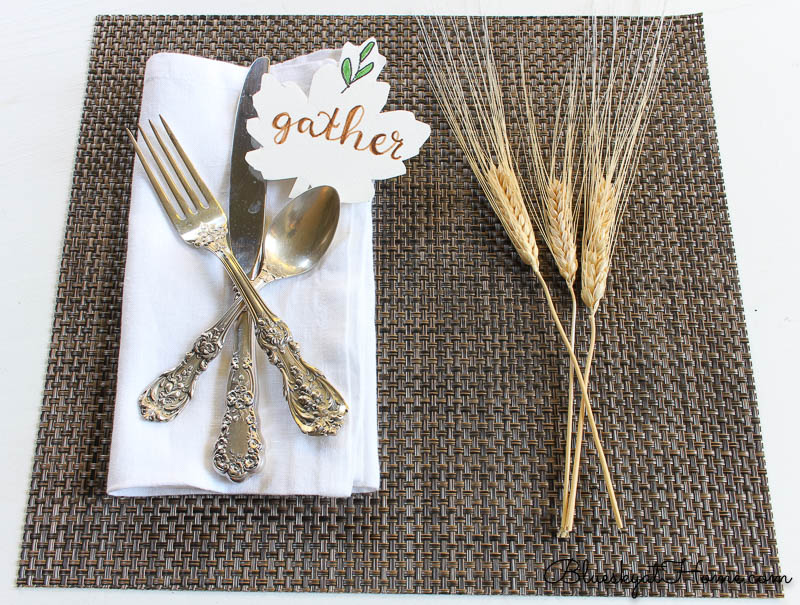 Then I switched to the wood napkin ring that I also made for last month's DIY Challenge and rearranged the placement of the wheat, silverware and napkin.
Last week as I was shopping for Halloween cards at Target, I walked by the Dollar Spot (always) and picked up this pack of raffia for $3.00. It should last for quite a while, don't you think? I also bought one in black.
So next, I used the raffia and the "gather" leaf to make a different napkin ring and moved the wheat to the top of the placemat.
Some safe and lavender from our backyard provided some greenery of soft tones like Lindsey used. I added a wood slice (freebie from Haven) and one of our mini~pumpkins. No napkin ring this time.
Years ago on a whim, I bought a set of green dishes for Thanksgiving. I use them every year. I wanted to try this soft green color in the place setting. A nice place for the wood slice and pumpkin. The "grateful" is a stencil called Grace Gather Grateful from A Makers' Studio that I made in September for another project, but it was too big so I've been saving it. I used Gel Art Ink in Can't Never Could (black).
I also made a "gather" sign. This is like hand~lettering already done for you.
Mix it up: a trio of sage leaves and the napkin and silverware on the salad plate.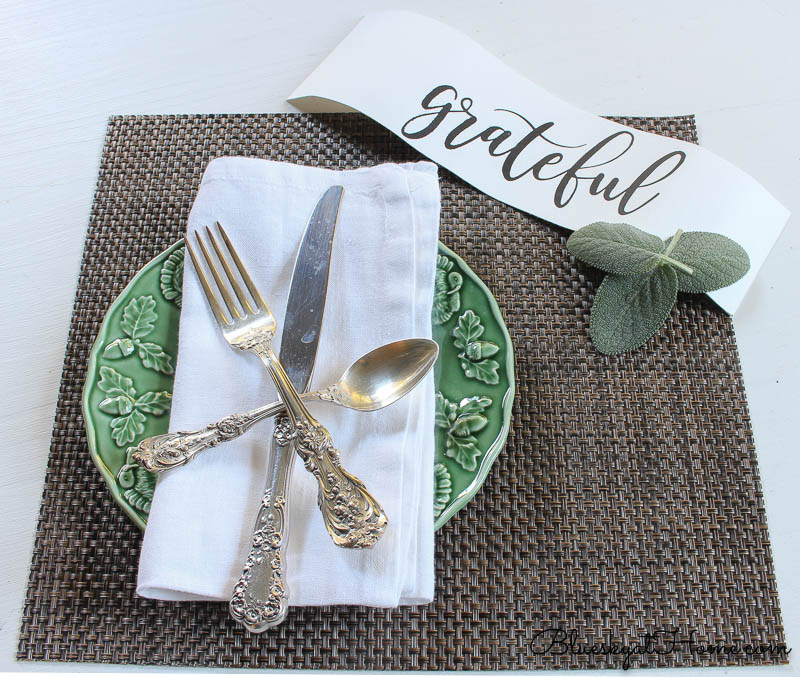 I tied the lavender and sage with some of the raffia and brought back the "gather" place card that I did hand letter.
We actually had a wine glass on its side at a restaurant in Boston. These are Dollar Tree glasses from last year. I made the "GRATEFUL" banner using the Wreath Trio Grateful stencil and cream~colored burlap ribbon to go on a fall wreath last year. I used Metallic Gold ChalkArt which I thought turned out beautifully.
Let's set that glass upside down.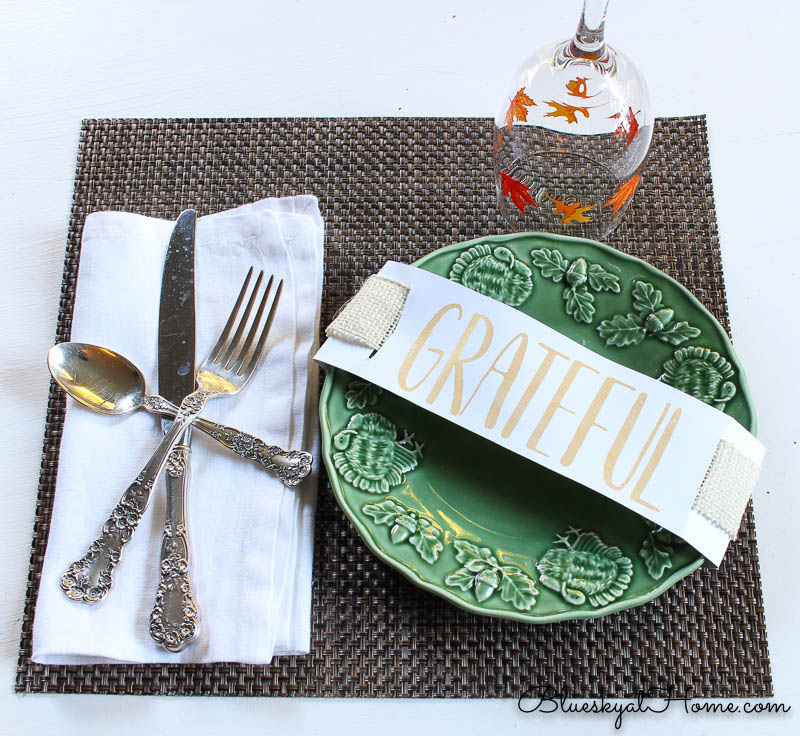 The last of the 3 signs I made last month is "grace" laying on a green napkin. Changing out the color of napkins can change the whole look of a place setting. As you can see, I bent the watercolor paper a bit.
This plaid fall napkin is also a seasonal favorite.
As I said, this Pinterest Challenge was just for fun, so I switched out the neutral woven placemat for our other everyday placemats this time of year. This plaid can be used with several different colored napkins ~ I have cream, green, rust, burnt orange, and cranberry. Back came the wood leaf napkin ring.
And, for my last fall place setting, I added both the dinner and salad plate of our Thanksgiving dishes.
Now I have several ideas all ready to go for tables this fall. You can see how I used these ideas in a complete Thanksgiving tablescape.
Which one is your favorite? Do you ever just play around with different styles? This was like rearranging furniture or accessories to see which works best ~ on a small scale. Be sure to PIN these ideas.