How to Make Decorative Fall Plates
Fall is upon us. We want pretty things with a fall vibe. Would you like to know how to make decorative fall plates? I'm going to show you how.
Whether you want to use decorate fall plates as decorative decor or as dishes for your autumn tables, you can use this DIY project.
You can customize these plates to your liking. Once you know the steps, you then can pick your design and color, and gather your other supplies. You are ready to start making decorative fall plates.
This project is not hard, I promise. It's also very inexpensive. That's two checks in my book.
If you follow Bluesky at Home, you know I love creating pretty accessories for our home. If you enjoy the creative process, then you'll really like this project.
Decorative Fall Plates: an Easy DIY Project
This post contains affiliate links to products used in this project. If you should order any item from this blog, I may receive compensation, but you don't pay a penny more.
Are you an artist? If you are, then my hat is off to you. I'm not, so I rely on stencils to create artististic designs on all sorts of surfaces.

With the right stencils and other supplies, you can create designs that have depth, color and interest. It's easy when you know the steps to follow.
I did have a small inspiration for making these decorative fall plates. We found these darling bread and butter plates at a store called Mast General Store in Boone, North Carolina last month.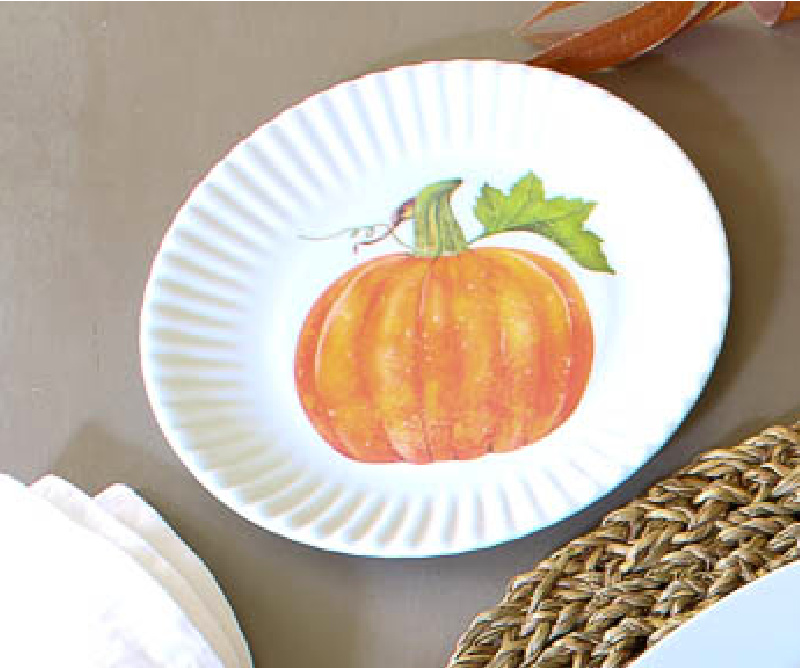 I still needed plates for salad for a little dinner party we were hosting. That's when the idea for making more decorative fall plates popped in my head.
Supplies for the Decorative Plates
It only takes a few supplies to make these decorative fall plates. I planned to use them as part of my fall tablescape.
a plate or shallow bowl of your preferred size ~ I found 4 shallow bowls at the Resale Shop back in July ~ $4.00 for all.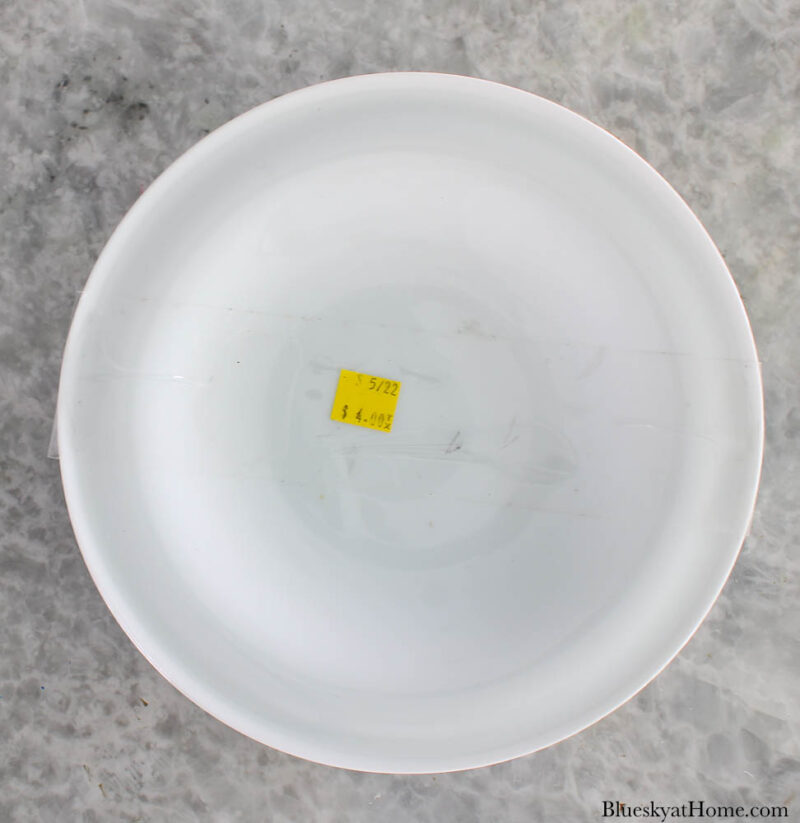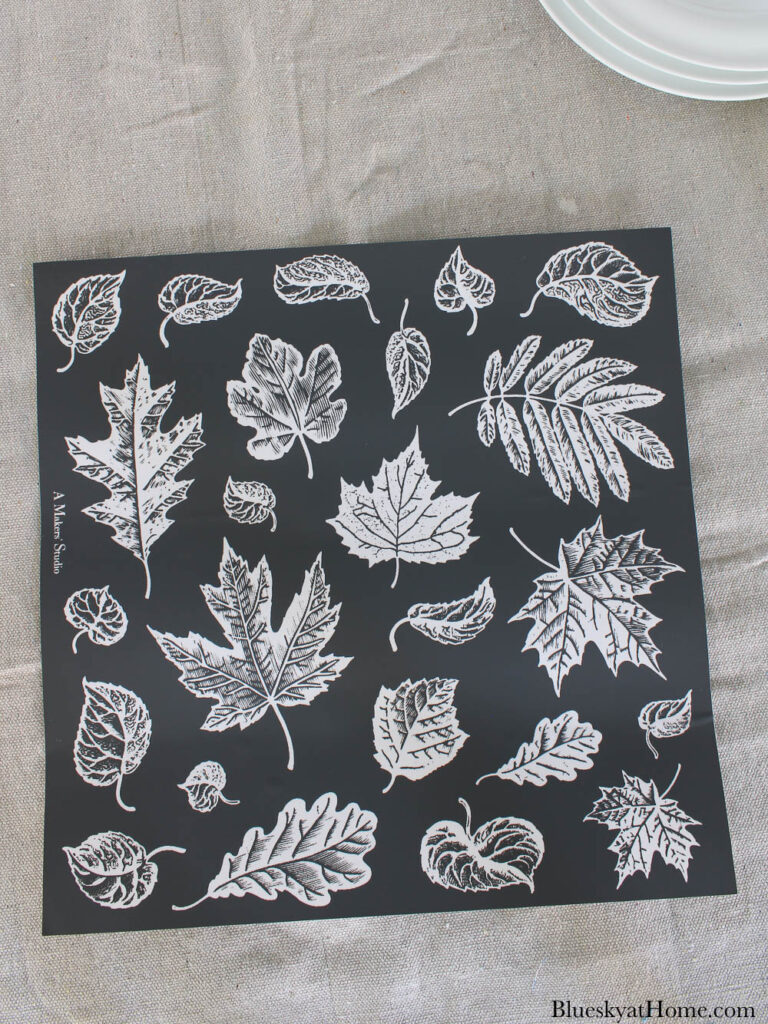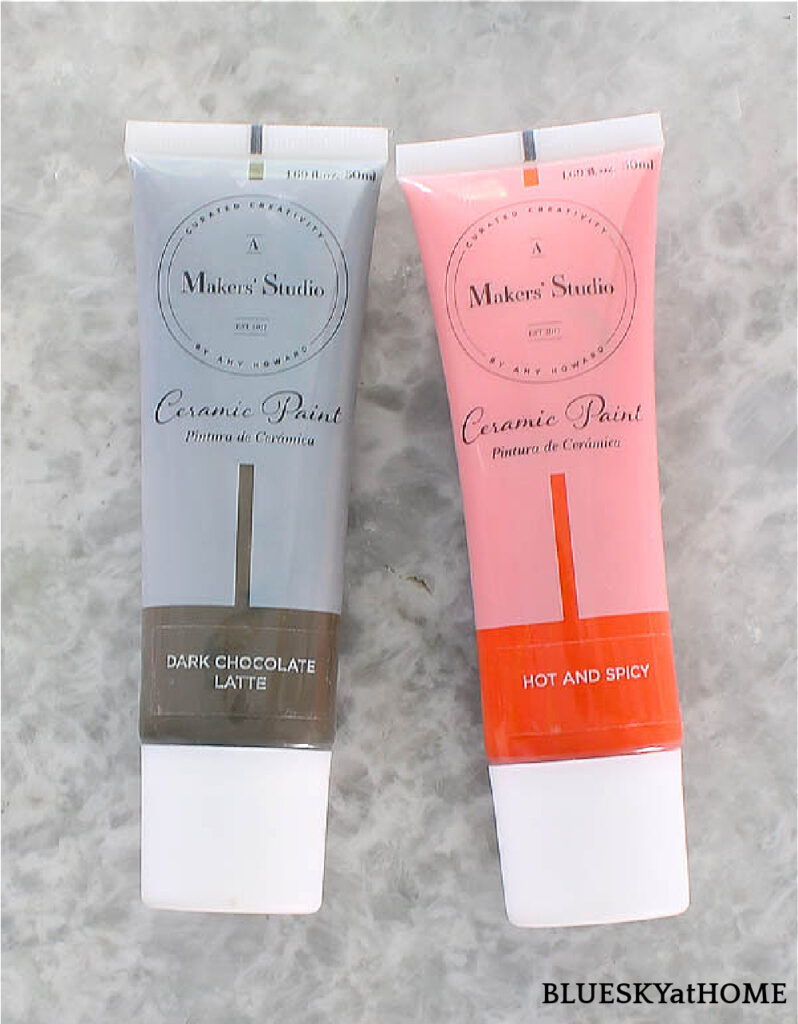 cover for work space
plastic scraper to apply paint and piece of cardboard
scissors ~ to cut out stencils
container of water ~ for cleaning stencils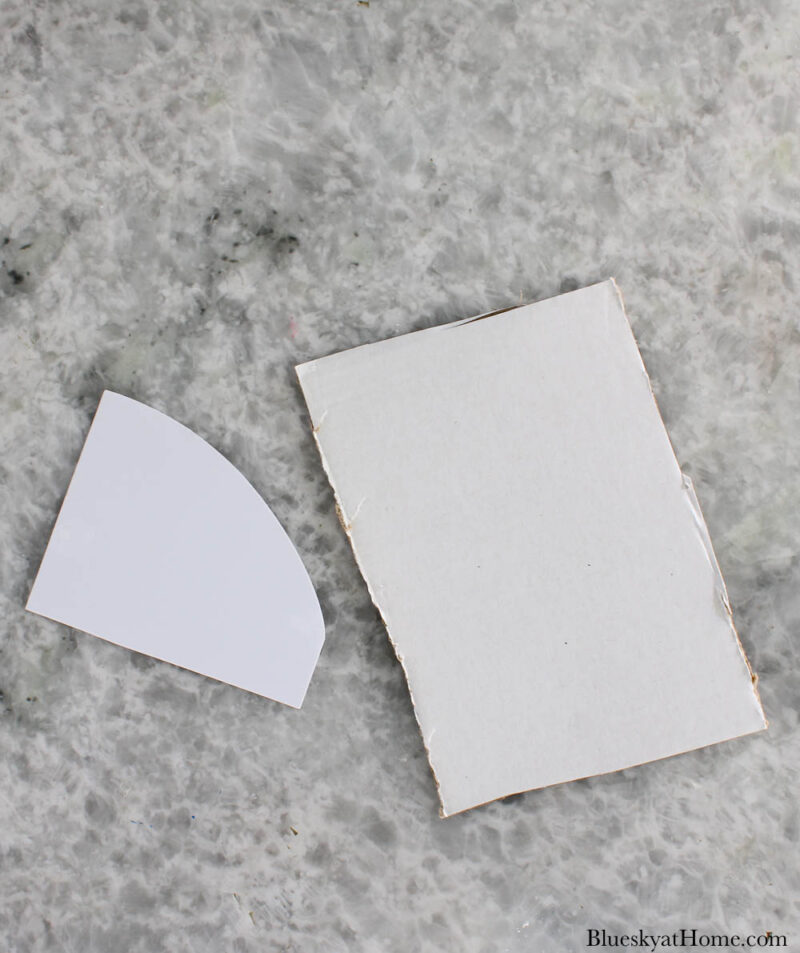 Why Ceramic Paint?
It can be applied to ceramics, porcelain, glass, and metal
It is food-safe
It can be microwaved.
It can be hand-washed.
It is no-bake.
It comes in a range of beautiful colors.
It goes a long way.
Why These Stencils?
Tri-mesh stencils allow for a depth of design.
The stencils can be repositioned if needed.
The stencils have an adhesive backing so they adhere to your surface and paint will not bleed through.
The stencils can be washed of paint and reused multiple times.
Step 1 ~ Prepare Your Plates/Bowls
Remove price stickers and/or tape from the plates. Thoroughly wash and dry.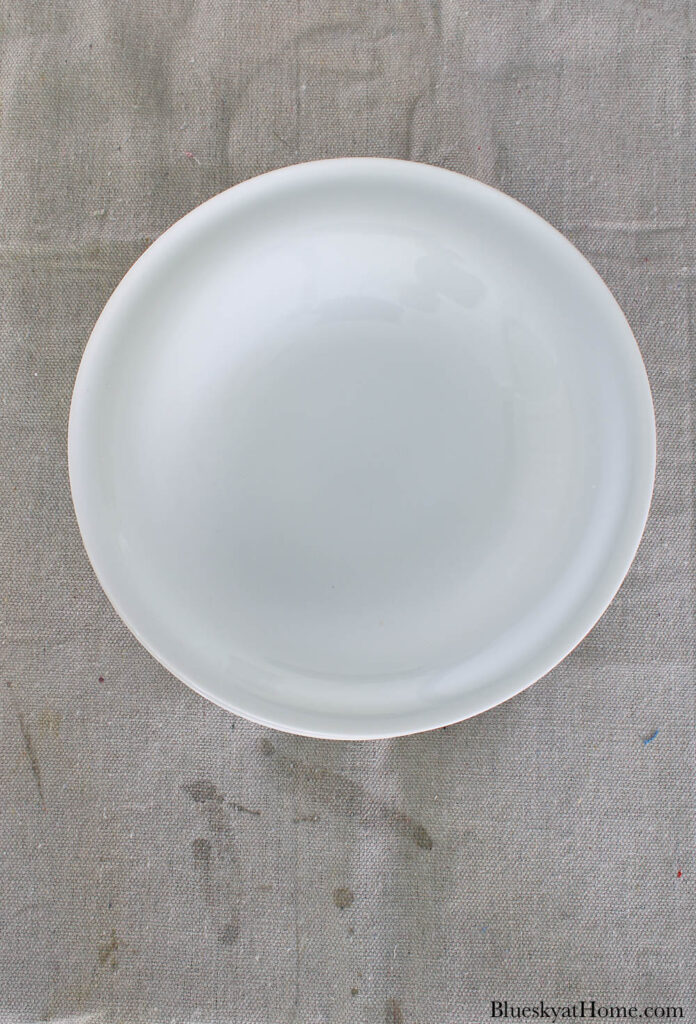 Step 2 ~ Prepare Your Stencils
Choose your stencils and use scissors to cut the stencil you want to use. I chose four leaf stencils.
Do not remove the stencils from the paper backing yet.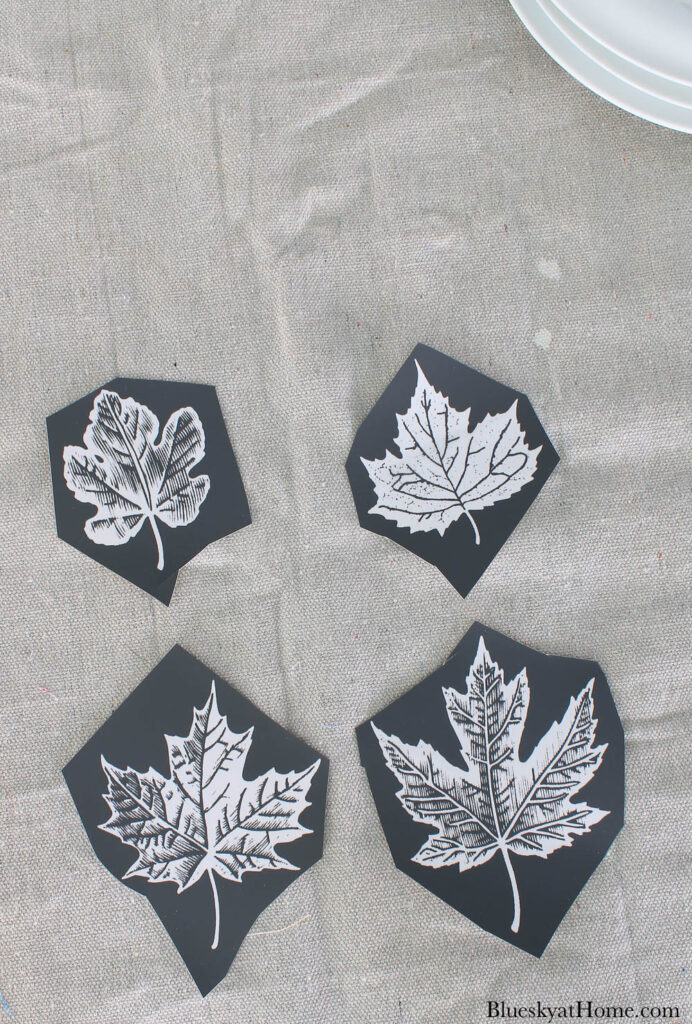 Pull the tri~mesh stencil from the paper backing. Place it on the plate and position where you want it.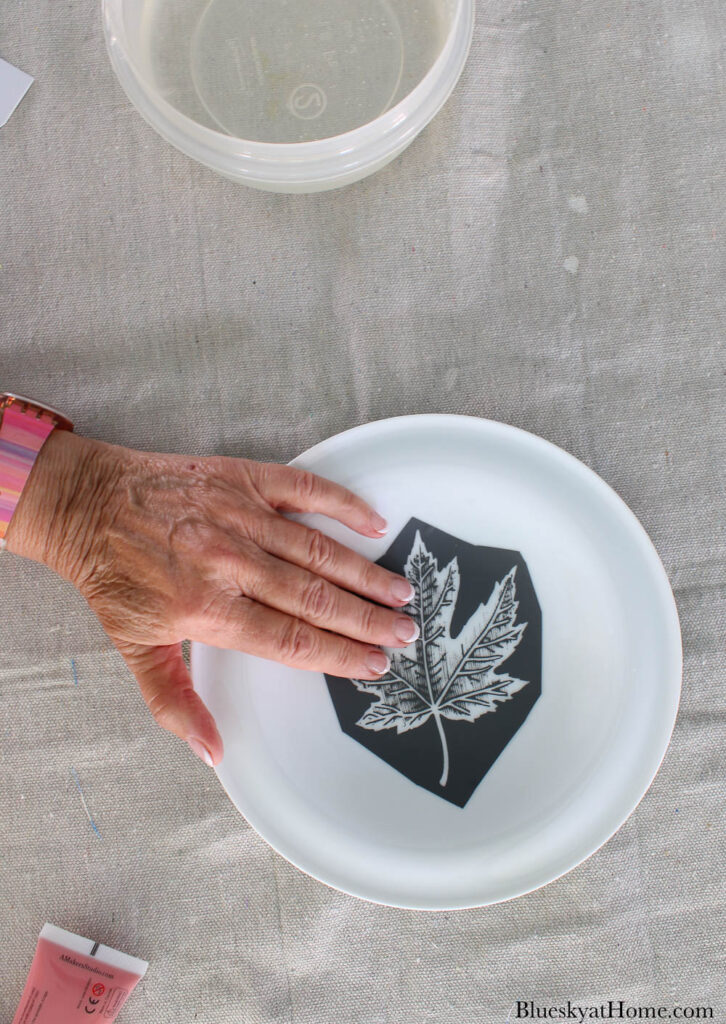 Smooth down the stencil on the plate. Make sure there are no bubbles. If necessary, you can remove the stencil and reposition it.
Step 3 ~ Applying the Ceramic Paint to the Stencils
Get your Ceramic Paint in your preferred color. Squeeze out a small amount of paint onto a piece of cardboard or glass.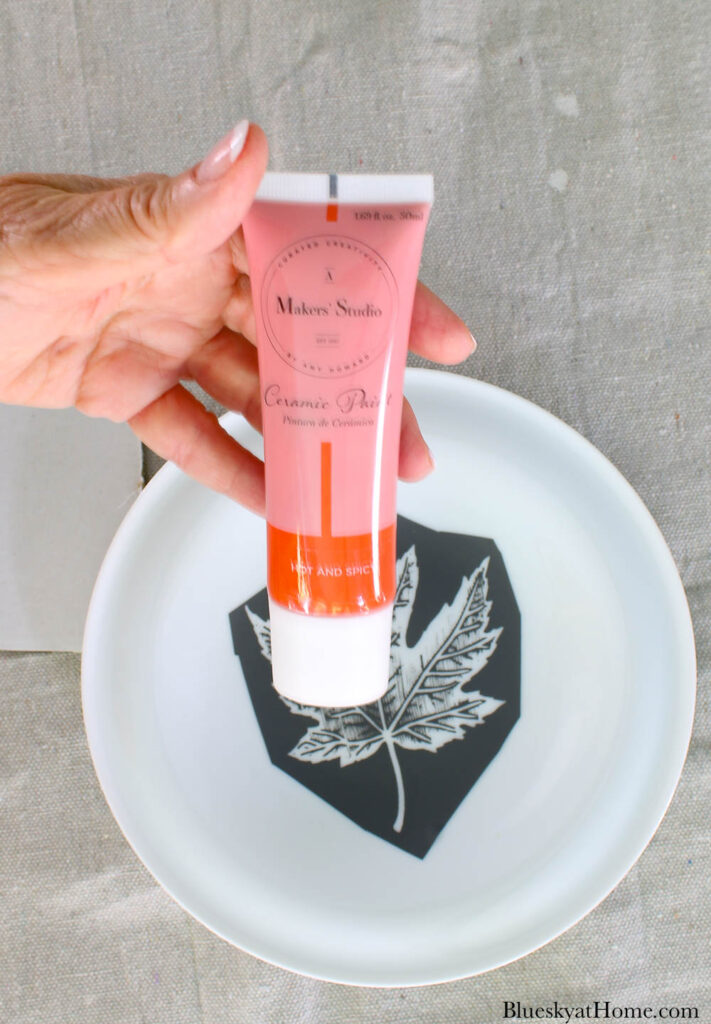 Use your plastic scraper to transfer the paint from the cardboard to the surface of the stencil. Smooth the paint across the stencil, pressing down as you go.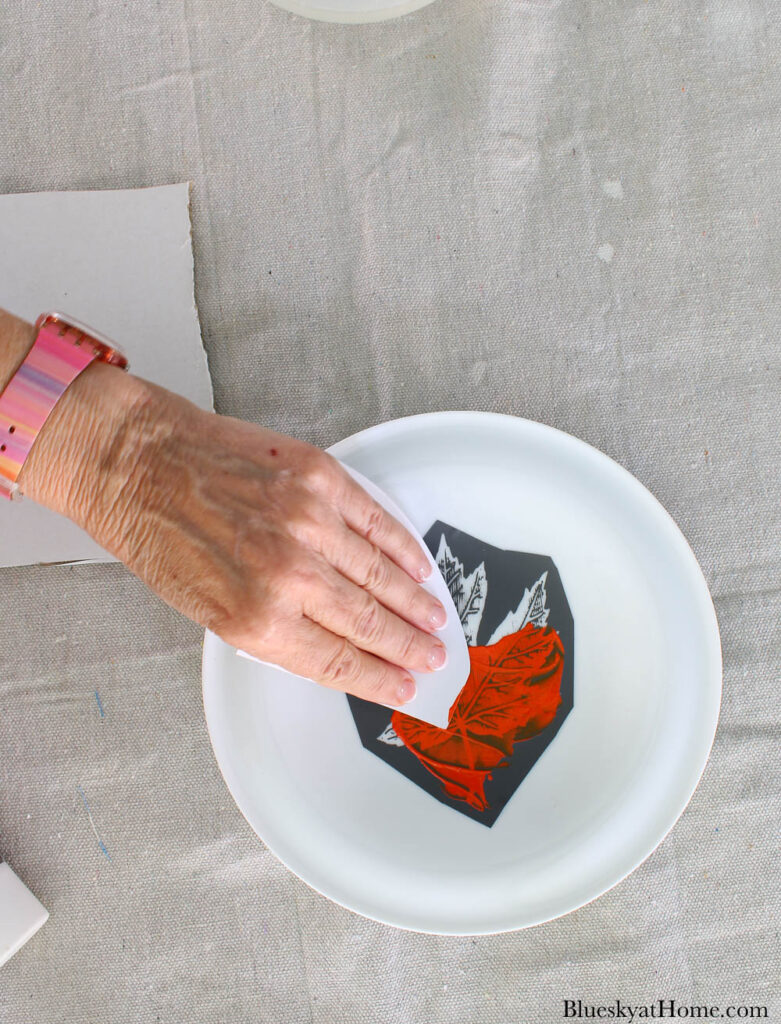 Be sure to cover the design completely.
Carefully remove the stencil from the surface. Use your scraper to "pick up" a corner of the stencil and pull it back from the surface to reveal your design.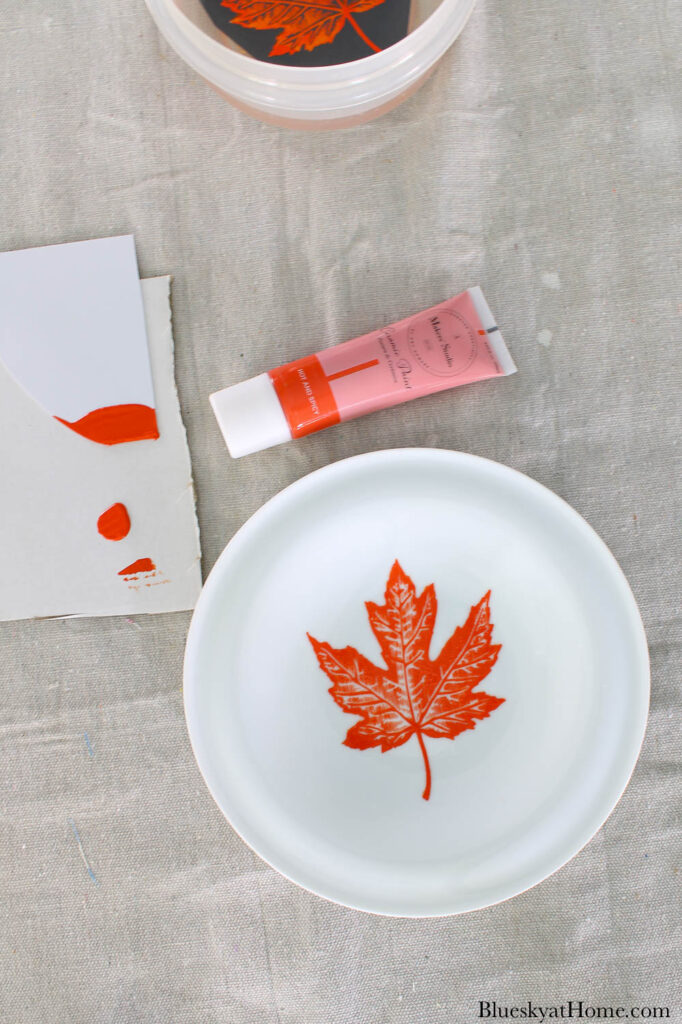 Cleaning Your Stencils
Have a bowl of water in a container ready. As soon as you remove the stencil from the surface, place it in the water. Use your fingers to rub off the paint from the stencil. When you have removed all the paint, remove the stencil from the water. Place the stencil, design side down, on a paper towel to dry.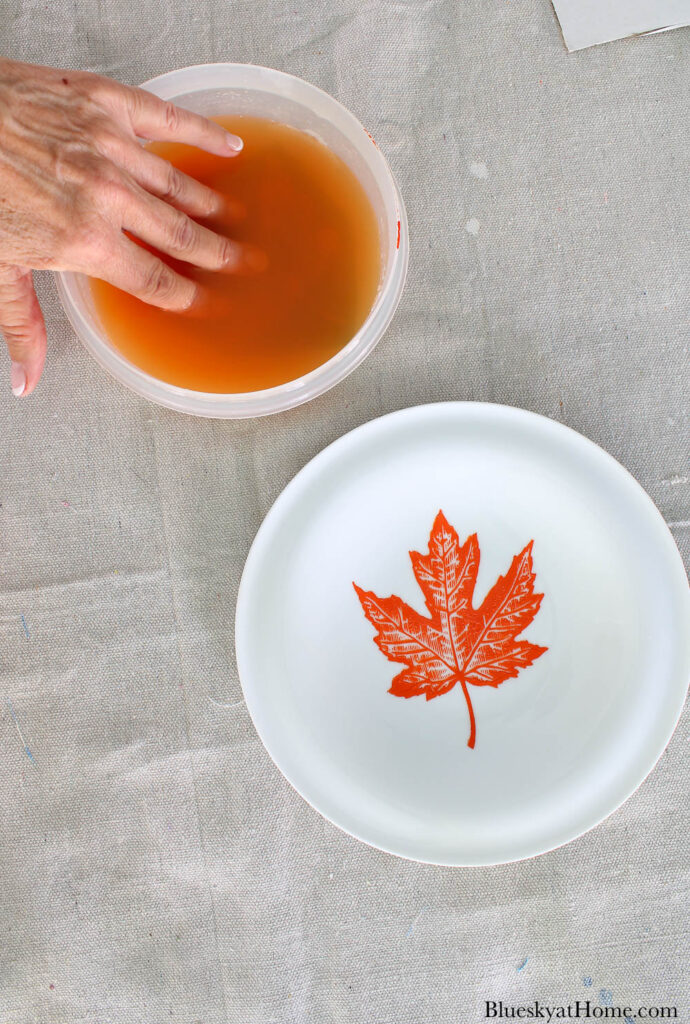 Discard the colored water and refill your container with fresh water.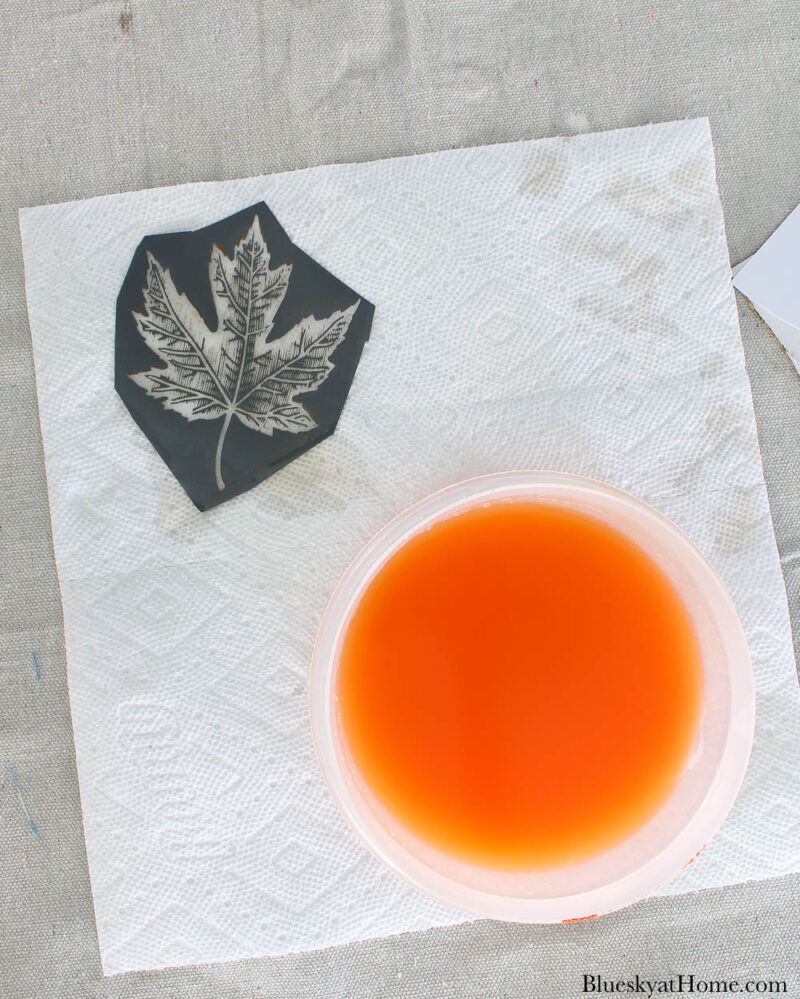 Repeat this process with your remaining plates and stencils.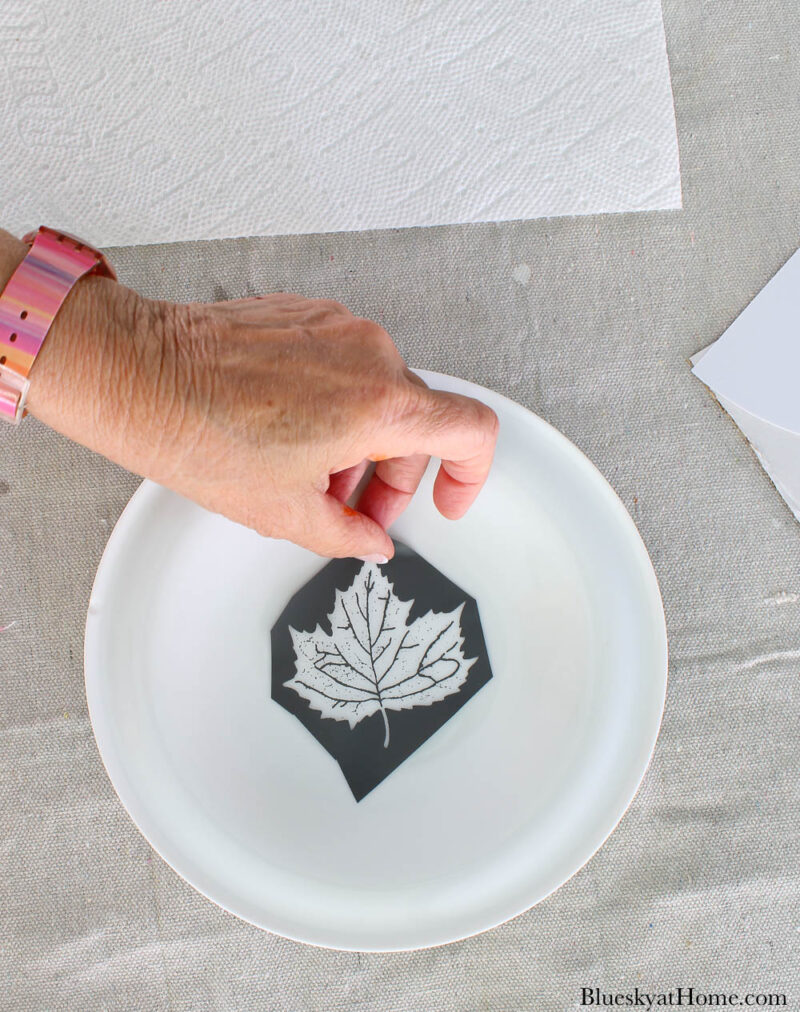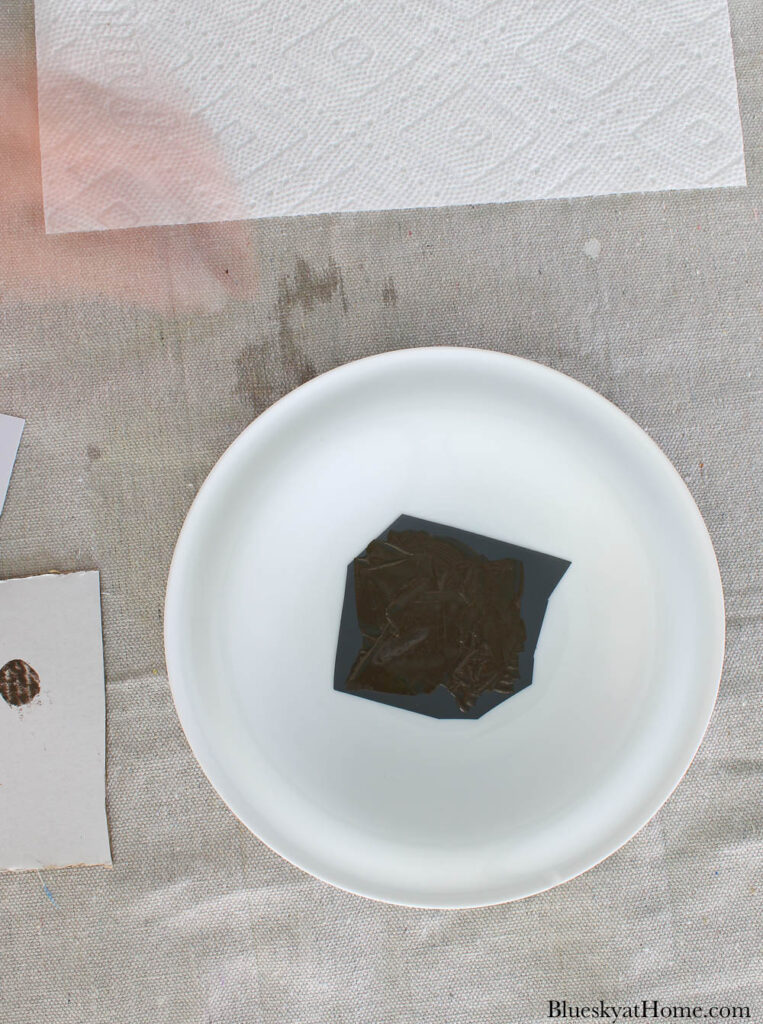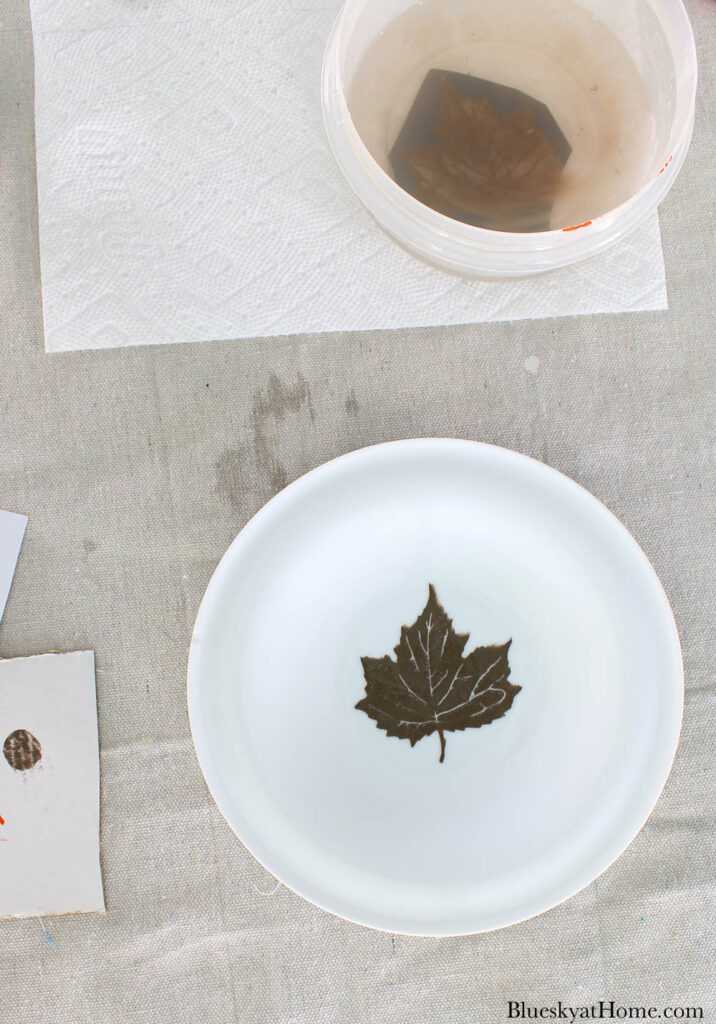 After you finish applying the Ceramic Paint to the stencils, allow the paint to thoroughly dry. I let mine dry overnight.
Finally, return your stencils to the paper backing and store in the plastic envelop.
Using Your Decorative Fall Plates
You could use the decorative fall plates as a decor accessory. You could also attach a hanger to the back of the plate and hang it on a wall or cabinet.
I chose to use mine as actual dishes on my fall tablescape.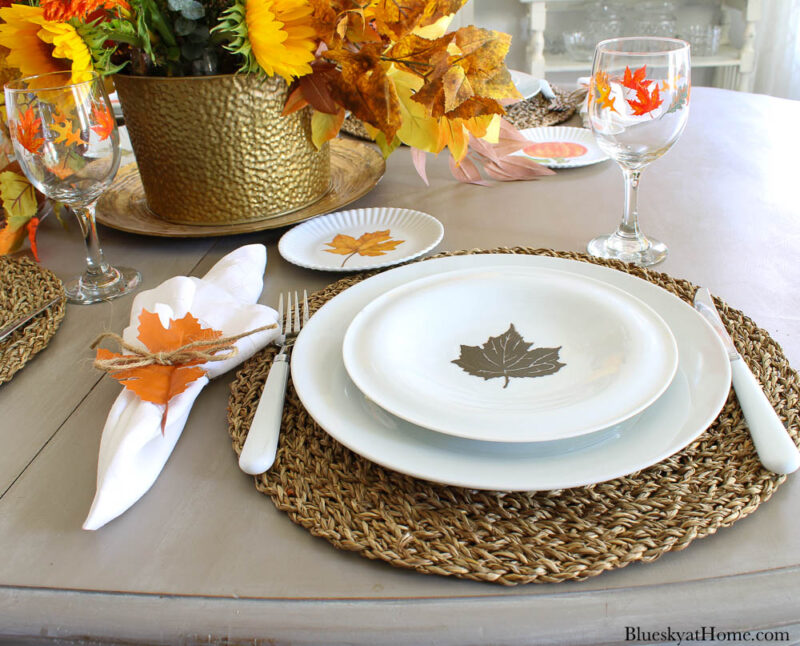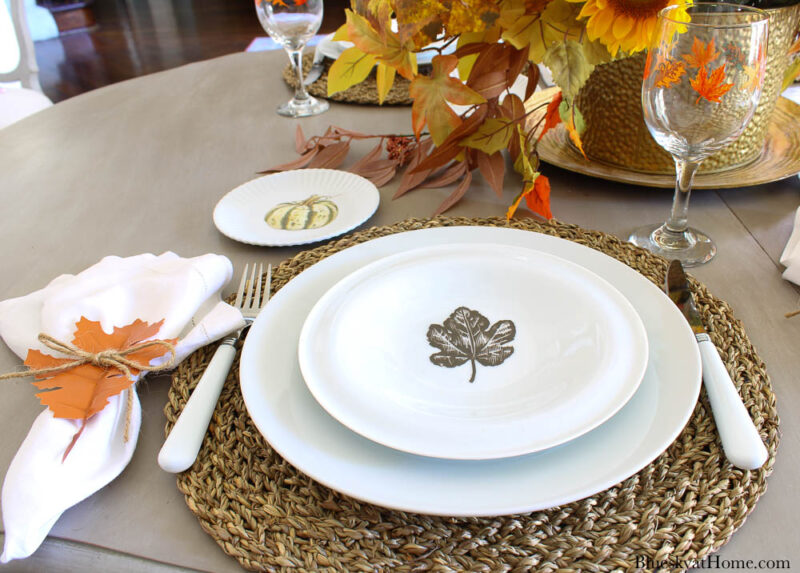 That's how easy it is to make decorative fall plates. You can pick different designs to have completely customized plates or bowls of your own.
More Ideas for Using Ceramic Paint
I love using Ceramic Paint and Stencils to make decorative items for our home. Would you like to see some more projects like this one?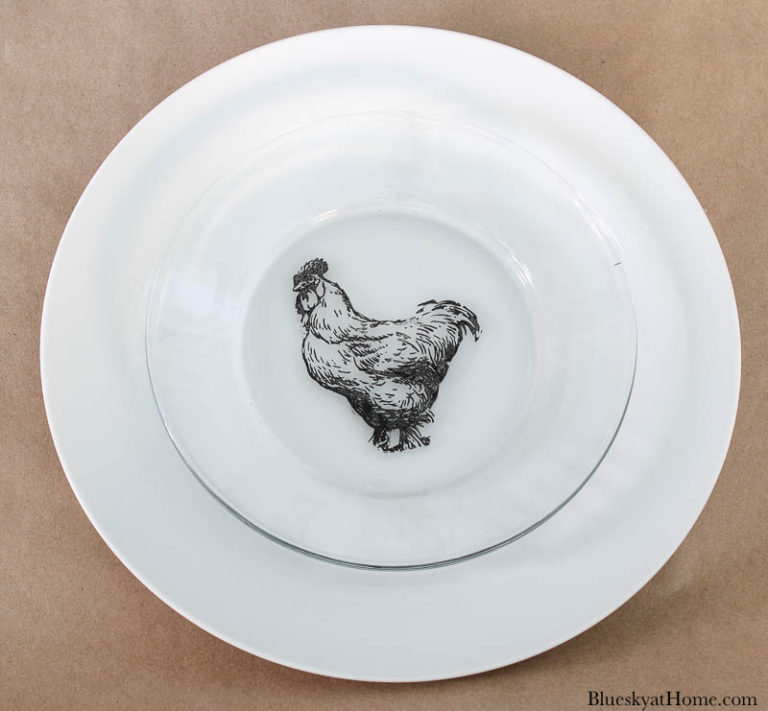 How to Paint Glass with Ceramic Paint
Have you ever painted glass? Let me show you how to how to paint glass with ceramic paint for your home. Learn how to create your own custom dishes, vases, and glasses with vibrant pops of color and custom designs.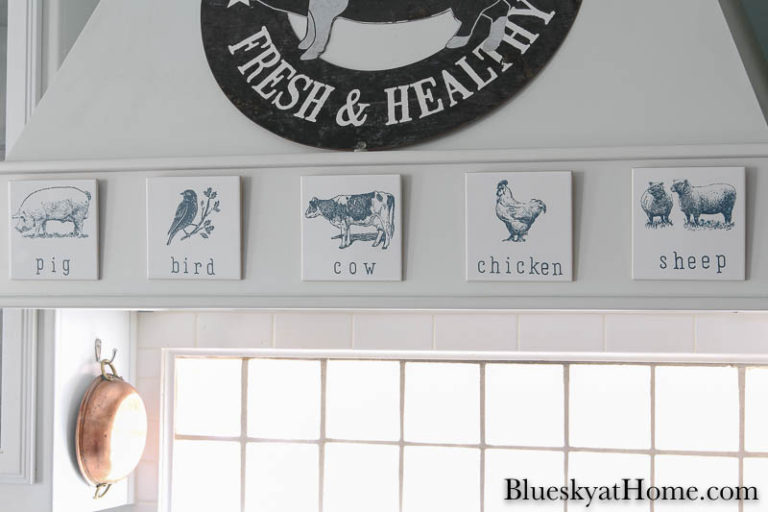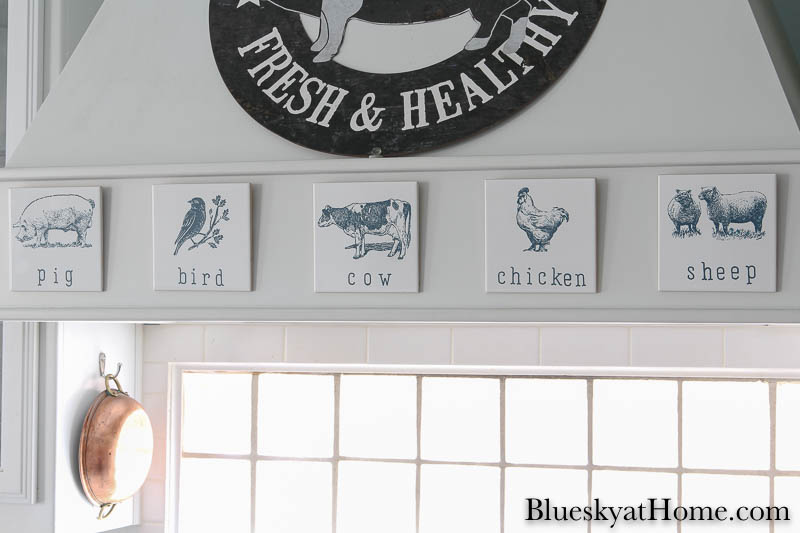 How to Make Farmhouse Decorative Tiles
Decorative tiles for floors, backsplashes and accessories were really popular. As you might know, they can be expensive, depending on the materials, the source, and the design. It's so easy to make farmhouse decorative tiles.
You could have these lovely decorative fall plates for your own. Just pick out your favorite stencil and Ceramic Paint colors and order them now. And don't forget to think ahead to Halloween, Thanksgiving and Christmas.
Be sure to PIN these Ceramic Paint projects for inspiration.