Cozy Fall Decor Ideas for the Living Room
It is time for seasonal decor in our homes. With the coming of cooler weather in the next few weeks, our thoughts turn to finding the best ways to bring fall into our homes. I'm starting my fall decorating with some cozy fall decor ideas in our living room.
Do you need ideas for adding fall decor to your living room spaces? Then I hope the suggestions I share in our own home will inspire you.
Over the past weeks, I've come to look forward to the fall season more than in the past. Maybe it's because of our very hot summer this year. Or maybe as we get older, we like cooler weather more.
Whatever the reason, I am ready to add fall colors and pumpkins to our home, beginning in our living room.
Living Room Fall Decor Ideas
For this year's fall living room decor, I wanted a simple, but cozy feel.
Let's start with the mantel and fireplace. It's the main focal point in our living room.
Fall Mantel and Fireplace
My first idea is to dress up your mantel with fall foliage. I have quite a collection of fall foliage so there are several different styles and colors.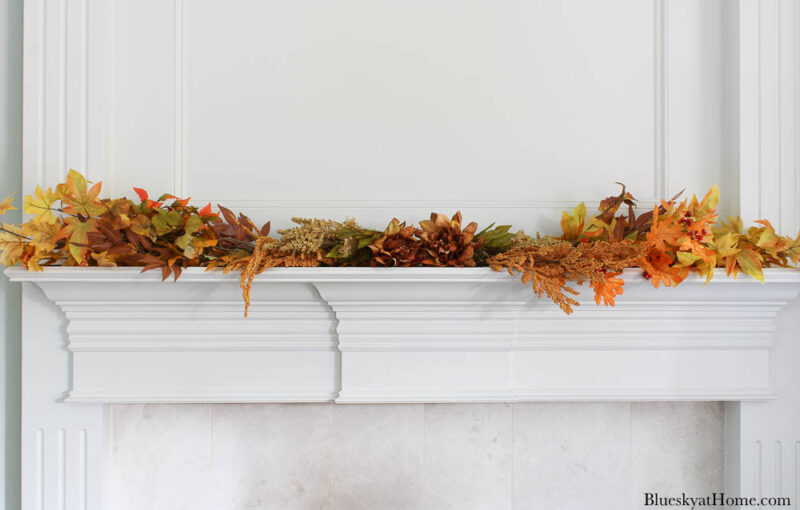 I used several different colors and stems of fall foliage in a symmetrical and balanced manner across our mantel. The faux foliage has been up for a week ago since we were having guests for dinner.
Fall foliage will immediately give the living room a cozy feel.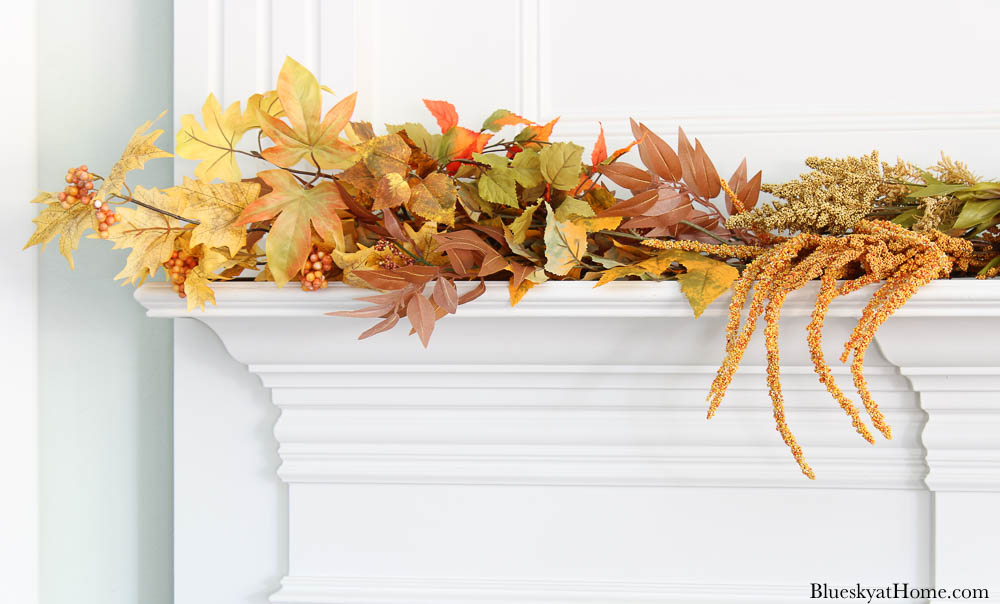 Although classic and orange and traditional fall colors are not my usual favorite colors, for fall they are so appropriate. I think you should embrace the colors of fall you like best.
Those colors could either be soft neutrals – creams, browns, or taupes. As another option, you can opt for oranges, golds, mustards, rusts, or burgundy.
Or you can use a combination of both colors.
Since our fireplace is quite large and tall, it takes a lot of items to fill the space. To do that, I used a combination of natural elements.
First I added a large mirror framed in dark wood. (This mirror belonged to Sweet Shark's grandmother.) It was in the powder bath in our previous home. Since we moved to our present home, it's been in one of the guest rooms.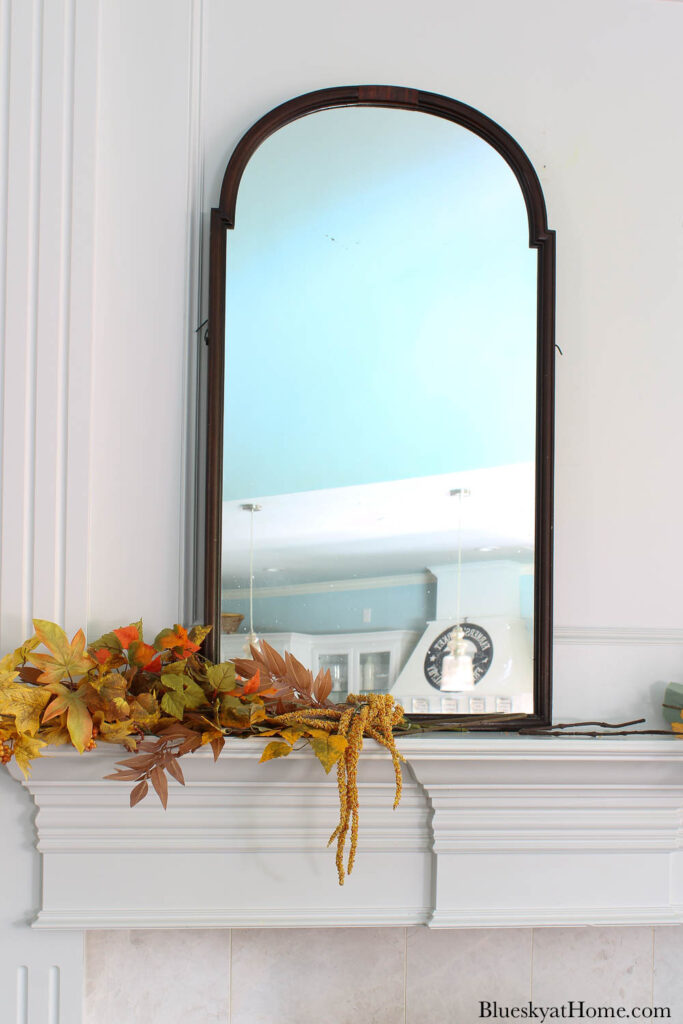 It became apparent that I had to remove the foliage in order to decorate the rest of the mantel.
For another natural element, I next added the teak leaf from our salvaged patio table. The weathered teak wood adds warm tones to the bright white of the mantel.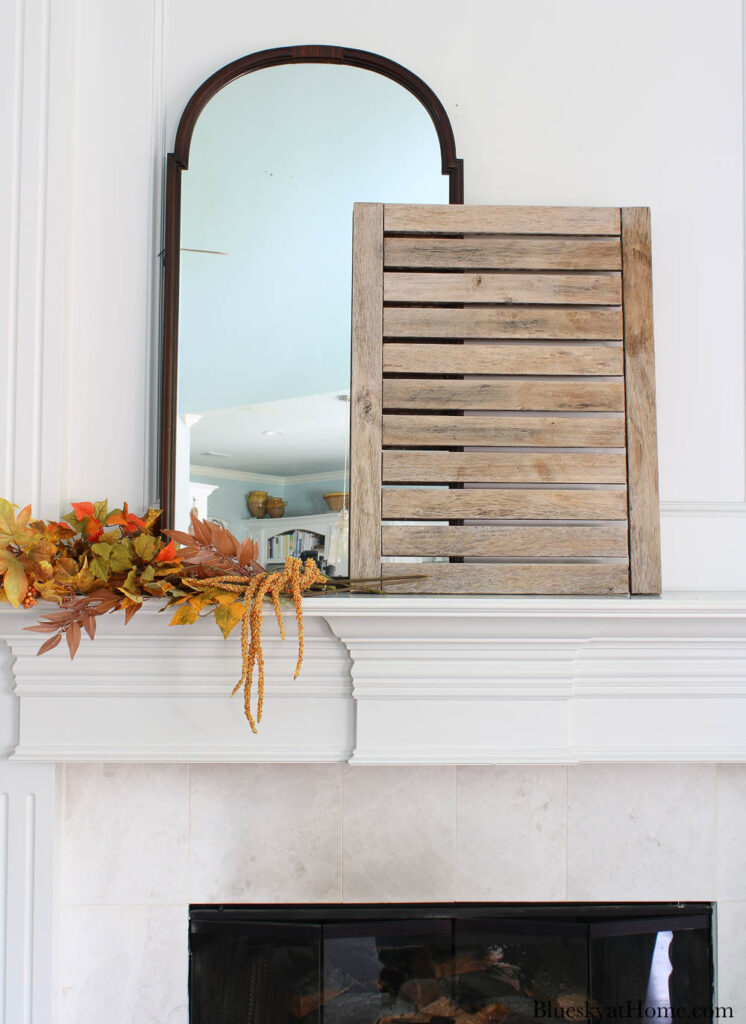 To complete the tiered backdrop to the fall foliage, I added the leaf art that I made last year. This piece added to the "leaf motif" that I began with our dining room leaf theme.
The leaves give a pop of color to the neutral background.
With the three natural pieces in place, I could now add back the fall foliage across the mantel.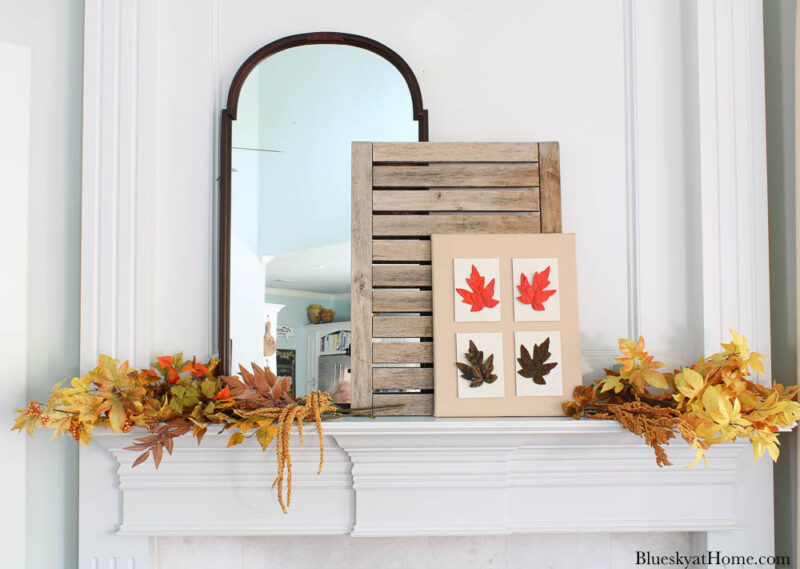 At the center of the mantel, I used two flower napkin rings to bring the two sides of the fall foliage together.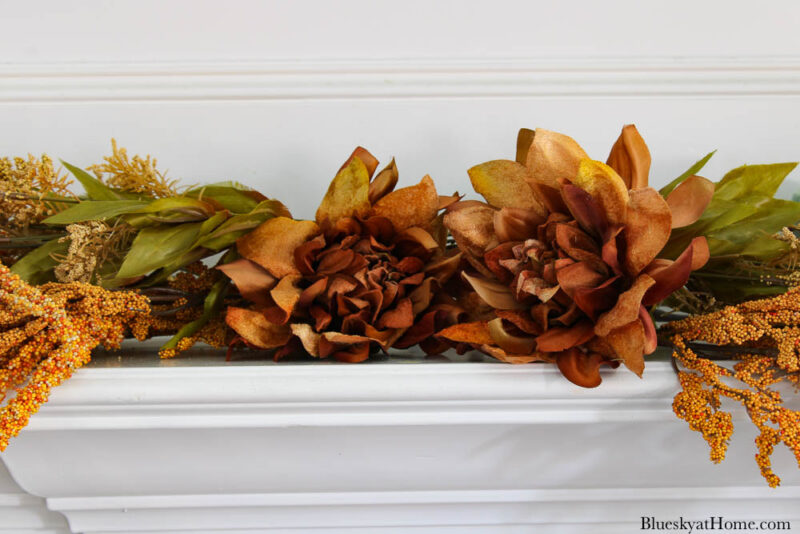 I originally planned to add candlesticks with orange candles. The mantel seemed full enough, so I used the candlesticks and candles on our sofa table.
To add more color to the fall mantle and continue the leaf motif, I added some "falling leaves". I found this package of 8 leaves at Dollar Tree. They have a leathery texture to them. I also used them to make napkin rings for my fall table.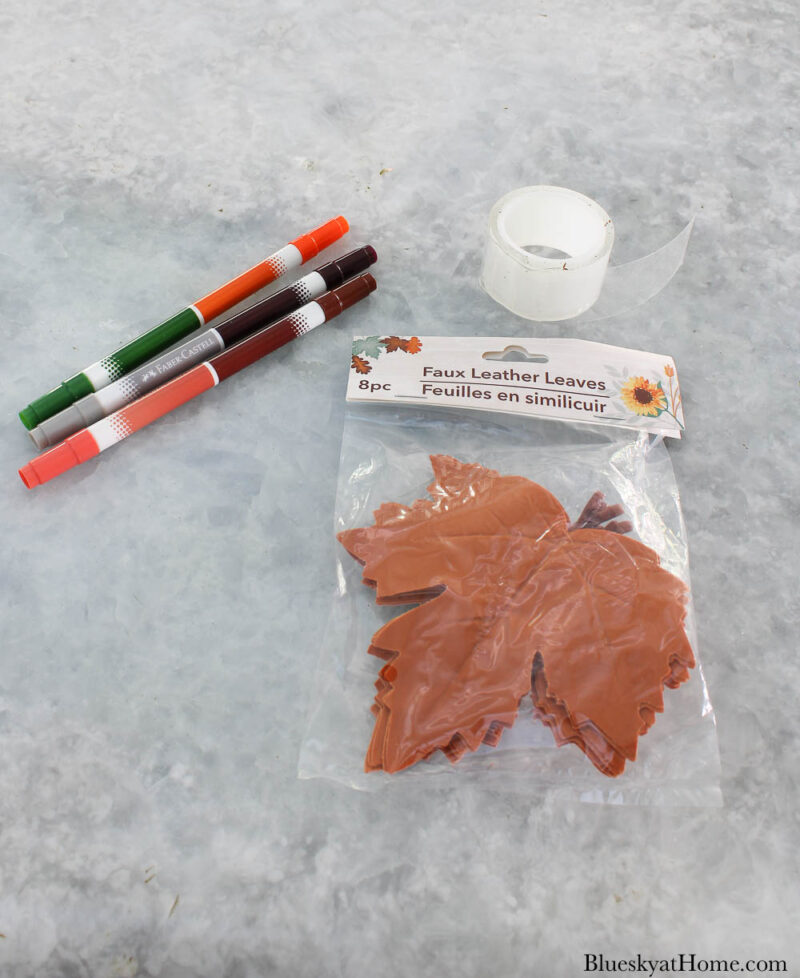 To give more definition to the leaves, I used a dark brown marker pen to the indention lines on the leaves.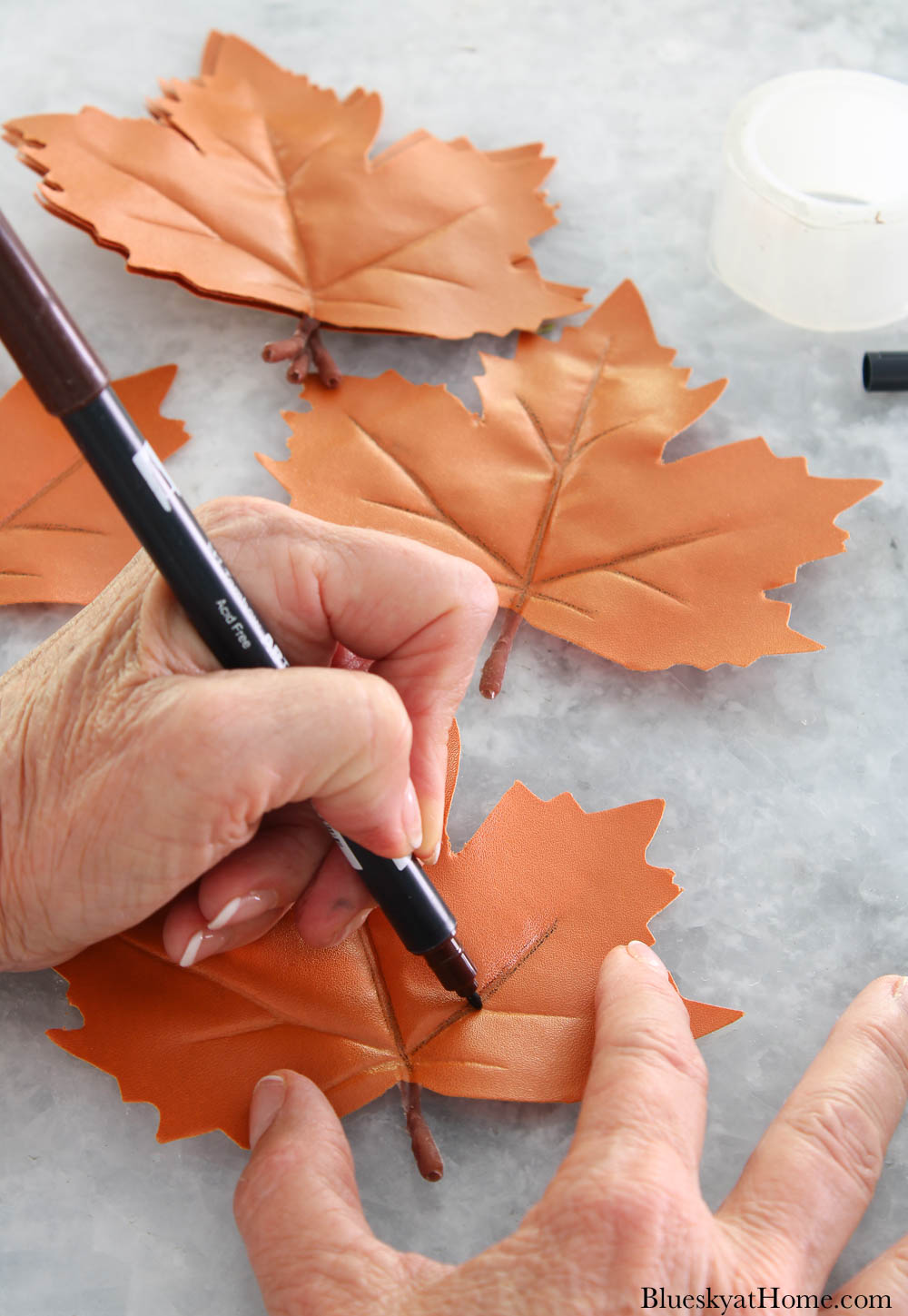 Using double-stick tape, I created a falling leaves arrangement. That completed the mantel for our fall living room.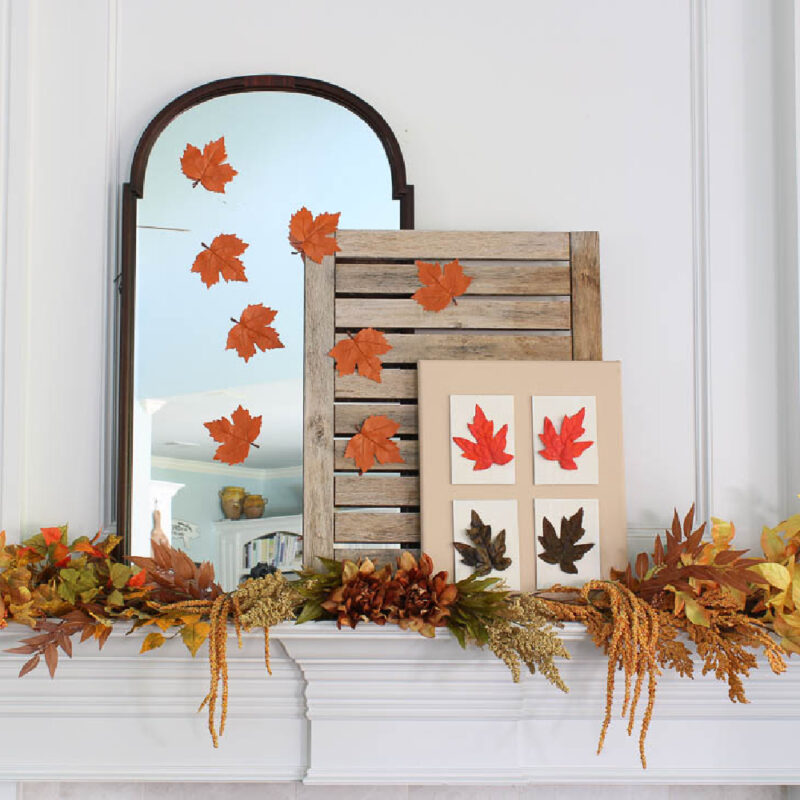 Fall Fireplace Hearth
I recently created a vignette for the hearth area of our mantel. It centered on baskets, trays, fall foliage and pumpkins.
As you can see, I moved the weather teak wood from the hearth to the mantel.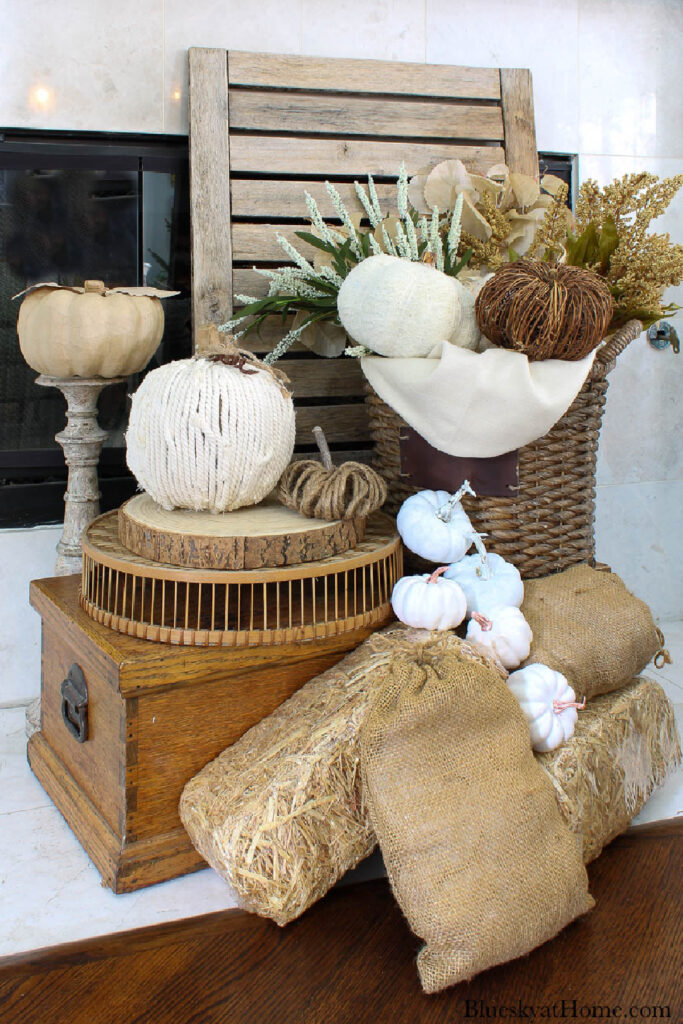 Within a few days, Nola had grabbed my small yarn pumpkin and carried off the white pumpkins. I removed them and added two fall pillows.
I also added more fall foliage in orange to continue the color of the mantel.
The pillows hopefully will be safe from puppy antics. The pillows not only provide a big pop of color but also add a soft texture to the vignette.
The mantel and the fireplace begin the cozy fall decor I wanted in our living room.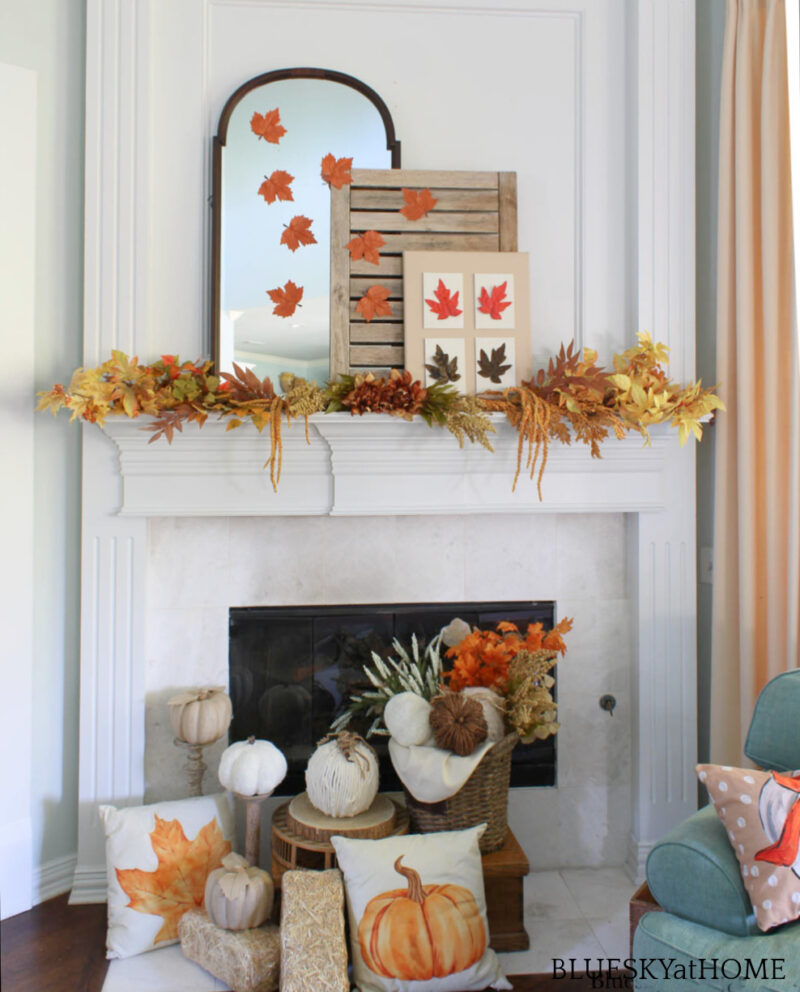 Fall Coffee Table
Like mantels, coffee tables are prime home decor real estate.
Do you have a nice size coffee table? Use it to add color, texture, and a focal point to the center of your sitting area.
I began with a rustic round tray. I found it a year ago at a fabulous decor shop in Grandbury, Texas. It has a basket weave base made of galvanized metal with jute twine handles.
First, I added a glass vase – another Resale Shop find – filled with decorative orbs. Another example of adding texture and interest in natural colors.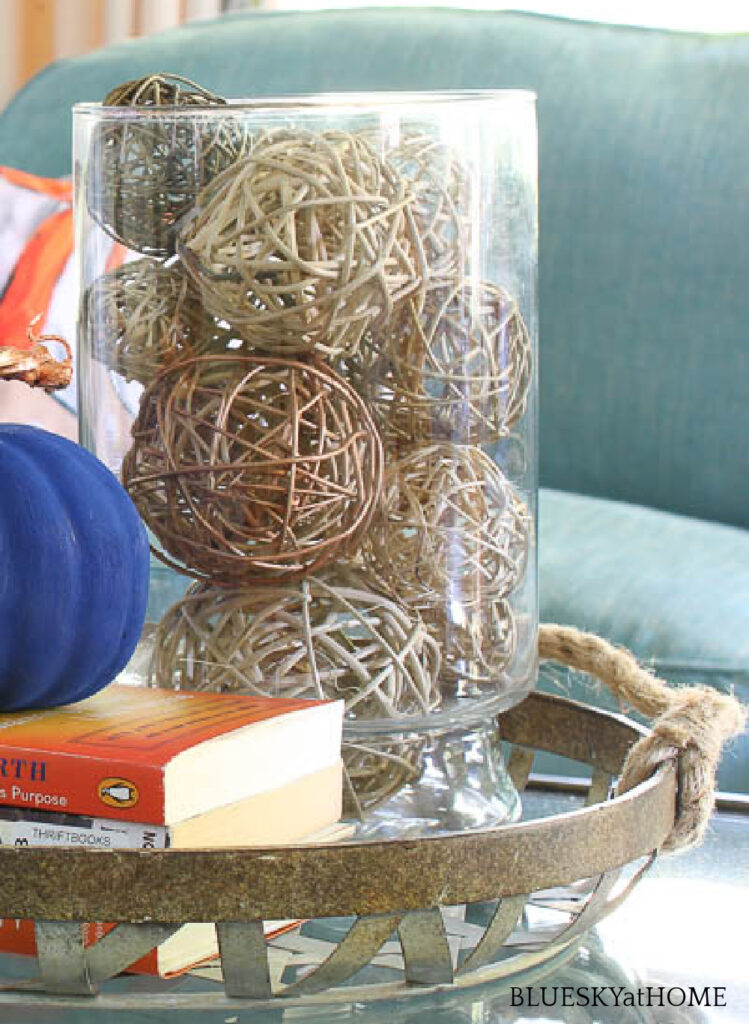 For another pop of orange color, I stacked three paperback books with orange covers.
The books needed a little something. I tried a couple of neutral pumpkins, but the area needed some more color.
This choice may seem off-the-wall, but one of my blue-painted faux pumpkins suddenly came to mind.
I actually love the bright blue with the orange books. It really brings your eye in.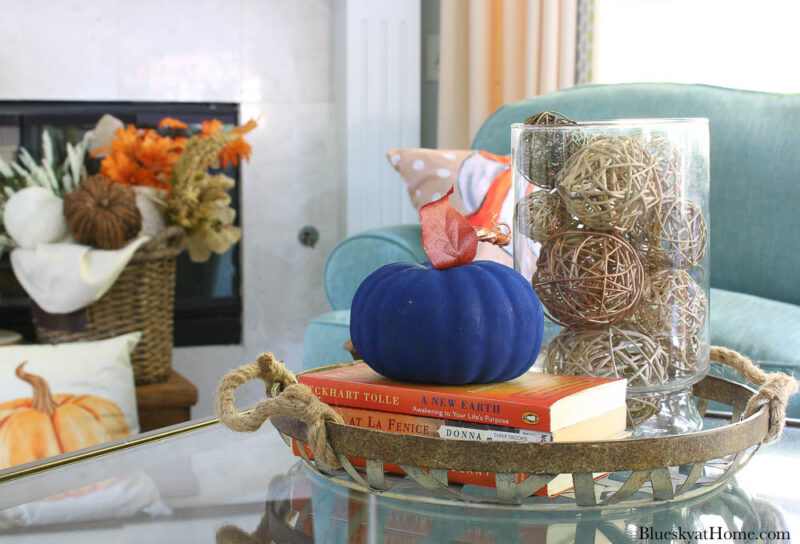 What would fall be like without fall-scented candles? To complete the coffee table decor, I chose a large muted orange candle to place on a stack of coffee table books. The books originally were in shades of blue. I changed them to three books with a fall color palette.
Two DIY wood bead strands added more texture.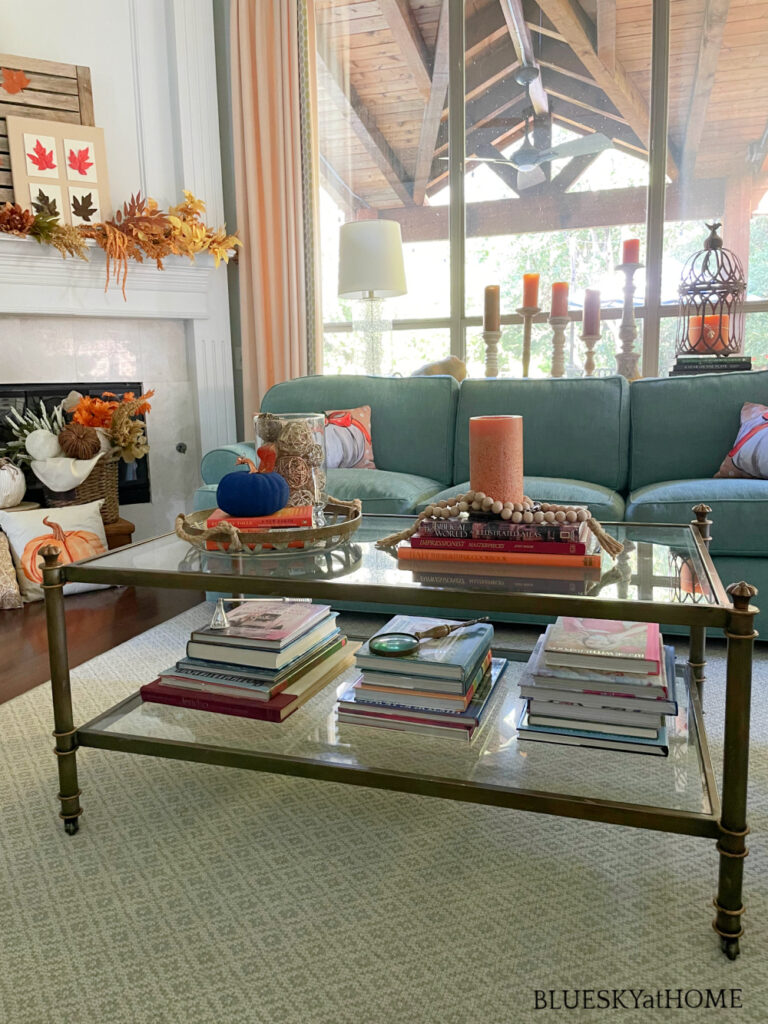 Fall Decor on the Sofa Table
For the table behind our sofa, I carried on the theme of candles. I love my collection of natural wood candlesticks in a variety of heights sitting on a brass tray. Orange candles continue the color orange.
I scattered several faux leaves on the tray.
My metal lantern (from the same store in Grandbury) holds a large scented candle.
I moved my burlap bags from the hearth (another temptation for Nola) to fill in next to the brass tray.
Here, a variety of textures and materials combine for a natural color scheme. At night, the glow from the candles will give a cozy fall feeling to the living room.
Throw Pillows on the Sofa
Matching throw pillows on the sofa makes for more comfortable seating. The pumpkin design is an obvious choice for fall color schemes.
Nola likes them, too.
Cozy Textures on a Ladder
One of my favorite flea market markets is the ladder that I found in Atlanta several years ago. It's the perfect place in the living room to display throw blankets. They add the right touch for a cozy living room.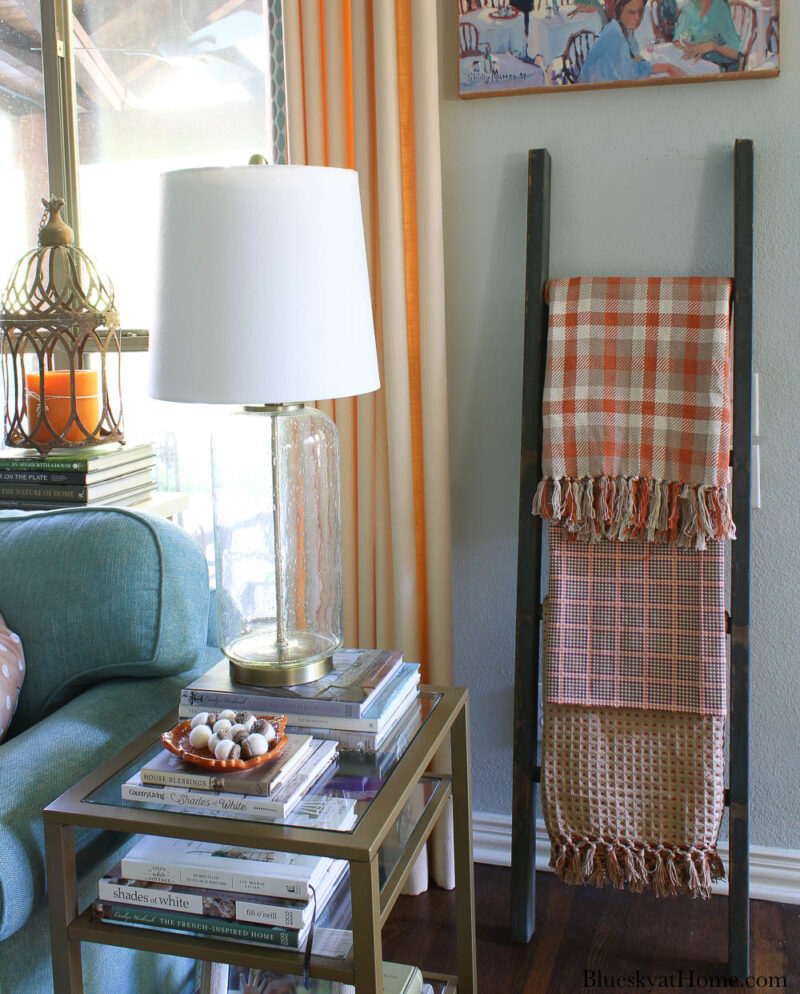 Actually, the one on the bottom rung is a large tablecloth, but it has the perfect fall pattern and texture.
Fall Side Table Accents
Seasonal touches in small amounts can give your living room a cozy feel.
This ceramic dish is part of a set of four ceramic leaves that I bought years ago at Crate and Barrel. Here are a set of 4 pretty leaf plates that would work nicely.
I used two of them as a place for acorns – another fall symbol.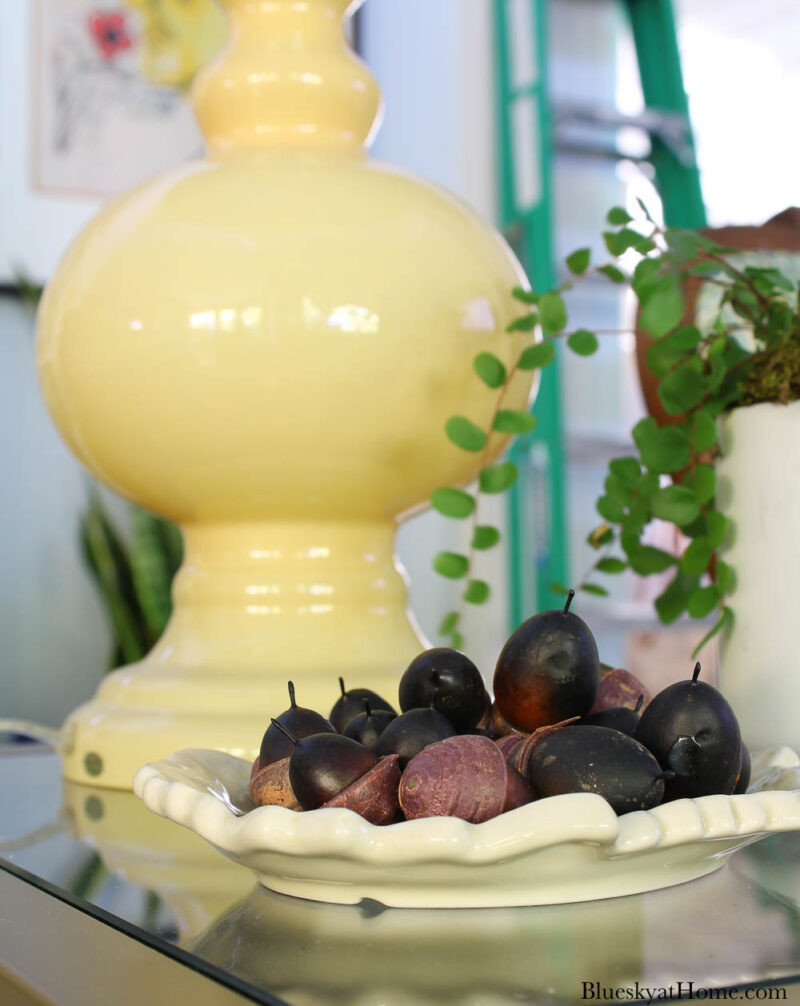 This set of acorns is a DIY project using felt balls and real acorn caps that I collected from our neighborhood.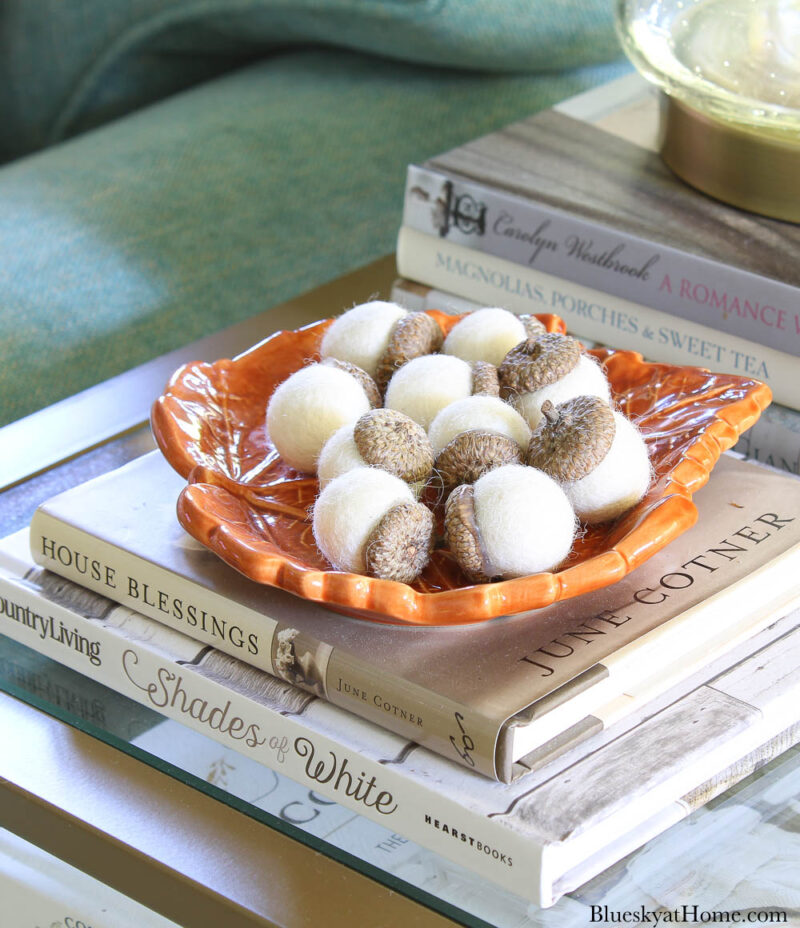 Shopping Ideas for a Cozy Fall Living Room

That completes these cozy fall decor ideas for the living room. Nothing elaborate. Just simple ideas that add warmth and comfort to your living room space. And I was able to use items I had in a new way.
I hope you will PIN this post to serve as a reminder of cozy fall living room ideas.