10 Best Fall Home Decor Ideas
You may not be ready to actually switch your home decor from summer to fall. But you probably are ready to search and gather ideas for fall home decor ideas. Here are 10 Best Fall Home Decor Ideas to get you started.
How do you decorate your house for autumn? I found that the best plan is to browse through Pinterest and home decor magazines. Visiting home decor stores is also a good place to find inspiration. These are the best places to find ideas for fall decorating.
When should you decorate your house for fall? When you are ready for a change of scenery. I know that it's time to decorate for fall because I saw tons of fall decorations at Target Dollar Spot.
How do you decorate tastefully in the fall?
Use all the resources that you can find.
Decide what you like best.
Inventory what you have on hand.
Make a list of new accessories you want to incorporate into a new fall home decor look.
Welcome to 10 Fabulous Finds at Bluesky Browsing #50.
Think of 10 Fabulous Finds as a home decor/DIY/Craft/recipe Readers' Digest.
In case you are new to Bluesky at Home, what fabulous finds do I share at Bluesky Browsing?
ideas to help you in your home decor efforts
ideas for better organization and efficiency.
a yummy recipe or cocktail
fun DIY projects
the latest trends in home decor
a quirky new find or two
Focusing on finding new projects, resources, tips, new ideas, and inspiration for you is my main task. I'm constantly discovering fabulous finds to inspire us. My goal is to help you find ideas for your home decor, your crafting, your home organization, and anything about home.
This post contains affiliate links to products and resources you may love to have. If you should order anything from this site, I may be compensated, but you don't pay a penny more.
Are you a new or intermediate blogger? Every week I share valuable blogging resources and tips. If you would like to receive The Blogger Bulletin, please join the Blogger Bulletin. It's just once a week and is a quick read.
ON THE HOME FRONT
It was a super busy week. Gathering and updating the posts that I want to share during Autumn in August week takes some time. I love looking back and finding some of my favorite projects for you.
Last Sunday Sweet Shark and I went to see Mrs. Harris Goes to Paris. It's a delightful story of determination and dreams. There's no sex, drugs, language, or violence. You will walk out with a smile on your face. The acting is really good, too. And there is a really cute guy and a beautiful young model.
I watched a movie on Netflix called Woman in Gold with Helen Miren and Ryan Reynolds. It came out in 2015, but I had not heard of it. I loved this true story of restitution and redemption. It's beautifully photographed, the acting is first~rate, and it contains the gamut of emotions. Find it and watch it.
Today, Sweet Shark and I are flying (as you may be reading this post) to Charlotte. Then we are driving to Blowing Rock NC to spend a few days with friends and neighbors who live there for 6 months of the year. We are so excited to see a new part of the country and get out of the Texas heat to the mountains. Then we drive to Nashville (where we have never been) for a few more days. We have tickets to the Grand Old Opry!
This week on the blog was Autumn in August ~ all about fall DIY projects: How to Make a Pumpkin Wreath, How to Make Wood Fall Signs, and How to Make Pumpkins with Yarn. I'll be sharing a few more August in Autumn posts next week.
Best Fall Home Decor Ideas: 10 Fabulous Finds
Here we go with Bluesky Browsing #50.
These ideas run the gamut from fall home decor in living rooms, kitchens, bedrooms, and entries. There are also fall accessories and vignettes that you will love. Visit each feature, take notes, and SAVE this PIN to your Fall Decor Boards.
Just FYI: the images below are just one of many from each resource.
This lovely fall scene from Designenthusiam features a soft palette of neutrals, whites, and pink. Notice the copper urn and wheat on the mantel. There is also a variety of textures ~ the chunky sweater pillow and velvet pumpkin.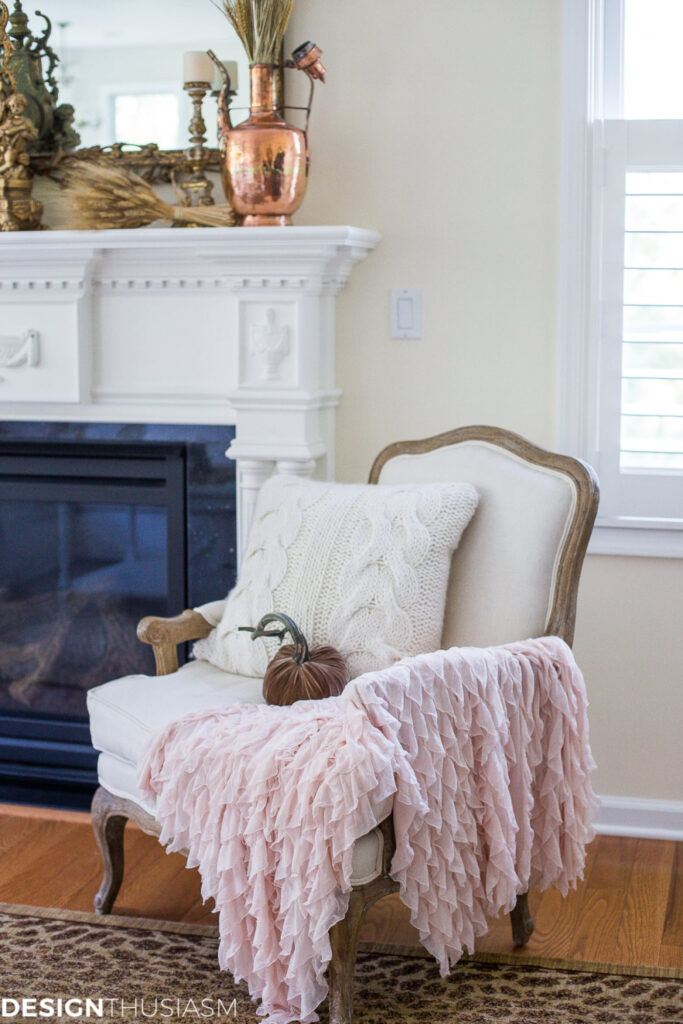 2. Aren't those old books on the mantel awesome? Le Cultivateur designed the pile of creamy pumpkins paired with fall berries and greens. Love the garland of acorns, leaves, and wood corks.
3. The Pink Dream designed the prettiest blush fall color palette in her dining room. It's a soft, comforting environment for fall. What's not to love about pink chrysanthemums and pink pumpkins? Take a look at her kitchen, too.
4. If you are a devotee of using bright orange in your fall decor, then this fall home tour from FourGenerationsOneRoof will be a favorite. It is a fresh, happy interpretation of fall home decor.
5. This charming layered farmhouse living area is full of vintage pieces. Life by Leanna uses punches of orange in pumpkins, pillows, and berries to give the area a cozy fall feel.
6. Don't you love those old stacked wood trays? All the natural elements work beautifully together in this fall home decor vignette. This is just one of the beautiful vignettes shared by Farmhouse Hub. I couldn't pick a favorite; maybe you can.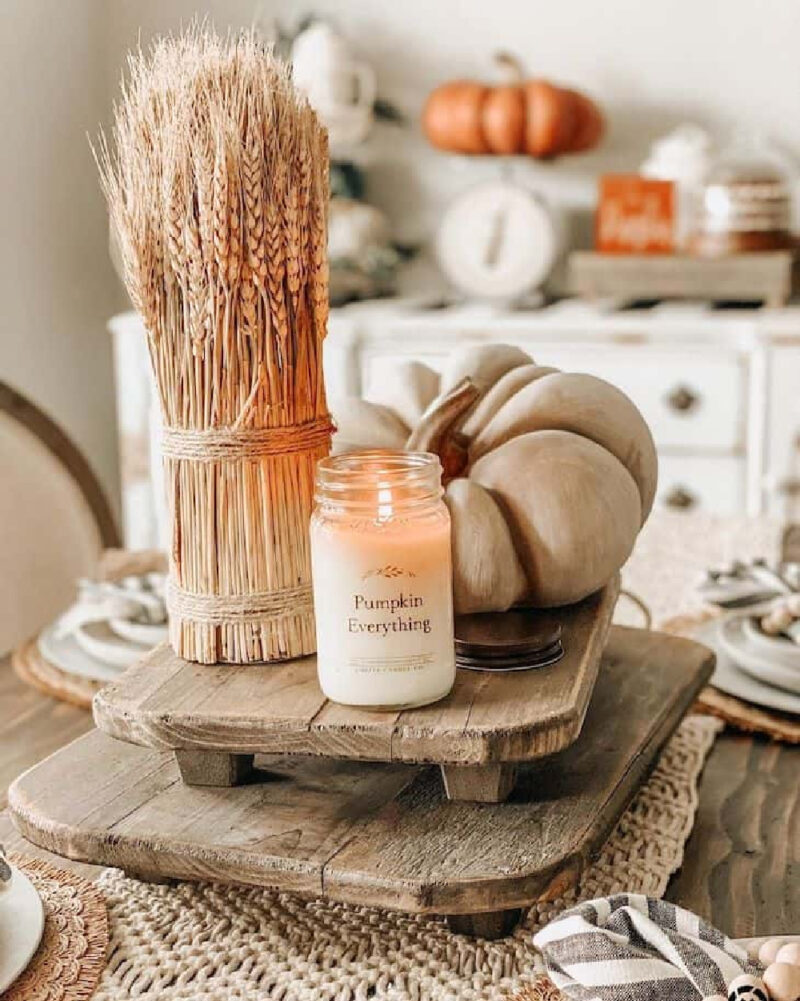 7. Do you bring fall decor into your bedrooms? Why not? Gracefully Glam brings the simple addition of those cute pillows into the bedroom and it makes a huge statement.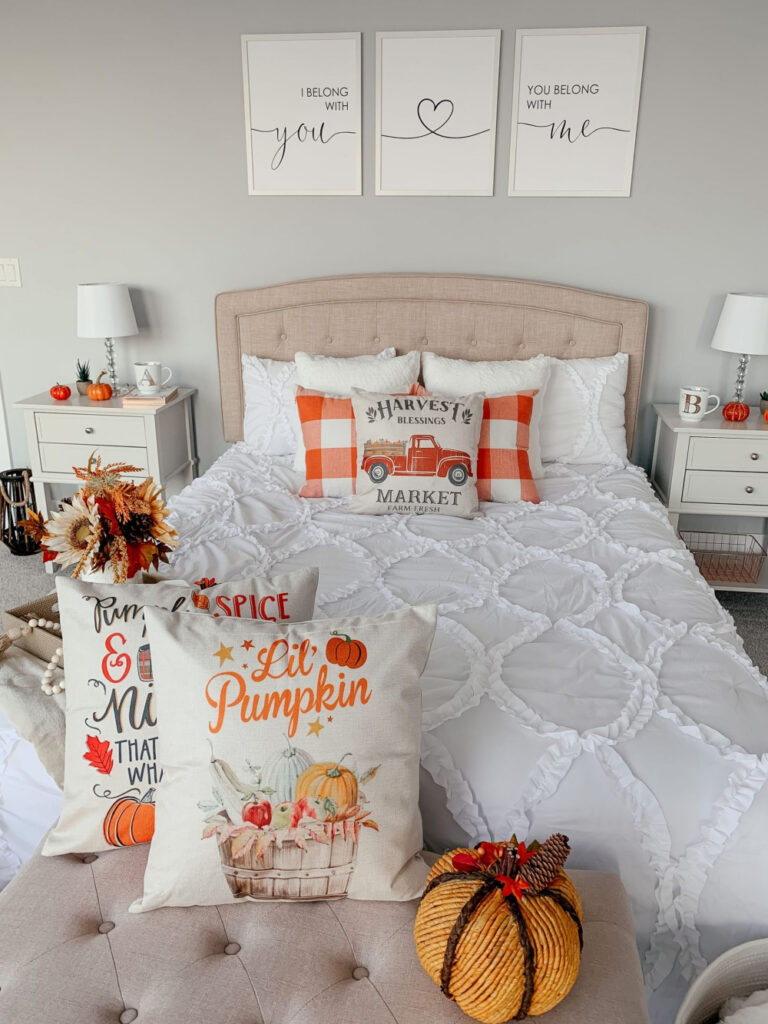 8. There are so many fabrics to use to make and display pumpkins: cotton, velvet, flannel, sweater, yarn, and twine (See my yarn pumpkins.). I love the variety of fabrics collected in this dough bowl by Simply2Moms. A pop of blue is a lovely touch. Be sure to see all the ways to decorate with pumpkins.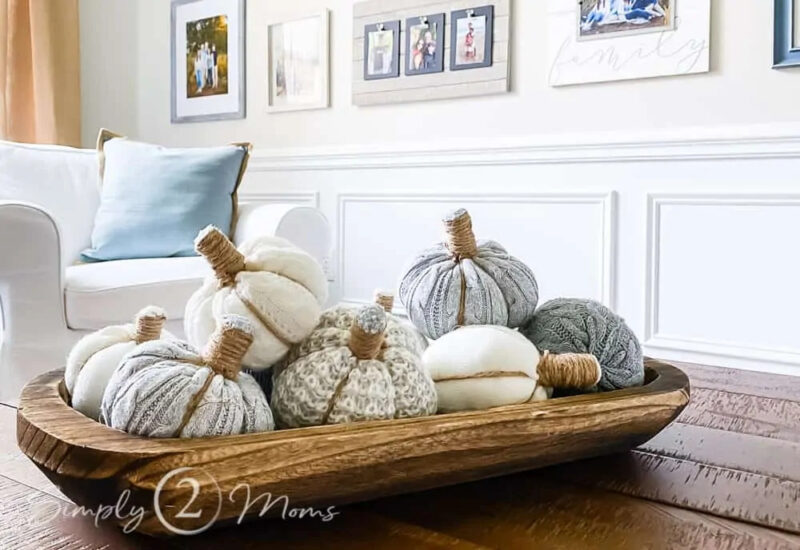 9. Less is more. A simple arrangement with a few ingredients can be just as pretty as lots of items. See all the vignette ideas, especially the leaf pictures shared at Blesser House.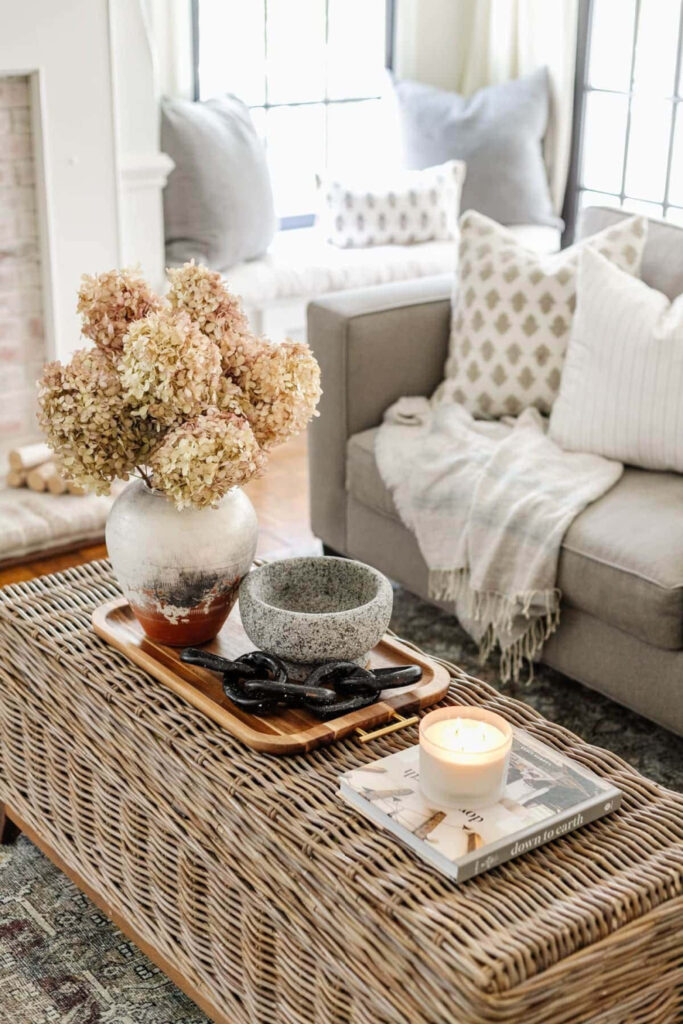 10. If this kitchen's fall home decor tour doesn't convince you how beautiful shades of pink and purple can in fall, I don't know what will. I swooned over this gorgeous fall kitchen from Styled with Lace.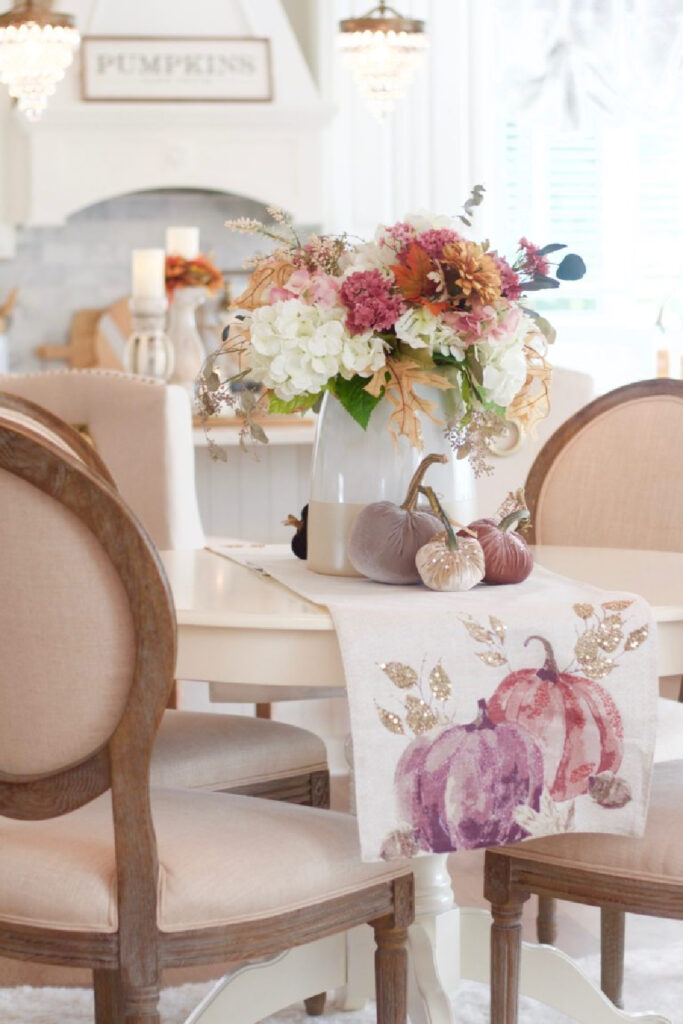 That wraps up this week's Bluesky Browsing #50. Let me know if these ideas for fall home decor was inspiring for you. I know I found several ideas I'd like to use in our home.
To see even more Fall Home Decor ideas, please VISIT and FOLLOW my Fall Home Decor Pinterest Board.
I'd love to know what subjects you are most curious about. Let me know in the comments and I'll search browse for them. Be sure to PIN to keep these ideas handy.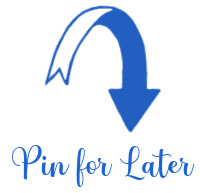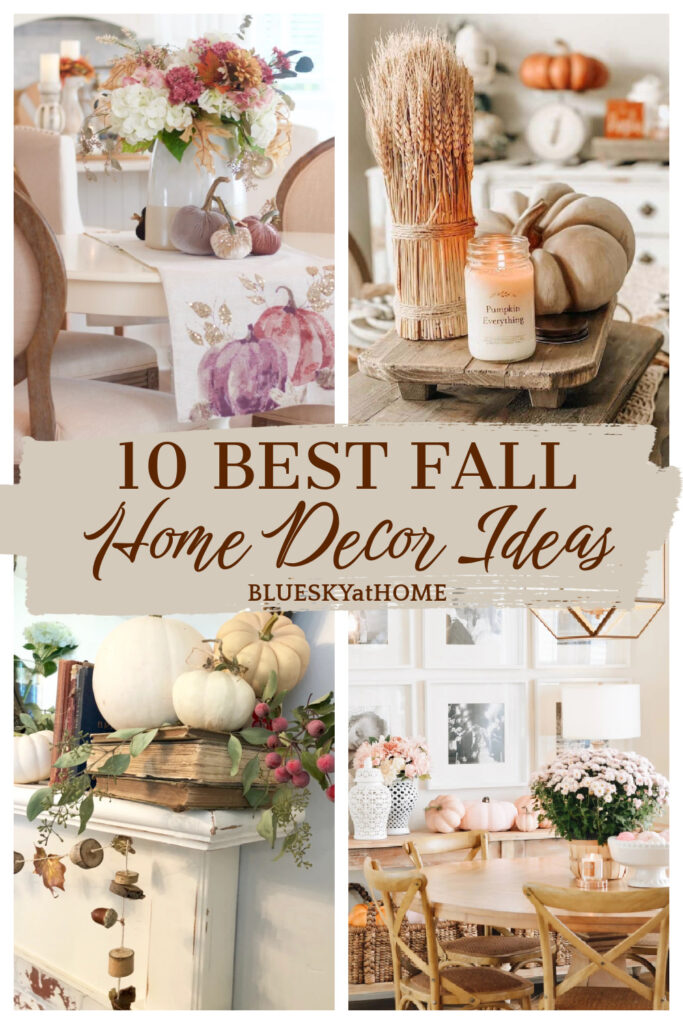 In between writing posts, listening to podcasts, reading, doing various blogging tasks, and walking Nola, I'll be browsing away.