Brand New Halloween Decorations from Wayfair
With Halloween just around the corner, I was thrilled to have some brand new Halloween decorations from Wayfair.
You've heard me say and seen me demonstrate just how much I love to combine old and new in our home decor. Whether it's treasured dishes mixed with new napkins or a new cozy throw used with an estate sale woven basket, I love the feeling of old and new. This is also true for decorations for the seasons and holidays.
Who doesn't love Wayfair and their catchy commercials, their free shipping and their easy return policies? Oh, and their fabulous inventory of home decor, accessories and literally anything that you can put inside or outside your home. I've experienced several times the great customer service from Wayfair.
I was thrilled when Wayfair asked me (yes, pick me!) to pick out some brand new Halloween decorations. Shopping online is so easy and I had a blast scrolling through all the cute Halloween decorations.(Did you know that Wayfair carries a huge assortment of holiday decorations?) Christmas came early as each package arrived on our door step.
The timing was perfect as I was putting the final touches on our Halloween decor. As I mixed in our brand new Halloween decorations from Wayfair with our long~time collections, I knew I made the right choices.
Brand New Halloween Decorations from Wayfair
This post is sponsored by Wayfair, but all opinions on the products provided are my own.
I first worked with Wayfair on the One Room Challenge redecorating our dining room in 2018. (Still absolutely love the art and mirrors.) Then last summer I worked with Wayfair in choosing our new patio dining chairs with go with our estate sale teak table ~ the perfect mix of old and new. So now I'm ready show you what brand new Halloween decorations I chose and how I mixed them in with our Halloween decorations from years past.
Let's get started at our front door. As you will see, it only takes a few brand new Halloween decorations to give your home a brightened sense of Halloween fun.
New Wreath and New Mat on the Front Porch
This is the area that really needed some fresh Halloween decor. One one side of the front door, I piled several pumpkins in different shades and shapes. I chose a croton (with the perfect fall colors) and a red mum as flowers. The 2 small Halloween candle holders have been around for years. We put votives in them on Halloween night.
On the other side of the door, I used 3 bales of hay to give height to more pumpkins. More crotons, kale and mums add to the fall display. They will be planted in the flower beds after Halloween. Our 2 scarecrows, which we have had for years and years always stand guard by the front door. I love them, but our front door area definitely needed a bright punch of color.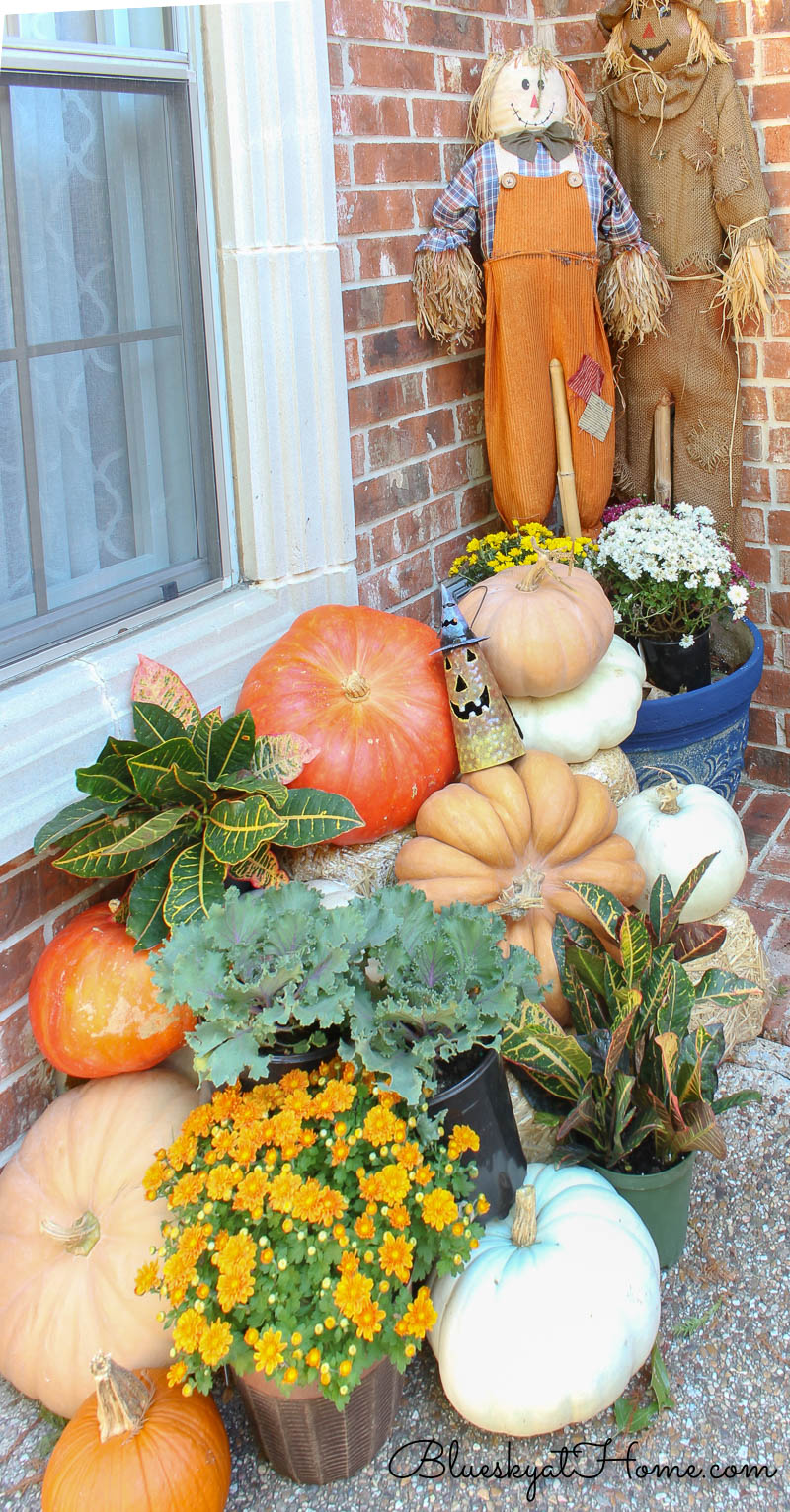 The punch of color and fun design that we needed was provided by our brand new Halloween mat from Wayfair. Our previous front door mat was cute, but starting to look a bit faded. This bright orange outdoor rug provided the bright orange we needed to spiff up the front door. I love the darling witch's legs and shoes, which worked perfectly since we have so many witches inside. It's fun, whimsical and practical all at the same time.
The next thing we needed for our front door was a new wreath. When I saw this one with orange and black glittery pumpkins and balls, I knew it was the right choice for our very tall front door. (Yes, I know it needs a fresh coat of stain, but that is a project for next spring.) This wreath has black and orange net ribbon and was super easy to hang. At 20 inches, it fit perfectly in our oval glass insert.
All together, our new Halloween wreath and new witchy mat have given our front door a burst of color and fun. Hope the trick or treaters love it.
New Pillows in the Dining Room
Just inside the house, our dining room is to the left. You can't miss it, so I like to have it looking nice at all times. I always have pillows on the extra chairs for color, design, and a focal point. Last week the dining room was all dressed up for our Halloween tablescape. On the extra chairs, I had the 2 pumpkin pillows that I made from a runner.
By the way, the mirror is the one I chose for the dining room makeover. It's from Wayfair and one of my very favorite things.
I love the pumpkin pillows that I made, but the room really needed more color for Halloween. This pumpkin pillow from Wayfair fit the bill. Colorful with the big orange bow and the cute polka dots, it's not so cutesy that it can't stay there for a few more weeks. At 14 x 20-inches, it's a perfect fit for the dining room chairs.
Ad if you like the front, check out the sweet side on the back.
Although there are no new decorations on our entry commode, I like showing it off. A mix of old decorations, with a few of our witches, 2 cute birds, and lots of white pumpkins. A little gauzy netting (spider web?) and a string of orange glitter balls on the mirror let visitors know that we are serious about Halloween. The necklaces draped on the torcheres were on the Halloween tablescape. This whole vignette took me all of 15 minutes.
The only new item is the orange candle from the big store that starts with a "T".
Living Room Mantle
Mantles are always great focal points for any time of year, but especially when it's holiday time. I was so excited to finally use the ladder that I bought last February at the antique mall in Atlanta and my daughter brought to me in June. Several of our longtime Halloween scarecrow friends look precious hanging out there. A menagerie of other Halloween found a spot on the mantle. What's funny is that the ghoul's navy overalls and the pumpkin man's navy overalls pick up the navy in the candles.
And speaking of candles, I love putting candles on our very tall candlesticks. Unfortunately, in order to light candles there, I have to get out our step stool. But I solved that problem with the brand new battery~operated orange candles from Wayfair. They work on a 4~hour timer ~ on at 6 and off at 10. Now I don't have to get out the step ladder! And, as a bonus, the candles have a pumpkin spice scent, which was a pleasant surprise.
The Dollar Spot jack~o~lanterns fit just right on our teak wood shutter with a little double~sided tape. I love all the pops of orange. You've heard me say that orange is not my favorite color, but here it works great. And, I'm able to keep some of the navy accents that I've been using this fall.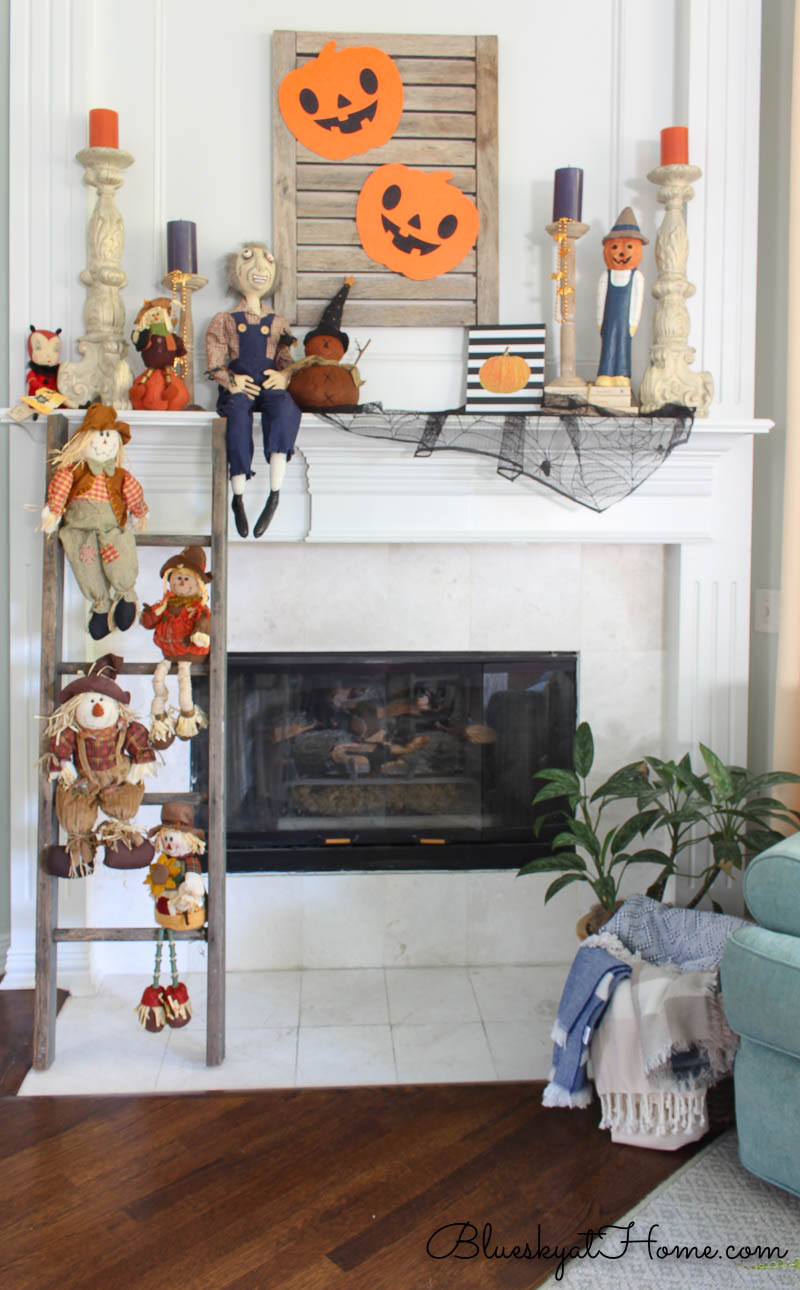 Did you notice this cute sign on the mantle? I love the black and white stripes as a background to the painted orange pumpkin. I think the mantle benefits from this brand new piece of graphic art from Wayfair. The art comes in several different sizes, from the mantle or bookshelf size I chose in 10 X 8, to large wall sizes.
The black netting with spiders has been around for a long time.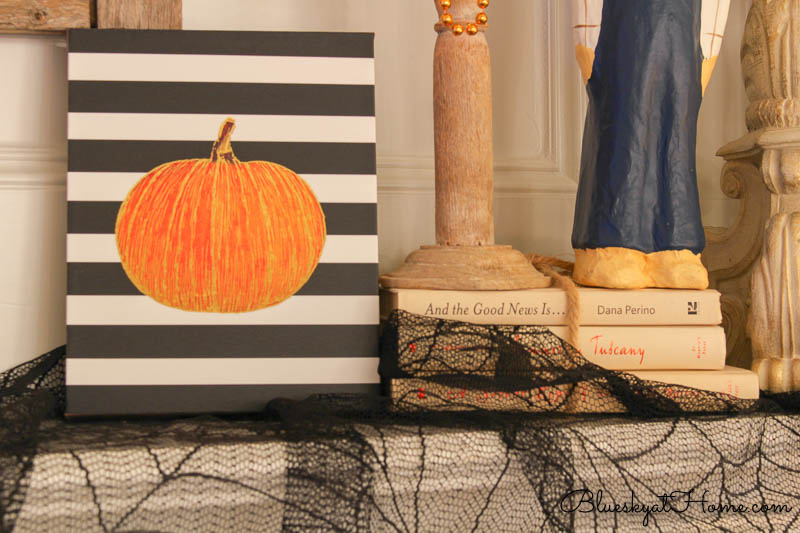 Here's how awesome the LED candles look at night. I wish I had ordered more of them.
New Kitchen Mat
Since I use the same mat in front of our kitchen sink year round, I thought it would be fun to jazz up the area with a Halloween rug. I couldn't resist the black and white checks and the "let's get spooky" message. At 18 X 27 inches, it fits perfectly in front of the sink, but you could easily put it in front of a back door.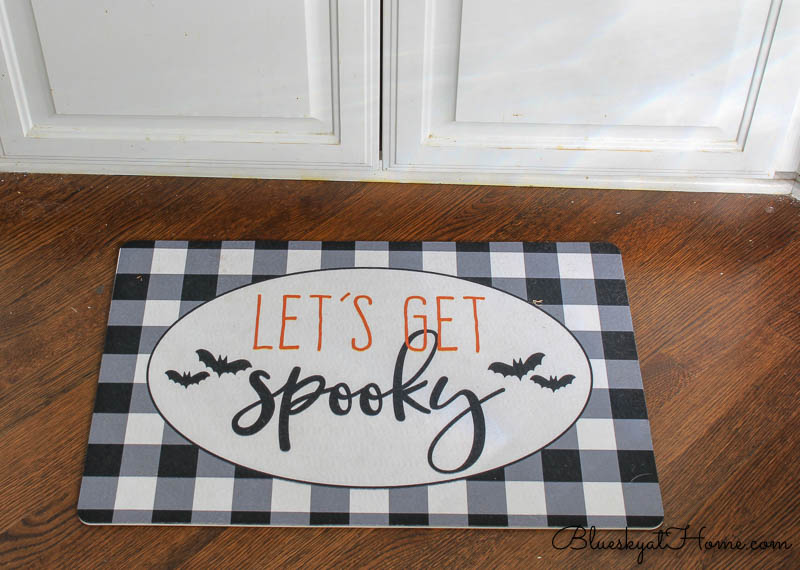 I was so pleased that these few brand new Halloween decorations really perk up our home and Halloween decor. It really doesn't take much to give Halloween, or any holiday, decor a boost.
Thanks again to Wayfair for letting me pick out some great new additions to our Halloween decor. I love them all. Which was your favorite? Do you have 1 brand new Halloween decoration that has given your home a fresh feel? Share in the comments.
And please don't forget to PIN. No trick or treat.