5 Lovely Living Room Makeovers ~ A ORC Round~Up
Let's look at living rooms. I'm excited to show you my 5 favorite choices for some beautiful living room makeovers from the 2018 One Room Challenge. I started this ORC Round~Up series with Outdoor Spaces, then Kitchens, and last week, Dining Rooms. Wether you call this space a living room, a family room, a den or great room, the purpose is the same: the space where we gather as family, with friends, for relaxation, conversation, entertaining and maybe an occasional nap.
I grew up with a formal living room and a den. The den was where our family watched TV, talked, and hung out. My dad insisted that every house must have a living room for greeting (checking out) dates and entertaining. Every house I've every lived in as an adult had both a formal living room and a family room until our present home and I don't miss having the 2 spaces since it's just Sweet Shark and me. The open concept is the norm these days and I think that's a great style of living.
The bloggers who created the spaces that I chose as my favorite living room makeovers have in common the desire for warmth, seating, color, texture, and display and storage space. Each living room is very different from the others, but all reflect the personality and lifestyle of the families who will enjoy them.
5 Lovely Living Room Makeovers ~ A ORC Round~Up
Another thing in common in these living room makeovers is the desire (or maybe need) to have a budget, reuse what can be reused, but knowing when something new needs to be purchased for design and comfort.
Bright Modern Living Room on a Budget
To look at this stunning living room makeover from Bethany of  The Posh Home, you would never know that keeping to a budget was high on the priority list. Most of the furniture came from Overstock.com. What was a plain, non~descript room is now a bright, modern family space. What it did have going for it was beautiful, natural light. You can't tell from the photos, but the living room is open to the dining room (on the right of the living room), which wasn't included in the makeover.
Before the actual One Room Challenge began, Bethany made some major design changes that kick started the project
removed the carpet and replaced it with new hardwood floors
installed board and batten on the only wall in the room ~ what a smart idea to give it some interest.
removed the pillars (barely seen in the far left of the before picture) to open the living room to the entry hall
painted the room a lighter white
attached the credenza to the wall ~ love the floating, modern look
During the 6 weeks of the ORC, the room came together with new furniture and accessories:
layered a Turkish rug (which was a little small) over a jute rug that was in the garage (great idea!) ~ the colors served as the jumping off point for the accessories
new sofa in a creamy white with grey and white accent pillows
2 new mid~century modern chairs in a grey velvet with nubby textured pillows (great mix of textures)
added a natural stained wood bench for seating with a faux fur throw and pillows  for comfort and texture and to break up the white walls
added the huge round mirror above the credenza ~ wonderful for reflecting light
chose a new round white and gold coffee table
accessories in gold ~ a planter and candelabra
plants for greenery and focal points
hung new floor~to~ceiling grey velvet drapes for height and warmth and color
I think for a small space Bethany made the room seem larger and gave it more visual presence. It's a place you want to come into and relax.
60's Ranch Living Room Goes Modern
O.K., I have to admit that I am not a big fan of 60's decor or mid~century modern. But as you can see by the transformation of this ranch style living room, it had one major plus in its favor: that gorgeous view and natural light. Mara of The Homeward Now took a totally outdated space and made it so pretty, cheerful and fun. A mixture of vintage pieces and modern art so much personality. Mara's vision was a consistent color palette, using blue, green, and warm neutrals coupled with pops of pink and orange, and using the right-sized furniture for the room. since the room is large and long, she wanted to create 2 seating areas.
Oh, and those beautiful pale aqua walls (Ink Rink by Behr) had me at hello. So here are the changes that Mara made to the space to make it an inviting entertaining hub and kid friendly:
removed the green/teal carpet, revealing the original hardwood floors (high fives everyone!)
scraped the painted over grasscloth wallpaper off the walls
patched and painted the walls
updated the electrical outlets and dimmer switches
installed new down lights with LEDs
sourced new chairs, rugs and art
styled the room to use the vintage stereo cabinet, sofa and rattan chairs
created a gallery wall with vintage and new
I think walking into this living room and seeing the bright colors mixed with some natural vintage pieces and the beautiful window and outdoor scenery must make guests give a little streak of delight. The size and space of the room was a challenge but Mara won the day with this living room makeover.
Multi-Functional Space Becomes a Design Dream
This living room was one I was following on the One Room Challenge and I seriously wondered how this hodge~podge, multi~purpose room for adults and kids would come together. My hat is off to Christine of Amidst the Chaos for creating beautiful design, functionality, and style in a space that is not easy to work with in terms of size and shape. So what were the problems? First, it serves as a hallway, connecting two flights of stairs. The room serves 2 purposes since the kids' playroom is tucked on the window side and then the adults' living space on the other side. Even more challenging, Christine's office office on the other side of the playroom wall and the kitchen is on that side of the room. Finally, there is one very long wall to contend with. Here's how creativity and hard work overcame chaos:
installed floor~to~ceiling board and batten on the entire length of the living room wall
caulked, sanded and painted the board and batten wall (Cloud White by Para Paints)
changed out all light and electrical outlet switches
selected new furniture (sofas, tables, chairs, rugs with a modern vibe ~ brassy metals, warm faux furs, woven baskets, suede fabrics, leafy greens, modern lines, and quirky artwork
created 2 distinct but cohesive spaces by maximizing furniture placement
mixed new art and personal photographs
added vintage accessories from local sources
Christine used a variety of resources, such as Home Sense, Wayfair, Ikea and local antique stores to create this now (finally) functional living space for her family.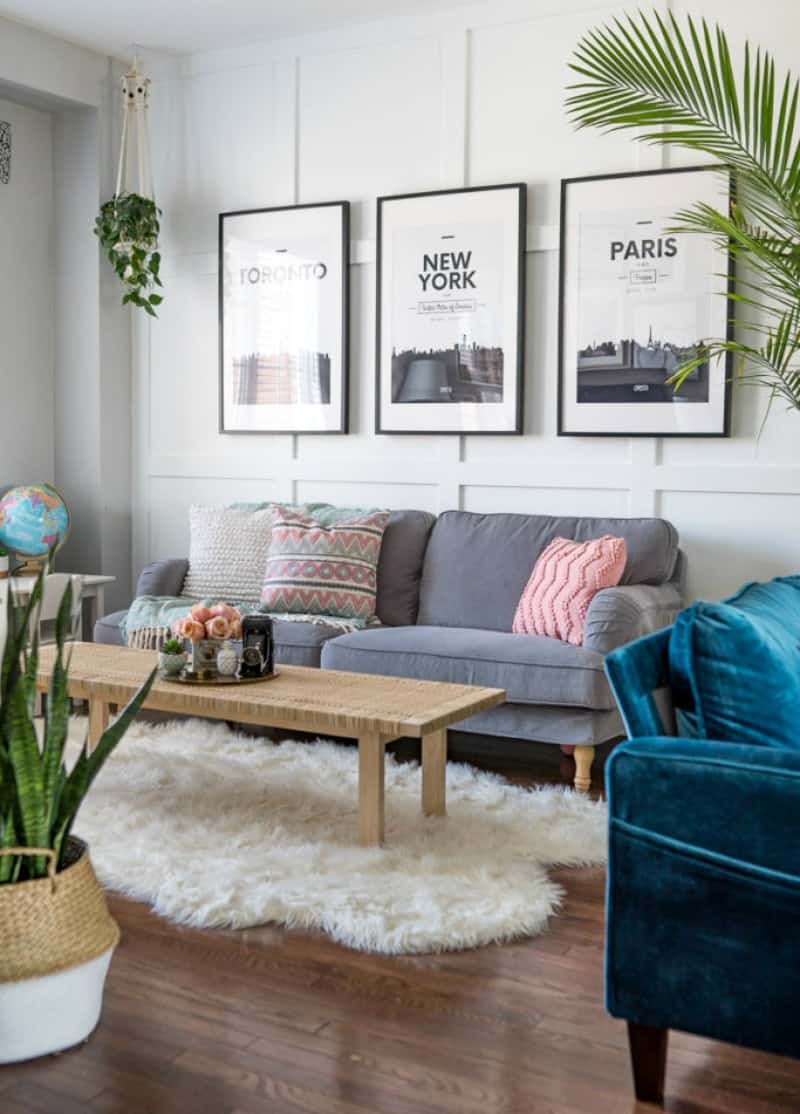 Updated Living Room Overcomes 90's Drab Decor
Nothing was wrong with this living room. It was functional and had tons of storage space. Nice big windows let in plenty of light. BUT ~ it left dated and a little stuck in the 90's (shag carpet, oh my). The color palette was too yellow and brown. So Libby of  Sykora Designs decided it was time to shake off the time~warp and get all modern and up~to~date.
removed the shag carpet
laid down new hardwood floors
rebuilt the bookcases to the left of the fireplace, removing front trim and adding thicker shelves
removed the television from the right side cabinet and rebuilt it with bookshelves and cabinets below (for stereo and cable equipment)
painted the bookcases a rich grey
painted the walls white
removed the existing mantle and replaced it with a cast stone mantle (found on facebook!)
hung the TV above the new mantle
added a new console (Wisteria) and art gallery to the 1 blank wall
added a new sectional for amble seating (found it on Craig's List for $75!!)
purchased a new coffee table from Restoration hardware
replaced the existing blinds with wood shutters
reused an existing rug
styled great books and accessories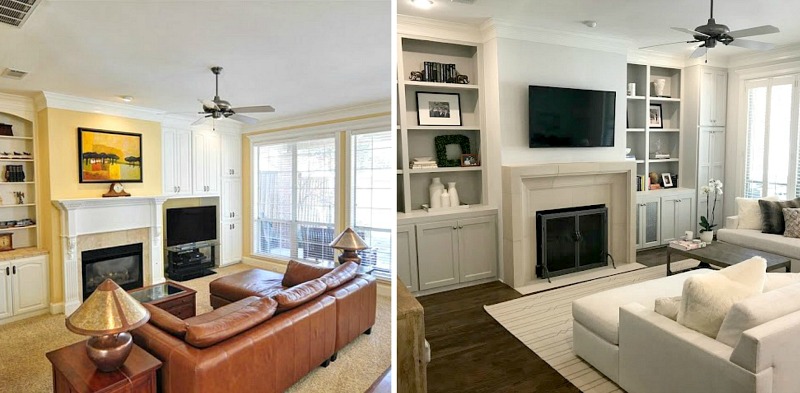 I think for what appears to be a simple living room makeover, Libby made some great design and structural changes to this room. She did a smart  job of resourcing some major pieces (the fireplace mantle and sofa) for super prices. The 90's have been whisked away and the room is now 21st century.
Style and Storage Meet in Modern Design
We can't have enough storage in any room, but in a living room, it especially needs to be stylish as well as practical. In the before picture below, you can see that this living space was pretty basic and not welcoming, in spite of the big picture window and high ceilings. Jessica of Jessica Devlin Design transformed a basic box into a cool room with a modern vibe and a super awesome looking wall of storage and style. She wanted a space that was light and bright, sophisticated and classic. How did she do it?
removed the orange wood moulding
replaced the window frames with black window trim
closed off the doorway from the living room to the current dining room, which will become a mudroom (This was the only project that was contracted out.)
paint the room white (with borrowed scaffolding a paint sprayer
built a wall storage unity for TV, display and storage, including kid's toys, using Ikea shelves as the foundation (AKA Ikea hack)
created a large plexiglass piece of art ~DIY
used existing sectional
sourced and purchased remaining furniture and accessories online
styled storage unit, coffee table and hung art and guitar
This living room makeover has a minimalist style that fits a family with a small rambunctious 3~year~old. The contrast of the white walls and white storage unity with the navy sofa and black accents is smart, clean and modern. It's a room to snuggle for morning cartoons or entertain with a glass of wine and friends.
That's the end of the living room makeover episode of this One Room Challenge Round~Up. Hope you enjoyed this look as some creative living rooms.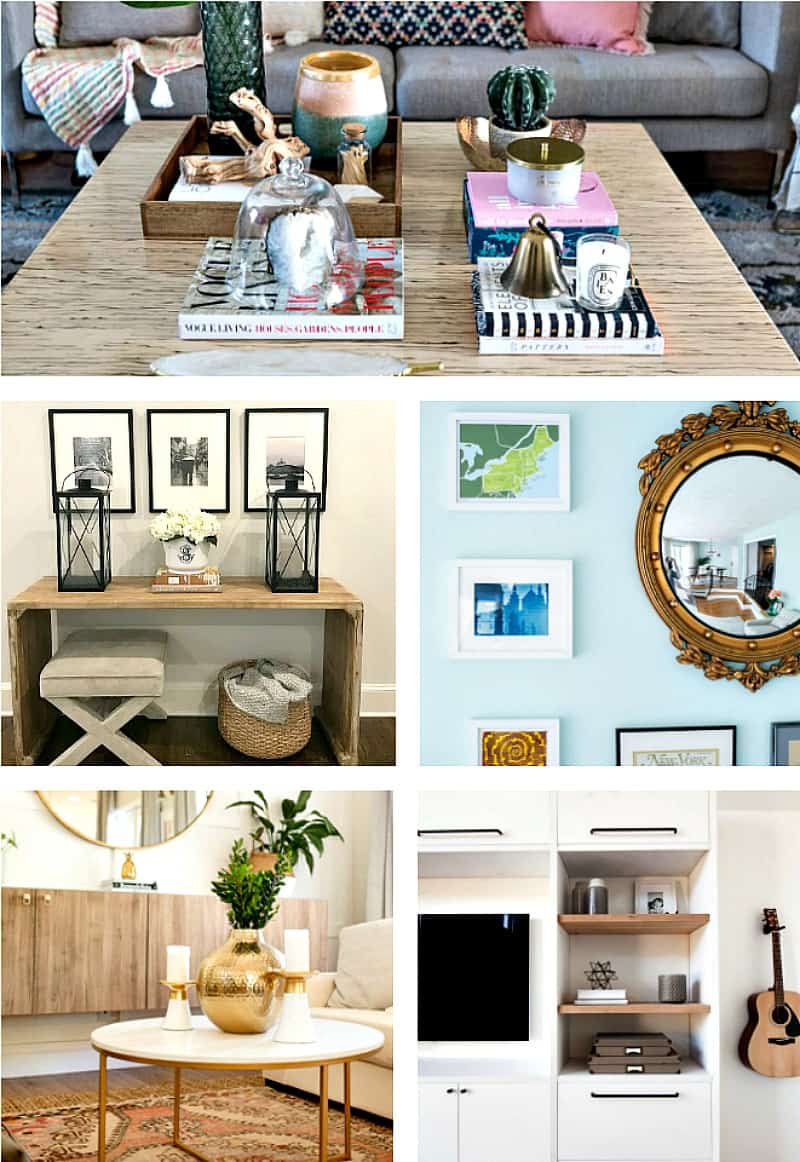 Top ~ Amidst the Chaos
Middle Left ~ Sykora Designs
Middle Right ~ The Homeward Now Blog
Bottom Left ~ The Posh Home
Bottom Right ~ Jessica Devlin Design
If you missed the earlier posts in the series, here they are:
Week 1 ~ Backyard Spaces
Week 2 ~ Kitchens
Week 3 ~ Dining Rooms