Tips for Kitchen and Breakfast Room Winter Decor
Kitchen and breakfast room winter decor is really easy to create. Since our kitchens are the heart of our homes, there is no better place to add details and touches for a warm and welcoming feeling for your family and friends.
It isn't too hard to create that feeling of warmth using items I already had. I have some tips for kitchen and breakfast room winter decor that you can easily copy.
I love to challenge myself to create new looks and vignettes with old standbys. Since tweaking is one of my favorite things, for my kitchen and breakfast room winter decor, I mixed up items in new ways and arrangements. It is so satisfying to create while spending little or no money and still get a fabulous look.
Tips for Kitchen and Breakfast Room Winter Decor
This post contains affiliate links to products that I love, use and highly recommend. If you should order any product through this site, I may receive compensation, but you don't pay one penny more.
I recently shared how I used different winter elements in our living room to give a feeling of welcome and coziness during the cold weather months. During winter, our rooms can feel bare, cold, and empty without some esthetic warmth added.
Let's take another look at the winter decor suggestions I previously shared.
Winter Decor Guidelines Reviewed
If you remember from my winter decor living room post, a few ideas guided my decor choices:
the color palette is simple ~ white
the esthetic is casual ~ nothing fancy or detailed; more minimal than busy
the materials used are natural and readily available
accessories you already have will work in the winter decor
White, White, White Winter Decor
The great thing about decorating your kitchen and breakfast room for winter is you can use items you already have in your home.
For the kitchen, your existing color palette will be your guide. You're probably not going to paint your kitchen cabinets or walls or change your backsplash just to create a winter palette. Fortunately, for me, my kitchen is classic white ~ cabinets, backsplash, and dishes.
My everyday dishes are white and I've collected random white dishes at flea markets, estate sales, and garage sales. For my kitchen and breakfast room winter decor, it was just a matter of pulling them out of the cabinets, rearranging and grouping them.
I already use the built~in display cabinet in our kitchen for several white dishes. I actually took a few away to give a little breathing space. The "L" on the top shelf was originally on the bookcase in our living room. Behind the white dishes, I placed 2 silver trays, not for winter decor, but as a place just to keep them.
The chalkboard sign to the left was made with ChalkArt and stencils from A Maker's Studio. All I did was erase "Merry Christmas" from above the beautiful Season for Everything stencil design. Being able to erase a design easily with a damp paper towel is one of the great features of this ChalkArt.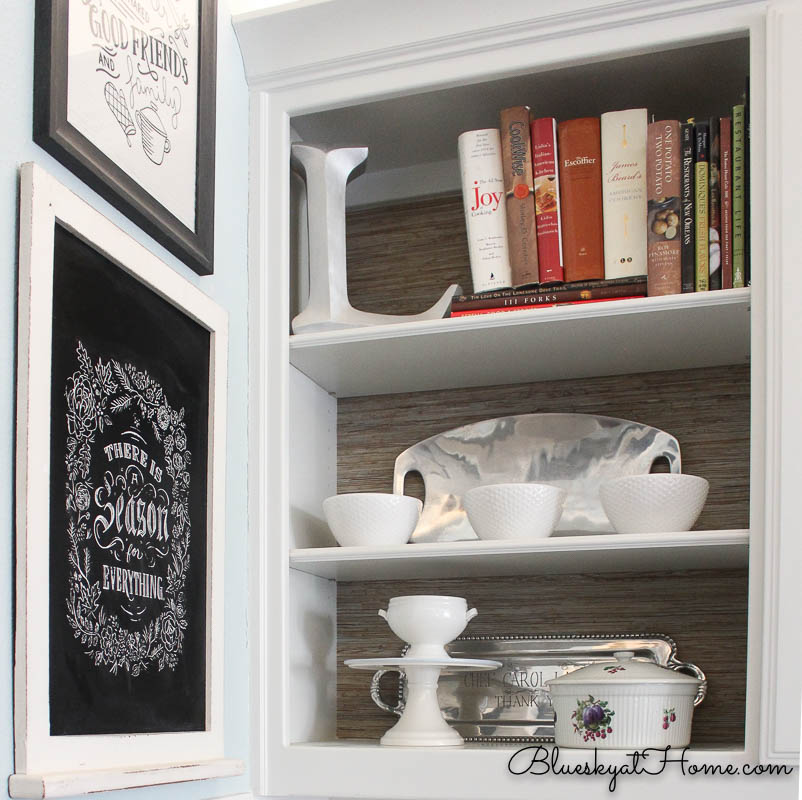 On the kitchen countertop, I pulled out most of our bowls that we use on a daily basis from the cabinets. Then I placed them on a white square cake plate.
This move served 3 purposes:
gave me more white dishes to display
made the bowls more easily accessible
freed up some needed cabinet space.
And I love my Mud Pie Cookie Jar (It really has Cherrios in it.)
On the same counter, I added a small white platter with munchies for cold winter nights.
On the opposite side of the kitchen, I repeated the white cake stand idea. This time I added all the ramekins that we use all the time. Now I don't have to open a drawer to get one. My small jars from Anthropologie also are on the cake plate.
Sweet Shark had been complaining that I had too many kitchen utensils stuffed in one large Le Creuset crock so I divided them up into threes.
The white crock is another flea market find and the 2 matching jars are terra cotta that I painted a few years ago. Much better. The wood spoons and rolling pins provide a nice contrast with the white containers. The wood cheese board was a birthday gift from my son many years ago. Did you notice my "cheese rat"?
I love the "bless this house" framed sign that I made with stencils and ChalkArt from A Maker's Studio.
Just last weekend, I found this awesome white enamel container at Hobby Lobby at 50% off. It just might get a stencil sign on it. Too cute and I'm sure I will find something to put in it. Flowers in the spring?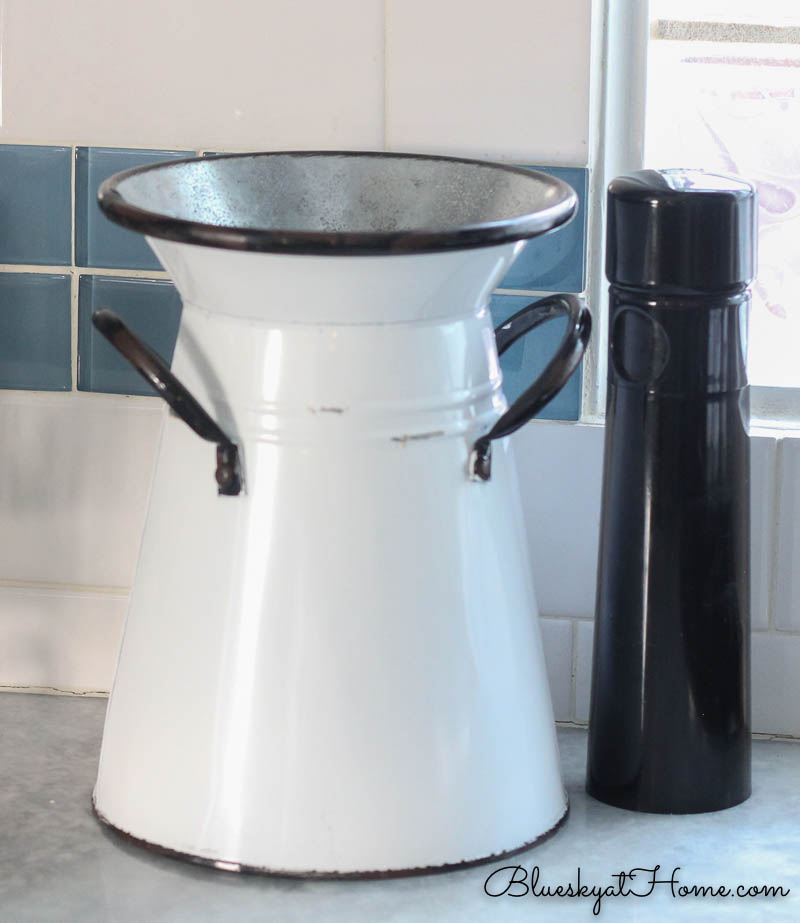 I love the simple stripes from these new dish towels (A freebie with some cleaning supplies I ordered last fall.)
Natural Elements in Winter Decor
The natural elements you would use in your living spaces can also be used in the kitchen and breakfast room. I didn't use all of these in my kitchen and breakfast room winter decor, but I did include several (in bold).
wood 
baskets
signs
burlap
fabric
paper
candles 
ceramics
planters
You are probably not going to have fabric ~ pillows and throws in the kitchen, but you might in the breakfast room, on chairs or a bench. But most of the other natural elements can and should find their way into the kitchen and breakfast room winter decor.
And let's not forget that many of these items overlap.
Greenery and Wood in the Kitchen
Greenery can definitely be used in the kitchen and breakfast room
I used my rectangle rustic wood tray from Kirkland's (a 2017 purchase).  (Here's a similar one.)What did I fill it with? More greenery, most of which is real from my local grocery store. I did stick in a couple of pieces that I didn't pack from Christmas. I love the softness of the greenery.
For more color, I added winter fruit with pears in 3 different colors.
The tray is sitting on our little island that really is still a console because I have so procrastinated in transforming it (#1 on my project list for this year!! and yes, you can see where I was playing with a little white paint.).
Overall, our kitchen is still light and bright (We get strong southern light in the winter.), but warm and welcoming. Although white is the dominant color, shades of blue add a bit of soft contrast.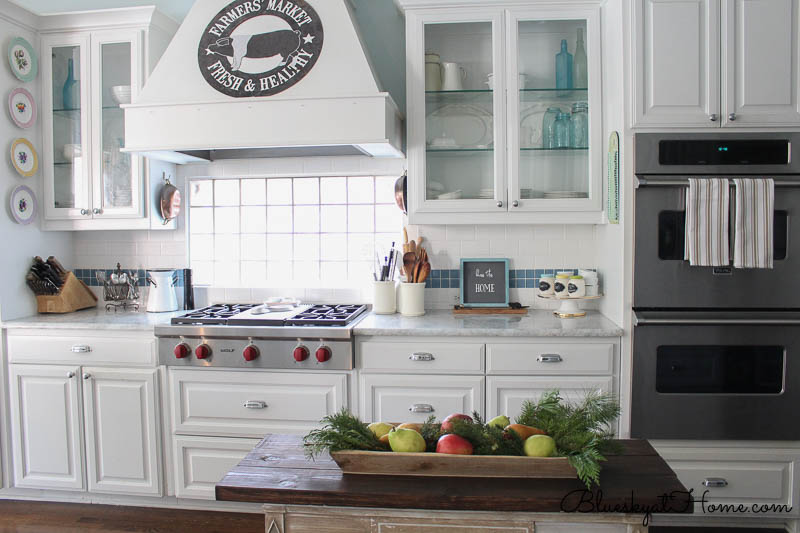 Candles, Wood, Greenery in the Breakfast Room
In the breakfast room, I moved an antique ship's captain toolbox from the floor on to the console table and opened it up. This antique has such character and I haven't used it enough. The warm element of wood gives me a place to add white candles (from Target), more real greenery and paperwhites (from Trader Joe's.) Can't wait for the flowers to bloom.
The glass candle holder and rustic metal stand on the left is a very long time possession.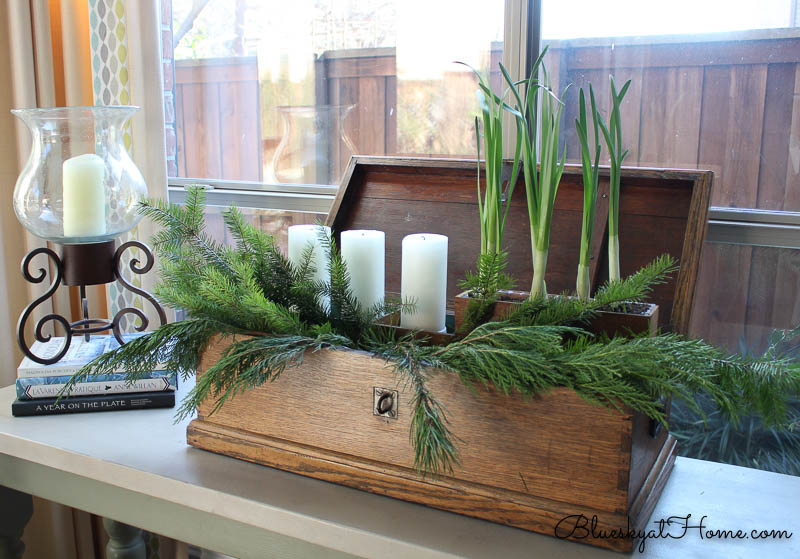 The battery~operated candle in my lantern is from Rutherford's, another local design store.
On the round table (an update from last year), I added a burlap runner, which I made a few years ago. On top, I stacked a few cutting boards ~ love the natural wood and the shapes contrast with the round table.
Sweet Shark has been telling me that our pothos needed more light so I moved it to the breakfast room table where it also provides greenery in a lovely white ceramic planter. This setting combines wood, white, greenery, and burlap.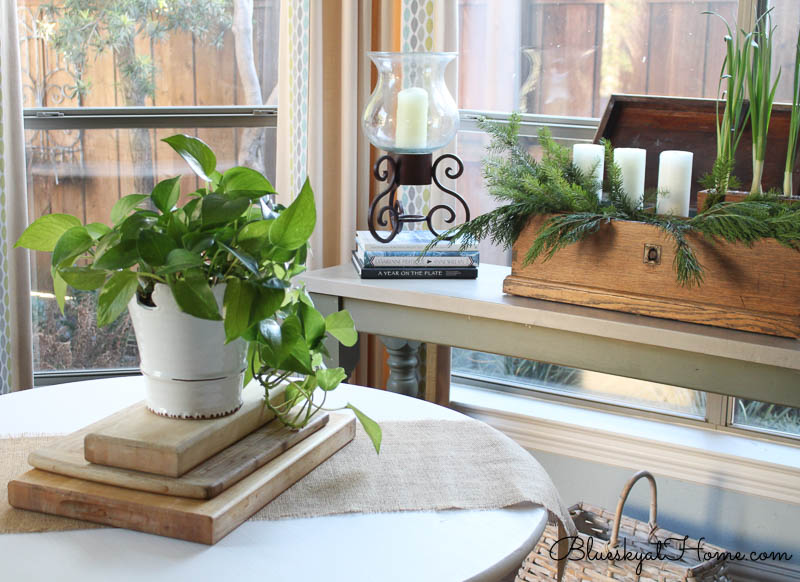 Hope you enjoyed some more winter decor inspiration in our kitchen and breakfast room. I have thoroughly enjoyed decorating for seasonal winter decor. Usually, I just let things go until spring, but I love how warm and cozy our home feels just by adding whites, natural materials, and greenery.
The only new items I bought were the white candles, the greenery and the white enamel container. The pears will eventually be eaten!
I encourage you to PIN these ideas for your own kitchen and breakfast room winter decor.