How to Easily Reuse and Restyle Fall Decorations
Do you start from scratch when you are decorating your home? Let me show you how I easily reuse and restyle fall decorations for the console table in our breakfast room.
Do you buy new accessories, supplies, furniture or art? Probably not. After all, our homes are not on the big reveal of HGTV every season. With fall decor front and center, do you think about how to easily reuse and restyle fall decorations?
It's tempting to buy all new decorations at the big box or craft stores because everything is on sale. But let's face it, that's not always practical from a cost standpoint.
I'm two seconds away from starting to decorate for fall. With fall decor on our minds, I wanted to share my process for styling a table using items we already have. This process, I hope, will help you see how to easily reuse and restyle your fall home decor ~ or for any season.
You may have wonderful fall decorations that are well~made, classic, and traditional. They will not look tired after just a couple of years. Just like Christmas ornaments and decorations, bringing them out each year brings back memories and they still look great.
I love most of the decorations that we have collected over the years. If you reuse and restyle fall decorations ~ or any home decor, you also get so much more return on your investment.
When I do find a new fabulous decorative item and the price is a little bit higher than I would normally spend, I remind myself that it will be a piece that I will use over and over. It's like that pair of expensive shoes that will never go out of style, are so comfortable and you will wear them for years to come.
How to Easily Reuse and Restyle Fall Decorations
Even accessories that are not "season~specific" can be used in non~traditional ways, moved around, combined with a different collection of other accessories to create a whole new vignette for your home.
Let's face it, we look at our homes every day. We start not to "see" things. We get in a decor slump. We think if we want a new look, we have to spend a ton of money. Not so.
Many, many years ago, as a newly single mom, I needed my home to be mine, have a new look, something fresh for a new beginning. I couldn't afford nor did I need new furniture or accessories. (Fortunately, I got the house and everything in it.)
Instead, I hired two decorators (mothers of younger girls I worked with) to come in and restyle my living room and master bedroom. I gave them carte blanc. I left the house in the morning, left a key under the mat, took the kids to school, and went to work.
When I came home that afternoon, the decorators opened the door, and I felt like I had walked into a new home. Nothing had been painted, not a new item in sight. But furniture had been rearranged, pictures were in new places, accessories were gathered in different ways. Chip and Joanna have nothing on that big reveal. Even the kids were amazed. I was in tears.
They explained everything they had done and why. It was my first real lesson in interior design.
I don't remember what I paid the ladies but it was worth every penny. A couple of years later when Sweet Shark and I married and remodeled his home to fit our blended family. I called the same decorators, "the girls" as he called them.
They helped with the remodel and design of the new house so they got a good return on their 1~day project for me. I wanted to learn as much as I could so I was involved in many of the design choices.
THE STORY OF THE BREAKFAST ROOM CONSOLE TABLE
I have had this table for about 30 years. It was custom~made of reclaimed pine. Originally, I used it as a breakfast room table in a few houses. When Sweet Shark and I remodeled his house as ours, we used it as a large sofa table in the gameroom kids' TV/hangout room.
Years later when all the kids were out of the house, I converted my son's room into my office (yes, finally, my own office!) and used it as my desk.

When we sold that house and rented an apartment for a year, I used it again as my desk in one of the extra bedrooms that I used as my office.
Once we found our new home, I decided to reuse the table as a sofa table; however, it was much too big for the new living room. I had a furniture restoration man cut it down to its present width.
I painted it in shades of sage green and taupe ~ I was so over the pine. (Although this was a few years before I started blogging, I had been repainting furniture for a while.)
The table was behind the sofa for about four years and was a great place for displaying decorative items.

Then a couple of years ago, we decided to try it in front of one of the breakfast room windows. It still is used for seasonal displays, including my Dicken's Village at Christmas. It's slightly too long for the window, but I just live with it.
This is how the table looked during the summer.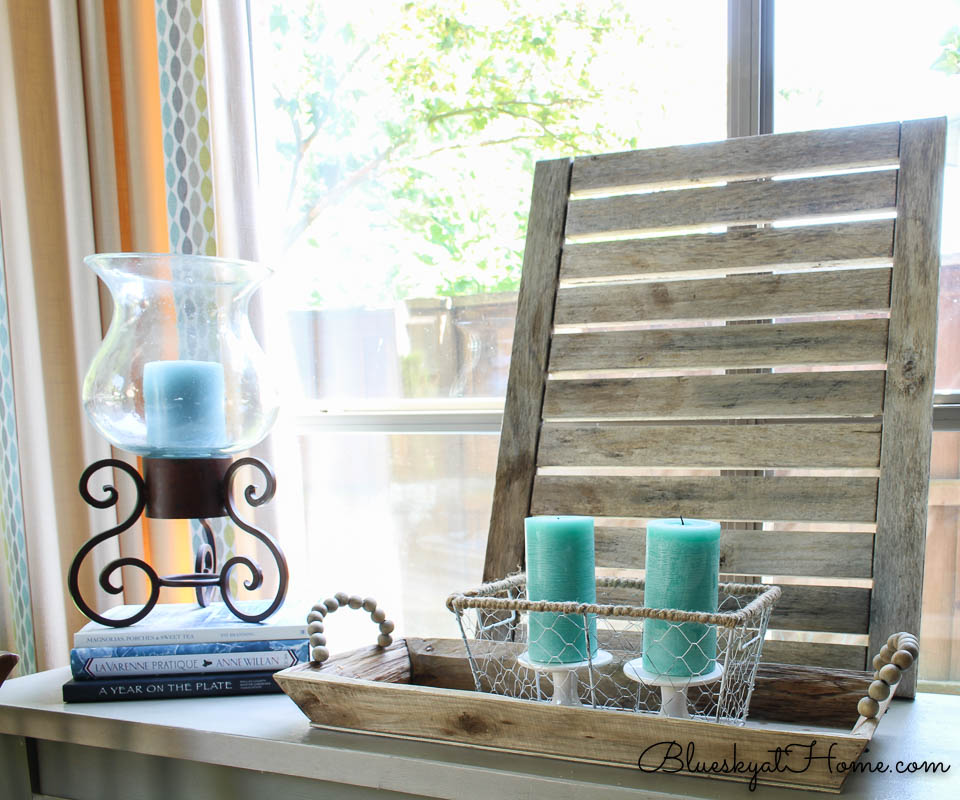 READY TO REUSE AND RESTYLE FOR FALL?
Before I begin decorating a space for a new season or holiday ~ mantel, coffee table, etc. ~ I follow two steps:
TIP 1 ~ For transitioning from summer/everyday styling to fall decorations, remove everything from the table ~ always the first step I highly recommend.
As you can see, the window is very large and quite tall. Although there is quite a bit of greenery, there is still our fence in view. One day, I would love to have an ornamental tree in front of the window.
TIP 2 ~ Bring in the boxes and bags of your seasonal or holiday decorations so that you can see all your options for styling the table.
This isn't nearly all our fall decorations, but enough for me to get started.
I pulled out most of the decorations from the boxes and placed them on the breakfast room table so I could see what I had and let the creative juices start to work.
Now you are ready to style your space.
RESTYLING THE CONSOLE/SOFA TABLE FOR FALL
My goal for the breakfast room console table was to reuse and restyle it completely with items on hand. I knew that there were some elements that I definitely wanted to use on the table:
my vintage Remington Sure Shot wood box
books
my long wood tray from Kirkland's
greenery
I placed the wood box on one end of the table. Next to it, I added some of our coffee table books with neutral and muted fall~ish colors.  Then I placed a double glass and wire container on top of the books.
Last summer, I bought some green faux boxwood balls at Joann. I already had three galvanized pails. I placed the pails inside the tray and set the faux green balls in them.

The burlap bags were used to wrap two of our Mark Roberts elves that we bought in Scottsdale years ago. I filled the bags with tissue paper and I have reused them multiple times.
Looking just so~so.
My tall wood lantern usually sits on the table, but I filled it with a bunch of faux gourds. Then I moved it to the side of the console table on my antique captain's box.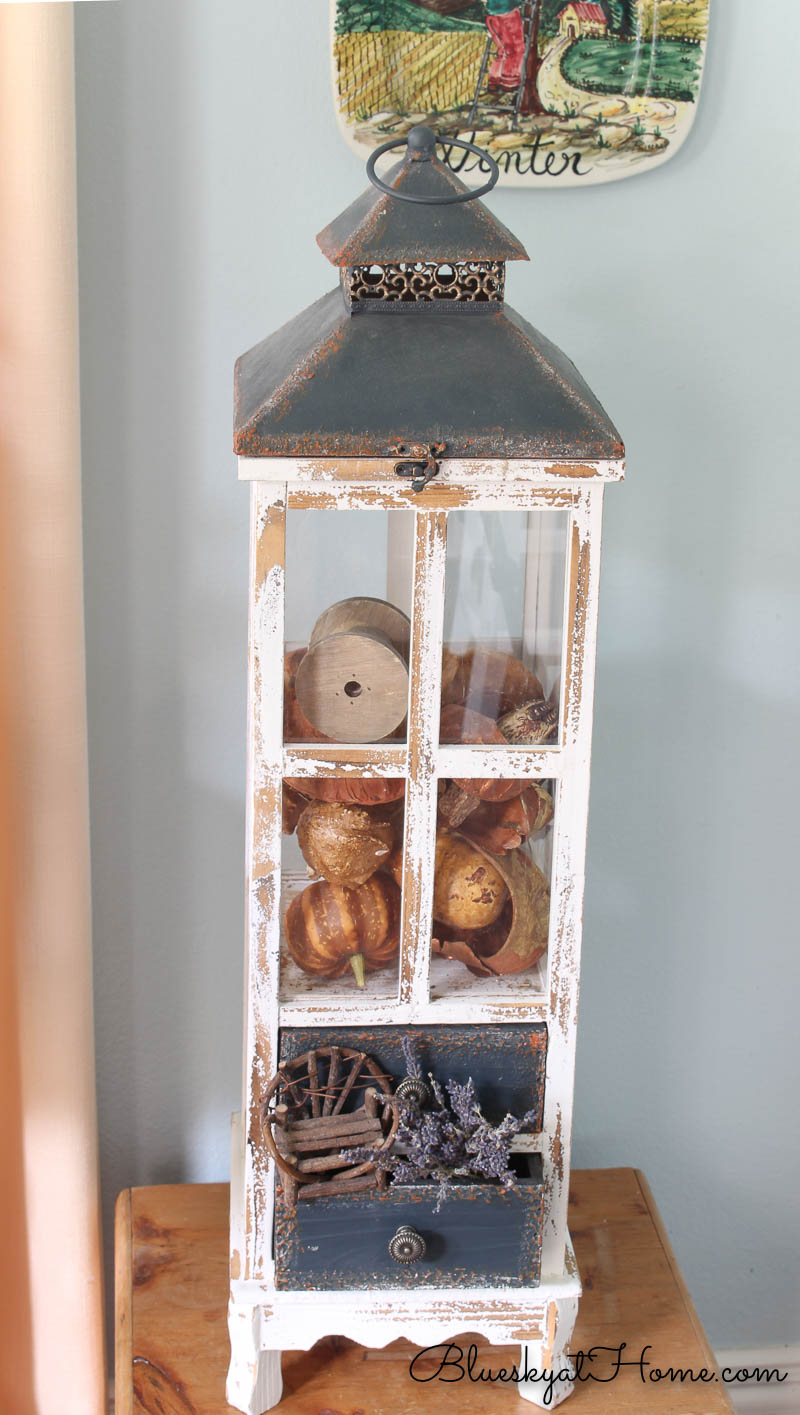 The ladder is another story ~ I bought it in Atlanta a couple of years ago. It stayed in my daughter's garage there until summer when she drove to Dallas. It hasn't found its home yet.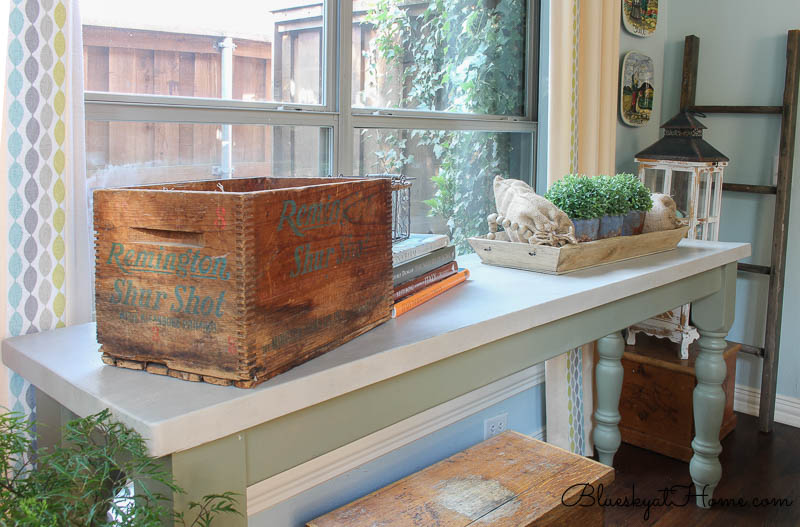 The table needed more height so I placed my antique toolbox on top of the table and the wood tray went on top of it. That added more height and visual weight to the table.
I thought I still needed more height so I added more books. I love the burlap~covered books I made last year.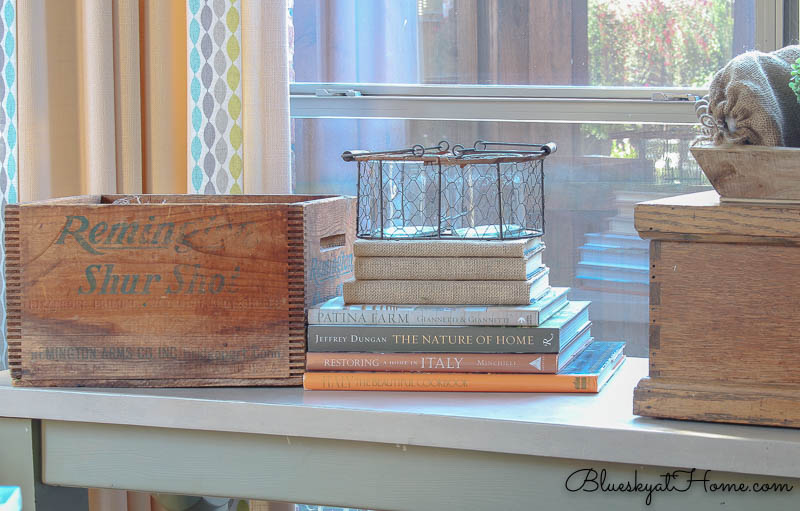 I wasn't liking the small glass and wire container. Something larger was needed. I removed the burlap books and tried the large glass jar with the wood beaded handle, also purchased from Kirkland's a few years ago. That was better, but the jar definitely needed to be filled.
I have a good supply of twig balls so I filled the jar with them. Much better. I also added Spanish moss and 3 large twig pumpkins to the wood box. I have had those twig pumpkins for years. They have been reused and restyled many times. I never get tired of the rustic, natural look.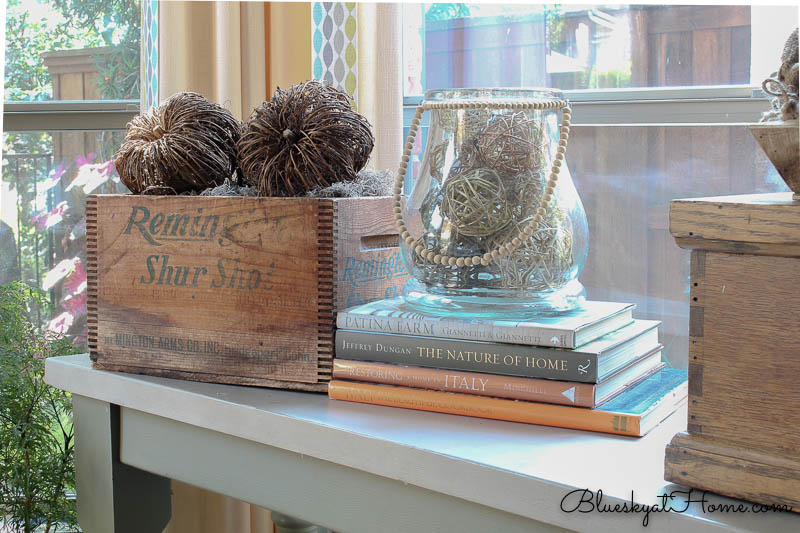 I was almost there, but not completely in love with my fall display. Next, I put back the burlap books and tried my brass and glass lantern, a purchase from Pier 1 for Christmas a few years ago. Inside I placed a battery~operated candle. As you can probably tell from the pictures, I went back and forth with different elements.
Tip 3: Keep moving things around, adding and subtracting until you get the look you love.
The lone candle looked lost and didn't fill the space.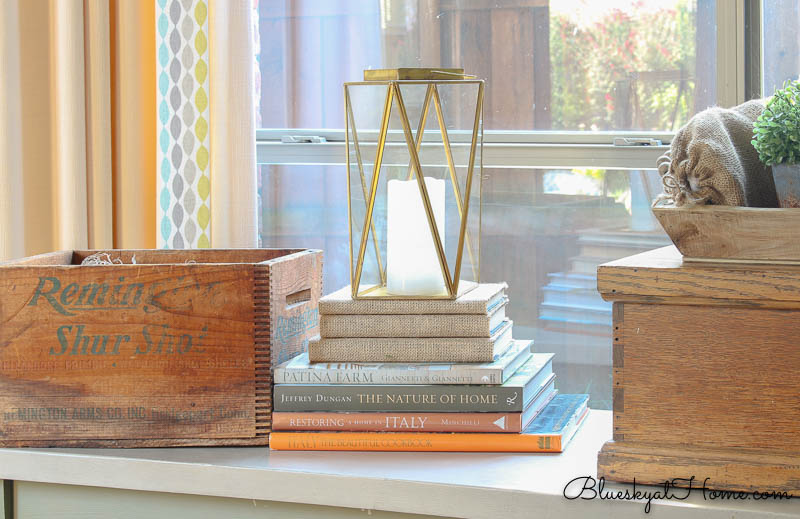 I had more twig balls so I placed them inside the brass and glass lantern. I was much happier with this look.
The twig balls filled the lantern nicely and provided visual weight. The vertical shape of the lantern balances the box and the horizontal books.

I also found a pair of fall~flowered napkin rings from Pier 1. I didn't buy them as napkin rings but as fall color and filler. Another example of how to reuse and restyle fall decorations.
The fall console table was almost done. I still thought that the lantern needed to be higher, but the burlap books were too small. I added a couple more large coffee table books and my console table was complete.
By following the practice to reuse and recycle fall decorations, I achieved my goal of decorating the console table with items I already had and didn't spend a penny. We have pretty fall decor to enjoy every day for several weeks.
As I reuse and restyle fall decorations throughout our home, I don't have to spend much money. Also, I get the satisfaction of enjoying the things we love for another year.
Obviously, this practice to reuse and restyle can be used throughout your home all year long, for all holidays and seasons.
In all transparency, after I decorated the console table for fall, we then moved it back to the living room. It's now a sofa table again. The process for decorating it is still the same. I'm ready to get started on decorating it for fall soon.

You might also want to check out my early fall mantel.
I hope seeing my process will help you reuse and restyle your spaces. I would love for your to PIN these ideas.