Rustic Entryway Idea for Summer
Summer is almost here and it's time to give our entryways a fresh new look. As the first thing guests see when they enter our homes, the entryway can set the tone for the rest of the house. One attractive option to try is a rustic entryway idea for summer.
As the summer months approach, I love to create a welcoming entryway to my home. It's the perfect way to greet guests and announce a change for the new season.
A summer entryway with a natural vibe can be welcoming and reflective of the warmer season. You can instantly add a pop of color and personality to your entryway.
As someone who loves to decorate my home, I find that one of the most important areas to focus on is the entryway. This is the first impression guests have of your home, so why not make it a good one? With summer right around the corner, it's the perfect time to spruce up your entryway.
Pinterest Challenge Entryway with a Summer Vibe
Today is Pinterest Challenge day and our focus this month is a summer entry.
Our sweet hostess, Cindy of County Road 407, has chosen a very distinctive entry as our inspiration.
Although I love the look of this farmhouse entry from Michelle of The Painted Hinge, I was really intimidated by it.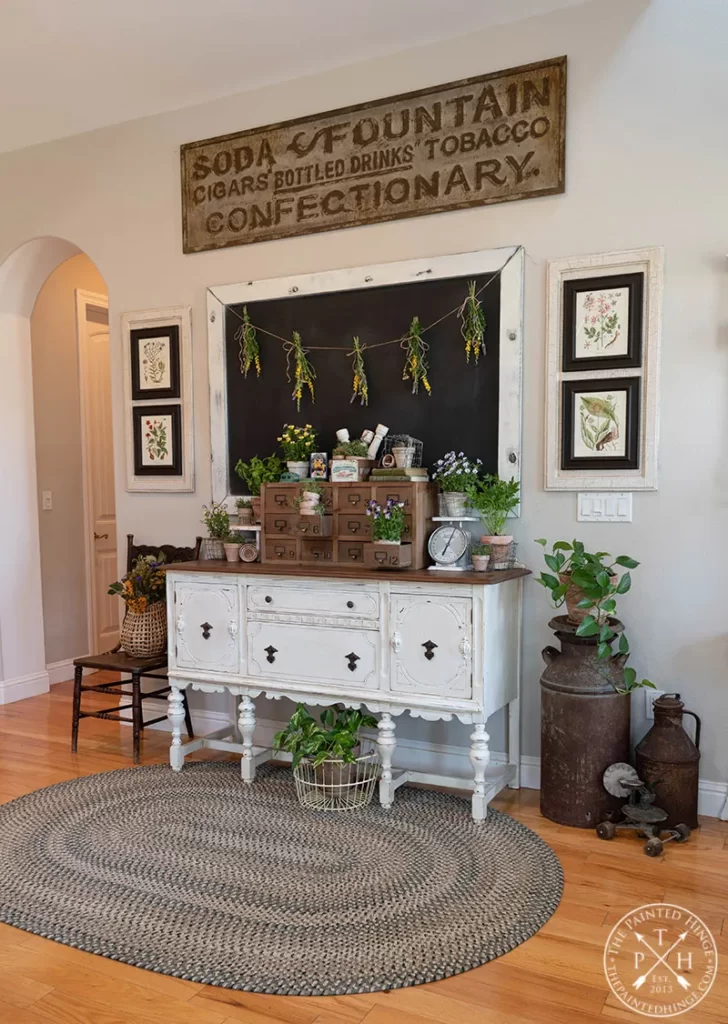 Are you joining me from Barbara at French Ethereal? I know you loved her summer garden theme.
Elements in the Inspiration Entry
Let's look at the elements that Michelle included in her farmhouse summer entryway.
credenza you might call it a sideboard in a farmhouse style
wood card file
terra cotta pots
lots of greenery
wire baskets
stacked books
small stool
vintage chair
old milk canister
old scale
vintage-looking framed botanicals
chalkboard with draped greenery
large vintage farmhouse sign above the chalkboard
Michelle obviously had a large space to fill and did a beautiful job of creating a farmhouse-style summer entry.
My Pinterest Challenge Challenge
I do have a few farmhouse-style accessories in our home, but overall our design style is classic and traditional. Recently, I have added some more modern touches in art and accessories. In fact, I've considered selling the farmhouse elements that I do have.
Did I have enough of the right kind of accessories to emulate this Pinterest Challenge? The challenge is never to copy, but to be inspired.

Whenever I share my own home decor ideas, I do it so that others are inspired. (You can copy if you want to – I take that as a compliment.)
I interpreted this Pinterest Challenge as a rustic summer entryway. Rustic to me means using natural elements that don't necessarily have to be farmhouse style.
Using the list I made of all the basic elements in Michelle's entryway, Idetermined what I had on hand and would use. I put those items in BOLD.
credenza you might call it a sideboard in a farmhouse style – our entry commode is a French Country antique, which would work quite nicely. It's not as big as Michelle's piece.
wood card file – I didn't have one of those, but I did have some small flea market file drawers.
terra cotta pots – I have several vintage-looking pots.
lots of greenery – I have that! And some fresh flowers, too. I also wanted to use some of my favorite green moss.
wire baskets – I have a couple of egg baskets that I bought in Roundtop several years ago. I have another small wire basket and a cute wire container with three glass jars.
stacked books – Three burlap-covered books I made a few years ago.
small stool – I have several that I bought in the Dollar Spot at Target last year.
vintage chair – I have two, but nowhere to put them. So X that element.
old milk canister – Nope.
old scale – Nope.
vintage-looking framed botanicals – I made a set from printables and repainted frames last year. They would stay.
chalkboard with draped greenery – Nope on the chalkboard (I do have one in our kitchen.), but yes on the dropped greenery.
large vintage farmhouse sign above the chalkboard – Nope.
Then I went shopping – upstairs in my home decor accessory closet. I brought down everything I could think of that might work in my own rustic entryway idea for summer.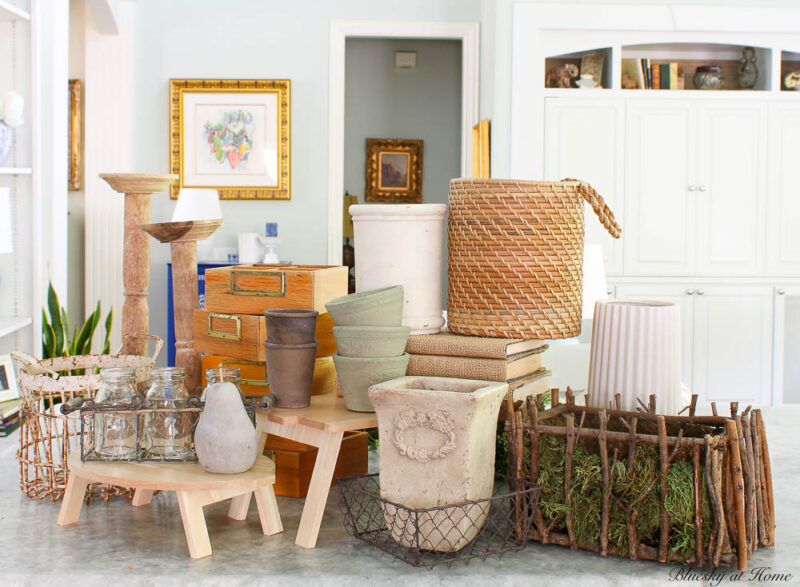 Can you spot what else I included as possibilities?
three vases, one stone (my favorite), one painted terra cotta, and one ceramic
a twig container
a grey stone pear
two wood candlesticks
my tall wood lantern with two drawers (not in this picture)
In addition, I gathered some faux greenery.
Now I was ready to start designing my rustic entry for summer. I figured I would just play with the elements until I got a look that I was happy with.
Do you do that too? Just move things around, replace, remove, insert? I do that all the time, right up to the time a take pictures.
Prepping the Wood Drawers
I bought these five wood drawers at a flea market sale years ago for $5. I've never used them so they have been hanging outside in our garage. This is their moment to finally be in the spotlight.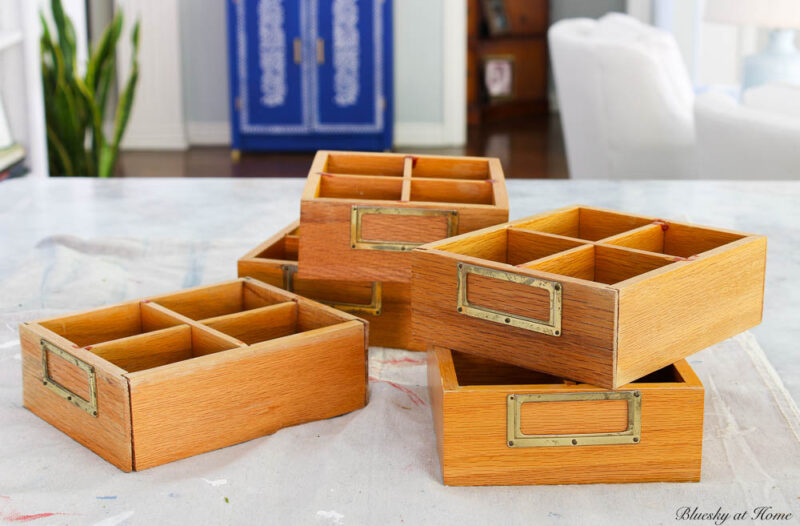 I always intended to paint them. I don't like the shiny reddish stain. Now was not the time to paint them, but I could get rid of the shine by using sandpaper.
They are already looking better.
Can you tell the difference? The three on the left have been sanded. They are looking better. After sanding them all, I wiped them down with a lint-free towel.
Now I was ready to start assembling my summer rustic entry.
Rustic Summer Entry Display
As always the first thing I do is to clear off the space that I am decorating.
You can see the gold-framed blue canvases next to the entry dresser and the mirror.
The first piece I added was the wood lantern. I placed moss at the bottom and then placed a white vase inside.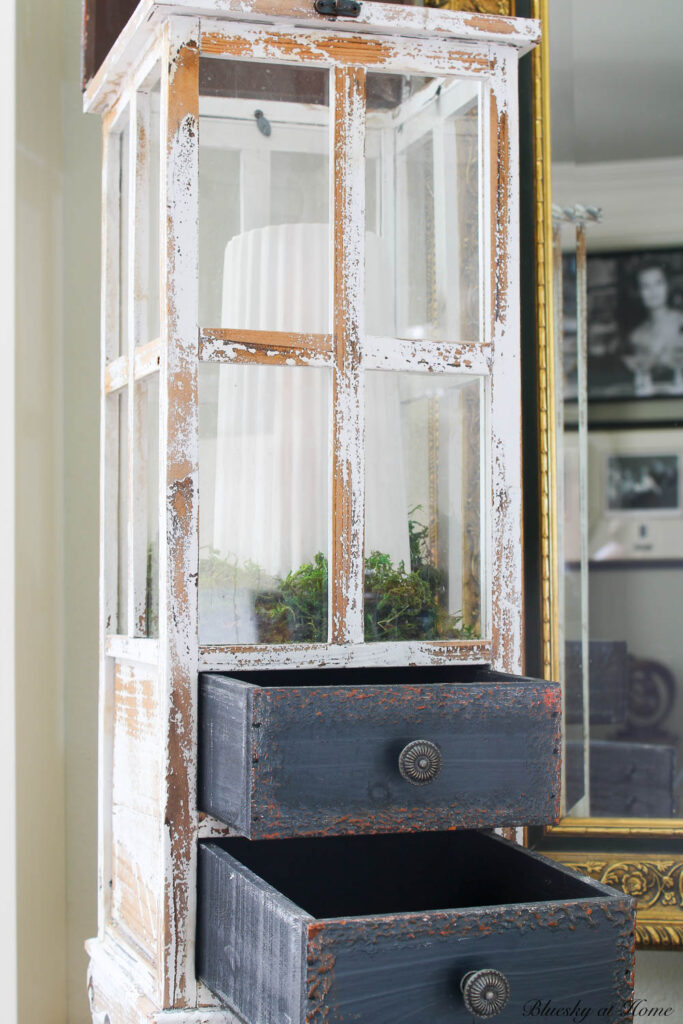 In the two drawers, I added more moss, the small pots, and the stone pear.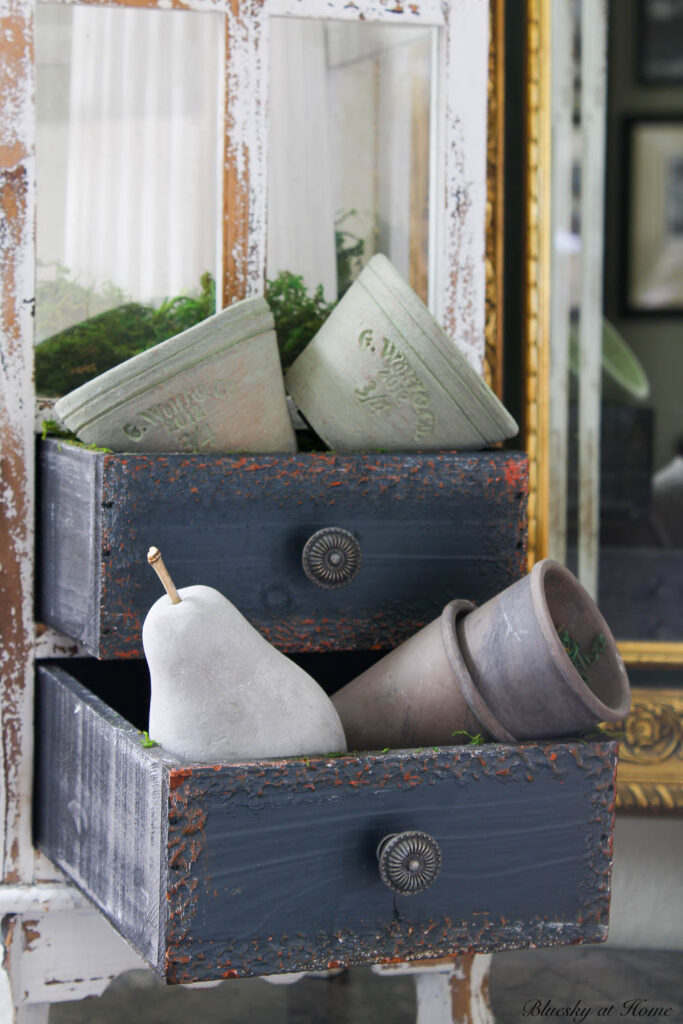 Before I went any further, I wanted to hang the faux greenery. First, I made a loop of the stems and tied them with twine.
Then I strung the greenery with more twine and hung it on the mirror. No way not to have the tripod in the reflection. (We have 3 little nails in the top of the mirror for decorations.)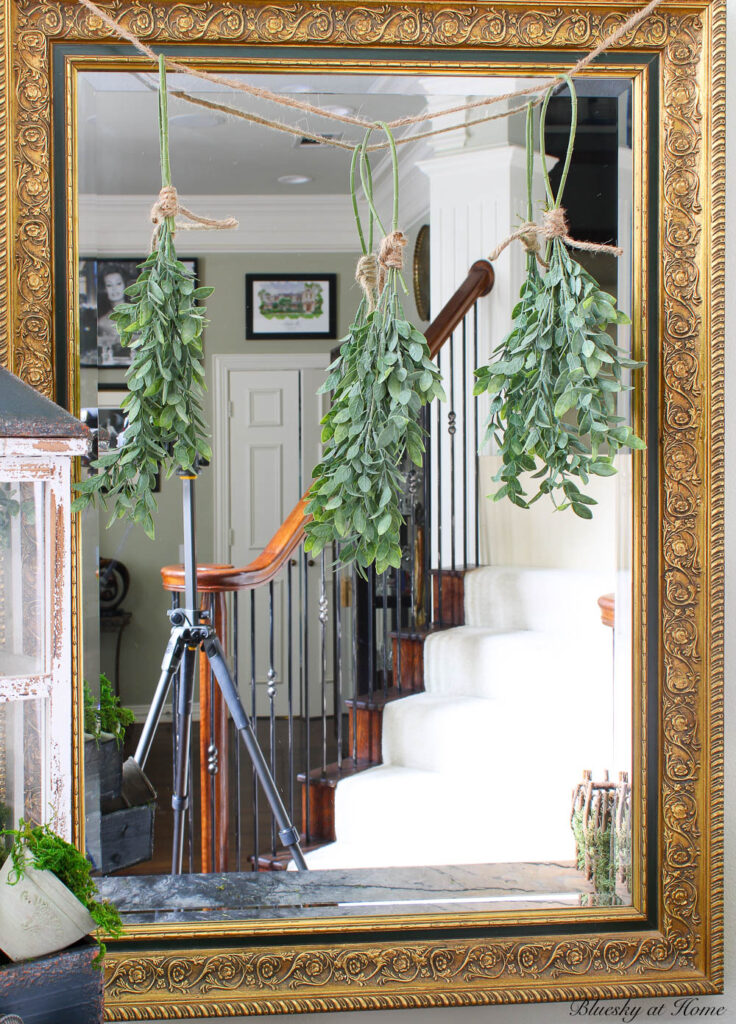 Now I could add more decorative items, like the candlesticks and my French-looking stone vase sitting on the burlap book stack.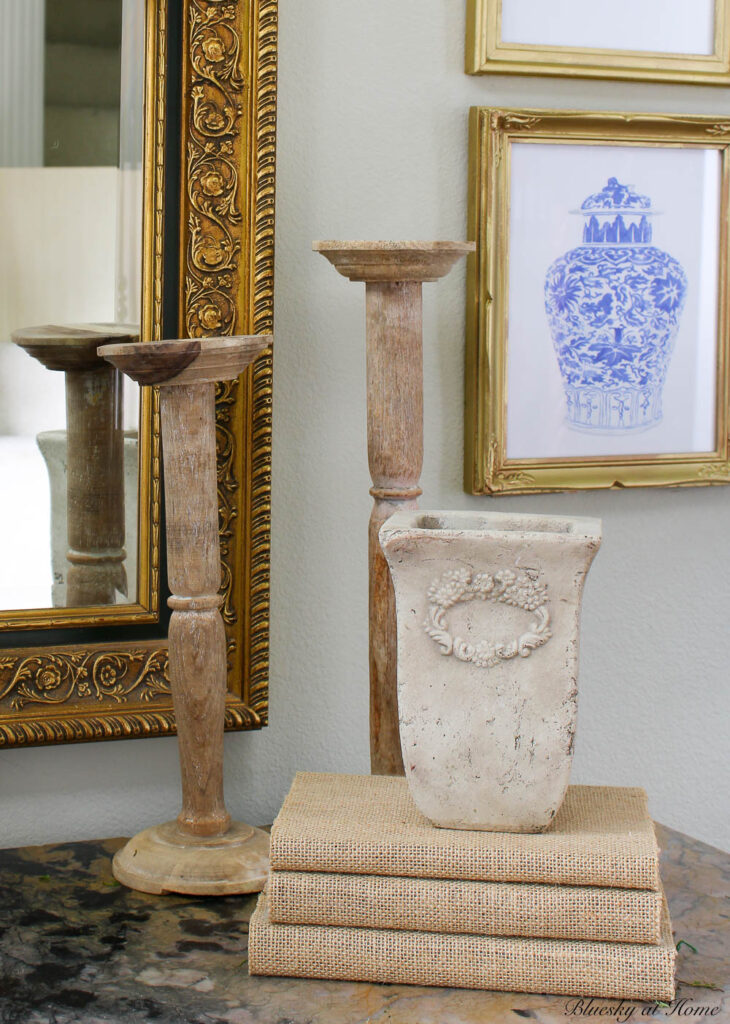 I continued to add items to the summer entryway, moving them around, until I got the look I liked.
I filled the round basket with white faux stems and added a real white periwinkle to the stone vase.

In the background is a French-inspired dish towel that I framed years ago. It normally hangs in our butler's pantry. I added more moss to the small pots and the stone vase.
Next up was the stack of five drawers filled with moss and a few white flowers.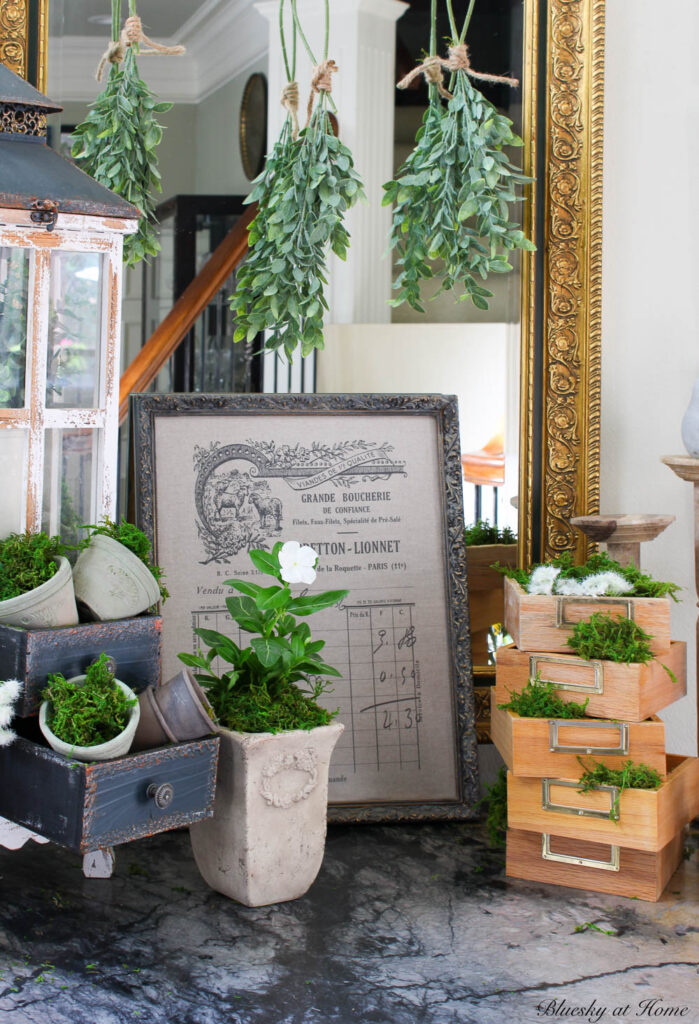 I moved the stone pear to one of the candlesticks. One of the egg baskets is filled with a bacopa that had not yet been planted in the garden. In a few days I'll plant it and replace it will one of the small faux plants I have.
A few sunflowers from Trader Joe's give a big pop of color to the glass jars/wire basket. That was a purchase in Atlanta years ago.
At this point, I really love this idea for a rustic summer entry. The wood lantern, drawers, and candle sticks, baskets, and greenery give a soft natural feel to this summer entryway.
Can you tell that I switched the vase in the lantern to a shorter one? I think it shows up better now.
It looks welcoming from all angles.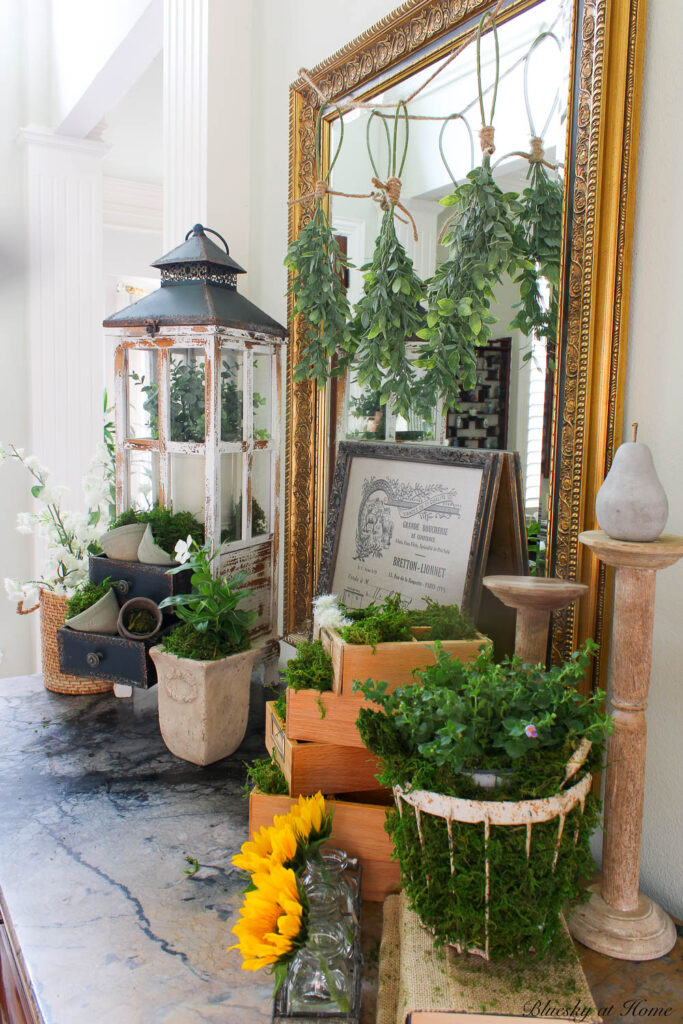 I actually surprised myself by how much I like this entryway idea for summer. It wasn't hard at all.
What do you think of this rustic entryway idea for summer? I hope that you like it as much as I do.
The only thing I purchased were the sunflowers. I have another package for when these start to wilt.
This spring entryway has a similar vibe to this one.
I hope that you will PIN this post to your favorite relevant Pinterest Board.
Next up is our hostess, Cindy of County Road 407. She has a cute cubby shelf for a summer vignette for you to see.
Please visit all my fellow Pinterest Challengers and PIN their posts, too. Happy summer decorating.