11 Steps to Create a Pretty Spring Entryway
How do you create a pretty spring entryway? It's not hard to design a welcoming space. I'm going to show you how to create a pretty spring entryway so you can get some ideas.
Why should you style your entryway? It's the first impression of your home and sets the tone for the rest of your spaces.
How do you make your entryway welcoming for spring? You find an image that inspires you and use the elements you love using accessories you already have.
Having a pretty entry creates that feeling of welcome and delight – not just for your guests, but for your family.
It's like making the bed first thing in the morning. It makes you feel better. Even a simple spring entryway can lift your spirits.
So, how do you create a pretty spring entry? I'm ready to show you how I did ours.
Spring Entryway Inspiration
Leen of Sand Dollar Lane designed this light, airy and simple vignette that is perfect for early spring. When I saw it, I loved the simple palette of green and white.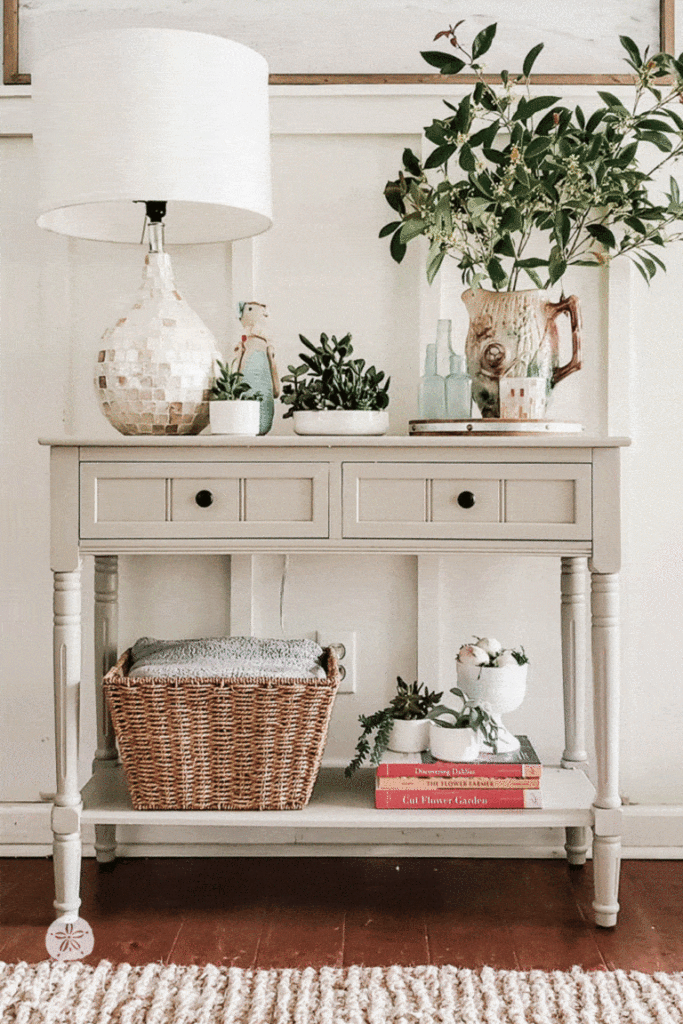 The Elements of a Spring Entryway
How do you begin designing an area in your home?
STEP 1 – Anytime you use a picture as inspiration for decorating your home spaces, start by identifying what elements are in the image.
Here are the elements in Leen's spring entryway.
console table
lamp
glass jars
tray
tall vase with greenery
white planter with plants
books
candle
basket
spring wreath on the front door
STEP 2 – Analyze what you love about the space and what items you have to use.
What did I love about this entry?
the neutral palette with whites and creams
the use of green
a hint of spring color in the glass jars
the light and airy feel
the use of a lamp
classic accessories, such as books, candles, a vase and planters
woven tray
spring wreath
STEP 3 – What items do you have to use?
We don't have a console table like Leen in our entry. Instead, we have an antique commode (I use it for china and table accessory storage) in a stained finish and a marble top.
That is the only major difference between Leen's spring entryway and the one that I'll create is our entry furniture. Leen has a neutral-painted console table with a lower shelf for a basket, coffee table books, and plants.
Leen's color palette is warm neutrals in whites and creams with hints of soft color. She had a combination of different textures. I loved that combination and would follow it.
I was trying to not trying to copy Leen's spring entryway exactly. Instead, I wanted to use it as inspiration.
Preparing to Create the Spring Entryway
There were two items that I didn't have at home: tall, vine-type greenery and a small indoor plant. I bought one bunch of eucalyptus at Central Market and the indoor ivy plant at Lowe's.
Before I actually started designing our entry, I went through my accessory closet (It's upstairs in one of our guest rooms) and brought several items that I thought might work in the entry.
I had three little projects before beginning to design the spring entry.
STEP 4 – Create greenery for the spring entry.
I placed the ivy plant in a short white vase. I used a piece of florist foam to raise the plant. A bit of wadded newspaper secures it. To finish the plant, I used my favorite moss.
Next, I trimmed the eucalyptus and placed it in my tall vase. The soft green color fits this early spring palette.
STEP 5 – Make a wreath or other focal point.
Leen made a wreath for her front door. I wanted one for the mirror in our entry. I used items I had on hand:
A grapevine wreath that I have used multiple times was my base.
Faux flowers
Wired grapevine twine
Moss
I used the wired twine to wrap around the flowers, adding moss at the bottom of the wreath to cover the flower stems.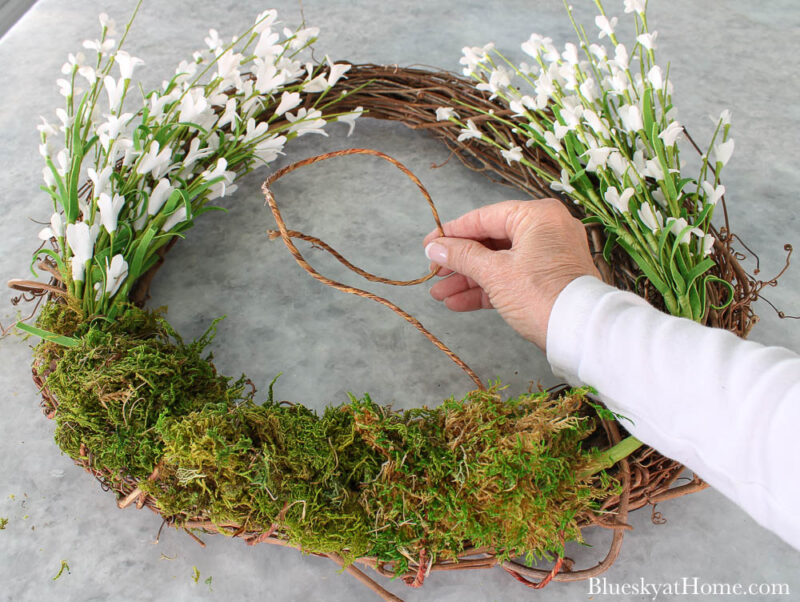 This wreath needed to be simple and have a natural look. It didn't need a bow.
Steps to Assembling the Spring Entry
STEP 1 – I hung the spring wreath on the mirror with a piece of jute twine.
Throughout these images, you are going to see my tripod and camera. No way to get around that when you are photographing a mirror.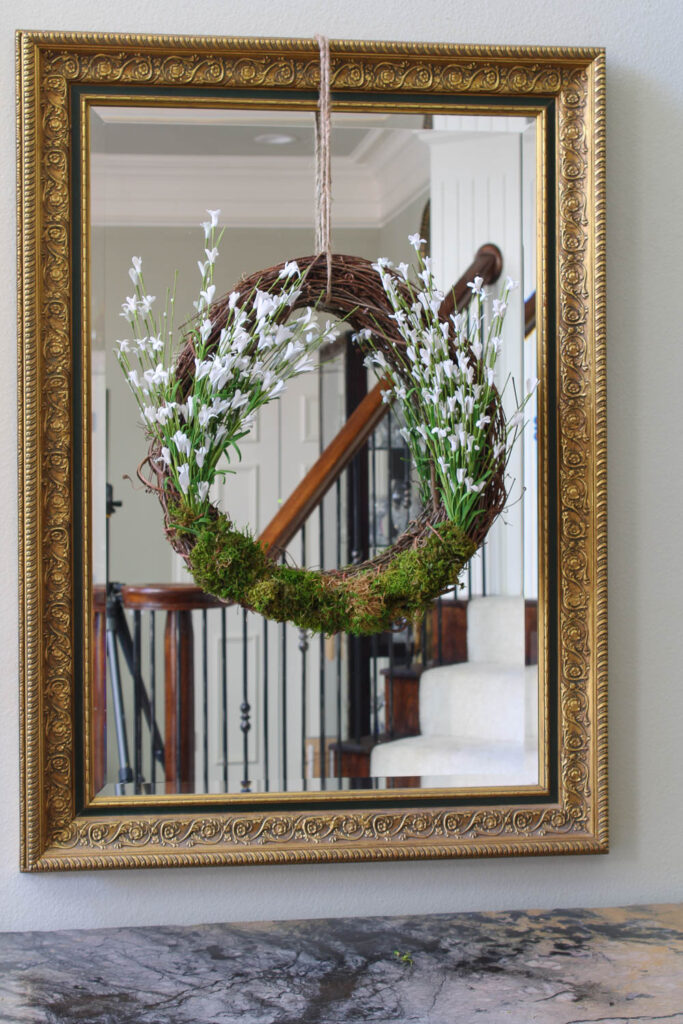 STEP 2 – I start with the largest element which in this case is the lamp. Leen's lamp was tall; my lamp from Ikea is short and wide.
To give the lamp more height, I placed it on a stack of three white books.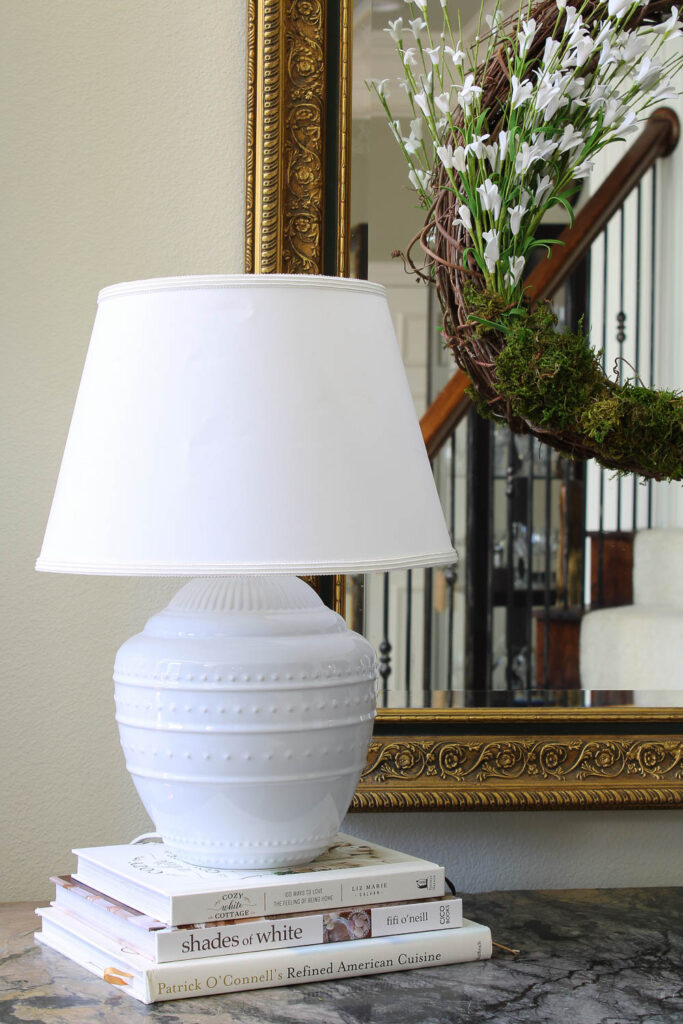 STEP 3 – Next came the small white vase with the ivy.
The frosted glass jars give just the right touch of soft green color to my spring entryway. The middle one is part of a pair from Home Goods that I've had for years. The two on the left and right are liqueur bottles that I painted to give a sea glass look.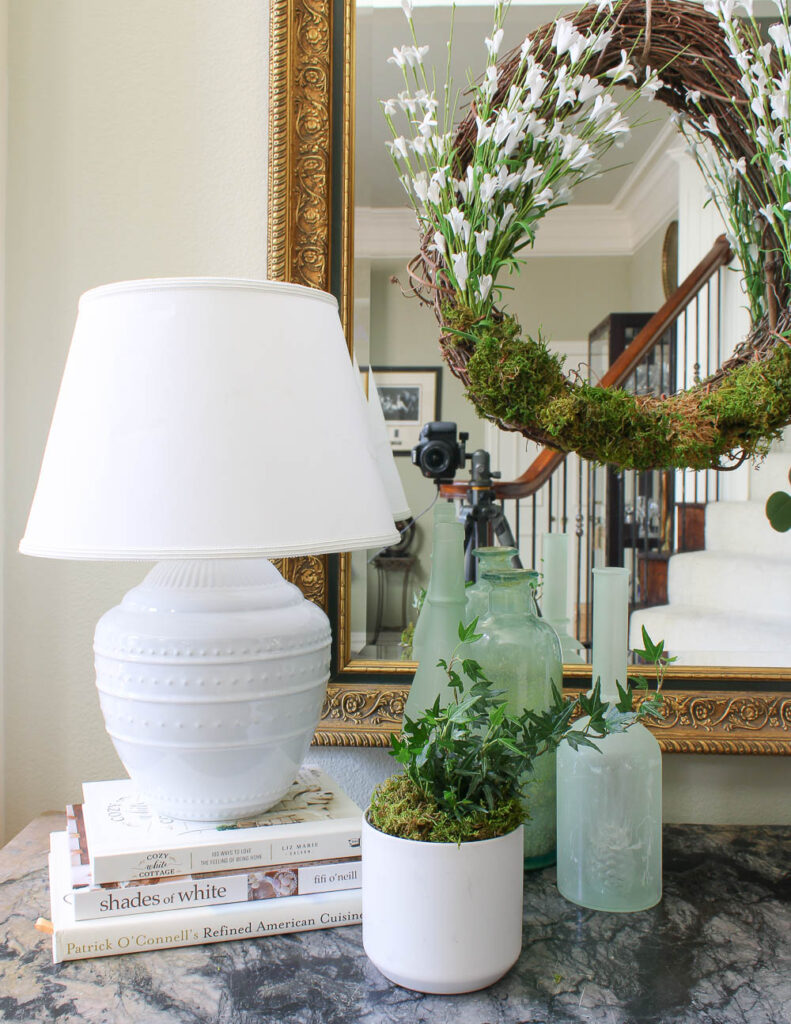 STEP 4 – On the other side of the commode, I added a round woven tray. I love the contrast of shapes.
TIP: Mixing shapes in accessories always creates interest.
The natural wood tones of the tray reflect the natural material of the grapevine wreath.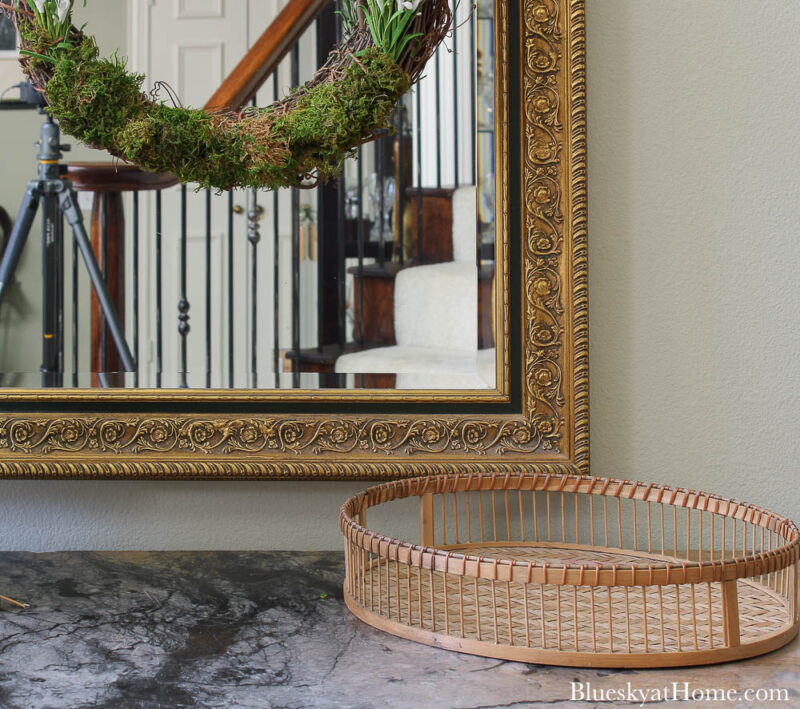 STEP 5 – Next came the tall white vase with the eucalyptus. I love the ridged texture of this vase. It's amazing how light and airy real eucalyptus looks compared to dried. It also has a softer feel.
TIP: Real eucalyptus is so inexpensive and it will last for several days so try to use it when appropriate.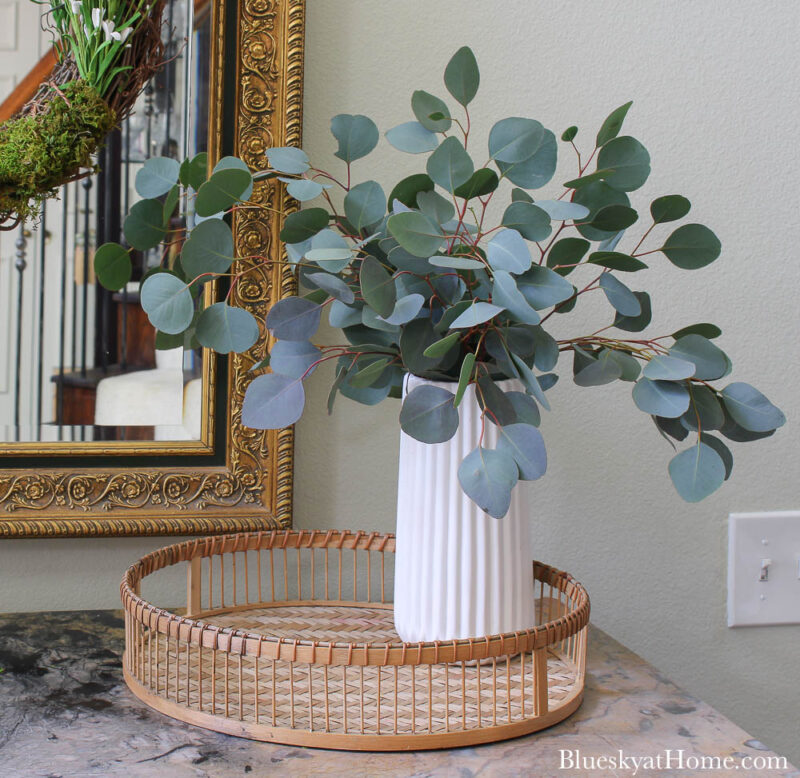 STEP 6 – I added another stack of white books with a candle on top. The candle has a soft, neutral color and is in keeping with the overall style of the entry. (The scent is marshmallow and a tennis friend gave it to me at Christmas.)
As a bonus, the color of the candle compliments the soft grey-green of the eucalyptus leaves.
Nests are perfect for spring, don't you think? I have a couple of these nests. I'll put Easter eggs in them soon.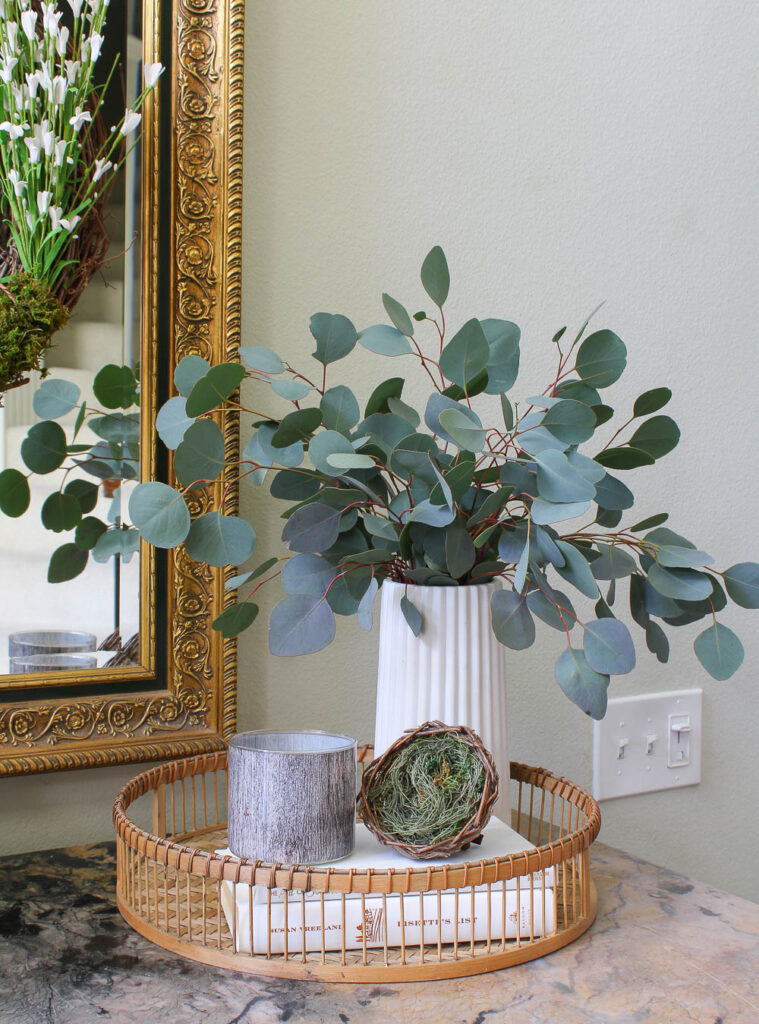 That is how easy it is to create a spring entryway.
I kept the scene simple and didn't overthink the design.
You may notice that the overall shape of the scene creates a triangle, bringing your eye up in the middle.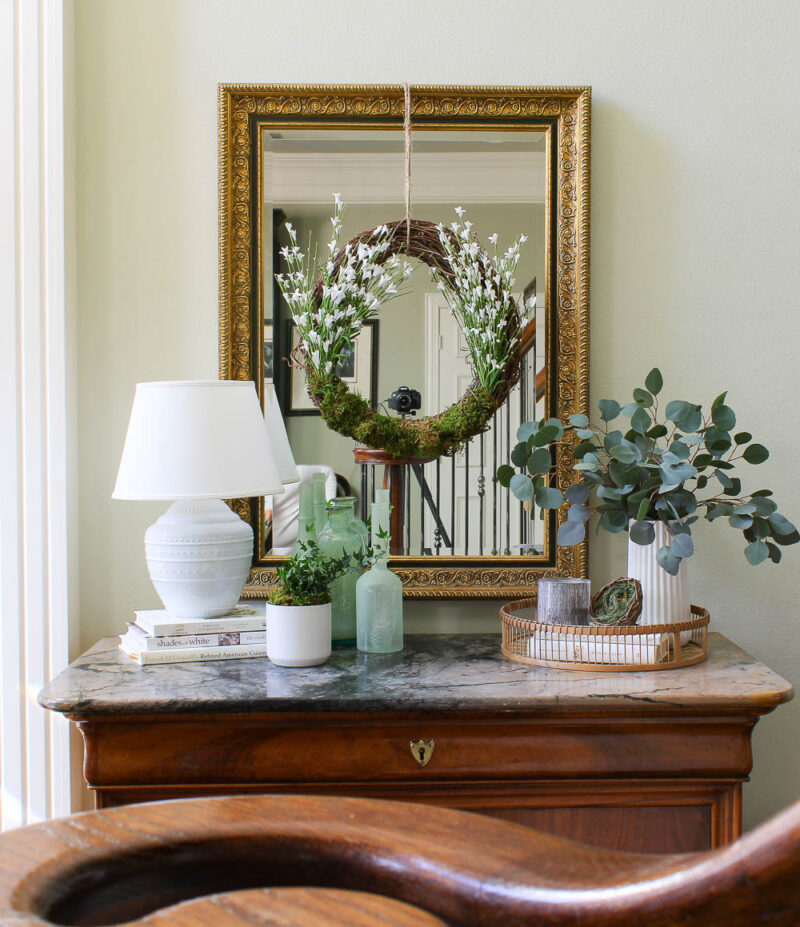 On the closet handle is my French market tote. I bought it last spring as a container for a spring vignette. It now stays on the closet handle and holds Nola's harness and leashes and poop bags.
Do you notice something different?
Since I thought the vignette needed as much height as possible, I switched out the shorter green glass vase for the taller one.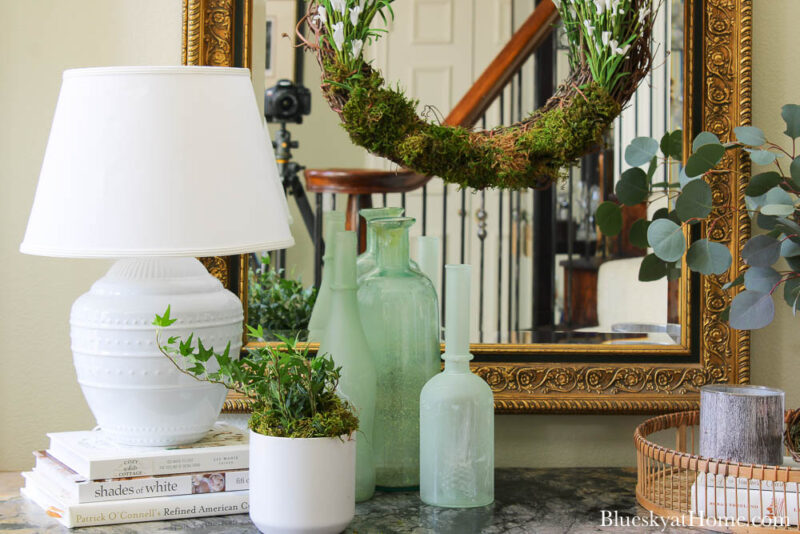 I made a change here, too. The first book stack of two was a bit too large, so I replaced it with three books that are slightly smaller. Now there was a bit more height and more space between the elements on the tray.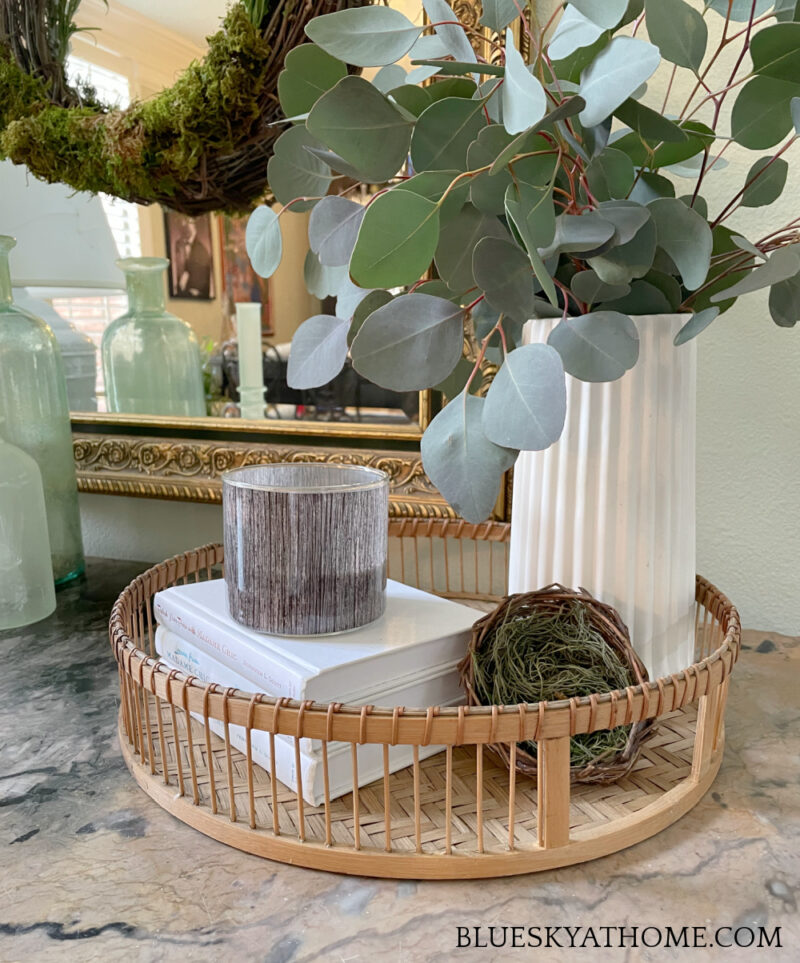 That is how I created my spring entryway. It really came together so easily. What made it so easy?
Focusing on the colors (white, soft green, and natural woods).
Keeping to just a few basic elements – lamp, books, vases with greenery, a few glass jars, and a tray.
Bringing the eye up with the grapevine, flower, and moss wreath.
An asymmetrical arrangement that was balanced.
Including one surprise item – the natural nest with moss.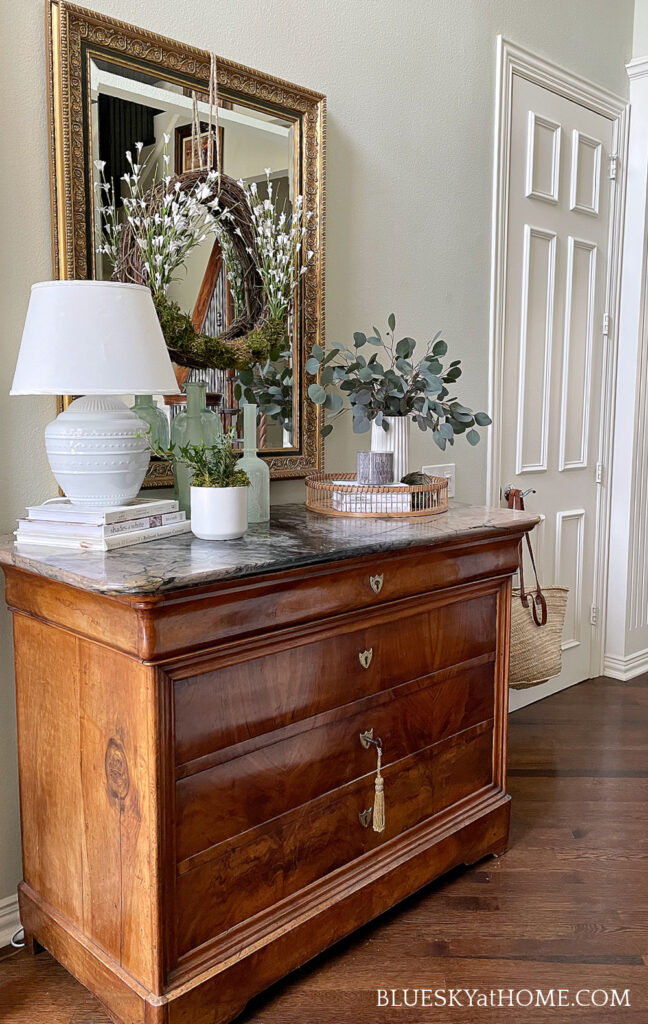 What is your favorite element of the spring entryway? I love the overall look, but I really like that I was able to use my frosted sea glass-inspired jars. The natural eucalyptus is the tall white vase is another special element.
Follow these 11 steps and you'll have the prettiest spring entryway.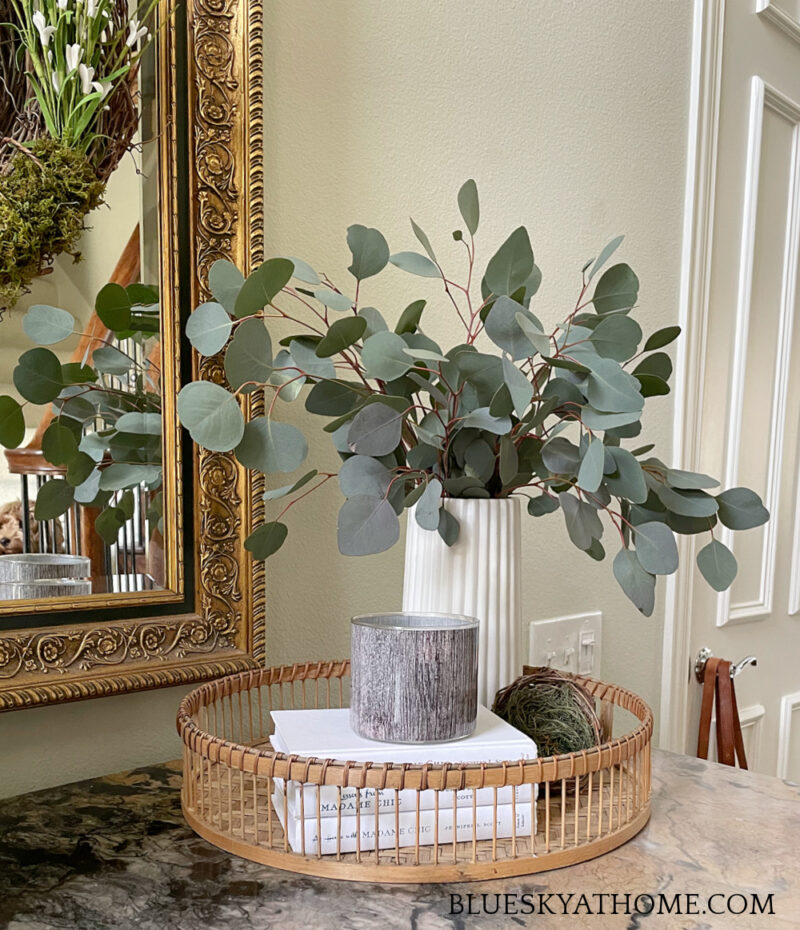 Want to see more spring entryway ideas? After you PIN my spring entryway (yes, PIN, please!), head over to one of my Pinterest Account and check out Spring DIY Ideas and Spring Home Decor Ideas. I know you will get inspired.