Try These 3 Ideas for Decorating Baskets for Summer
Do you use baskets in your home decor? You can never have enough baskets. They are not only useful but are wonderful items for home decor. You really should see these three ideas for decorating baskets for summer.
With a new season around the corner, decorating baskets for summer is a great way to add different themes and colors to your home.
Yes, you can fill baskets with magazines, blankets, plants, and even trash. I have three totally different basket possibilities to give you some inspiration.
Decorating Baskets for Summer: 3 Ideas to Inspire You
This post contains affiliate links to products used in the creation of this project. If you should order any item from this site, I may receive compensation, but you do not pay a penny more. Your purchase is greatly appreciated as it helps support the continued publication of this site.
Why are we decorating baskets for summer?
Because it's time to get our homes ready for summer. If you need inspiration for creating home decor accessories, I understand completely. I use Pinterest all the time to get ideas. That's what it's for.
When I find an item I like, but don't know exactly what to do with it, Pinterest is my go-to source for ideas.
Other bloggers also provide a wealth of inspiration. This lovely vignette from Jamie of Anderson + Grant focuses on one of my favorite things – baskets.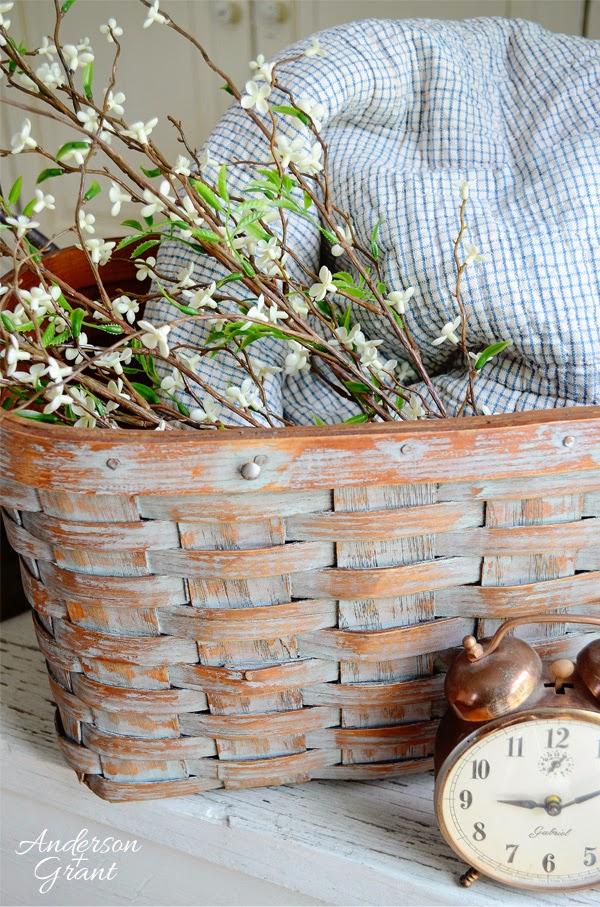 For this basket update, Jamie used an old basket that she had had for years. Some paint and home decor items gave her a great home decor accessory.
What kind of basket can be used for home decor? Any kind! Jamie used an old picnic basket for her basket vignette.
How do you decorate baskets? Any way you like! Use your favorite colors, household items, or anything you have that you want to highlight.
What can you put in a basket? Anything you want!
The great thing about baskets is the unlimited possibilities.
I had three totally different baskets that I wanted to give a summer vibe.
An estate sale basket I bought a few years ago and had already updated.
A freebie basket that is picnic-style.
A brand new "faux basket".
Ready to see some ideas for decorating baskets? Let's start decorating.
Updated Estate Sale Basket for a Patriotic Theme
A little history: I bought this basket at an estate sale in 2018 at the same time I bought the teak table that I recycled as our patio table.
Here is how I updated this basket. And here is what it looked like after I finished it.

Here is how I used the basket as an Easter centerpiece.
Since Memorial Day is coming up, I decided to use my refurbished basket with a patriotic theme for our front entry. Red and white would be my color theme.
First, I placed a red check piece of fabric on our entry commode folded like a runner.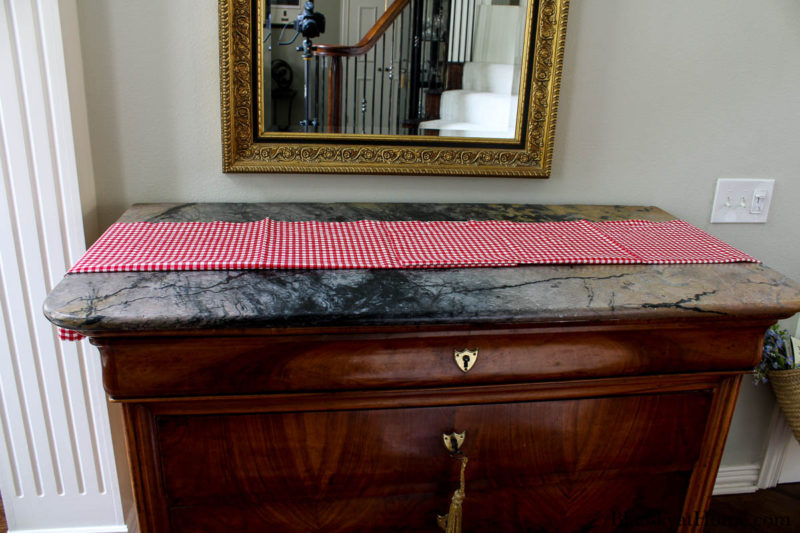 Then I filled the basket with crushed newspaper to act as support for my accessories.
TIP: Use more paper than you think you will need. The paper will "sink" from what you put in the basket.
As usual, this time of year, I had my heart set on red geraniums. Fortunately, one of the nurseries close to our home had plenty. I bought three 4-inch pots. I needed a container to put them in and I used one of our old dog water bowls.
I placed the bowl on the newspaper and used two red check dishtowels to fill around it.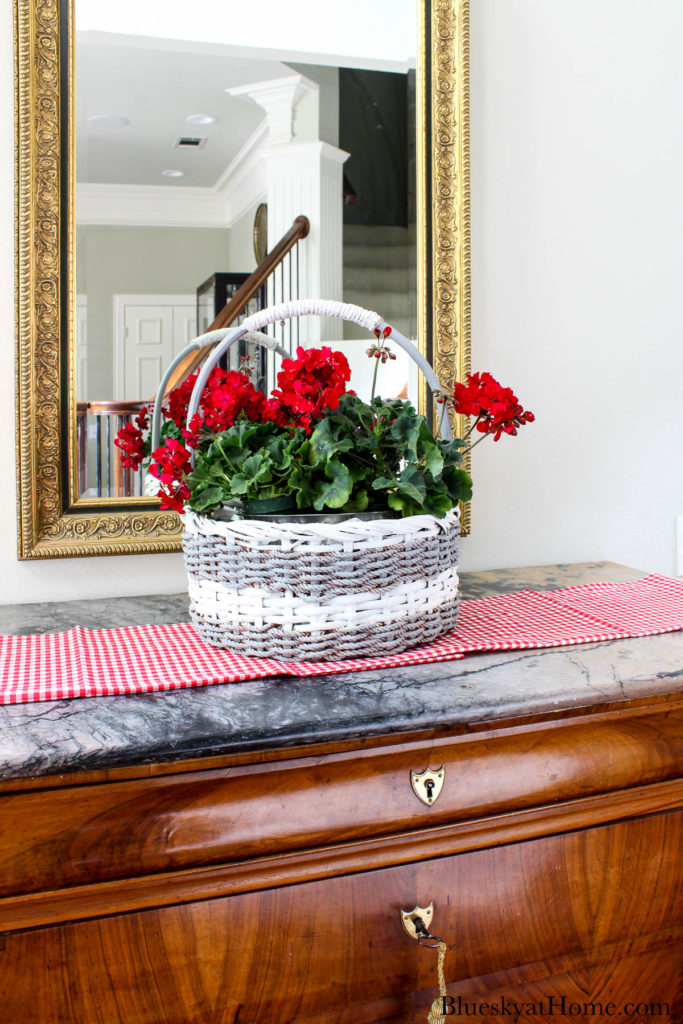 Next, I added American flags.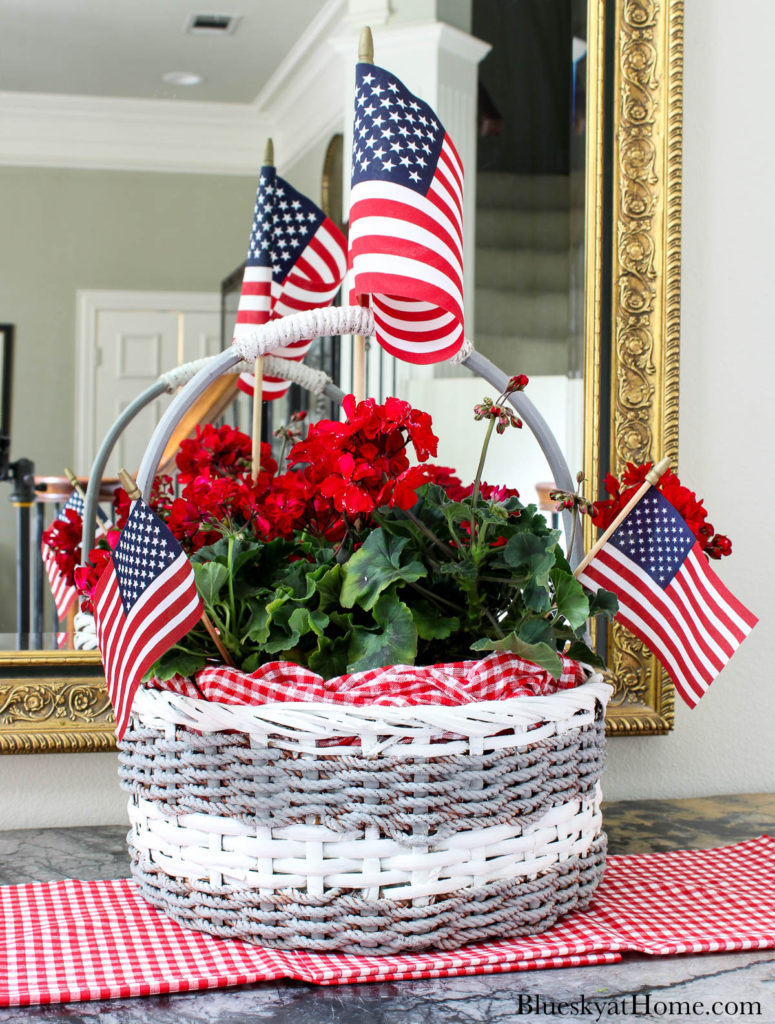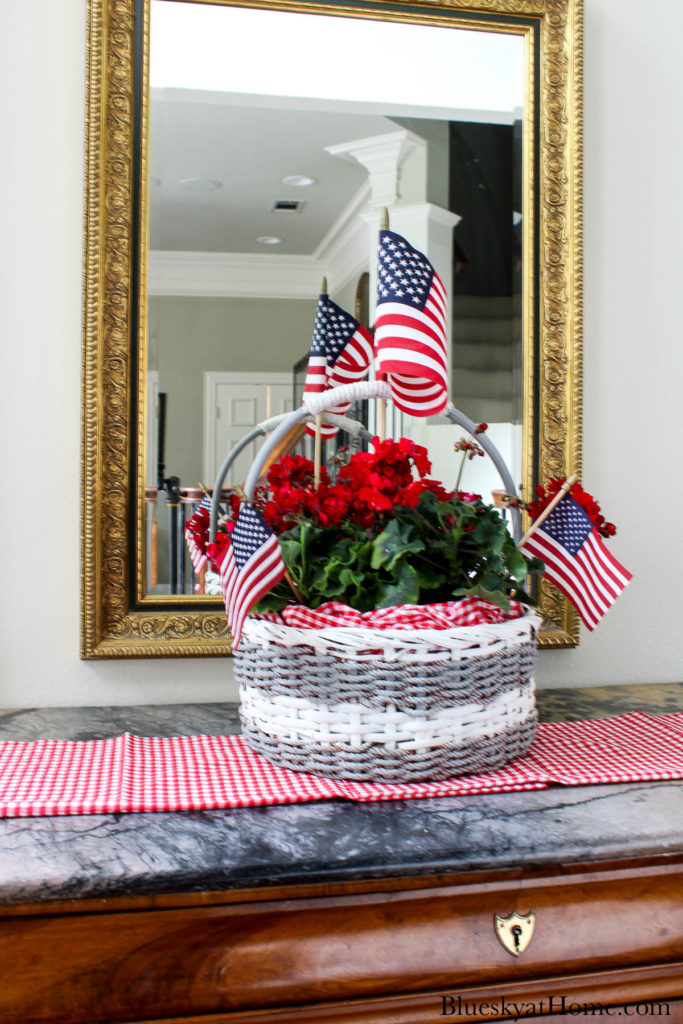 And, finally, I added a couple of red, white and blue decoupaged pots I made with some sparkling patriotic decorations.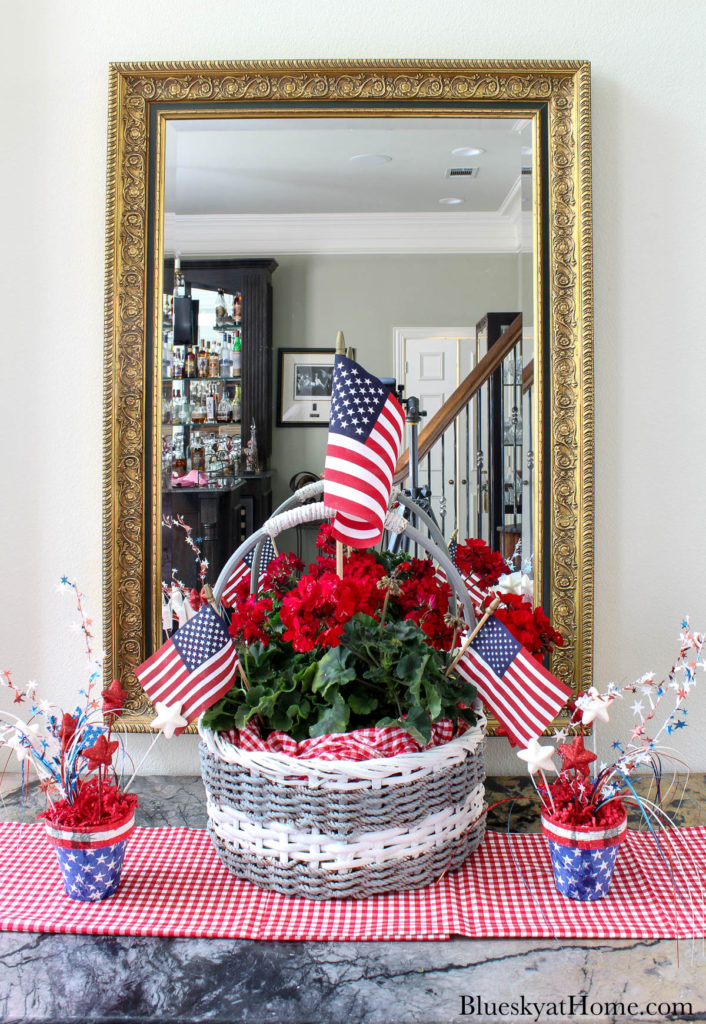 My first decorated basket using a refurbished basket was done, all ready for Memorial Weekend.

This basket cost me only the price of the geraniums. I'll move these outside after Memorial Day to enjoy all summer.
Freebie Picnic Basket Vignette
I honestly don't remember who gave us this picnic basket or when. I do know that it was a gift food basket with dishes and silverware, glasses and napkins. The empty basket stays on the top of our laundry room cabinets. I have wanted to use it and now was the time.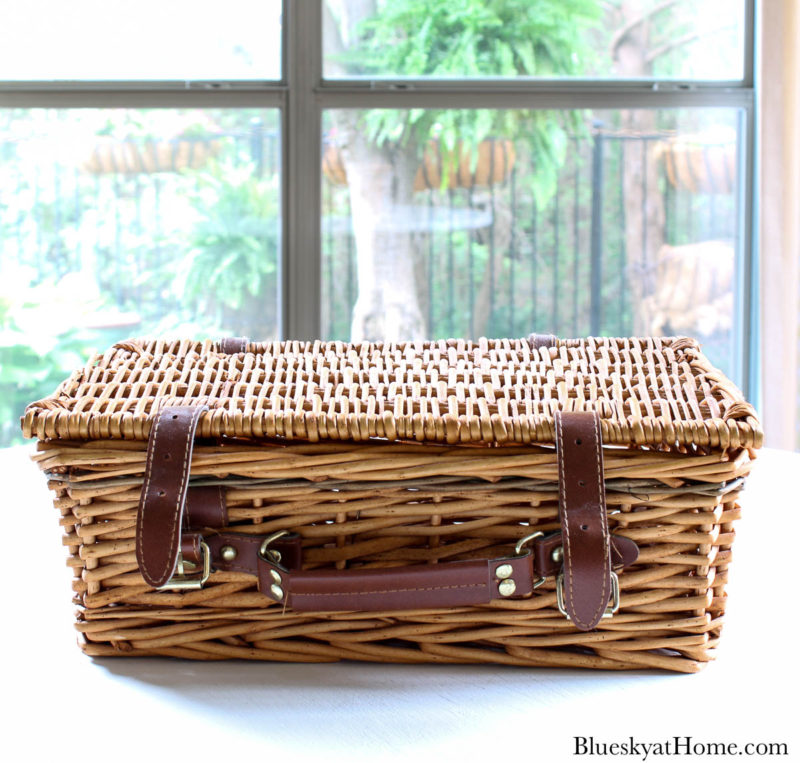 I thought about painting this wicker basket as Jamie did hers but decided that it was more authentic left au natural.

I decided to decorate this basket as a picnic hamper for two in our backyard or for a trip to the park. My color theme would be blue and white because I absolutely love that classic combination.
Here are the things I would use:
I recently bought these new Blue Willow dinner paper plates and Blue Willow salad size. I fell in love with the pattern.
Matching blue and white napkins.
Blue and white dishtowels that I bought for $5 each at the Queen of Hearts Antique Mall on a trip to Atlanta. These would be used as "lap" covers or placemats.
Two large martini/margarita glasses with cobalt blue stems. These were party favors at a school event for my younger daughter's high school. We got home with four of them.
Blue faux flowers for color.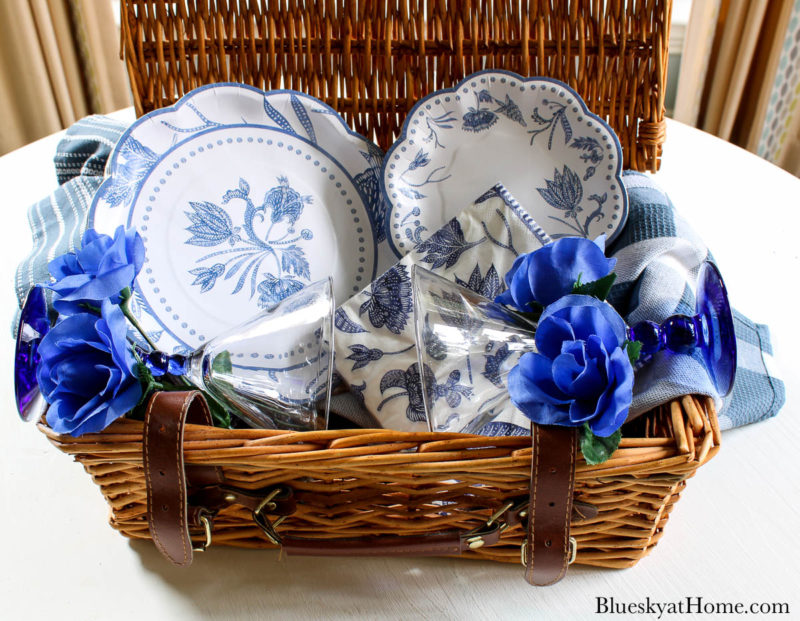 Since the picnic basket would sit on our breakfast table, I wanted to add a tablecloth to set the stage.
I had a piece of fabric with a blue motif to use. I bought two yards of the fabric at IKEA a couple of years ago just because I loved the colors and pattern.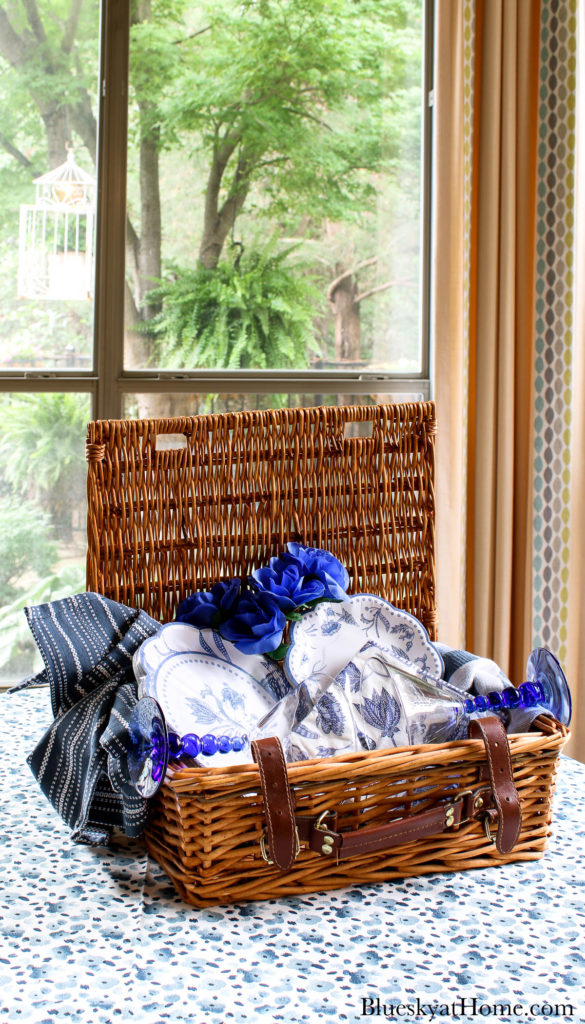 This decorated basket will sit on our breakfast room for a few days just so we can enjoy it.
Isn't that a pretty sight?
A French Market Tote Bag for a Trip to the Park
I have been seeing French market totes lately and loved them. I searched for a few weeks until I found the one I liked best.
The French market totes are bigger than a purse so that you can bring home fruits and vegetables. I intend to use this market tote for travel.
I picked this one because it is really big and had double handles – one set for hand carrying and one set for over the shoulder.
The tote was a little crushed when it arrived so I stuffed it with bubble wrap to fill it out.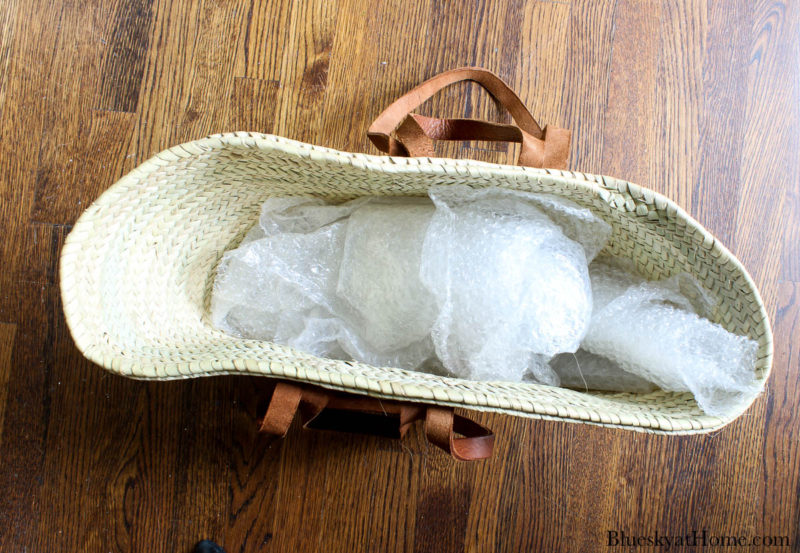 For now, I decorated the tote with items to go to the park near our house. I went shopping at home to fill my French market basket.
Pretty faux blue flowers ~ just because.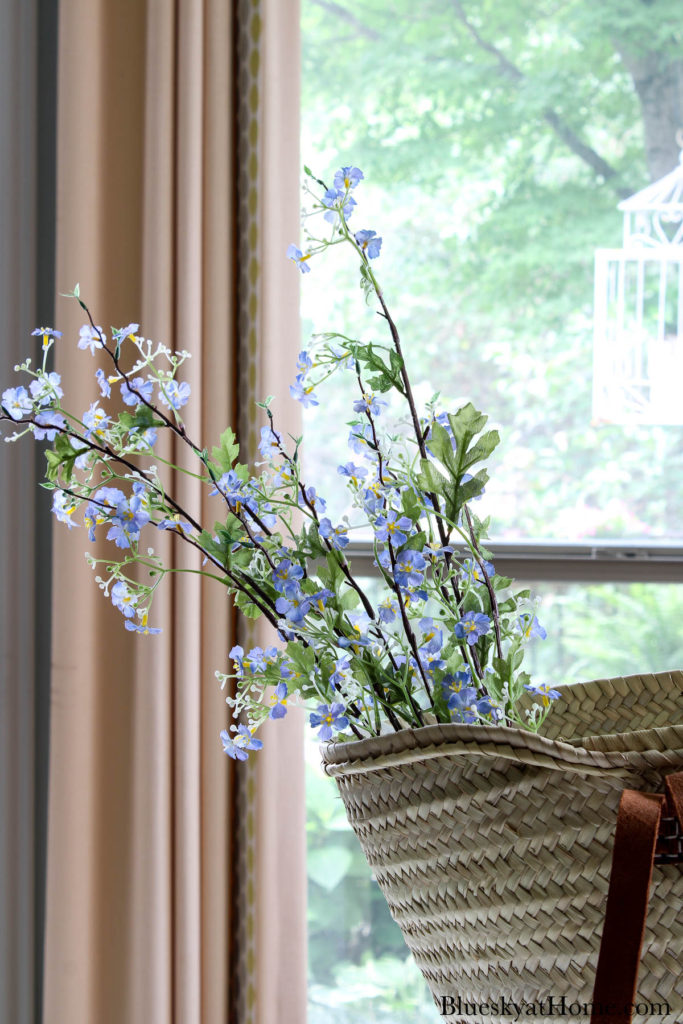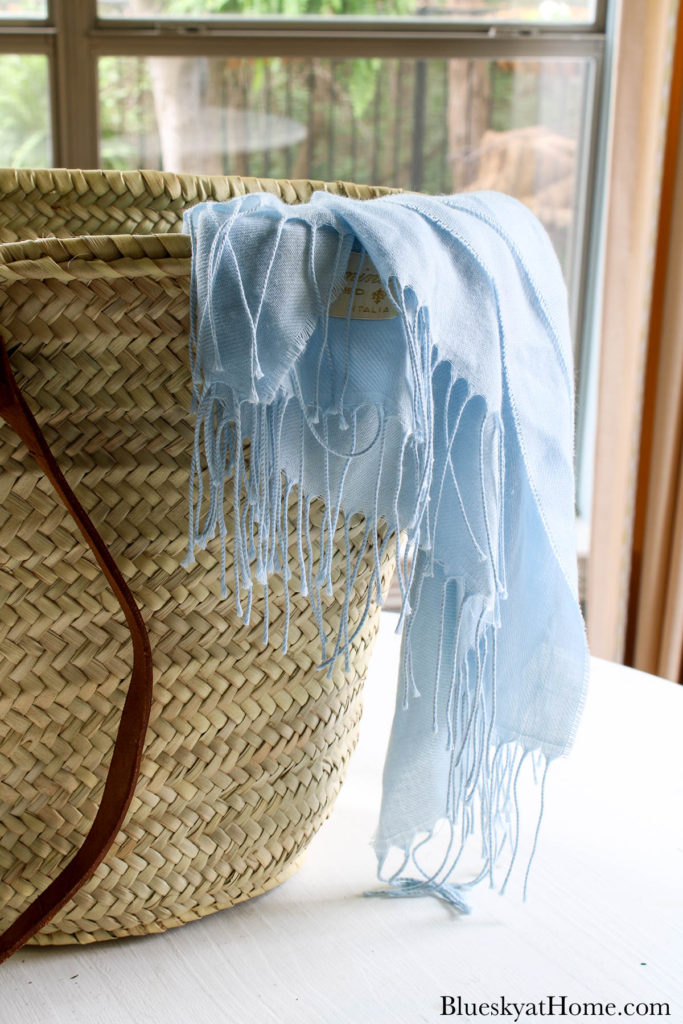 Of course, a hat for keeping the sun off my face. I bought this hat at the Dollar Tree several weeks ago (here's a similar hat). I removed the aqua ribbon and replaced it with a light blue one.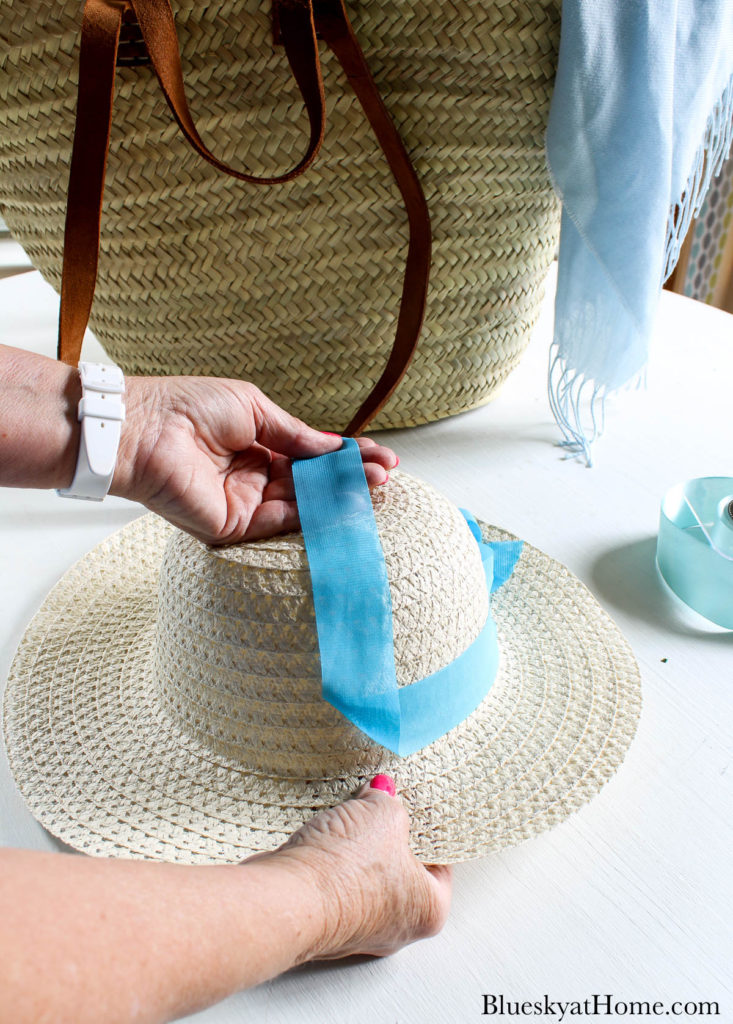 Now I was ready to hang my decorated French market basket.
I hung it in our entry on the guest closet handle – ready to grab on the way out the door.
This basket was the only new one I bought. Everything I used to decorate it I had at home. Shop your home first when decorating.
Basket Shopping
Here are ideas for baskets and accessories:

Final Basket Thoughts
I hope that I've given you some ideas for decorating baskets you already have or new ones that you find. Keep an eye open at garage sales, flea markets or estate sales. Or even curbside.
I literally found these two baskets a few Sundays ago as I was walking Nola. They were sitting on the curb. I couldn't believe my good luck.
They are both in great shape. I loved the style, design, and size. I don't have any baskets like them. Look for these baskets in a new post near you.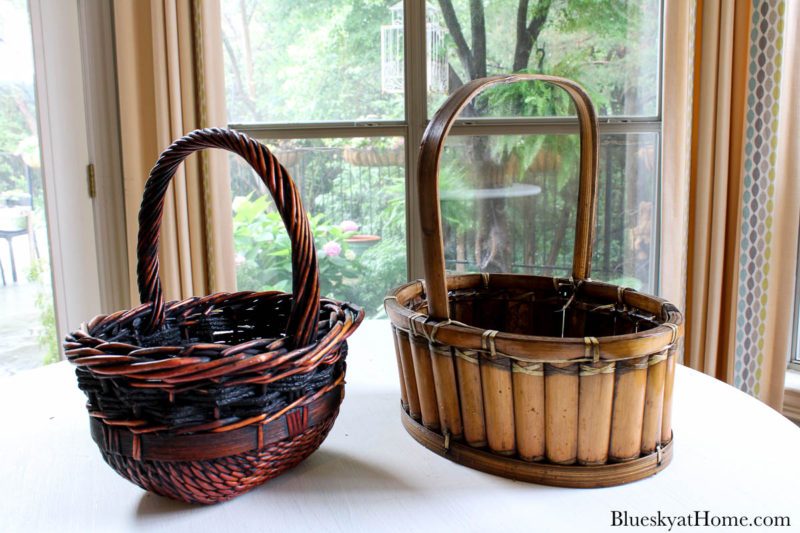 Want a DIY basket project? I have this Anthropologie-Inspired Basket Project for you.
I can't wait to use them. What would you do with these baskets? Leave them as is or paint them or something completely different?
Here's another recent basket arrangement I made for our living room coffee table. For this one using flowers, I used an old basket that I gave an update
Don't forget to PIN all the pretty basket ideas. Let's start with these three baskets decorated for summer.