5 Ideas for Master Bedroom Winter Decor
Who doesn't want their bedroom to have a warm and cozy feel? Baby, it may be cold outside, but, inside winter decor can create the feel of a warm cocoon. So I'm sharing how I created a cocoon with 5 ideas for master bedroom winter decor.
These 5 ideas for your master bedroom winter decor will give you some inspiration for your own pretty bedroom.
Creating master bedroom winter decor isn't hard. I created the warmth and feel I wanted mostly with items from our home. These 5 ideas should get you started on your own warm and cozy winter decor.
5 Ideas for Master Bedroom Winter Decor
This post contains links to products that I love, use and highly recommend. If you should order any product from this site, I may receive compensation.
At the end of the post, I'll share the resources for our master bedroom winter decor.
I've shared ideas for winter decor accessories. Like any room, the master bedroom can be decorated for winter. Many of the same elements in your living room and kitchen can be used in the bedroom.
pillows
throws
candles
flowers or greenery
wood
baskets
signs
fabric
paper
candlesticks
ceramics
planters
The most obvious way to add warmth and a sense of coziness is in your bed linens.
Layered Bed Linens
The first thing I did in our bedroom was to put away the coverlet, pillow shams, and pillows. I replaced them with layers of white. Your whites don't all have to be in the same shades. Different textures provide more interest.
coverlet
duvet cover
shams
pillows
Ironically, the coverlet and duvet are what I bought last spring for my spring and summer bedroom look. Funny, how white works for winter, too. What makes it work in winter is layering. The pattern of the quilted coverlet contrasts with the smooth down~filled duvet on top.
This is Lovely Layla's favorite place to nap.
Pillows and Throws
Can you have too many pillows on a bed? Sleeping pillows topped with Euro pillows are always on our bed. And then I like to layer more pillows in varying shapes and textures on top.
We always have extra pillows upstairs for company. For more pillows in our bedroom, I used 2 standard pillows in front of the 3 Euro shams. To give the standard shams some extra cuteness, I added pom~pom trim to them.
For even more layering and texture, I made these no~sew pillows. You won't believe where the fabric came from. The extra~large pom~poms are leftover from an earlier pillow project. I love the plush texture and feel they add and they repeat the pom~pom theme from the standard shams.
And as the final pillow, I added the monogram pillow I made last spring.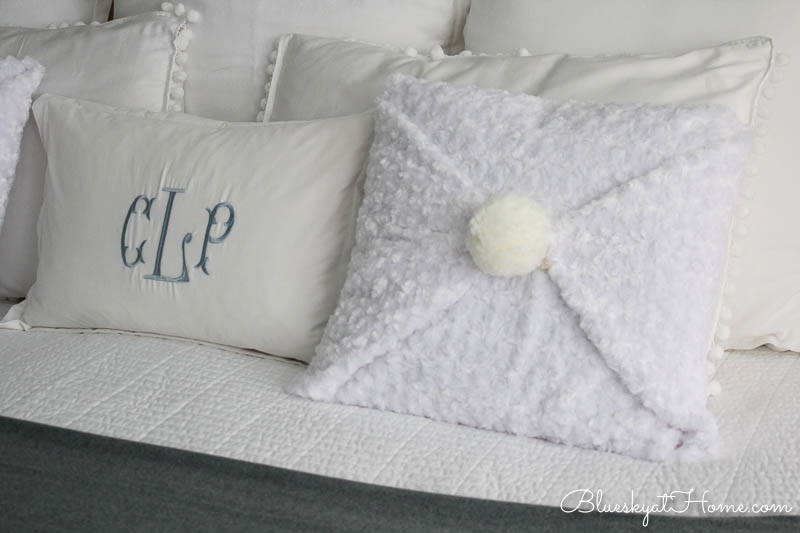 I wanted more layering and a little soft pop of color ~ nothing stark. I love grey in winter decor ~ I have a lot of grey in my winter wardrobe ~ since it's softer than black and has so many color variations. Sweet Shark gave me a beautiful cashmere shawl for Christmas in a deep grey and I thought it would be perfect on top of our coverlet. I can take it off to wear whenever I wanted.
I love the contrast of the grey and white.
Poking through one of our guest room closets, I found a throw that I made last year for Christmas and completely forgot about. It was a lighter shade of grey with a snowflake design. I had trimmed it in pom~poms.
I had an "ah" moment, bought it downstairs, and threw it on the bed. It was perfect, not just from a winter decor standpoint, but I have used it almost every evening for extra warmth on cold nights.
Places to Sit
I think every bedroom needs a comfortable chair or seating area for reading at the end of the day. This is where Sweet Shark reads when he first comes home from work. It's his quiet time to transition from work to relaxation while I start dinner.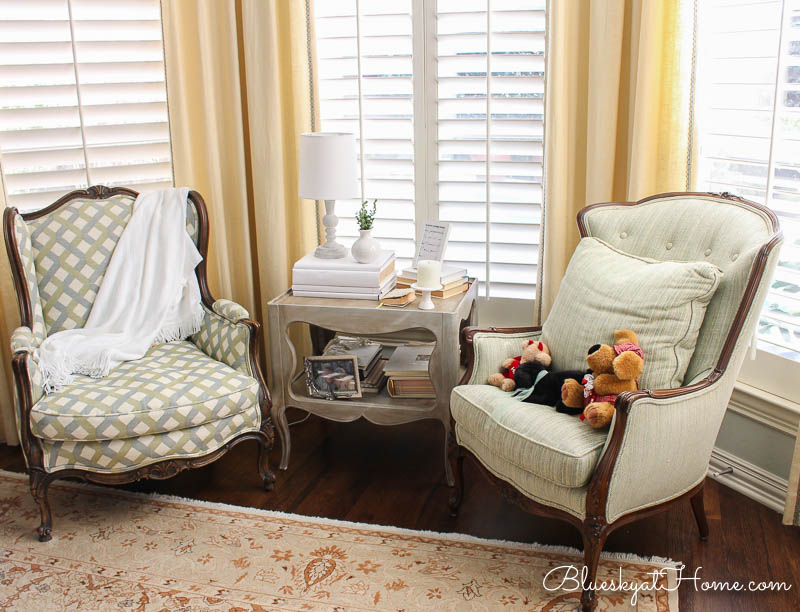 The chair on the left is special to me because it was in my parents' living room when I was growing up. It was a very well~made chair that I've had for 25 years. It's been reupholstered a couple of times and still is in great shape. 
The other chair was Sweet Shark's. It's been reupholstered also. Both chairs have been in our bedroom at both homes since we married.
The reading table (which belonged to Sweet Shark's grandmother was originally a medium stain. When we first moved into our present home, I painted it.
It was in our living room until last year when we moved it into our bedroom. It's smaller than the previous round glass~topped table, which is now our breakfast room table and has a better scale for this space.
Every reading space needs a place for a small lamp. The lamp base is a garage sale find from years ago that I painted white and washed over with light grey. I just changed out the lampshade (a fabric one I made) to a new linen one.
Because the lamp is short, I covered several large books with white craft paper for more height and for a more coherent look.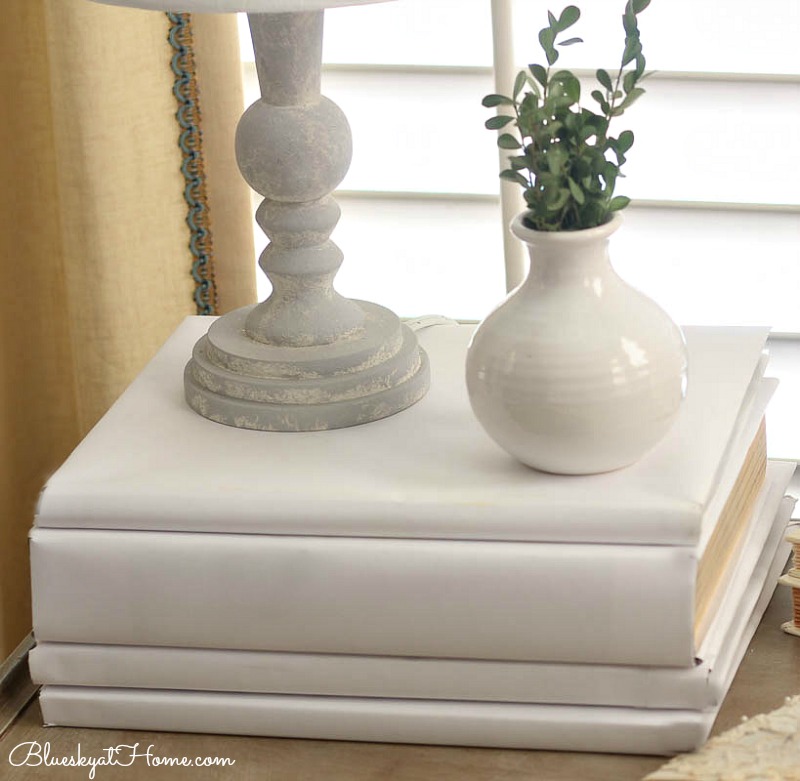 A few books, a  white candle, a small vase of greenery, and another French~script stencil in a white frame provides the sense of calm that this area deserves. The little lace and beaded book is the Bible Sweet Shark was given when he was baptized. It's a family treasure.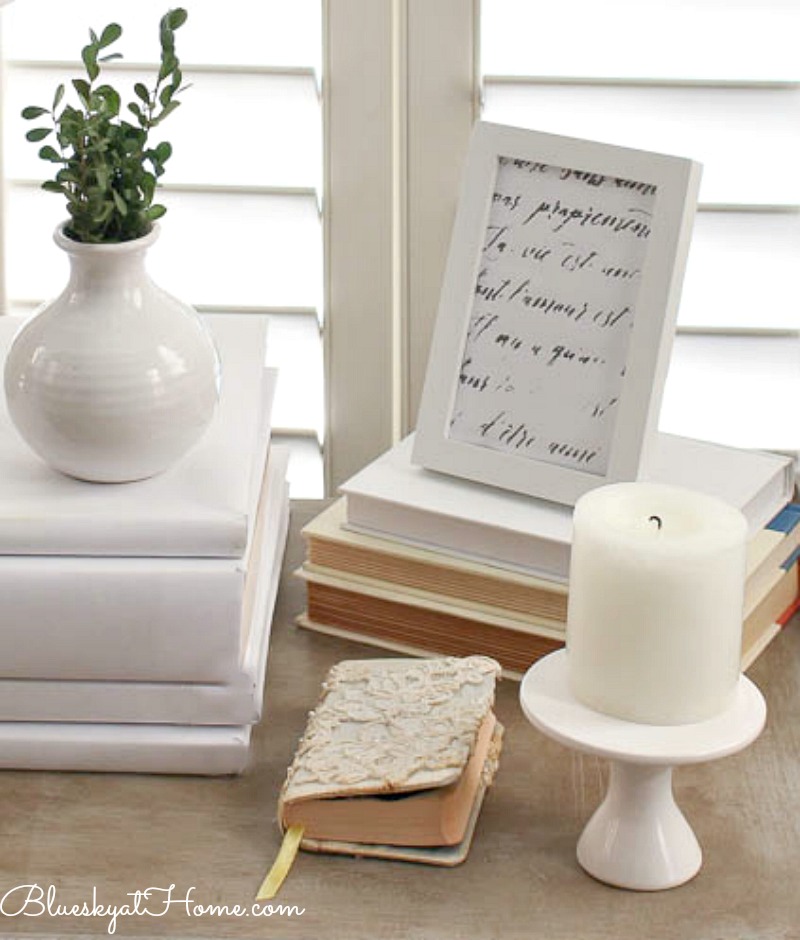 It's also nice to have a bench to sit on for putting shoes and socks on. We have had the bench at the foot of our bed for 20 years and it is used every single day.
Since I have a hard time seeing the TV from bed, I often sit on the bench for watching the news at night.  When we moved into our present home, we had it reupholstered in a bright yellow geometric pattern. Here's what it looks like as well as our usual duvet.
Last spring I bought a fluffy, furry throw that I thought I would use to make a seat cover for my office stool,  but I wanted to cover the bedroom bench and I thought this throw would do the trick.
All I did was spread it over the bench and tuck it under the bench cushion. Perfect fit!! And I love the cozy look and the warm feel.
I made a trip to Home Goods last week (I hadn't been there in months.)  I find the best things (dishes, towels, decor, bath gel) just walking up and down every aisle. I always find great pillows there too.
I think I hit the jackpot when I found these rectangle, grey checked pillows. Two fit perfectly on the bench. I love checks and the grey fits in my master bedroom winter decor. The pillows also add extra support and comfort to the bench. They are zippered so I can make other pillow covers.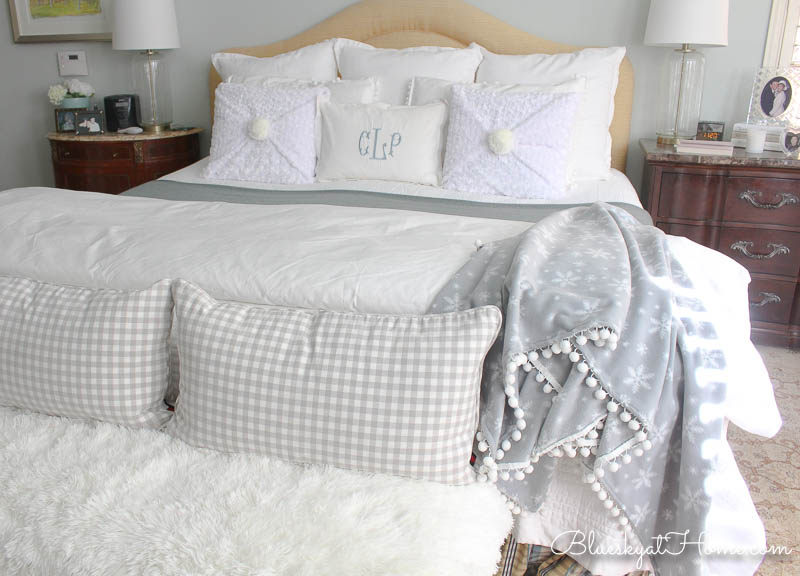 The dark grey cashmere shawl, the medium~light grey snowflake throw, and the light grey check pillows together add pattern, texture, and color to our master bedroom winter decor.
White Accessories
I shared in our living room and kitchen winter decor how I used white in vases, pitchers, bowls. The bedroom is no exception.
A tall pitcher on our console filled with water and greens. Next to it a white frame with a French script stencil from A Maker's Studio.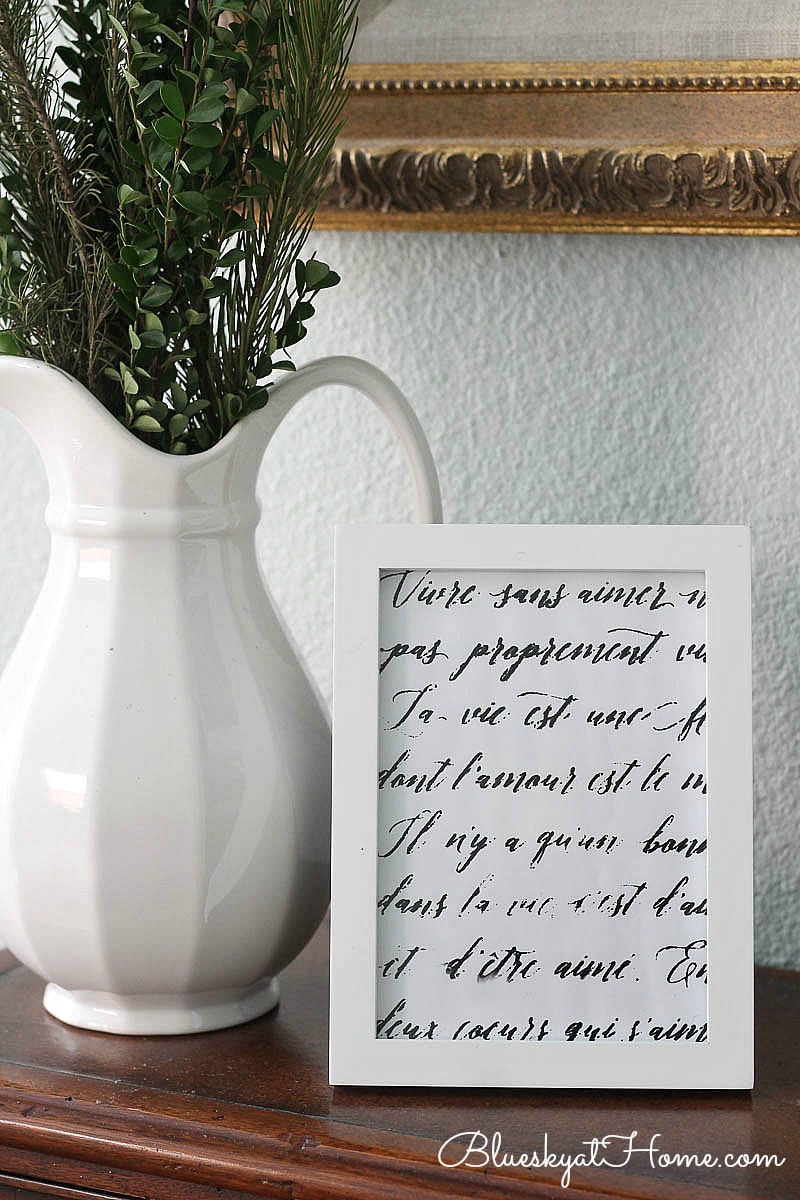 A small round vase with real greenery on the reading table. Stacks of books with white covers.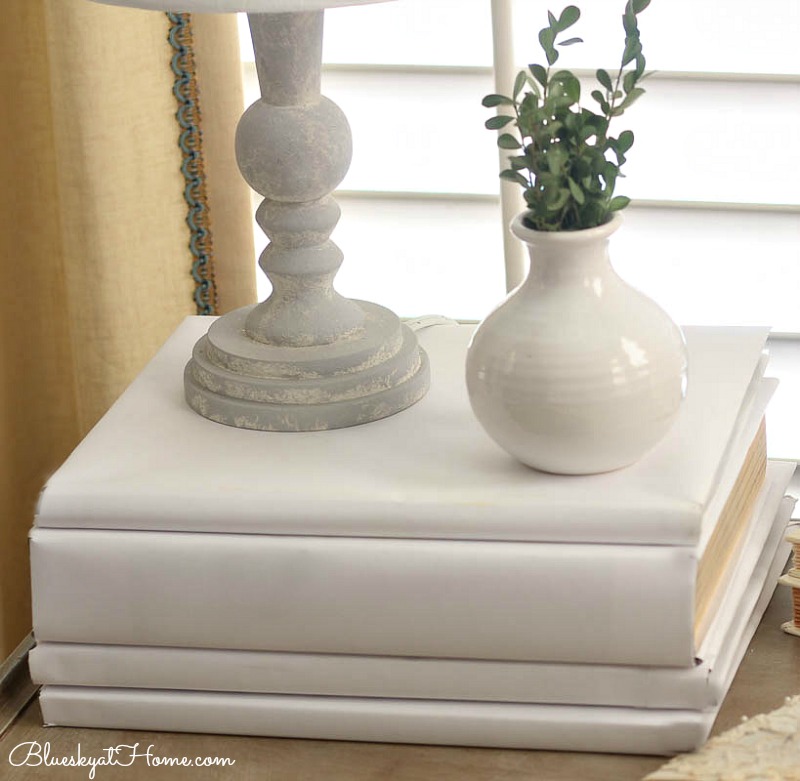 White throw on the wing chair.
Candles
Candles are the best way to add warmth and ambiance to any room. A bedroom lends itself especially to glowing candles.
On my nightstand.
On the reading table. The white ceramic stand is from the dollar section of Target. I bought 5 just to have them.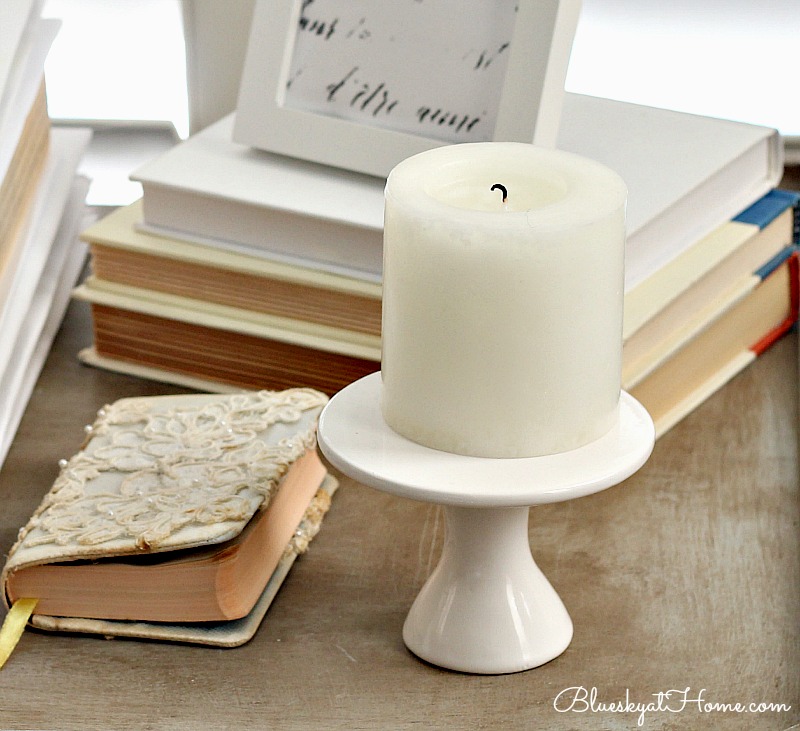 Across the room from our bed is our console table. I originally bought it in Atlanta for our entry where it stayed until last spring. I love having a piece of furniture to anchor our Venice scene and give us more display space for books, pictures and other accessories.
I kept it simple here with white candles and white candlesticks. The candlestick on the far right was gold just until a few days ago. The other 2 candlesticks are brand new, but I painted them too. I used Rescue Restore paint in Gathered, a soft light grey.
Resources
Items without a price mean they had already been purchased and used before this year.
Duvet and Euro Shams ~ Bed, Bath & Beyond
White Coverlet ~ Bed, Bath & Beyond
White Standard Pillow Cases ~ Nate Burkhas for Target ~ set of 2 ~ $19.99
Pom~Pom Trim ~ Hobby Lobby ~ on sale, .99/yard
Snowflake fleece fabric ~ Joann
Faux Fur Throw (used to cover bench) ~ Target
Pillar Candles ~ Target, $3.99 each
2 Candlesticks ~ HomeGoods, $12.99 and $14.99
White Lamp Shade ~ Target, $9.99
2 Grey Check Pillows ~ HomeGoods, $19.99 each
2 White Picture Frames ~ Target, $4.00
White Ceramic Stand ~ Target, $1
Small White Vase ~ Hobby Lobby $3.50
Flea Market Finds
White Pitcher
Candlestick
Lamp Stand
So there you have my 5 ideas for master bedroom winter decor.
lots of layered bed linens for a plush and luxurious look
pillows and throws for warmth
comfortable places to sit for relaxation
winter white accessories
candles for ambiance
You may not include all of these ideas in your bedroom, but even 1 or 2 will add a wonderful feeling of coziness on a cold winter night. I hope that you will PIN these master bedroom winter decor ideas.