A New To-Do List to Start 2019
I've made a to~do list to start 2019. I've checked it twice. I've added and deleted items. I've chewed on a pencil and scratched out and added things I forgot I wanted to do. And now it's ready to hit it running.
Happy New Year and Welcome to 2019. I'm sure everyone has different ways of approaching a new year: goals, resolutions, organizing, changes. Although I didn't do any blog work last week when we were on vacation in New Orleans, I did take time to make a list of what I needed to do at the beginning of the year, some items that either had to be done (see #1 below) or I really wanted to do (everything else). So here is my new to~do list to start 2019.
Last year I spent the first part of the year evaluating, discovering and stating what my WHY was. That hasn't changed a year later. I did decide to change not the WHY, but the HOW. I've decided that this year, instead of having a massive to-do list for the year, I'm going to take one month at a time. Since I answer to no one but myself, I can pick and choose what I want to do and when.
Each month, I'm going to make a list of the details that I want to complete, the little things to improve my blog, my social media and my life in general. And if one thing doesn't get done, I'll just move it to the next month. I hope this doesn't come off as a laissez~faire attitude. I actually hope that this approach will help me focus on fewer things in a shorter period of time and be less stressful.
Have you made a to~do list to start 2019? Is it short or long? Is it detailed or does it just hit the high points? I know everyone's list will be different. If you show me your list, I'll so you mine. It's a deal.
A New To-Do List to Start 2019 ~ A Less Stressful Approach
First, I'd like to know how you organize your to~do lists? Yearly, monthly, weekly? What works best for you?
Whichever way, why do you feel that approach works best?
Do you keep your lists in a daytimer? A big desk calendar? A notebook? On your phone?
My list for January started as a random brainstorm. It took me a few days to narrow it down to some essential things that I really, really need to get dome this month. And then I remembered a couple more things I wanted to do. And then I had to be realistic about what I actually could do in 30 days.
And now I love my to~do list to start 2019. It makes me excited about the next 4 weeks.
Pack up Christmas Decorations
I know many of you probably took down the Christmas tree and the wreath and the garland the day after Christmas.  We weren't home. In fact, we didn't return home until last Saturday late afternoon. Then I had to unpack from vacation. Throw a load of laundry in the washer. Throw a few things away that had been sitting in the fridge for too long. So it was Sunday afternoon before we started to pack up Christmas.
This is first on the list because it absolutely had to be done as soon as we returned home. I wanted a clean slate, I wanted to start fresh. And, as much as I love the house decorated for Christmas, I was ready for some empty spaces.
It took us Sunday, Monday, and Tuesday ~ all New Year's Day to put Christmas to bed. Yes, there was football on the TVs, and a New Year's dinner. I can tell you, by the time we ate a bowl of black eyed peas to celebrate New Year Day, Sweet Shark and I were exhausted.
It's a little sad around here with a bare mantle. Hopefully in a couple of days, it will have a warm and cozy vibe.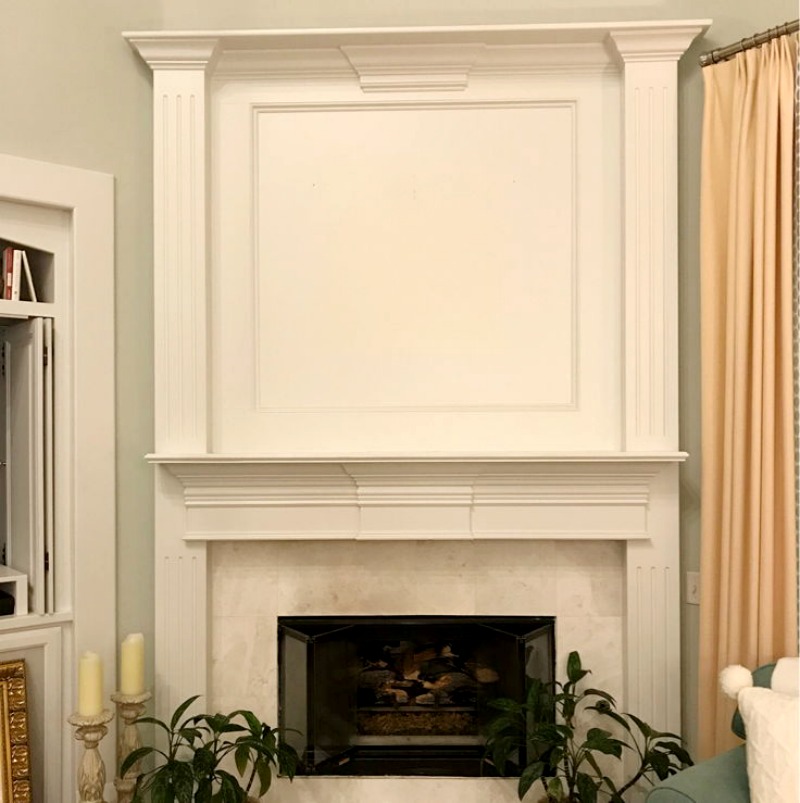 And what do you have to do after you've packed up the Christmas decorations? You have to dust and sweep and vacuum.
And now that it's done, I feel exactly as I hoped ~ free, with a garland~free house ready for some calming winter decor.
BIG CHECK.
Review 2018
I did take a few minutes Sunday (I waited as long as possible.) to run the numbers on 2018. I shared the Top 10 Readers' Posts on Monday. Then on New Year's Day, I checked my analytics for the year. Whoop, whoop. My page views almost tripled 2017! Thank you so much to all of you who visited and read Bluesky at Home in 2018. You all get a great big HUG!
BIG CHECK.
Decorate the House for Winter Decor
The house is very bare right now with all the Christmas decorations gone. As I said, I want a calming atmosphere for our home for the next couple of months. Lots of whites, neturals and natural elements (wood and fabric); feathery greenery and winter fruit. Candles, pillows and throws. In North Texas, this is the time of year that we have winter; it's cold, cloudy and rainy, so creating a cozy feel with soft textures is important.
While in New Orleans, I did squeeze in some Pinterest time searching for winter home decor ideas. I added a Winter Decor section to my Home Decor Board that you might want to check out.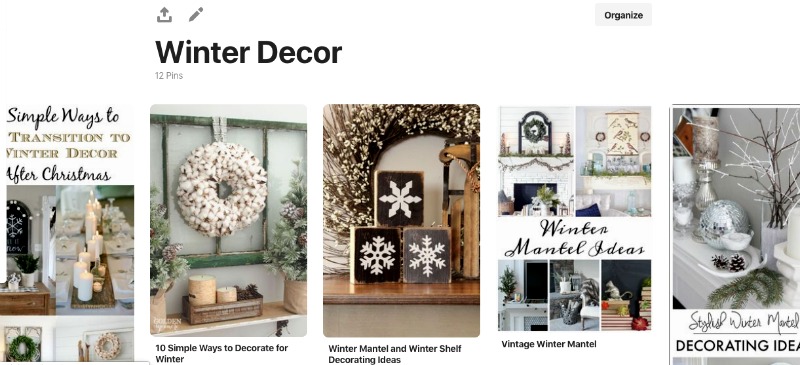 DUE DATE: DOING THIS WEEK, SHARING NEXT WEEK.
Complete Financials for 2018
This is one of my least favorite (as in bottom of the list) items. Years ago I created a spread sheet for business expenses  and income and normally I enter information weekly. We were busier than usual this holiday season and I don't think I've made an entry since Thanksgiving. I have a stack of paper receipts plus ones that are saved in a file online. I know that in about 2 weeks, Sweet Shark will ask me for my statement. So this task (a to~do with a negative connotation) will take up a few hours that I would rather be doing something fun like a DIY project or paint a piece of furniture. Plus I have to create my spreadsheet for 2019.
DUE DATE: JANUARY 15th.
Clean Up My Mac
Do you ever feel like your computer is running  slower than it should? Like you could run around the block while it's thinking about doing what you just clicked on. I just love seeing the colored MAC ball go around and around ~ NOT! So a clean up is on the agenda.
What do you do to speed up your MAC? I'd love to know because this is a task I want done now.
DUE DATE: ASAP
Blog Audit
If you take your car in for a tune~up and an oil change, you'll understand this one. I haven't had the blog checked out since I changed the name and the domain 15 months ago so I thought it was time.
DUE DATE: THIS WEEK
Update to WordPress 5.0
If you use WordPress was I do, you've know that Gutenberg was coming for months. Since updating to WordPress 5.0 automatically includes Gutenberg, I've put off the update until after the holidays. But it's time to take the leap. As soon as the blog audit is complete, I'll click on that update button.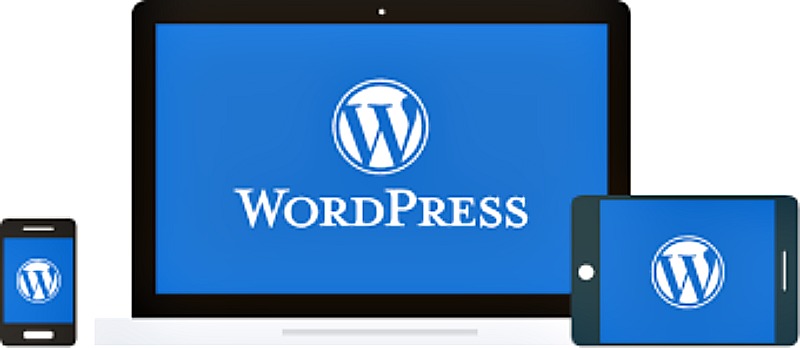 Have you updated? What did you think?
DUE DATE: NEXT WEEK
Learn Gutenberg
Like everyone else using WordPress, I've sorted of dreaded Gutenberg, the new editor. We are all creatures of habit who don't necessarily like change. We may like improvements, but have the attitude that if it "ain't broke, don't fix it." But web designers and coders and computer gurus, must like to tinker with things, so we will have to trust them on this. I know there will be a learning curve, but I hope that I love Gutenberg and it will speed up and improve the blog writing process.
DUE DATE: MOVING TARGET ~ END OF MONTH
Complete My First Rescue Restore Project of the Year
I have had several major projects in my project queue. These are not DIY projects or stencil crafts, but furniture re~do's. Real  Rescue.Restore.Redecorate projects. This is the one big goal I have this year ~ to finish one project a month.
The first one I'm going to finish is the kitchen island. I first shared my plans for this project a year ago (That's embarrassing!) and that post was one of the top 10 for the year. As I begin and complete each project, I'll share it with you.
DUE DATE: NEXT WEEKEND
Create A Maker's Studio Page on the Blog
As you know if you've been reading Bluesky at Home since August, I joined a A Maker's Studio, a phenomenal company offering the highest quality products for the DIY enthusiast. I thought it would be helpful to have one place for information, projects, and products for you DIY lovers. A few hours of work to help you and me.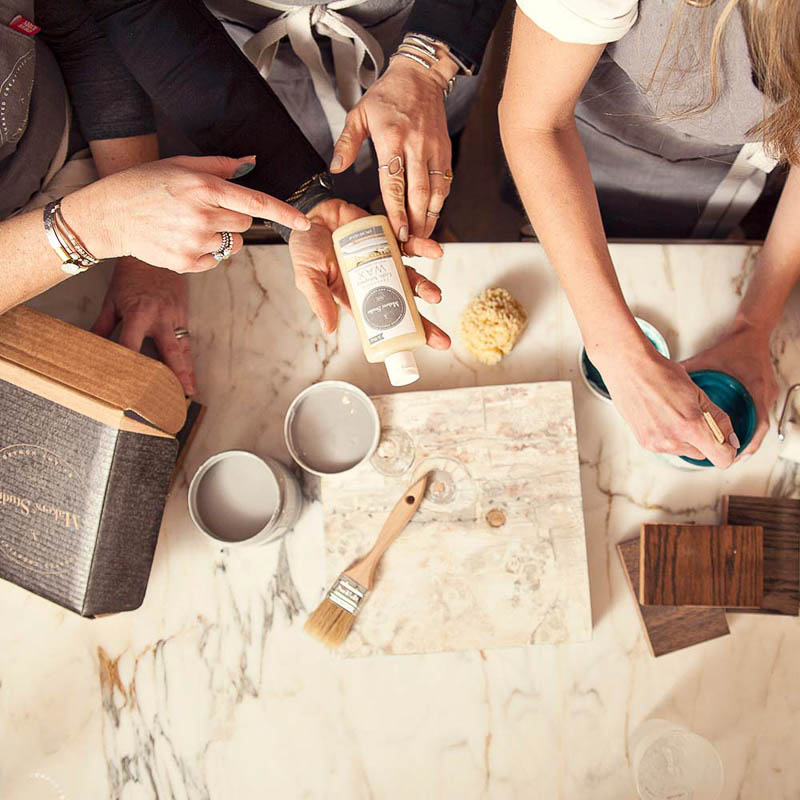 DUE DATE: JANUARY 18
Update My Favorite Resources Page
I've wanted to add several items that help me with my blogging. If they help me, then they will help another blogger. This will take a few hours, but well worth it.
DUE DATE: JANUARY 20
Add Highlight Buttons to My Instagram Account
If you are on Instagram, you know those cute little buttons at the top of people's feeds? I want those for ease of reading and finding specific topics. I have found several resource tutorials on Pinterest and saved them to my Instagram Board. I know I'm way behind on this, but this is the time.
If you have any suggestions for doing this, I'd love to hear them. Please share.
DUE DATE: AFTER ALL OF THE ABOVE ARE COMPLETED.
Organize Office
My office was completed almost 2 years ago, and I find that a periodic rearranging is needed. My needs change, I need more room for this and less room for that. I don't think this will take but a few hours. I think I am finally going to let go of back issues of some of my favorite magazines which will give me at least 3 more shelves. This isn't at the top of the list, but still a job for this month.
What is it hardest for you to let go of?
DUE DATE: END OF MONTH
Clean Up Our Butler's Pantry
Our butler's pantry is where we coming into our house from the garage. It's our dumping ground. It's piled with magazines, mail, empty bags, coupons and assorted stuff. Sweet Shark is as responsible for this disaster as I am. It's not critical to anything, other than I hate a mess and it needs to be decluttered. My sanity depends on it.
DUE DATE: END OF MONTH
January has 5 weeks and it would seem that all of these items could be completed in that amount of time. Notice there is not a mention of creating DIY projects, writing blog content, or social media. These items are above and beyond that. Also, I am going to be in Atlanta for a week toward the end of the month (Some people are going skiing and someone else will be playing mommy and daddy!) and that takes away a week.
So if you have any suggestions for completing a list of to~do items, I'd love for you to share. At the end of the month, I will not beat myself up over the items that I didn't complete. After all, this is my new stress~free approach to life in 2019. No one will care except me, no one will slap my hand if I don't finish everything; I can just roll it over to February; no one will give me an award if I do complete everything on my to~do list to start 2019.
I make pat myself on the back. Do you reward yourself if you complete tasks? In all honesty, I should share with you what I do complete. You can keep me accountable. I'll do the same for you.
Here's to making good things happen for all of us in 2019.