5 Fabulous DIY Kitchen Makeovers
We all love kitchens ~ they are the heart of our homes, the gathering place for family and friends. Even if you are not a great cook or someone who loves to cook, we all want pretty and efficient kitchens.  It's not surprising that several bloggers chose to transform their kitchens. It was "hard" job, but for the 2nd installment in my ORC favorites series,  I've chosen 5 fabulous kitchen makeovers.
These days kitchens are open to the living room and eating areas, not tucked away unseen behind swinging doors. It's no wonder that kitchens are one of the most updated and renovated rooms in our homes. We spend more money on our kitchens than any other room. When you think about the need for plumbing and electrical, the cost of cabinetry, hardware, lighting, flooring and appliances, paint and storage, it's understandable why a kitchen renovation can cost as high as $75,000. But, as these 5 bloggers show in their kitchen makeovers, you can get a beautiful and efficient new kitchen on a budget.
If you missed the first installment in the series, My Favorite One Room Challenge Makeovers, I focused on
backyard makeovers
. Selecting my 5 favorites from the kitchen makeovers was just as hard, but just as fun.
5 Fabulous DIY Kitchen Makeovers ~ Favorites from the One Room Challenge
Once again, I tried not to pick styles and design that appealed to my personal esthetic, but DIY kitchen makeovers that truly were successful in creating a new look and a more efficient space. From very low budget to more high end, all these choices reflect a great vision and hard work that paid off.
Bean in Love on a Budget
Considering how expensive kitchen remodels are, when I read that Sheena of Bean in Love transformed this kitchen for just $160, I had to see what she did. Since her family is living in a rental, spending a boat load of money on a kitchen makeover wasn't the smart think to do. But using paint and a very judicious and creative approach to DIY projects paid off big time and you would think 20 times $160 was spent here. Here's what Sheena and her hubby Anthony did to transform this kitchen from rental reject to a kitchen anyone would be proud of.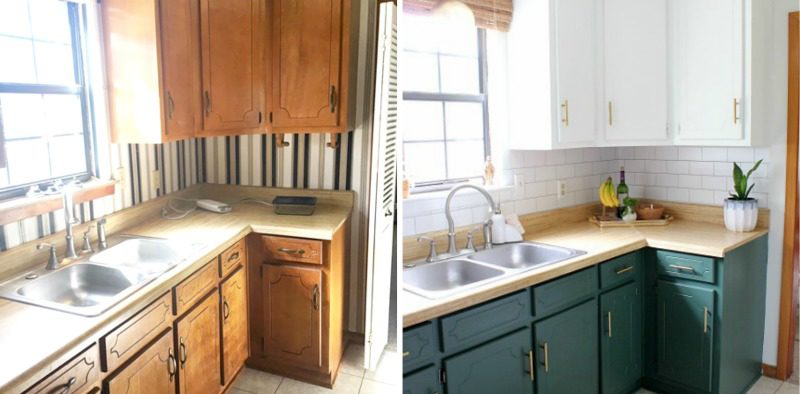 removed old ~ as in brown and gold  ~ wallpaper
removed bi~fold doors between kitchen and dining room
removed wood valence over kitchen sink
painted upper and lower cabinets
new cabinet hardware
added new "subway tile" wallpaper as backsplash
added new DIY lampshade to ceiling fan
new DIY pot rack
added bamboo shade for kitchen window
new pendant light above kitchen window
added DIY spice rack
made a rug for the kitchen
added plants
I think you'll agree that they did a fantastic job on a small kitchen that now has a big impact in the pretty category. They get the award for the biggest change on the lowest budget. Congrats for a job well done.
Bright Green Door Goes from White to Black
As you can see by the before and after pictures below, Jess of Bright Green Door went from white to black in her color choice for this kitchen makeover. Normally, I always gravitate to white cabinets, but what made this kitchen makeover was not just the drama of the black cabinets, but the dramatic increase in functionality.
How did Jess achieve a more efficient layout as well as a much prettier kitchen? A little magic, of course.
removed the dropdown fluorescent light fixture
removed the built in desk
moved the location of the oven to create a built~in pantry
moved the refrigerator to the desk location and built an enclosure with storage above
moved the oven to the refrigerator location
installed new peel~and~stick tile backsplash
painted the cabinets and added new brass hardware
replaced the existing flooring with new hardwood laminate flooring
built a new island (incorporated the existing sink) and made a new butcher block countertop
added new brass and glass pendants above the island
added bar stools for eat~in dining
added drapes to the windows
added a rug
Moving the appliances to create more counter space and straightening the island had the biggest impact on the functionality of the kitchen.What I didn't show you is that Jess extended the makeover into the adjoining dining room. Be sure to take a look at that area.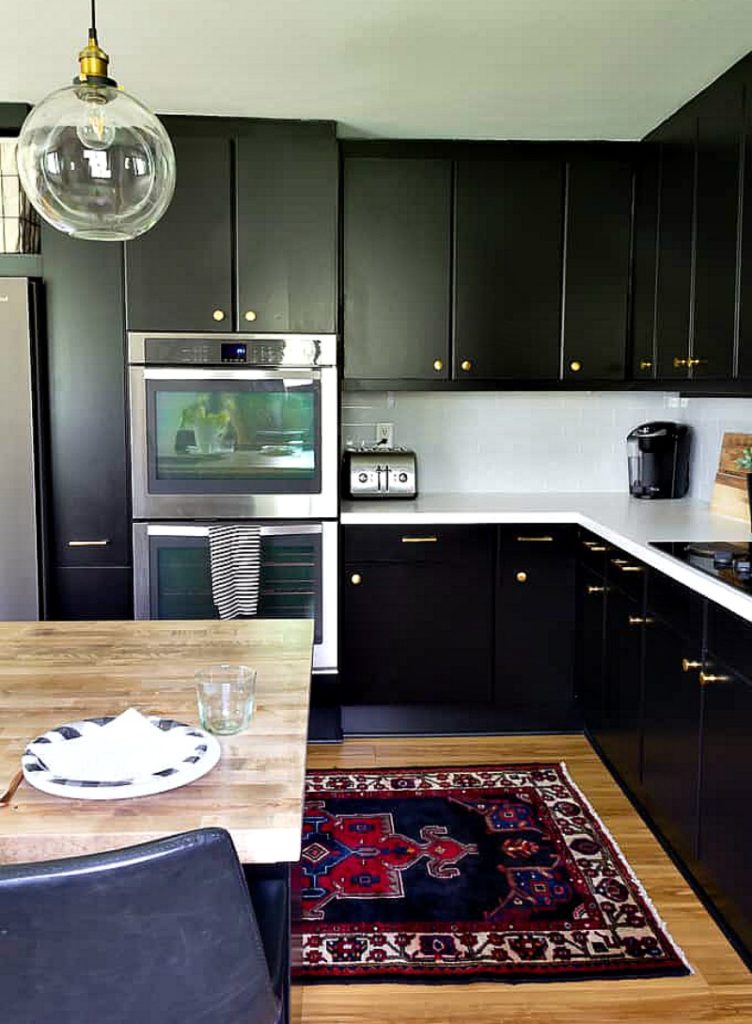 Farm Charm Rules the Day for The Created Home
The layout of Sarah's kitchen wasn't bad, but the esthetic definitely had an 80's vibe with stained cabinet overload. It's now a light and bright space with a cleaner, more modern feel. Adding touches of farmhouse design created a Joanna~worthy kitchen to enjoy. The Created Home now boasts a kitchen to brag about especially since they did most of the work themselves.
Let's play a game: just from the before and after pictures, name 10 things that changed in this kitchen makeover. Here's the low~down in case you're stumped.
removed the appliance garage, freeing up counterspace
painted the stained kitchen cabinets white
added shiplap to the peninsula
added decorative corbels to the island (custom made by Sarah)
added new cabinet hardware
installed new tile backsplash
widened the cased open to the laundry room (which was removed and made into a butler's pantry) and added a faux beam above (made by Sarah)
replaced the flooring with wood laminate
added new pendant lights over the peninsula, under cabinet task lighting and replaced ceiling lights with LEDs
new dishwasher
installed new farmhouse kitchen and reclaimed wood cabinets surround (custom made by Sarah)
That was actually 11 major changes to this kitchen makeover. Sarah is a woodworker extraordinaire and she made several of the design elements herself. I am so impressed! Hats off Sarah great word and great design.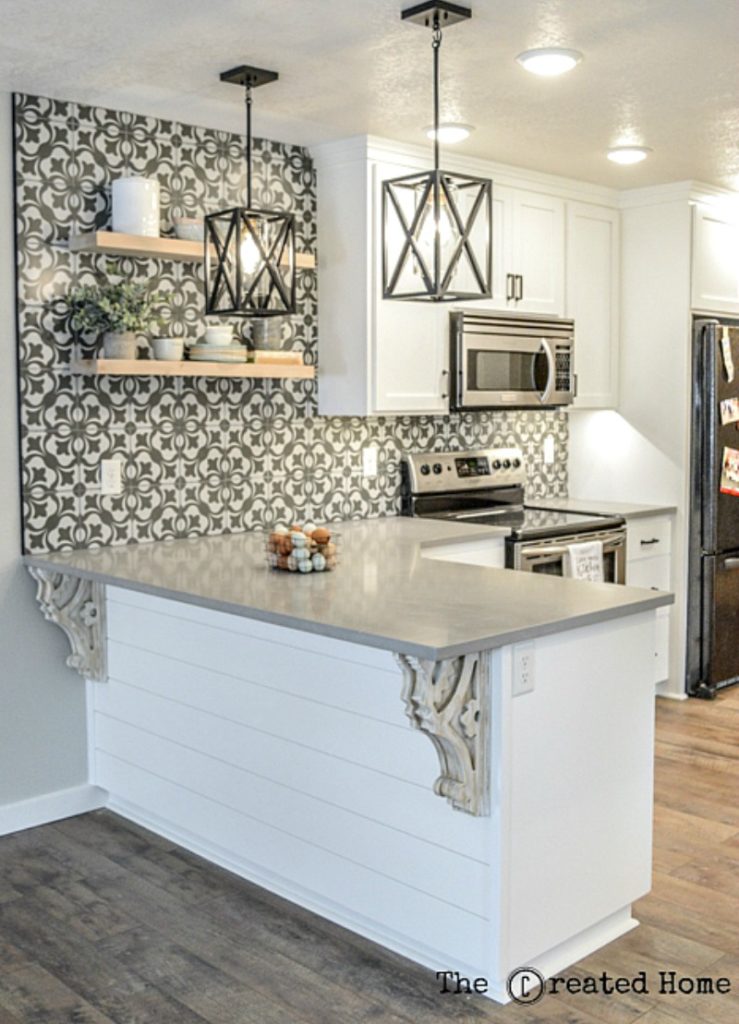 Bright and Airy Farmhouse Kitchen  from Fiddle Leaf Blog
I couldn't help it. I love farmhouse and I loved this kitchen from Fiddle Leaf Blog. Ana and her husband did this entire kitchen makeover DIY and they should be so proud of their efforts. It is pretty impressive. Another great example that stuck in the 80's and 90's doesn't have to stay in the 80's and 90's.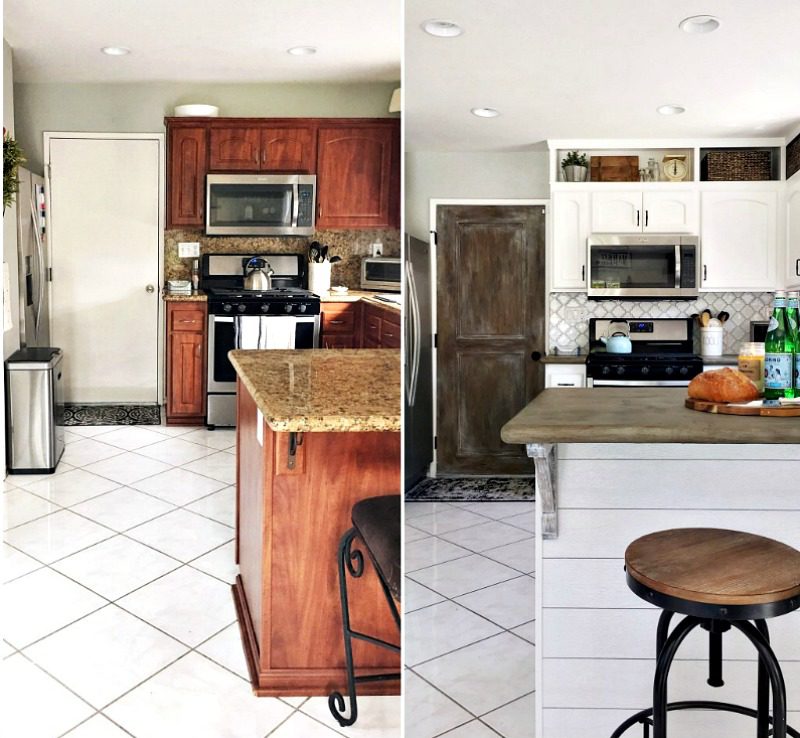 You can tell that Ana is another lover of farmhouse style. The kitchen is small and the reddish~stained cabinets and goldy countertops just make it appear even smaller. Here is how this DIY committed couple pulled off this kitchen makeover.
extended the cabinets to ceiling by making cubbies for more storage
primed and painted the cabinets
added new trim to cabinets
added shiplap wallpaper to the peninsula
changed the corbels on the peninsula to farmhouse style
added new cabinet and door hardware
added moulding to doors in the pantry
change electrical switches and switch plates
made DIY concrete counters
made DIY tile backsplash
changed under cabinet lighting
installed new sink and plumbing fixtures
Considering that this kitchen makeover was done on weekends and at nights, they did a fantastic job. I especially love the new kitchen door ~ such a great rustic focal point. The cubbies above the cabinets create great storage and display space and make the room look so much bigger. I can't believe they made the concrete counters themselves. Lots of applause.
Sometimes Almost There is Pretty Darn Far
As most of us participated in the ORC can attest, sometimes stuff happens that puts your project behind. That's life, folks, in the construction, remodel and DIY world. (It almost happened to me in our dining room makeover when our 2nd rug choice didn't work and our mirrors were backordered.) Kati of Houseful of Handmade had some hiccups in her kitchen makeover; but you know what? Even without all the appliances installed, she still made it to my top 5.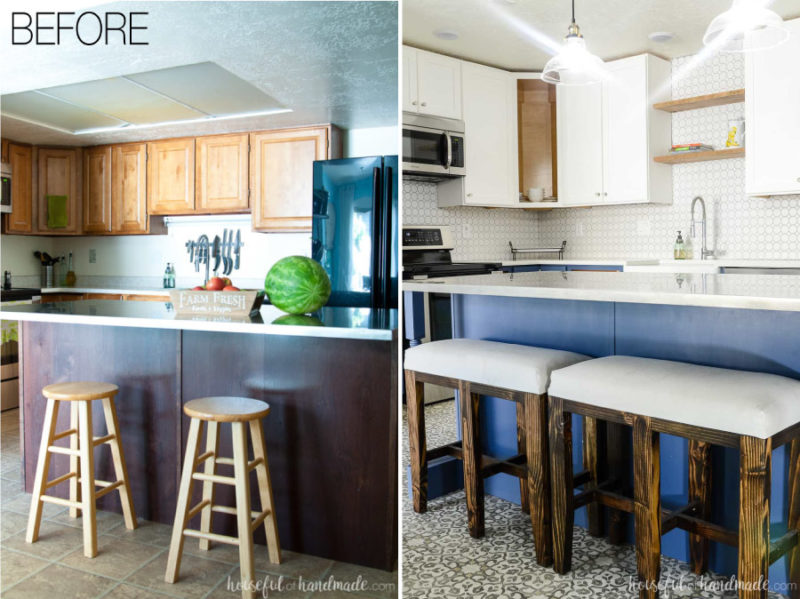 Once again, stained cabinets turned into painted cabinets in Kati's farmhouse envisioned kitchen. From top to bottom, every inch of space was touched in this kitchen. Let's see what was checked off on Kati's to~do list.
removed the dropped ceiling to raise the ceiling 14 inches
installed new white upper cabinets to the ceiling for more storage
removed 2 deep pantries to gain 5 feet of counterspace
added additional storage above the refrigerator
built (themselves) new cabinets  and shaker style door fronts
rebuilt and customized the existing island
painted the lower cabinets and island a royal blue
replaced flooring
new quartz countertops
new tile backsplash
removed upper cabinets above the sink and installed open shelving
installed new farmhouse sink
added rustic bench style bar stools
So what's left on Kati's kitchen makeover? Some kitchen cabinet doors, drawer fronts, and moldings. My hat's off to Kati for painting her lower cabinets such a bold beautiful blue. Tackling the island redo gets her a gold star. Since the ORC ended, Kati has completed her kitchen makeover so hop over to see the final~final reveal.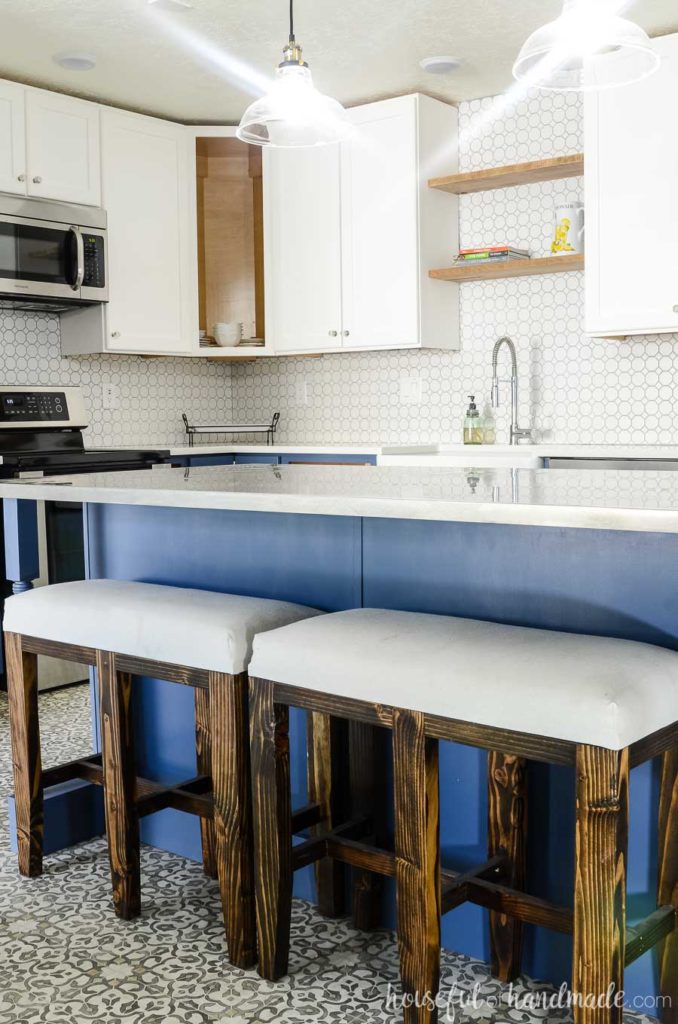 Well, folks, that's the 2nd installment of my ORC favorites. I'm kind of a kitchen junkie so this was a really fun and inspiring post to write and share with you.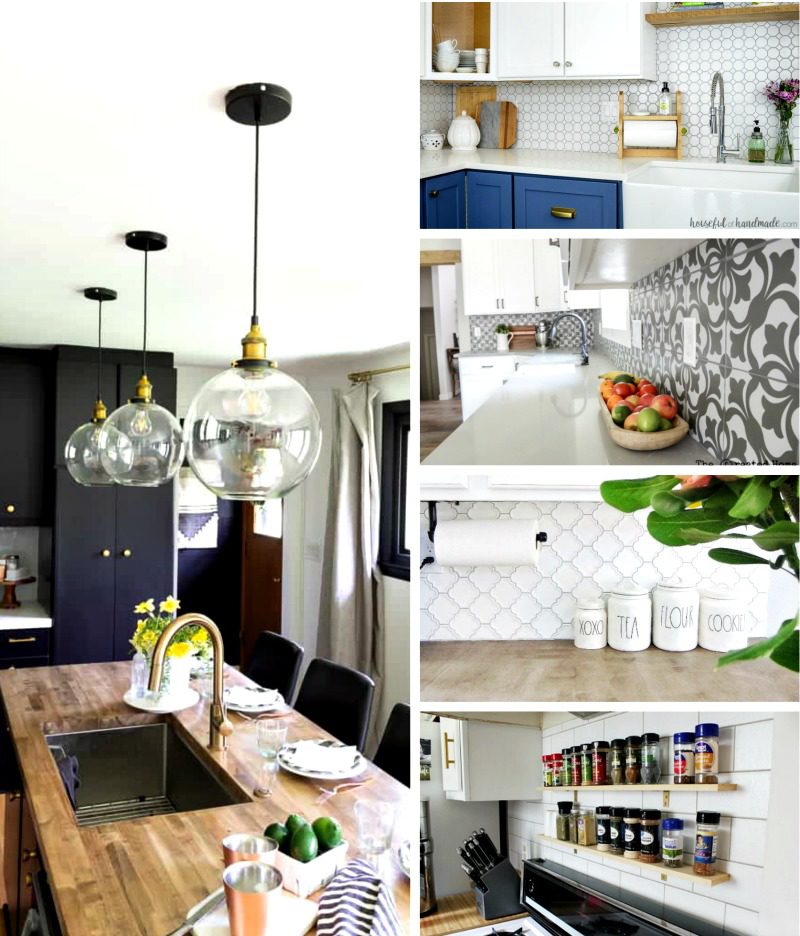 Left ~ Jess' New Pendant Lights and DIY Butcher Block Counter
Top Right ~ Kati's DIY Towel Rack
2nd Right ~ Sarah's New Patterned Tiles
3rd Right ~ Ana's Octagonal Tiles and Concrete Countetop
Bottom Right ~  Sheena's DIY Spice Rack
All these fabulous kitchen makeovers are Pinned to my Kitchen Ideas Board. Please Pin them to yours.