Thanksgiving Tablescape with Natural Elements
This is the beginning of the Thanksgiving season. I thought I'd share my Thanksgiving tablescape from last year ~ it's a Thanksgiving tablescape with natural elements. I went with a more natural and casual look, which I think I will continue this year.
For Christmas table settings, I always like formal and elegant. For Thanksgiving, I like a more organic look. Fall's colors are usually oranges, golds, and reds, the colors of the leaves on fall trees.
Since we don't have many trees here in North Texas that turn those colors, I think of Thanksgiving as shades of green with woodsy soft browns. That was the vision I had for this Thanksgiving tablescape.
For my Thanksgiving tablescape with natural elements, I chose those greens and browns and added pops of white for highlights. It's a simple look that will appeal to our small gathering.
Thanksgiving Tablescape with Natural Elements
Inspiration for tablescapes comes from different places and different forms. I love taking one thing and using it in a different way.
NATURAL ELEMENTS INSPIRATION
This post contains links to products that I love, use, and highly recommend. If you should order any product from this site, I may receive compensation, but you don't pay a penny more.
The first element that inspired me was a spur-of-the-moment purchase at Bed, Bath and Beyond. By the check~out were stacks of large felt leaves in 4 colors: gold, green, burnt orange, and burgundy. At $1.99 each I bought 3, not really knowing how I would use them. I didn't realize that they were meant to be placemats until I unpacked them.
Arriving home, I decided that I didn't want to use them as placemats, but I loved the shape. I just wanted something a little more natural ~ like paper. I had a large roll of brown kraft paper that I thought would strike the right feel and natural element for my table. Using the felt leaves as a pattern, I traced them with a pencil and cut out the shape. I did have to weigh them down to take out the curled edges.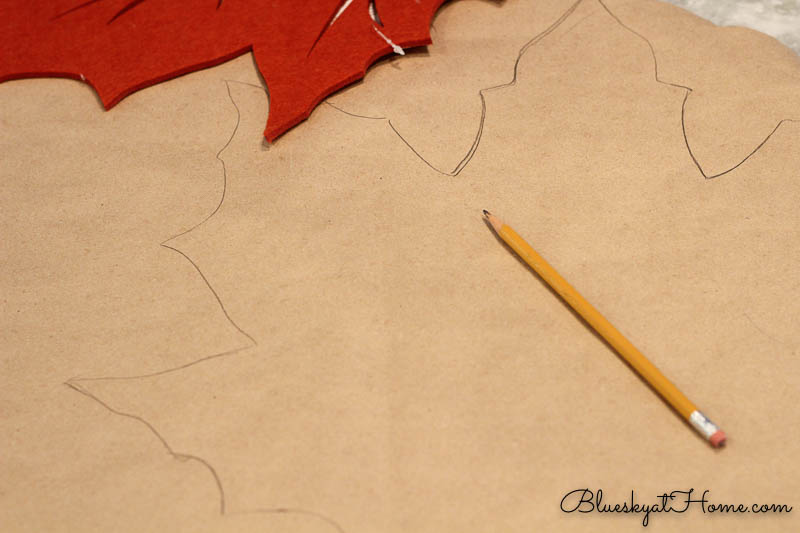 As a natural-looking centerpiece/runner, I doubled up 2 long pieces of faux ivy greenery. Then came my 4 white ceramic turkeys.
To add more white to contrast with the green garland, I added 3 white candles.
I know Coco Chanel said to look in the mirror after you are dressed and remove one item. I looked at my tablescape and thought that I needed to add 1 item. Something white to give more contrast on the green garland. I still had several extra white mini~pumpkins and those added just the right touch nestled in the greenery ~ like pumpkins in a pumpkin patch.
Arranging the Place Settings
I found another inspiration for this Thanksgiving tablescape with natural elements at my neighborhood grocery store. As I walked through the produce area, past the 2 dozen varieties of apples on display, I saw the biggest, prettiest green Granny Smith apples I've ever seen. Their bright green color appealed to my desire for natural elements. I bought 6 to decorate each place setting.
With my brown paper leaves as my placemats, I added my Thanksgiving dinner plates, a spur~of~the~moment purchase at Tuesday Morning several years ago. To add more pop of white and contrast with the green plates, I used our everyday china, Manoir by Villeroy & Bosh, as salad plates. It was the perfect backdrop for my beautiful bright green apples.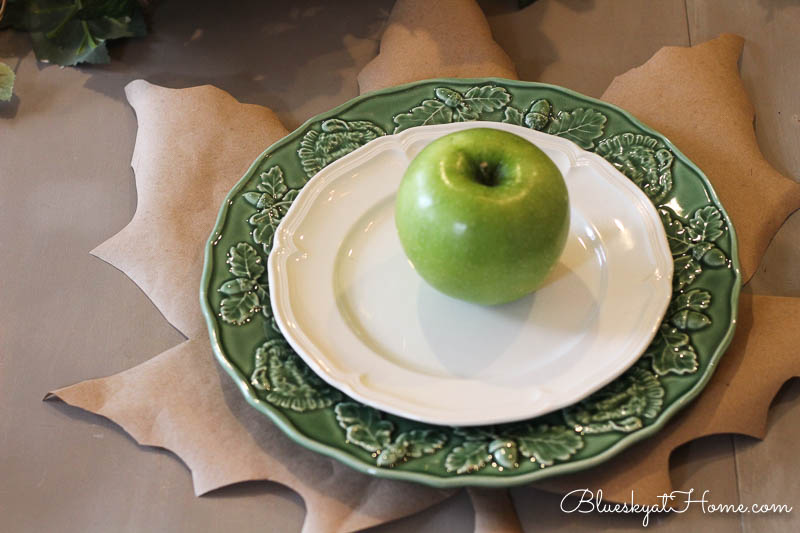 Next came my plaid fall napkins, which I rolled up next to the apples.
But they needed a little something to finish them off. I found a bag of acorns with stems in my DIY supplies. Tying 2 together acorns made a great little napkin ring. The acorns provide one more natural element.
I added the fall leaf wine glasses I bought last year at the Dollar Tree ~ so I did have a little bit of orange in my natural tablescape.
We have 2 beautiful Murano glass champagne flutes that we bought in Venice and they were a great addition for the host and hostess (Sweet Shark and me).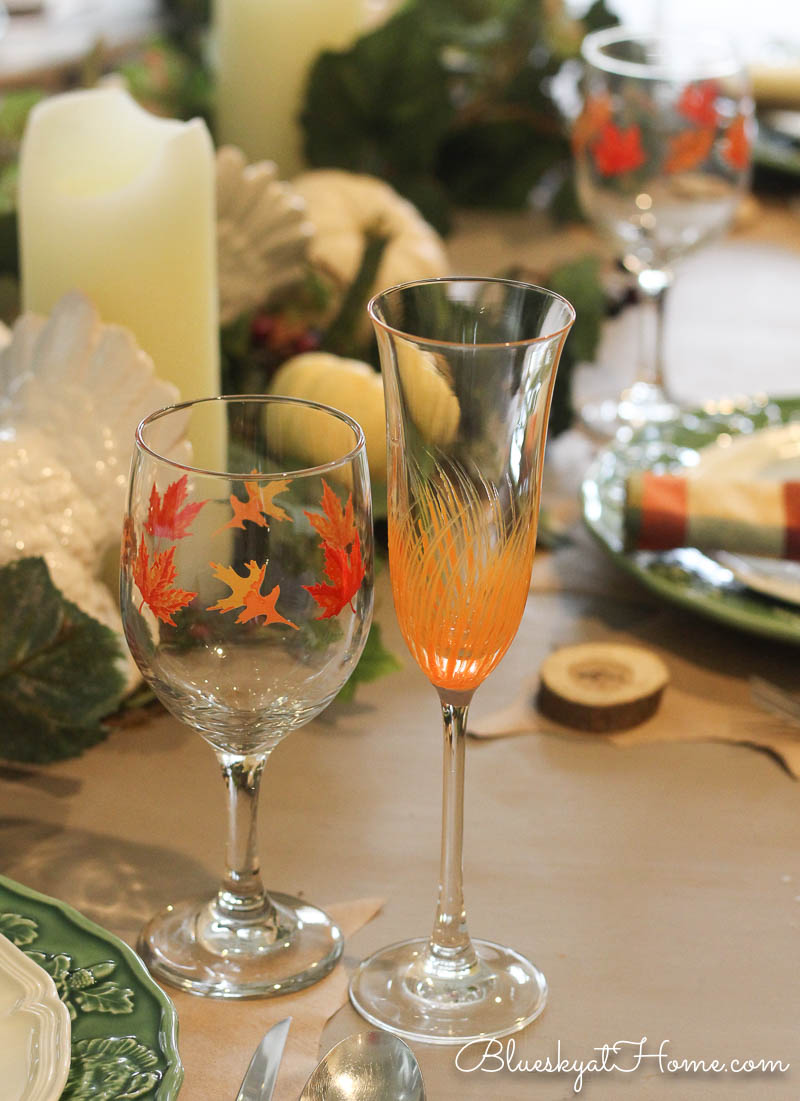 I love using wood in my home decor and I had found a bag of about 2 dozen wood discs of varying sizes at Joann (Sorry, I couldn't find this item online.). Another natural element to add to the table is just as an accessory. To repeat the natural element of leaves, I used 6 different leaf motif stencils from A Maker's Studio on each wood circle.
To keep the more casual approach to this year's Thanksgiving table, I used our everyday silverware rather than our sterling.
My Thanksgiving tablescape with natural elements was now complete.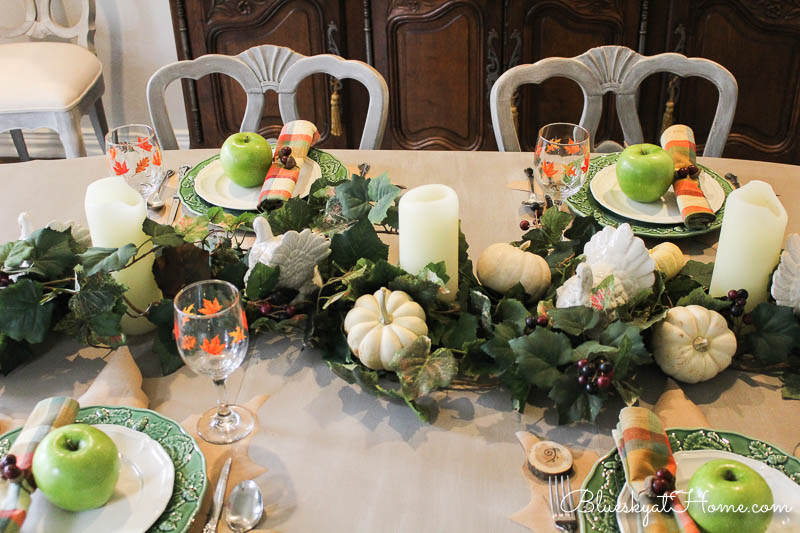 Finally, I brought out a few of my Thanksgiving serving pieces, ready to be used on Thanksgiving day. The large turkey platter serves as a display piece for now.
Thanksgiving can be cloudy sometimes, so it's not unusual to light candles during the day. Even in the daytime, candles add warmth and a sense of coziness.
It's great to have the Thanksgiving tablescape with natural elements set and ready to go over a week ahead of the holiday. We can enjoy it for several days because you know what happens as soon as Thanksgiving dinner is over? It's a mess!!
THANKSGIVING INVITATION
Thanks to Paperless Post for asking me to share this invitation with you.
Do you send out invitations to your Thanksgiving meal? With family, a phone call or text may be the norm, but if you are asking friends to join the celebration, a nice invitation makes the day seem more special.
I created a lovely Thanksgiving invitation at my favorite source, Paperless Post. It's so easy to edit and personalize every invitation and envelope. I picked this one because its natural design matched my tablescape. There were almost 2 dozen Thanksgiving invitations to choose from. I sneaked a peek at Christmas invitations and they are gorgeous.
Isn't this the cutest envelope? I love that you can match the envelope liners to the invitation. It gives your invitation an extra special element and a special delight for your guests.
You may also like this Thanksgiving tablescape: Simple DIY-Inspired Thanksgiving Tablescape.
Please PIN this Thanksgiving Tablescape so you don't forget it.