I hope that you've enjoyed the first couple of days of the Fall Home Tour Blog Hop. I've been blown away by the fall decorating ideas, the talent and the inspiration. If you haven't started decorating your home for fall, you should have plenty of ideas to get your fall decorating thinking cap on overload. You can see the complete list of blogs participating at the end of this post. And don't forget to sign up for the Kirkland's Giveaway ~ it's a chance too good to miss. Since I shared my fall home tour on Monday, I wanted to show you how I made the 3 fall DIY decorating projects that I used in my decor.
I can't create a decorating scheme, tablescape or party decorations without some DIY projects. All these fall DIY decorating projects were easy, required little prep, minimal supplies, and were fast to complete. In fact, I made all 3 in one day.
3 Easy Fall DIY Decorating Projects to Make in 1 Day
For these 3 fall DIY decorating projects, I wanted items that I could use in my fall decor, but fit in with 2 of my design themes: neutrals and metallics. 2 of the projects were intentional and 1 just happened, but fit in perfectly with 1 of my purchases from Kirkland's, who sponsored the Fall Home Tour.
This post contains affiliate links to products that I use, love and recommend. All opinions are y own. If you should purchase any products from this site, I may receive compensation, but you don't pay one penny more.
Wooden Bead Cord
O.K. I know that I may be a little behind in including this popular little accessory in my home decor, but better late than never. I liked the look and idea of wooden beads from the first time I saw them. But they just didn't seem to fit in my coastal color scheme. And originally,  I didn't even think about including them in fall decor. When I bought the glass vase with the wooden bead handles at Kirkland's, I remembered that I had bought 2 packages of wooden beads at Jo~ann's months ago. I thought I could carry over the beaded handles of the glass vase to a wooden bead project  ~ assuming I could find where I put the beads.
When I got home, I looked for the beads and fortunately found them in a basket with burlap ribbon. I already had jute twine on hand, which I keep in a jar with a hole in the top. (This was a freebie from Haven last year and originally had a straw in it.) The first thing I did was wrap a small piece of Scotch tape around the end of the jute to keep it from unraveling and make it easier to thread through the beads.
Then I just started threading the beads through the jute. Each package contained 30 beads, so I could make 2 cords. I literally made them both while watching a webinar one morning last week. Both cords took me about 20 minutes.
Supplies
wooden beads
jute twine or other string
Scotch tape
scissors
When I had all 30 beads threaded, I allowed about 8 inches of extra jute at each end. I tied the ends in a double knot to hold the beads tightly and make a circle.
Then I cut 6 pieces of jute about 7 inches long.
Holding the pieces of jute together, I tied the knotted ends around them with another double knot.
Now I folded the pieces in half and used another piece of jute to wrap around the top to make a tassel. I looped the end of the piece through the wrapped part to secure the tassel.
Finally, I cut the ends of my tassel to make the jute even and the cord was done. Then I just repeated with the second package of beads and more jute. Really, this was one of the easiest projects I've ever made. Although my beaded cord is larger than the beads on the glass vase, they tie the neutral wood look together.
Metallic Pumpkins
From my first thoughts about fall decor for this year, I knew I wanted metallics, especially copper. I had used copper in my first fall tablescape, loved the look and wanted to continue it.
We have a few copper pieces ~ a 3~tiered stand that we've had for years and 4 copper saucepans that belonged to Sweet Shark's mom. During my fall home decor shopping trips, I kept picking up pumpkins of all shapes and sizes. If course, they were all shades of orange, which I did not want to use in my fall decor. But, as we all know, spray paint can change anything.  This is where my metallic theme would come into play. So out come my HomeRight Small Spray Shelter  (It's on sale right now.) and 3 cans of Krylon spray paint in gold, brass and copper. I already had the gold and brass so I only had to buy 1 can of copper.
Supplies
pumpkins in chosen sizes
spray paint in chosen colors
spray shelter or plastic to protect surroundings from overspray
comfort grip spray handle (from Rustoleum) ~ must~have for working with spray paint cans
I started with these small pumpkins ~ a purchase from Jo~ann's ~ with 30 to a package. I divided them into 3 groups of 10 and each group became a different metallic color. I pulled out the paint stand from HomeRight. This little tool (It's actually black and swivels, but I colored it in foil so it wouldn't get paint all over it.) allows you to easily turn your project without getting paint on your fingers.
What surprised me was how fast the paint dried on the pumpkins. Literally a few minutes. I only had to turn the pumpkins over once and 1 coat covered completely.
I used the little pumpkins to fill in around the candle in the glass vase on the coffee table.
I had more "less than desirable" pumpkins to paint and I just switching them out and alternating between the 3 colors of metallic paint. These Dollar Tree pumpkins were about to go from gaudy to gorgeous. I had 3 and each would be gold, brass or copper.
I used them in the wooden tray with the (more) beaded wood handles from Kirkland's for our breakfast room table. The styrofoam actually gave the painted pumpkins a realistic texture since some pumpkins are not smooth.
Some more pumpkins ~ this time from Walmart ~ got the metallic spray paint treatment too. I also realized that it's easier to start on the bottom of the pumpkin and then you can use the stem to set it up straight to paint the top and sides. Here you can see my Rustoleum spray paint can grip. I can't spray paint without it.
I spread them out on the sofa table and the console table in our breakfast room. You may notice that I sprayed the entire pumpkins, stem and all for this project.
I also had a couple of extra pumpkins from last year that I didn't paint. I decided to add them to my group of white with gold stem pumpkins that I did paint last year. I used Amy Howard at Home Furniture Lacquer Spray Paint in White Perfection and it worked great; a slightly shiny surface that dried in just a few minutes. Remember to start bottoms up.
Just like last year, I made a hole in a piece of heavy cardboard to stick the stem through to spray paint it in gold.
If your spray paint doesn't completely cover the stem, I just spray a bit of spray paint on my cardboard and use a small paint brush to fill in the stem.
I added 1 of the newly painted white pumpkins on the mantle and 1 on a side table.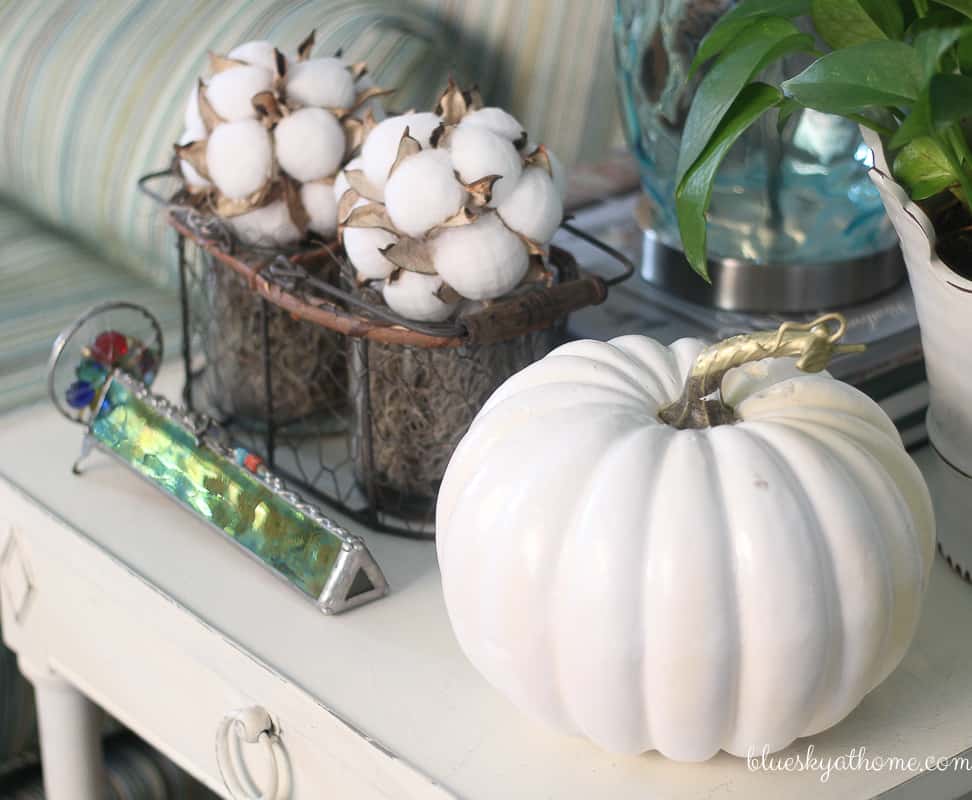 Metallic "Fall for Me" Sign
Using letters and signs in our decor is such a common practice these days for good reason. We all love words and sayings because they evoke feeling and they are just so darn cute. I wanted to make some sort of sign for our mantle. My first stop was the open card stock aisle where I found 4 different patterns of gorgeous metallic paper. I am a sucker for pretty paper. These were large sheets 12 by 18 inches of heavy cardstock. Into my cart they went.
Supplies
cardstock of choice
wooden or cardboard letters of choice
pencil
scissosrs
permanent tape roller or glue
Next, I went to the aisle at Jo~ann's with wooden and cardboard letters, I had a couple of ideas in mind for saying for a sign. I pulled out both the wooden letters and the cardboard letters in different sizes and styles. Just when I thought I had the right combination, I would be 1 letter short. A couple of nice ladies had to walk around the letters as I laid them on the floor. But they understood what I was doing. Finally I found a combination of letters in 2 sizes that worked for my sign.
In between spray painting pumpkins, while they were drying, I started my fall DIY sign project. First I laid out my letters (I had 9) and numbered each cardstock pattern. I assigned each letter a number which menat that I would have 2 letters of each pattern, but 1 pattern would have 3 letters.
I set the letter on the  first letter and drew an outline in heavy pencil around it.
TIP: The thing to remember when cutting out paper which you are going to place on letters is to lay the letters backward.
My first thought was to use my straight blade cutter and a ruler to cut out the letters, but I soon discovered that it was easier to just use a pair of sharp scissors. The only time I used my straight blade was to make a straight cut in the center of letters, such as A, O and R.
This took so little time and I would stop long enough to go outside to spray more pumpkins. After I cut out all my letters, I used my permanent tape roller. It was easier than glue. I just applied the tape to the back of the paper letters, positioned them over the cardboard letter and pressed and rubbed down until the paper was firmly stuck to the cardboard.
Here's the finished project on the mantle. Pretty cute, uh?
The F's were a little top heavy, so I attached pieces of thin wood with Scotch 2~sided sticky tabs to their bottoms
I hope these fall DIY decorating projects give you some inspiration for easy projects for your fall or future holiday decorating. I'm not through yet with my projects.
Please visit the wonderful Fall Home Tours from Monday, Tuesday and Wednesday. They are something to behold. And be sure to sign up for the Kirkland's $1,500 Raffle Giveaway. Enjoy the tour and good luck.
Seeking Lavender Lane    Fat Hydrangea Bluesky at Home My Creative Days
Little House of Four Making it in the Mountains Wife in Progress
TUESDAY
Town and Country Living   Farmhouse on Boone   Flatcreek Farmhouse  Inspiration for Moms
On Sutton Place   Sincerely Marie Designs
WEDNESDAY
Noting Grace Little Glass Jar Sincerely Sara D Shabby Fufu
Hunt and Host The Honeycomb Home Kendall Rayburn
THURSDAY
Christinas Adventures My Life from Home Worthing Court She Holds Dearly
Unskinny Boppy Hamby Home Tidbits
FRIDAY
So Much Better with Age Joy in Our Home Little Home Reloved Sand Dollar Lane
Twelve on Main The Everyday Home