Who doesn't love a pretty wreath? Christmas is probably the most popular time to add a wreath to our seasonal decor. I was inspired to make an ornament wreath for Christmas for our front door.
When I first discovered ornament wreaths on Pinterest, I thought they were so beautiful. I had to figure out how to make an ornament wreath for Christmas. I did. Of course, I have to show you how you can, too.
I love DIY projects that are easy and relatively inexpensive. This ornament wreath fits the bill. And you can make it while binge~watching Christmas movies on the Hallmark Channel.
How to Make an Ornament Wreath for Christmas
This post contains affiliate links to products used in this project. If you should order any product from this site, I may receive compensation, but you will not pay a penny more.
The first ornament wreaths that I saw were on sale on various websites. The prices ranged from $125 to $200. That was way more than I wanted to spend.
I felt certain that I could make an ornament wreath easily for less than half that amount. When I have a vision of a finished project, I enjoy figuring out how to make it. Guess what? I did.
Supplies for the DIY Wreath
You only need a few supplies for this wreath project. You may have some of the supplies at home already.
styrofoam wreath 16~inches in diameter; I bought mine at Hobby Lobby with a 40% off coupon: $6.00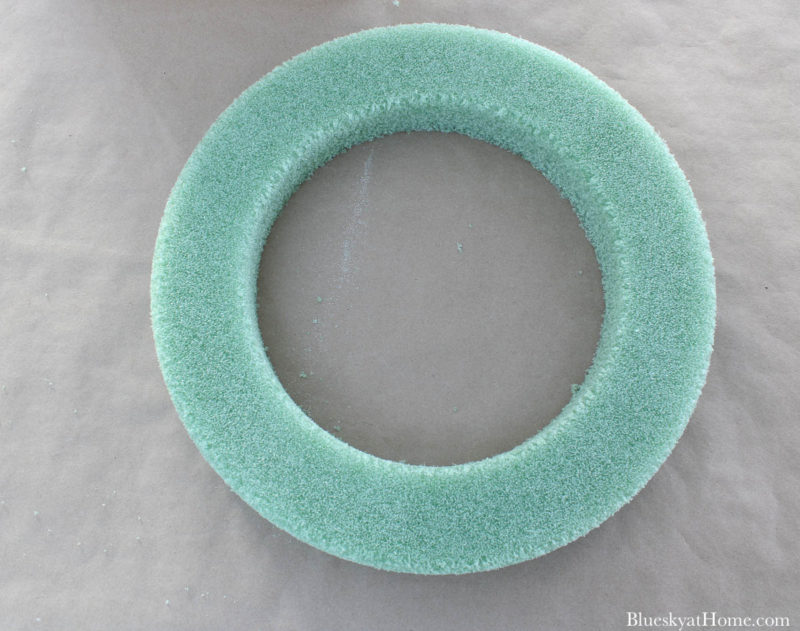 ornaments in choice of color and size; I thought smaller ornaments would be easier to work with. I wanted a mix of colors from pastels to brights and metallics. Fortunately, I found the perfect ones at Target: 5 packages of 25 each in a variety of colors; each package: $5.00 for a total of $25.
I had to go back and buy a couple more packages; only the red and green packages were left. I also bought 4 boxes of very small ornaments that were $3 each. $22.
Total cost for ornaments: $47.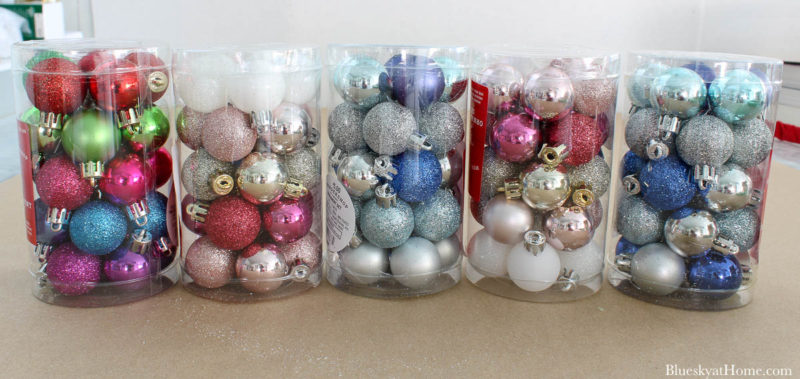 I also had a box of gold, silver, and white small ornaments and small metallic and glittering balls on hand.
glue gun and glue sticks; don't most of us have these on hand?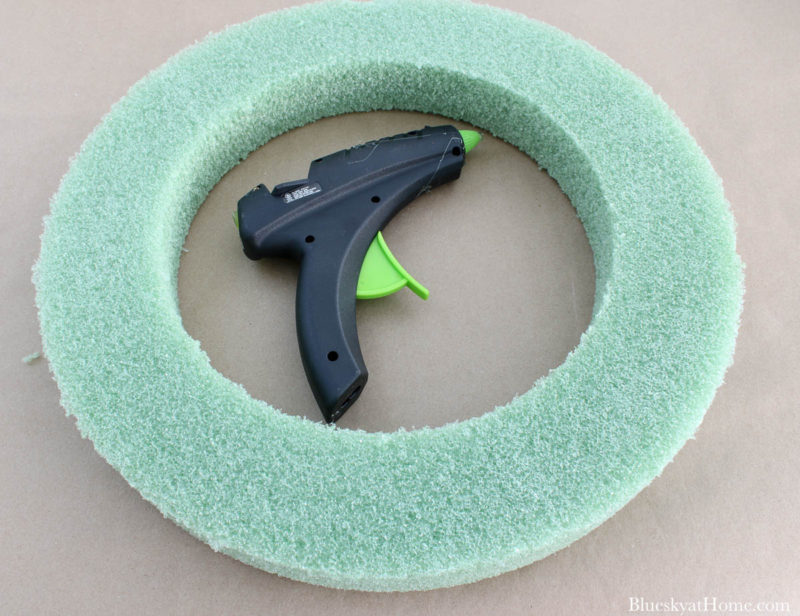 ribbon to cover the styrofoam wreath; I don't know if this is absolutely necessary, but I thought it would project the styrofoam. A roll of cream~colored burlap ribbon that I had on hand would work fine.
Wrapping my fall pumpkin styrofoam wreath was a helpful step.
ribbon to make a bow for the wreath. I used some leftover metallic gold and silver ribbon and some new green metallic ribbon that I bought last year in New Orleans for 50% off. I didn't use much and have plenty for other projects.
Steps to Make the Ornament Wreath
Step 1 ~ First, use your glue gun to attach the burlap to the wreath. Wrap the ribbon around the wreath, pulling it tight and using the glue gun to add glue every few "wraps".
As you can see, I didn't have quite enough ribbon to completely wrap the wreath. My bow should hide that area.
Step 2 ~ I emptied all my ornaments into plastic containers, organizing them by color.
I didn't intend to make a color pattern for my wreath, but mix up the colors for a pleasing effect. Organizing the ornaments by color helped me have a random mix of colors.
Step 3 ~ Remove the ornament hangers. You can do this all at once before you start gluing the ornaments or as you add each ornament.
Step 4 ~ Begin to glue the larger ornaments to the top of the styrofoam wreath, mixing the colors. I place the ornaments close together.
I found it easiest to add the glue to the wreath, place the ornament on the glue and press down on it.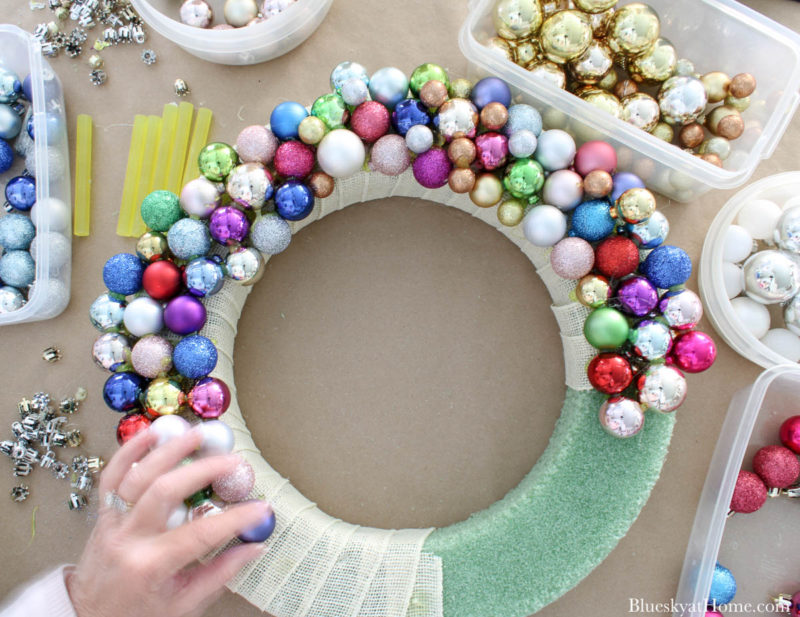 TIP: You can also add a dot of glue to the sides of an ornament to attach them to adjoining ornaments.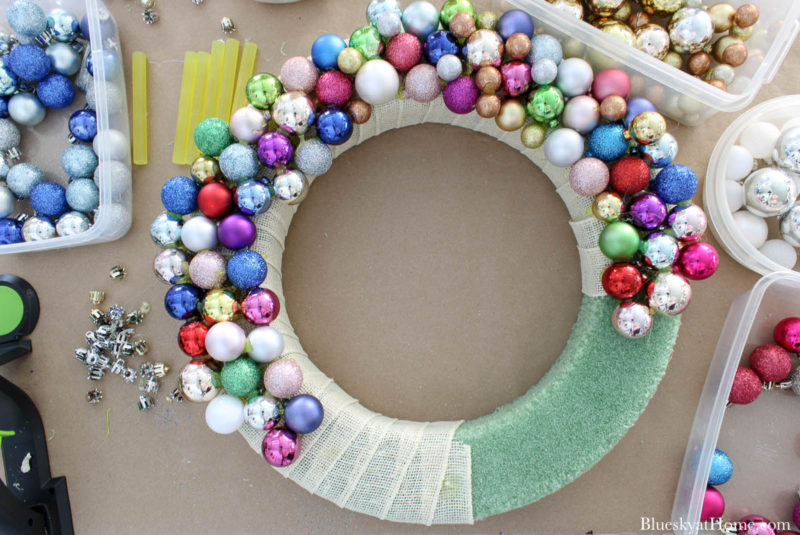 After covering the top of the wreath, start adding ornaments on the outside of the wreath, from front to back.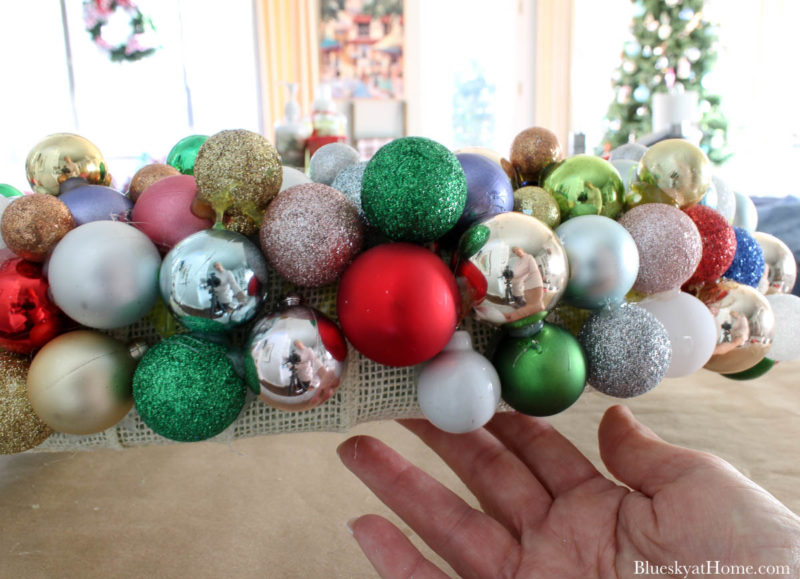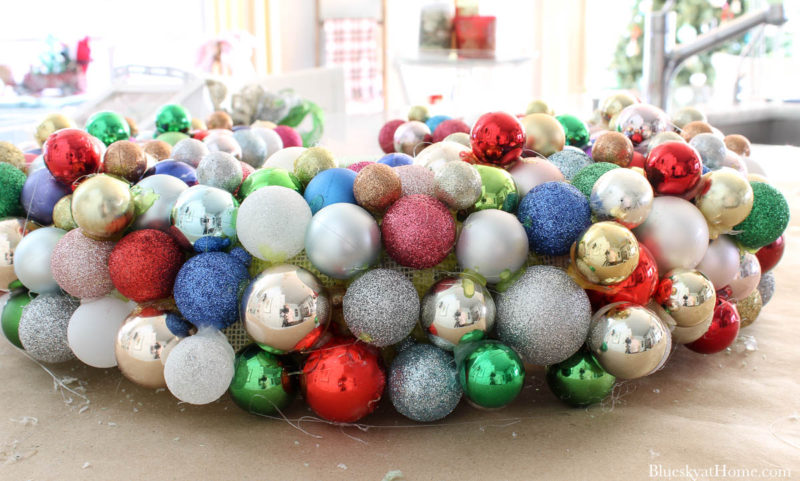 Step 5 ~ When you have the wreath covered, next start adding the smaller ornaments to fill in and cover gaps. I also used small balls to do this. This time, I added a dot of glue directly to the small balls.
NOTE: Adding the small balls and ornaments not only filled in the gaps; that also covered any glue build~up and also created more depth to the wreath.
Step 6 ~ Make your bow. Be sure to have plenty of ribbon allowance to tie it around your wreath. I used the ends of the silver ribbon to make a loop for the wreath hanger.
Finally, add your bow to the ornament wreath. The green part of the styrofoam wreath won't show when it is hung on the front door.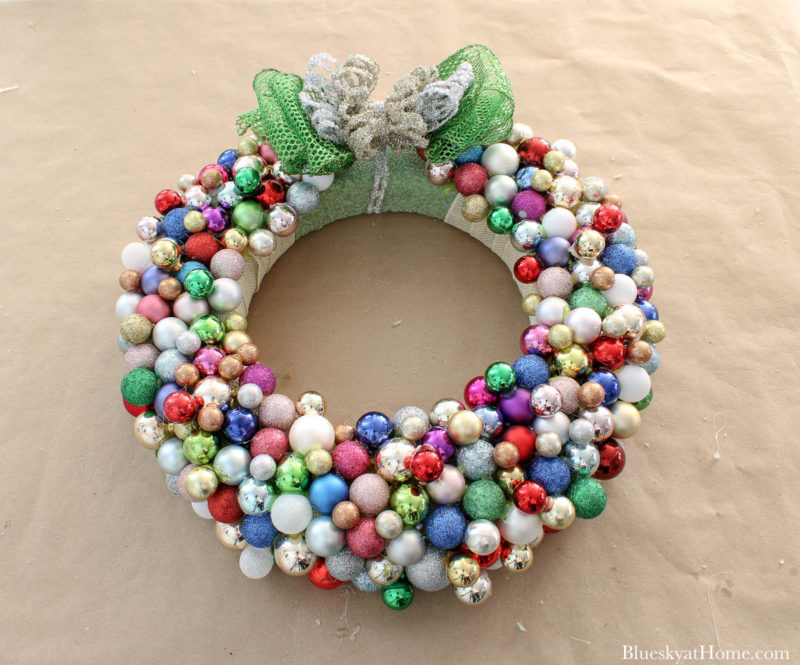 Final Cost: I started with 150 small ornaments that I purchased ($35) and 80 very small ornaments ($9). and I ended up using most of the colored ornaments that I bought, but I had quite a bit of white, gold, and silver ones left over. I already had the small metallic balls
The wreath was $6.00. I already had the ribbon and glue sticks. I'll estimate the total cost at $55. Much better than the $100 ~ $200 online ~ and much more fun to make.
Displaying your Ornament Wreath
Step 7 ~ Add your wreath to your front door, mantel, or on a mirror. I always intended that this ornament wreath would go on our front door.
I like to use wreath hangers to hang wreaths. Just wrap it with ribbon to hide the metal color.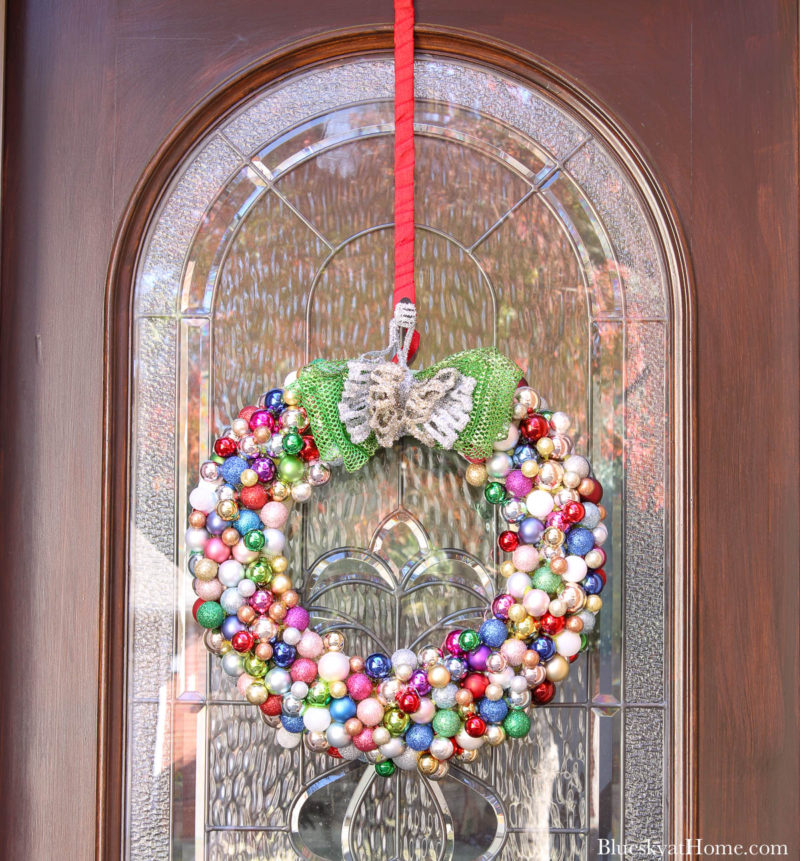 We don't have a front porch or much space at our front door. I had an extra white planter that I ordered last year from Wayfair. A pine "tree" from the grocery store filled it nicely.

I covered the base with moss. Some red berries and large ornaments add a pop of color.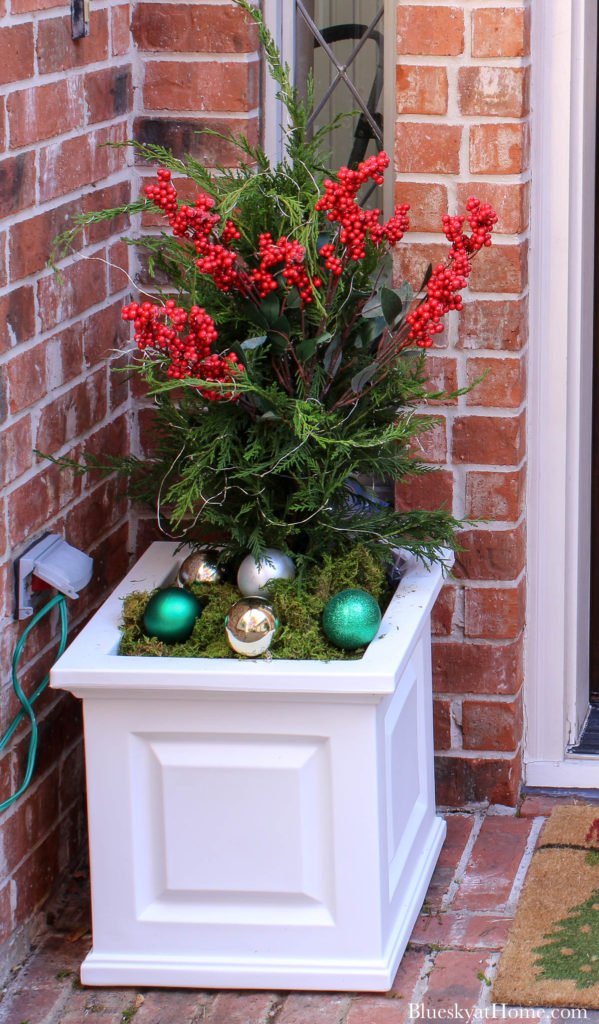 Of course, it has fairy lights ~ 5 strands, on timers.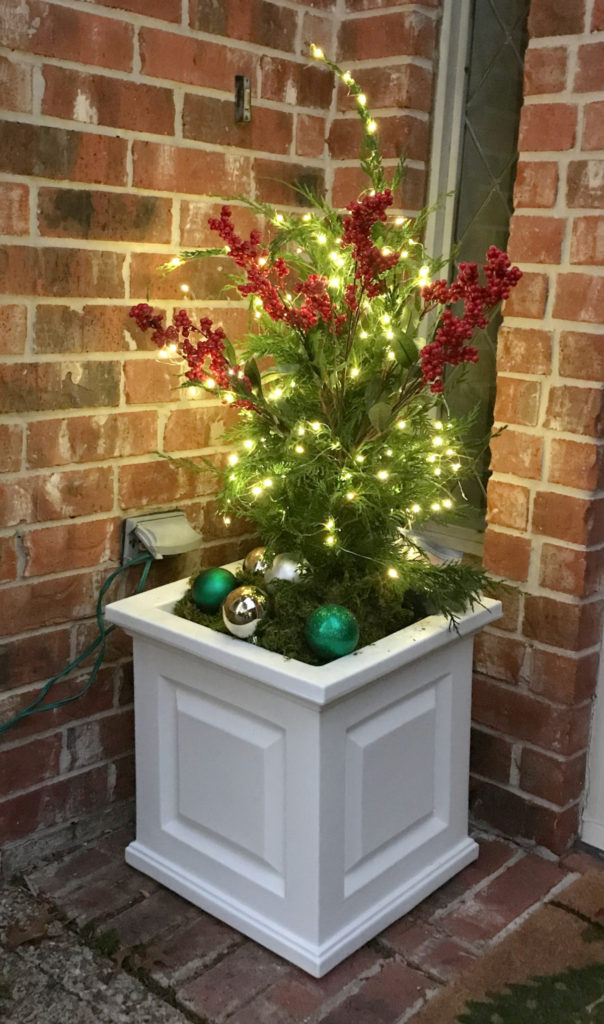 I brought my tall wood lantern outside. If we have a big rain storm, I may have to bring it inside.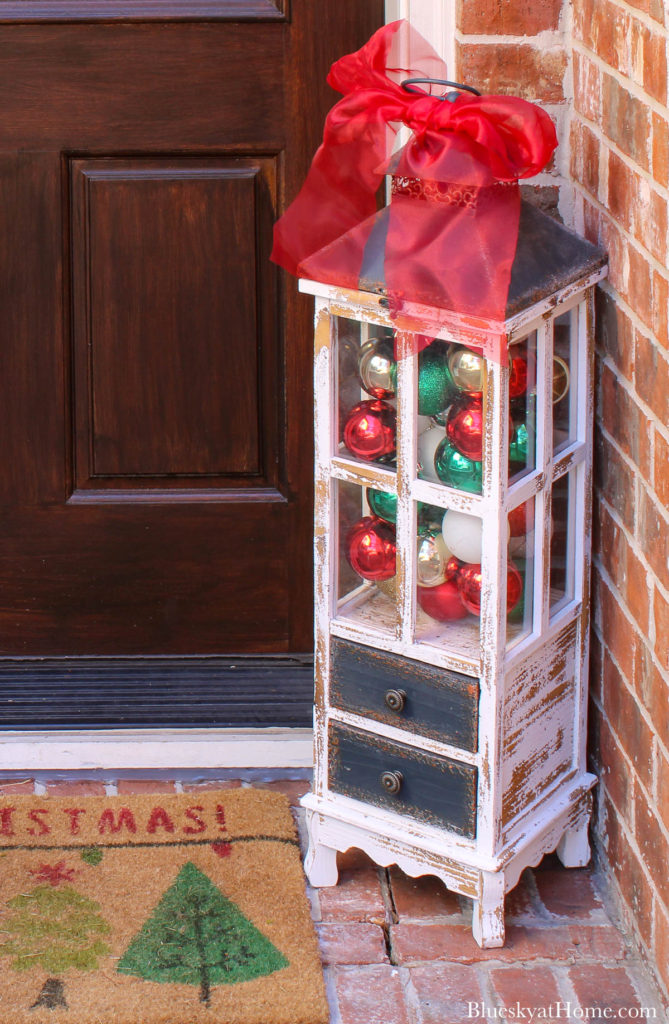 I love this ornament wreath for Christmas. It's one of my very favorites. It's colorful, shiny and unique.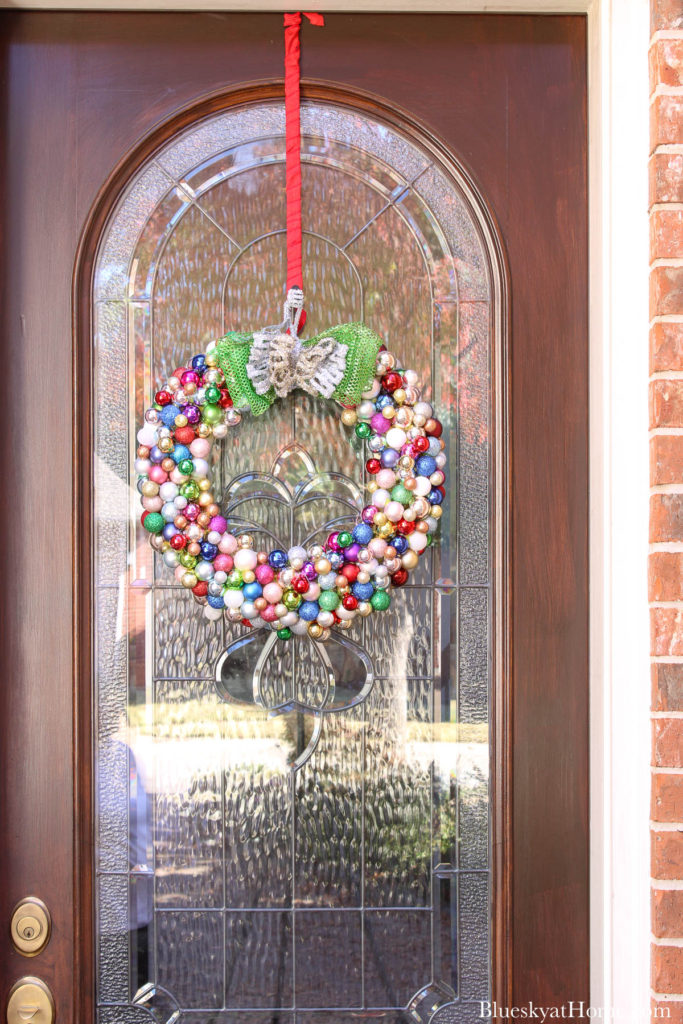 I decided that this wreath definitely needed to be lit at night. I wrapped 2 battery fairy lights on timers around the wreath.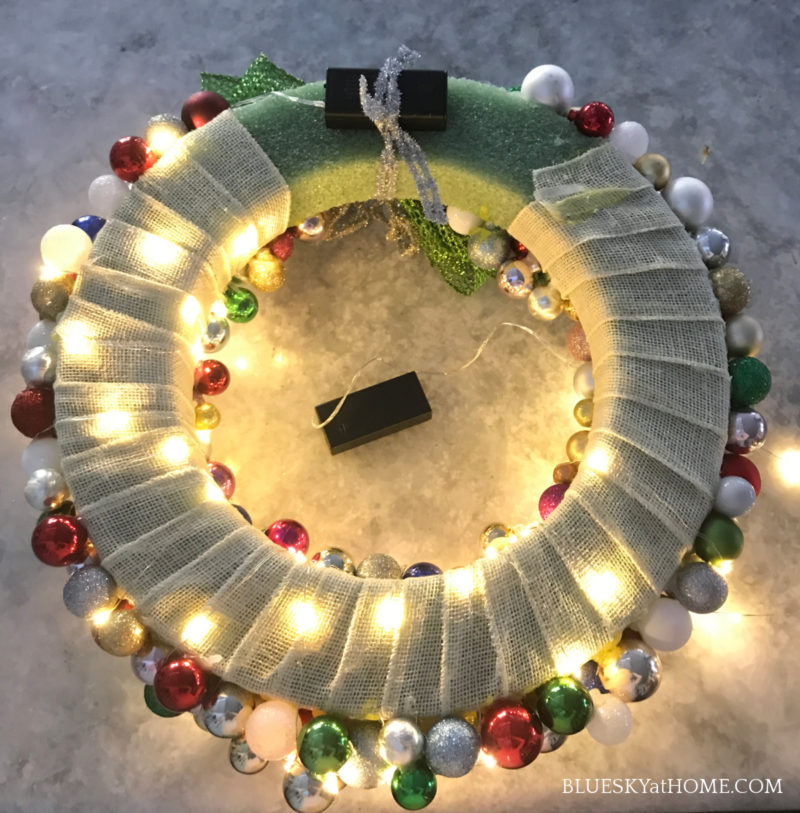 Much better!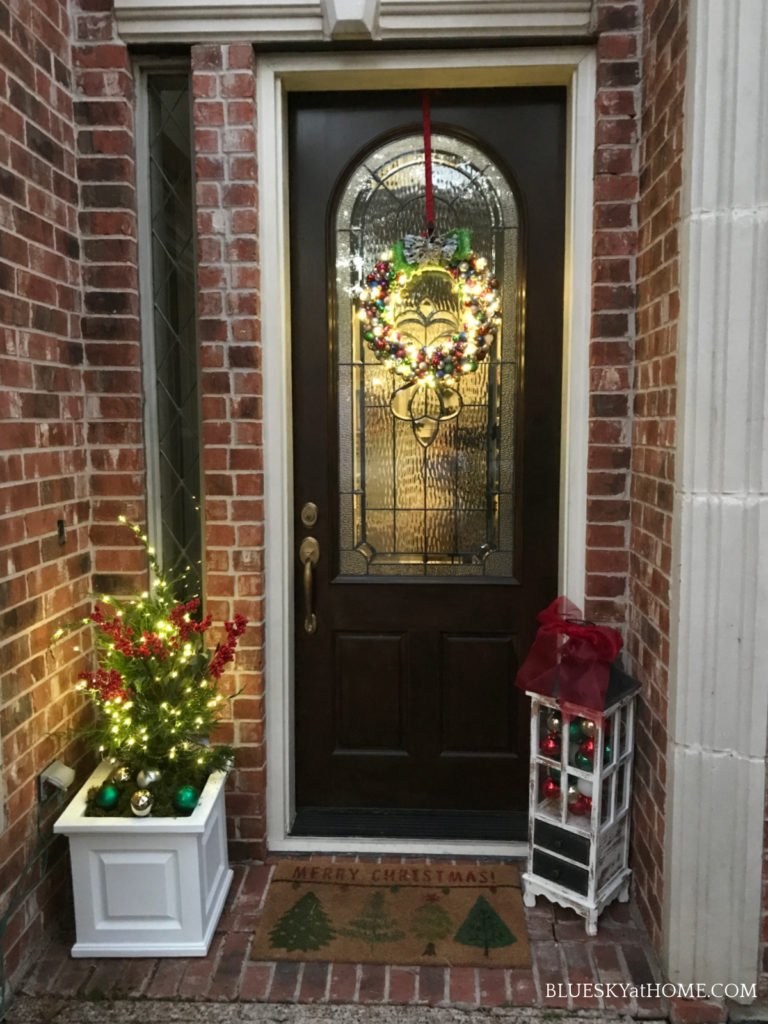 We are a couple of weeks away from Christmas. If you don't have a wreath yet for Christmas, I hope that you try to make an ornament wreath for your home.
Already have a wreath? Then please PIN this project, how to make an ornament wreath, for next year. I think it's a classic.