Springtime Green and White Tablescape
Green is not only the color of St. Patrick's Day, it is the color of spring. Trees begin to bud, grass grows, herbs and ferns return. No matter the color of the year, green is always "in". And, with St. Patrick's Day just around the corner, I'm showing off my springtime green and white tablescape.
St. Patrick's Day is definitely all about decorating with green. This springtime green and white tablescape would definitely work well for a St. Patrick's Day dinner.
Since green works so well in winter and spring decor, this green and white tablescape can be set for your St. Patrick's celebration.
So let's move along to my springtime green and white tablescape. I love creating tablescapes. It's not only a creative exercise that makes me stretch my home decor skills but designing and implementing a tablescape makes our dining look so much nicer than just a plain table.
Springtime Tablescape in Green and White
This post contains affiliate links to products used in the creation of this project. If you should order any item from this site, I may receive compensation, but you do not pay a penny more. Your purchase is greatly appreciated as it helps support the continued publication of this site.
Because I love sharing the process and behind-the-scenes of creating a tablescape, I'm going to share the finished green and white spring tablescape today. At the end of the post, I'll share the link to "how I created the elements of the tablescape".
Sounds like a good plan? Good, I thought so, too.
The Reveal of My Springtime Green and White Tablescape
I'll start small and then go big.
I did start with the burlap tablecloth that I bought in Atlanta and shipped home a few years ago. It's much bigger than I thought and completely covered our dining room table even with both leaves in.
I made the runner and napkins from fabric I found at Hobby Lobby, and yes, I did iron the fabric first.
TIP: By cutting the fabric with pinking shears, you don't have to hem the runner and napkins.
I found the green motif plates and green sherbet dishes just last year at a local antique mall. The white plates are our everyday china – Manoir from Villeroy & Boch. The silverware is our everyday and I have no idea the brand or pattern.
I recently used one of the plates and two of the green sherbet dishes in my St. Patrick's Day coffee table vignette.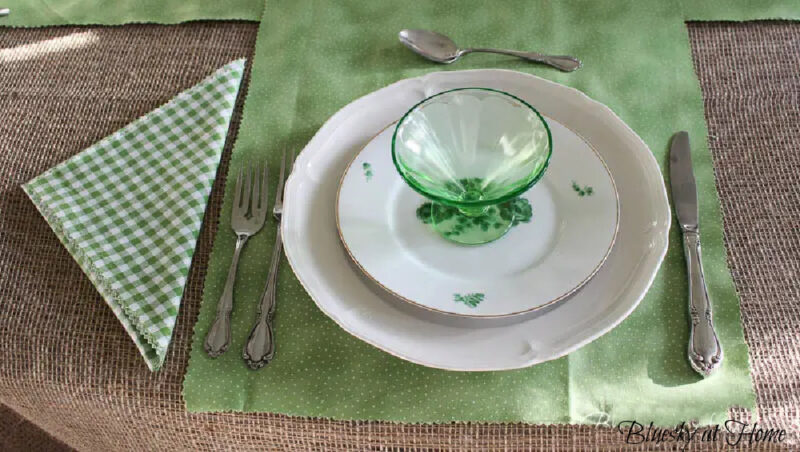 With the extra fabric from the napkins, I tied a bow at each corner.
TIP: Repeat your colors and patterns in different elements of the tablescape. This step continues your theme and "ties" everything together.
For the centerpiece, I chose white hydrangeas in a green container – you'll have to come back to find out exactly what the green container is.
Embellished with a spring stencil and ChalkArt from A Maker's Studio.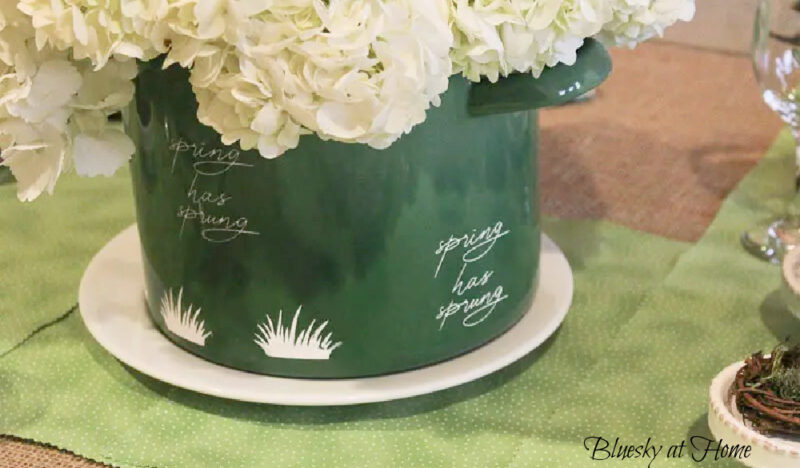 At each place setting is a mini-wreath on a cupcake stand with green moss and mini-votive candles.
The Wild Strawberry pattern serving dish and ramekins from Wedgewood are from Sweet Shark's mother. I think it's the sweetest pattern.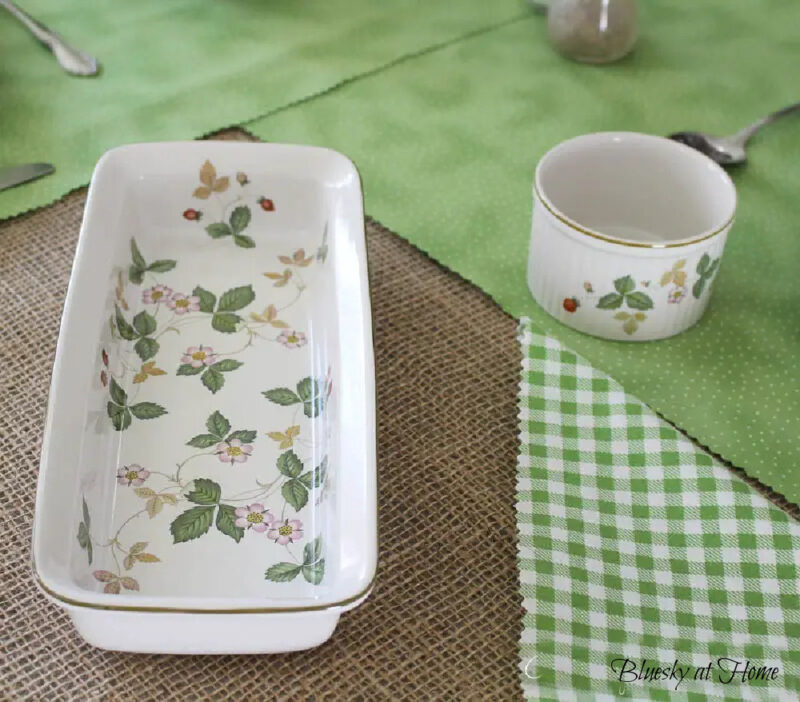 I bought the wine glasses at Dollar Tree and I love embellishing them with ChalkArt and stencils.
I originally bought the apple green pillows are from Wisteria for our living room. The color brightens up the side chairs as a focal point and pulls your eye into the dining room.
I bought the pretty flowered motif pitcher at HomeGoods.
On the bar cart (a flea market purchase from several years ago) in our bay window, I used these sweet green aperitif glasses that we've had forever but rarely use. I just couldn't miss the opportunity to bring them out for this springtime green and white tablescape.
The silver tray belonged to my mom. For a little more greenery, I bought a small fern that I placed in a galvanized pail (1 of 3 from Atlanta). A white ribbon adds to the white and green theme.
I keep a stash of cocktail napkins with funny sayings which I love to use. The green color was perfect.
Let's Talk Green and White Food
At first, I was thinking savory for this springtime green and white tablescape. The only things I could think of were guacamole, pesto, and pistachios.
Somehow those three things didn't sound good together. Sweets – now I could dig that. So to the bakery, I went.
These cupcakes – I love minis – were called wedding cakes. I added some green sprinkles to fit the theme and make them even prettier.
At the grocery store, I found yummy scones. I had made some icing and used green food coloring to drizzle on top.
And the very last thing I added to the springtime tablescape? My favorite – vanilla ice cream and pistachio macarons. I had to use those darling green sherbet dishes.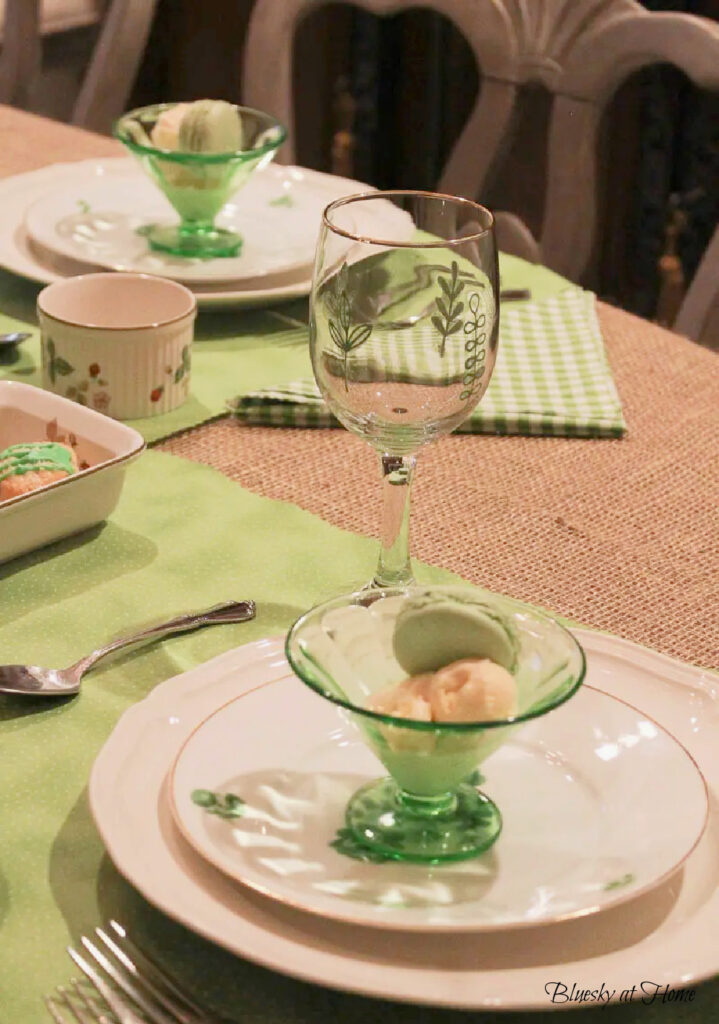 Let's Go Big
Here's the green and white springtime tablescape with a bird's eye view.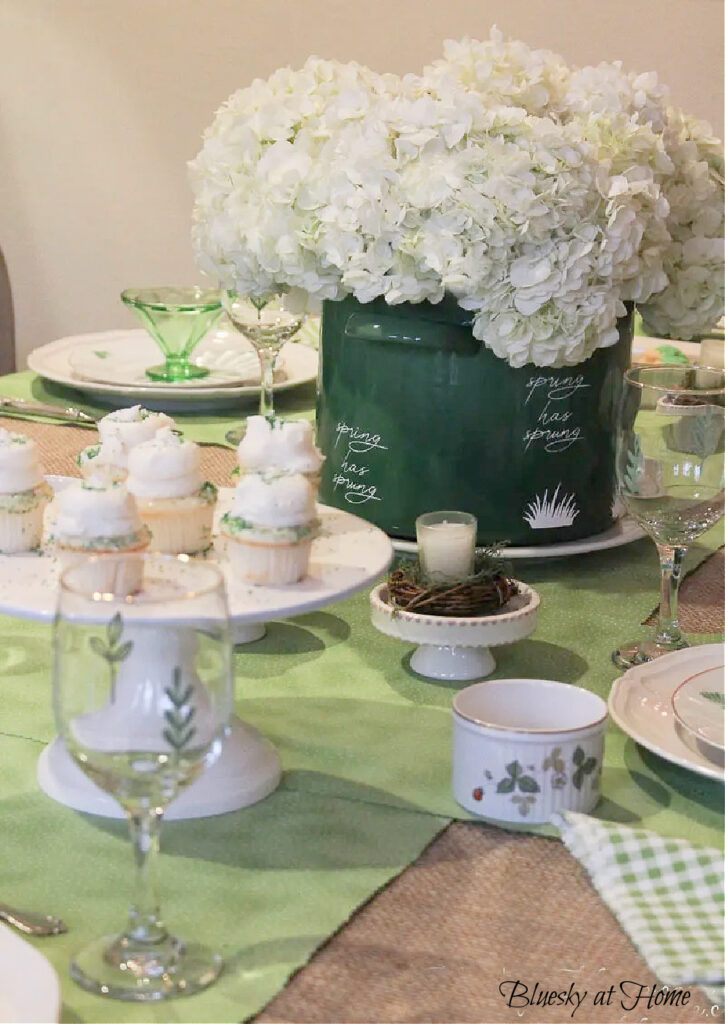 Well, that's it folks for this introduction to my green and white springtime tablescape. I hope you loved it. I did. As promised here is the behind-the-scenes how I designed this springtime green and white tablescape.
I also shared my love of using live green plants in our home decor. It seems like you all love the idea of using green plants to give pops of color and a natural feel to any room.
And just to give credit where credit is due, I do not water or nurture or fertilize these plants. It's totally a Sweet Shark thing. Every Saturday afternoon, he waters and tends to all our indoor plants.
Here are ideas for continuing your green and white color scheme in other areas of your home.
Need some sweets and treats to go along with your springtime tablescape? Try these shamrock cookies and St. Patrick's Day cocktails.
While you're PINNING this POST, if you need more ideas for tablescapes or spring decor, try these Pinterest Boards: