Hi there. I am back home after spending 10 awesome days in Atlanta with my daughters and 3 grandkids. But 3 of the most amazing, best days were spent at Haven Conference ~ you've heard me mention it a few times (actually, several) and maybe seen some pics on my Instagram. I could go on and on about the fabulous experience and the  great things I learned, but for today, I'm so excited to share this tutorial on how to make the cutest paper flower party decorations. I think it's one of my very favorite little DIY party decorations ever.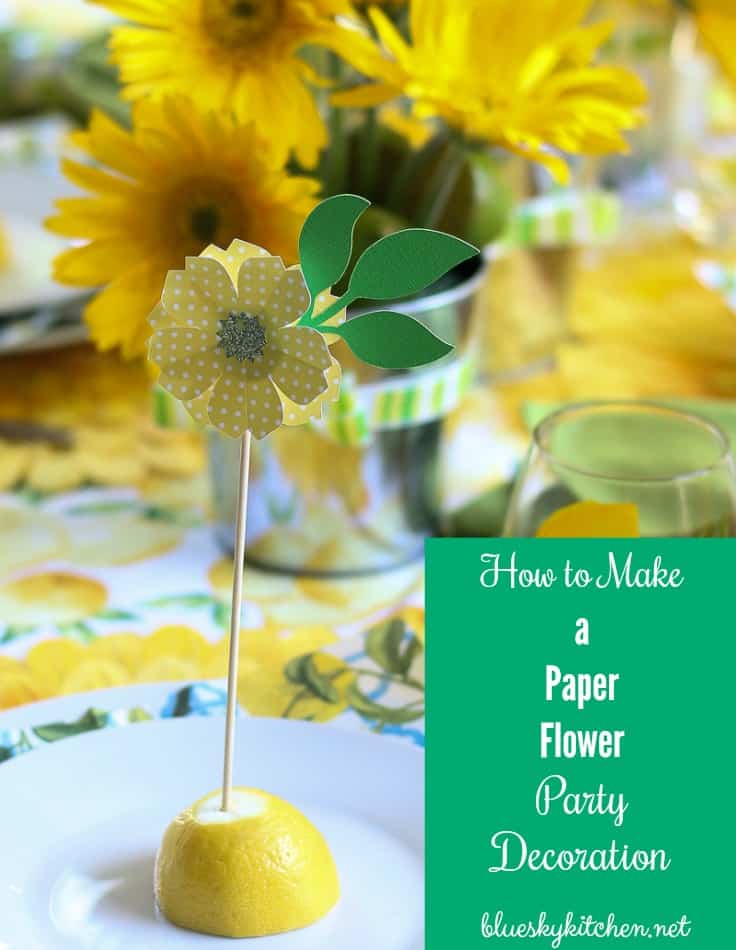 You know that saying, "the devil is in the details"? Or "It's the little things that count". Well, when it comes to home decor and party decorations, it's the little details that make a home or a party extra special. As part of my preparations for my Sunny Summer Tablescape a couple of weeks ago ~ my theme was lemons and yellow flowers ~ I combined the 2 to create the cutest paper flower party decorations for each place setting.
How to Make the Cutest Paper Flower Party Decorations
This post contains affiliate links to Cricut products (on the side bar). If you should purchase any product, I may receive compensation, but you do not pay one cent more.
Inspiration for My Paper Flower Party Decorations
Here's how this cute paper flower decoration came about: my tablescape was completely done, or so I thought. I stepped back to check it out and eyeball every little spot. It was missing something ~ that one little extra that would make a guest feel really special. In the past I've made place cards ~ love those, but this time, I thought the place setting needed a boost. Since I love using my Cricut Explore Air (how many times have you heard me say that?!) , I decided to search through the images in Cricut Design Space for a project that would combine my theme of lemons and flowers. (BTW, Cricut Design Space has just been undated with awesome new design features to make it even more user~friendly.) And I found this ~ a darling cupcake topper.

Now I didn't need a cupcake topper, but I thought I could still use this design. And my colors for this tablescape were not pink (I know it's a shock), but yellow. So I searched through my paper stock and found the perfect yellow polka~dot pattern.
TIP: remember that Cricut Design Space images are merely inspiration. Even though Cricut gives you a list of paper colors, you don't have to use their choices. Use what fits with your color scheme.
How to Make the Paper Flower Party Decorations
In edit mode, I told Cricut I needed 4 of each cut. That is a super easy step. I needed 4 of 2 cuts ~ in other words, I had 2 different cuts to make ~ one for the back flower and one for the front flower.
The back flower was a solid piece, but the front flower had a whole in the center. Before the cutting, I inserted the Cricut scoring tool to create a line in each "petal". Then I used my Cricut scoring tool and my Martha Stewart scoring board to emphasize the line on the petal. Fold the flower forward on the scoring line which gives the flower dimension.
After cutting out and scoring my flowers, I used a piece of green card stock to make the leaves. Again, I told Cricut to make 4 at once. Next, I  used permanent double~stick tape to attach the leaf to the flower.
TIP: It's a good idea to have both permanent and repositionable tape on hand.
Then I glued 6~inch wooden skewers to the front of the flower back. Let them sit for a few minutes to be sure that they were completely stuck. Gosh, have you ever thought about how many millions of times you've used Elmer's Glue in your life!
If you look back at my inspiration photo in Cricut Design Space, you'll see that they used a button and twine to attach the flower pieces together. I wanted something simpler. I had another color of green card stock on hand and I cut out 1~inch circles with one of my punches.
I used the double~sided tape to attach the green circle to the back of the flower petals. Which worked great, but left a sticky center. This is when what I call #randomactsofdiy came into my head. I looked through my craft drawers for inspiration and spied GLITTER!
Sprinkling the silver glitter on the center circle gave the flower just a little sparkle (well, yea, duh!) and covered the sticky center. Then I attached the front flower to the back flower with the permanent double~stick tape. I debated whether to cover the wooden stick, but I didn't have any washi tape on hand that would fit the color scheme, so I left it as is. Adds a little natural feel to the flower.
Next I took 2 of my extra lemons (I had bought a ton of lemons for this tablescape, just in case.), cut them in half  and stuck the wooden skewer in them.
NOTE: first, I cut off the pointy end off the lemon.
Lastly, I set the flower and lemon on each plate. Wha~la!! Making these paper flower party decorations added just the right of amount of cuteness for my table. Believe me that I will use this Cricut project again. Next time they may find their way to a cupcake.
Here are the supplies you need to make the paper flower party decorations:
1 sheet of card stock in your color or pattern for the flowers (You can easily get 8~ 12 flowers per sheet of paper.)
1 sheet of green card stock for the leaves
1 sheet of card stock for the center of the flower (The color doesn't matter as it will be covered by the glitter.)
Cricut or other scoring tool
scoring board
double~stick tape
glue
wooden skewers or pop~sticks or even straws for holding flowers
glitter in preferred color
Cricut Explore Air*
*If you don't have a Cricut, you could find a pattern online or from a coloring book for the flower and leaves and just cut them out.
Please tell me you loved these paper flower party decorations. I hope you think they are as cute as I do. They were so easy ~ I finished them in less than an hour. Granted, I had all the supplies on hand which is always nice.
If you liked this project, please Pin It, Tweet It, or Share It with your best buddies. Or if you would like me to make some for you, let me know. My Cricut is warmed up and ready to go. If you would like to see  a few other Cricut projects, here they are:
3 Quick and Easy Projects to Make with a Cricut
Learning How to Use a Cricut and My First Projects