Flea Market Farmhouse Pig Gets a Makeover
Wasn't there a joke a few years back about lipstick and a pig? Well, I'm not putting lipstick on this flea market farmhouse pig, but he is getting a makeover.
Here's my pig story. Not 3 little pigs, just one flea market farmhouse pig that I found at the Queen of Hearts Antique Mall in Atlanta. The pig rode home to Texas in my suitcase.
I love this pig; I loved the words on the pig. He would be almost perfect in my kitchen. He just needed some makeup to make him perfect. No problem. There's a good reason why makeup has been called paint. I had paint for this pig. My flea market farmhouse pig would get a makeover with a little paint.
Flea Market Farmhouse Pig Gets a Makeover
This post contains affiliate links to products that I love, use, and highly recommend. If you should order any product from this site, I will receive compensation to support my flea market buying habit and give you these DIY tutorials.
As I said, I bought my flea market pig in Atlanta and he hitched a ride home to Dallas in my suitcase. I told Sweet Shark I was bringing home the bacon! I also brought home a vintage cutting board that became my vintage cutting board Valentine project.
Introducing My Flea Market Pig
I loved everything about my pig~ I should give him a name. The black raised words fit the farmhouse vibe. He is made of metal, but lightweight. His size was just right for hanging in my kitchen. I just didn't like the burnished gold color of his "skin". That's what makeup paint is for. I wanted my flea market pig to be white.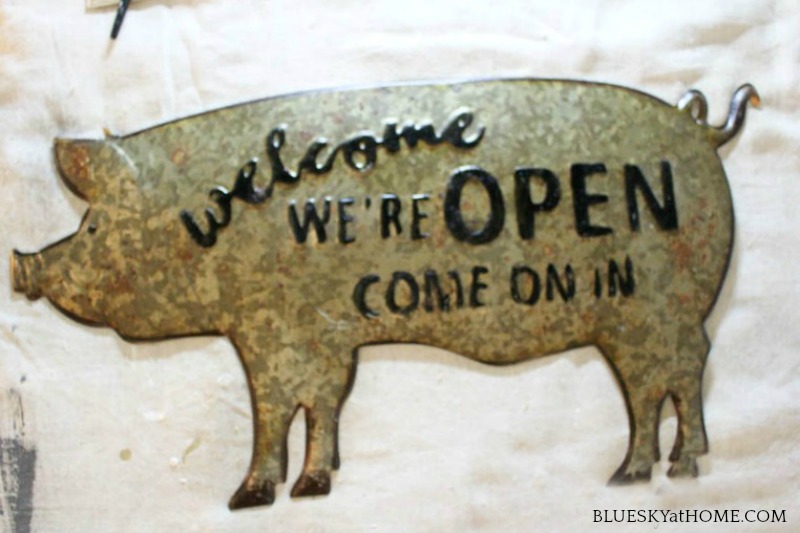 Also, my flea market pig had some blemishes ~ must have been the stress of flying for the first time. To clean him up, I wiped him down with Clean Slate, a product from Amy Howard at Home, designed to remove grime, oils, dirt and hopefully rust. I would recommend using our Furniture Cleaner from A Maker's Studio. Then I went back over with a clean dry cloth.
My makeup of choice was Rescue Restore paint in Blessed, my favorite bright white.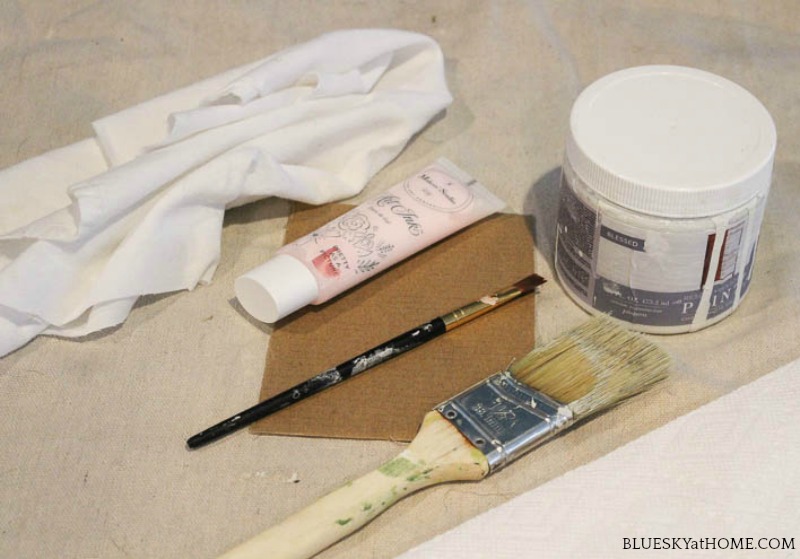 I used a chip brush to cover as much "skin" as possible.
I thought I could cover all the lettering too and then wipe the paint off the black letters with a damp paper towel. That worked fine, but in order to get the look I wanted I used a small brush to color in around the letters.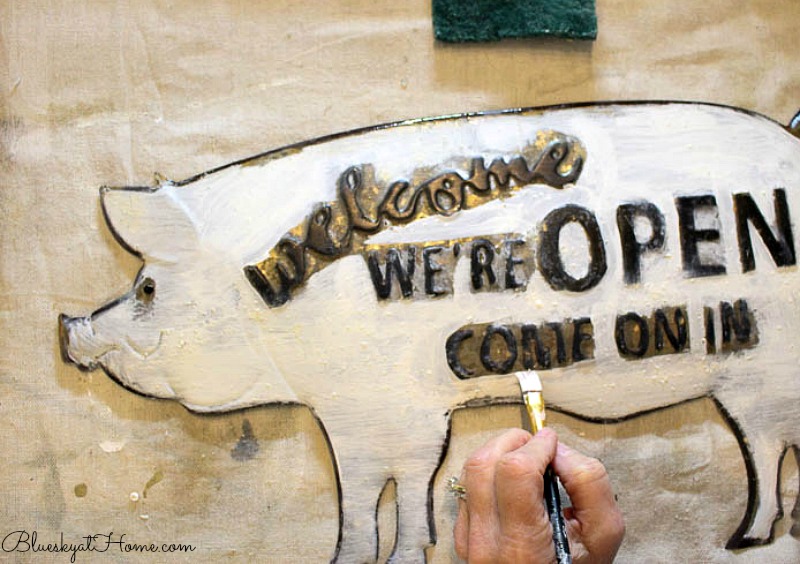 I used a green scrubby around the edges to reveal the black border. Then I let the pig dry for about 15 minutes.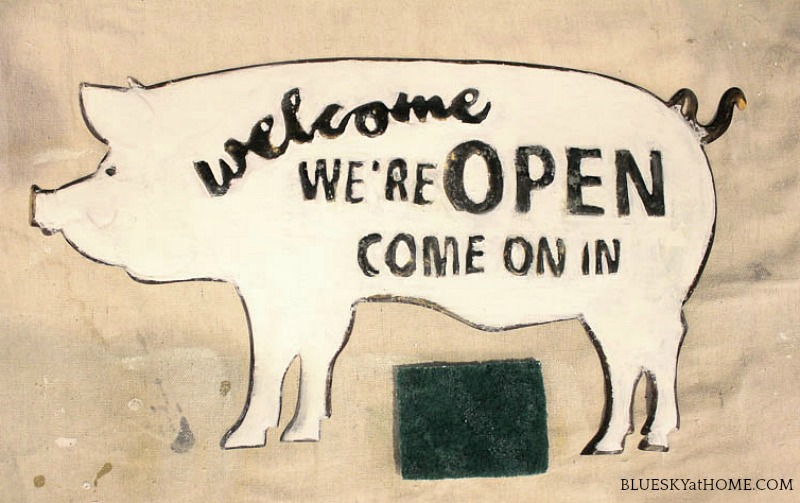 I really wanted the black letters to stand out so I used ChalkArt in Preaching to the Choir to paint over them. Then I went around the edges with more Preaching to the Choir to outline Mr. Pig ~ he now has a name.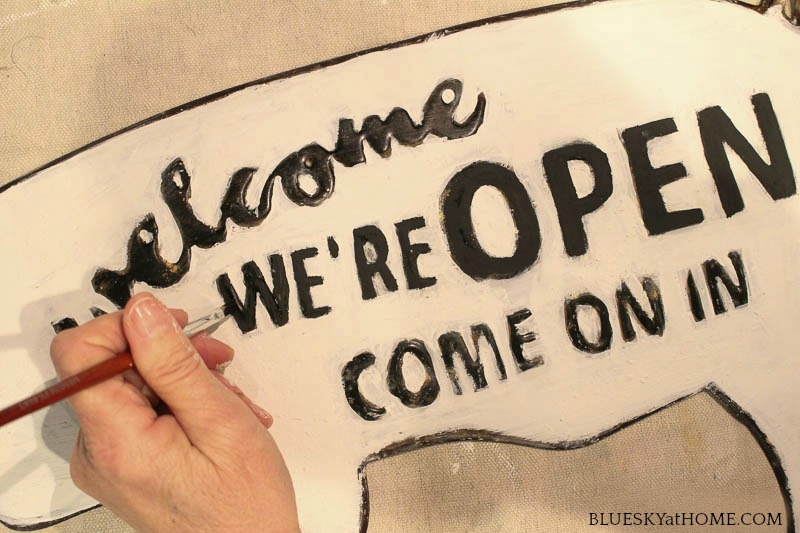 Originally, I thought I wanted to paint Mr. Pig's tail pink, but that didn't look good, so I painted his tail white and again outlined it in black. I did go back with a little brush in the white Blessed and filled in where I missed a spot.
Finally, Mr. Pig was made over from snout to tail. He has a more primitive look, which I like just fine.
So, in case you were wondering, Mr.Pig cost $12.00, but because I bought so much (shoosh ~ don't tell Sweet Shark!) they gave me a little discount and he ended up being $10.80.  I already had the paints on hand and had used them for other projects.
This little flea market farmhouse pig is now in a place of honor in our kitchen, joining our other pig. This metal pig sign is also a flea market from about 6 years ago.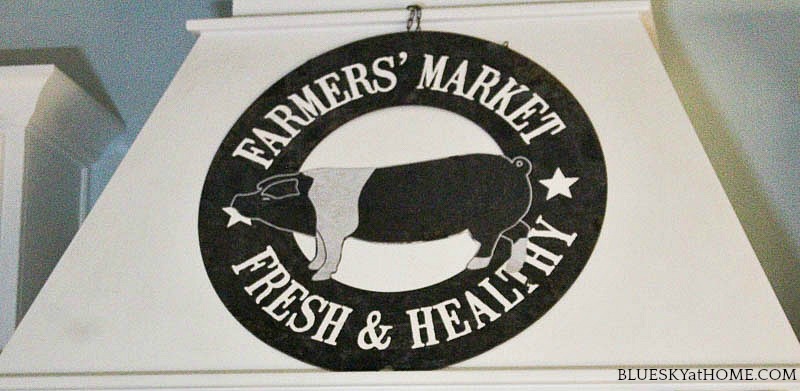 So now we have 2 little pigs. I just need 1 more (3 little pigs) or 3 more (this little piggy), depending on which piggy story you prefer.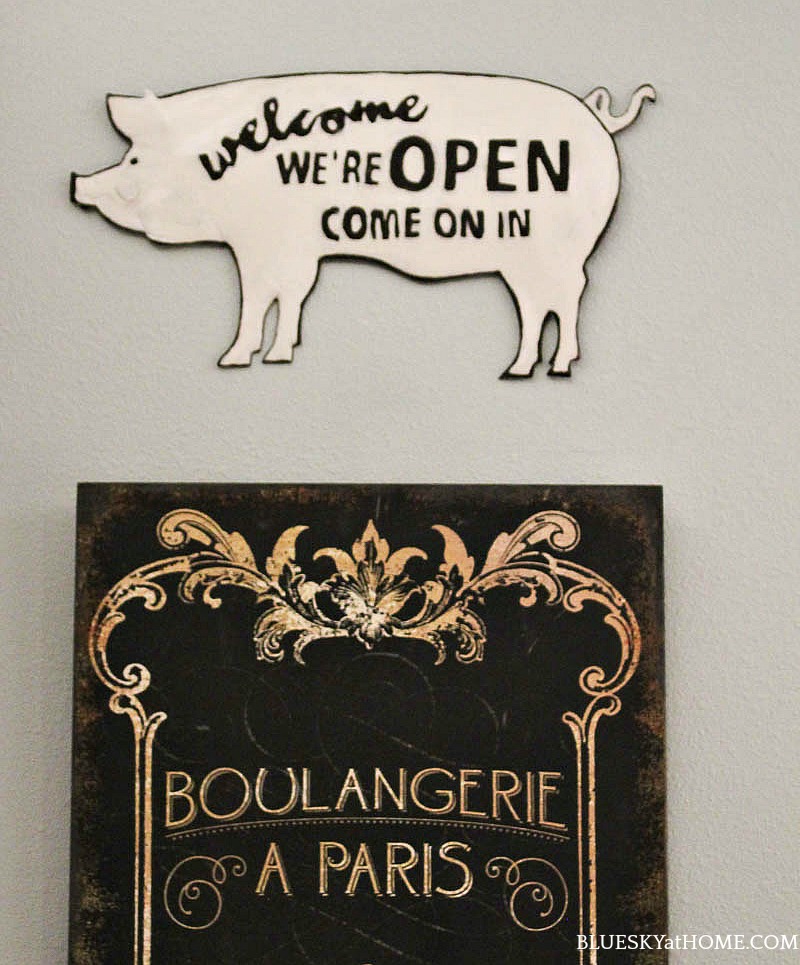 Thanks for sharing my pig makeover. He make not be wearing lipstick, but he looks charming in white and black paint on the wall with our Boulangerie Paris Sign.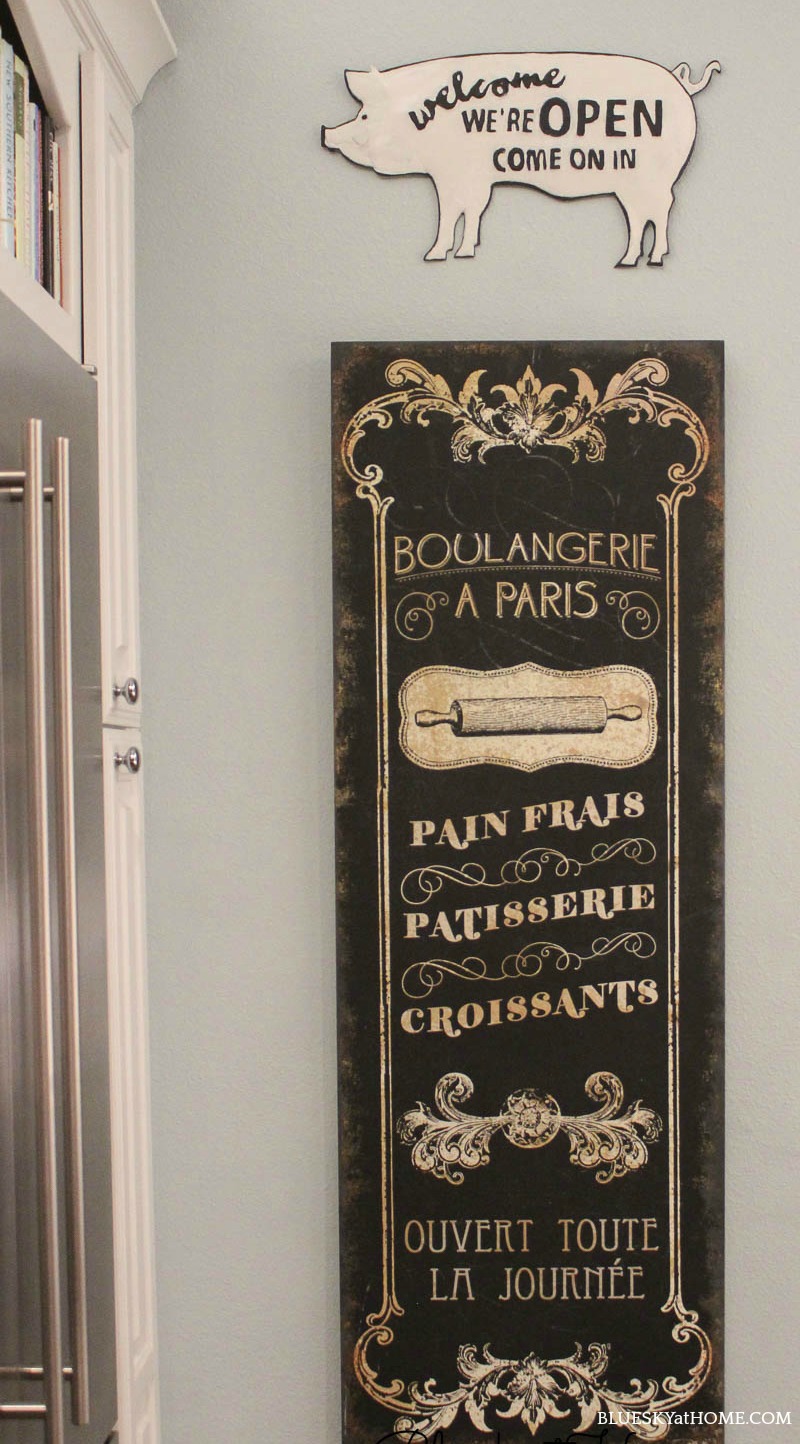 If you like making over a flea market farmhouse pig, then PIN this post for later.