My Flea Market Shopping Spree Reveal
Recently I shared a couple of DIY projects using items that I bought on a flea market shopping spree in Atlanta a few weeks ago. Everything else that I bought I had to ship home. And now I'm so ready to open the box of flea market goodies that arrived at my front door.
It's been 3 weeks since my flea market shopping spree and I've almost forgotten what I purchased. But I know it's all good stuff. It's like Christmas in February. Are you one of those people who like watching other people open presents? I am. So let's pretend that this box is a present and we are opening it together. Ready? Me too.
My Flea Market Shopping Spree Reveal
Just to refresh your memory, I was able to pack 3 things in my suitcase.
My 2 vintage cutting boards.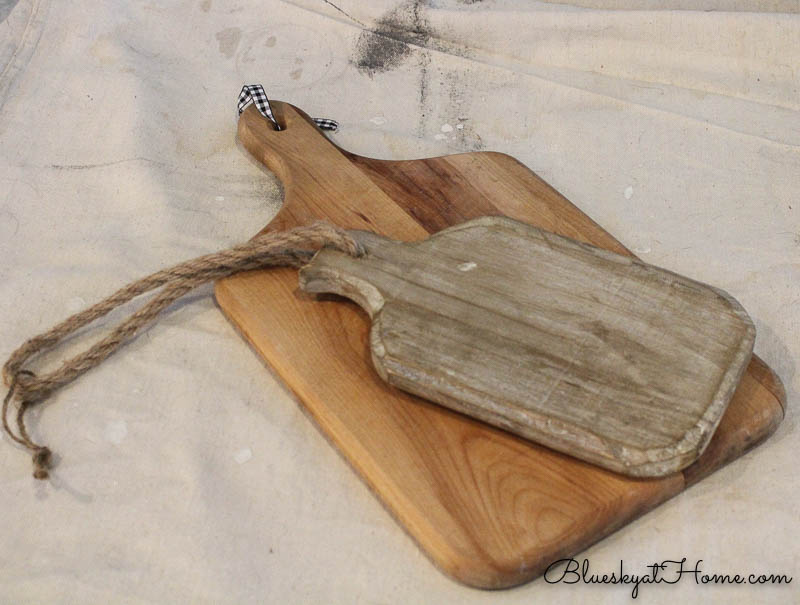 My cute pig.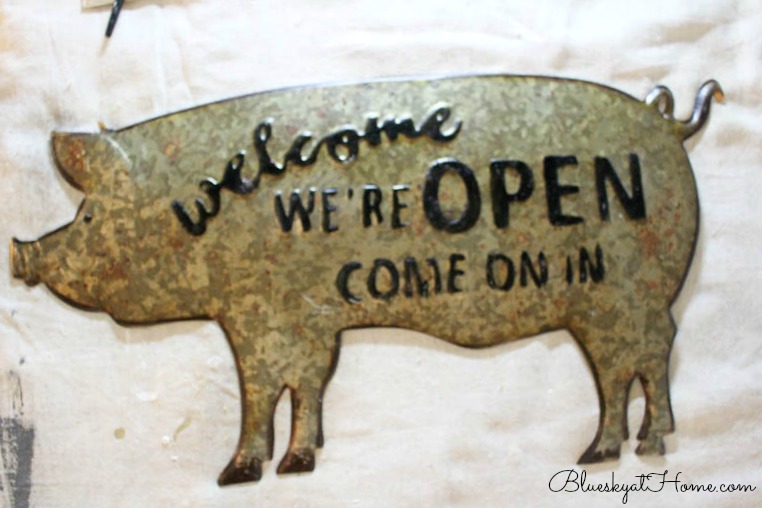 I made some design changes to all of these items. The vintage cutting boards became Valentine decor with ChalkArt and stencils from A Maker's Studio.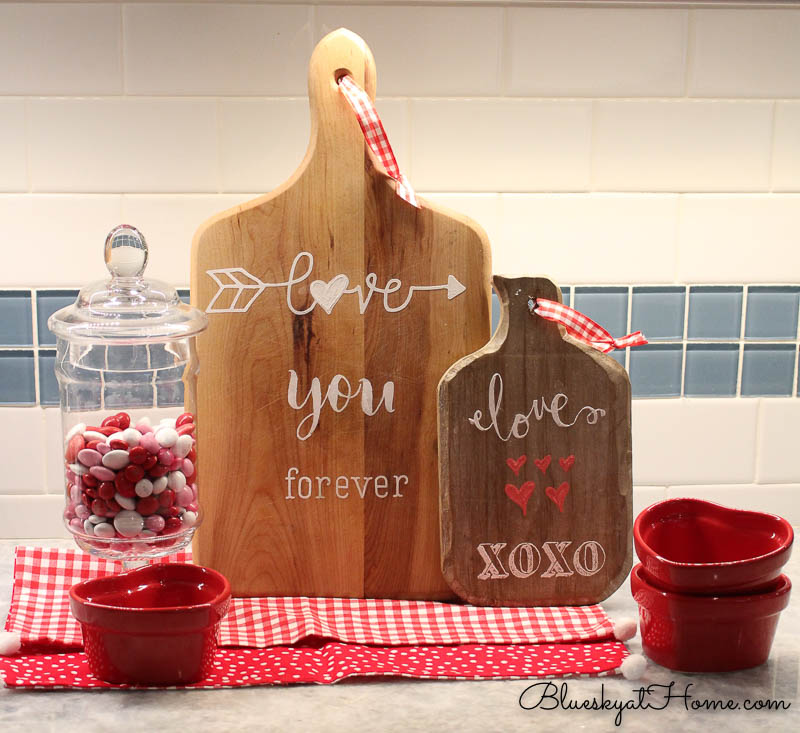 And the pig got a makeover, going from brassy to white and black for a more true farmhouse look.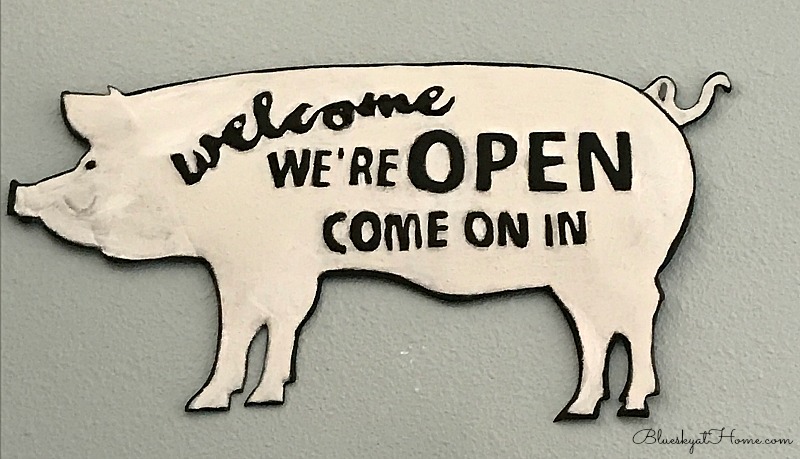 We love flea markets, the best places for vintage and farmhouse decor. I've been to Roundtop in Texas and Lakewood and Scott's outside Atlanta, and I love them all. Most of these aren't open everyday, or even every week or month. But an antique mall is an indoor air~conditioned flea market without the dirt floors that is opened all the time. So you can shop whenever the urge, your living room or your hands start twitching create a DIY project.
So whether you found that special item at a flea market, an antique mall, an estate sale or garage sale, it's all good. If you love it and can buy it, it's a good day.
Now let's open my present box and see what else I found at the antique mall flea market.
Flea Market Finds Unpacked
I'll share all the prices for my flea market finds at the end of the post.
Twiggy Wreaths
We all love wreaths, right? I love twiggy wreaths, but most of the ones that I've seen in the big box craft stores are big ~ like 18 inches plus. When I saw these little wreaths that are about 4 inches in diameter, I thought how cute is that? Tie them together with ribbon or use them individually. There were only 4 in this booth and I bought all 4.
In another booth, I found a 10~inch wreath. Into my "cart" it went.
Twiggy Basket
I saw this little twig basket that is about 6 inches tall with the twine handle and I thought it would be cute filled with faux flowers, or greenery, or cotton stems. Very natural and farmhouse.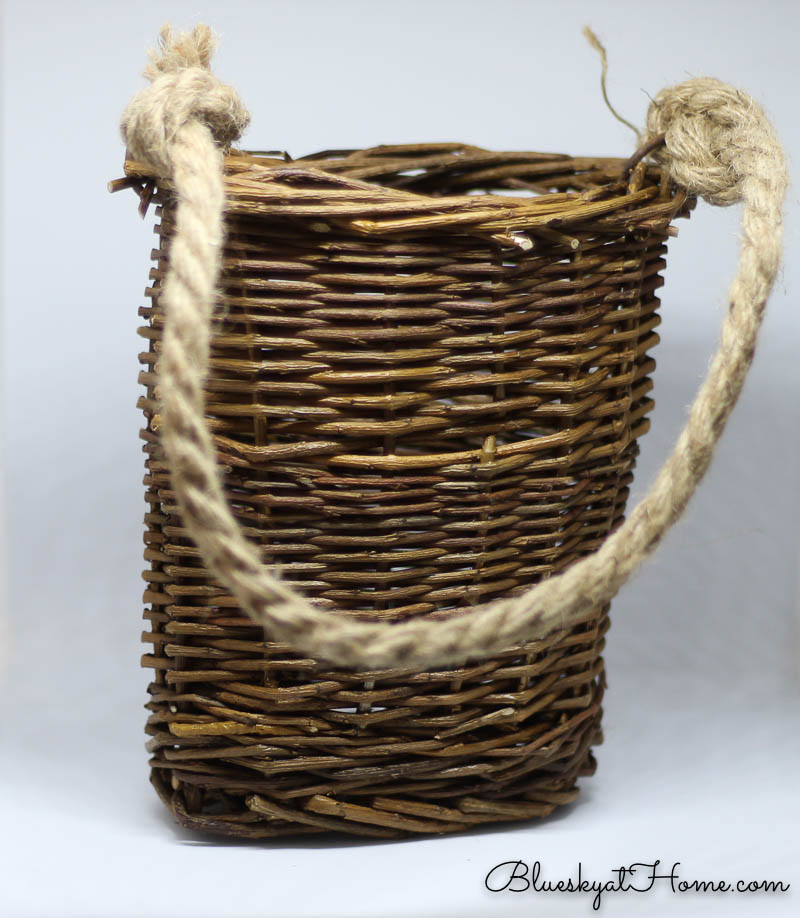 Pretty Pear
I love fruit (not exactly the real kind), the kind that can sit on a table or in a vignette and look pretty. I already have a white ceramic pear, as well as a white ceramic apple and a pretty aqua apple. I thought this "concrete" pear had a organic look would fit in nicely with my slightly farmhouse touches. And I loved the grey color, which has been my winter neutral shade. Paper weight?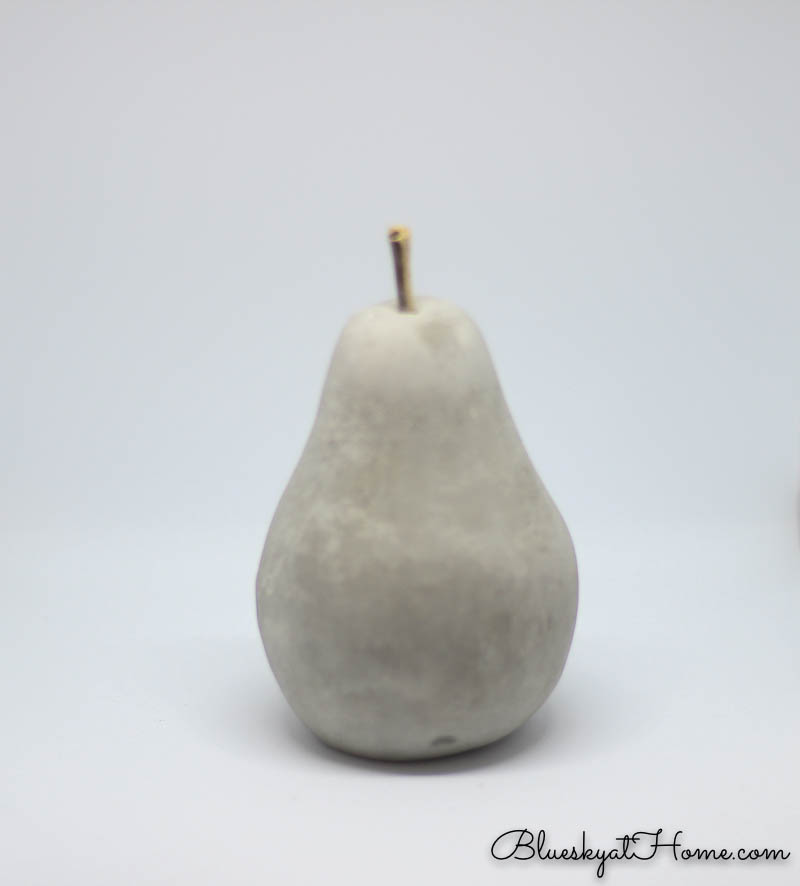 It's Music to My Ears
Sheet music is very popular right now. I loved the old look of it. It's ironic for me to buy sheet music. Although I love to listen to music and dance to music, and I can belt out a mean rendition of "Dancing Queen" in the car, I can't play the piano or any musical instrument, and, according to my kids, I can't carry a tune. I do have a couple of blogger friends who are into music, so this may end up as a gift.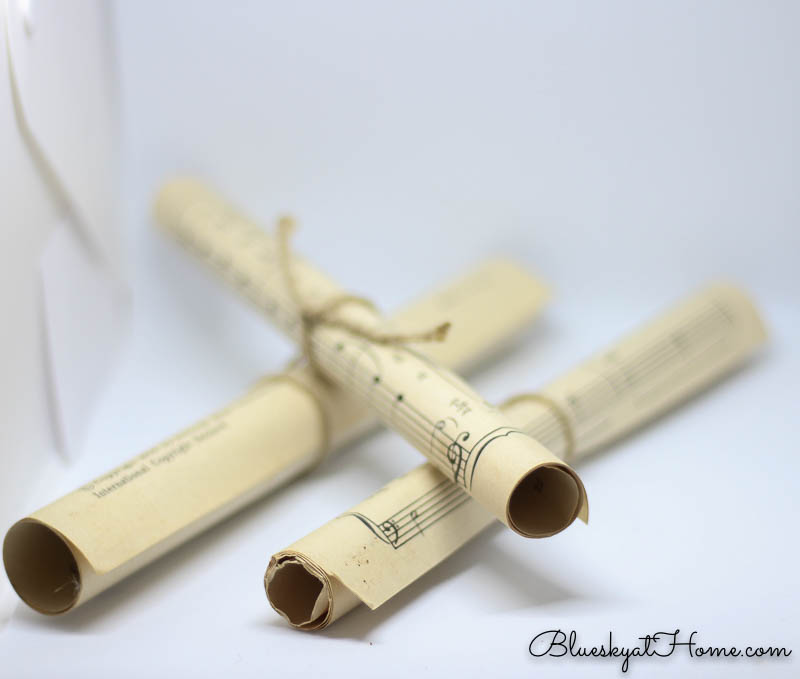 Beautiful Burlap
Do you like burlap? I love it. I've made place mats and a runner (which is on our breakfast room table right now) and toppers with it.  My friend Patti has burlap drapes in her gameroom at the farm. This tablecloth is nicely made with finished hems. It's really large so we'll see how I use it.
Pillow Talk
I can't ever have enough pillows and this pretty yellow one will be perfect on my sofa or bed for spring and summer. I love the saying done in crewel. It's a nice big size at 20 inches and zippered ~ love that!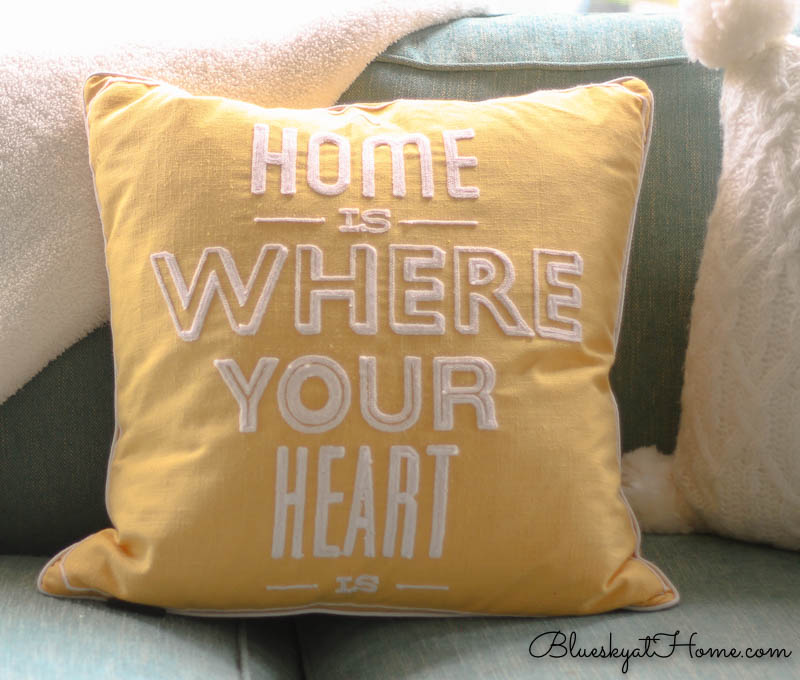 Tulip Time
Tulips, especially pink, are one of my favorite flowers ~ along with roses and peonies. Sometimes real flowers are not practical or available or don't last long enough. The look and feel of faux flowers have improved so much in the past few years that it's not only acceptable to use them again, but encouraged. I saw a few bunches in other booths that were $25 and up. Then I found these for a bit less and decided I would definitely use them. Into the cart.
Mason Jar Magic
Mason jars of all sizes have become a go~to home decor item for so many uses having nothing to do with canning. We use them as containers for flowers, buttons, twine, pens, jewelry. I've collected large blue ones for several years and I have 6 on my counter that hold beans, rice, popcorn and other dry goods.
I had never seen this size or shape mason jar. I really like the wire clasp ~ much more vintage looking than a regular screw top. there were 3 and I bought all 3. It wasn't until I looked closely when I unpacked the box that I noticed "Le Parfait Super" embossed on the jar. It's also written on the lid.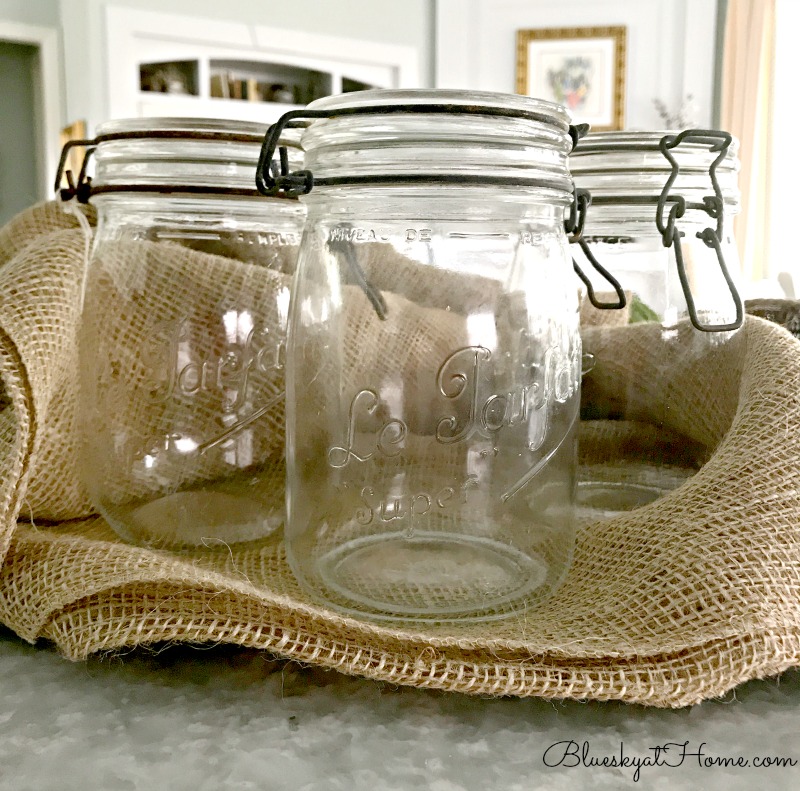 It was hard to see the lettering, so I wrote over it with a pencil and a piece of computer paper.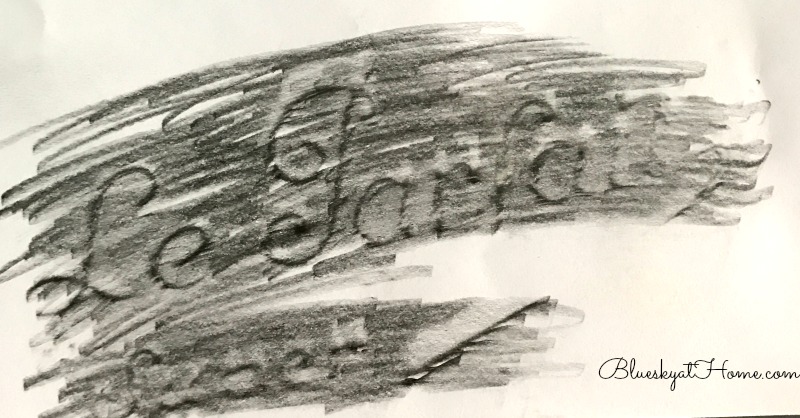 With a little research on Google, I discovered that a knockoff is available at Container Store, World Market and Amazon. But there really is an original Le Parfait Super Jar. Evidently, this jar is known for its orange rubber seals and hinged lids. Mine have lost their seals, but I don't mind. I bought them for the vintage look.
Here's a look of most of my flea market shopping spree items.
Prices for My Flea Market Finds
small cutting board  $14.00
17~inch cutting board $16.00
metal pig sign $12.00
3~inch twig wreaths $.99 each
10~inch twig wreath $6.99
music sheets $1.25 each
pear $6.50
6~inch twig basket with rope handle $8.95
bunch white tulips $21.00
burlap tablecloth $18.95
Le Parfait Super Jar $9.95 each
Home is Where the Heart Is pillow $18.00
You will be seeing these flea market finds in our home decor in the coming weeks and months. Any suggestions for using them? How would would you use them in your home? Which ones are your favorites?
There is one more item I found in my flea market shopping spree. It is bigger than a bread box and has a unusual shape that would cost too much to ship. Although it was an item that I've been looking for quite a while,  and so excited to find, I'm going to have to wait a little longer to have it in our home. My older daughter will bring it when she drives home for her annual summer visit.
I made a video that is on my Facebook page opening and unpacking the box of my flea market shopping spree items. Hop on over and see the big reveal.