Cute and Easy Shamrock Cookies for St. Patrick's Day
With St. Patrick's Day less than a month away, are you thinking about making a St. Patrick's Day treat? How about some St. Patrick's Day cookies? These cute and easy shamrock cookies for St. Patrick's Day are the perfect little treat.
Would you like to know how to make shamrock cookies for all the leprechauns in your house?
Are you Irish? I am Irish, actually, on my mother's side and I have green eyes, so I guess I fit the "When Irish Eyes are Smiling" theme for the next few weeks. I never have to worry about wearing something green on St. Patrick's Day.
Even if you're not Irish, these cute and easy shamrock cookies should be part of any St. Patrick's Day celebration.
I've made these shamrock cookies many times. I thought it would be fun to share them again. I had some shamrock cookie cutters for years and never used them because I have been a little hesitant about baking cut-out cookies.
After I discovered a fabulous sugar cookie recipe at Valentine's and had success with making Valentine's cookies, I decided it was time to use the shamrock cookie cutters to make shamrock cookies.
Originally, I wanted to make some cookies for my Bible Study ladies and I thought shamrock cookies would be perfect. They loved them and I'm going to make them again this year. I bet you'll love them too.
Cute and Easy Shamrock Cookies for St. Patrick's Day
This post contains affiliate links to products used in the creation of this project. If you should order any item from this site, I may receive compensation, but you do not pay a penny more. Your purchase is greatly appreciated as it helps support the continued publication of this site.
One of the great things about these shamrock cookies is that the dough can be made ahead and chilled in the refrigerator. I've got some really good tips below along with my recommendations for baking tools.
Make the Cookie Dough
At the end of the directions, I'll show you all the tools you need for this and other baking recipes.
When a recipe calls for sifted flour I measure the flour directly into my sifter before measuring.
The first step in making the cookies is creaming the butter and sugar in your stand mixer. Of course, I used my Kitchen-Aid mixer which I love. This is actually the first step in many cakes, cupcakes, and cookie recipes.
The key is to have the butter very soft. After combining the sugar and butter in your mixer with the paddle attachment, the mixture should look and feel like wet sand.
Adding the egg and extract smooths out the batter. I substituted mint extract for the vanilla extract in the original recipe.

Adding the dry ingredients and blending them in the mixer creates a firm dough. Gather the dough and wrap it in plastic wrap. Place in the refrigerator to chill for 1 hour and up to overnight.
I cut the dough in half and rolled it out to about 1/4-inch thick. Use your cookie cutter to cut out the cookies and place 12 – 15 cookies on an ungreased rimmed baking sheet.
Keep gathering up the scraps, re-roll and cut out until you have used up all the dough. Bake for 10 minutes at 350 degrees F. Then cool on racks.
Make the Icing
Combine the sifted powdered sugar with 2 tablespoons of whole milk, then stir in your food coloring and extract. Again, I used mint flavor extract.
TIP: you want to sift your powdered sugar to ensure a smooth icing – no lumps.
TIP: Add just a little food coloring to start. You can always add more to get the color you want. Too much in the beginning and you can't go back for a lighter color
TIP: Be careful not to get the food coloring on your clothes because it will stain.
The icing should be thick, but smooth and pourable.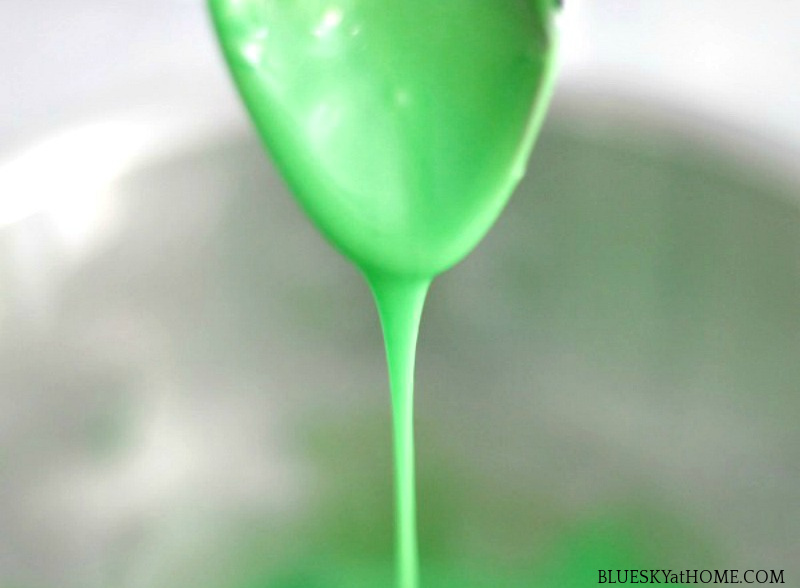 I use the backside of a small spoon to ice the shamrock cookies. Allow the icing to set for several hours, then you can package the cookies if you are giving them as gifts.
For a party, serve on a platter with some St. Patrick's Day decorations.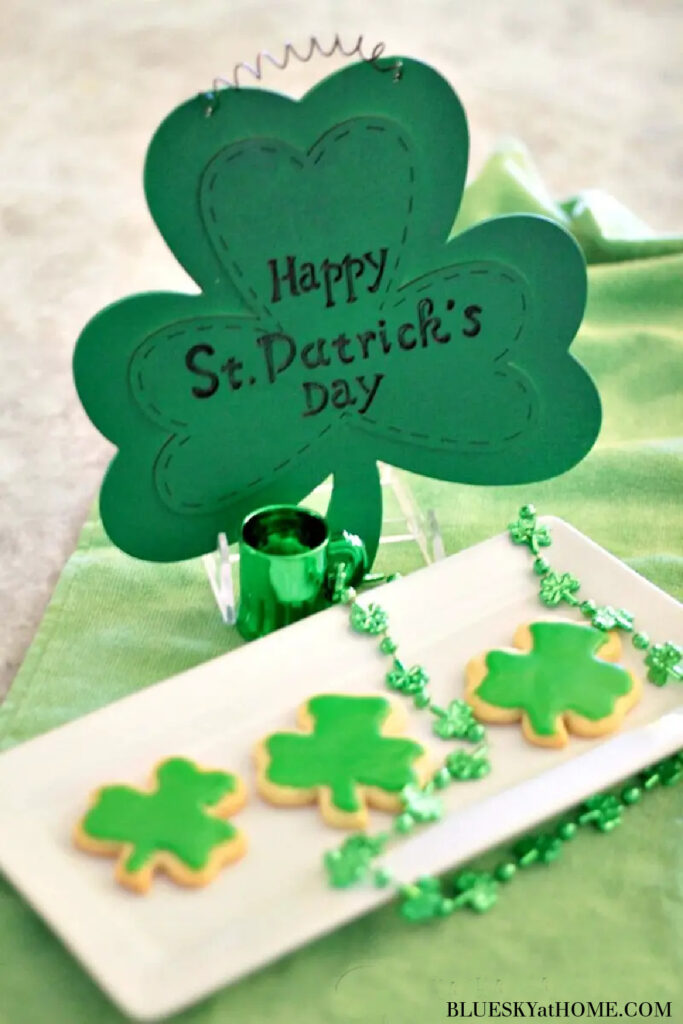 Tools to Make Baked Goods
Here are the tools you will need (not counting your mixer) to make these shamrock cookies. You will use these tools over and over in your baking and cooking.
Shamrock Cookie Cutters in a 2.6-inch and 4-inch size.
TIP: always dry your cookie cutters immediately. They are aluminum and they will rust. When I was in culinary school, we put cookie cutters and aluminum cake pans in the oven to thoroughly dry. I still do that.
Half Sheet Pans – don't buy the cheap ones – they will warp in the oven. The heavy-duty ones won't rust or warp.
OXO Flour Sifter – my absolute favorite. You can measure right into it because it has a plastic lid on the bottom. There's no crank or handle. You just move your wrist back and forth.
The top lid means you can add/or sift your dry ingredients together, put the lid on and your ingredients will be secure until you are ready to bake. It's stainless steel so it won't rust.
TIP: I never wash my flour sifter. It's just flour. Just wipe it out so that there is never a chance of even a tiny drop of water getting in the sifter.
Shamrock Cookie Recipe
Shamrock Cookie Recipe
Easy cookie recipe that is perfect for shaping and decorating for holiday treats.
Equipment
mixing bowl

baking sheets

Rolling Pin

measuring cups

measuring spoons
Ingredients
2

cups

all~purpose flour

1

teaspoon

baking powder

1/4

teaspoon

salt

1/2

cup

unsalted butter

1

egg

1

teaspoon

vanilla extract
Instructions
In a small bowl, sift together the flour, baking powder, and salt. Set aside.

In the large bowl of an electric mixer, cream together the butter and sugar.

Add the egg and vanilla extract and mix well.

Turn the mixer to low and slowly add the dry ingredients to the sugar mixture. Mix until a stiff dough forms.

Transfer the cookie dough to plastic wrap and tightly secure. Refrigerate for at least 1 hour, up to 12 hours.

Preheat the oven to 350 F.

Remove the dough from the refrigerator and roll out on a lightly floured surface to 1/4-inch thickness.

Cut with cookie cutters of your choice and gently place the cookies on ungreased baking sheets.

Bake the cookies for 8 to 10 minutes, or until very light gold in color. Allow to cool for 1 minute on the cookie sheet, then transfer to a wire rack to cool completely before icing.

Old-Fashioned Confectioner's Icing: Stir together 1 1/4 cups sifted powdered sugar, 2 tablespoons whole milk and 1 teaspoon vanilla extract. Adjust consistency by adding sugar by the tablespoon to thicken, or adding milk by the teaspoon to thin. Divide the icing into several bowls. Use food coloring to tint the icing to the desired color. Icing can be refrigerated for up to 3 days. Bring to room temperature before spreading on cookies.
If you would like some sweet treats to go with your shamrock cookies, try these St. Patrick's cocktails.
I hope you try making these cute and easy shamrock cookies. They are just as delicious as they are cute. This is a fun baking recipe for kids – just protect their clothing from the food coloring. If you like this recipe now, PIN IT for later.