Beachy MAMMA MIA! Tablescape to Celebrate Friends
Where do you get ideas to decorate a table for entertaining girlfriends? Inspiration can come from anywhere. Even from a Broadway musical. For a fun lunch for some of my girlfriends, I thought about friendship. That decision brought me to create a MAMMA MIA! tablescape to celebrate friends and Broadway.
I love to entertain and set a pretty tablescape. Different things can give you an idea for setting your table: a holiday, the season, a special event. A pretty napkin or tablecloth, or flowers blooming in your backyard. I surprised myself by designing a MAMMA MIA! tablescape to celebrate my friends.
I have very fond memories of going to the Dallas Summer Musicals at the  State Fair of Texas as a young girl with my parents. It was a special occasion to get all dressed up for the theater.
DSM was one of the top regional venues for musical theater for decades. I remember seeing Richard Harris as King Arthur in Camelot, Yul Brenner in The King and I, Tommy Tune and Sandy Duncan in I Do! I Do!, and Rex Harrison in My Fair Lady ~ the golden days of musical theater.
While my friends were collecting albums of the Rolling Stones, the Beatles, and the Beach Boys, I collected Funny Girl, West Side Story, and South Pacific. I knew all the words to every song. I would sing them in my room, which is a feat since I definitely cannot sing. Today, I still love movie musicals: Mary Poppins, Sound of Music, Les Miserable, Grease, and, of course, MAMMA MIA!
After college, as an adult, I occasionally attended the DSM, and the magic was still there. Several years ago, Sweet Shark and I saw The Lion King and Chicago on the real Broadway stage. What a thrill it was.
More recently, Dallas opened the Winspear Opera House, which is a fabulous venue downtown in the center of the arts district. We've seen Jersey Boys, War Horse, Wicked, and, finally, MAMMA MIA! Sweet Shark and I saw the movie first and I just fell in love with it.
I'd always loved Abba and now to see their music weaved into this somewhat of a fantasy love story set on a gorgeous Greek island was just breathtaking. And that's the spirit I wanted to evoke for this MAMMA MIA! tablescape celebrating friends.
Beachy MAMMA MIA! Tablescape to Celebrate Friends
This post contains affiliate links to products that I use, love and recommend. If you purchase any product through this site, I may receive some compensation, but you don't pay one penny more. Thanks for keeping the blog going.
If you've never seen the movie or the musical MAMMA MIA!, I won't go into the whole story. Suffice it to say, it takes place in a beautiful setting on a small Greek isle with sand, blue water, and blue sky. Most of the scenes are outside and half are either on the beach, on a boat, or near the water. That's the feeling I wanted to create. I thought of light, blue, water, silver, sand, shells, and beach umbrellas.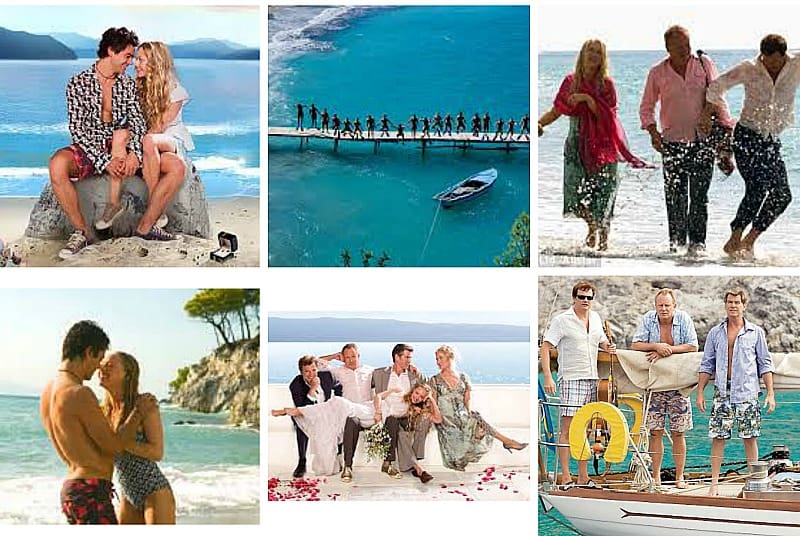 This MAMMA MIA! tablescape is for hosting a small lunch for three very dear friends. I will serve the lunch in our breakfast room which is on the bright side of our house surrounded by windows, the swimming pool, and the greenery of our backyard.
CREATING THE BROADWAY~INSPIRED TABLESCAPE
To start, I covered my table with a piece of off~white linen from my stash of fabric.
Then, to create the sense of blue and water, I draped an aqua scarf diagonally across it.
Before adding the place settings, I started on my centerpiece. I created my beach by using:
First, I spread some of the decor sand to cover the tray. I filled the four glass votives with the blue mosaic pebbles. They give a watery look on the sand.
NOTE: This white sand comes in a plastic jar from Joann. I've reused it several times. When you are done with it, just pour it back into the jar.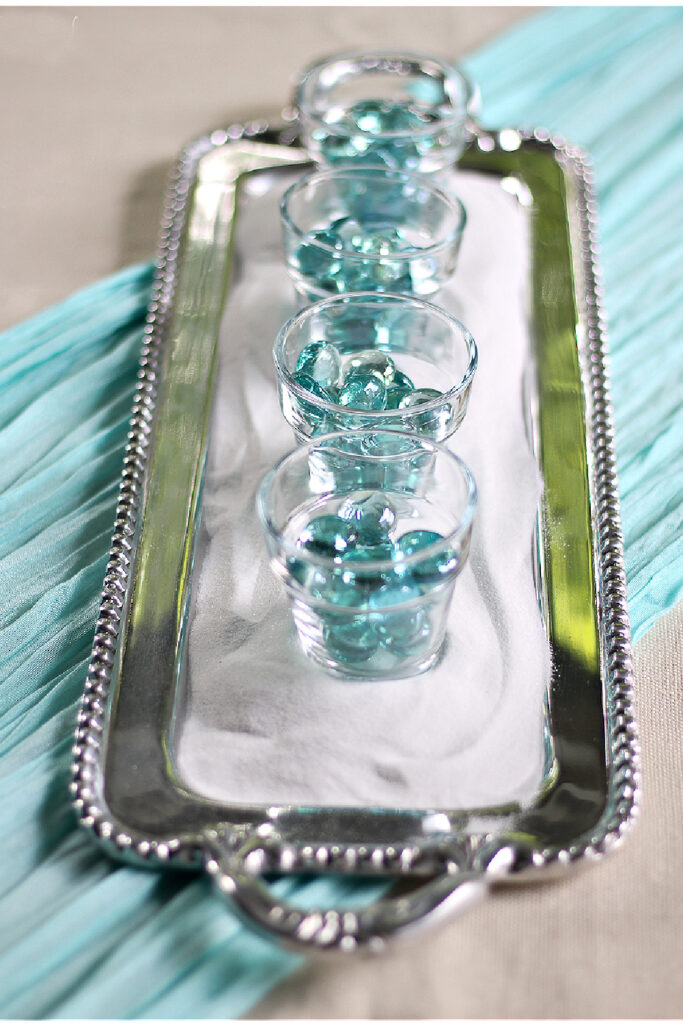 COASTAL COLORS FOR THE BEACHY TABLESCAPE
Next came the placemats and napkins, both from Pier 1. I've used these before. Don't you love reusing decorative items in new ways? They fit my MAMMA MIA! tablescape beach theme perfectly.
I love the soft blue color of these placemats. There is a very subtle chevron pattern on them.
The coastal colors of the striped napkins remind me of cabana chairs on the beach.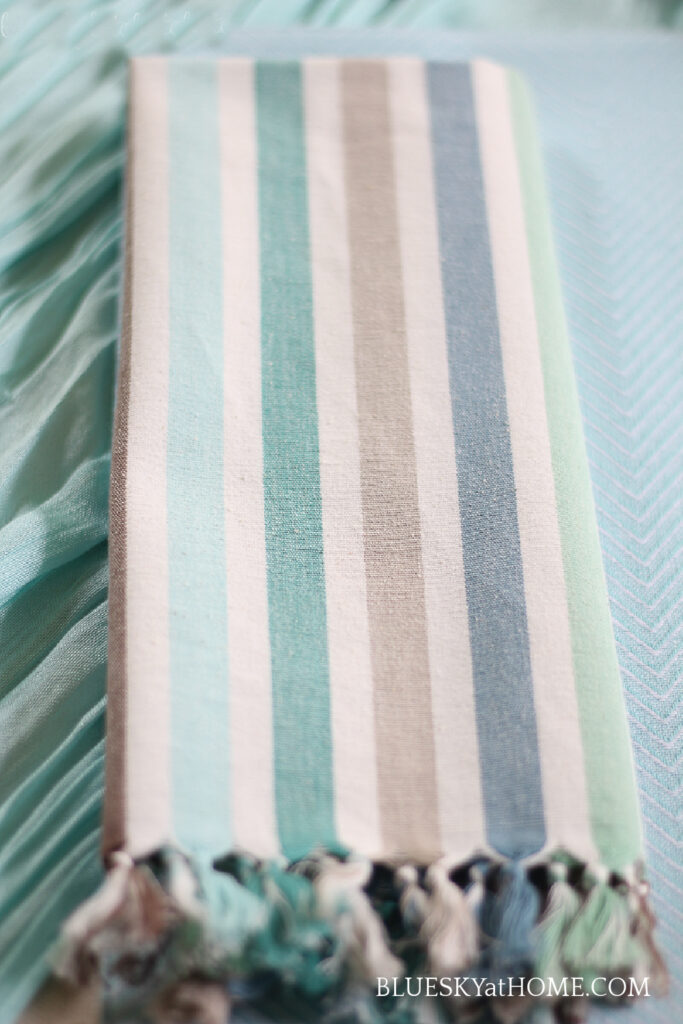 A few shells added to the beach vibe. Did you know you can buy shells for decorating at the craft store?
I wasn't finished with the centerpiece. Beach umbrellas were part of my plan.
I made these cute ones using my Cricut Explore Air machine, scrapbook paper, wooden skewers, and little pom~poms from the craft store. Love them!!! A few more shells complete the beach centerpiece.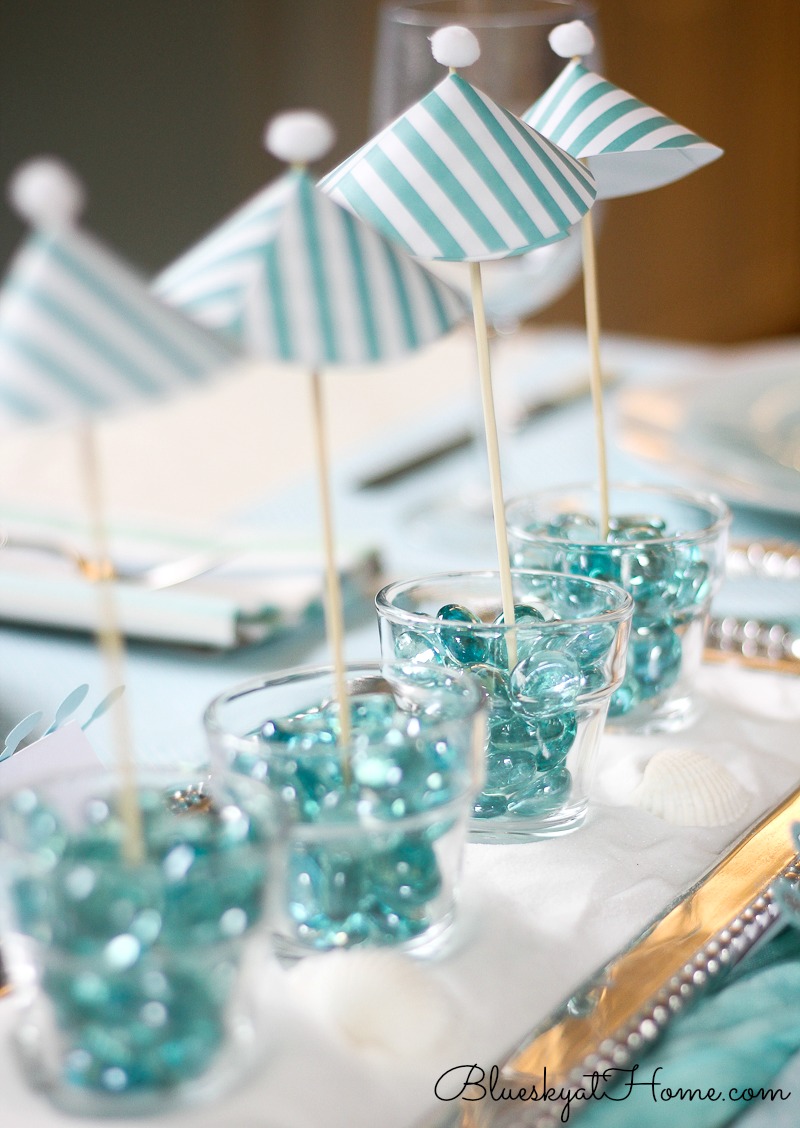 DANCING QUEEN PLACECARDS
I love to have place cards even for a very informal lunch. Everyone will be a queen ~ a dancing queen! I used my Cricut to cut out the crowns.
A little silver glitter and a dot of glue gave the crowns a pop of bling.
I used a marker for each place card. A small folded piece of an index card stood up the crown.
I used these awesome swirly blue plates from Pier 1 on top of my all~purpose white dinner plates. My mother~in~law's mother~of~pearl silverware provided an ethereal look. You know, pearls, ocean, water?
MORE EMBELLISHMENTS FOR THE BEACHY TABLE
I used our all~purpose wine glasses, but they needed a little embellishment, so I used washi tape in four different silver patterns. This step added more beachy bling to the Mamma Mia! tablescape.
On the window overlooking the backyard, I hung this shell banner made with my Cricut. It carries the shell theme further. Pretty cute, uh? I've been trying every opportunity to practice my Cricut skills.
MUSIC FOR THE MAMMA MIA! TABLESCAPE
Now, we know MAMMA MIA! is a musical and that means lots of fabulous music from ABBA. In addition to the movie soundtrack and the CD, we also have ABBA's Greatest Hits Album. It's great music to dance to and sing along on a Saturday night. So I wanted to bring the music more into the scene.
This MAMMA MIA! tablescape definitely needed some ABBA decorations. Of course, I will have MAMMA MIA! playing in the background.
I made these "records" with my Cricut, using the titles of 6 of my favorite MAMMA MIA! songs: Dancing Queen, Mamma Mia, Super Trouper, Our Last Summer, Honey, Honey, and I Have a Dream.  I hung them with silver ribbon from our breakfast room chandelier. (My other favorite song is "Slipping Through My Fingers" ~ if you have daughters, you can't listen without crying ~ every single time.)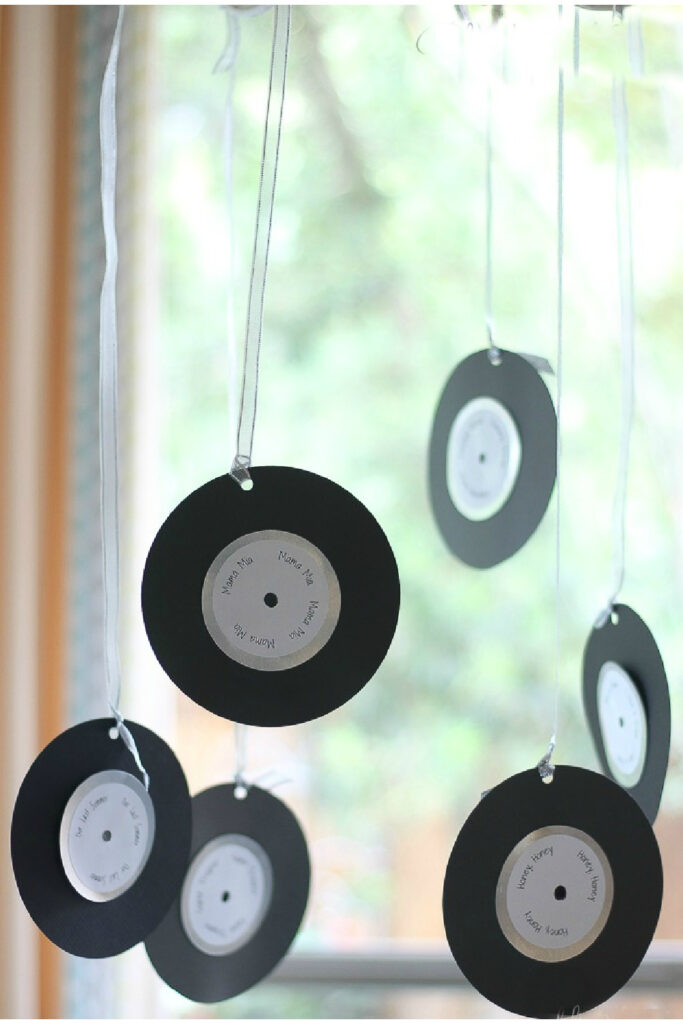 So if you need records for a rock 'n roll party, let me know!
I love how my MAMMA MIA! tablescape definitely sets the beachy tone. What started out as a real challenge became a blast to do. The table is set and ready. I can't wait for my friends to come so I can share it with them. I wish you could come, too.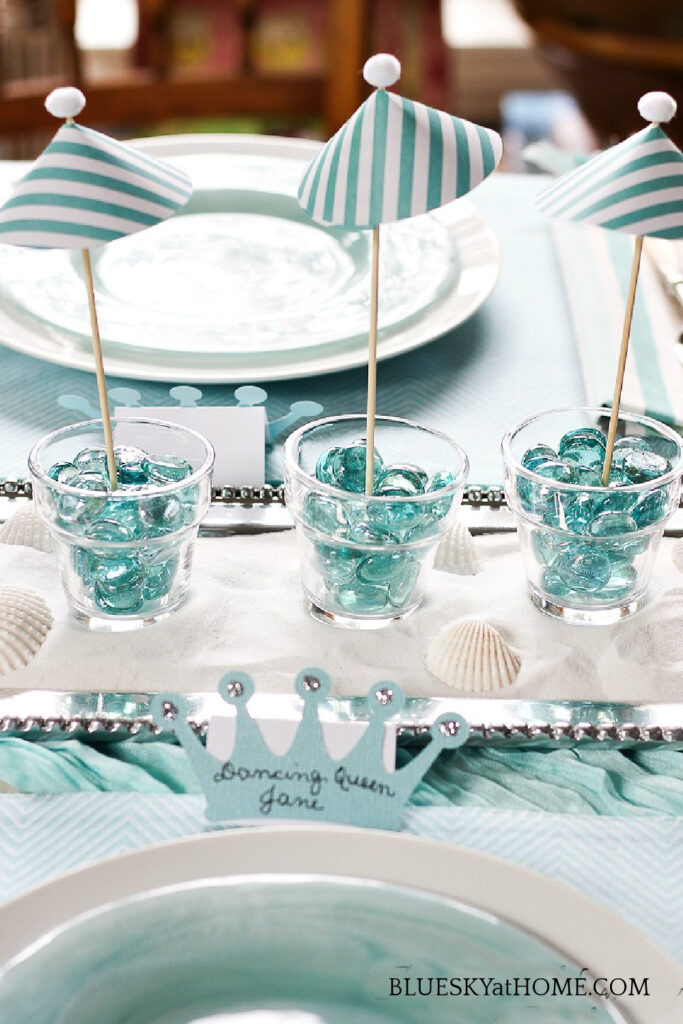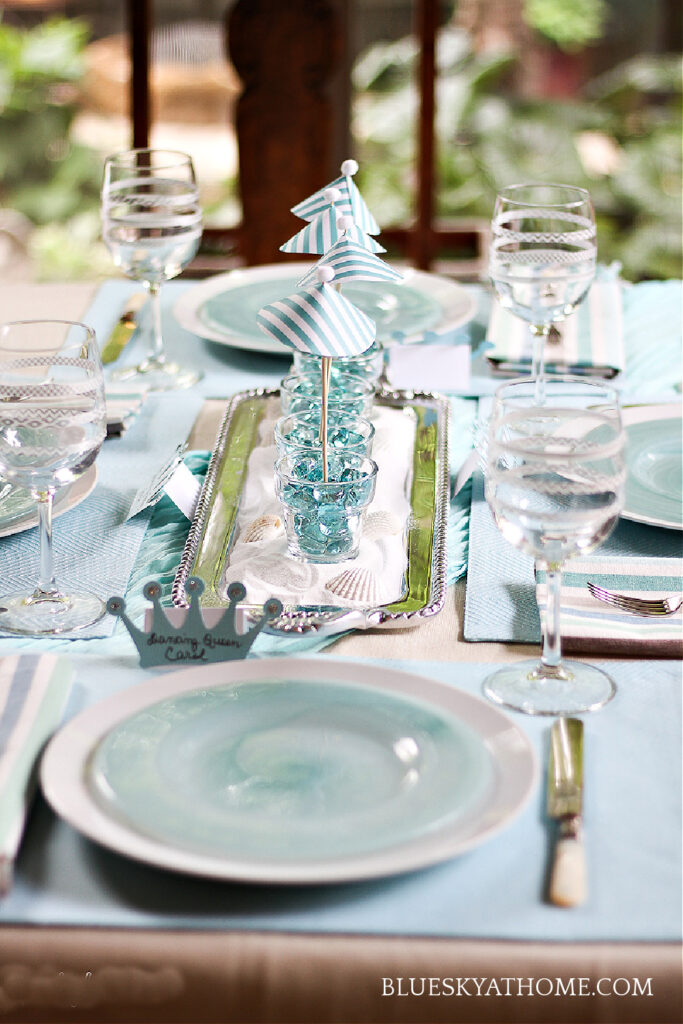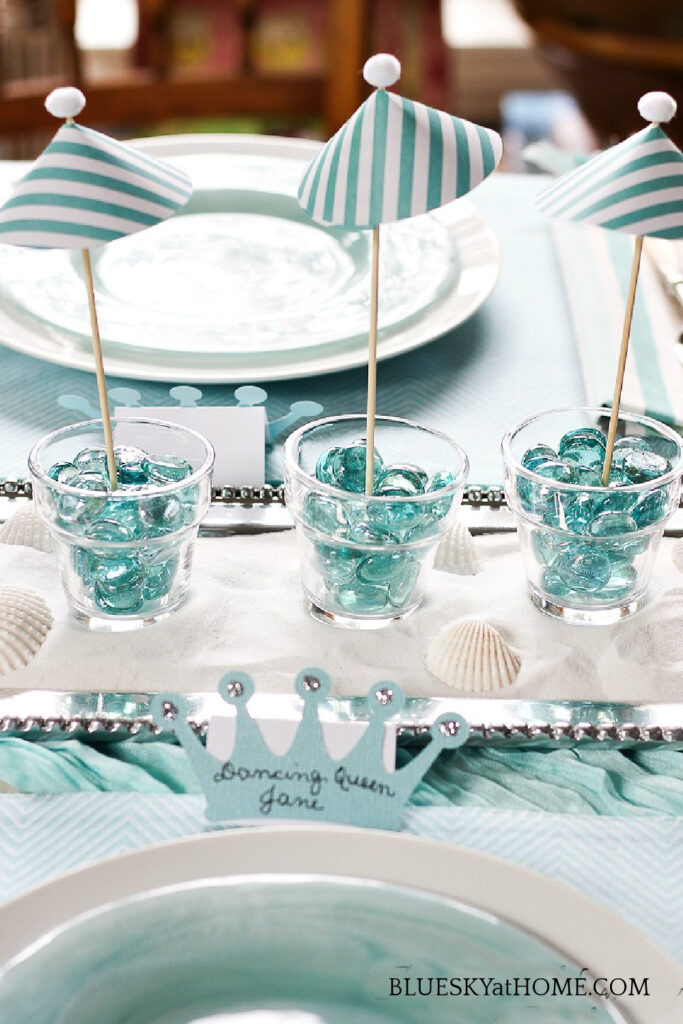 Would you like to see the actual girlfriend lunch with the Mediterranean~inspired menu and recipes? Be my guest. Please join the MAMMA MIA! party.
Don't want to forget the idea for this MAMMA MIA! tablescape? PIN it to remember and share.