16 Delicious Dishes to Die for in Scottsdale
Happy Monday. We are back from a fabulous week in Scottsdale, Arizona. If you follow me on Instagram, you probably saw many of the photos of food and natural wonders that I posted last week. Especially food ~ because one thing we love to do on vacation is eat. Scottsdale, Arizona is a foodie city. Great restaurants of all types and cuisines are everywhere. You won't go hungry and you can dine very well. I love to talk to friends about what they ate and where they ate. So, just in case you do too, here are 16 Delicious Dishes to Die for in Scottsdale.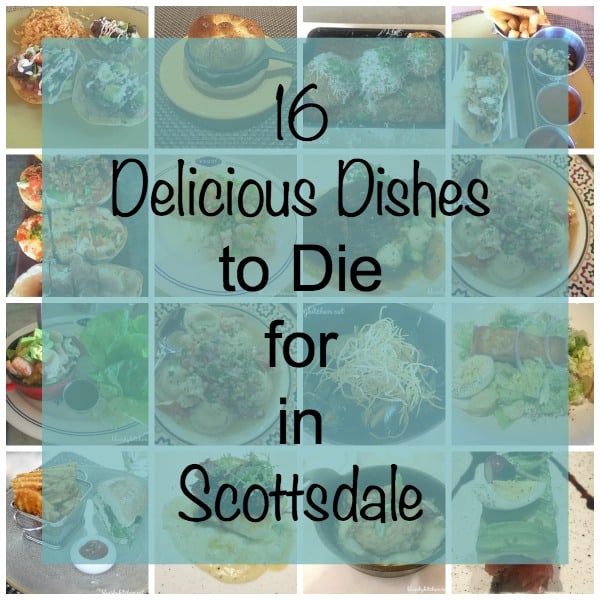 If you aren't hungry now, you will be when you finish reading this post. Bon Appètit and enjoy.
After arriving at the Four Seasons Troon North, we checked into our casita, unpacked and headed to the residence club pool. A new poolside restaurant, Ocotillo Grill had been built since our last visit and we thought it would be a great place to get a bite for lunch. These Carne Asada Tacos hit the spot. Grilled skirt steak on refried beans, avocado, tomatoes, shallots with crema fresco drizzled on top.
NOTE: Sweet Shark and I almost always share dishes. Although we love good food, we are not big eaters so this suits us just right.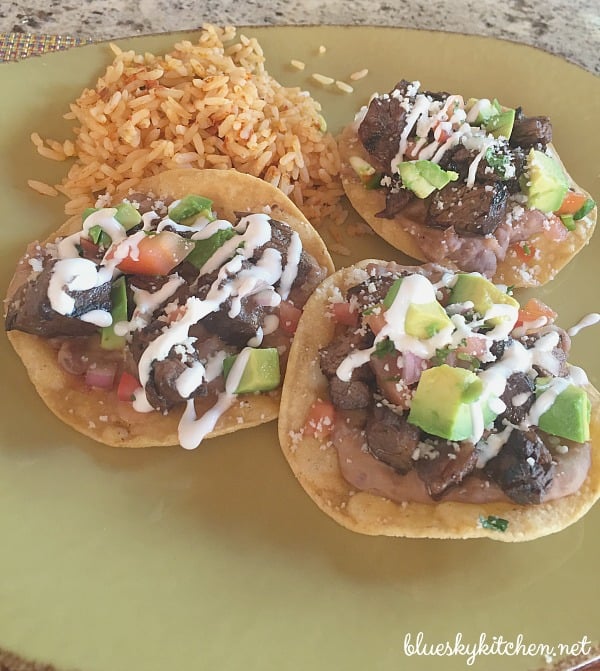 After a long day of traveling, we decided to stay close to home and have dinner at the hotel lobby bar, Onyx. This is a great place for a cocktail or glass of wine. You can also sit outside on the terrace overlooking Scottsdale and admire the stars. Since we had a late lunch, we opted for this version of Ahi Tuna Tartar topped with thinly sliced avocado, a quail egg and a baby radish with a balsamic syrup. It was light, tasty and just right for our first dinner.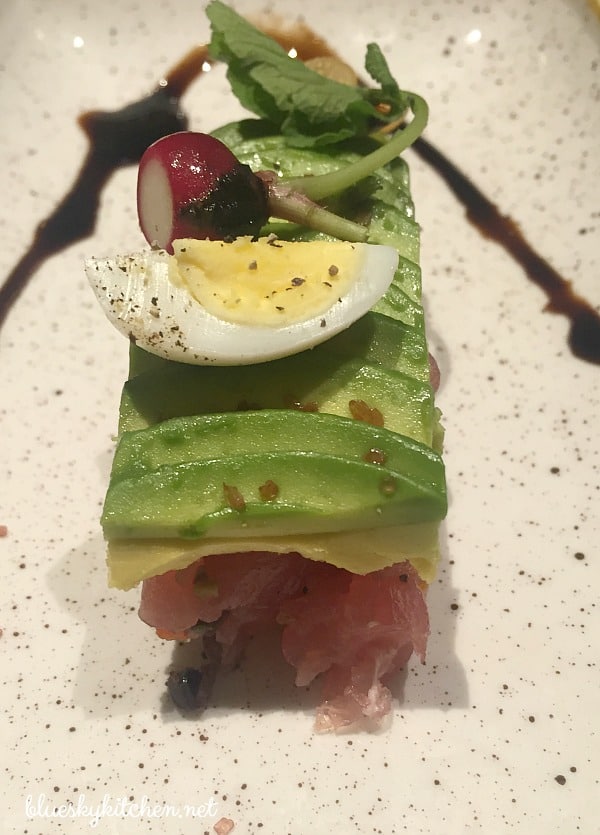 On Saturday, we headed to Kierland Commons, an open~air shopping center (great shops, BTW) and wonderful restaurants. We usually make 2 trips to Kierland just to eat at the great dining spots for lunch. One our favorites is The Greene House with a California cuisine~inspired menu. We discovered this Pan~Roasted Salmon Salad with Butter Lettuce, Fingerling Potato, Red Onion, and Caper Mustard Vinaigrette 16 years ago and we always order it. The flavorful vinaigrette that complements the fingerling potatoes and hard~cooked egg. Perfect lunch with a glass of Chardonnay (Sweet Shark) or Prosecco (me).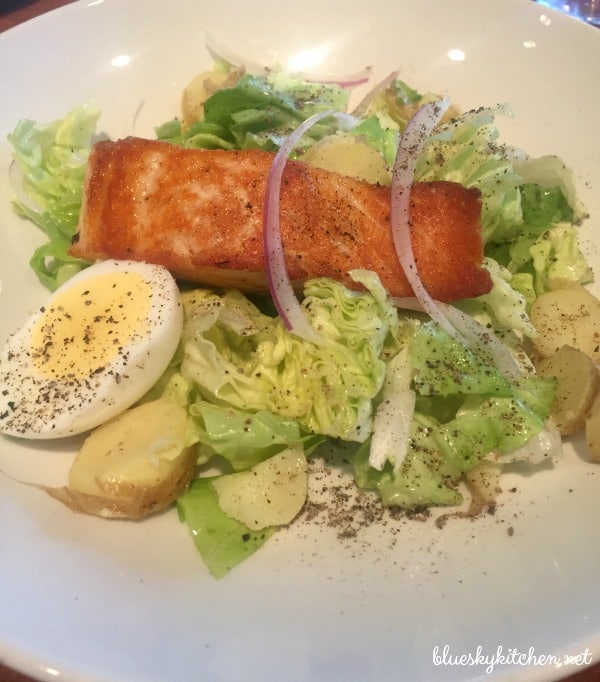 After walking around and shopping for awhile, we decided to try a new restaurant we had heard about Postino Wine Cafe. Sitting on a corner of Kierland, it has an indoor/outdoor bar with alfresco dining. Very casual with bruschetta, pizzas and sandwiches the main fare. We ordered the Bruschetta Sampler (you can choose 4 from about 10) and it was delicious: each one was topped with cheese (mascarpone, mozzarella, goat cheese) and either diced tomatoes, bacon, arugula, prosciutto, avocado, roasted red bell peppers. They were all wonderful and we couldn't decide which one we liked best.
Saturday night for dinner we had reservations at Talavera, the fine dining restaurant at the Four Seasons. Sweet Shark requested a table on the terrace by the rail and we got it. It's a very romantic setting. With little light pollution, the stars are brilliant, the harvest moon was just out and the view was spectacular. After ordering a glass of wine, we enjoyed this little brioche/challah bread made in individual cast iron skillets. It's served with softened butter and sea salt and you have to watch out not to eat too much because it is so good. Don't touch the skillet ~ it's very hot!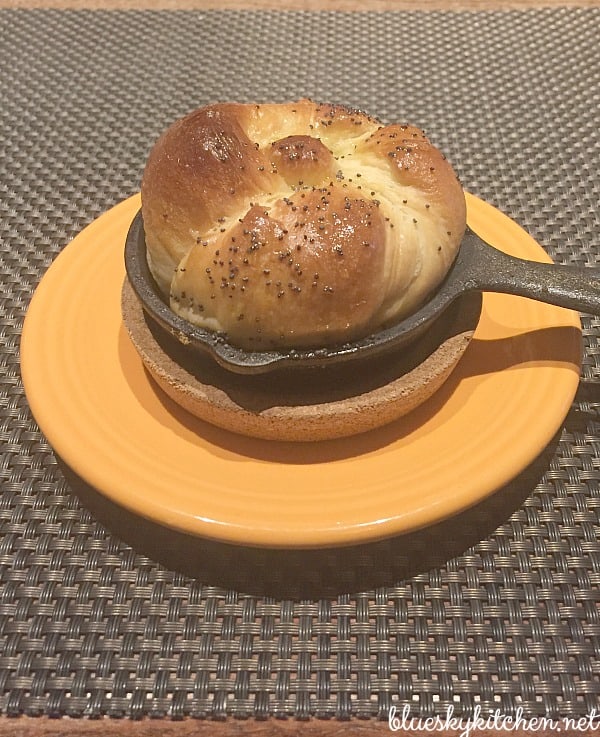 This was one time that we did not share a meal. It was Arizona Restaurant week and we took advantage of the 3 course menu. This Braised Lamb Shank with Root Vegetables was my selection. I hate to admit it, but I ate almost every single bite. (Sweet Shark had a few.) I love braised anything and the lamb fell off the bone and melted in my mouth. The flavor was intense in a very good way. The tender root vegetables were the perfect complement.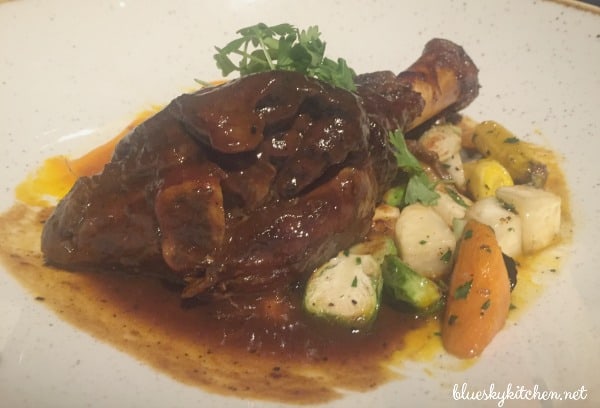 Sunday was our day to spend at the pool. The outdoor restaurant by the hotel pool is called Saguaro Blossom and we've eaten there so many times, we've lost count. After a starter of guacamole and chips, we shared Sea Bass Tacos with Onions, Cilantro, Queso Fresco, Ranchero Beans, and Chile de Arbol Salsa. Fries on the side. Ate every bit. Why does being outside by a pool or beach make you hungry?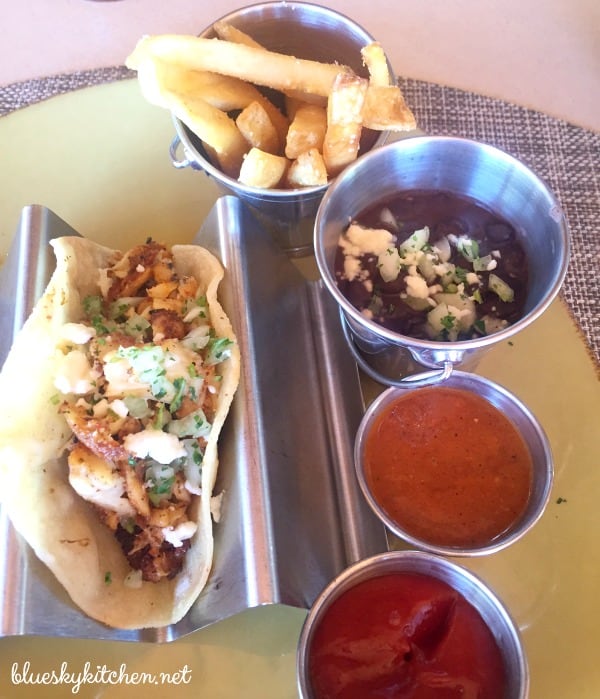 Sunday night for dinner we went to Mastro's SteakHouse, probably our very favorite place in Scottsdale. It's too dark to take a picture, but we shared a Caesar Salad, a New York Strip (we think the best we've ever had there) and creamed spinach. Ladies, if you like Cosmopolitans, you have to get it here. It's really special.
On Monday, we drove to Sedona, about 2 hours north. We spend the day there every 2nd or 3rd trip. The drive past the Sedona Red Rocks is spectacular (Check out my Instagram.) Our favorite place for lunch is at Cress on the Creek at L'Auberge de Sedona. Make reservations to sit down by Oak Creek. We shared a Grilled Chicken Sandwich with Caramelized Onions that was super good. But the best part of the meal? Those amazing waffle fries. So crispy and sprinkled with parmesan. After lunch we went to Tlaquepaque, an outdoor shopping village, featuring galleries, craft and gift shops. We bought a cross and I got another charm for my Pandora bracelet.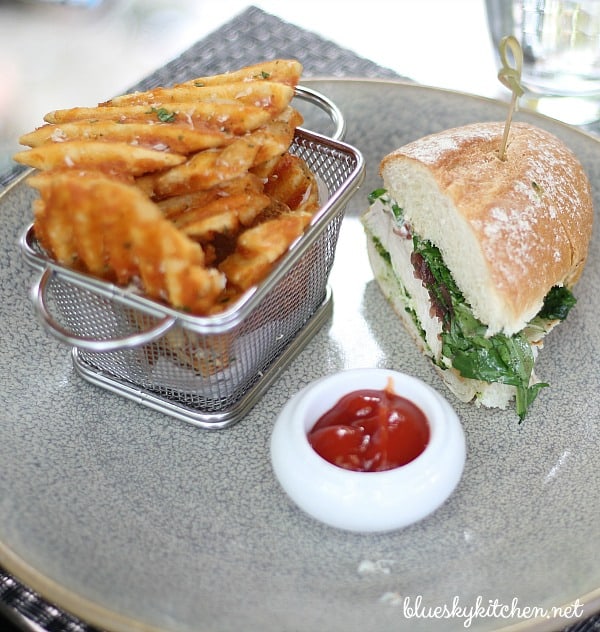 After the long drive to and from Sedona, we stayed "in" and went to Proof Canteen at the hotel. Opened about 4 years ago, this American Bistro is one of our favorites. We love this rendition of Fried Green Tomatoes with Corn and Okra and Shrimp. It's a great dish for lunch or as a first course at dinner.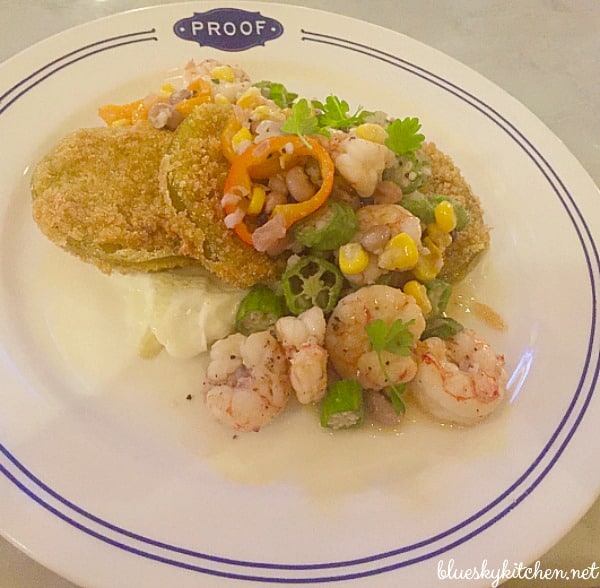 For our main course, we shared the Shrimp and Grits. If you read my posts on our trip to Savannah and Charleston in May, you know how much we obsess over shrimp and grits. This version, with scallions, andouille sausage, and creole sauce was just about as good as we had in the low country. Loved the cast~iron little cocottes.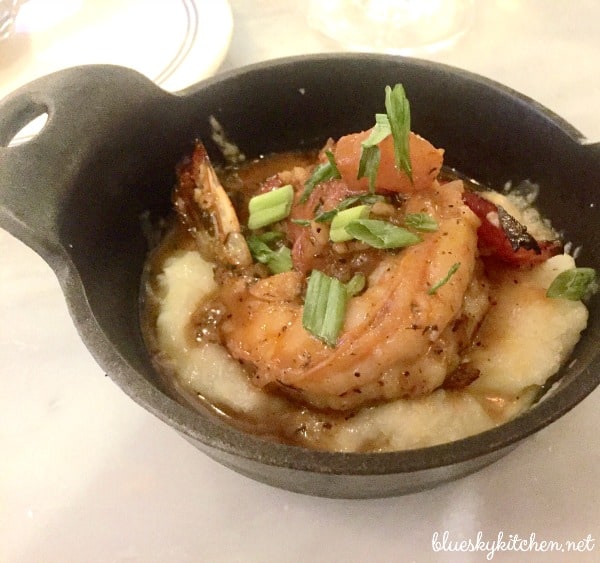 Tuesday night we went just 3 minutes down the road to Sassi, an Italian farmhouse ~ yes, I said that. This restaurant is one of the most beautiful you will ever find. It's like a huge Italian villa with fountains, sparkling lights and a beautiful outdoor dining area which overlooks Scottsdale. The food is pretty darn good, too. This Lobster Ravioli with Corn and Red Bell Peppers was outstanding. That's the whole dish and we ate out of the bowl, dipping the warm, crusty bread in the delicious broth.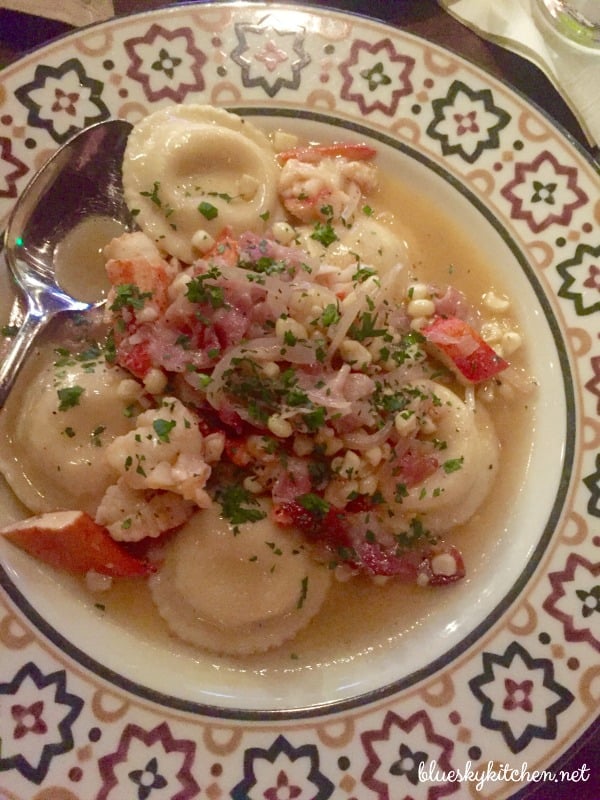 Wednesday was our last day at the pool, as Thursday was predicted for clouds and rain. (In the desert, rain is always appreciated.) We headed back to Proof and shared another dish with shrimp (We don't plan to eat so much shrimp, it just happens.) The Lettuce Wraps with Shrimp and Avocado was the perfect light lunch after the pasta the night before. Very tasty.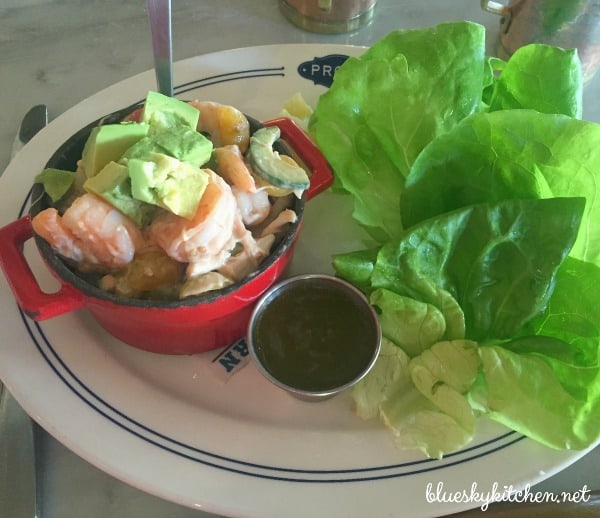 For dinner that night, we drove 2 minutes away to Gian Franco. This cozy Italian Restaurant is quiet, friendly (Tell Mike the bartender we said hi!) and the food is outstanding. We shared a Burrata and Tomato Salad and then one of the specials, Spinach Cannelloni with Lobster. I left my phone in the room and it was dark in the restaurant, so no pictures. But, trust me, it was delicious.
Since Thursday, our last day, was overcast, we went back to Kierland Commons; we had 2 more places we had to visit. The first was North Italia. Every thing there is wonderful. It's a light, airy open restaurant. We shared the Mushroom Arancini Stuffed with Scamorza Cheese . Crisp on the outside and flavorful risotto on the inside with a slightly sweet tomato sauce. They reminded us of ones we had in Barcelona and just as good. One order to share was plenty . . .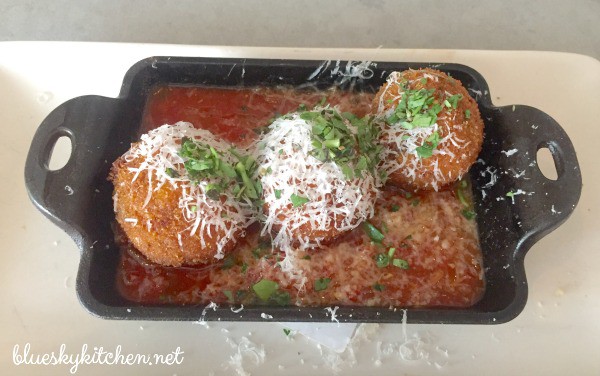 Because our next stop, literally less than a hundred yards is Zinc Bistro. The decor looks just like a French bistro. We ordered the Mussels with Matchstick Fries. Now we love mussels and we've had them in dozens of places from France to Italy and many American cities. We thought these were some of the best ever. They were huge, sweet, tender and the broth ~ OMG ~ the broth of leeks, garlic and white wine and amazing. We had to ask for extra bread to sop up every bit.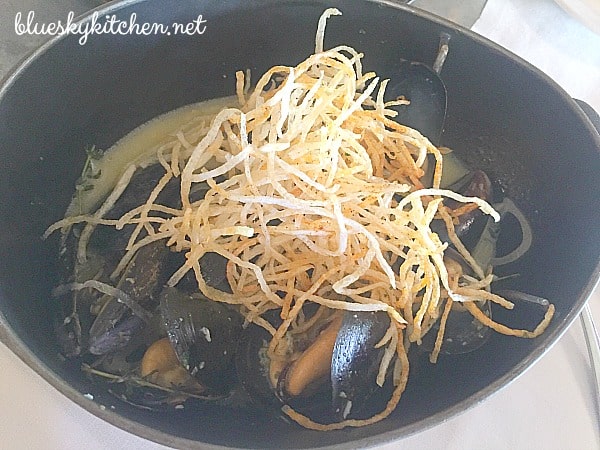 For our last dinner on vacation, we went back to Onyx Bar at the hotel. Our first course was Beef Carpaccio Wrapped around Crab and Avocado with Chopped Fresh Corn and Microgreens. A very creative version of beef carpaccio. The beef melted in your mouth and the crab was sweet. A great combination.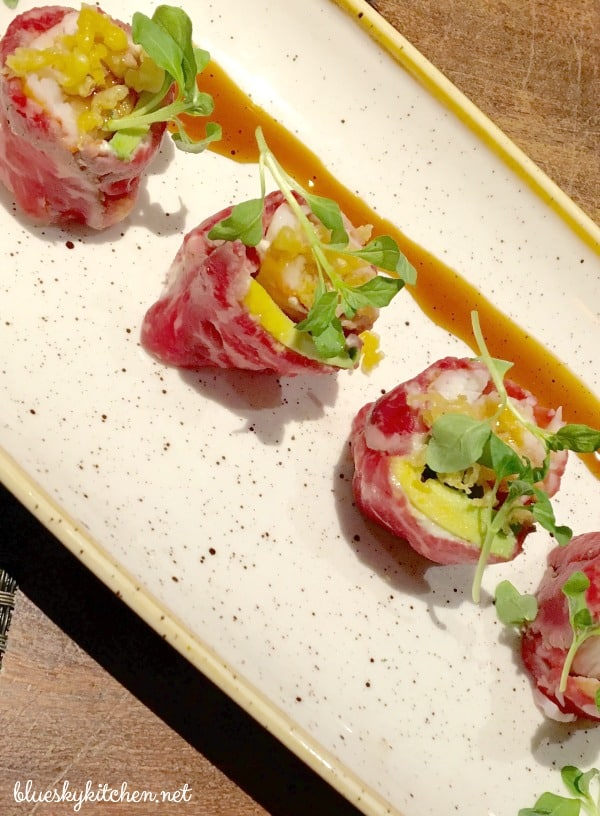 As our main course, we ordered the Roasted Sea Bass with Braised Ox Tail. What a way to end our dining vacation. Another OMG dish, the fish was perfectly cooked; the rich braised ox tail on the bed of creamy potatoes was spectacular. The garnish of bitter herbs gave just the right balance to the sweetness of the ox tail. It was the perfect way to end our vacation.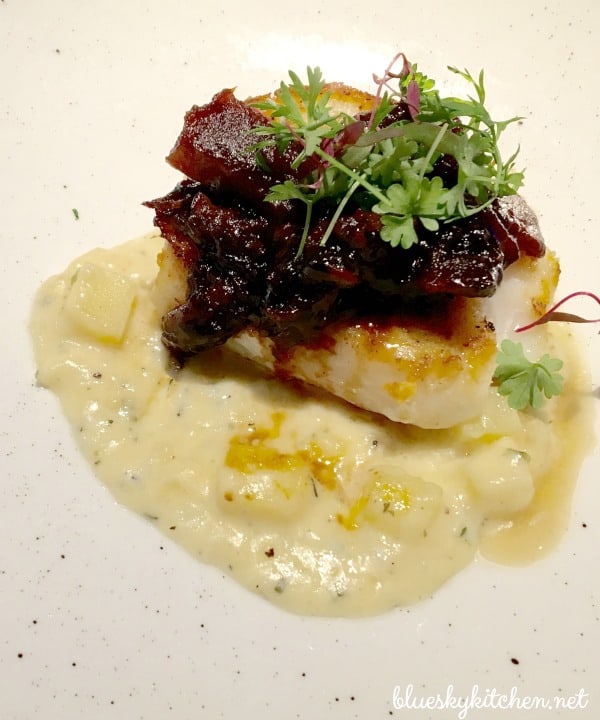 We are back to reality. I'm a pretty darn good good and I cook 4 or 5 nights out of 7, but eating out like this for a week takes a toll. As I told Sweet Shark, I may not eat for a week. (I lied; I've already eaten a meal or 2 ~ just not as rich or as much.) I hope you enjoyed our culinary adventure. If you are ever in Scottsdale, I hope that you will check out the places I mentioned. You'll thank me for the recommendations.
And now for the start of Autumn Tablescape Blog Hop that I told you about last week. Please visit the gorgeous table settings my fellow bloggers have for you this week. My contribution will the Friday, September 30th.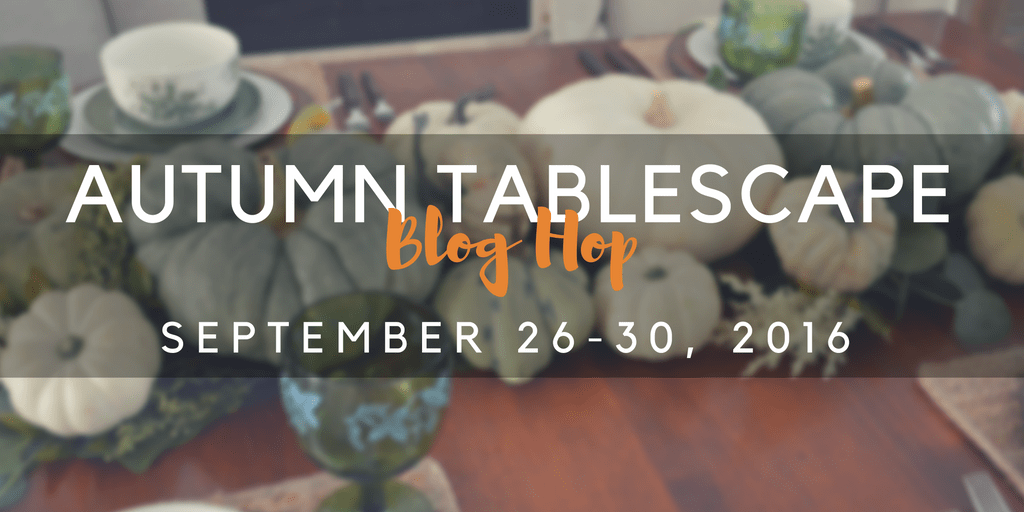 Monday
Everyday Living | My Kentucky Living Blog | Starfish Cottage | Up To Date Interiors | Twelve on Main
Tuesday
Life and Linda | CoziNest | Ramblings of a Southern Girl | The Little Yellow Corner Store | Celebrate & Decorate | Casa Watkins Living
Wednesday
Home is Where the Boat Is | Belle Bleu Interiors Dining Delight | Rustic & Refined | Sweet Sensations
Thursday



PANOPLY | The Painted Apron | Exquisitely Unremarkable | Flourish & Knot | Little Bits of Home
Friday
Bluesky Kitchen | Farmhouse 40 | Designthusiasm | Red Cottage Chronicles | OMG Lifestyle Blog | Knock It Off Kim