Fresh Cherry Tart Recipe Guaranteed to Please
I'm back today with a 3rd and final cherry dessert recipe. This one is a fresh cherry tart recipe and it's one of my very favorites. If you missed the first 2, they were Orange~Basil Cherries with Ricotta and A Quick and Easy Cherry Dessert Made with Phyllo Dough. Last week's dessert used phyllo dough to make a crisp base for the cherries. This fresh cherry tart recipe uses another great pastry ingredient, puff pastry, to create a "basket" for the filling and the cherries.
Puff pastry is another super versatile ingredient that you should keep in your freezer for last minute savory or sweet dishes. It's available in the freezer section of the grocery store, next to the phyllo dough and the pie crusts. And as we near the end of cherry season, this fresh cherry tart recipe is an easy to prepare, quick to bake, and impressive dessert you can make in the middle of the week or for company on the weekend.
I have made this fresh cherry tart recipe dozens of times. I have taught it to middle school students half a dozen times so I can promise you that kids can make this cherry tart with no problems. I've never made this tart without getting rave reviews. It's pretty to serve, really delicious, uses a few ingredients and versatile. You can make the tarts different sizes, with a variety of seasonal fruits, and it can bake during dinner to be enjoyed afterward.
Fresh Cherry Tart Recipe Guaranteed to Please
A Little Bit about Puff Pastry
Let's talk a bit about puff pastry, in case you've never used it. I'll put on my cooking instructor hat: technically puff pastry is a laminated dough. It's made using flour and butter. The dough is made and then cold butter is layered in between the dough and it is folded over and over in the dough, about 6 to 8 times. The result is hundreds of layers of dough and butter. I had to make this from scratch in culinary school and it takes alot of muscle and care because the butter can't get warm and it cannot show through the dough. When the dough is baked, the moisture in the butter creates steam which makes the dough puff, hency the name puff pastry, into hundreds of flaky layers. If you've ever had a croissant or a napoleon, a palmier or Beef Wellington, you've had puff pastry. You can wrap it around cheeses (brie is especially nice). And it is wonderful for making desserts and appetizers.
Fortunately for us, puff pastry is readily available in the grocery store. As I mentioned, it's found in the freezer section of the grocery store. You can bring it home. (Do not make multiple stops on the way home because you do not want the puff pastry to thaw). A couple of brands are on the market, but the one you will find most often and my favorite is Pepperidge Farm.
In the package are 2 puff pastry sheets, individually wrapped. If you are not immediately using the puff pastry, just leave it in the freezer. When you are ready to use it, remove from the freezer. If you only need 1 sheet, immediately return 1 sheet to the freezer, either in the original packaging or wrapped in foil. Be sure to label it.
Prepare the Puff Pastry for the Cherry Tart Recipe
Puff pastry comes folded into thirds, like a letter. It can be thawed in the refrigerator overnight for several hours or on the counter for about 40 minutes. The thawed sheets should still be cold.
NOTE: If you try to unfold the puff pastry when it's still frozen, it can break at the crease lines. Be patient.
When the puff pastry is thawed, but still chilled, cut open the paper wrapper and pull out the folded dough. Place the folded dough on a lightly floured surface. Carefully open the puff pastry. You'll see the folded lines.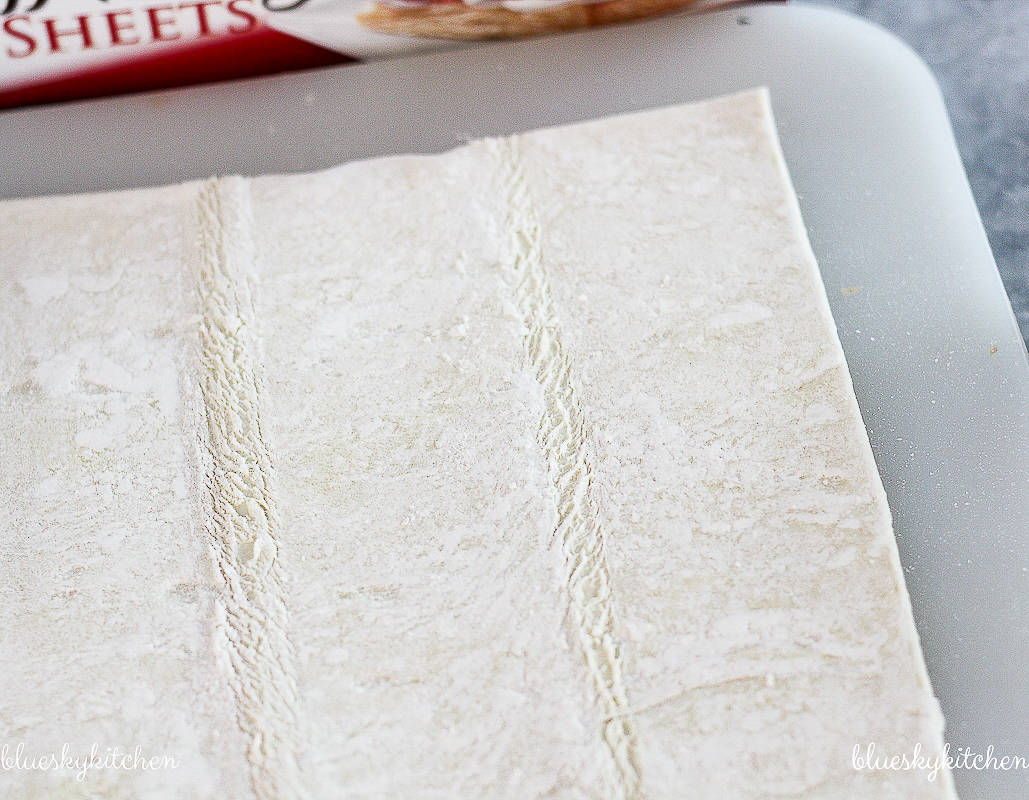 WARNING: You can't use puff pastry if it gets too warm. It becomes a hot mess that you can't unfold. If you let it get too warm, return it to the refrigerator until it is chilled and then try to unfold it again. Sometimes it works and sometimes it doesn't, depending on how warm it was.
Depending on your particular recipe, you may just smooth out the lines a rolling pin or actually roll out the puff pastry to a bigger rectangle. For this fresh cherry tart recipe, you just want to smooth out the folded lines.
Next you want to cut the sheet of puff pastry into 4 squares with a sharp knife. You can cut the squares into smaller sizes if you want a mini~tart. In that case, cut the puff pastry into 6 or 9 squares, like a grid.
Fold in the sides of the puff pastry square about 1/2 inch, creating a folded line. Next brush the insides of the folded sides with egg white wash. Fold up the sides again and pinch the corners with your fingers to create your basket.
TIP: egg whites are like the glue of the culinary world. Brushed on pastry dough, they also create a shiny surface.
The Filling for the Fresh Cherry Tart
The other ingredient for this tart that you may not be familiar with is almond paste, which is made from blanched ground almonds, sugar and a liquid. It is used in all sorts of sweet desserts. It comes packaged in a log shape, wrapped tightly in foil inside a paper package. It will be found on the grocery shelf, next to the marzipan in the baking aisle.
WARNING: you've heard of "squeeze the Charmin"? Well, squeeze the almond paste. It should be firm, but squeezable. It is feels hard, don't buy it. If you get home with a package that is hard, place the unopened package in the microwave (the actual almond paste is wrapped in foil) for 2 or 3 seconds.
Using a box grater, grate the almond paste into small crumbles.
TIP: wrap any unused almond paste tightly in foil and keep in the refrigerator. I've often just put it in the freezer to keep until I need it again. Let it thaw on the countertop.
Place your puff pastry baskets on a parchment~lined rimmed baking sheet, about 2 inches apart. Sprinkle each square with 1/2 teaspoon of sugar and 1 tablespoon of the grated almond paste. Arrange your cherries on top, about 1/4 cup. Add another 1 tablespoon of almond paste and 1 teaspoon of sugar.
I happen to have some slivered almonds on hand so I sprinkled some on top ~ totally optional.
Bake until golden brown in a 425˚F. oven, turning baking sheet halfway through baking, for 15 ~ 20 minutes. Use a spatula to remove to a cooling rack.
TIP: make your tarts look they are bake shop worthy: melt a few tablespoons of apricot jam in the microwave; brush the jam on the puff pastry with a pastry brush. This gives the tarts a glossy shine.
Serve with a dollop of vanilla ice cream or sweetened whipped cream and garnish with a small sprig of mint.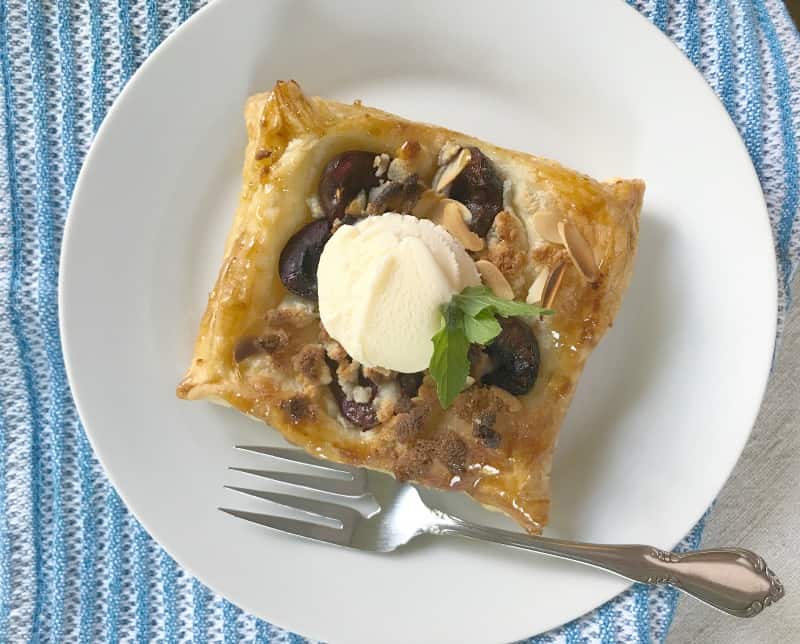 I know that you'll love this tart. There are several variations, based on the type of fruit you use. I have created a simple chart printable to help you.
Sign up here to receive it on The Bulletin.
Enjoy this delicious cherry tart. It's yummy! The Printable Recipe is just below.
Link Parties for the Week (August 11 ~August 17):
Friday
Saturday
Snickerdoodle Pink Party
Sunday
Monday
Tuesday
Talk of the Town
The Scoop
Wednesday
Wine'd Down Wednesday
Thursday