How to Make an Easy Apple Crostata
Do you love apple pie? If you do, then you will love an apple crostata. It's an easy and impressive dessert. Let me show you how to make an easy apple crostata.
We all love apple pie, right? It's as American as . . . .; you're the . . . of my eye. Do you know what I mean? I want to show you how to make an easy apple crostata that you will love.
If you love pie but are hesitant to make one because making a good pie crust and rolling it out perfectly in a pie plate scares you, then this dessert recipe is for you.
When I tell you it's easy, I really mean it's easy. It definitely has a rustic French look which will make family and friends think you are an expert pie maker.
You don't even have to slice your apples in perfect slices. A nice rough chop will do. Oh, did I say that it's fairly quick? Yes, making this easy apple crostata is quick and delicious, impressive and fun too.
Today is Apple Pickin" Day ~ a blog hop devoted to all things apple. Again, hosted by Juliet of A Loverly Life.
Another reason I love this easy apple crostata is its simplicity. It's not made in a pie plate, but you could call it a pie. It's not made in a tart pan, but you can call it a tart.
The dough ~ pâté brisée ~ pastry dough ~ is rolled out and baked on a rimmed baking sheet, which gives the finished dish a rustic "I was made in a French farmhouse kitchen" look.
Whether you call this dessert, a pie, a tart, or a crostata, if you know how to make an easy apple crostata, you are in for a wonderful treat ~ like compliments from friends.
We first had delicious apple crostata years ago in a little French restaurant in Greenwich Village in New York City. Then I found a similar recipe in The Provence Cookbook by Patricia Wells, which I've used several times when I taught cooking classes.
Finally, I found an easier version in The Barefoot Contessa Parties Cookbook. Ina Garten calls her version a crostata, a rustic free-form version of an open fruit tart and Patricia calls hers a tart. It's just about the same thing.
COMMON QUESTIONS ABOUT A CROSTATA
Before we get to the baking lesson and the apple crostata recipe, let's go over some common questions.
Can I make a Crostata ahead of time?
Yes, your dough definitely can be made the day before and refrigerated for up to 3 days.
What is the difference between a galette and a crostata?
Crostata is an Italian term, and galette is French; however, by definition, you can use these terms interchangeably. They're referring to the same, easy and distinctly elegant dessert. By whichever name, this free-form pastry is always a great choice when you find yourself with a bounty of peak season produce.
Does Crostata need to be refrigerated?
No, but a cool area is best. Lightly covered, It will keep for 2-3 days. In fact, the refrigerator can dry out the pastry.
5 Best Apples for Baking
Honey Crisp.
Granny Smith
Gala
Pink Lady
Golden Delicious
Do you cook apples before making apple pie?
You can add raw apples right in the pie crust.
Some experts will tell you to par-cook apples before filling a pie by pouring boiling water over cut apples and soaking them for 10 minutes. Others say to roast them to reduce water content and add flavor.
Can You Freeze a Crostata?
Yes, you can freeze a crostata baked or unbaked! Just place the crostata on a sheet pan lined with parchment paper. Freeze until solid. Just bake frozen and add a few extra minutes to the baking time!
Do I need to peel apples for apple pie?
Yes, peel your apples. Unpeeled apples will add a bit of color and texture to your pie, but they may prevent the apples from melding together when baked. Peeled apples will give you a delicately soft pie with no tough surprises, but some people argue that you lose the apple's nutritional value once the peel is removed.
My Opinion: Pie is dessert. For nutritional value, eat an apple out of hand.
LIGHT FLAKY PIE CRUST
To make the pie crust, follow the tutorial in How to make a Light Flaky Pie Crust.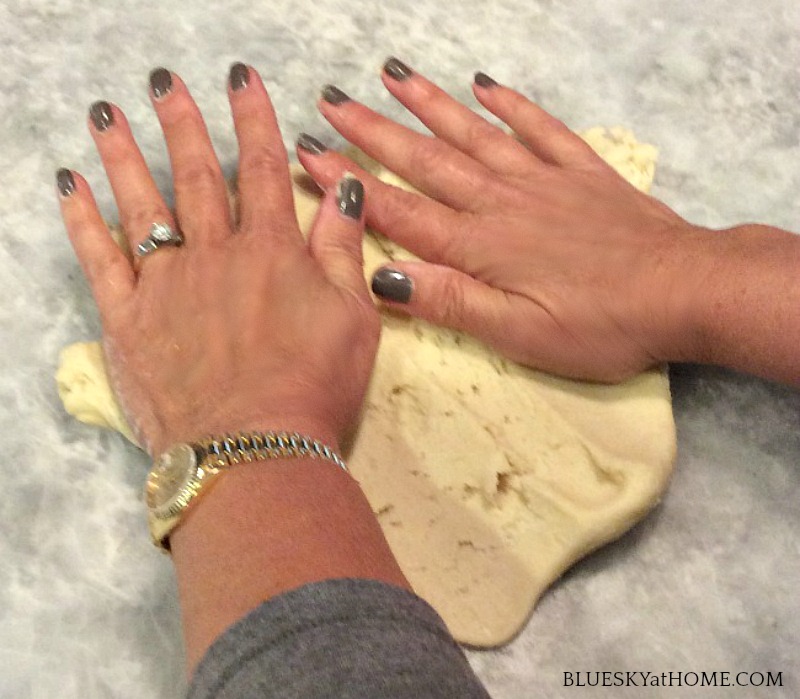 MAKING THE APPLE CROSTATA FILLING
Once the pie crust dough is chilling in the refrigerator, you'll make the apple filling. Let's get started with our mise en place ~ measuring and preparing all our ingredients.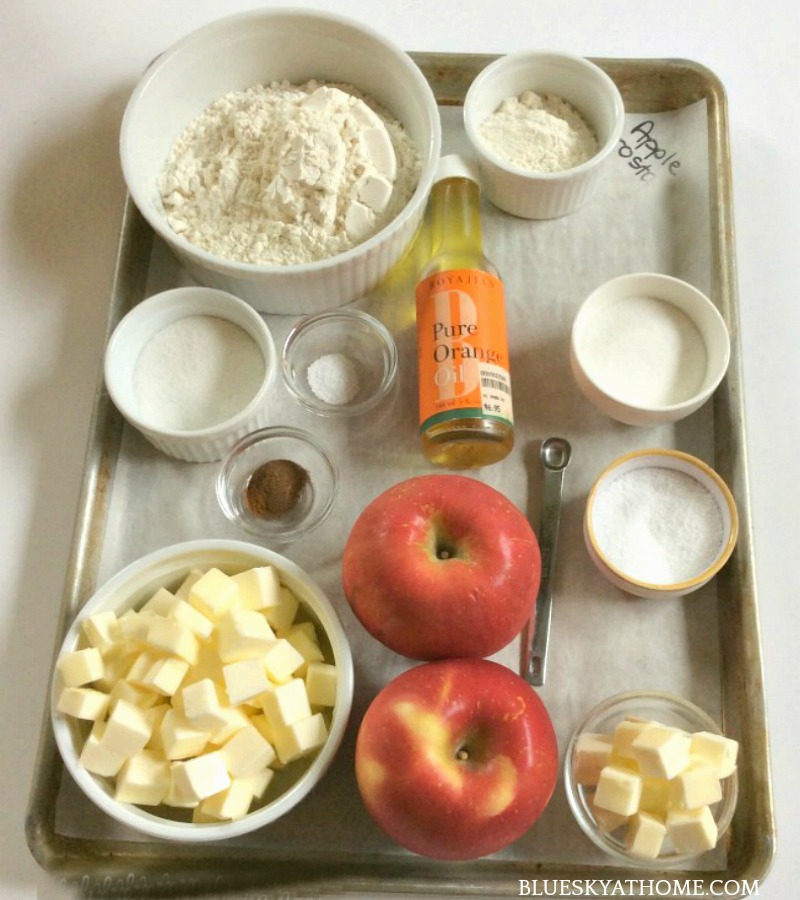 PREPARE THE APPLES
These are the tools you'll need:
a chef's knife
a vegetable peeler ~ this Y~shaped peeler is the best; very easy in your hand. It's so much easier than the traditional one.
1/4 teaspoon
an apple corer ~ I love this one, which opens up after you have cored the apple to easily remove the core.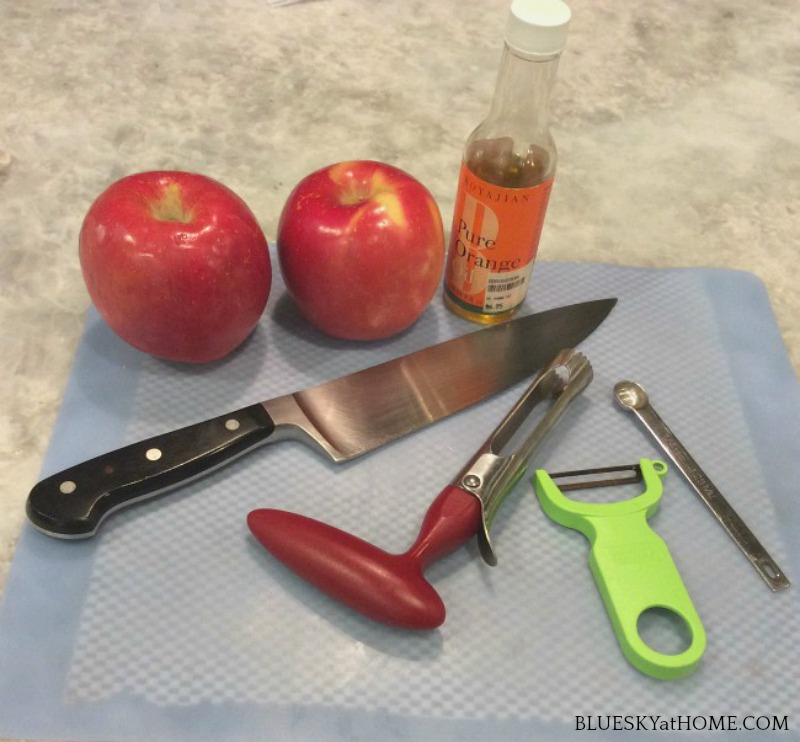 Core the apples. If you do this first, you can put your thumb into the hole to hold the apple while you peel.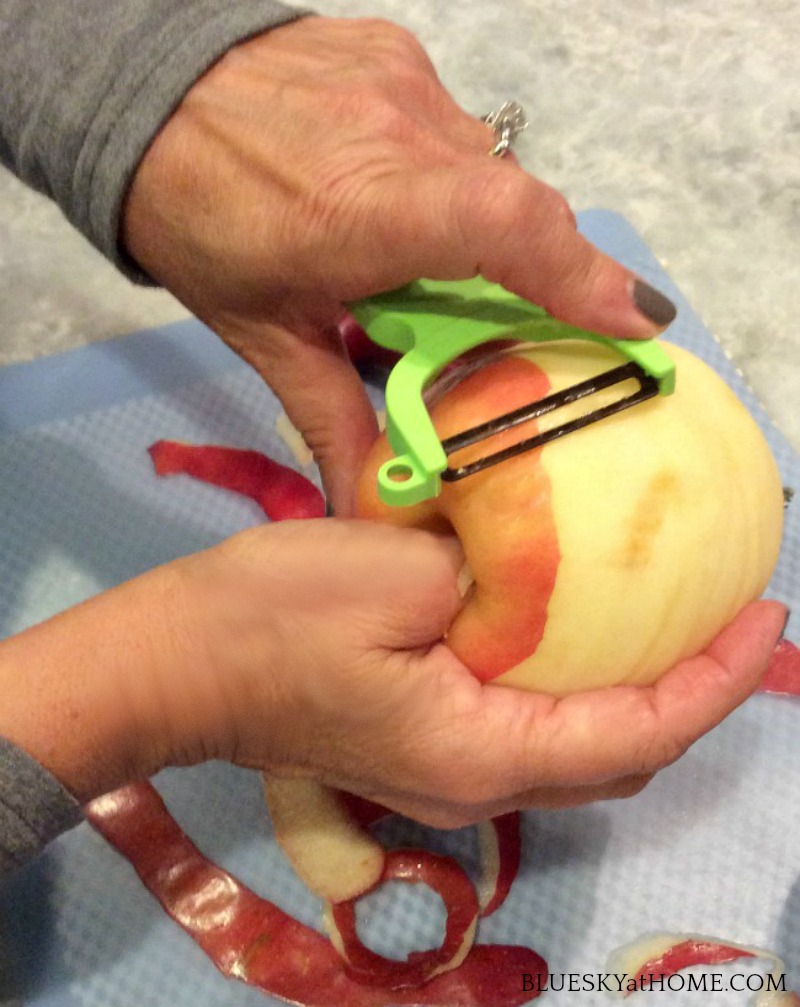 Cut the apples into large chunks. I sprinkled and tossed with Pure Orange Oil, which I already had on hand. Set aside.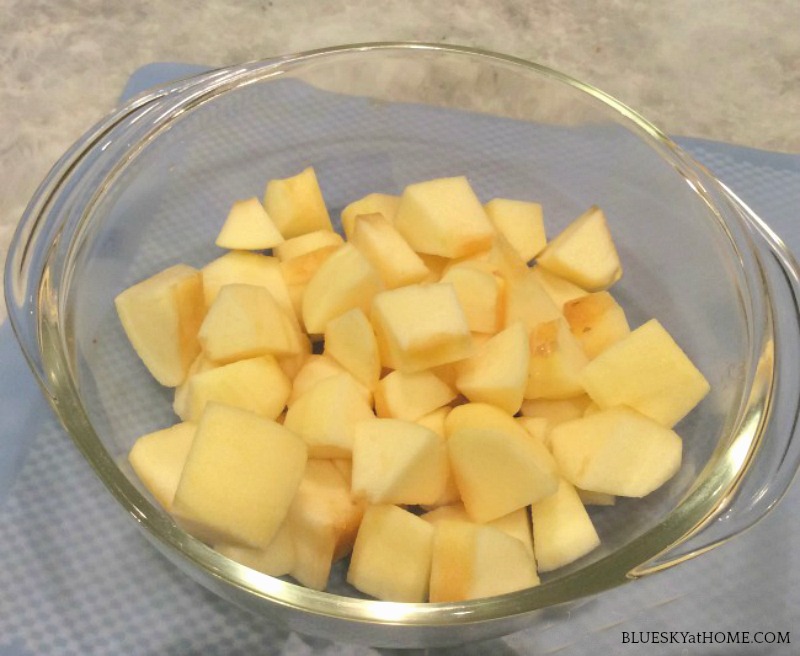 PREPARE THE TOPPING
In your food processor (You don't have to wash it after making the light, flaky dough.), combine the flour, sugar, salt, and spices. Pulse to combine. I love my Kitchen Aid food processor that I've had for over 20 years. It's a workhorse.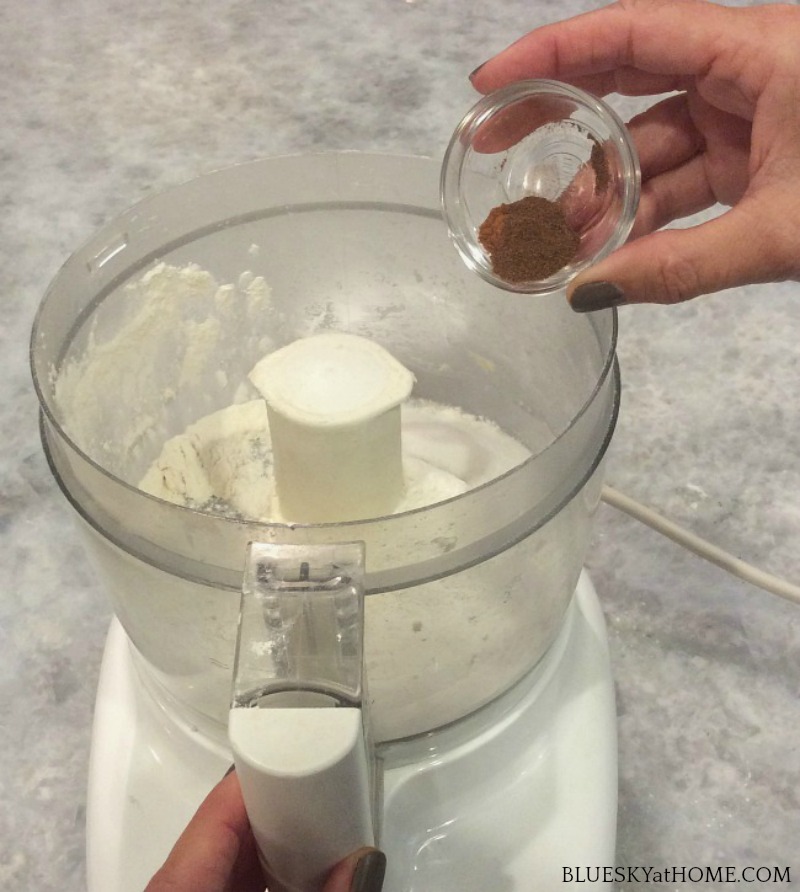 Add the cold butter and pulse to make the topping.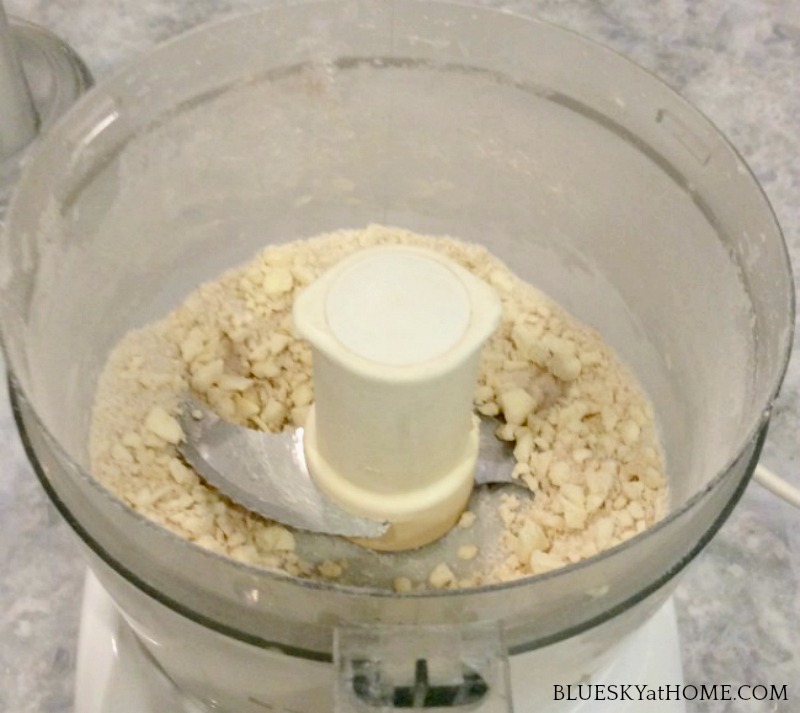 PREPARE THE DOUGH
Pre~heat the oven to 450˚F. Remove the dough from the refrigerator and place it on a flour-sprinkled clean work surface.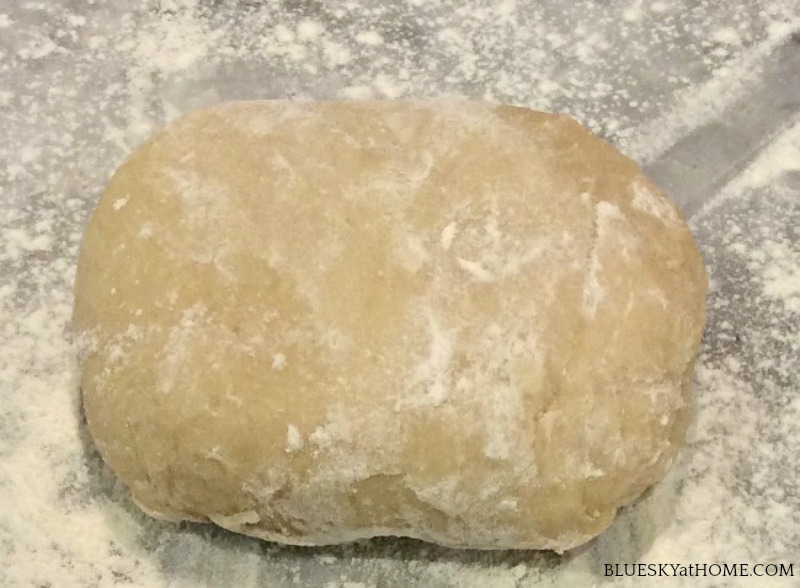 Using a rolling pin, roll out the dough to approximately an 11~inch "circle". It doesn't have to be a perfect circle. Remember that this dough is going on a rimmed baking sheet. The circle can be more of an oval if you prefer.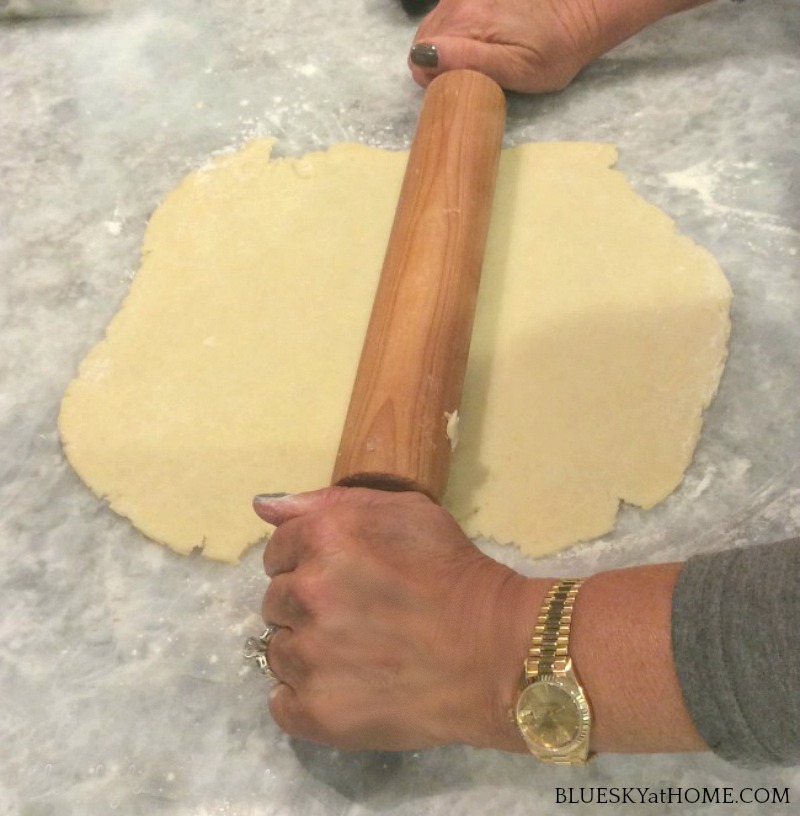 Next, transfer the dough to a parchment~lined rimmed sheet pan.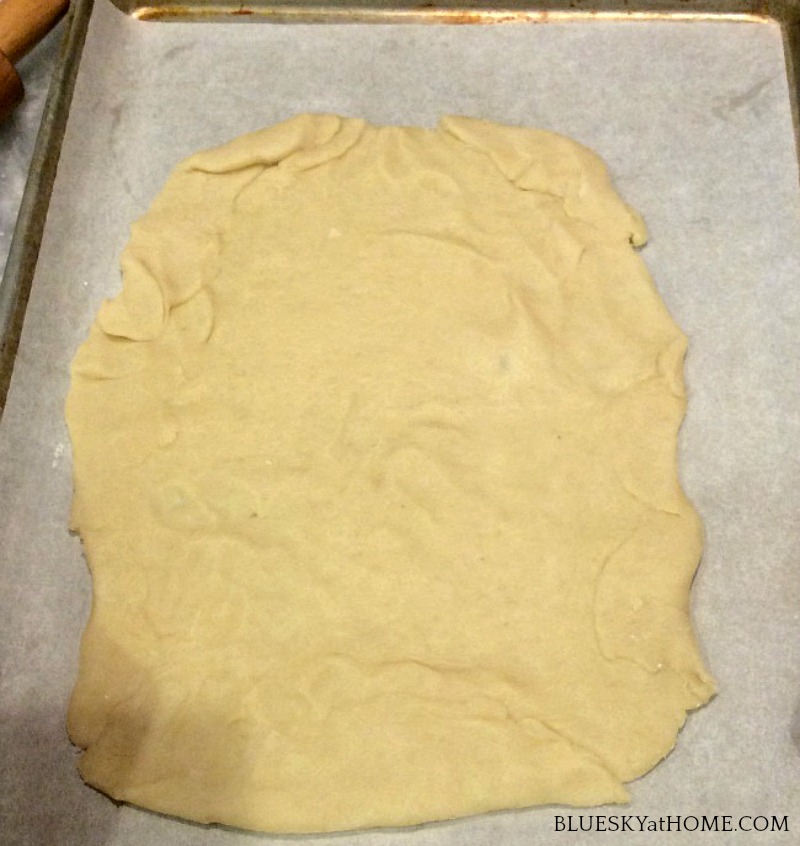 FILL THE DOUGH
First, spread the apples over the dough, leaving about a 1 1/2-inch border.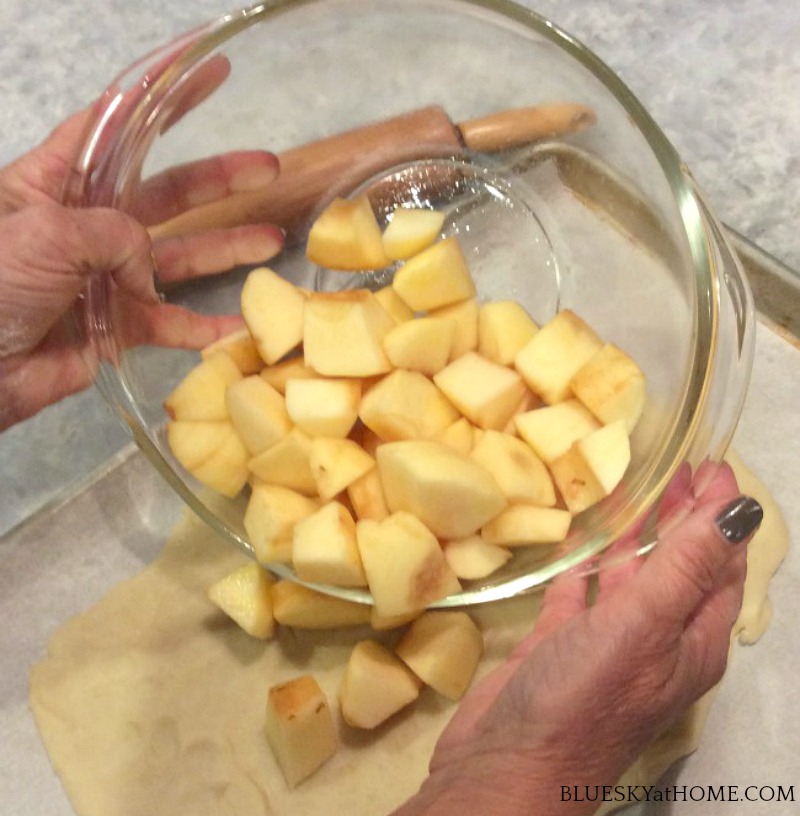 Next, sprinkle the flour/sugar topping evenly over the apples. Fold the edges of the dough over the apples.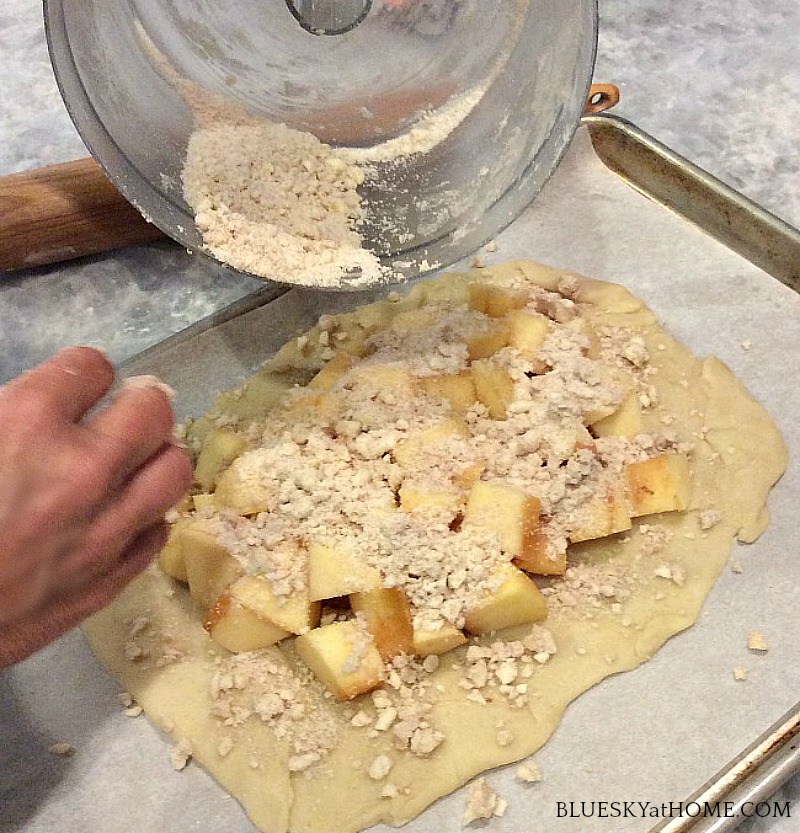 Finally, fold all the edges of the dough up and over the apple crostata filling.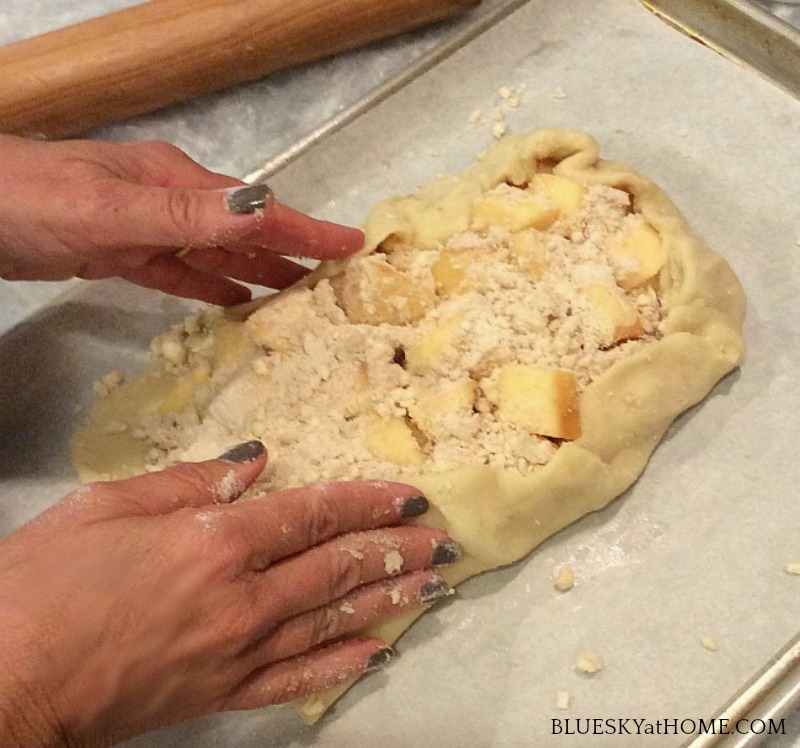 Place in the oven to bake for 25 ~ 30 minutes.
The crust should be golden brown and the center of the crostata firm. Cool the crostata on a wire rack for 5 minutes to cool.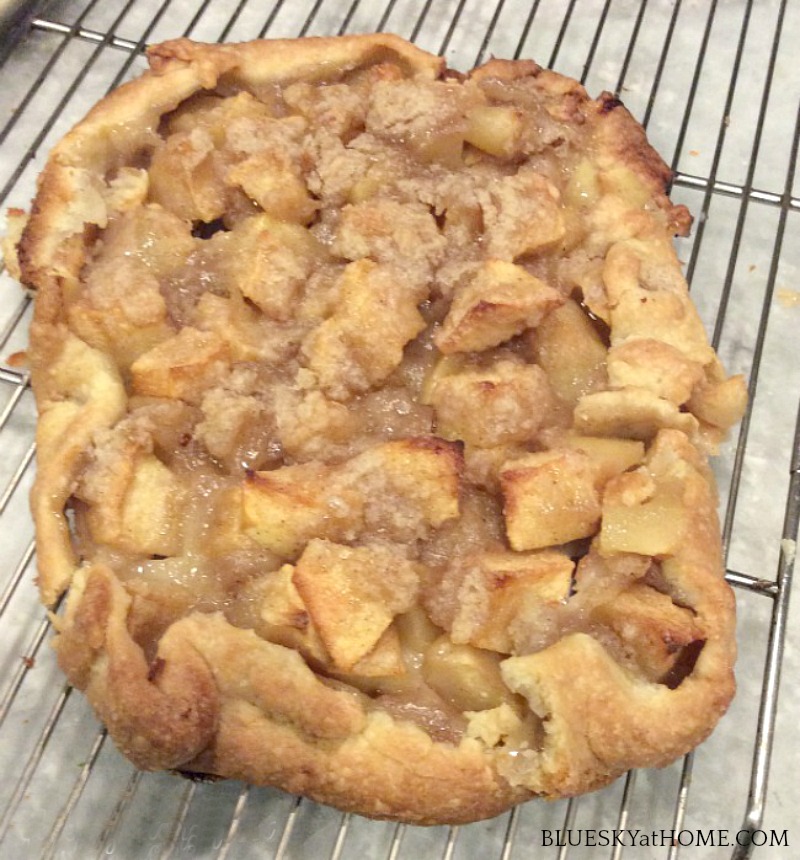 I use a pizza cutter to slice the crostata.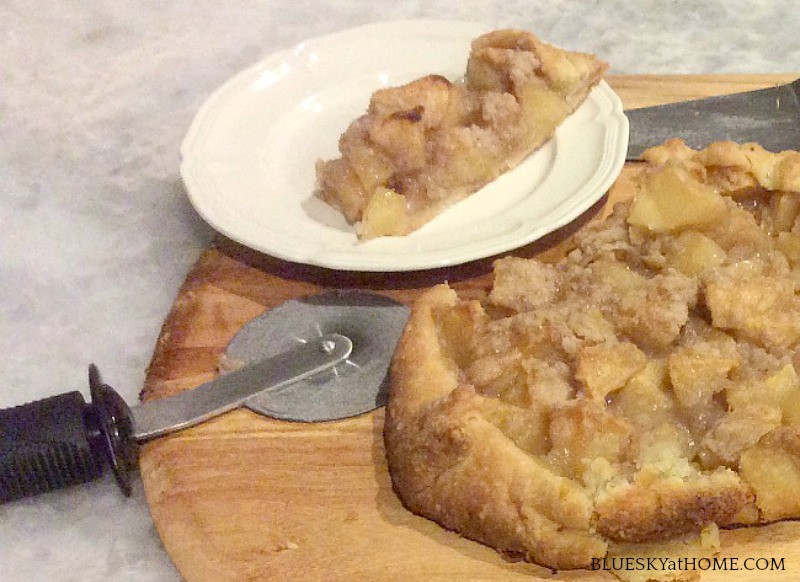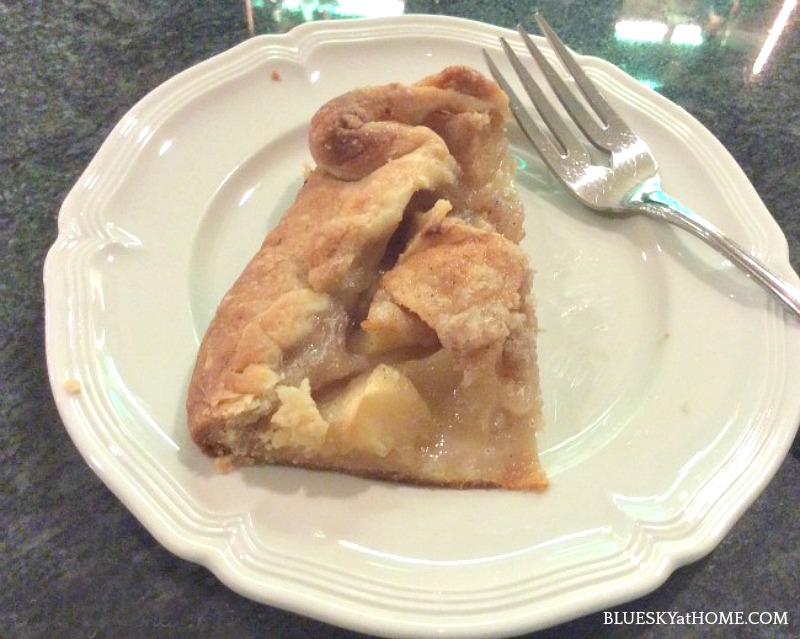 APPLE CROSTATA RECIPE
Here's the complete recipe. You'll notice that it calls for 1/4 teaspoon of orange zest. Since I already had the Pure Orange Oil, I used that instead. I also didn't use the allspice. You can SAVE the Recipe to your Pinterest Boards or PRINT it or both.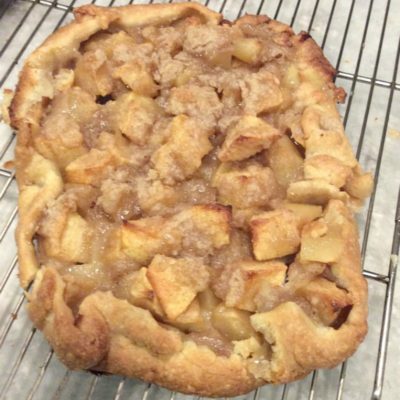 Apple Crostata
An easy, rustic version of apple pie. Easy to roll out the dough and fill with chunks of apples with sweet and flavorful topping.
Equipment
sheet pan

food processor

apple corer

Rolling Pin

vegetable peeler
Ingredients
2

cups

all~purpose flour

14

cup

granulated or superfine sugar
Pastry Dough
1/2

pound

unsalted butter

diced, very cold
Filling
1 1/2

pounds

McIntosh, Macoun or Empire Apples

14

1/4

teaspoon

grated orange zest or Pure Orange Oil

1/4

cup

all~purpose flour

1/4

cup

granulated sugar

1/4

teaspoon

kosher salt

1/4

teaspoon

ground cinnamon

1/8

teaspoon

ground allspice

4

tablespoons

cold unsalted butter (1/2 stick)

diced, very cold
Instructions
For the Pastry
Place the flour, sugar, and salt in the bowl of the food processor. fitted with a steel blade. Pulse a few times to combine.

Add the butter and toss quickly with your fingers to coat each club of butter with the flour. Pulse 12 to 15 times or until the butter is the size of peas.

With the motor running, add 1/4 cup ice water all at once through the feed tube. Keep hitting the pulse button to combine, but stop the machine just before the dough comes together.

Turn the dough out onto a well~floured surface and form into 2 disks. Wrap with plastic wrap and refrigerate one of the disks for at least an hour. Freeze the other disk.
For the Filling
Preheat the oven to 450˚F. Roll the pastry dough into an 11~inch circle on a lightly floured surface. Transfer it to a baking sheet lined with parchment paper.

Core, peel and quarter the apples. Cut each quarter into 3 chunks. Toss the with the orange zest. Cover the dough with the apple chunks, leaving a 1 1/2~inch border.

Combine the flour, sugar, salt, cinnamon, and allspice in the bowl of the food processor. Add the butter and pulse until the mixture is crumbly. Sprinkle evenly on the apples.

Gently fold the border over the apples, pleating to make it into a circle, if desired.

Bake the crostata for 20 to 30 minutes, or until the crust is golden and the apples are tender Let the crostata cool for 5 minutes, then use 2 large spatulas to transfer it to a wire rack.

For serving, top with a scoop of vanilla ice cream, if desired.
For an American version, you can serve the crostata with vanilla ice cream. The French would not do that, but who's to say which way is better?
I hope that you've enjoyed this learning how to make an easy Apple Crostata.
Now see what other apple pickin' ideas my friends have for you.