How to Make a Light Flaky Pie Crust
Every time of year is pie~making time. Whether your favorite is pecan, pumpkin, apple or cherry (we all have opinions!), a light flaky pie crust is essential to a successful pie.  No one wants soggy crust. So how do you make a light flaky pie crust?
Now I have a few friends who are expert pie makers.  I'm not talking to them.  I'm talking to the rest of us, those who make a pie just once or twice a year (Thanksgiving?), but we still want our pie crust to be wonderful.
Learning how to make a light flaky pie crust is not hard. You just have to know the do's and don't's. Let me show you how with this step~by~step tutorial.
How to Make Light Flaky Pie Crust
This post contains affiliate links to products that I love, have used, and highly recommend. If you should order any product from this site, I may receive compensation, but you won't pay a penny more.
So here are some tips and the proper technique for getting what in French cuisine is called pâté brisée ~ sweet pasty. (That's a trivia answer for you.)
The Essential Ingredients for a Light Flaky Pie Crust
The essential ingredients in a pie crust are flour, salt, fat, and water. For sweet pastry, granulated sugar is added to the mix.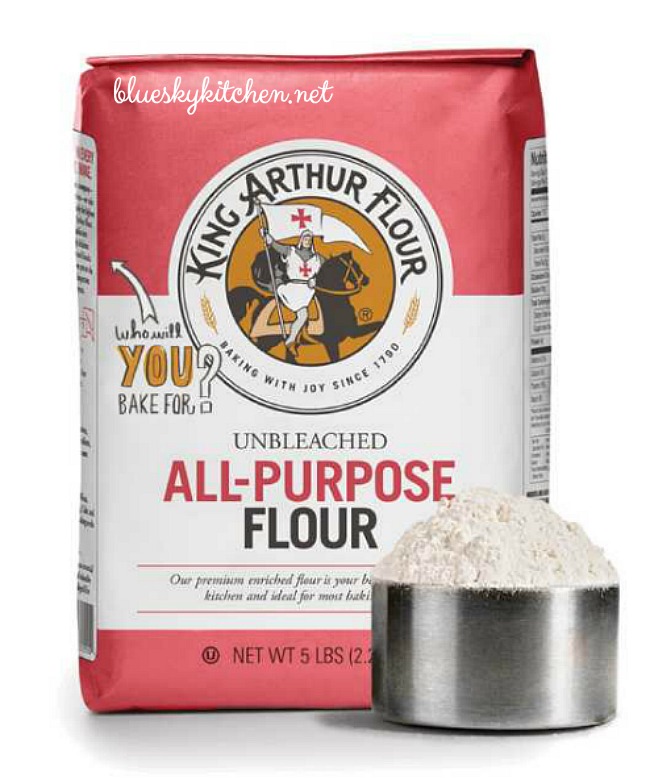 What kind of flour? Good old unbleached all-purpose flour.  My favorite is King Arthur. 
How To Properly Measure Flour
The best way to measure flour is by weighing it. If you don't have a scale, then volume will work IF you measure correctly. Don't ever pack the flour down.
Use a spoon to fill the measuring cup with your flour rather than scooping your measuring cup into the flour. Overfill the measuring cup.
Run a knife, metal spatula or flat surface across the flour to remove any excess.
What kind of Fat?
For pâté brisée, it's going to be unsalted butter, but some bakers like shortening and some like a combination of butter and shortening. Whatever kind of fat you use, it must be cut into small pieces and very cold.
How to Dice a Stick of Butter
Cut a stick of cold butter in half lengthwise and then into 4 sticks.
Next, line up the 4 sticks and cut them into cubes.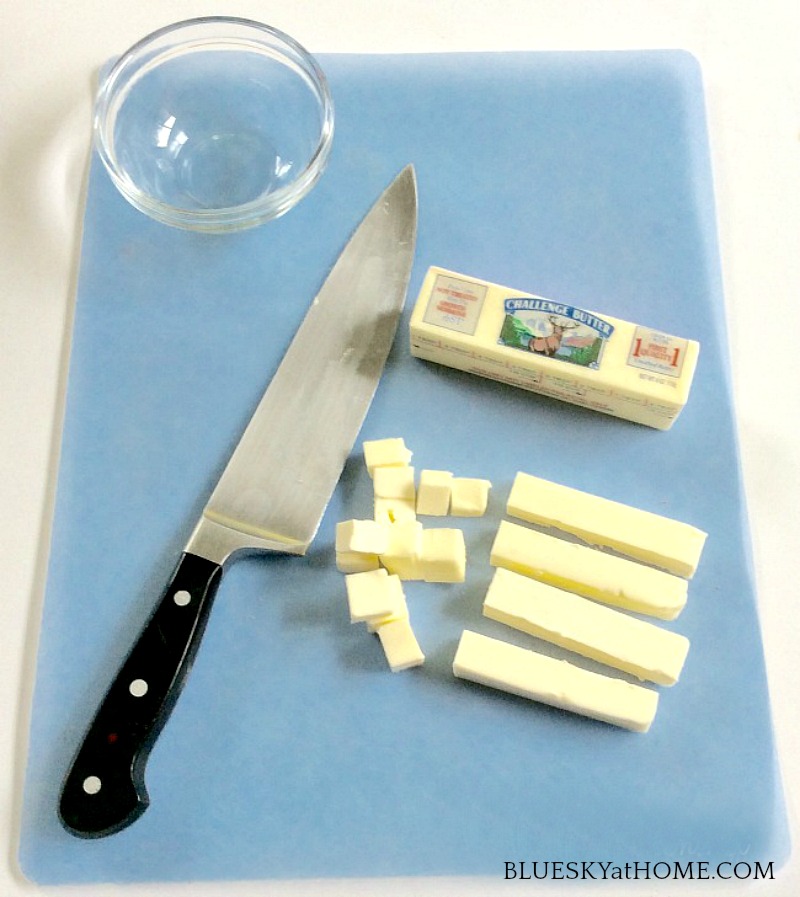 Place in a bowl, cover with plastic wrap and put back in the refrigerator until you are ready to make the pie crust.
What Kind of Salt?
This is a personal preference, but you can use fine sea salt or kosher salt.
What Kind of Water?
That's not a joke. Ice water
Equipment to Make a Pie Crust
A food processor is the perfect tool for making pie dough.  It's fast and blends the wet and dry ingredients completely. My processor is a Kitchen Aid and I can't say enough about its performance. I've had it for years and it's ever let me down.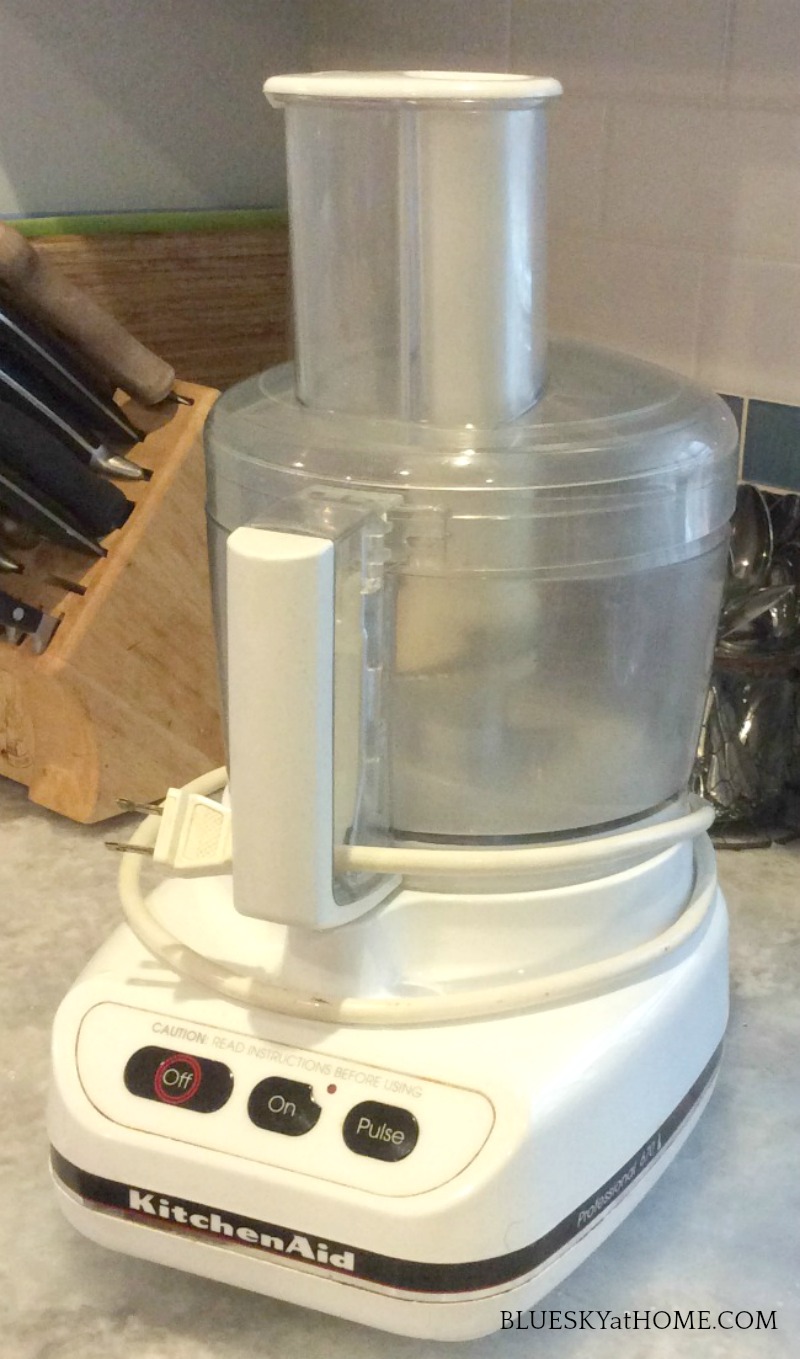 How to Make a Light Flaky Pie Crust
First, process the sugar, salt, and flour for about 10 seconds in the food processor until blended.
WHY? So the dry base is well mixed before you add the fat.
Add the cold butter and/or shortening and process until the dough just starts to collect in uneven clumps.
WHY? The processor incorporates the fats quickly, keeping them chilled.
With the processor running, add the ice water and process until it looks like cottage cheese curds and almost starts to form a ball. Pulse the mixture once or twice.
WHY? To moisten the dough so it can coalesce without forming too much gluten. Because the liquids are chilled, the butter stays cold, which makes for a flaky crust.
Remove the dough from the processor to a clean work counter.
Major TIP: Using the palm of your hand, smear the dough bit by bit across the counter until the dough is completely incorporated. This step is called fraisage ~ the technique of mixing all the ingredients until every trace of water and flour have disappeared.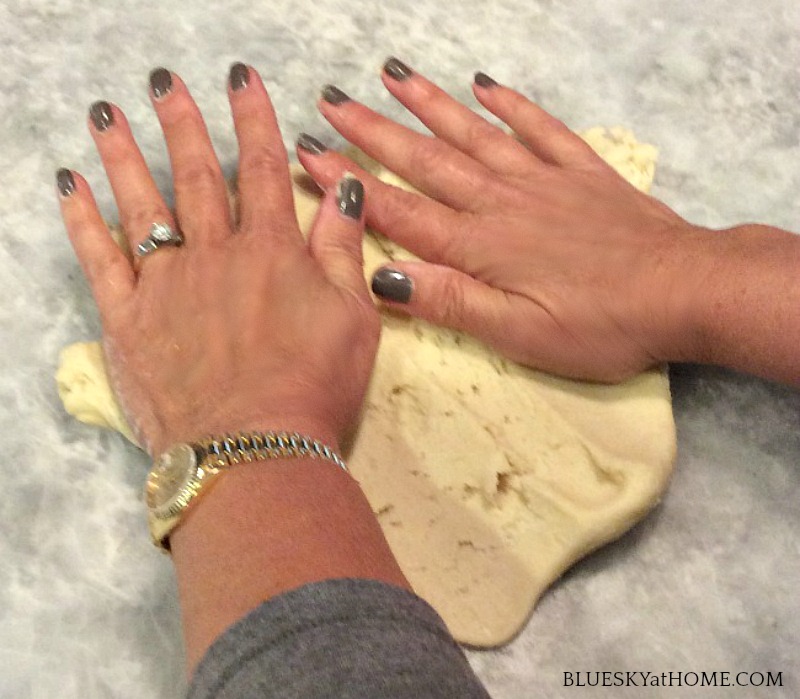 Most recipes make enough dough for 2 portions. At this point divide the dough in half and wrap both portions tightly in plastic wrap and refrigerate for 1 hour or overnight.  If you only need 1 portion, freeze the other portion. Yes, pie dough freezes!!
That's the basics of making a light flaky sweet dough. Follow these steps and your pie will be the talk of the town. For an easy version of apple pie using this light flaky pie crust, try this Apple Crostata. It's delicious.
Don't forget to PIN this lesson on how to make light flaky pie crust.