How to Make 5 Easy DIY Laundry Room Projects
During May and June I shared our laundry room makeover project. (I'll include links to the entire project at the end of the post.) Now I want to show you the 5 easy DIY laundry room projects that gave our new space the added pizazz it needed. After transforming the bones of the laundry room from dull to divine, the last task was to create some DIY projects that provided not only pretty decor elements, but also functionality.
What's the 1 thing a laundry room needs ~ beside a washer and dryer ~ to make it work? Organization! Practicality!! Storage!!! Places for everything you need in a room that holds a ton of items needed for cleaning the laundry and the house. You can buy a bunch of containers and baskets and boxes, but that can get expensive. Doing a little scavenger hunt through your house may deliver just the things that can give you the storage you need. Then you can fill in with new items as needed. That's just what I did to create these 5 easy DIY laundry room projects.
Except for making 1 trip to Lowe's, I had everything on hand and I was able to repurpose items, including paint and screws. These 5 diy laundry room projects cost me about $10. Not much for getting practical and pretty at the same time. I also finished all 5 projects in 1 day.
How to Make 5 Easy DIY Laundry Room Projects
This post contains affiliate links to products that I use, love and recommend. If you should purchase any product, I may receive compensation, but you do not pay one penny more.
DIY Household Cleaner Caddy
First on the agenda was a place to hold household cleaners that are used on a regular basis. Some can be stored in cabinets if your have them. We have upper cabinets across the back wall of our laundry room above the washer and dryer. To be honest with the new countertop at 25 inches deep, it's hard for me to reach the cabinets. (I'm just 5'2″.) so if I want something I have to get a step stool. The cabinets are fine for storing not~often~used items, but not for everyday cleaning needs. Plus I hate the look of random cleaning bottles. If you are fortunate enough to have a sink in the laundry room as we are, you can store items under there. Not my favorite place ~ lots of bending over and things seem to get shoved in the back. No, I wanted the things I needed front and center, easily accessible, but attractive.
I first needed a container to, well, contain the 5 or 6 items I wanted easy access to. On my scavenger hunt, I found this wood "tool box" that I had bought at a charity plant sale in the spring. When I bought it, it held 4 different herbs in galvanized pails in each section. We transferred the herbs to outdoor pots, so the tool box has sat in the breakfast room for a few months doing nothing. I thought, if painted, it would provide the needed functionality I needed and provide the room with more pop of color.
The first thing I did was clean the surface of the wood with Amy Howard at Home Clean Slate, a product designed to remove gunk, grime and grease from objects before painting.
Then I used Frog Tape to tape off the leather handle and the inside edge of the box since I didn't want paint dripping inside the box. I knew that the Frog Tape would keep the paint right where it needed to stay.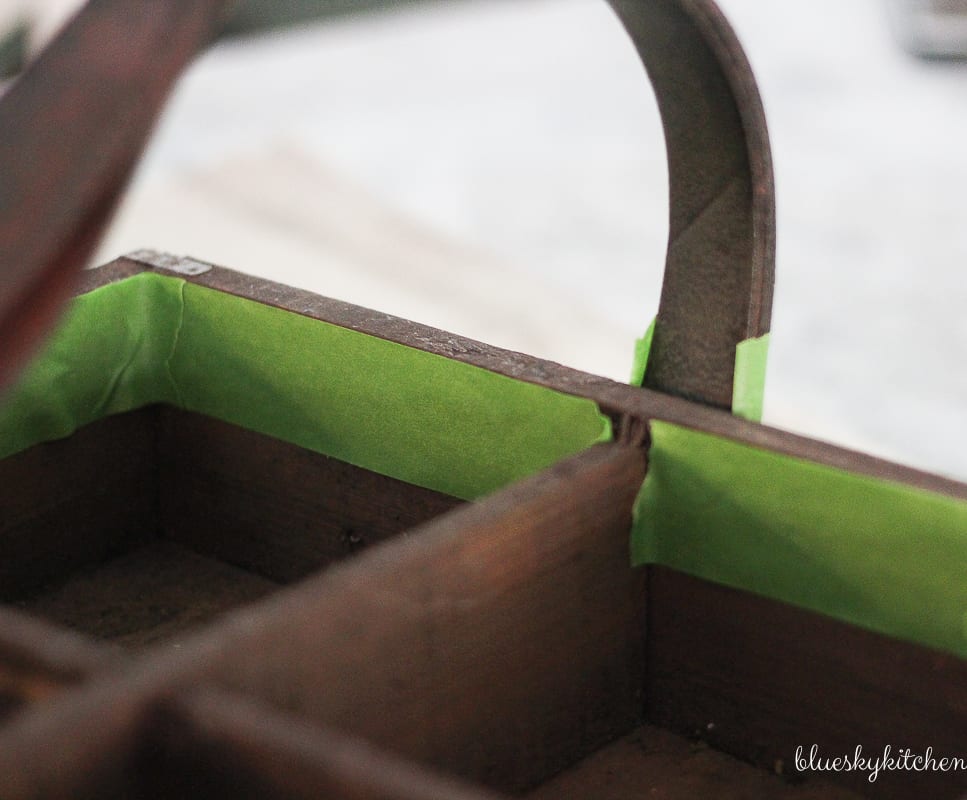 My chosen accent color was turquoise in the laundry room, and I just happened to have the perfect color on hand. This AmericanaDECOR MAXX Gloss Paint in Aqua Waters (I don't think this color is available anymore) was a give~away at Haven 2016.   Since the stain color was very dark, I used 2 coats of paint for good coverage.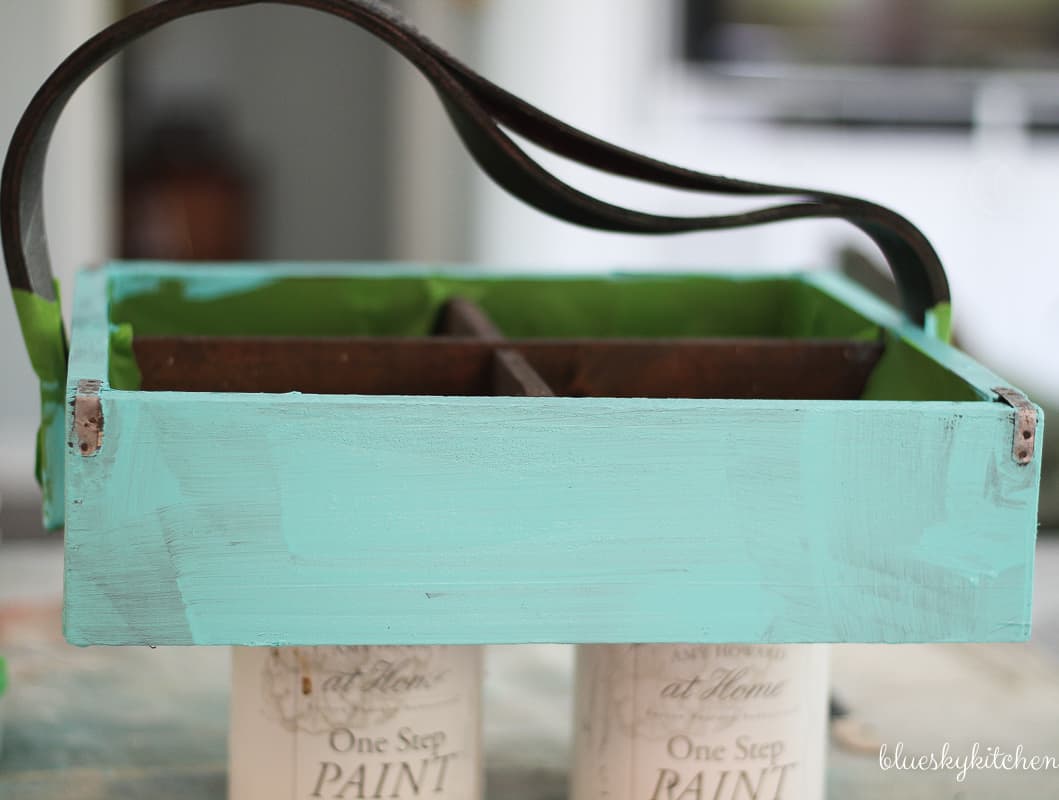 At this point, I remembered I had a new HomeRight product to try ~ a turn table, like a lazy Susan to help with paint projects. This is a great little tool because you can easily set a project on it and turn it as you paint without touching the project.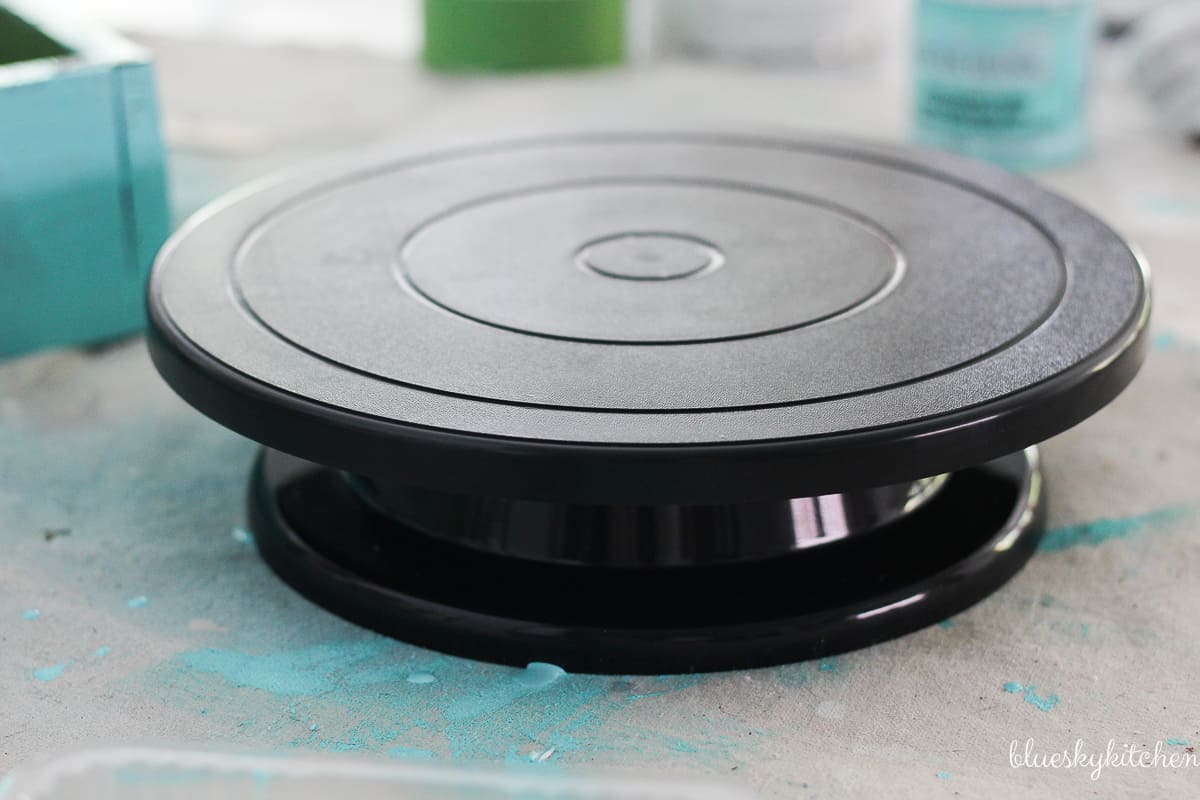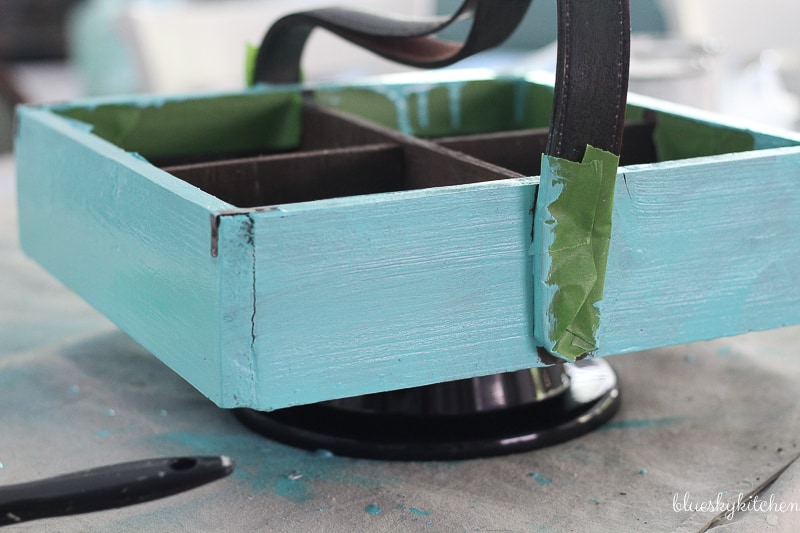 After removing the Frog Tape (Don't you just love removing tape to see those crisp lines?), I could see the transformation of my little DIY project. The next step was to make the labels for the bottles that would contain my household cleaning products, but I'll share that project in another post.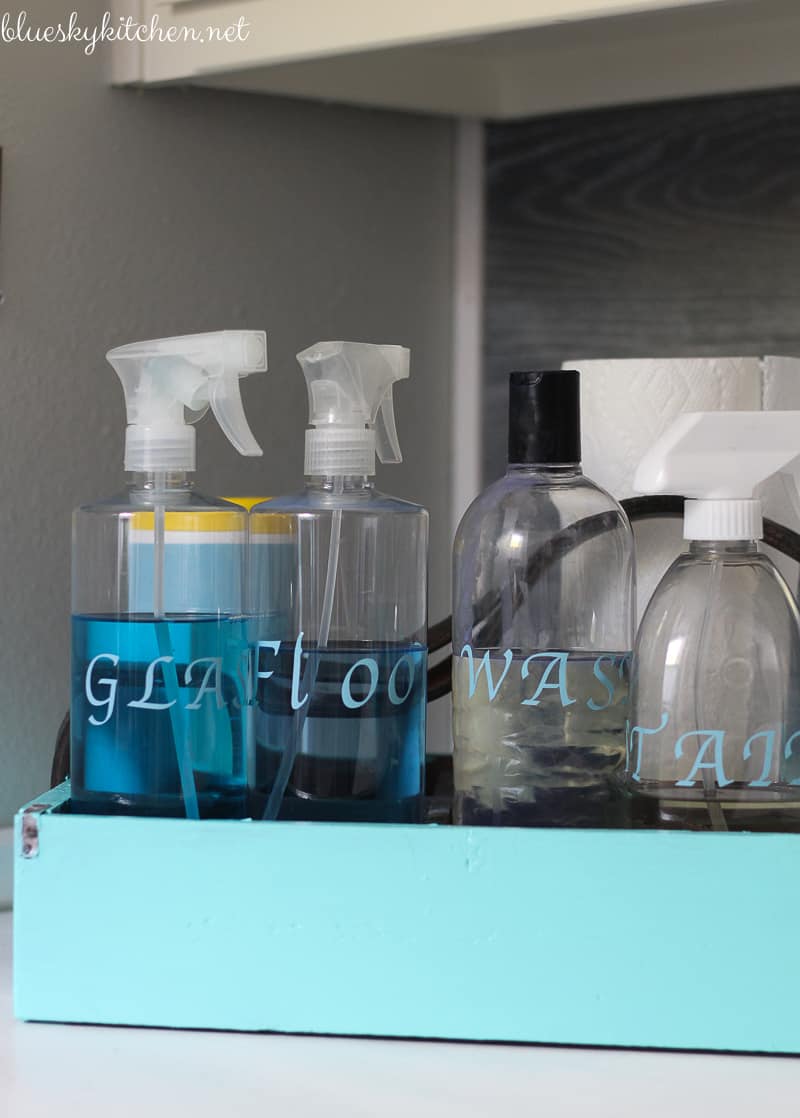 DIY Painted Basket
I needed place to hold floor cleaning pads, both for our hardwood flowers and the marble floors in our bathroom and the slate floors in the laundry room and butler's pantry. I didn't want to look at cardboard or plastic boxes and have to take them out of the packaging. I just wanted a neat place to store them so that I could just pick up 1 pad as I needed it. I've had a rectangle woven basket sitting on the Elfa cart in the laundry room for a long time. Although it was free (it was a gift basket holding fruits and cheeses), it wasn't very pretty and I'd never found the right use for it. Now I thought it might be the perfect place to store the cleaning pads. It definitely needed some DIY attention. I decided to paint it and spiff it up with a turquoise and white stripe motif.
Since my HomeRight Small Spray Shelter was still up in the garage and I had white spray paint on hand, I again used Frog Tape to make the stripes.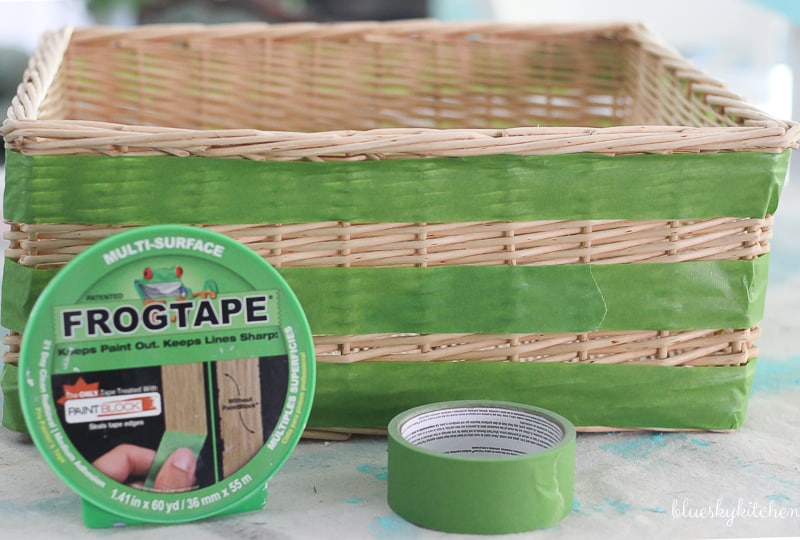 I wanted to try the turn table with the Spray Shelter, but I didn't want to get paint all over it. I used regular foil to cover it. I couldn't use it as a turn table, but it provided  a place to set the basket so it wouldn't touch the plastic of the Spray Shelter.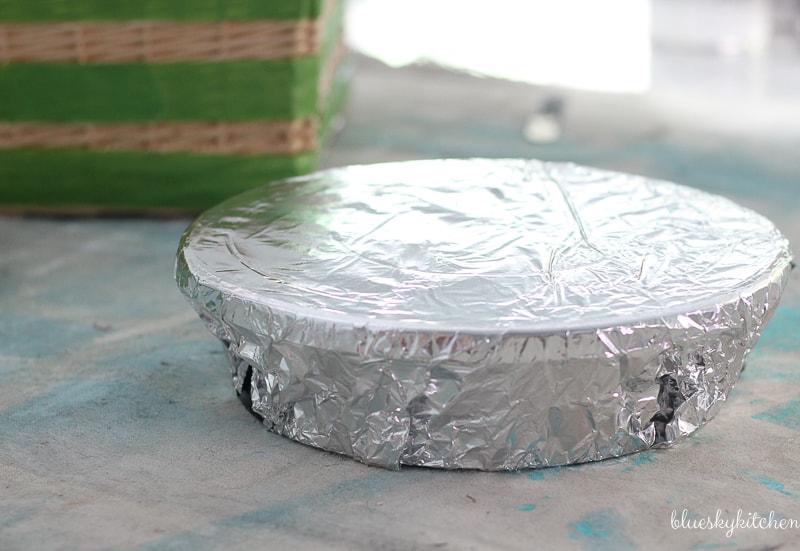 2 coats of Rust~Oleum High Gloss Enamel spray paint covered the inside and outside of the basket.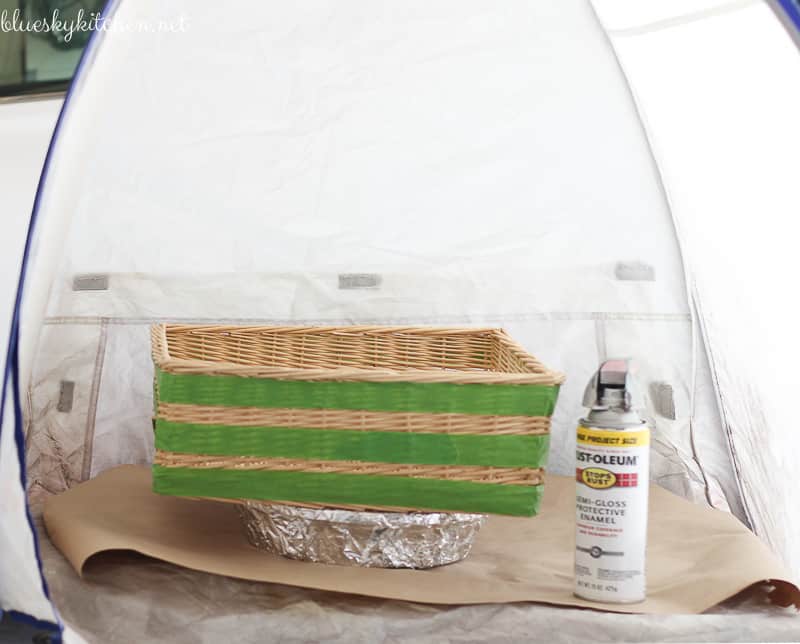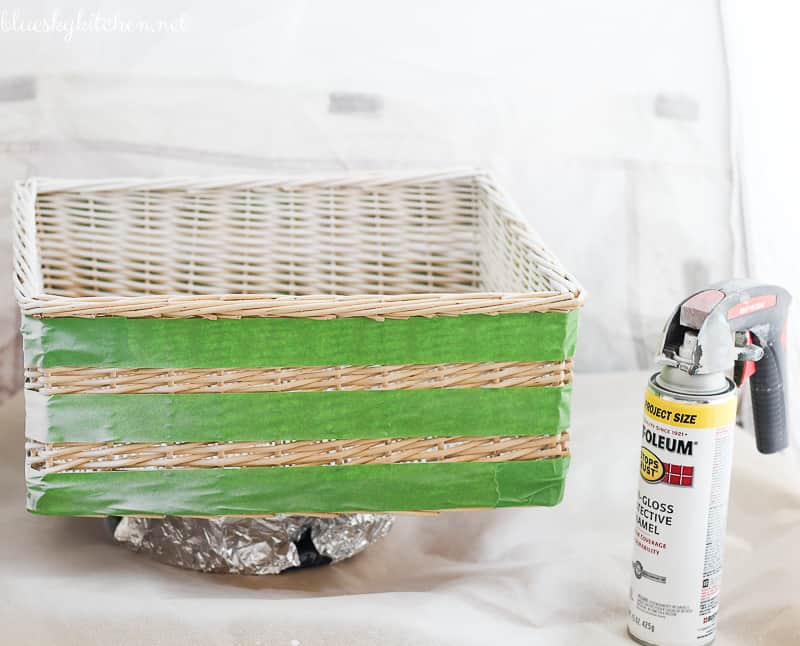 When the white paint was almost dry, I removed the Frog Tape, took the basket inside and used more Frog Tape to cover the white painted stripes.
I also removed the foil covering the turn table. With a 1~inch wide brush, I applied the same AmericanaDECOR paint in Aqua Waters to make the second stripe. Because of the woven pattern of the basket, I then used a tiny brush to go back and fill in unpainted spots, connecting the turquoise color to the white color.
I placed the floor cleaning pads in the basket and they fit just right. Now my basket is not only functional, but it's pretty, adding color, texture and pattern.
DIY Trash Can
You've got to have a trash can in the laundry room. Since my HomeRight Spray Shelter was still up and I had some turquoise spray paint (Krylon Gloss in Blue Ocean), I decided to paint the white plastic trash can. I mean, why not! At first, I made circles for a polka dot pattern, but didn't like how it looked with the stripe basket so I went back and re~sprayed again to cover the circles. Except for the 1 circle I missed.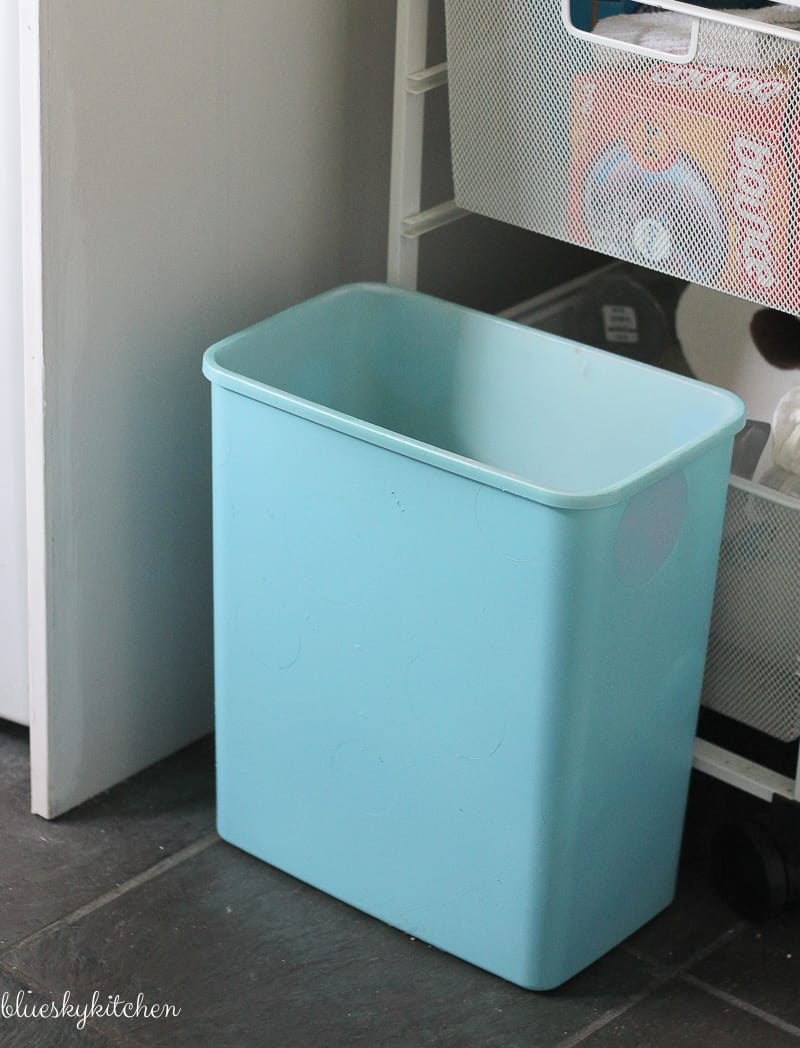 DIY Ironing Board Holder
One of the big items on my laundry room makeover was a new ironing board holder. The original one was very utilitarian in appearance and too high for me to reach. Searching the garage, I found a piece of 1 X 4 that was leftover from our laundry room barn door project. We had to use a length of 1 X4 to support the barn door apparatus, which I painted using Amy Howard One Step Paint in Good Man is Hard to Find and Cerusing Wax. The board was too long, so our contractor cut it to fit. He was going to throw it away, but I grabbed it and set it on a garage shelf. Boy, I'm glad I saved it. The color was a great compliment to the grey weathered wood backsplash I had made and was just the right length. I just had to figure out how to attach the ironing board to it. A trip to Lowe's and I found drapery hardware (They are meant to hold back drapes and I also used them to make my photo paper holder in my office.) the right size in a brushed nickel finish.
All I had to do was measure for the right placement and screw the drapery hardware into the wood board. Then I hung the board on the wall using drywall screws. It was that simple. And I love the organic look the wood brings to this easy DIY laundry room project.
DIY Decorative Clock
This DIY project is strictly decorative. I love vintage looking clocks. I bought this wood one a year ago at a flea market. I loved the painted birds and the lettering. It didn't have the clock mechanism, but I thought could make it functional. A year later, the clock was still out in the garage. Sweet Shark suggested that we hang it in the laundry room which I thought was a great idea. The clock had a big hole in the center, so now I had to figure out how to fill it in. I bought a package of thin wooden circles at the craft store, then painted it to match as closely as possible the look of the clock.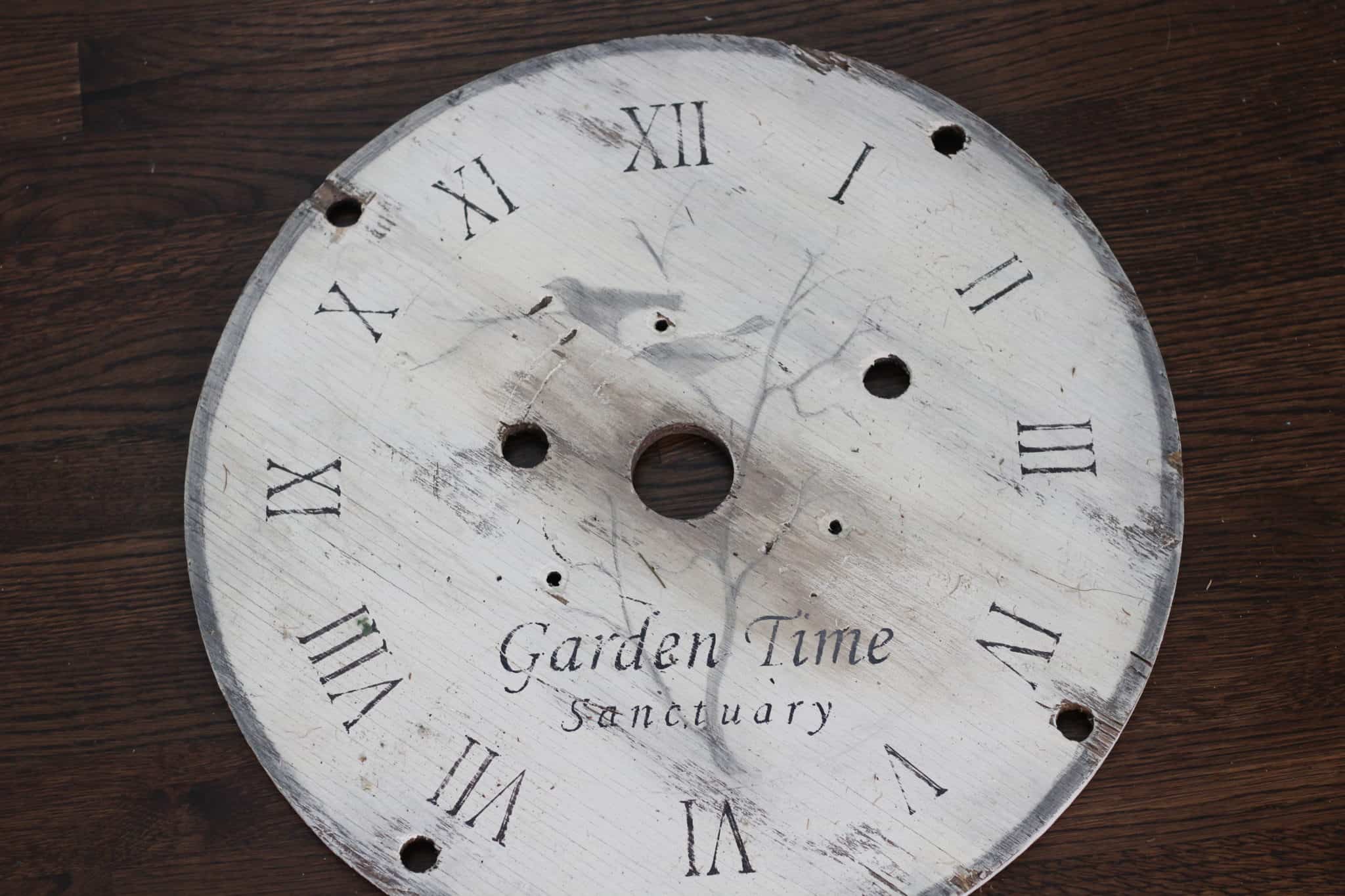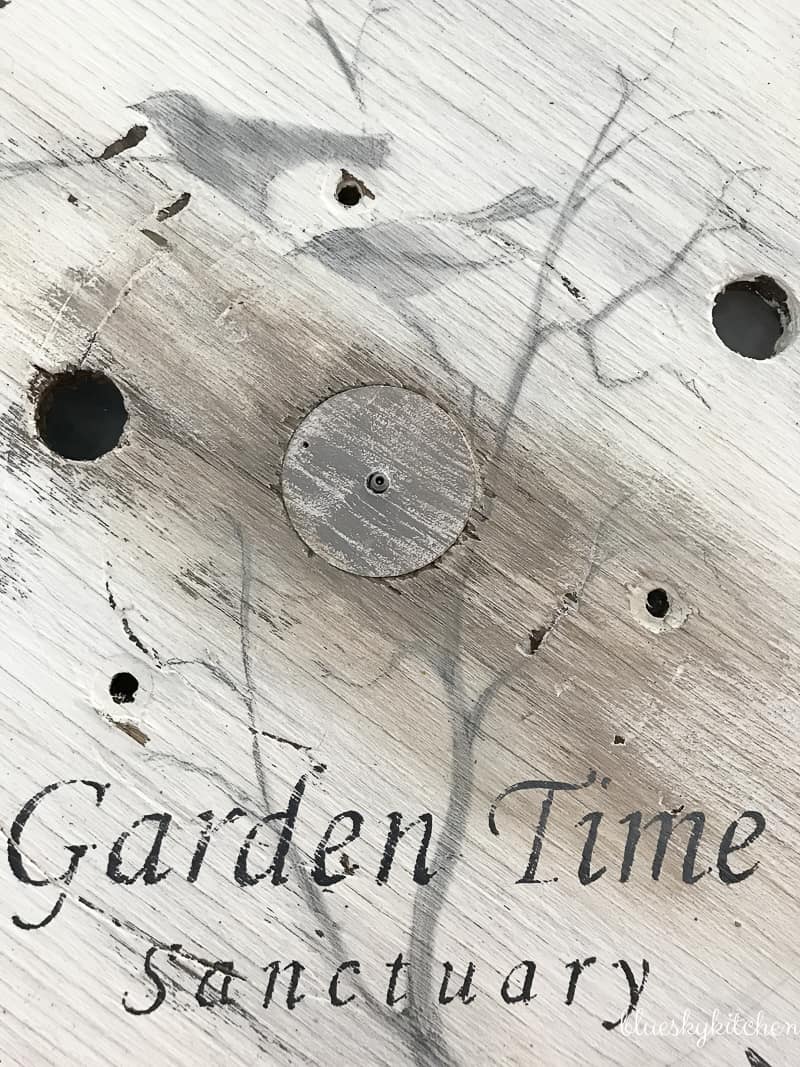 Now came the real challenge: I couldn't find the right size clock mechanism to fit the clock. Nothing available had a shaft the right length to go through the hole in the center of the clock. Frustrated, I was ready to give up. Then I realized, I didn't really need a working clock in the laundry room. It's not like I'm in there long enough to worry about what time it is. But I loved the look of the clock and i thought it would still look great in the laundry room. I did have the clock hands so I just glued them to the front of the clock ~ I set them at 10:45 for no reason except the hands looked good in that position.
Then I wrapped wire through 2 of the holes in the clock to make a hanger.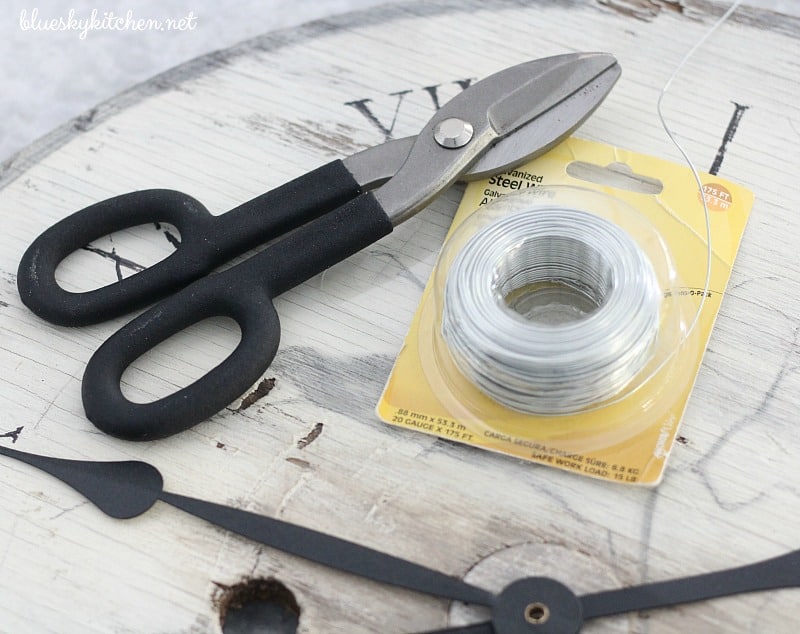 I love the vintage look the clock brings to the laundry room and I'm happy that the clock is out of the garage and I can see it everyday.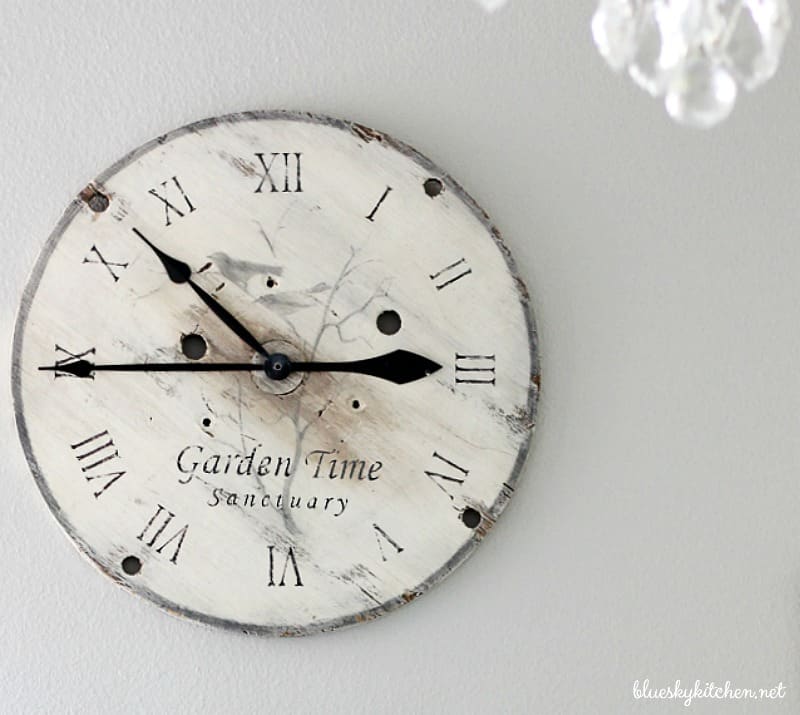 Here's how the wall looks from the doorway in the butler's pantry. It's a nice vintage focal point that works together.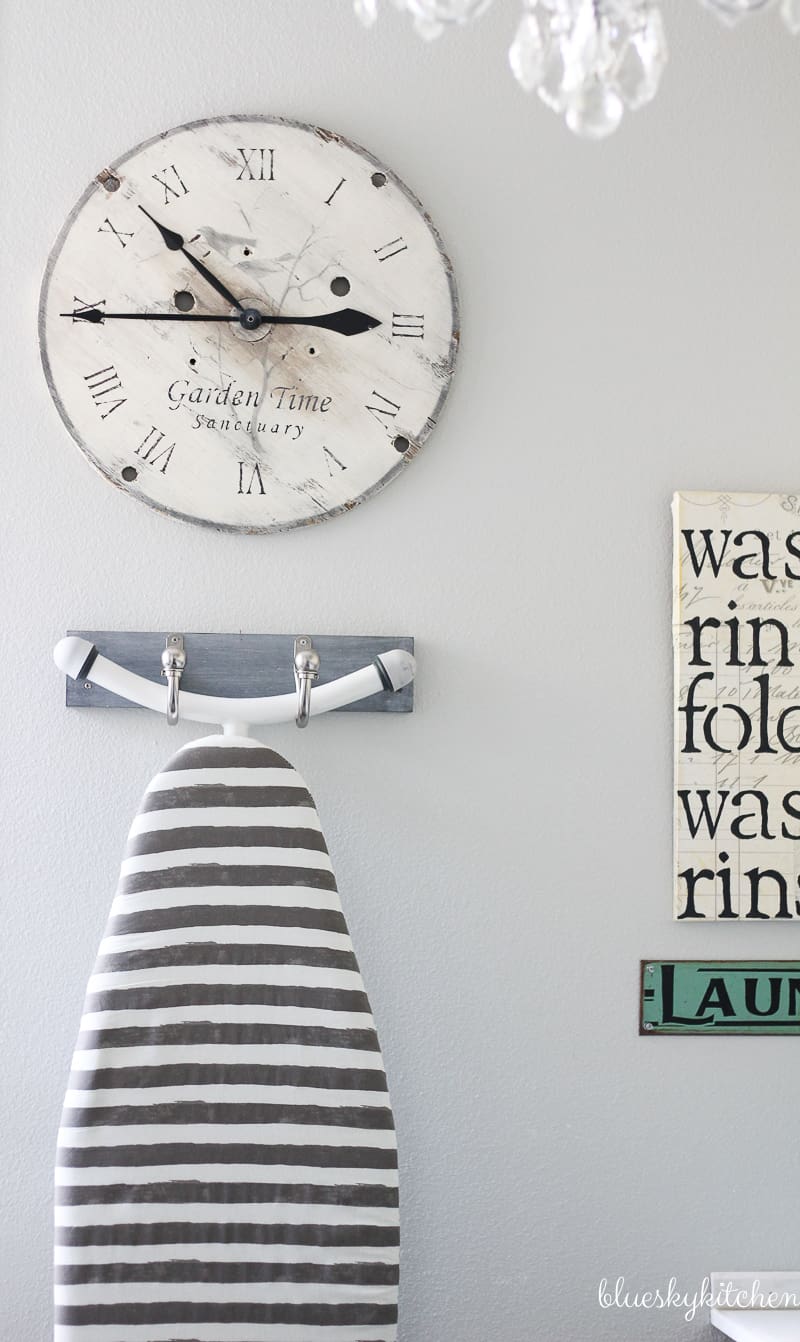 The Laundry Room, from start to finish:
Why Our Laundry Room Project is Happening Now
How to Create Weathered Wood Back Splash
How to Install A Wood Backsplash
How to Paint a Countertop with Some New Toys
How to Make a Laundry Room More Pretty and Practical
I hope these 5 easy DIY laundry room projects give you some inspiration for your own spaces. Pin this post as a reminder!